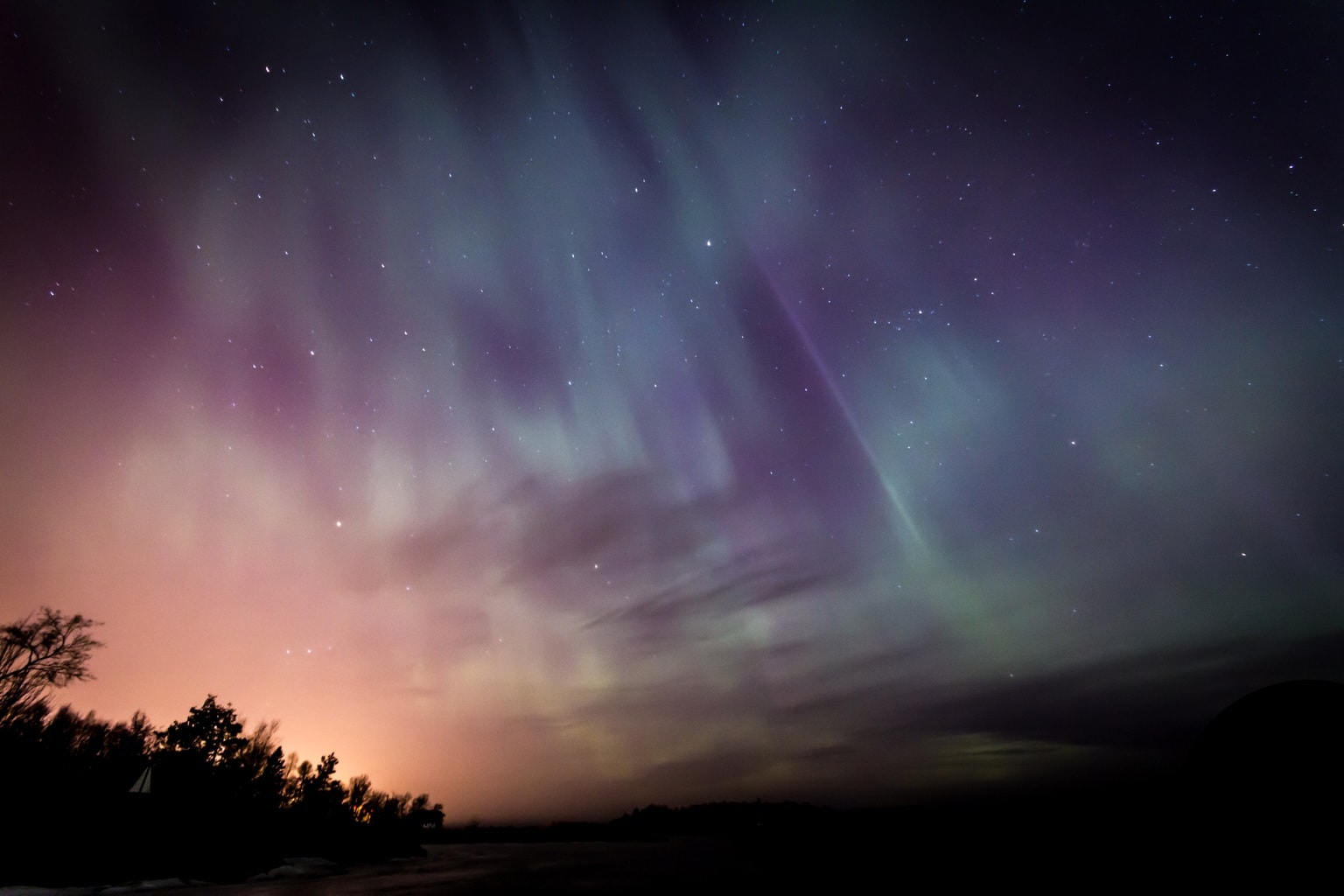 I used to be a hardcore skinny jeans girl. I wore them every day, I swore by them, and I turned up my nose at any other silhouette. My mom used to dress me up in bell-bottoms when I was in elementary school, and ever since then, the mention of anything resembling a flare brought back images of 9-year-old me awkwardly posing for my school photos.
That mental image kept me far away from flare jeans until last fall when I jumped on the '70s style bandwagon. Taking a leap of faith, I tried on some trendy high-waisted flares that were very, very different from the bedazzled pants of my youth, and my opinion changed dramatically.
There are a ton of advantages to wearing flare jeans, but going over all of them would be time-consuming, and we're busy gals. So I'll just share three, with a little wardrobe inspiration too.
#1. They're universally figure-flattering.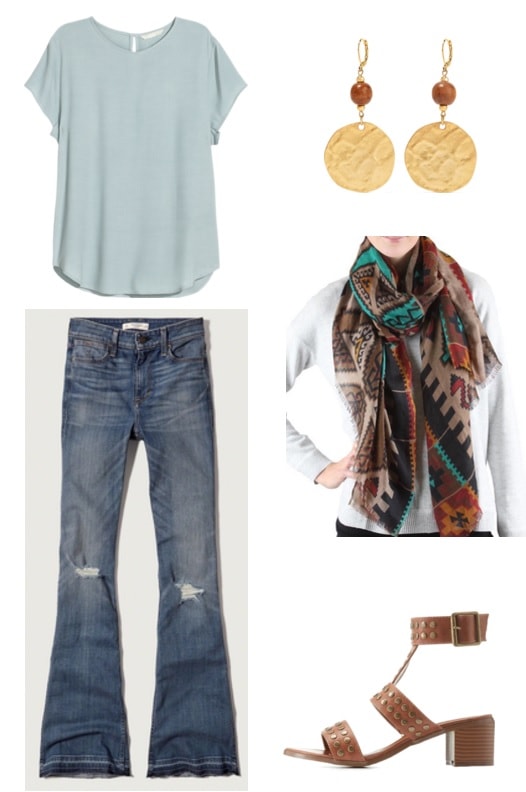 Products: Jeans | Top | Earrings | Scarf | Sandals
The extra volume at the bottom of the leg makes your legs look longer and flatters any body shape. Tuck in a looser top to balance out your silhouette. Add fun accessories like wooden earrings and a geometric print scarf in complementary colors. (Psst, heeled sandals + flare jeans = mile-long legs.)
2. The 70s' are still going strong this Spring.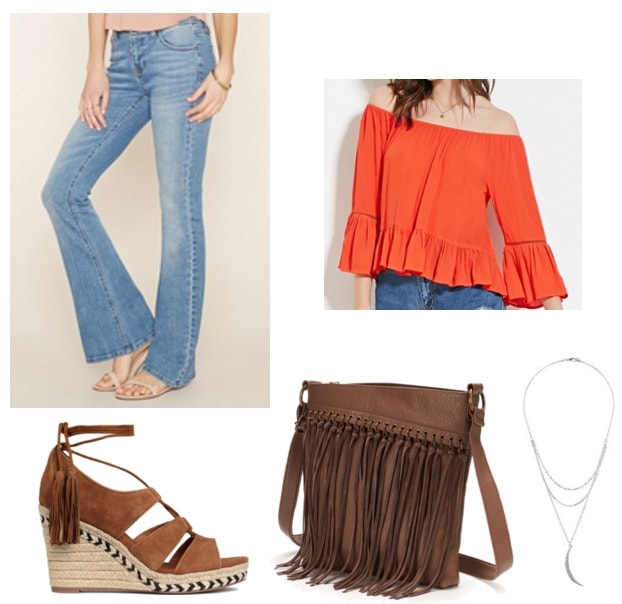 Products: Jeans | Top | Wedges | Bag | Necklace
The '70s trend isn't going away any time soon (thank goodness!). Flares are a serious part of the retro vibe, so you're going to want a pair for the months ahead. Pair them with a flowy off-the-shoulder peasant top and a simple necklace to add interest. You really can't go wrong mixing wedges and flares, so strap on some suede-looking wedge sandals and find a matching fringe bag to tote your phone and keys.
3. You'll stand out in a sea of skinny jeans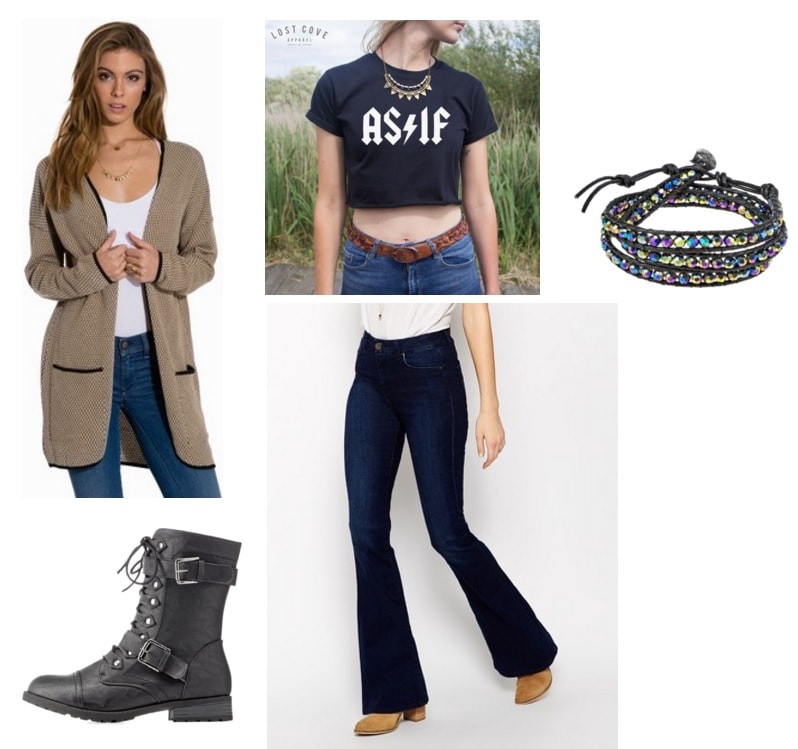 Products: Jeans | Top | Cardigan | Boots | Bracelets
This would be a pretty standard early springtime outfit, but the substitution of flares for skinny jeans actually adds to the edge because of their unique shape. A crop top, combat boots, and stacked bracelets will give you a rocker-chic look, and the cardigan will tie it all together and add a little extra warmth until the weather heats up a touch.
What do you think?
Are you a fan of flares? Have you tried a piece of clothing you used to steer clear of? Let us know in the comments below!