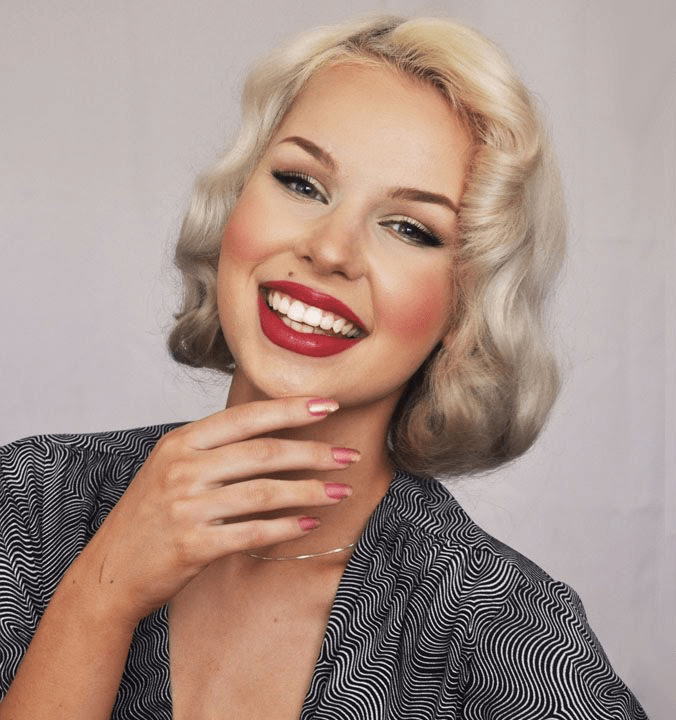 Looking for ways to change up your makeup? Wanting to learn some new beauty techniques? Just want to start dressing more vintage? Lately, I've been really inspired by vintage makeup looks, and I'm sharing my favorites today.
It's interesting to see how much makeup changes over time and how you can create some very different looks with the same products that you already have. It could even be a fun idea to spend a week trying a new vintage beauty look each day!
You could also consider incorporating an aspect of a vintage look into your normal makeup routine, or changing up the colors in one of these looks to match your style! I think we tend to think that vintage makeup has to be reserved for formal events and costume parties, but it's also an easy way to make sure you stand out in your everyday life.
I've found five tutorials, each from a different era, that you can follow to create your own vintage makeup looks! So, keep reading to get some fabulous vintage makeup inspiration…
1. Marie Antoinette-Inspired
While not entirely historically accurate, this Marie Antoinette-inspired makeup look is so much fun!
Compared to other tutorials for this era that focus on making the skin very pale and using lots of light pink blush, I feel like this look would actually be something you could pull off in 2020.
The bold eyeshadow or pink mascara would certainly make any outfit look way cooler — you definitely don't have to rock everything at once.
To make the full look easier to wear, just tone down the blush and you're good to go.
2. '20s Flapper
The twenties are one of my favorite eras for fashion, and this tutorial can help you get the iconic flapper look.
A dark red lip and smoky eyes are simple, so you can achieve an elegant result with this vintage makeup look even if you aren't the most confident in your makeup skills.
This would be a great look to choose if you want to add a fun touch to an everyday outfit!
3. Pin Up Makeup
Channel your inner Marilyn Monroe with this pin up girl-inspired vintage makeup look.
This tutorial uses basic products that you probably already own, like blush, eyeliner, and a bold red lipstick. Try this look out to make your everyday style a little bit more glamorous!
As a bonus, this would make such a cute Christmas makeup idea for holiday parties!
4. Twiggy Eyeliner
Twiggy's makeup in the 1960s was iconic. Learn how to recreate the look with this tutorial, and instantly make any outfit look a little more vintage.
This mod makeup look might be a little bit difficult to get right because it really depends on the eyeliner, but I like this tutorial because it captures the decade while still looking subtle and wearable. Plus, sixties style has been trending again for the past few years!
5. '80s Glam
The '80s were all about being bold! If you already know how to do a smoky eye, this would be a great tutorial to try to switch up your look.
I think it would also be cool to play around with some different colors of eyeshadow to change up the look!
What Do You Think of These Vintage Makeup Looks?
Would you try any of these tutorials? What other eras do you love? Let us know in the comments!