This post will show you the best Christmas makeup ideas to try this year.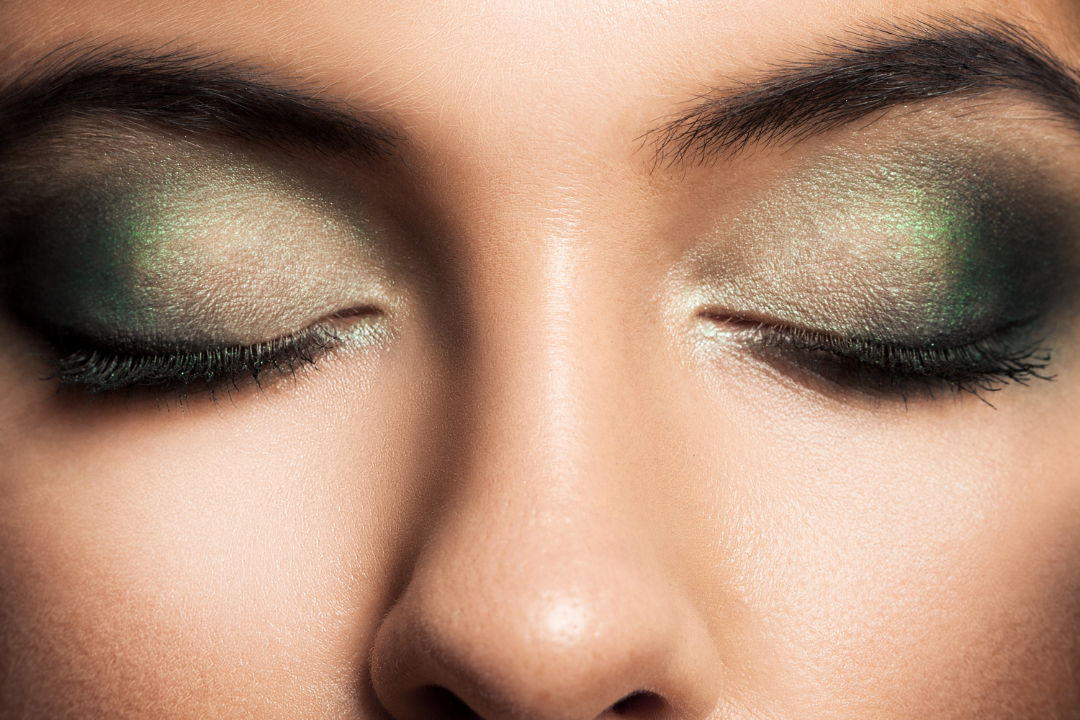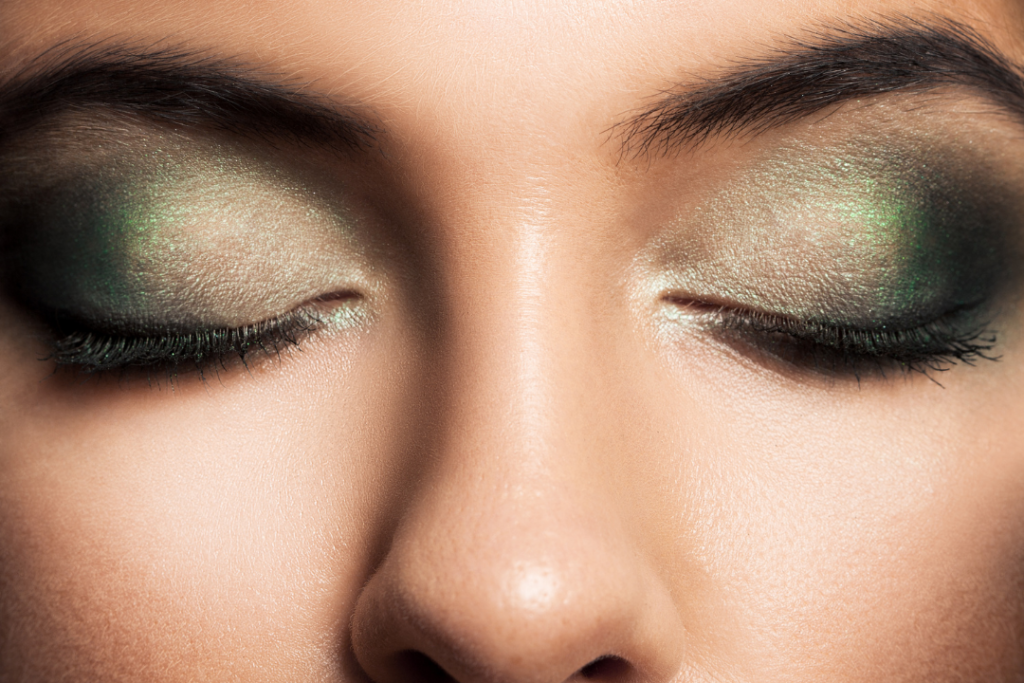 Christmas is right around the corner! This means that you will start being invited to holiday parties, get-togethers, dinners, and more. You may even be the one putting together a holiday party for you and your friends.
When preparing for Christmas parties, you may be thinking of all the things you'll need to buy like food, decorations, a Christmas outfit, etc. But, there is one important thing you might not have thought of, which is the makeup you are going to wear!
Related reading: The 20 Prettiest Christmas Nail Designs to Dazzle This Year
Christmas Makeup Tips This Year
Don't be afraid to experiment when choosing your makeup! Here are some tips to help you get the perfect look for the holiday season!
Don't Forget The Classics
Matte red lips are always a classic choice for Christmas, so try out a few different shades to find your perfect match.
Simplicity is Beauty
If you want to keep your makeup look simple, focus on perfecting your skin. Use a foundation or BB cream that will give you a flawless finish, and don't forget to conceal any blemishes. This will allow any other products you apply to really shine.
Select an Area to Emphasize
If you're looking for makeup ideas to help you stand out this Christmas, consider accentuating one particular area of your face. Whether it's your eyes, lips, or cheeks, choose a look that will make you feel confident and festive. Don't do a bold eye, red lip, and bright cheek at once — choose one for the most of-the-moment look.
Practice, Practice, and Practice
Not everyone has the same set of skills when it comes to applying makeup. Some people prefer a more natural-looking appearance, while others want something dramatic and intense looking for their eyes; there's no wrong answer here!
If you're unsure what will work best on your own face before heading out, err on the side of less makeup rather than more. You can always add a swipe of lipstick if needed later!
And now for the specific makeup ideas! To help you out, I'll show you 21 of the best Christmas makeup ideas to try this year. Plus, I'll show you the products you need to recreate these looks, so you will look super festive this Christmas.
Related reading: The Best Makeup For People Who Hate Makeup
21 Christmas Makeup Ideas
1. Bold Red Lipstick
If you have ever been to a holiday party, I am sure you have come across this classic holiday makeup look. The bright red lipstick look is a Christmas makeup classic!
The tutorial above shows you how to get a gorgeous red lip look. In the tutorial it's paired with a winged liner and white highlighter, but you could totally do a more natural makeup look with your red lip, too. It's all about what fits with your style.
Related reading: The 5 Best Drugstore Highlighters for the Glowy Skin of Your Dreams
Recreate this makeup look:
If you want to try this red lip for the holidays or you just love to rock a bold lip year round, this classic MAC Satin Lipstick in MAC Red is the perfect choice to achieve this look!
It comes in a gorgeous bright red that flatters most skin tones and will definitely make your holiday makeup look stand out at your next Christmas party.
2. Cat Eye
Another popular type of look for holiday makeup is doing a cat eye using liquid eyeliner. The cat eyeliner look, also called winged eyeliner, is the perfect way to get a bold eye look that's classic and never over-the-top.
Related reading: The 10 Best Eyeliners for Beginners
Recreate this makeup look:
To get this bold eye look, use black liquid eyeliner for that perfect wing. Also, consider getting waterproof liquid eyeliner because it will make your winged eyeliner last so much longer!
If you need a new black liquid liner to try, I absolutely love Sephora's awesome felt tip liquid eyeliner!
3. Glowy Gold Look
For those of us who absolutely love doing glam makeup looks or adding sparkles to our makeup, Christmas is the best time to go all out! Sparkly makeup is particularly at home during the holidays and will definitely make you stand out at your next party.
One of my favorite Christmas makeup ideas that incorporates sparkle is a glowy look like this one, which uses gold highlighter. What I love about this look is that it's customizable — you can add as much glow and sparkle as you want!
Recreate this makeup look:
If you want to really sparkle this holiday season, I highly recommend the Killawatt Freestyle Highlighter in 3d hyper-metallic gold from Fenty Beauty.
This highlighter is blinding and will definitely give you that glow and sparkle you need for your Christmas makeup looks. The gold in particular is perfect for the holiday season; it'll look amazing with all of your holiday party outfits.
4. Glam False Lashes
One makeup item that you may have not thought about for the holidays is false lashes! False lashes add a little something extra to any makeup look to make you stand out even more.
As a bonus, false lashes also look great with winged eyeliner, so you can combine two ideas in one.
If you want to learn all about how to get the perfect false eyelashes look for the holidays, watch this quick tutorial on how to apply them!
Recreate this makeup look:
Looking for the perfect falsies for your holiday makeup looks? I adore these multi-layered faux mink lashes! They're super affordable and so fluffy and gorgeous.
5. Berry Blush
Most of us are used to wearing soft pink or light-colored blushes, but the holiday season is the time to bring out your darker blushes. Think bolder, moodier shades like plums, reds, and browns.
The darker blushes like the reds, brown and berry colors will add a little something extra to your makeup and will go perfectly with the holidays! They are particularly great for darker skin tones as well.
If you have never worn darker blushes before, watch this quick tutorial on how to get a beautiful makeup look using a darker blush!
Recreate this makeup look:
If you have never worn a darker blush before and you are wondering where to find the perfect color for the holiday season, I recommend this Bareminerals blush in shade "You Had Me at Merlot."
This is a beautiful berry-colored blush with subtle gold flecks to make you look amazing during the holidays. It has thousands of positive reviews for its natural finish and excellent color payoff — a little goes a long way.
6. Gold Cream Eyeshadow
We all know that highlighter is a great way to add some sparkle to your holiday looks, but shimmery or glittery eyeshadow is another way you can do it!
The tutorial above shows an incredibly pretty Christmas makeup idea using glitter eyeshadow and winged liner. It's simply stunning and is sure to dazzle at your next holiday party.
Recreate this makeup look:
One of the easiest ways to add some glitter to your eyes is by using a cream eyeshadow like this e.l.f. Liquid Glitter Eyeshadow in 24k gold.
I tend to find that cream eyeshadows are easier to work with than powders, and the pigmentation is amazing. I highly recommend giving this shadow a try.
7. Glitter Eyeliner Look
Another way that you can add glitter to your eyes during the holidays is by using a glitter eyeliner.
Glitter eyeliners come in a bunch of different colors, but if you want the perfect glitter eyeliner look that will go with any outfit, I suggest trying this gorgeous silver glitter eyeliner look!
Silver is another beautiful color that goes with the holiday theme, and it gives off icy, wintery vibes. I love it so much for Christmas parties.
Recreate this makeup look:
Obsessed with this look? Get this Glitter Goals liquid eyeliner in silver to recreate it! This liner is so affordable and the glitter is absolutely gorgeous.
8. Christmas Colors Eyeshadow
Now, this wouldn't be a list of Christmas makeup ideas without a look that incorporated the classic Christmas colors of red and green. This tutorial shows you how to do it!
This stunning and statement-making makeup look includes a beautiful green sparkly eyeshadow look with red sparkly lips! It's definitely not for the timid; this one packs a punch.
This look will totally get you in the holiday mood and will have all eyes on you.
Recreate this makeup look:
Dying to try this cool look? You can use the holiday-themed eyeshadows like the ones in this Christmas coffee mini eyeshadow palette to recreate this green glitter eye.
9. Glossy & Glowy Look
Sometimes you just want a Christmas makeup look that's more on the subtle side. And this idea fits right in.
This is a perfect look for those of us who may want something different than gold highlighters for the holidays. All you need is a white sparkly highlighter and some clear lip gloss and you will be good to go!
Just add some of this beautiful highlighter to your face to get Queen Elsa vibes. Then, swipe on some clear lip gloss to complete the look.
Recreate this makeup look:
If you want to really shine at your next holiday party, I suggest using this Diamond Bomb all-over diamond veil as part of your makeup looks for the holidays! Fenty Beauty does not play, especially when it comes to highlighters, and this one can be used all over your body.
10. Brown Smokey Eyeliner Look
When someone mentions smoky eyes, you may immediately think of blacks and grays. But I love this Christmas makeup idea incorporating a brown smokey eyeshadow look!
This is such an unexpected look for the holidays that isn't too harsh or edgy. It would play well at a holiday party or for Christmas dinner.
Recreate this makeup look:
A lot of people use just eyeshadows to create a smokey eye look, but what's great about this look is you can use an eyeliner pencil to really accentuate your eyes.
Need a new brown eyeliner to try? This Maybelline Tattoo Studio eyeliner comes highly rated and is insanely affordable!
11. Shimmer Lip Gloss Holiday Glam
If you are one of those people who loves wearing lip gloss, the holidays are a great time to really go for it with a shimmery lip look.
This classic holiday glam makeup look with glitter lip gloss is so incredibly pretty. It's one of those Christmas makeup ideas that you probably wouldn't think of right away, but once you see it, you want to try it immediately.
Recreate this makeup look:
To recreate this look, you will need a stunning red sparkly lip gloss. If you want a truly pigmented glitter gloss, I'm obsessed with this Glowing Garnet lip gloss from Pat McGrath Labs, which you can use to recreate this look for the holidays.
12. Warm Neutrals Eyeshadow
If you are one of those people who likes to do a more natural eyeshadow look, you can totally still do that during the holidays. You just need the right eyeshadow colors!
The key to wearing neutral makeup during the holidays is to go for warm neutrals like warm brown and beige eyeshadows.
What you will love most about this look is the eyeshadows will really make your eyes pop! You can even add more to this look by matching your lipstick to the eyeshadow, as seen above.
Recreate this makeup look:
Want to recreate this look? Get the Super Nudes easy eye palette from Charlotte Tilbury to create a beautiful neutral eyeshadow look for the holidays. As a bonus, these shadows are incredibly versatile, so you'll use them all the time!
13. Body Shimmer
Who doesn't love sparkles? If you are one of those people who is absolutely obsessed with sparkles, you may want to also try out body shimmer makeup for the holidays.
With body shimmer, you will be able to sparkle from head to toe throughout the holiday season and especially at your next holiday party!
If you have never used a body shimmer, I would suggest watching this video which shows you how you can apply it to your face, neck, chest, etc.
Recreate this makeup look:
Looking for a way to get the best sparkly look for the holiday season? Purchase the Body Lava Luminizer from Fenty and thank me later.
14. Glam Smokey Eyeshadow
Another kind of smokey eye that will look amazing for the holiday season is a silver-based smoky eyeshadow look.
For this kind of smokey eye, you can mix beautiful silver eyeshadows with black, gray, and even nude eyeshadows, depending on what you have and what you prefer.
If you have never done a smokey eyeshadow look before or if you want to try out a more glam smokey eyeshadow look, I definitely suggest watching this tutorial.
Recreate this makeup look:
Need help recreating this look at home? Purchase the Glam Eyeshadow Palette from Natasha Denona, which features tons of stunning shimmery shades. It also has an exact guide to where to put each shadow for a foolproof application.
15. Burgundy Lipstick Look
Some of us may not love wearing bright red lipstick, which is totally ok! There are other types of lipstick colors that you can wear during the holiday season that will still make you look amazing and festive.
If you are not so much a fan of bright red lipstick, try a burgundy lipstick that looks like this one.
I love this tutorial because it's still a red lip, but it's so much moodier and more fashion-forward thanks to the burgundy tone. It's so festive, but in a more subtle way.
Recreate this makeup look:
Want to recreate this look? The Full Blooded lipstick from Pat McGrath Labs is super close to the color featured in the video, and you don't have to mix two lipsticks to get it. It's a matte finish instead of a gloss, but I love that when I'm going for a more subtle look.
16. Subtle Shimmer Lip
A shimmery lip is perfect for the holidays! This look can be achieved by using a light lip gloss or even just a clear lip balm with a touch of shimmer. Either way, it will add a festive touch to your look without being too over the top.
This tutorial includes an eye makeup look with shimmer as well, if you want to go super glam for your next party.
17. Shimmery Ice Princess Eyeshadow
Shimmery Ice Princess Eyeshadow is the perfect makeup idea for Christmas. This look is simple, elegant and absolutely stunning. It's perfect for those who want to look their best during the holiday season and don't mind going glam.
To achieve this look, start by applying a light eyeshadow all over your lid as a base and smoking out the crease with a light brown shade.
Then, take a shimmery light blue eyeshadow and pack it all over the lid. Then add a layer of shimmery light blue cream shadow over top. Apply a white shimmery shadow to the inner corners of your eyes.
Next, take a warm brown eyeshadow and smoke it out along your lash line. Add white eye pencil to the lower lash line to define your eyes even more.
Finally, add some liquid liner and mascara and you're all set!
18. Winged Liner
19. Shimmer Blush
This makeup look is perfect for holiday parties and will make you stand out from the crowd. It's all about applying highlighter first, then blush, to create a lit-from-within effect. Then, add a touch of glitter to your eyelids and finish with a nude lip.
20. Fabulous Snowflakes Eyeshadow
To create this look, start by applying a light wash of matte light blue shadow all over your lids. Then, using a darker matte blue eyeshadow, smoke out your crease. Next, create a half cut crease with your favorite concealer and blend. Add a shimmery white eyeshadow stick over top of the cut crease.
Finally, use a white liquid liner to line your eyes. Use the same eyeliner to create small snowflakes at the outer edges of your eyes. Finish with mascara.
This makeup look is sure to turn heads and have everyone asking you where you got your makeup done.
21. Candy Cane Liner
What are your favorite Christmas makeup ideas?
Which makeup look will you be wearing to your next Christmas party? What makeup products from this list will you be purchasing? What are you most excited about for the holiday season? Tell me in the comments down below.
Did these makeup ideas for christmas inspire you? Check out our related posts below for more makeup ideas –