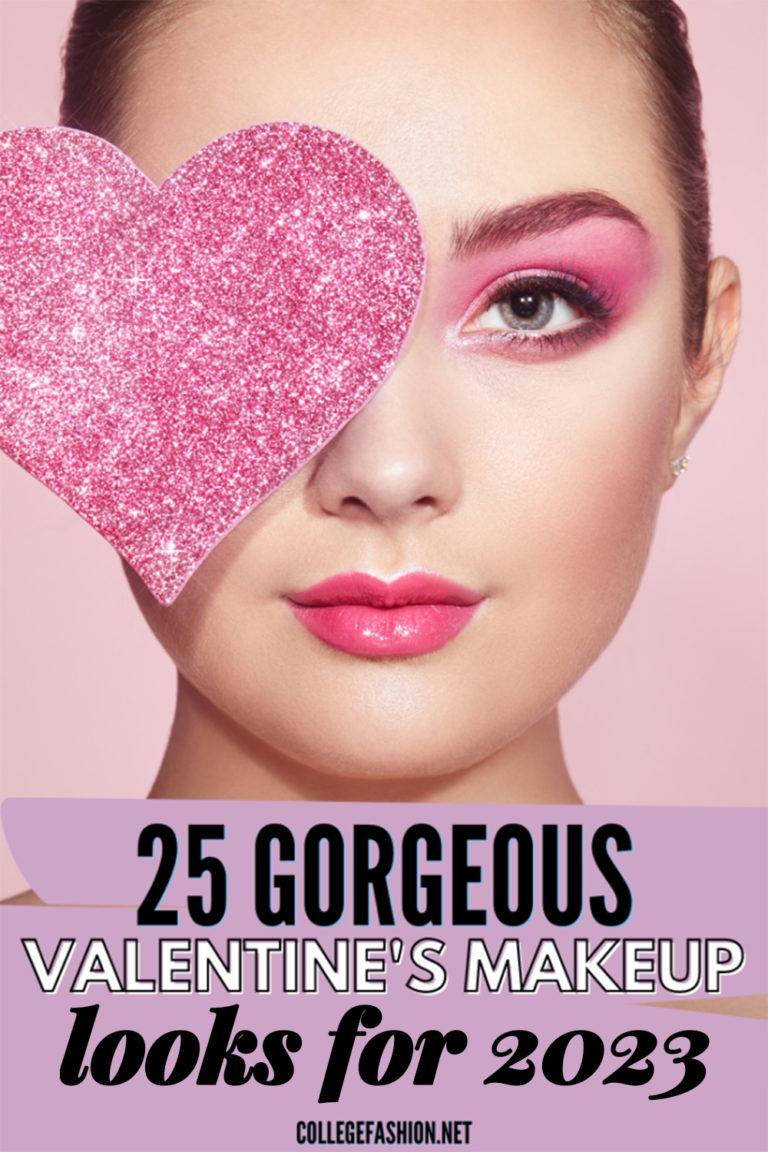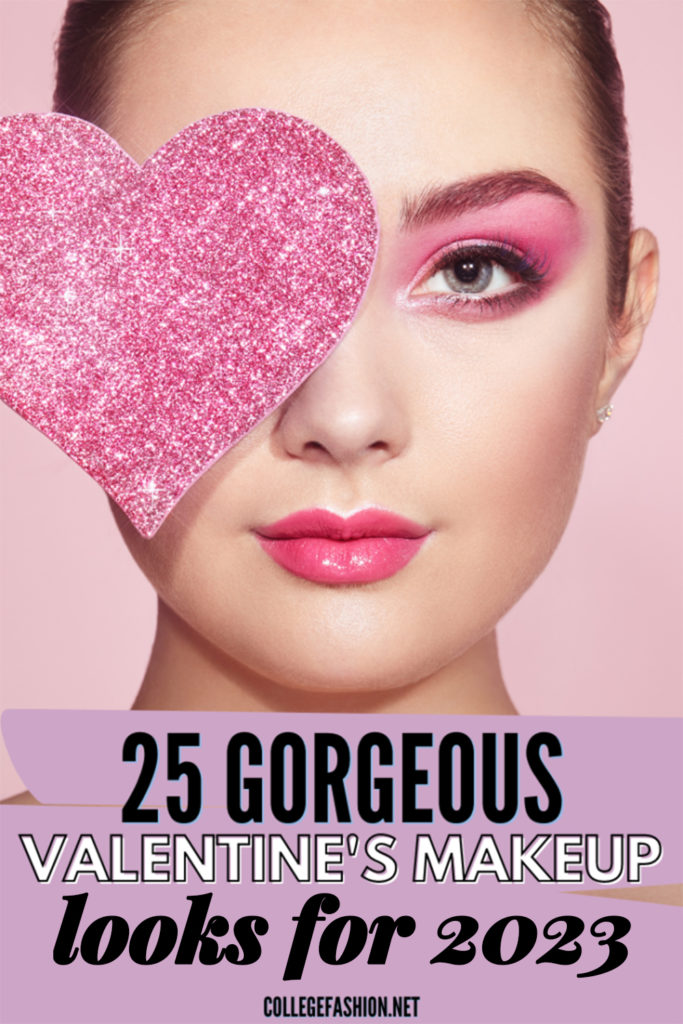 It's finally Valentine's Day, and now that my outfit is set, I'm celebrating by… doing my makeup.
I don't know if I'm the only one who does this, but as a beauty lover, I look forward to celebrating holidays by theming my makeup to the day. And Valentine's Day, in particular is a great chance to experiment with makeup since it's all about all things romantic and pretty.
Below, I'm sharing some of my favorite Valentine's Day makeup looks, with different tutorials to fit every makeup style, from soft to ultra-glam. Let's get to it!
Related reading: The 13 Cutest Valentine's Day Pedicure Ideas
V Day Makeup Inspo – 25 Beautiful Ideas to Try:
1. Red Valentines Makeup
Red is the quintessential Valentine's Day color, but when you think of red makeup, you might picture something costumey and unflattering. This tutorial dispels that myth.
This soft, romantic combo of red eyeshadow and berry lips is absolutely stunning and feels modern and fresh, not overdone. Plus, her voice is just so soothing!
2. Cute Eyeshadow for Valentines
This tutorial might be my favorite of every look on this list. I am obsessed with this adorable pink eyeshadow look, mixing different shades of pink around the eye with a pop of neon at the inner corners.
The eyeshadow look is finished with a simple glossy lip and fluffy brows. The overall effect is so 202,3, and I love it.
3. Pink Valentines Aesthetic
For a more glamorous full face of makeup, this pink Valentine's makeup tutorial incorporates shades of pink all over the face, paired with extra long lashes and glossy lips.
This is definitely the tutorial to try if you want girly, baddie vibes this Valentine's Day. It's more involved than a lot of the other tutorials on this list, but the end effect is worth it.
Related reading: 6 Gorgeous Baddie Outfit Ideas to Copy ASAP
4. Sultry Looks
This sultry Valentine's Day makeup look gives modern-day Marilyn Monroe vibes.
The combo of a matte red lip and winged liner is a total classic, but details like the peachy blush, brushed-up brows, and expertly applied highlighter make this look thoroughly modern.
As a bonus, this look is so classic that it'll work with any outfit you have in mind. It's a total no-brainer if you aren't sure which makeup look to choose.
5. Simple Valentines Makeup
Sometimes you just want a simple look you can pull off quickly, and that's where this Valentine's Day makeup tutorial comes in.
This 5-minute makeup look for Valentine's Day uses a 4-pan of matte shadows, a shimmery liquid eyeshadow, a liquid liner, and mascara. It looks super complicated but it's insanely simple to pull off!
Pair this look with your lip color of choice — it'll work with pretty much any shade.
6. Natural
You definitely don't have to use a ton of makeup (or spend a lot of time) to get a beautiful Valentine's makeup look! This natural makeup tutorial requires no foundation and takes only 10 minutes to do.
This year, no-makeup makeup is really in style, so if you ask me, there couldn't be a better time to go for a more natural vibe.
7. Day Looks
If you have Valentine's plans during the day or just want something elevated to wear for classes or errands on V-Day, this is the makeup look for you.
I'd consider this look a step above natural. It's obvious that you're wearing makeup, but it feels minimal and fresh, not overdone. The perfect "everyday glam" you can rock on V-Day.
8. Night Date
If you want to glam it up for Valentine's Day date night, this "ultimate night out" makeup look is the one to try.
Not for the timid, this look combines glowing skin, ultra-glossy nude lips, smokey eyeliner, and shimmer eyeshadow. It's sexy and sultry and will look amazing in candlelight.
I love that this look isn't super Valentine's-specific, either. Once you master it, you can do it for any date night you might have coming up.
9. Valentine's Makeup Inspired by Maddy from Euphoria
Everyone is obsessed with Euphoria right now (see our guide to Euphoria fashion here), and the show is known for its stunning makeup looks.
This pink eye makeup look inspired by Maddy is especially perfect for Valentine's Day. The varied pink eyeshadows are stunning, while the rhinestones bring it over the top. So incredibly pretty!
10. Pink Glowy Glam
If you want to look bronzed and glowy for Valentine's Day, this is the tutorial for you.
This mix of peachy-bronze cheeks, glossy lips, and subtle pink and beige shadows is so sexy — it looks like something a celebrity would rock on the cover of Cosmo. (It also has old-school Victoria's Secret angel vibes!)
The best part is, you could wear this look again and again since it's not specifically Valentine's themed.
11. Lavender Eyes
While we love pink and red for Valentine's Day, purple eye looks are also within Valentine's color palette, and they're so beautiful on most skin tones.
This purple eyeshadow look is simply stunning — it's a wash of color made more interesting by avant-garde lashes, matte lips, and plenty of pink blush.
This is the makeup look to try if you want an edgy, cool-girl vibe on Valentine's Day.
12. Pink Eyeshadow
You are guaranteed to turn heads in this vibrant pink eyeshadow look for Valentine's Day.
I can't stop staring at the shadows here — they're so expertly blended to really draw all of the focus to the eyes.
I also love that this look works on a variety of skin tones. It can be tough to pull off brighter shadow looks on darker skin, but this tutorial gets it right.
13. Simple & Glam
If you're planning to take lots of pictures on Valentine's Day, this simple glam makeup tutorial is perfect because it's designed to look incredible in photos (no flashback!).
There is something so cute about this look, from the contoured nose to the luminous, blended blush. It would be perfect for a date or dinner with your girlfriends.
The best part about this tutorial is that it uses mostly drugstore products!
14. Valentine's Day Barbie
If you're up to challenge your makeup skills this year, try this Valentine's Barbie glam look!
This look is definitely complex, taking about a half hour from start to finish and involving quite a few (affordable) products, but if you want to do something extra, it's so worth the time.
15. Ultra-Glowy No Foundation Makeup
The exact opposite of the previous look, this Valentine's Day look is all about super subtle, minimal makeup.
The "Clean girl" makeup trend is about looking fresh and dewy, with an emphasis on skin prep, immaculate brows, and lots of blush. And this tutorial shows you how it's done.
I think this look would be perfect for a date if you want to look natural yet still fresh and girly.
16. Matte Lip & Glowy Eyes
The red lip is a classic Valentine's Day makeup look, and here's a super modern way to wear it.
This tutorial shows you how to mix a matte red lip with glowy champagne eyes, shaped brows, and flawless skin.
I love this look when paired with gold earrings and a slicked-back bun, as shown above!
17. Lashes for Days Makeup Look
Here's another take on natural Valentine's Day makeup, this time with extra emphasis on the lashes.
If you want to draw attention to your eyes while also looking fresh and super glowy, check out this tutorial to learn how this look is done. (Hint: The highlighter is key!)
18. Statement Hot Pink Lip
While we've talked about the classic red lip a few times in this post, a bold hot pink lip is a fantastic alternative for Valentine's Day!
The lips are definitely the star of the show here, so you don't need much for the rest of your face. Here, she uses lashes and very subtle eyeliner, plus a few dabs of highlighter in key spots.
19. Graphic Pink & White Eyeliner
Graphic eyeliner has been a major makeup trend so far in 2022.
This Valentine's Day takes on the graphic eyeliner trend combines hot pink winged upper liner with a pop of bright white on the lower lash line. The effect is good, ethereal, and thoroughly unique.
20. Romantic "French Girl" Makeup
"French girl" makeup is always a yes in my book, but the look, which focuses on fresh skin and berry red lips, is especially perfect for Valentine's Day.
The best part is, once you master this, you can wear it for a million occasions year-round.
21. "You But Better" Glowing Makeup
This "you but better" glowing makeup tutorial is amazing because it's tailored to medium-dark skin tones, with an emphasis on peachy tones.
Valentine's Day makeup doesn't have to be just basic red and bright pink — these peachier shades look amazing on warmer skin tones and still read as Valentine's-appropriate.
Oh, and did I mention this look uses ONLY drugstore products? Yes, it's perfection.
22. Brown Smokey Eye
The smokey eye is officially back, and we couldn't be happier about it!
This bronzey-brown take on the smokey eye is more versatile than your typical blacks and greys, so it's great to wear no matter your Valentine's plans.
Pair with your favorite lip gloss and cheek color, and you're good to go.
23. Cutesy Heart Freckles
Yes, this tutorial is a little crazy, but I couldn't include this one. If you're going to Valentine's themed party, having a Galentine's Day celebration, or just having fun, this look is so pretty and surprisingly easy.
This heart freckle look will take some time — and some patience — but I'm sure the Instagram photo will be worth it!
24. Subtle Heart Freckles
Here's another take on the heart freckles look, this time done in a more subtle way. I love the addition of the little black hearts on the eyes for extra interest, too.
I could totally see this look on an upcoming episode of Euphoria.
25. Classic Valentine's Makeup
We have to finish with an oldie but goodie. This Nikkietutorials Valentine's Day makeup video has been viewed over 3 million times, so you know this look is a winner.
While this look is from 2017, the red lip, neutral eyes, and soft pink cheeks still work today. If you want a classic Valentine's Day look, this tutorial will show you everything you need to know.
What's your go-to Valentine's makeup look?
How are you doing your makeup for Valentine's Day this year? Which of these tutorials is your favorite? Tell me in the comments down below.
Got inspired by these cute Valentine's Day makeup looks? Here are some of our favorite makeup ideas that might also inspire you this Valentine's Day: