Our newest series, "Beauty by the Decade", explores beauty trends from the past and transfers them into wearable, updated ideas for hair and makeup. In case you missed them, see our guides to 1950s hair and makeup, 1920s hair and makeup, and 1960s hair and makeup.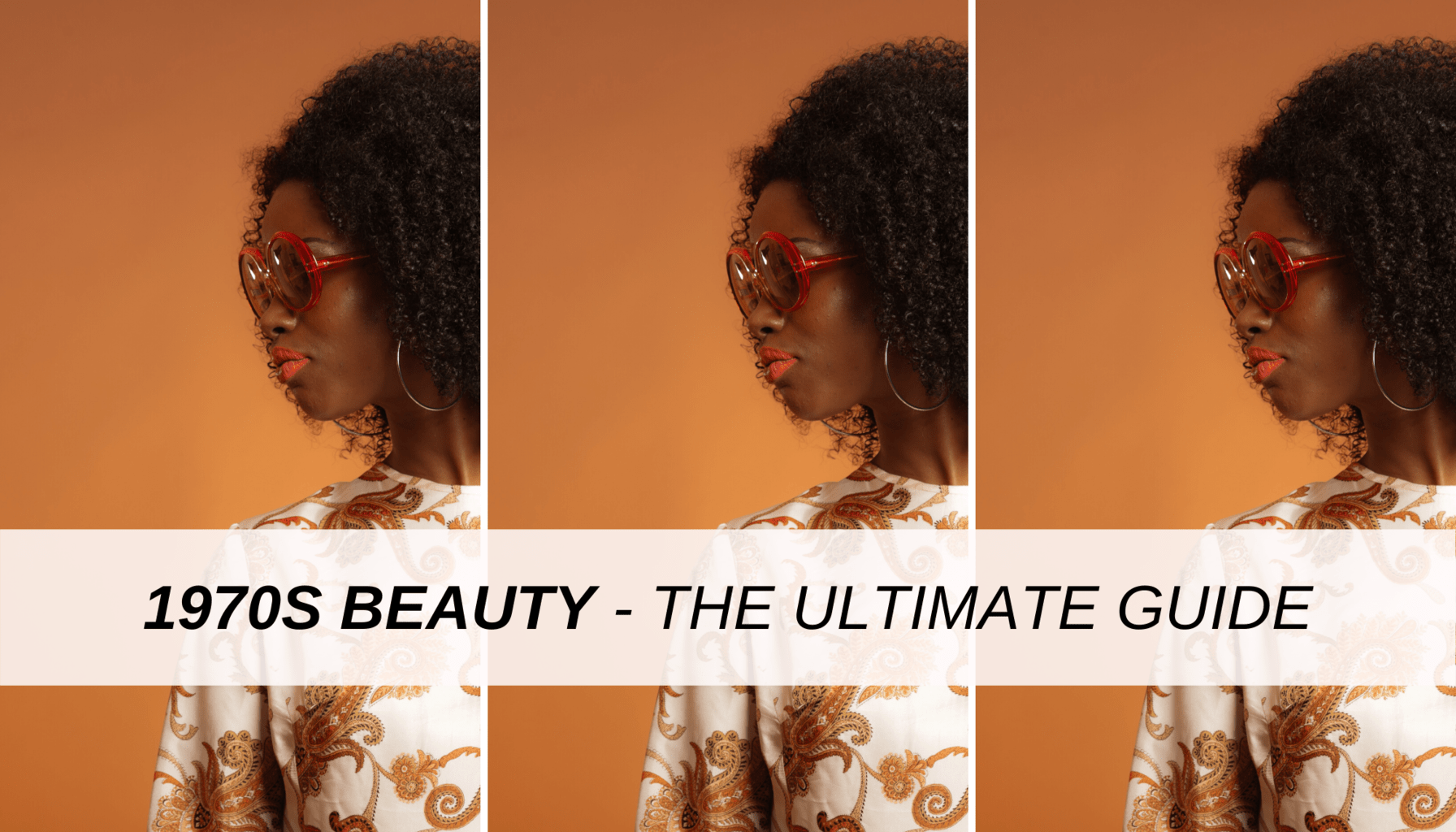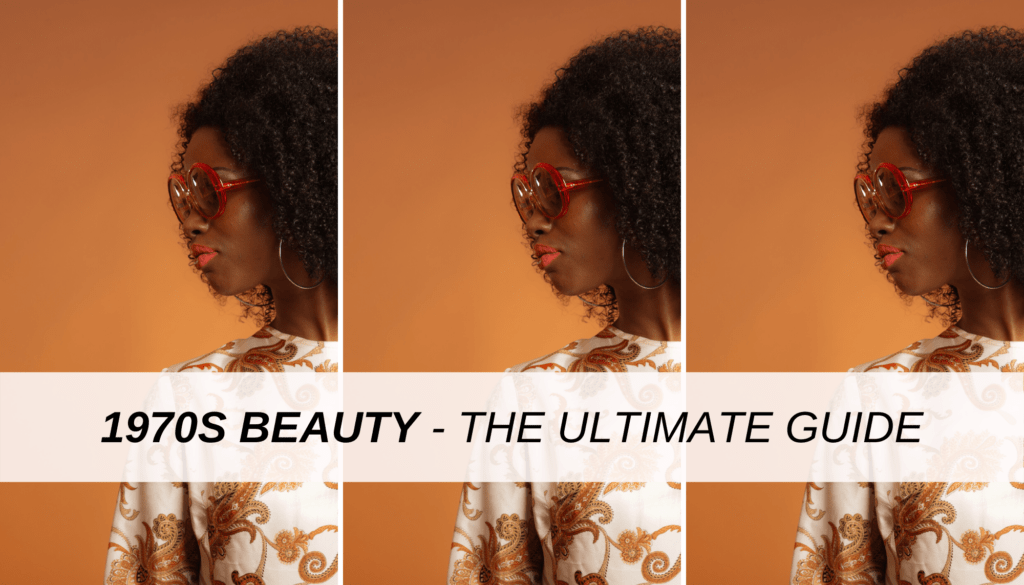 The 1970s are making a comeback in the fashion and beauty worlds (as seen on Urban Outfitters' blog and spring collection).
Fashion-wise, we can look forward to rocking wide-leg trousers, chunky sandals, and bohemian head scarves this season. And incorporating that '70s look into your beauty routine is easy with natural-looking lashes, Farrah-inspired hair, the return of the center part, and healthy, glowing skin.
Read on to learn about the makeup and hair trends of the 1970s and how to achieve a '70s beauty look with our tips.
1970s Hair
The center part is back for spring! Reminiscent of Marsha Brady, this trend is great paired with straight, smooth locks, but also looks great if you have soft waves.
The great thing about the middle part is that you can wear your hair straight the first day and then have "second day hair" after sleeping on it — as pictured above, hair gets a perfectly disheveled wave to it on the second day.
How to do a 1970s center part hairstyle:
Part wet hair in a straight line down the middle (or slightly to the side). Add a heat styling product to your hair to protect it from the heat. Blow dry.
To achieve the sleek, straight look, use a flat iron to straighten hair in small sections.
Add a little serum (my favorite is Paul Mitchell's Super Skinny Serum) to your ends to tame frizz and get shiny, silky strands.
For a little extra embellishment, add a headband. You can wear one the traditional way, or try an elastic headband to wrap around your head and across your forehead (if you're a fan of the bohemian style).
Farrah Fawcett, one of the stars of the original "Charlie's Angels" that aired in the 1970s, is still famous today for her voluminous curls; her hairstyle is known as, "The Farrah".
You can channel Farrah's volume and bring your hair to whatever height you wish this season, going for full-on feathering or low-key curls.
How to get Farrah Fawcett's feathered hair:
Add a heat styling product to your damp hair to protect it and allow the style to stay. Blow dry your hair in sections with a big, round brush. This will create movement and bend to your hair.
After your hair is dry, spray it with a little hair spray for staying power.
Take either a curling iron or a flat iron (both work) and "flip" your ends outward and create big curls.
When you're done curling and flipping, spray your hair again, lightly, with hair spray.
1970s Makeup
The aspects of '70s makeup that transfer best to modern day are natural-looking lashes and glowing skin. Au naturale-style makeup shifts the focus to the wearer rather than the makeup itself — emphasizing you and your features!
Eyelashes
For natural-looking lashes, give your eyelashes some curl with an eyelash curler, then use a brown or light black mascara to coat lashes from base to tip with a light coat. You can use a lash comb to brush out any clumps in your mascara.
Eyeshadow
Purple, blue and green were the most popular colors of eyeshadow in advertisements from this era. Earth tones also gained popularity for a while in the '70s, so experiment with brown and beige shades, too. The '70s also popularized a pop of white under your eyebrows as a highlight, but that look can be a little extreme these days.
A pearlescent or iridescent sheen was highly fashionable in eyeshadow from the '70s, illustrated with words like frost and velvet. This was the era of disco after all!
Eyeliner
Eyeliner was insanely popular in the 1970s. In fact, this may be the decade that is most remembered for its eyeliner looks. The "cat eye" style was big, and eyeliner was bold and dramatic. It was also often worn on both the top and bottom lids.
Eyeliners came in a variety of colors and formulations in the 70s. Some brands, such as Yardley's Easy Liner offered various options, from pencil form to liquid with an applicator. These days, you can get eyeliner in any formulation imaginable, so experiment with them all for that '70s vibe.
Eyebrows
Eyebrows were extreme in the '70s — either super fluffy and natural, or super thin and shaped.
Influenced by the natural beauty trend, thicker eyebrows started to shine in the '70s. Those with thicker brows were thought to look more elegant and sophisticated than those who had plucked them too far back.
Thin brows were definitely in, though. The most popular look was thin, curved brows reminiscent of the Art Deco skinny eyebrows Liza Minnelli sported in Cabaret.
Mascara
Mascara in the 1970s was worn according to the individual's taste. Women of the '70s might apply it liberally on both upper and lower lashes or more subtly, depending upon if their makeup was for daytime wear versus going out to an event.
In the '70s, the old block mascaras of previous decades gave way to tube and wand-style applicators. Mascaras also came in various colors, such as black or brown; brighter shades like turquoise also began to hit shelves!
Blushes
In the 1970s, blusher was used as a way to enhance one's natural beauty. Throughout this decade there were many popular shades and application techniques for blush; the look was meant to be natural and never over-the-top.
Tan skin was definitely in during the '70s. To achieve the "perfect" tan, people used bronzer all over their face. It created a gentle sun-kissed look that was popular in movies of this era.
Foundation
For a fresh glowing face, use a facial scrub (my favorite is Lush's Ocean Salt Cleanser) to prep your skin. Make sure to moisturize afterward. If you'd like, skip foundation and just use a little concealer under the eyes. You can apply blush/bronzer if desired. Finally, apply a highlighting powder (such as Benefit Cosmetics' Dandelion Luminizer or NARS Blush in Albatross) to your cheeks and cheekbones, sweeping upwards.
The Lipstick
In the early 1970s, all the girls were wearing deep fruit colors like plum and mulberry.
The latter half of the '70s saw a big change when people started to wear brighter pastels instead of rich yet drab tones that had been so prominent just five years earlier. Peach in particular was often seen on women during this decade because it looked natural with their tanned skin tones, while others paired earthy hues or nudes together for an extra touch of sweetness.
The Lip Gloss
Super shiny lip glosses were highly fashionable and marketed in particular to teens. Lipgloss came in a variety of sheer colors, including pinks, plums, nudes, and of course, classic clear glosses. There was also experimentation in flavoring – flavors ranged from fruity tangs to mints or even bubble gum flavor, while others preferred flavors such as cola, which was particularly popular with younger teens.
Your Thoughts?
For more on retro beauty, be sure to see our guide to 5 vintage makeup looks to try the next time you're bored.
What do you think of incorporating 1970s beauty into today's beauty routine? Do you like wearing natural-looking makeup? Would you like to read more "Beauty by the Decades" as a series? Let us know in a comment!
Related posts: