Welcome CF readers! Each week we are looking at high fashion trends straight from the runways and how they translate to our closets.
Last week we delved into the return of corduroy, a '90s staple. This week we are looking at retro mid-tones.
As I've said in other installations of the series, there are some serious '70s trends making a comeback right now! Mid-tones are among them. You'll be seeing a lot more browns, such as sierra, plus earthy tones, this year.
Let's see how people are wearing this look.
Influencers in Retro Mid-Tones:
Danielle Bernstein posted these two outfits, rocking mid-tone palettes.
Here, Danielle sticks to neutrals like khaki, camel, and beige with a touch of color like a pink-rust pant.
Caroline de Maigret was photographed rocking the earthy mid-tone trend, as well:
Here, Caroline mixes reddish rust with denim, camel, and suede and shearling details.
Cass Dimicco sticks to a more monochromatic mid-tone look, but adds a pop of texture with her animal skin shoulder bag:
How to Buy the Retro Mid-Tones Trend on a Budget:
Mid-tones are great for a subtle and chic outfit, or perfect for making bold colors stand out even more.
Either way, we all need some mid-tone pieces in our closets this year!
Affordable Retro Mid-Tones, Option #1: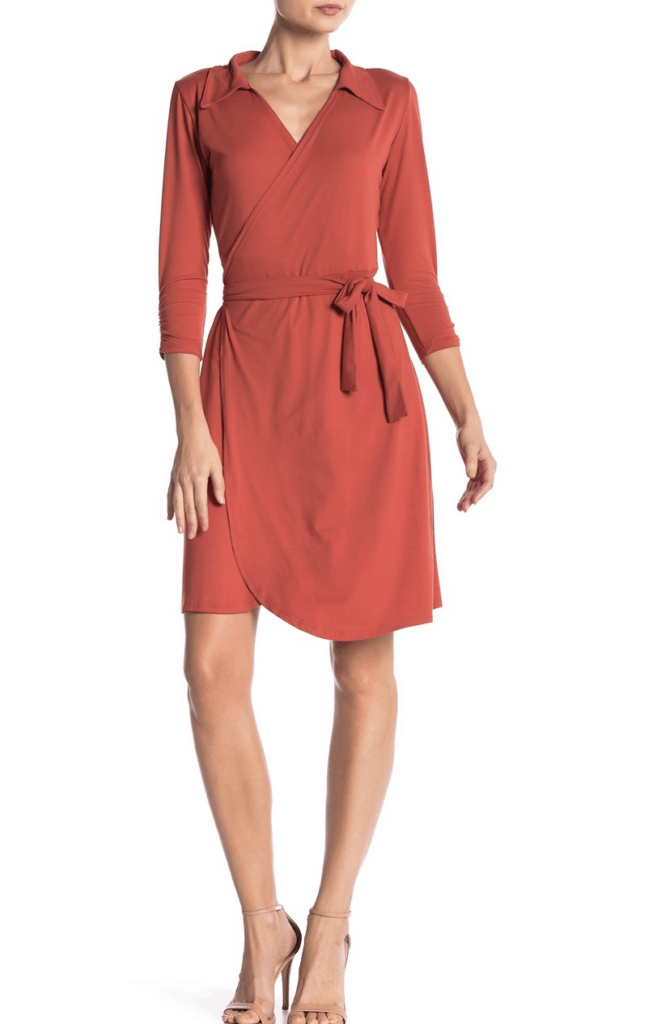 Product: Collared Wrap Dress; $37 – Nordstrom Rack
This rust-colored dress is subtle in tone but still reads as colorful. This is a great option for work, as most wrap dresses are!
You can keep it professional with some neutral toned pumps or flats. To stand out a bit more, try some heeled booties with a fun print!
Affordable Retro Mid-Tones, Option #2: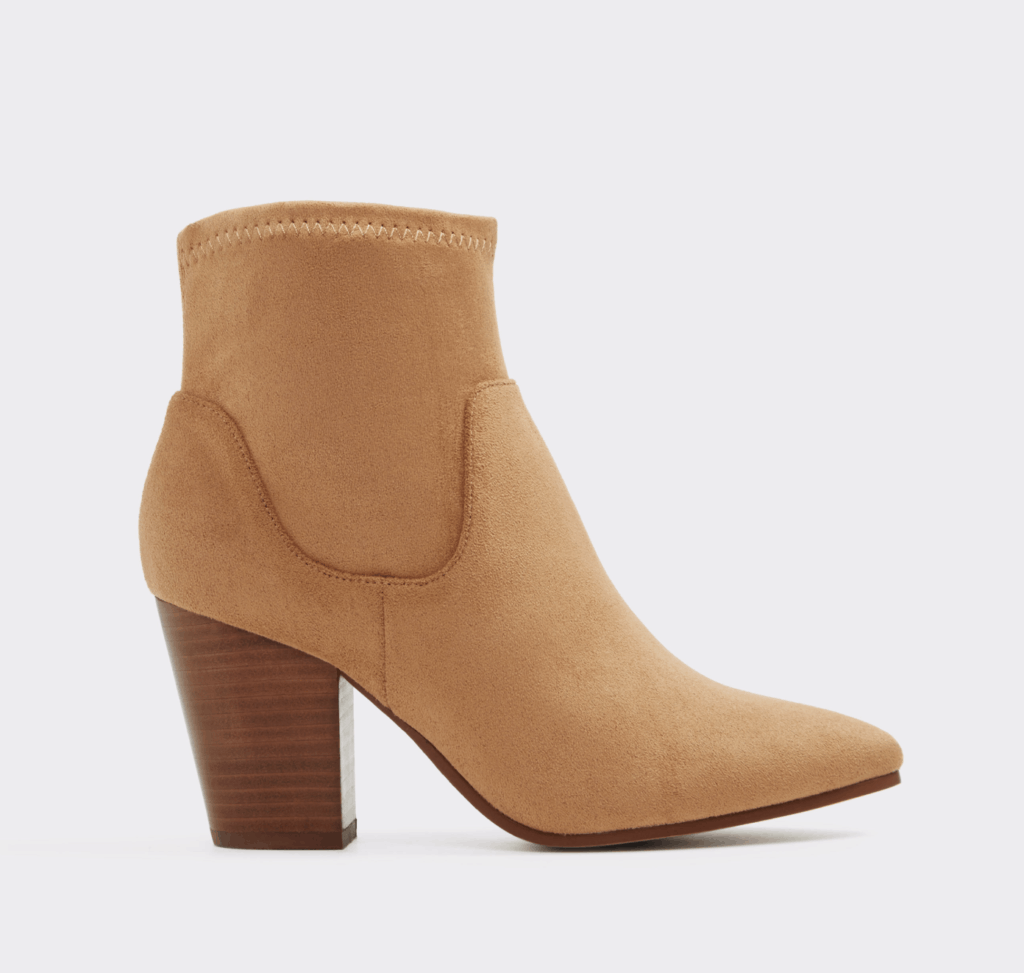 Product: Camel Ankle Booties; $50 – Aldo
Camel ankle booties are a great addition to your closet and can be styled in so many ways.
You can add these to an already neutral colored outfit to complete the look. They can also be paired with a casual outfit like jeans and a fun blouse. Or, they can calm a busy outfit like a printed dress and accessories.
Affordable Retro Mid-Tones, Option #3: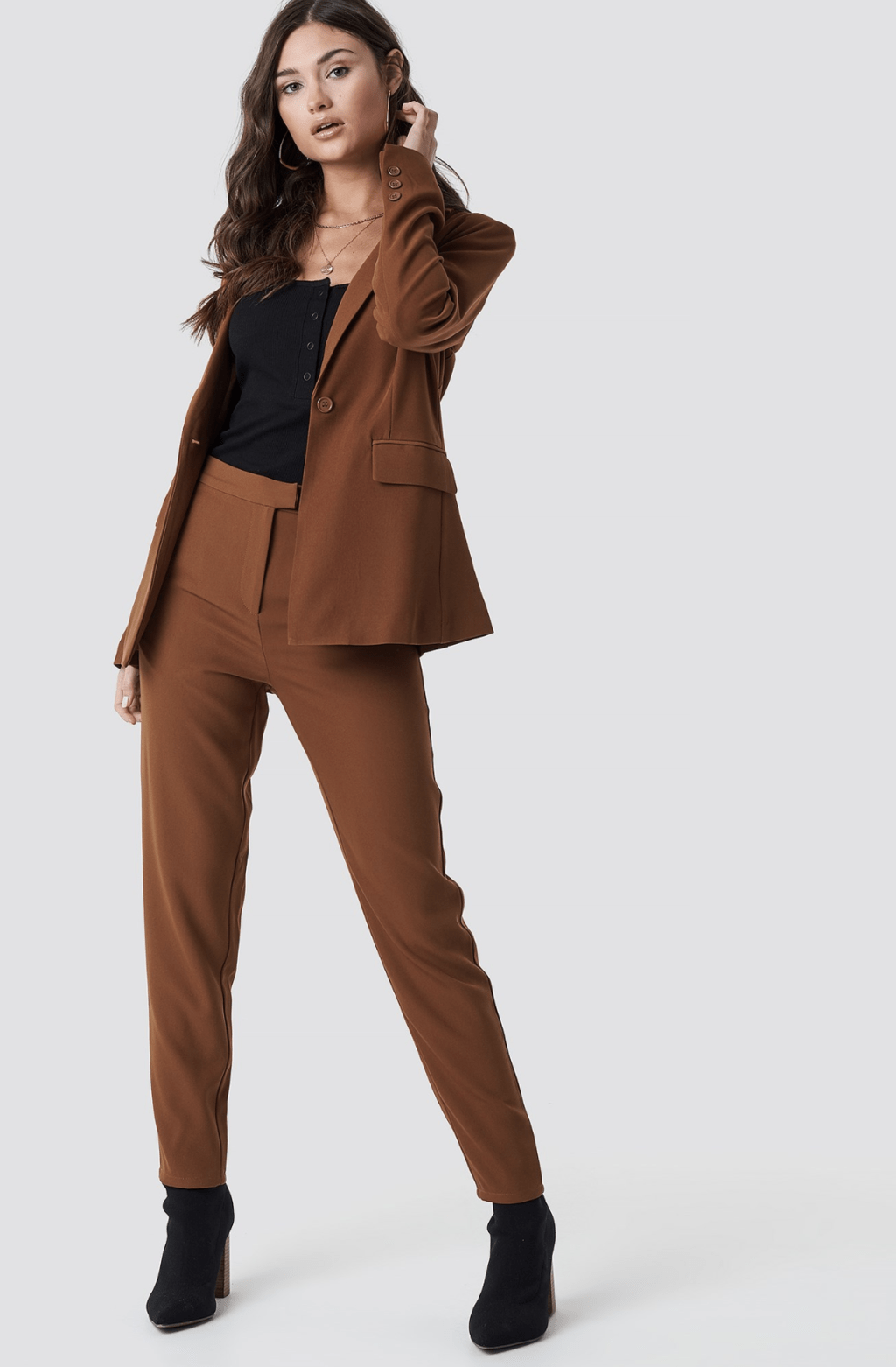 Product: Tailored Brown Blazer; $72 – NA-KD, Tailored Brown Suit Pants; $48 – NA-KD
I love this rich, chocolate brown tone. This suit is pretty versatile, as well. You can mix the deep color and texture with a light and silky blouse for contrast.
Pairing with booties is a great option, or you could lighten the weight of the outfit with some nude strappy heels and a light beige top.
As separates, you can pair the blazer with dark, high-waisted jeans and a tucked in tee shirt for a '70s look, and you can match the trousers with an off-the-shoulder crop top for a flirty feel.
Affordable Retro Mid-Tones, Option #4: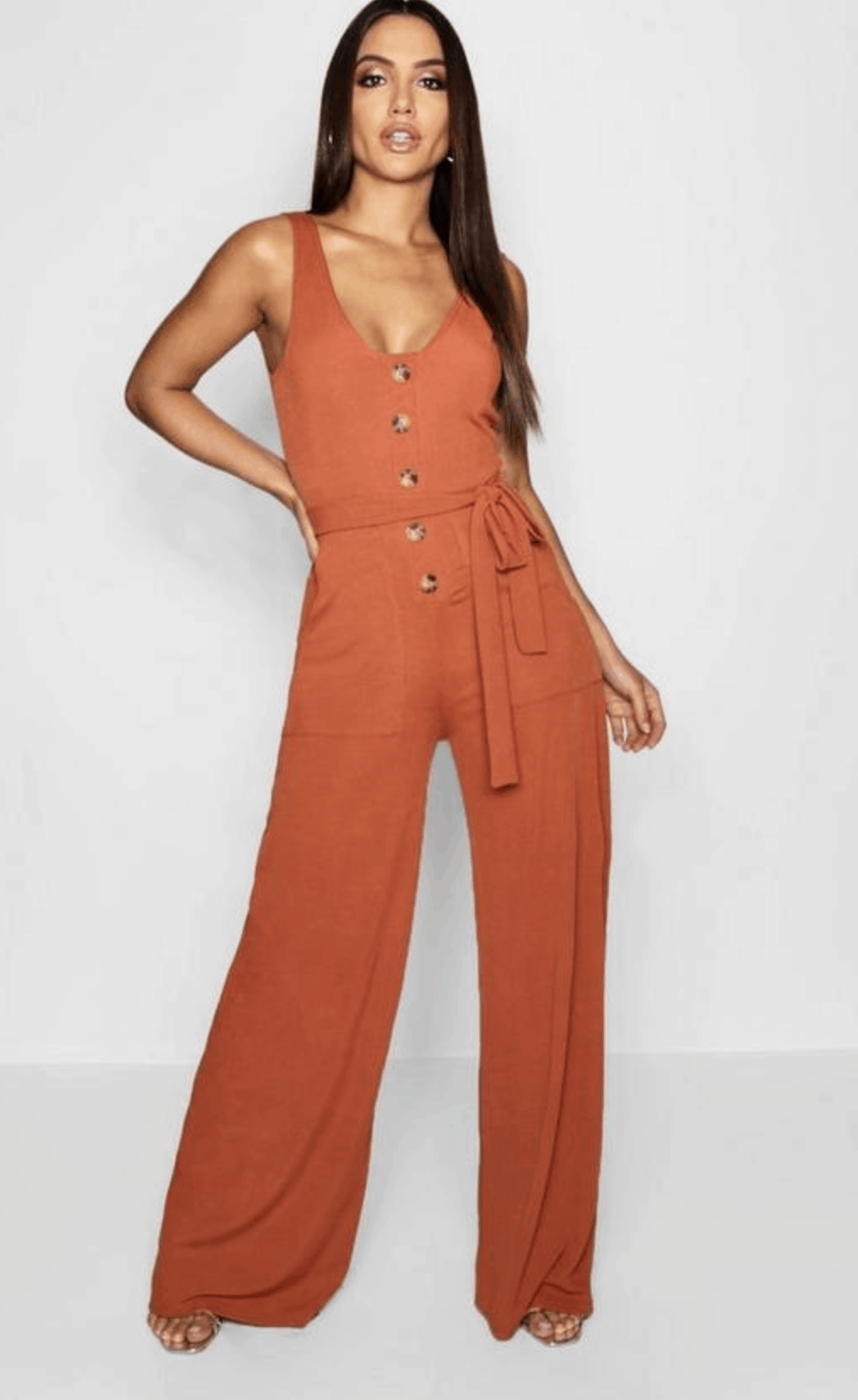 Product: Jumpsuit; $24 – Boohoo
Here is another orange-brown mixed tone, adobe. This jumpsuit would look fantastic accessorized with gold toned jewelry and shoes.
Another route would be to style your outfit with bold colors. Try replacing the tie-belt with an orange belt and shoes and a royal blue cardigan.
Alternatively, you can style it with neutrals like beige, camel, and black for a more professional look.
Affordable Retro Mid-Tones, Option #5: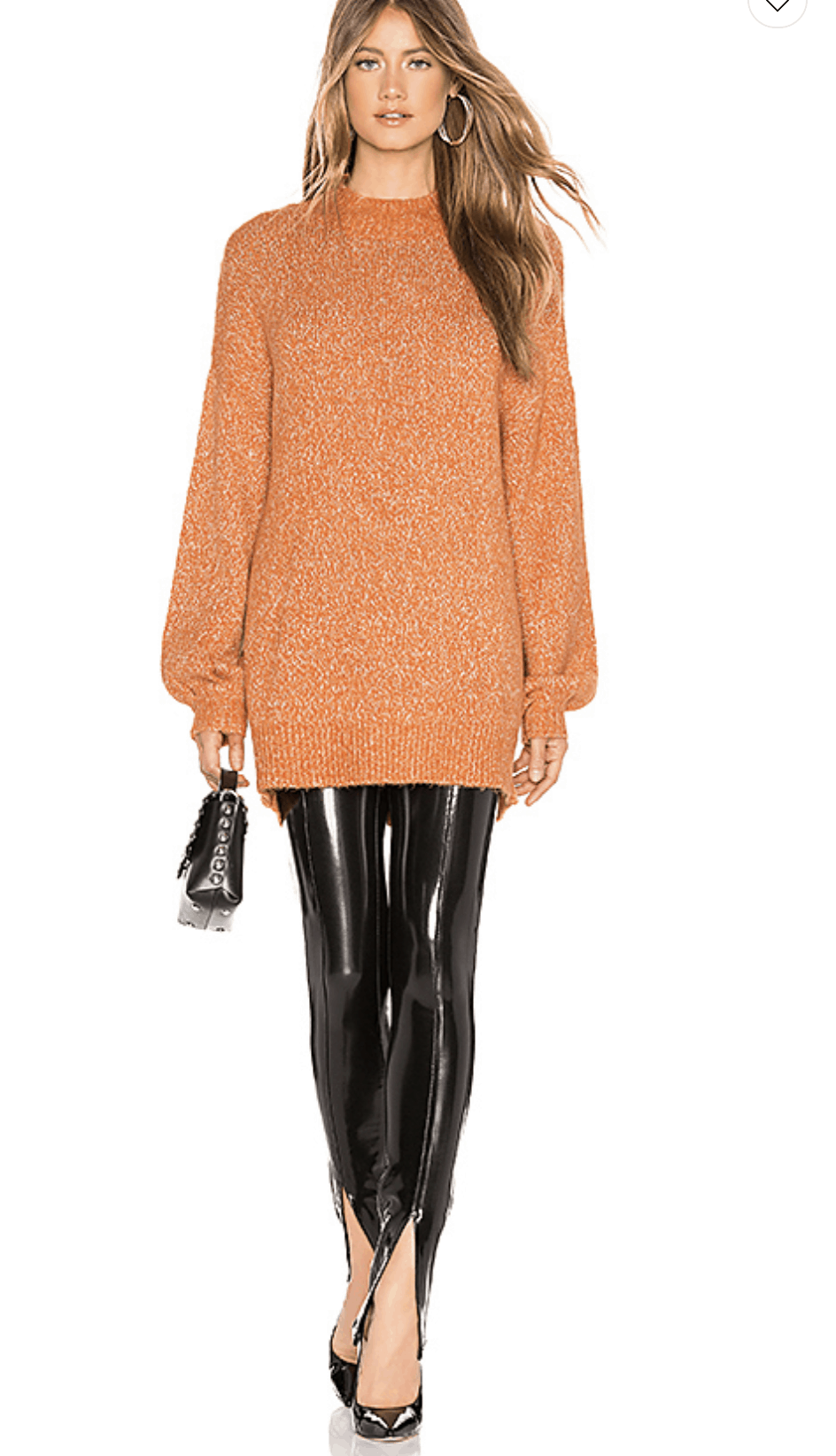 Product: Sweater; $40 – Revolve
This burnt orange sweater is a great option to wear as a top or a dress. Ditch the leggings and add a brown belt, flats, and clutch for a cute and casual outfit.
You could also try wearing the sweater with leather leggings, as pictured above, and strappy block heels with a belt-bag for a chilly evening.
Lastly, pair with ripped boyfriend jeans, rolled up, and flats or sneakers for a sportier look.
Affordable Retro Mid-Tones, Option #6: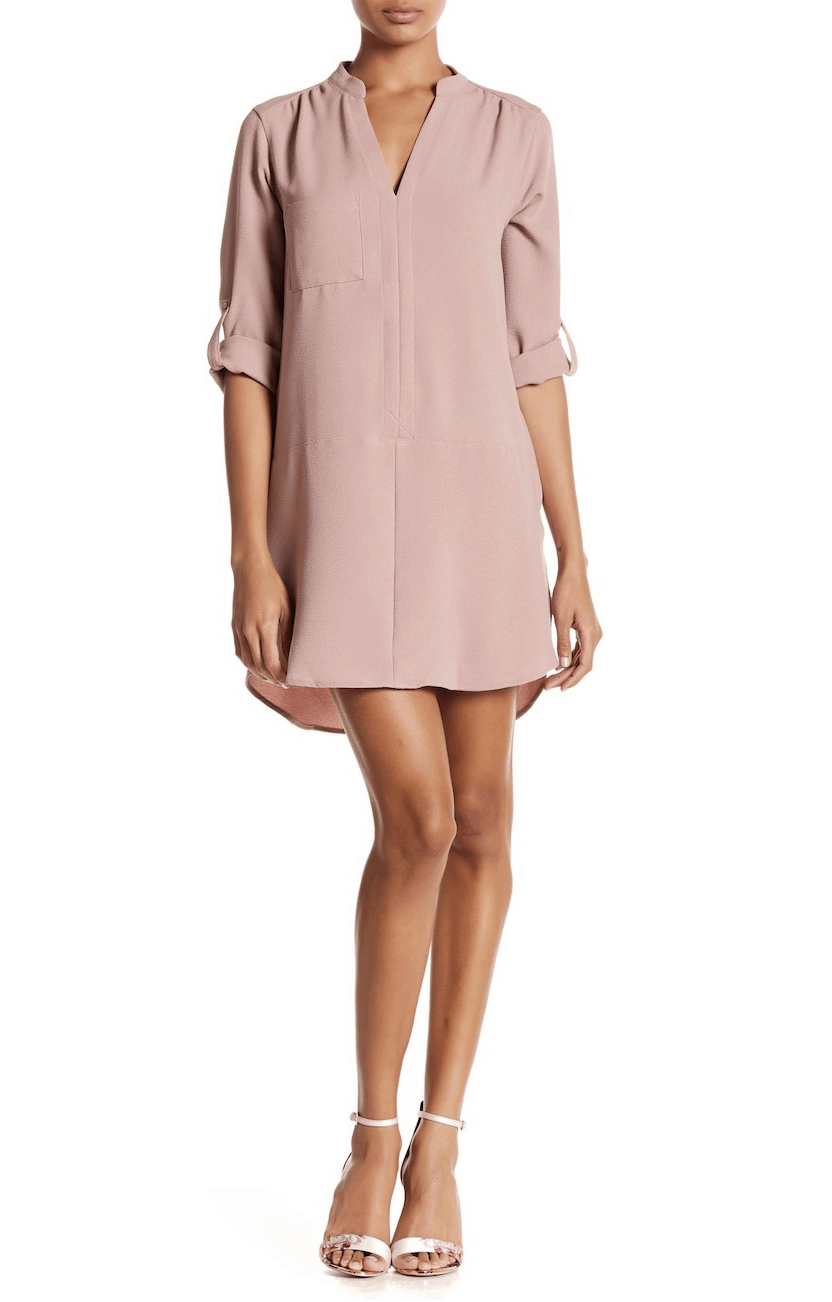 Product: Shift Dress; $30 – Nordstrom Rack
This mauve shift dress can be dressed up or down with the right pairings.
Tuck the whole dress into your high-waisted skinny jeans – dark wash, black, or white – for a polished look. Add a long necklace, bangles, and heels.
For a dressier outfit, wear a skinny belt at the waist, add tights, and wear heeled boots. Also consider adding a dainty necklace and earrings.
Would you try the Retro Mid-Tones Trend?
Which high fashion trend would you like to see next? Share with us in the comments below!