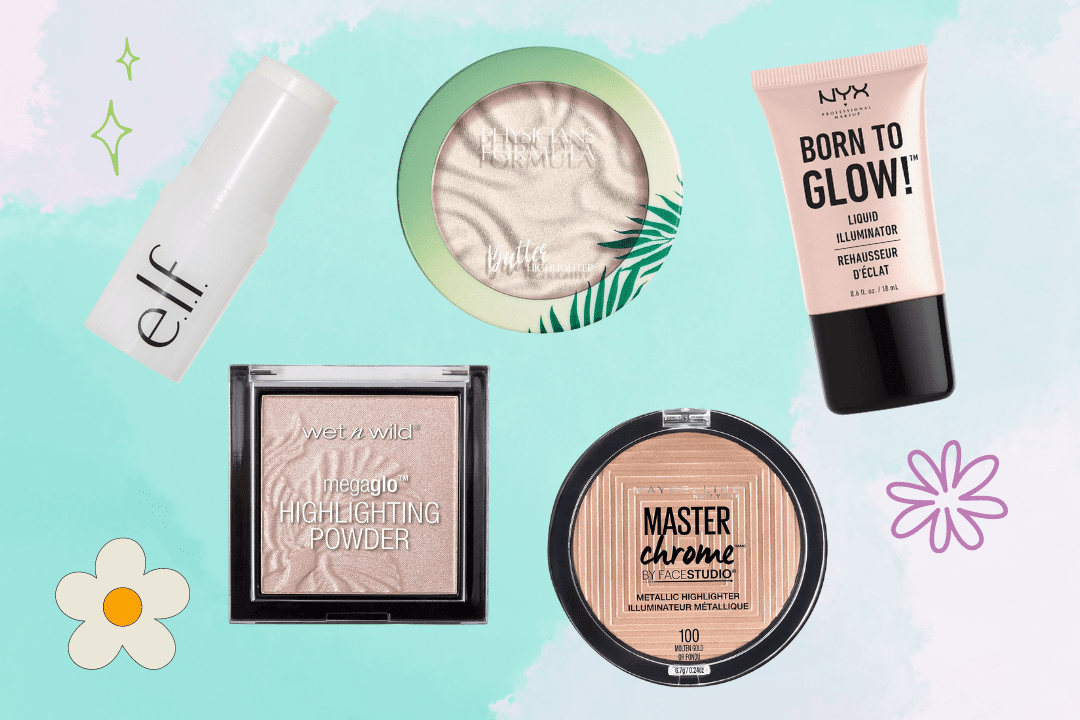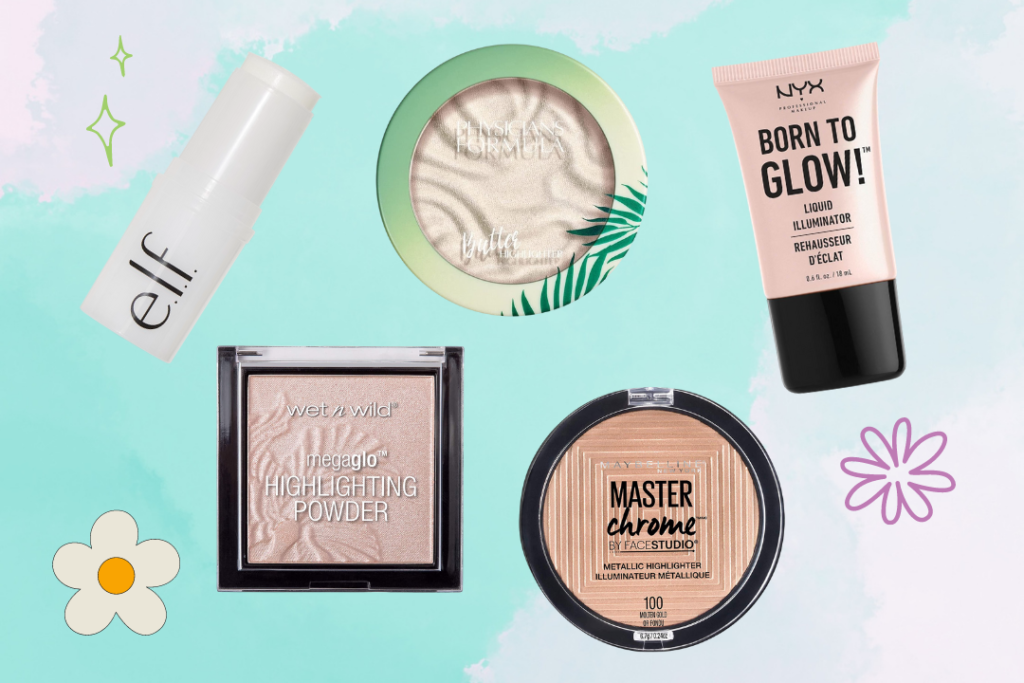 This season, glowy skin is in. Gone are the days of heavy matte foundations and powders; now it's all about getting that "glazed donut" look with skincare… and a little help from a good highlighter.
Whether you apply highlighter under your skin tint for an extra glow, or on top of your foundation for a blinding cheekbone, highlighter is a must-have in every makeup collection. And you don't need to spend a lot for a great one!
Here are the best drugstore highlighters on the market right now.
5 Best Drugstore Highlighters
1. Wet n Wild MegaGlo Highlighting Powder
I'd be remiss if I didn't start with the most popular and beloved drugstore highlighter of recent years, the Wet n Wild MegaGlo Highlighting Powder. This powder is a cult favorite, and you honestly cannot beat the price — it's less than $5!
Wet n Wild's highlighter is a favorite of Youtube beauty gurus for its ultra-pigmented formulation (a little goes a long way), so if you love a bright, blinding highlight, this is the product for you. It also blends well for a more subtle look.
Color: 5 shades available
Best for Skin Tone: All skin tones
Item Form: Powder
Finish Type: Shimmery
Recommended For: If you want an amazing, versatile highlighting powder at an ultra-low price, run, don't walk to get the Wet n Wild MegaGlo!
This product is nice and concentrated so it will last you forever, and it goes on silky and blends like dream.
The best part is the shade range — there's a color for every skin tone, from a light petal pink ("Blossom Glow") to a rich copper ("Awesome Blossom"). I definitely recommend swatching these at a store to find your perfect one, as they're very pigmented.
Pros:
Large shade range
Concentrated product (a little goes a long way)
Super low price — less than $5 most places
Easy to find at any drugstore
Great range of shades for medium and dark skin
Cons:
Packaging could be better — easily breakable
Not the longest-lasting highlighter on the market
If you are fair skinned, only one shade ("Blossom Glow") will be light enough
2. Physicians Formula Murumuru Butter Highlighter
We're always big fans of Physicians Formula's cheek products (see: the TikTok-viral strawberry blush), and their Murumuru Butter Highlighter doesn't disappoint.
This drugstore highlighter really does apply like butter. It has a cream to powder texture that is incredibly smooth to apply. It can be built up from blended to blinding, depending on your desired look. And did I mention it smells amazing, too?
Of course, we have to talk shade range. If you're super pale, you know it can be hard to find a highlighter that's light enough, but Physician's Formula nails it, especially with their "Pearl" color.
Color: 6 shades available
Best for Skin Tone: Fair to Medium-Dark
Item Form: Cream-to-powder
Finish Type: Pearlescent
Recommended For: If you have very fair skin, this is the best drugstore highlighter for your skin tone. Their shades range from medium to ultra light, so you can find one that won't make you look like you're wearing eyeshadow on your cheeks. However, it's a bit expensive for a drugstore product.
Pros:
Interesting shade range, from gold to purple iridescent
Cream to powder finish that feels like butter on your skin
Contains moisturizing skincare ingredients
Can be layered and built up
Cons:
Shades might be too light for the darkest skin tones
Retails for $10.99, more than double the price of Wet n Wild
Coconut-scented; avoid if you don't like fragranced products
3. Maybelline Master Chrome Metallic Highlighter Powder
Maybelline's Master Chrome Metallic Highlighter has an avid following and for good reason: It delivers amazing color payoff for a super low price (under $5 at most stores).
There's so much to love about this product, from its generous size (.24 oz) to its ultra fine shimmer. The finish is metallic and absolutely stunning in person, but start slow and build up — it's a very concentrated product.
Finally, a note on the shade range: This product's four shades are on the deeper and warmer side compared to other highlighters on this list, so they look particularly great on dark skin.
Color: 4 shades available
Best for Skin Tone: Medium to Dark
Item Form: Powder
Finish Type: Metallic
Recommended For: If you have medium to dark skin and want a highlighter that pops, the Master Chrome highlighters will look stunning on you! While the shades are too dark for fair and light skin (unless added to bronzer), they are perfectly suited to darker skin tones.
Pros:
Amazing shades that blend beautifully on medium and dark skin
Awesome price point (under $5)
A little goes a long way
Lasts a long time on skin
Cons:
Shades are not suited to fair or light skin
Packaging is not the best; it's easy to dent the product when opening
Powder breaks easily if product is dropped
4. NYX Born to Glow Liquid Illuminator
With the rise in popularity of liquid highlighters like Rare Beauty Liquid Luminizer and Charlotte Tilbury's Highlighter Wand, you may be looking for a cheaper alternative. If so, you're going to love the NYX Born to Glow Liquid Illuminator.
This beautiful drugstore highlighter is super versatile. Mix it with your foundation or skin tint for extra glow, or glide it over cheekbones and blend for that coveted pearly gleam. At $7.50, this product is an easy no-brainer.
Color: 4 shades available
Best for Skin Tone: All Skin Tones
Item Form: Liquid
Finish Type: Shimmery
Recommended For: If you've been wanting to try a liquid highlighter but don't want to spend a lot, try NYX's Born to Glow. It blends smoothly and is available in four beautifully gleamy shades, suitable for a wide range of skin tones. Try it mixed into your foundation for a stunning dewy finish.
Pros:
Affordable alternative to high-end liquid highlighters at just $7.50 a tube
Can be applied on its own or mixed with foundation or skin tint
Contains more product than high-end alternatives (.6 fl oz)
Can be used on the body as well
A little goes a long way so it's economical
Vegan and cruelty-free
Cons:
Shade range could be better
Some may find this highlighter too glittery — the pigment is not as finely ground as other alternatives
Dries quickly so can be tricky to work with
5. e.l.f. Cosmetics Daily Dew Stick
Stick form products are more popular than ever, so it's surprising that there aren't many drugstore stick highlighters on the market. The best one I've ever tried is the e.l.f. Cosmetics Daily Dew Stick, a new product from the brand.
These highlighters truly give a lit-from-within glow — nothing fake or makeupy about them. They're super sheer and nicely moisturizing, so they almost feel like skincare. I like to apply mine to my face before I add my skin tint for a natural glow.
Color: 4 shades available
Best for Skin Tone: All skin tones
Item Form: Stick
Finish Type: Available in shimmer and pearl finishes
Recommended For: If you like a dewy, gel-like cream highlighter, this one is amazing! It's perfect for a natural, lit-from-within look, and you can use it to prime or add it on top of your makeup for extra glow. The shades are all sheer and natural-looking, so you don't have to worry about them not working for your skin tone.
Pros:
Beautiful shade range
Pretty packaging
Each shade contains a different skincare ingredient
Nice and sheer, so all four shades work for everyone
Cooling aloe gives skin a soothing feel
Cruelty-free and vegan
Cons:
Product is on the sheer side which may not be for you if you want a blinding highlight
Short shelf life — needs to be tossed after just three months
Does not dry down as well as other products; skip if you don't like a dewy finish
What do you think of our picks for best drugstore highlighter?
Do you agree with our choices? Do you have a favorite drugstore highlighter we missed? Tell me your thoughts by leaving a comment down below.