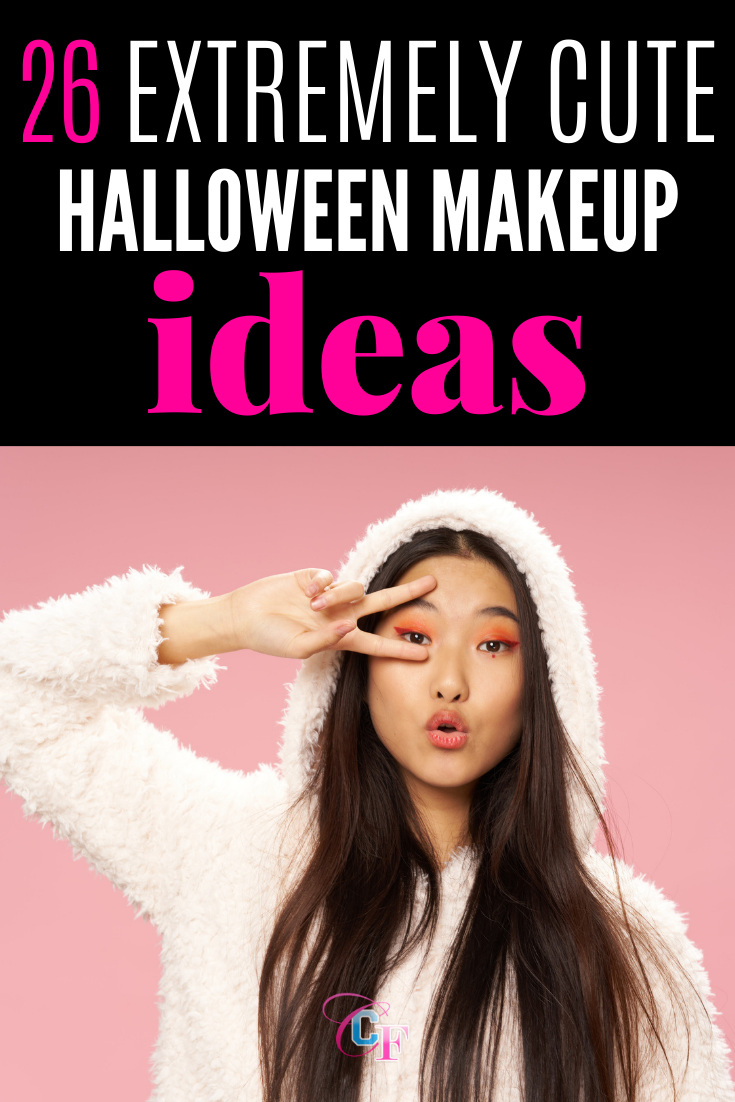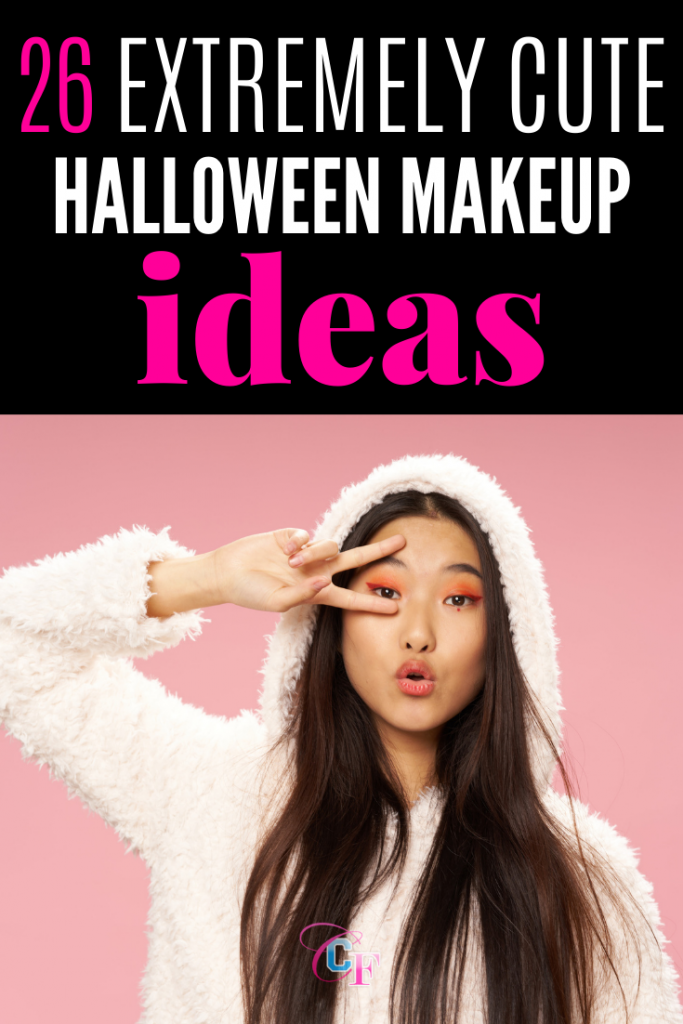 Halloween is almost here again! And we're helping you get ready with some super cute Halloween makeup ideas to go with your costume or be worn on their own.
And don't worry, you don't have to be a professional makeup artist to pull off these looks. Nor do you need special effects makeup on hand — you can use regular makeup products for all of these!
Read on to get inspiration for your Halloween makeup looks!
1. Princess
If you love Disney, you may want to dress up as a princess for Halloween.
It's fun to put together a makeup look that resembles the makeup that the princesses are wearing, so you can either search for Halloween makeup ideas for your princess of choice or do a generic Disney Princess makeup look like this one.
Basically, this tutorial is just a regular princess makeup look with light blue eyeshadow that matches Cinderella's dress. You could totally swap it with green for Ariel, yellow for Belle, etc.
Also, if you want to add even more to this makeup look, you can put the gems on your face as well to add some sparkle.
2. Bratz Doll
Bratz was popular in the early 2000s and they are making a comeback with the return of Y2K fashion.
It has been a popular trend to transform yourself into a Bratz doll using makeup. So, why not take advantage of this fun new trend for Halloween?
Related reading: How to Do a Bratz Doll Costume for Halloween
There are a lot of different Bratz dolls and makeup looks that you can try out, but one that has been really popular is this red and pink Bratz makeup look.
This look is also just a regular makeup look with red lips and pink eyeshadow, but to transform yourself into a Bratz doll, you can add the dramatic black eyeliner and false lashes to get the full effect.
3. Angel
Another makeup look you should try for Halloween is this angel look!
If you love highlighter and glitter, this is the perfect makeup look for you. It incorporates a beautiful highlighter that you can put on your eyes and face for an angelic look.
Also, instead of using black for your eyeliner, this tutorial uses white eyeliner to create a dramatic eye look that will fully transform you into an angel.
Finally, if you want to go even further, you can make your eyelashes look white with mascara primer.
4. Marilyn Monroe
Marilyn Monroe was known for her iconic makeup look, which you should definitely try for Halloween.
This makeup look would be perfect if you do not want to go too overboard on cosmetics but want to look cute and classically feminine.
All you have to do is wear a bold red lip, black winged eyeliner, false eyelashes (or just some black mascara), and some white and brown eyeshadow to create this look.
If you do want to rock falsies, these Ardell Wispies eyelashes will do the trick — they're our go-to's!
5. Neon Skeleton
This neon skeleton makeup look is definitely more intense than the others on this list, but it's so cool and makes such a statement — it's worth the extra effort.
Also, if you are looking for a more artistic type of makeup look, this is the one for you!
To get this look, the tutorial recommends the Mehron Paint Palette from Amazon to get the neon pink and black colors to create the skeleton, the Blood Sugar palette from Jeffree Star Cosmetics to get the bold white eyeshadow look, and black liquid eyeliner to add the special effects around your face.
To get add some extra flair to this look, the tutorial recommends the false lashes called Miami from Lilly Lashes and color them with the same neon pink eyeshadow to match your makeup.
Related reading: 20 Cute & Fun Halloween Nail Ideas to Die For
6. Devil
If you want to dress up as the devil for Halloween, you should also try to transform yourself using this Devil makeup look!
To copy this cute Halloween makeup idea, you will need red lipstick and you can get either glitter lip gloss or loose red glitter to add to your lips for that extra sparkle.
The tutorial adds lipstick to your brows to make them red as well, and red eyeshadow for your face and eyes.
Lastly, you can add concealer to your lids if you want to also make a cute crease for the look.
7. Pumpkin
If you want to go for a super cute Halloween-themed makeup look, you can try out this pumpkin makeup look.
To create the jack o'lanterns on your eyelids, the tutorial recommends the BPerfect x Stacey Marie Carnival palette to get the orange and yellow shades.
Also, to spice up this look, even more, you can add false eyelashes, a bold brow, and some gold highlighter to finish it off.
8. Dark Queen
If you want a more dramatic Halloween makeup look this year, you should try out this dark queen look.
To create this look, you will need dark red lipstick and dark eyeshadow or blush to put on your face.
Also, to make the look even more dramatic, don't skip the bold brow!
Lastly, to get the eye look, you will need gold glitter for under your eyes and dark purple eyeshadow to add to your lids, as well as black liquid eyeliner.
9. Harley Quinn
Harley Quinn was a popular Halloween costume when Suicide Squad came out a few years ago. But, you can still expect to see Harley costumes this year because the Harley Quinn move, Birds of Prey was released in February.
To get this cute Halloween makeup idea, you will need red lipstick, black liquid eyeliner to create the cute heart that she has on her cheek, and — if you want to draw on some fake face tattoos — liquid eyeliner.
Also, you will need red and blue eyeshadow (of course) to add to your eyelids to complete the look.
10. Butterfly
Butterflies have been becoming more popular recently in things like jewelry, hair accessories, etc. (You can thank the return of Y2K fashion for this!)
This also means that you could take advantage of this trend by dressing up as a butterfly for Halloween.
For this butterfly-inspired makeup look, you need bright pink lipstick and blush, as well as bright blue, purple, and pink eyeshadow. Finally, you'll definitely need black liquid eyeliner to draw the butterfly on your eyelids to finish the look.
11. Clown
Dressing up as a clown has always been a classic Halloween costume. But why not spice it up with this glam clown makeup look?
To get this look, you will need a red liquid lip and white and black liquid eyeliner to create the dramatic lip and clown nose effect.
For the eyes, you will need white or silver glitter eyeshadow for your lids with dark red eyeshadow in your crease and some dramatic false lashes.
Also, if you want to add some more glam to this look, you can put some white highlighter on your cheekbones, as Mitchell does above.
12. Mermaid
If you loved mermaids growing up, you may want to dress up as a mermaid for this Halloween. Be sure to complete the look with this cute mermaid makeup look.
You will need a light blue liquid lip color for your lips and brows. Also, you'll need purple eyeshadow for your crease with a white glitter eyeshadow to go in the inner corners of your eye. Also, purple and blue eyeshadow can be added to your face to create what looks like scales. Then, just finish with black liquid eyeliner and mascara.
If you want to add special effects to this makeup look, you can purchase glitter to glue under your eyes and some pearls to add to your face for extra glam.
13. Unicorn
If you are looking for a girly and cute Halloween makeup look to try, you should go for this unicorn makeup look!
It incorporates bright pink blush to go on your cheeks and purple lipstick with glitter. Just add the same pink blush or eyeshadow to your brows to color them to match the look.
Lastly, for the eyes, you will need bright blue glitter eyeshadow for your lids, bright pink eyeshadow for your crease, and green eyeshadow for the outer corners of your eye to complete this magical look.
14. Ariana Grande
Ariana Grande is known for the killer makeup looks that she wears in her music videos, which means if you want to dress up as a pop star for Halloween, you should definitely try to mimic one of her looks.
This makeup look, inspired by her God is a Woman music video, is absolutely gorgeous!
To create this look, you will need purple eyeshadow to add all over your eyes, your face, and to your lips to resemble her look. Also, you can add a purple eyeliner to create the cat eye and some highlighter on your face to add some sparkle.
Lastly, to add even more to the look, you can purchase gems to glue onto your face.
15. Queen of Hearts
If you are looking to dress up as a queen for Halloween, you should dress up as the iconic Queen of Hearts from Alice in Wonderland!
You can pair your costume with this dramatic makeup look to completely transform yourself into the queen.
You will need the Mehron face paint palette to create special effects on your face like the heart shapes around the eyes and the small lips to match the queen's makeup.
Also, you will need some dramatic false lashes to complete the look!
A Few More Subtle Halloween Makeup Ideas (for Daytime or Parties):
Not wanting to go all out in costume this year? We get it. You can still be festive sans-costume when you rock one of the cute makeup looks below!
These spooky, no-costume-required Halloween makeup ideas will help you add a bit of Halloween spirit to an everyday outfit. I tried to choose looks that could be worn to class, as well as to parties.
16. Spider Web Eyeliner
This graceful spider web eyeliner would be a fun and elegant look to wear on Halloween. If you're wearing this makeup look during the day, you might skip the eyeshadow.
17. Bat Wing Eyeliner
This bat wing eyeliner is so fun! The creative wing-shaped liner looks a little tricky, but if you love playing with makeup this could be the Halloween makeup idea for you!
18. Glitter Brows
If you've ever wanted to try glitter brows, now is your chance! This is a fun way to add some Halloween fun to your outfit. It's also a great option if you don't want traditional spooky makeup, but still want to have some fun with your look on Halloween.
If you want to wear this in a more casual setting, you could wear it with more neutral eyeshadow and lipstick.
19. Glitter Eyeliner
If glitter brows aren't your thing, how about glitter eyeliner? This makeup is subtle but fun and unique enough to be perfect for Halloween!
20. Spooky Glam Makeup
Nothing says Halloween like pairing orange and black! This makeup tutorial manages to look trendy and glamorous while still showing a clear Halloween influence. If you tend to dress in darker colors, this would be perfect for you!
21. Spooky Doll Makeup
If you're a fan of the scarier side of Halloween, why not use this tutorial to do some spooky doll makeup? The makeup is dramatic yet simple, and you don't have to go all out with the white face paint if you want this more real-life-wearable.
22. Extreme Cat Eye Liner
For some, winged eyeliner is an everyday staple. So why not go a little further with your liner for Halloween?
The key is to go beyond a simple wing by adding length, volume, and a dash of creativity, à la the NikkieTutorials look above. Plus, this look gives off major Halloween-ready vibes without looking ghastly.
23. Pumpkin Spice Makeup
This makeup is a more typical seasonal look. You would have no problem wearing this to a class or a party. If you want a more dramatic look at night, you could switch to a darker lipstick.
24. Black and Orange Makeup
Here's another black and orange look! Instead of orange eyeshadow, here the orange is part of the eyeliner design. This bold makeup screams Halloween, and won't take long if you have experience with eyeliner.
25. Monochromatic
Halloween would be a great excuse to try out this bold monochromatic look! If you tend to be more adventurous with your makeup, this eye makeup could be a fun idea for you.
26. Eye Dots
Lastly, if you're looking for a quick and easy Halloween makeup look, this easy halloween makeup is a cute idea. It's different from typical makeup but still simple. If your outfit is going to be Halloween-themed, this would be a nice finishing touch.
Would You Try Any of These Halloween Makeup Ideas?
Do you have a favorite spooky makeup look? Let us know in the comments!
Editor's note: This post was originally published in 2019; it was completely updated and revamped in 2020 with new photos and information.
For more beauty and hair tips, check out our favorites below from our archive —