This post may contain affiliate links, which means we may receive a commission if you purchase through our links. Please
read our full disclosure here
.
Ariana Grande has been blessing us with so much music material, it's almost hard to keep up! But I keep up nonetheless.
Not only did she drop an amazing single "thank u, next," she brought us a music video to tag along with the song that played tribute to ~classic~ movies. Then, to bless us even more, she dropped her 12 song album "thank u, next."
I constantly have this album on repeat. One of my favorite songs is "7 rings." And the video for it is amazing, naturally. Check it out here:
This music video is all about the power of friendship and being a successful woman. Two of my favorite things.
The main color for the music video is pink. Ariana and her friends follow this theme in the best way possible. They take pink to a whole new level by adding metallics, neons and iridescent pieces of clothing.
Here are 4 outfits inspired by the 7 Rings music video:
7 Rings Fashion – Outfit One: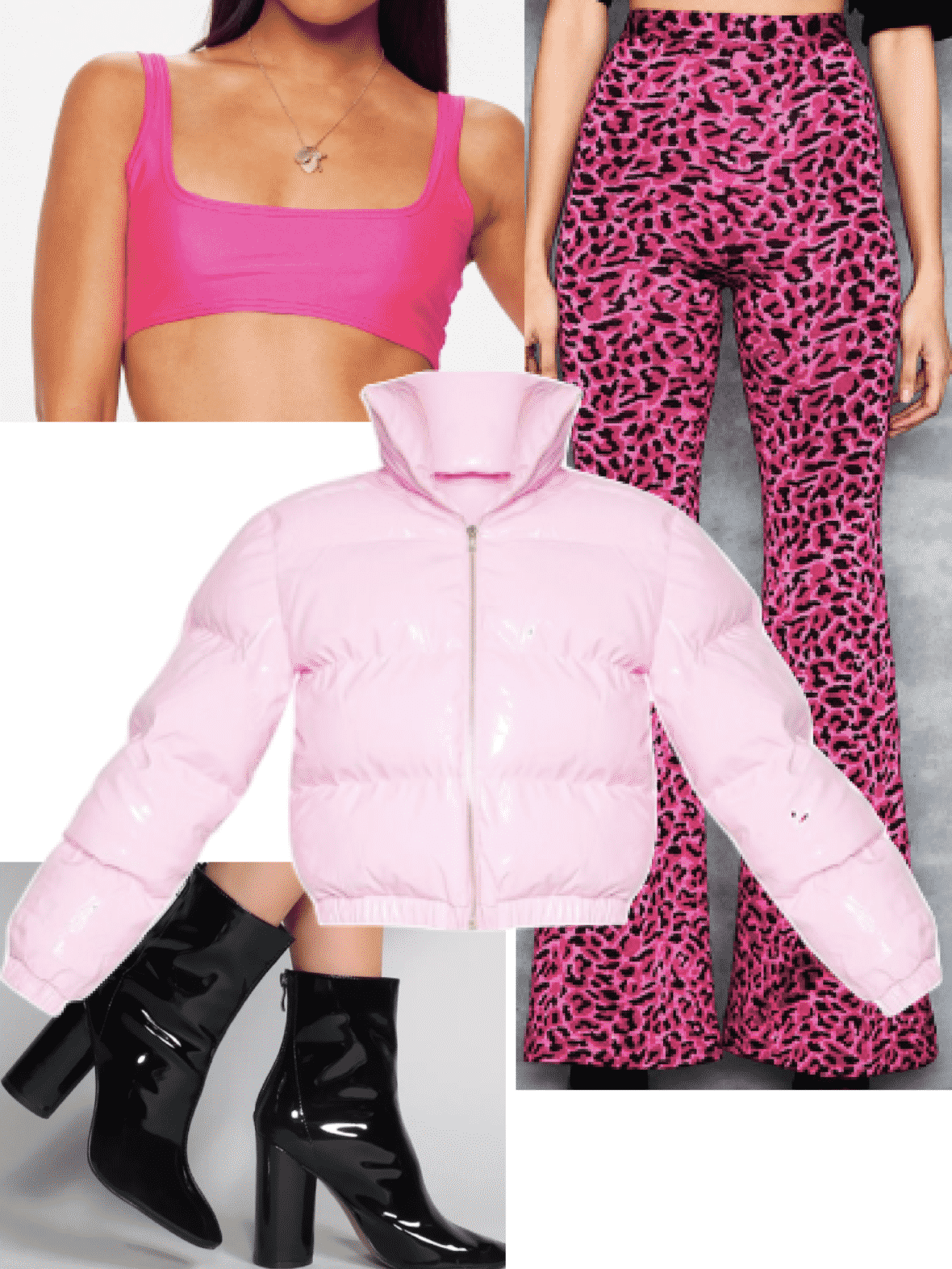 Products: Pink Bandeau – Missguided, Pants – Mistress Rocks, Jacket – PrettyLittleThing, Shoes – Public Desire
I'd call this outfit "Pink Rockstar." These hot pink cheetah-print pants are to die for. I might need to buy a pair for myself. These pants are such a statement piece, but why stop there? A pink bandeau keeps the color scheme alive.
Throughout the music video, Ariana and her friends wear many fun jackets such as puffer jackets and fur coats. And to make it even more fun, they're in almost every shade of pink. I love this pink puffer to get her look.
7 Rings Fashion – Outfit 2: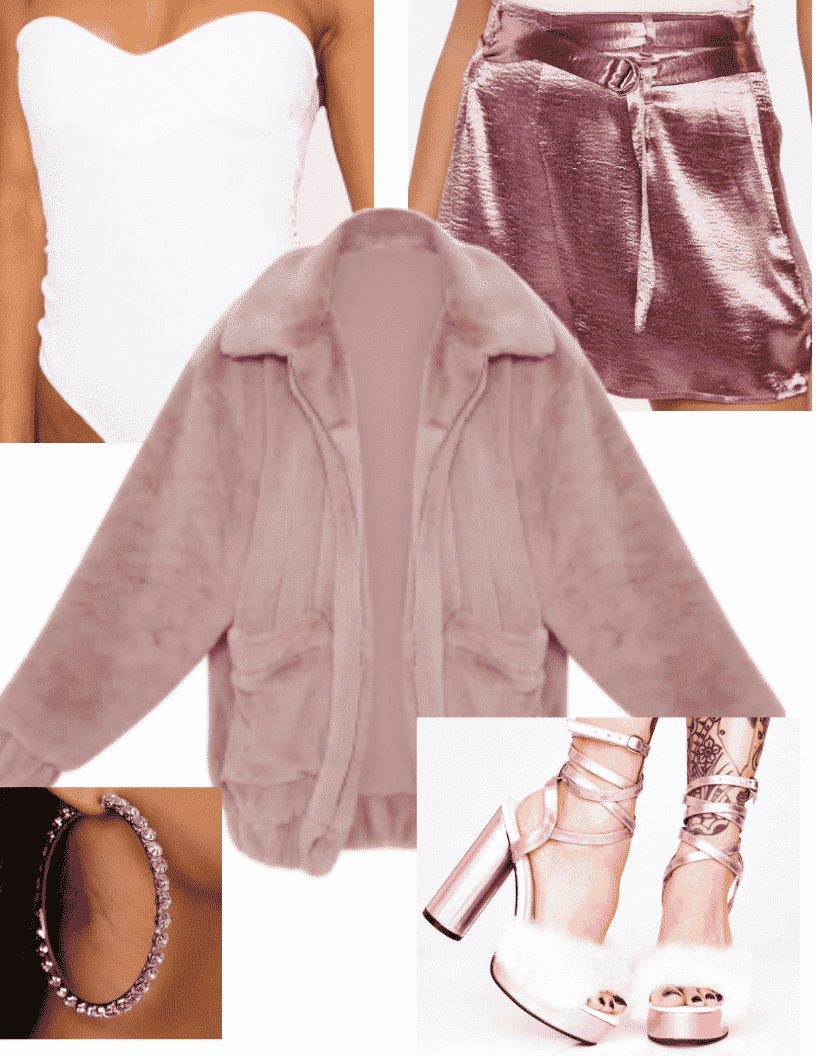 Products: Bodysuit – PrettyLittleThing, Satin Shorts – Missguided, Fur coat – PrettyLittleThing, Heels – Dolls Kill, Hoops – Fashion Nova
Diamond hoop earrings are among the statement pieces that Ariana Grande wears in the video. She shows off quite a few diamond accessories, actually, to allude to her financial success. And I am here for it.
All of the pieces in outfit two are sweet and sassy. They are a little less edgy compared to outfit one, but they would fit into the music video perfectly.
Also the heels, MAGOR HEART EYES. The fluff, the metallic and the straps are so fabulously cute.
7 Rings Fashion – Outfit 3: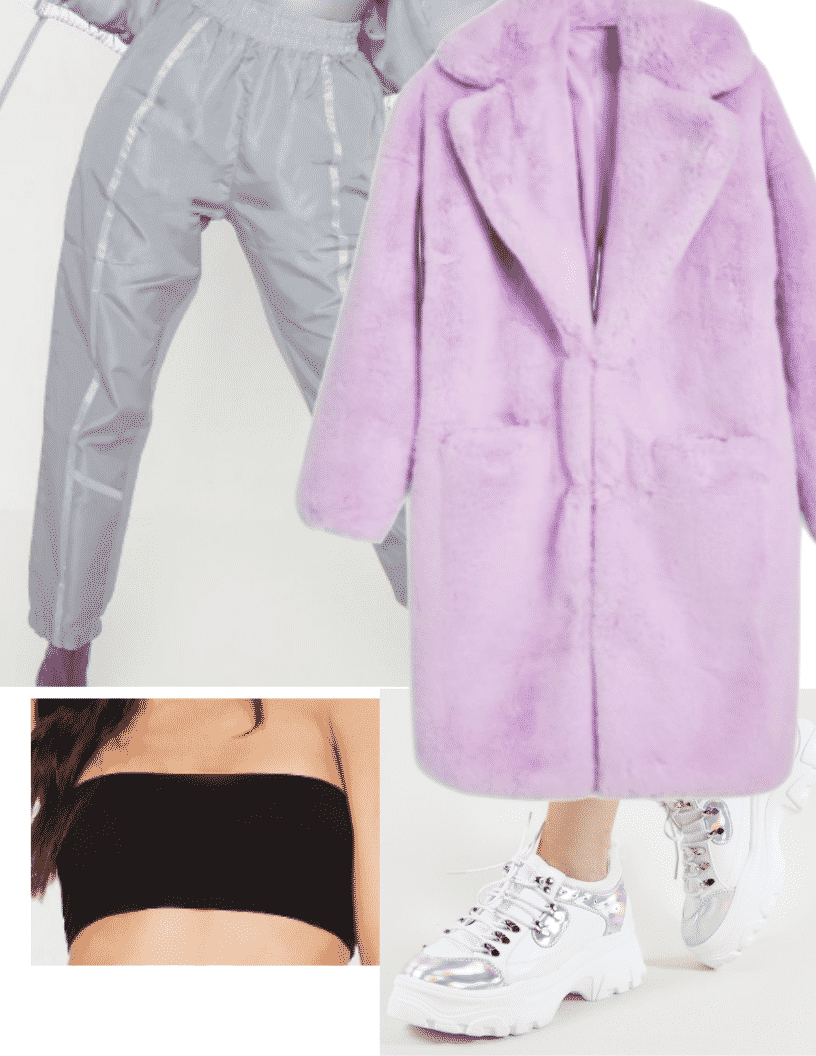 Products: Joggers – PrettyLittleThing, Fur Coat – Nordstrom, Bandeau – Missguided, Shoes – Public Desire
Outfit three puts a fun little spin on Ariana's music video style with the lilac fur coat. Although most of the music video is covered in pink, purple does feature as well, and it goes great with the look of the video.
I saw this coat and thought it was perfect for some 7 Rings fashion. It is such a unique color. It will definitely turn heads when you're walking down the street. (Bonus: It would totally fit with Ariana Grande's style, music video aside.)
7 Rings Fashion – Outfit 4: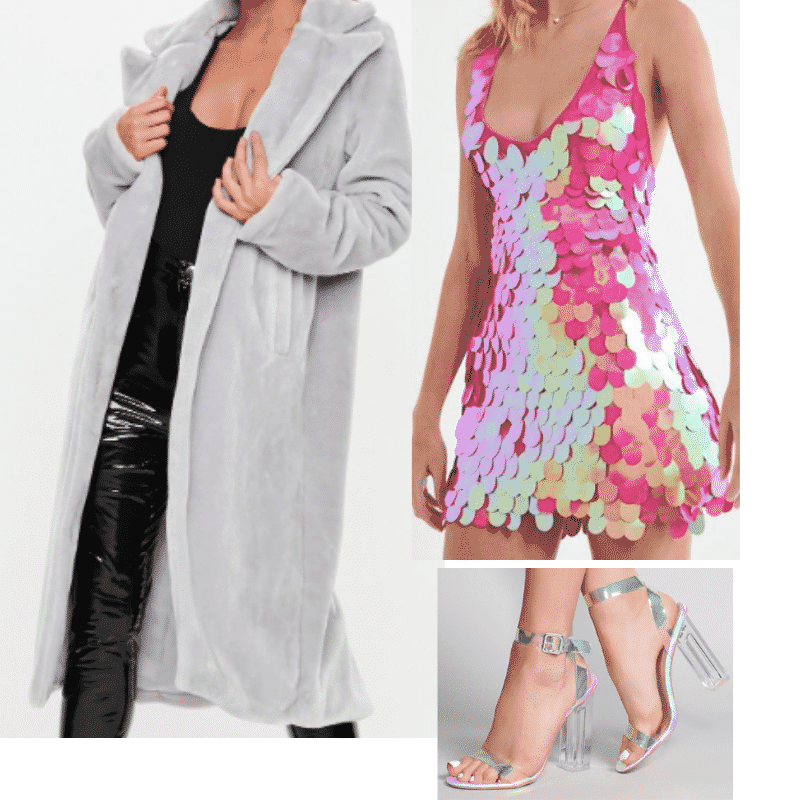 Products: Coat – Missguided, Dress – Urban Outfitters, Shoes – Public Desire
I absolutely love this dress. The color is great, the sequins are so fun and it is already in my shopping cart (also, it's a tie-back!!!). It's flirty and girly and you kind of need it if you like to make a statement.
The heels match the iridescent sequins on the dress, creating a neon feel to the outfit. And the grey fur coat adds a neutral piece, allowing the dress to be the statement!
Would you wear one of these outfits?
Overall, finding fashion inspiration from Ariana Grande is an everyday practice for me. I am a huge fan of her, her music and her style. She has this girly, fun, edgy look to her and I love it.
Did you like my take on 7 Rings Fashion? If so, which 7 rings outfit was your favorite? I would most definitely wear outfit 1 and 2, maybe for a night out in downtown Chicago! Let me know your thoughts in the comments below!