This post will show you how to recreate iconic Ariana Grande music video outfits.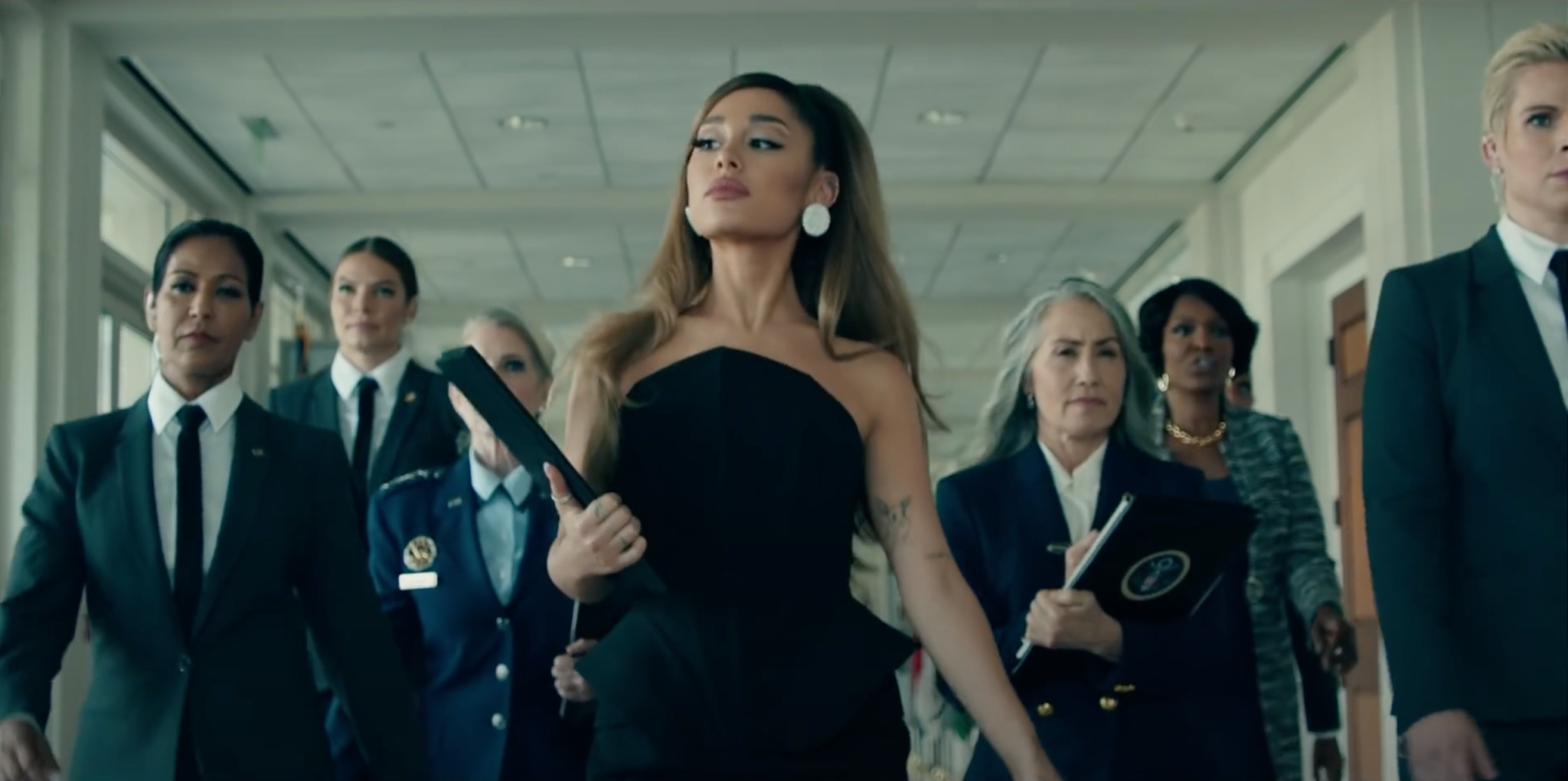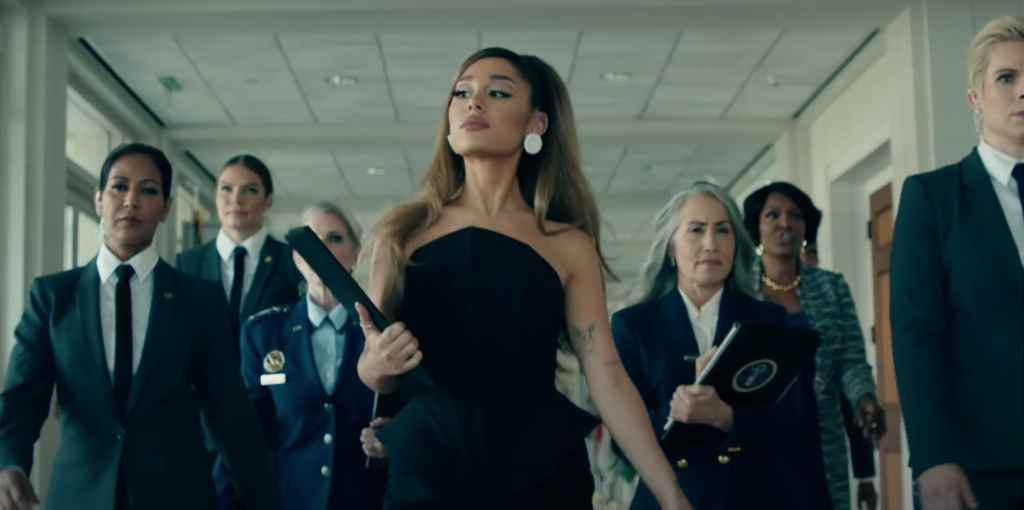 Back in the days of Victorious, if you had asked me which of the show's Hollywood Arts students would become the biggest name in music, I don't think I would have guessed Ariana Grande.
Not because she wasn't talented, but because if we're being honest, we never got to see the full range of her talent on that show. 
And truthfully, we all know who the star of the show was: Sikowitz.
Who could ever forget the time he had all his students over at his house for a sleepover where they couldn't break character? Was it weird that a teacher had his students over for a sleepover? Yes. But in the grand scheme of weird things that happened on the show, I'm not even sure that would break the top 10.
Nonetheless, Ariana Grande has skyrocketed to a level of fame that hasn't been seen before. She even broke her own Guinness World Record of most songs to debut at number one on the Billboard Hot 100 with Positions.
With a perfect mix of an angelic vocal range, catchy tunes, and strong messages, her songs are guaranteed hits.
This is not to mention Ariana's blend of sweetness and a strong presence that is not afraid to call out members of the press on their sexist rhetoric.
Whether you love her music or not, you must admit she is an unstoppable force that shows no signs of slowing down.
But what else is Ariana Grande known for? Well, her unmistakable look: the ponytail, the pouty lips and the puppy eyebrows. Which has inspired a wave of admirers and even some copycats.
Ariana's Style
But what really completes the stage persona that is Ariana Grande is her style. Whether she's casually getting coffee or shocking the world with another jaw dropping music video, she is always perfectly dressed.
Ariana's style is a 2021 take on old Hollywood glamour, the silhouettes are shorter, and the colors are pastel and nude, but the elegance is always there.
So, if you want dress like Ariana Grande in her music videos and channel your inner superstar, here are some things to keep in mind:
Pastels: Ariana loves a pink or purple pastel, colors that look great on every skin tone.
Ruffles and feathers: The sleepover vibe is a staple in many of her music videos, and there's nothing that says slumber party like some feathers.
Sparkles: Not like Ariana needs any sparkle, she takes care of that herself, but opting for some rhinestone or sequin-embellished pieces will give you her out of this world look.
But what really makes her music videos viral, is how different they are from each other style-wise. With each of these, she tells a story and shares a part of her personality in part through her music video fashion.
This is a great lesson for all of us fashion lovers: Even if we tend to like a certain type of clothing, we shouldn't feel confined to that style. Explore different sides of yourself with Ariana and try something new. 
Here are some outfits inspired by Ariana Grande's most recent music videos:
34+35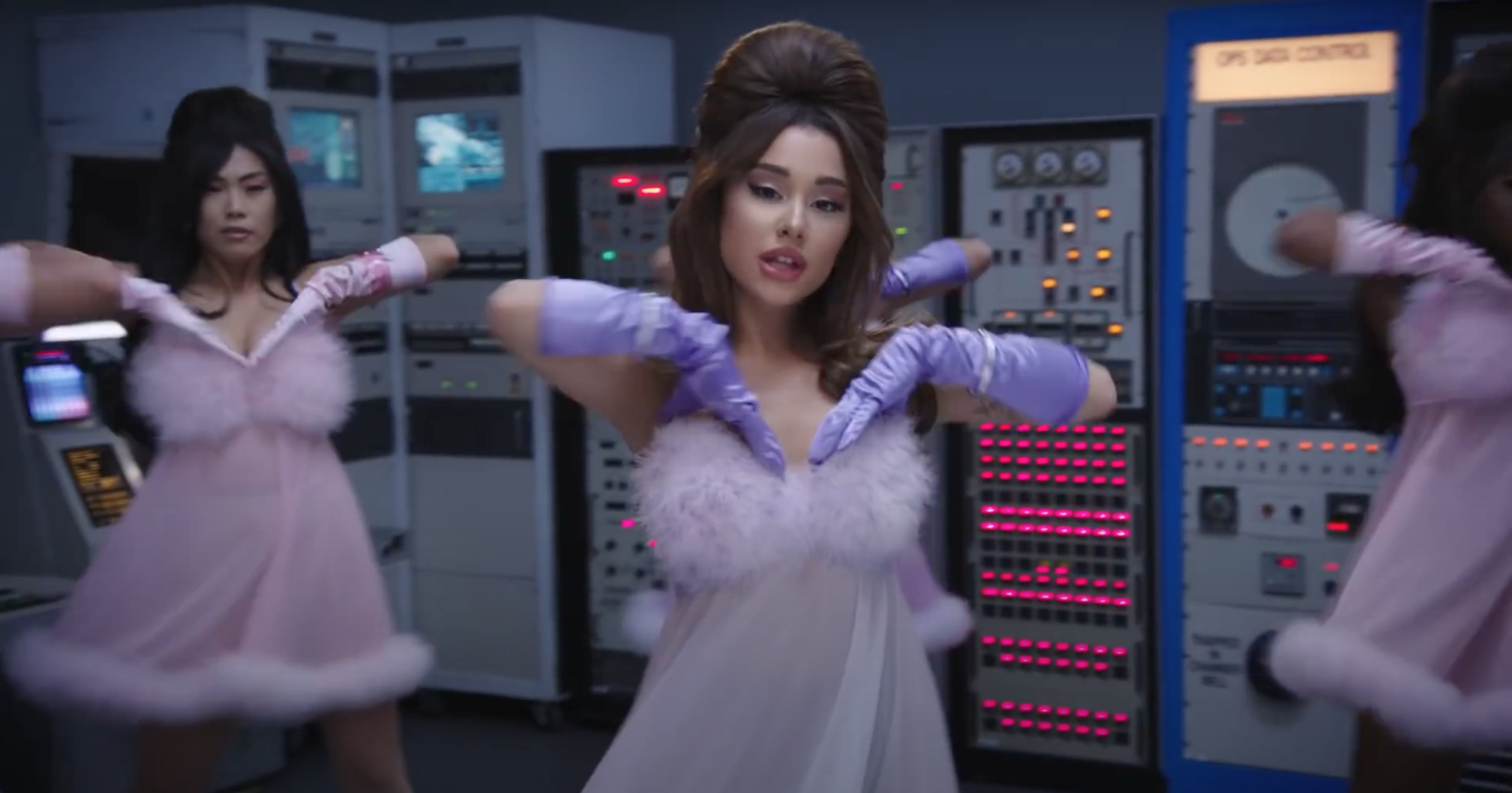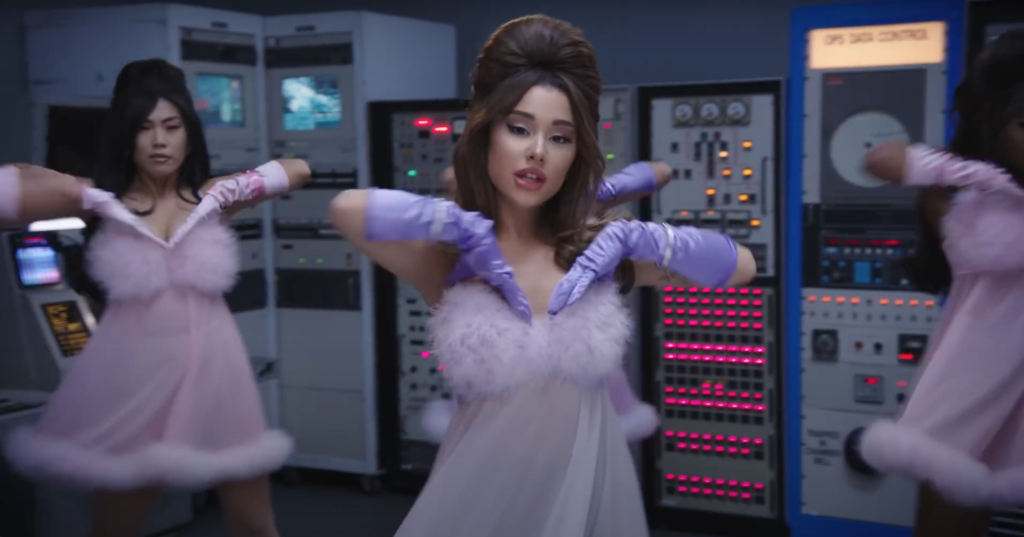 Ariana Grande's latest music video serve up major inspiration. What's not to love? The feathers! The lavender! The hair!
While this look may seem like a lot to pull off if your name doesn't start with Ariana and end with Grande, remember there aren't many occasions to dress up right now, so go all out when you can.
Stick to a lavender palette, with a ruffled dress and a feathery coat that is extremely in style right now. Match with some lavender accessories, for the full dreamy look.
Positions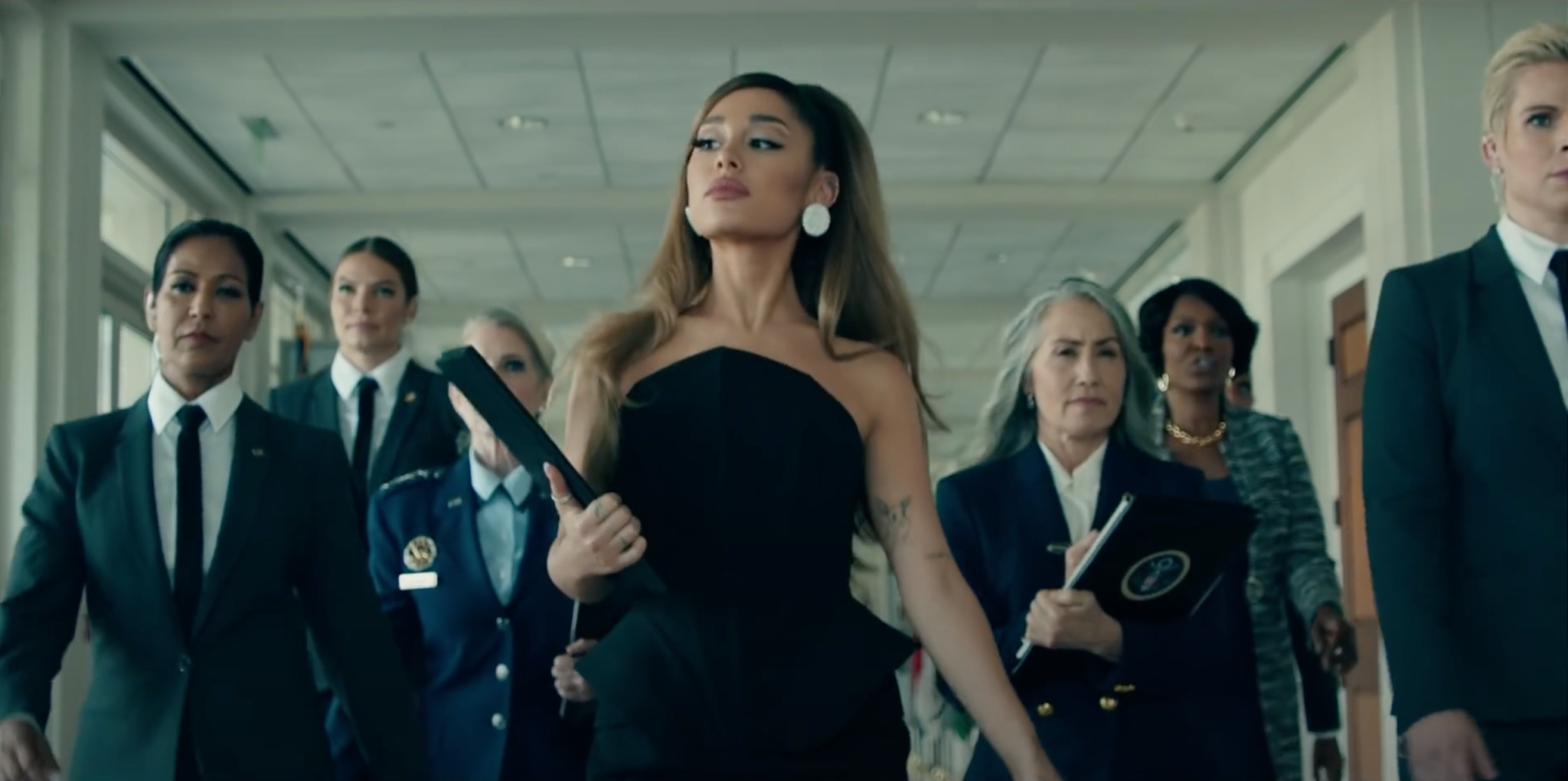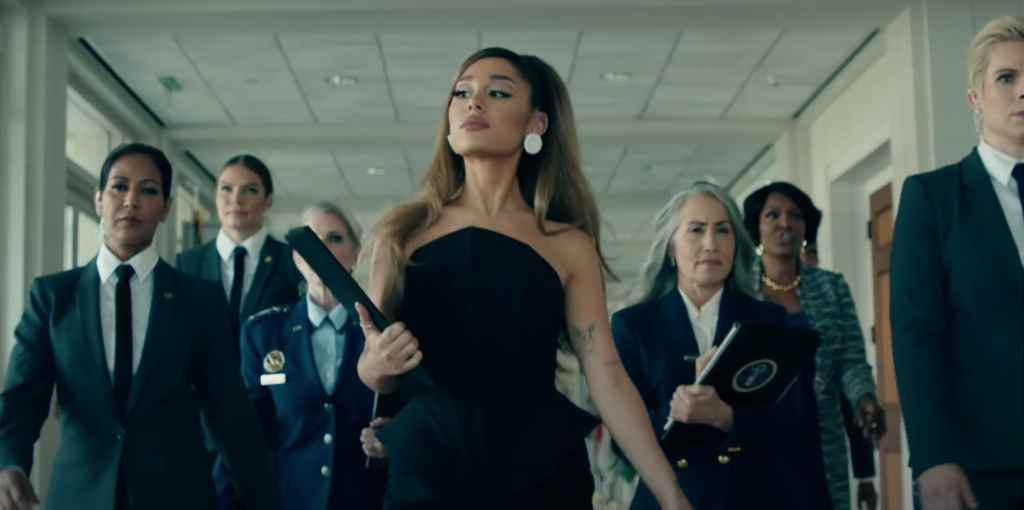 This music video has inspired TikTok trends and created a media frenzy.
The lyrics themselves stand on their own, but the music video rivaled Thank U, Next in terms of its aesthetic inspo.
There are so many outfits to choose from in this video, but nothing is as powerful as her walking down a hall in all black with a group of women ready to run the country.
Who says simple can't be powerful? Pair a black body con skirt with a strapless black top. Don't forget your sheer black tights to make your look even more elegant, and of course some sparkle.
God is a Woman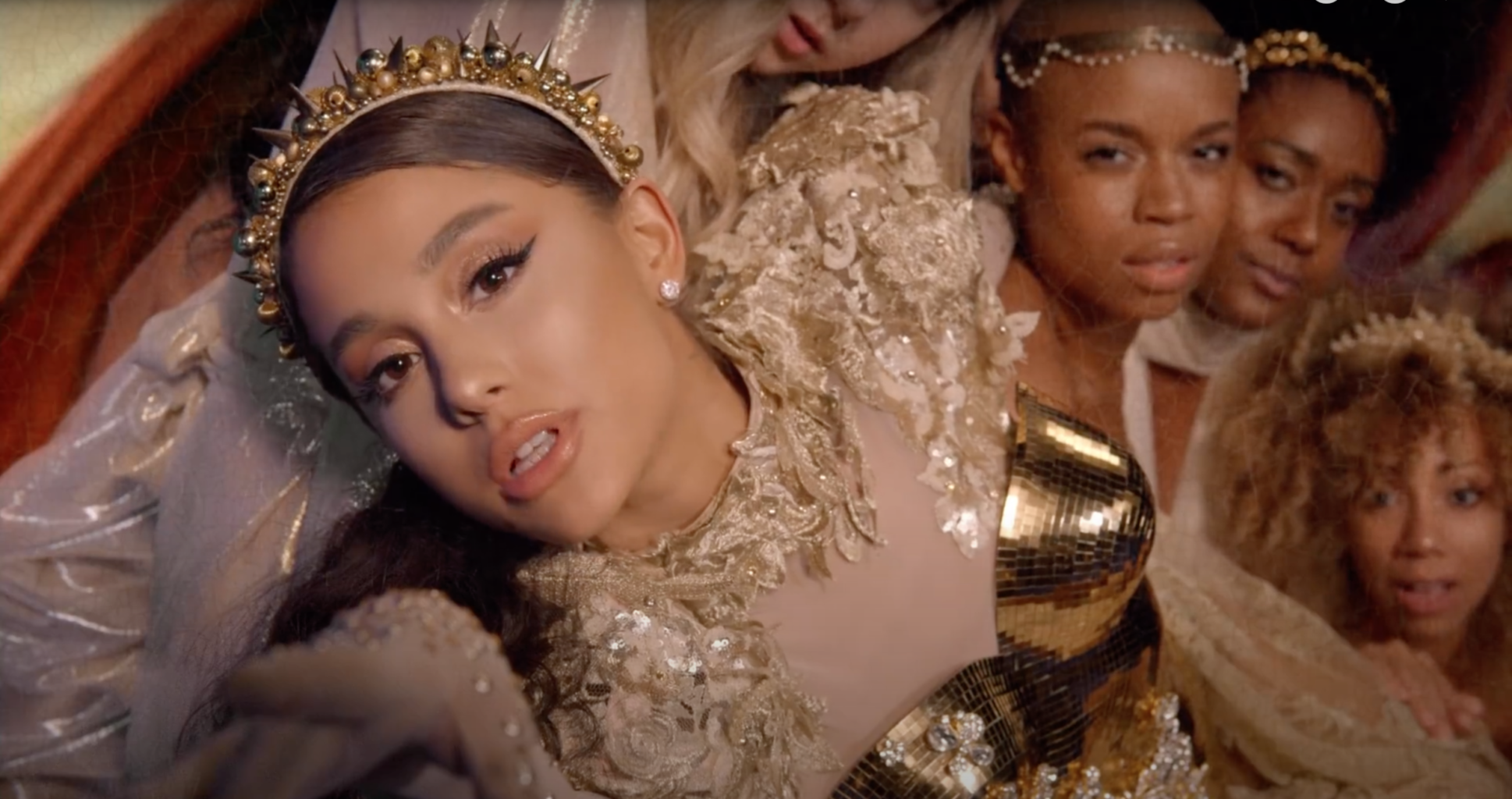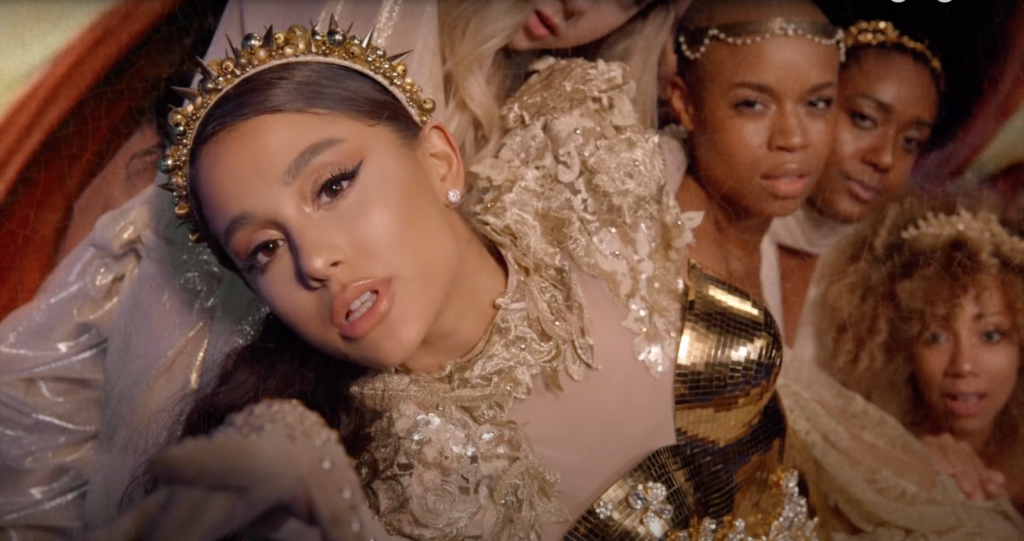 Whether God is a woman or not, I don't know, but I can tell you Ariana Grande looked like a goddess in this music video. While it may feel the time to wear gold has passed with the new year, gold is always in.
Pair different shades of gold, such as a armor like metallic skirt, and a flow backless gold top. Don't forget your tiara that will make you look like the Princess of Pop.
What do you think of these Ariana Grande music video outfits?
There's an Ariana Grande for every woman — don't forget to check out our 7 Rings and Thank U, Next outfits. You are sure to find a style that lets you embrace the superstar within you.
Which is her best style music video? What do you want to see in her next music videos?