This post may contain affiliate links, which means we may receive a commission if you purchase through our links. Please
read our full disclosure here
.
Ariana Grande has been killing the pop music game. She's dropping music left and right recently. (We just did a post on her video for 7 Rings, which is topping the charts rn.)
One of Ariana's most popular songs is 'thank u, next.'
If you're not listening to this song on your phone, you're hearing when it comes on the radio in your car, or when it's playing at your local grocery store.
It is playing everywhere and I still get excited when I hear it come on.
To promote the song, Ariana dropped an iconic music video. She had given her fans sneak peaks of the video and it was highly anticipated.
Ariana presented her creativity once again and played tribute to some ~classic~ movies such as, Mean Girls, Bring It On, 13 Going on 30, and Legally Blonde. Check it out here:
This video is one of my favorites because she highlights some of my favorite movies and she cast multiple people from Victorious, my favorite childhood show.
Overall, I was nostalgic in the best way possible.
Of course, after watching this music video, my mind was roaming with ways I could dupe the outfits she wore in the video.
So, here are my outfit inspirations from 'thank u, next':
Thank U Next Outfit 1: Pretty & Preppy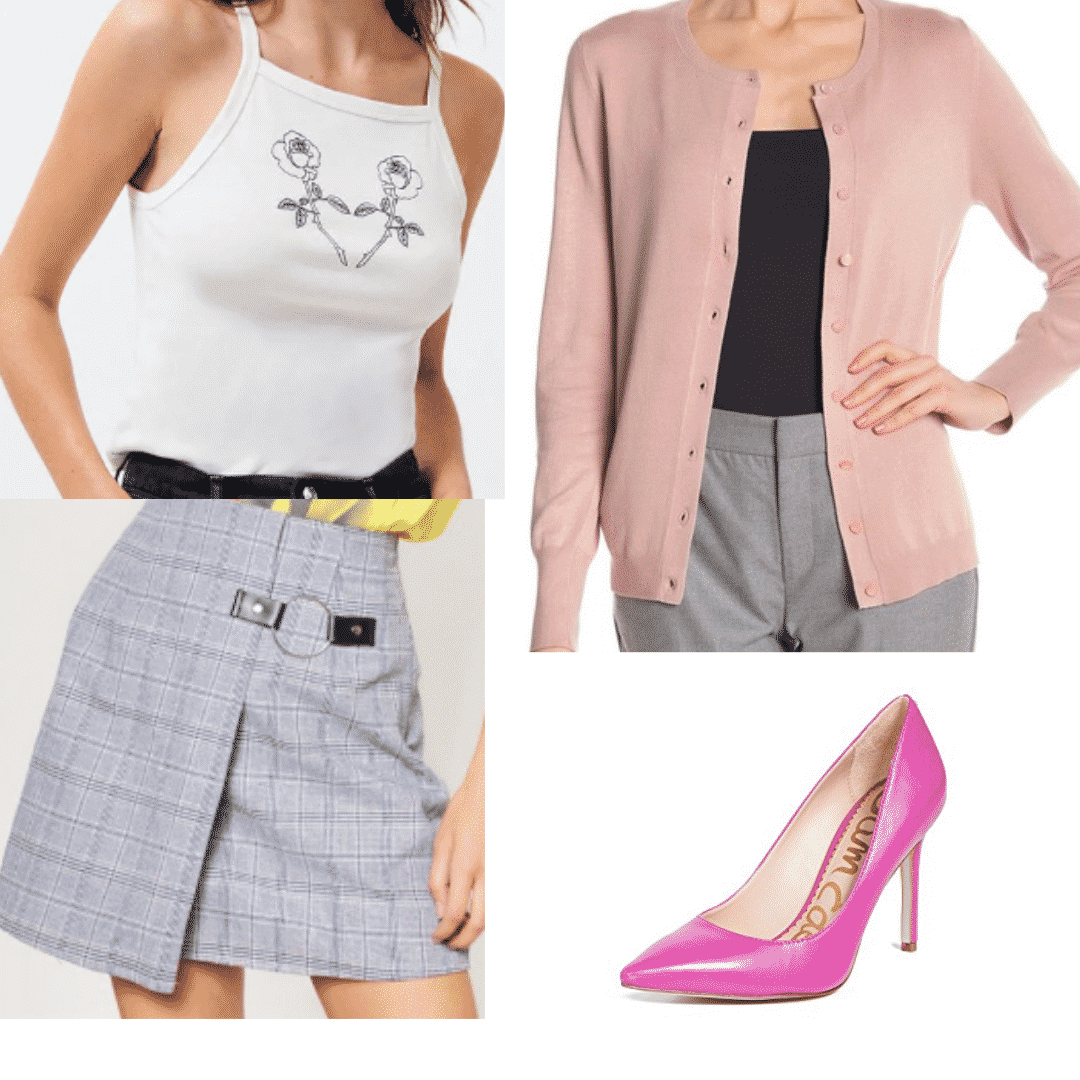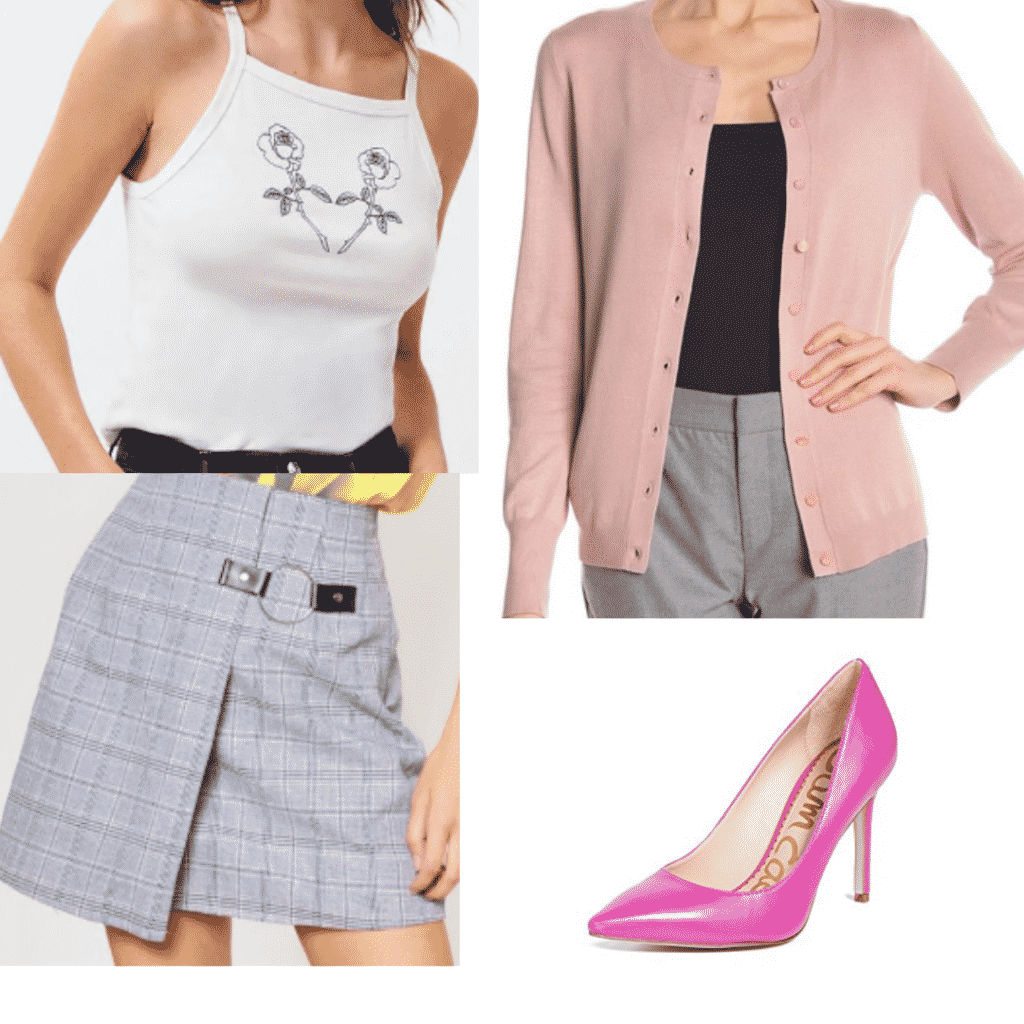 Products: Tank top – Pacsun, Cardigan – Nordstrom Rack, Skirt – PrettyLittleThing, Pumps – Shopbop
I still remember how much I loved Mean Girls when I watched it for the first time. Honestly, I might have been a little too young to understand everything that was presented in the film, but growing up this movie was one of my favorites.
One thing I loved was how the Plastics wore so many different shades of pink, but they went together seamlessly. Ariana nails that feel in her video.
My favorite piece from the outfit I created is the white tank top with roses printed on it. This tank top is simple, cute and lightweight. It's a great piece for any outfit.
Thank U Next Outfit 2: Casually Cute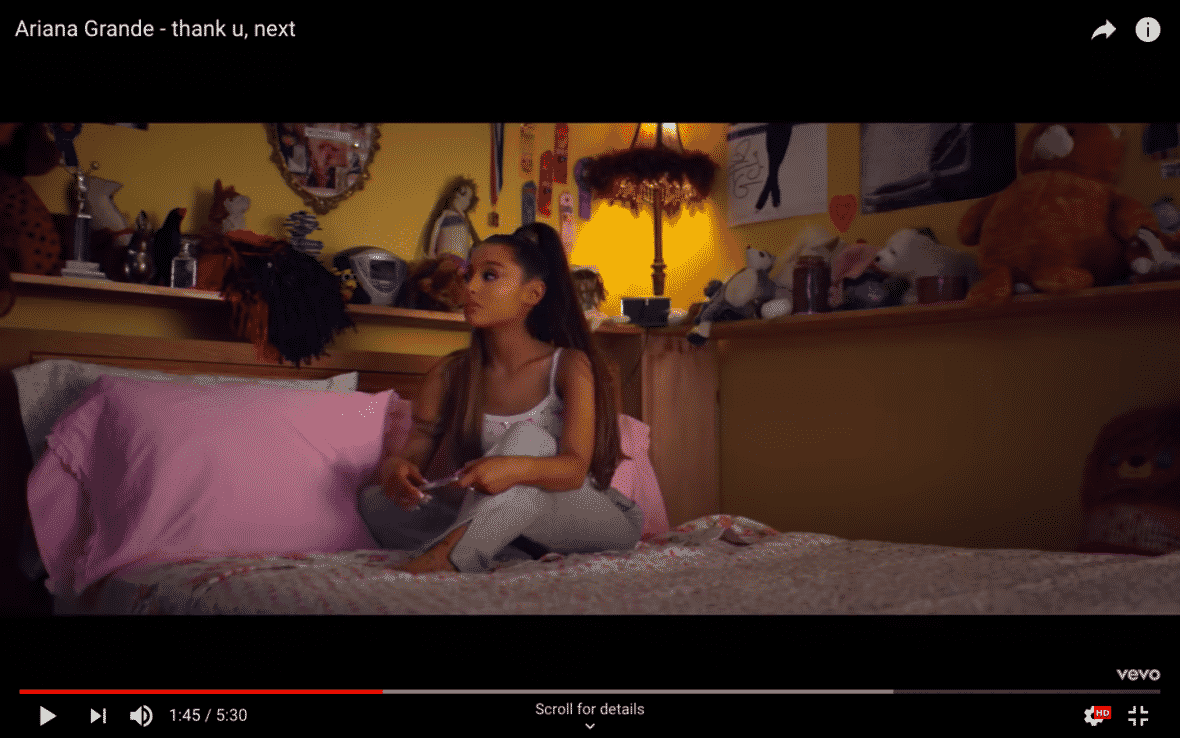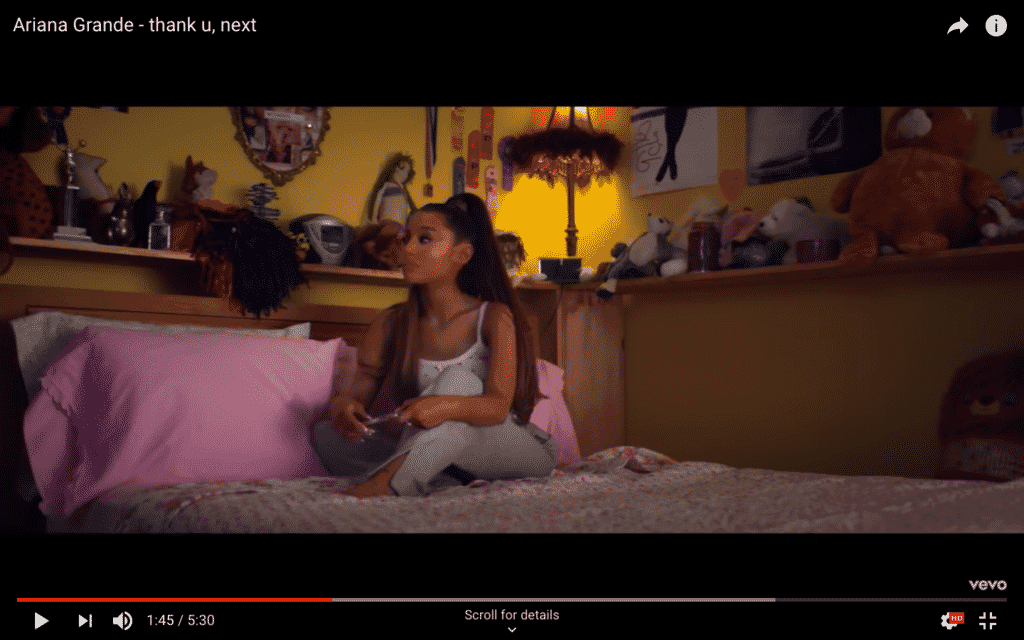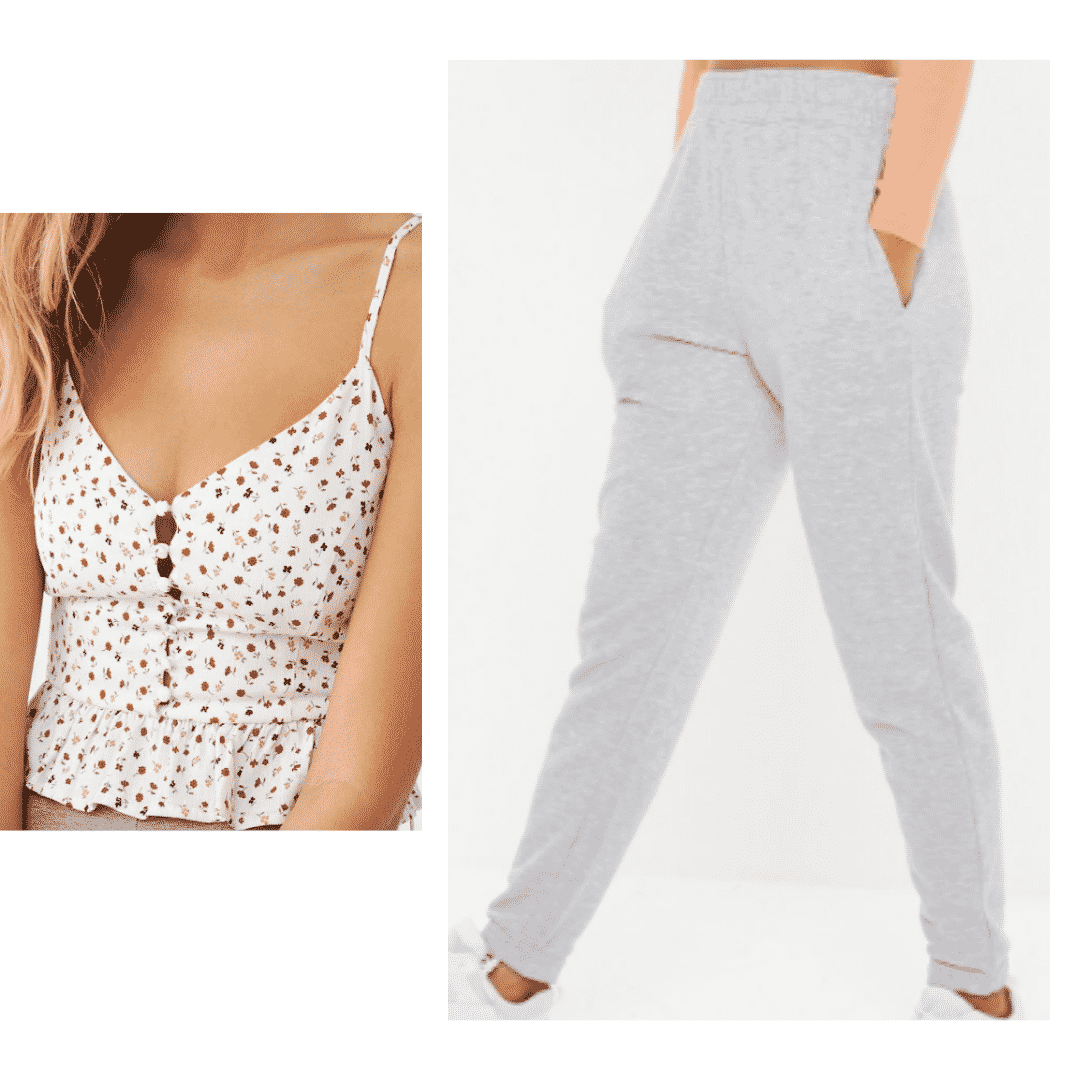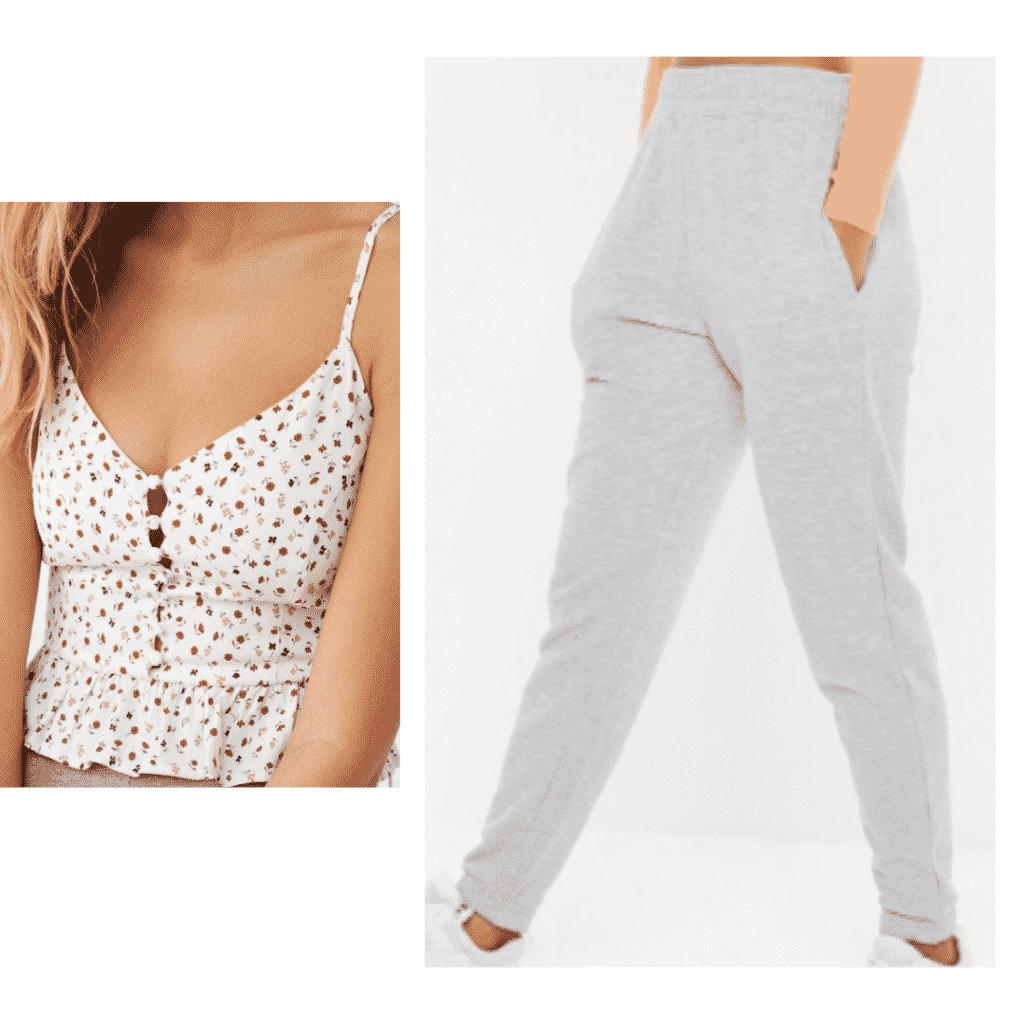 Products: Tank top – Forever 21, Sweats – Missguided
This is the simplest outfit in the music video and, to be honest, it's the one that I would wear the most often. (Can you relate?) It's meant to lounge around in and Ariana showcases this in the video perfectly.
The floral tank top and grey sweats combo is cute, casual and comfy. One of my favorite combinations.
Thank U Next Outfit 3: Floral Fun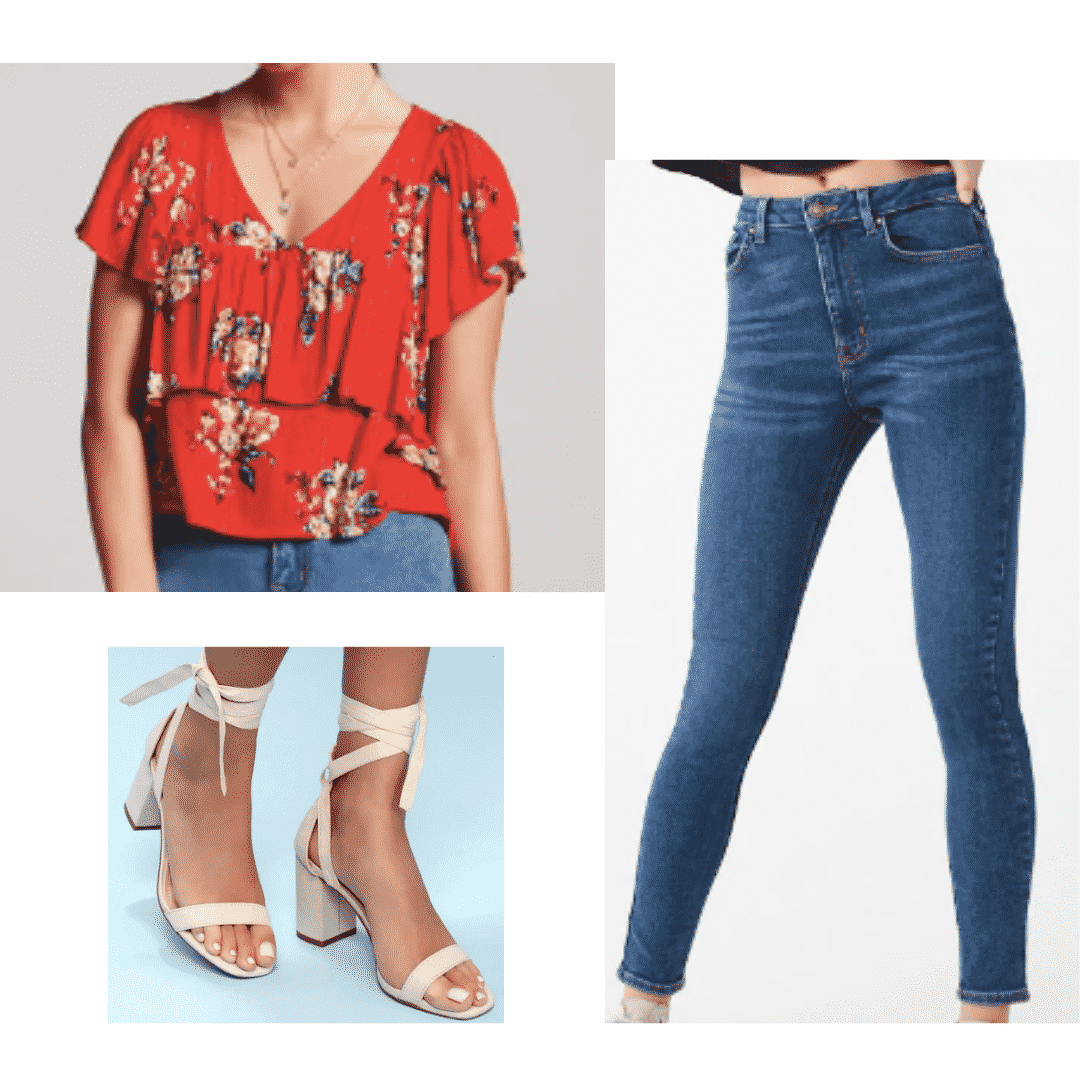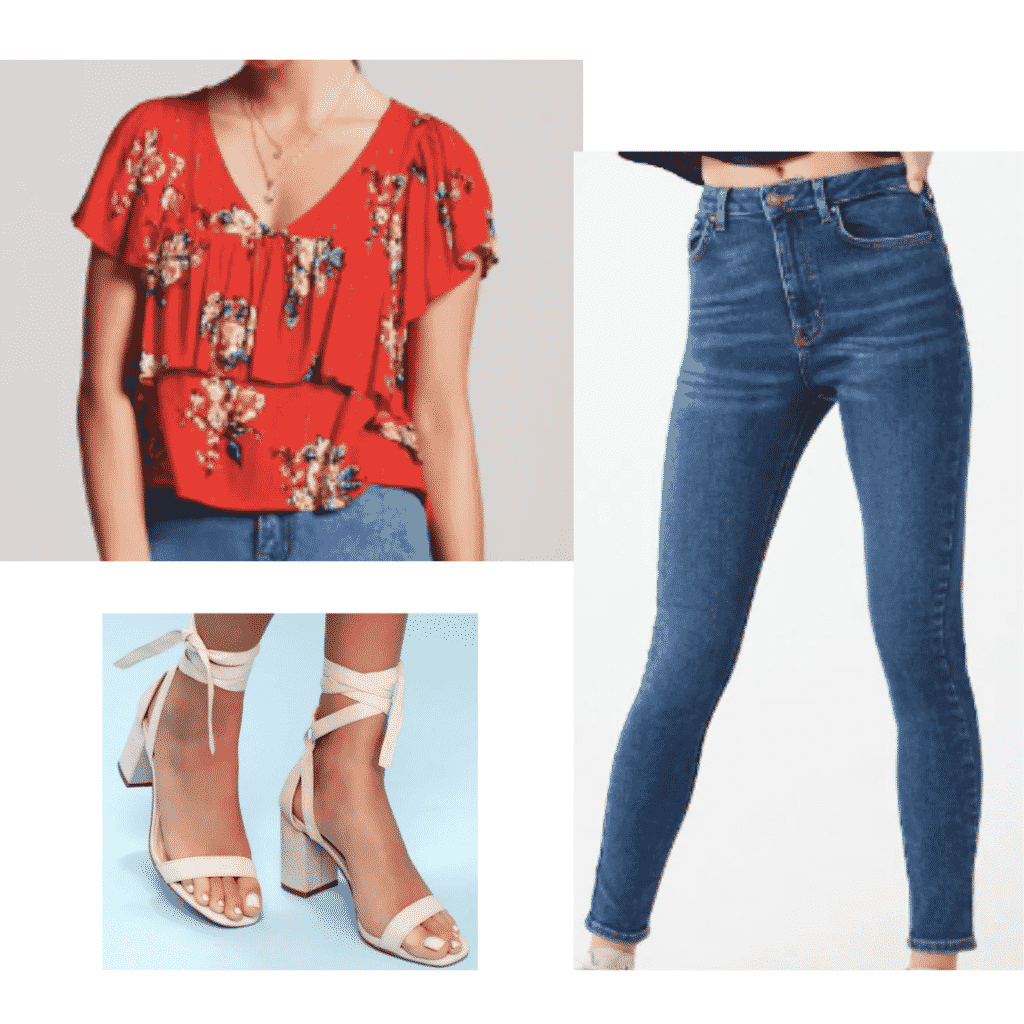 Products: Shirt – Forever 21, Jeans – Forever 21, Shoes – Lulus
I love this outfit. I feel like it's an outfit you could wear to brunch, to class or just a day out to run errands. The red shirt is a great pop of color and can be dressed up or dressed down.
Thank U Next Outfit 4: Flirty Chic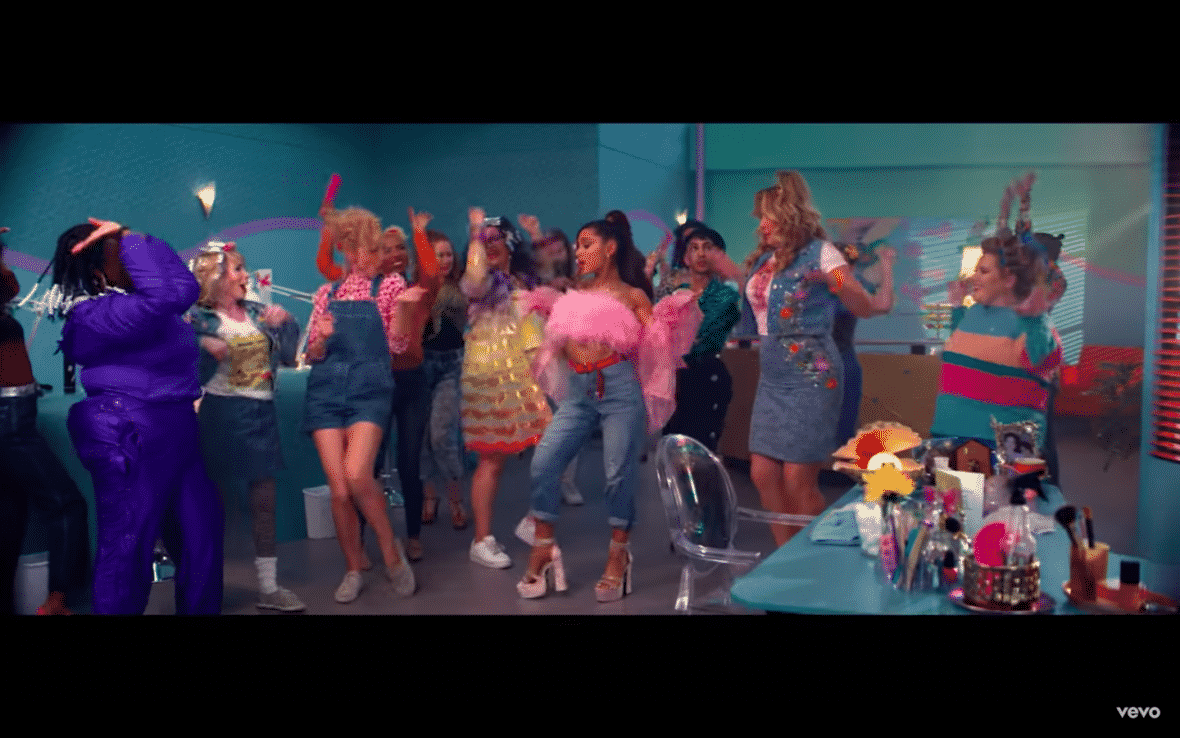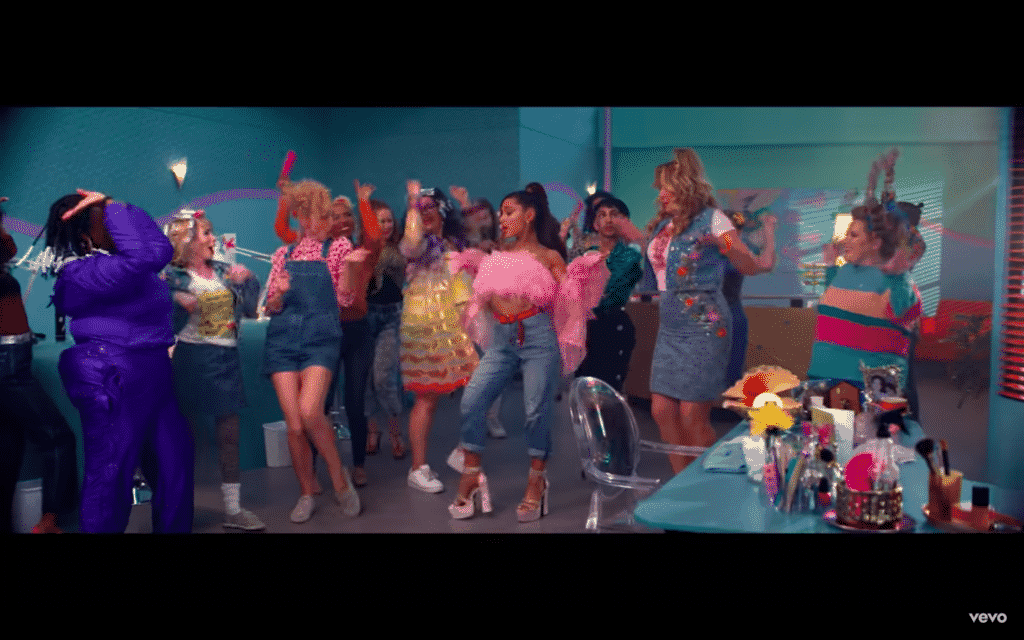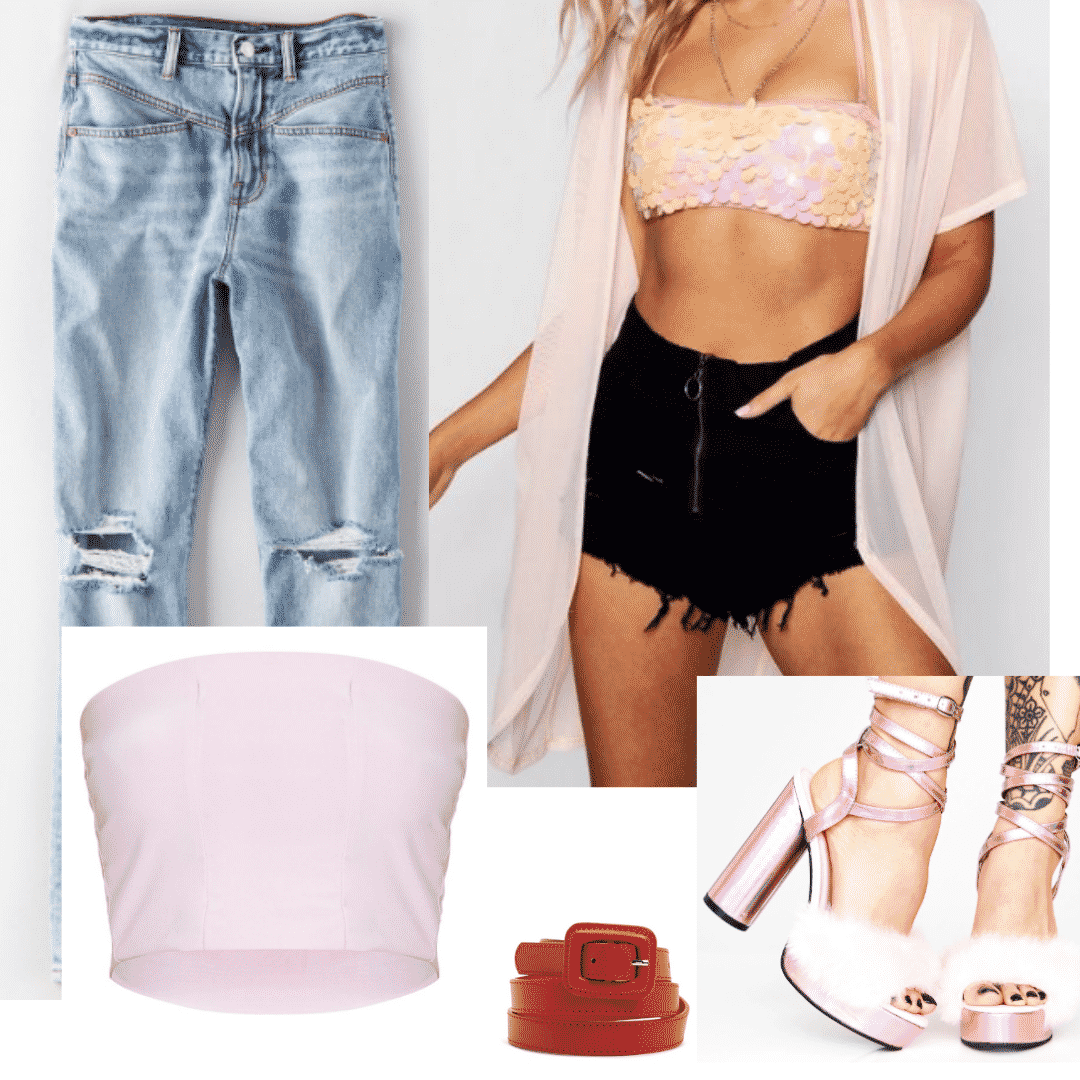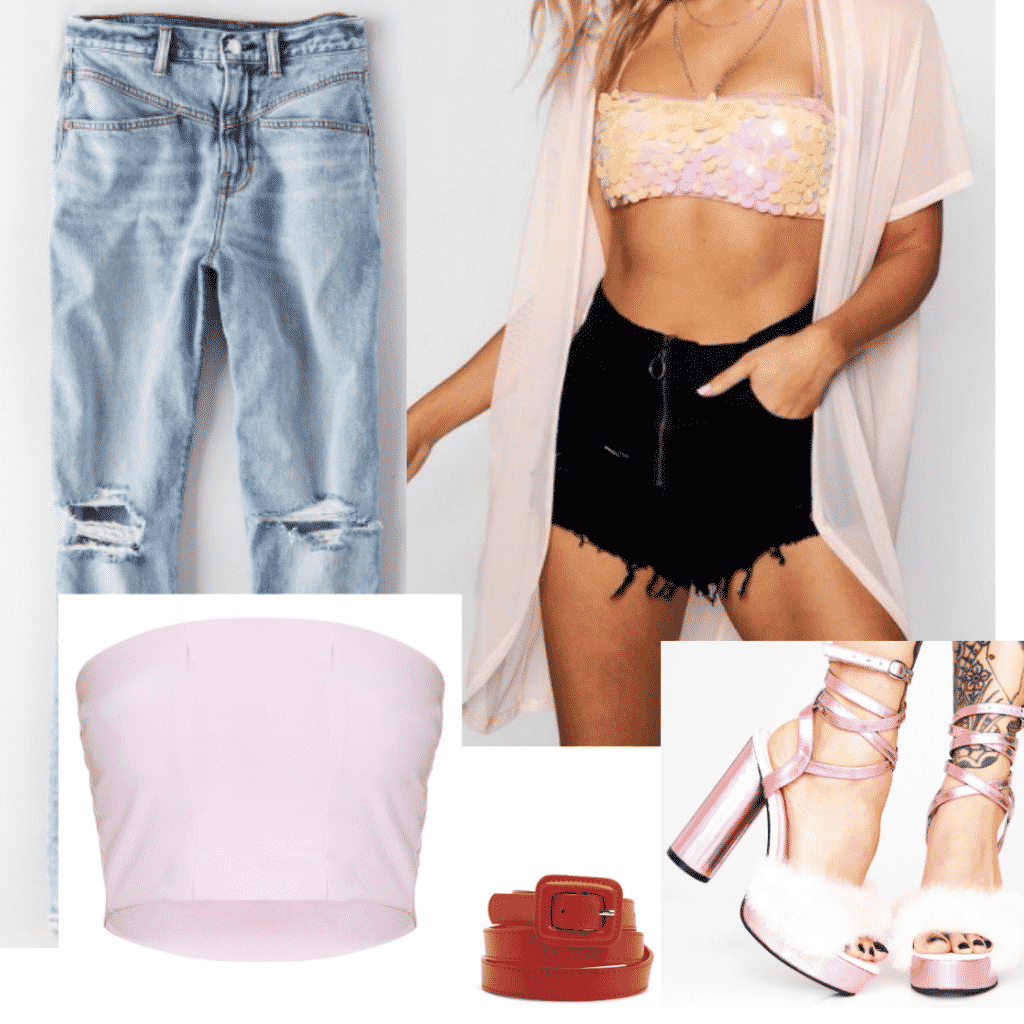 Products: Jeans – American Eagle, Tube top – PrettyLittleThing, Mesh Kimono – Boohoo, Belt – Forever 21, Heels – Dolls Kill
I feel like I say 'this is my favorite' outfit to every outfit. But truly, I love so many of the outfits Ariana Grande wears. This one is truly a favorite of mine.
Ariana pushes the boundaries with the feathery pink tube top from Adam Selman, which is pretty expensive and is no longer available for purchasing. So to substitute that, any bright pink tube top will work.
I've used these pink fluffy heels in a past outfits inspired by Ariana Grande article. They ~scream~ Ariana to me and I had to use them again for this outfit because I thought they were a close dupe to her pink velvet platforms in 'thank u, next.'
Thank U Next Outfit 5: Confidently Pink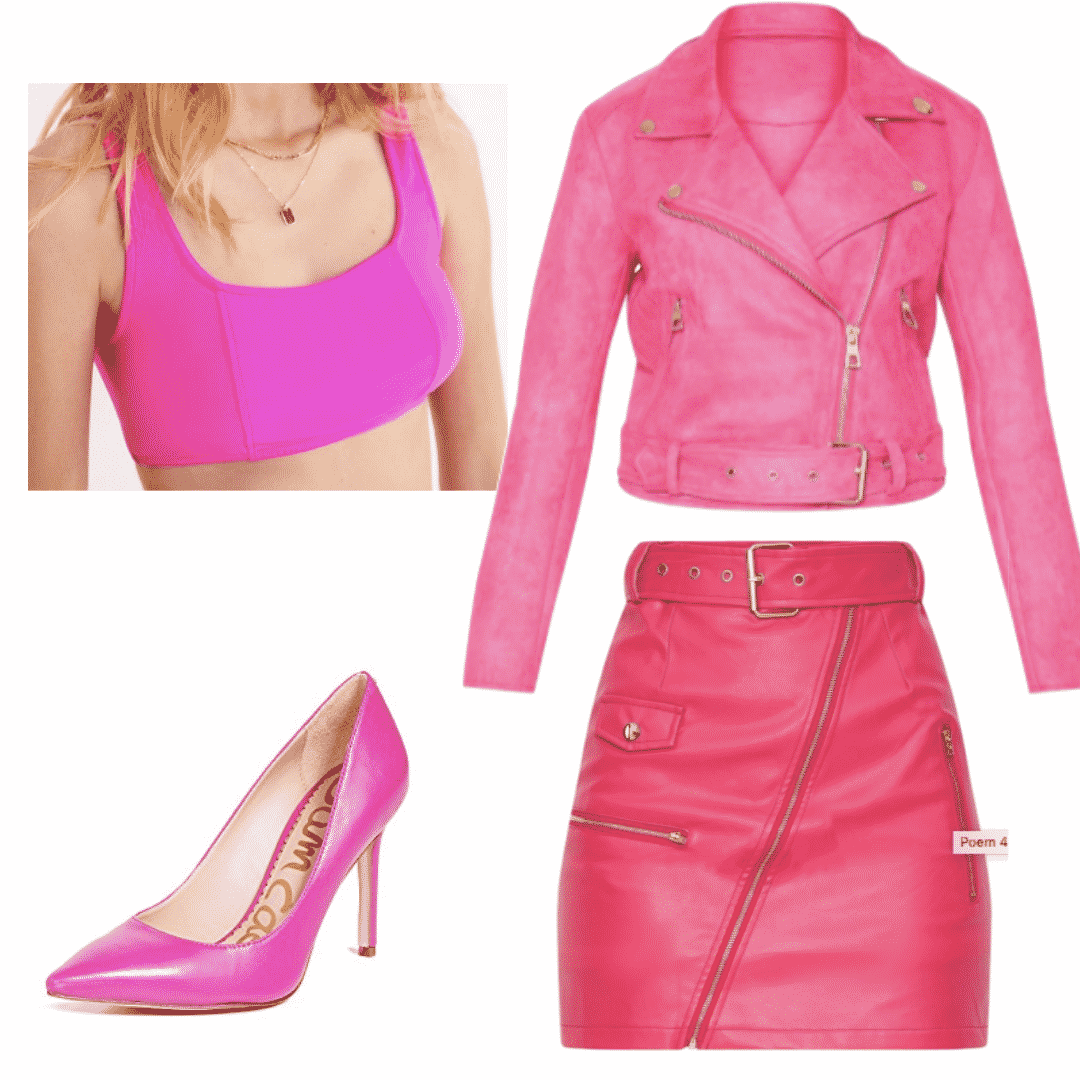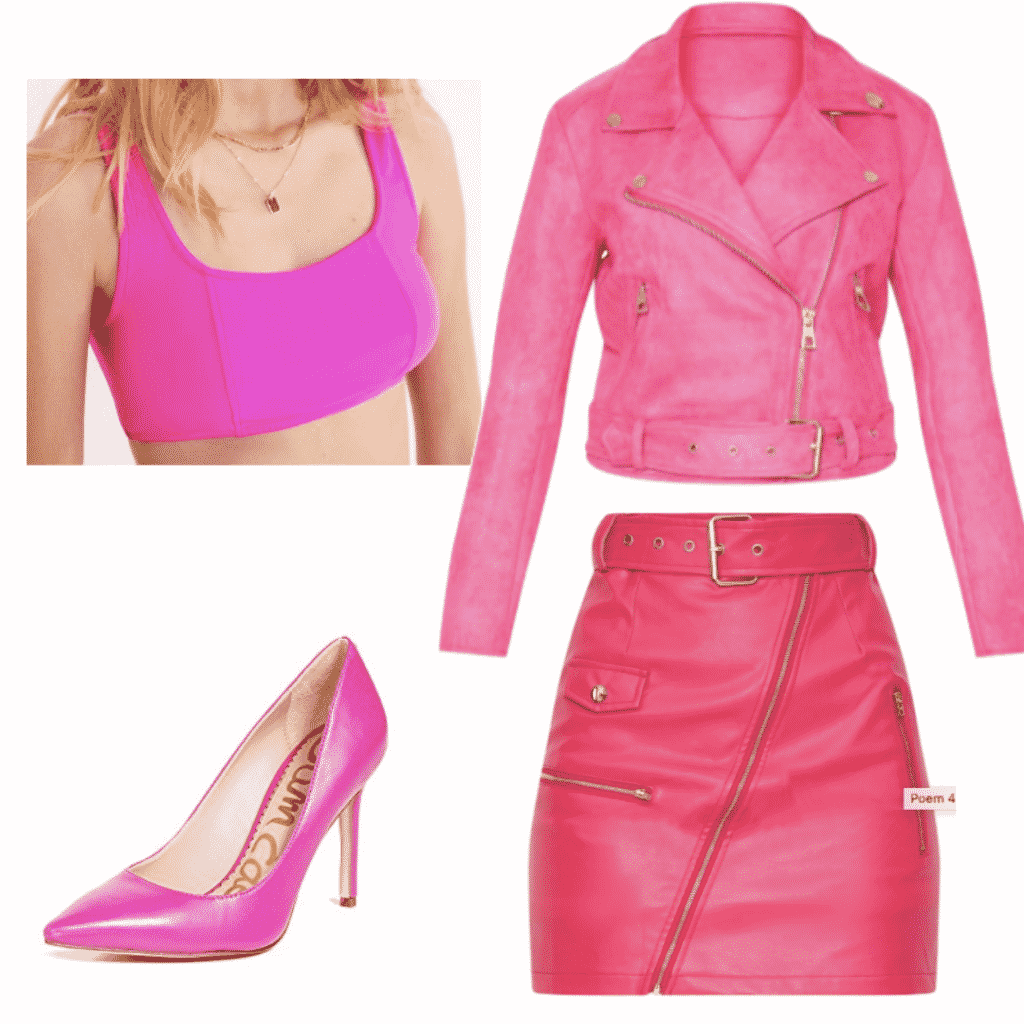 Products: Bandeau – Urban Outfitters, Jacket – PrettyLittleThing, Skirt – PrettyLittleThing, Shoes – Shopbop
Of course last but certainly not least, Ariana struts through a university in an all pink outfit à la Elle Woods in Legally Blonde. A true statement outfit.
Frankly, this outfit is bright and 'out there', but it's so incredibly cute. Since pink is my favorite color, I really loved this outfit and would love to wear it.
Ariana struts so confidently in this outfit and inspires me to be bold with the outfits I choose.
What do you think of these Thank U Next outfits?
Would you strut confidently in any of these outfits? Let me know in the comments below!