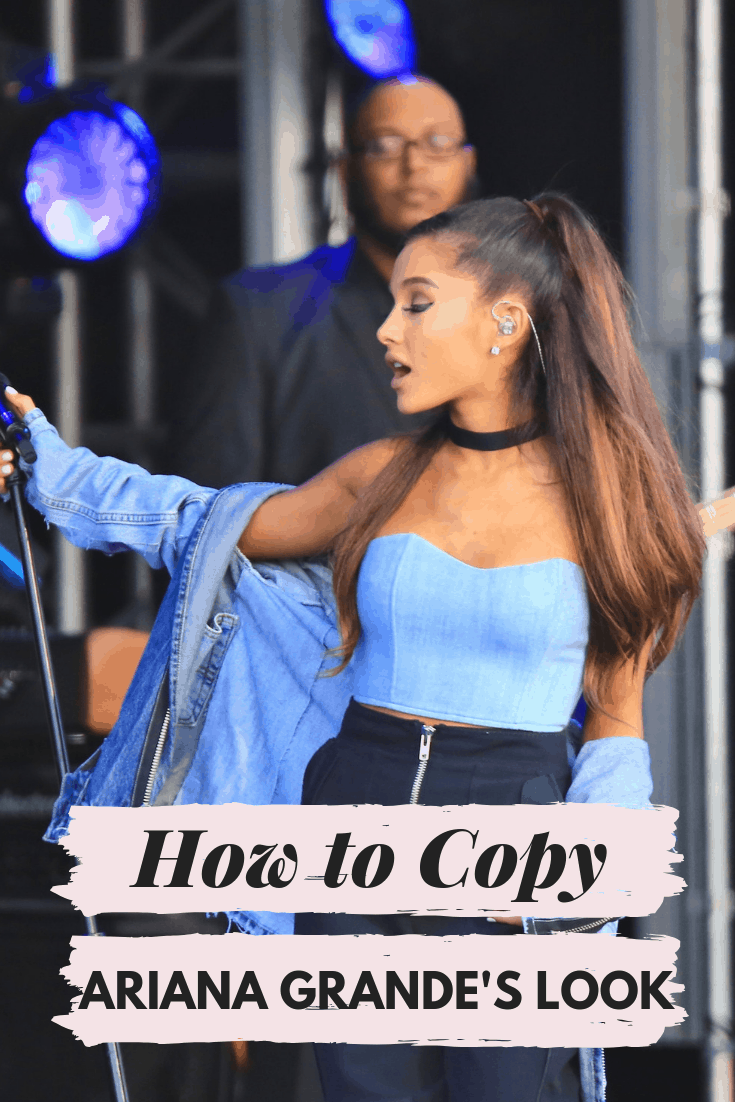 A while back, we listed our favorite celebrity fashion icons, and over the next few months, we'll be breaking down each celebrity's style in depth and showing you how to get her style for yourself. Today, we're showing you how to get Ariana Grande's style.
What comes to mind when you think of Ariana Grande?
Her early role on Victorious? The ponytail? Pete Davidson? Her badass music video for "God Is a Woman"? Ariana's music video outfits?
Ariana Grande can evoke many powerful feelings, and this superstar is super-stylish and an icon of this generation.
Early Life
Ariana Grande was born in Boca Raton, Florida and has had a passion for performance since a young child. After being featured in a Broadway play at age 15, Grande caught the attention of Nickelodeon producers and was cast as the quirky redhead Cat on Victorious.
From there, she gained a following on social media, and soon dove into the music industry, releasing three albums in four years. A brand new album was released a few months back titled Sweetener, and the singer has been gaining even more traction after an up-and-coming/eventful career.
Love Life
Ariana has overcome many obstacles in her life. As a very followed celebrity, Ariana's breakup with Mac Miller after almost two years seemed devastating and unexpected, and her engagement to SNL comedian Pete Davidson a month later caused even more of an uproar.
In recent events, after Mac Miller passed away due to an overdose, Ariana received an incredible amount of negative attention and hate, with critics saying that she was the reason for the death. Ariana has been subtle to respond, but it's clear that she had nothing but love and support for her ex-boyfriend.
In an interview, a close friend of Miller's said,
"There could not have been anybody more supportive of him being sober than Ariana. I saw that, I was around it. I took phone calls from her. 'How do I help', 'What do I do?' This little girl was unbelievably involved and helpful to him being healthy. Because whether he was an addict of not, the way that Mac partied was not healthy. I gotta tell you, man, there was no one in his life more ready to go to the wall for him when it came to him being sober."
Now, when it comes to relations with Pete Davidson, nothing but positivity and joy has come from the engagement. Gaining a major following from Ariana fans, Davidson, a comedian on SNL, struggles with many of his own problems, like bipolar disorder. After being attacked by someone on social media, he responded with:
"But I've been hearing a lot of 'people with BPD can't be in relationships' talk. I just wanna let you know that's not true. Just because someone has a mental illness does not mean they can't be happy and in a relationship. It also doesn't mean that person makes the relationship toxic."

"Everybody is different and there are a lot of treatments for mental illnesses and I have don/ am doing all of them. and I encourage those who struggle to seek help as well it has changed my life for the better."

"I just think it's f–ked up to stigmatize people as crazy and say that they are unable to do stuff that anyone can do," he continued. "It's not their fault and it's the wrong way for people to look at things. I may be crazy but at least I'm aware of it and not afraid to be honest about it and I'm not hiding behind a Twitter or Instagram account."
Everyone loves some Pete Davidson, and also the insane ring he gave Ariana for their engagement, but let's move the focus back to Ariana and her style.
How to Dress Like Ariana
Ariana's style works with her slight size to accentuate her petite frame. Oversized sweatshirt dresses cover her knees, while high boots nearly touch the hem. And yet, when she's not covered up in a giant sweatshirt, Ariana loves to rock body-conscious styles with crop tops and open shirts. Let's take a look at a few outfits.
Holy and Bold
In this look, Ariana's unique camo jeans have the perfect thigh rips, the kind your grandpa would ask if you wear to church (holy, get it?). My favorite part of this look is the classic Ariana hair, that scrunchie that screams innocence, yet the amount of skin this saucy looks shows.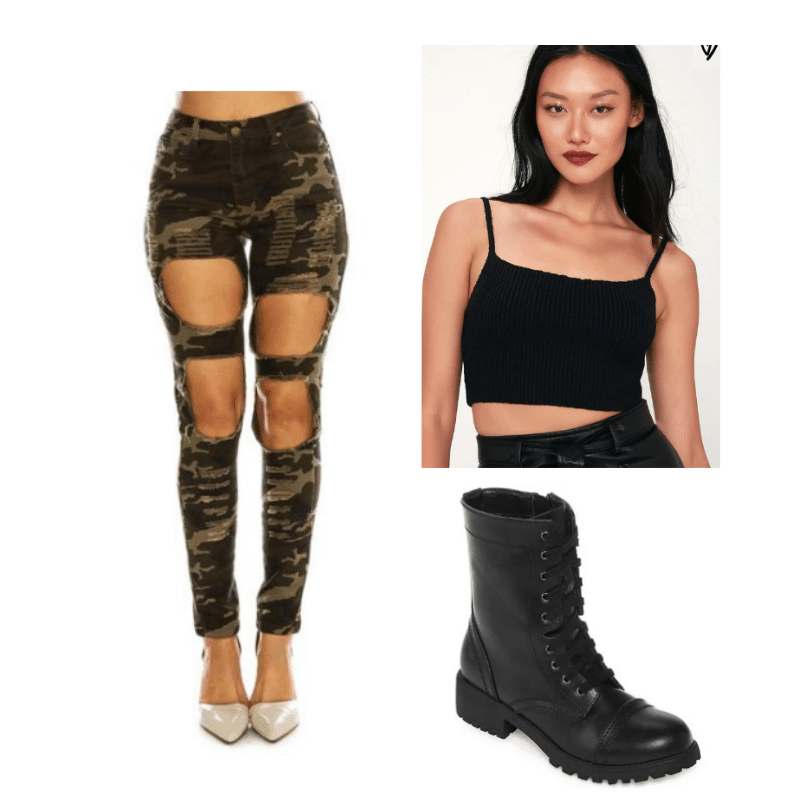 Products: Jeans- (G-Style USA), Boots- (JCPenney), Top- (Lulus)
Good news, this look is easy to recreate! All you need are three staple pieces, and the jeans will be the most difficult to find. Try the pair pictured above, or maybe you could get creative and have some fun with scissors and patterns.
Cookies & Cream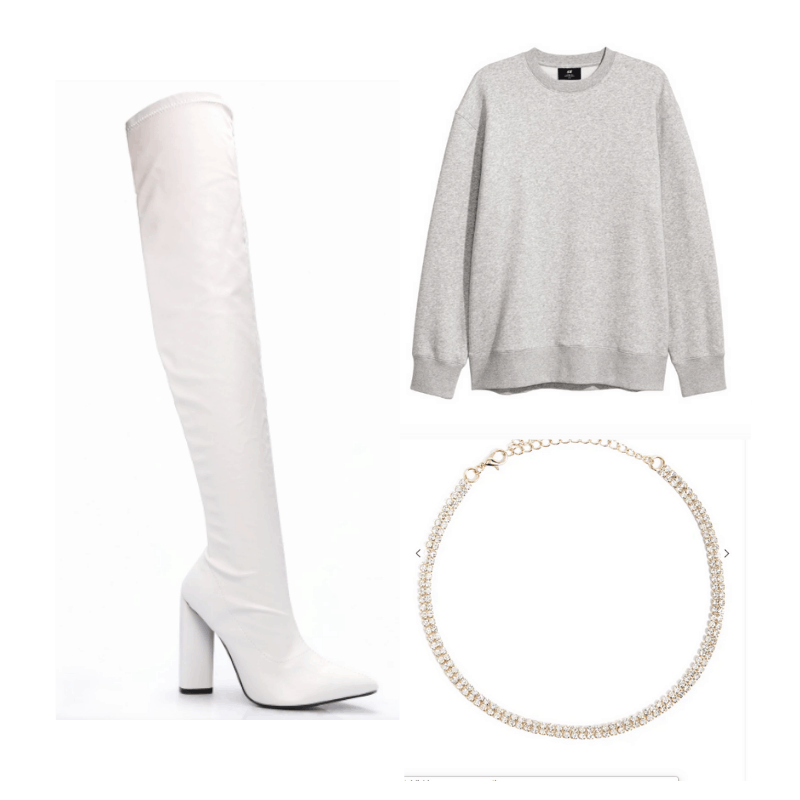 Products: Boots- (Fashion Nova), Necklace- (Forever 21), Sweater- (H&M)
It's pretty easy to feel like a badass in a classic pair of tall white boots, and the bigger the heel, the better. Because of Ariana's petite figure, she can rock that sweater and boot combo, but you may have to make some adjustments for this clean white look.
And don't forget to accessorize – Ariana always has some sort of short necklace to pair with her looks!
Pop of Color
I love this look, and the way it combines so many themes. Ariana has such a playful style vibe, and this look is no exception.
The yellow plaid skirt is such a huge trend this fall, and even though this Insta is a sponsored post, I would totally wear this outfit. I get Clueless vibes from the skirt, plus I'm loving the "dad sneakers" and comfy crewneck.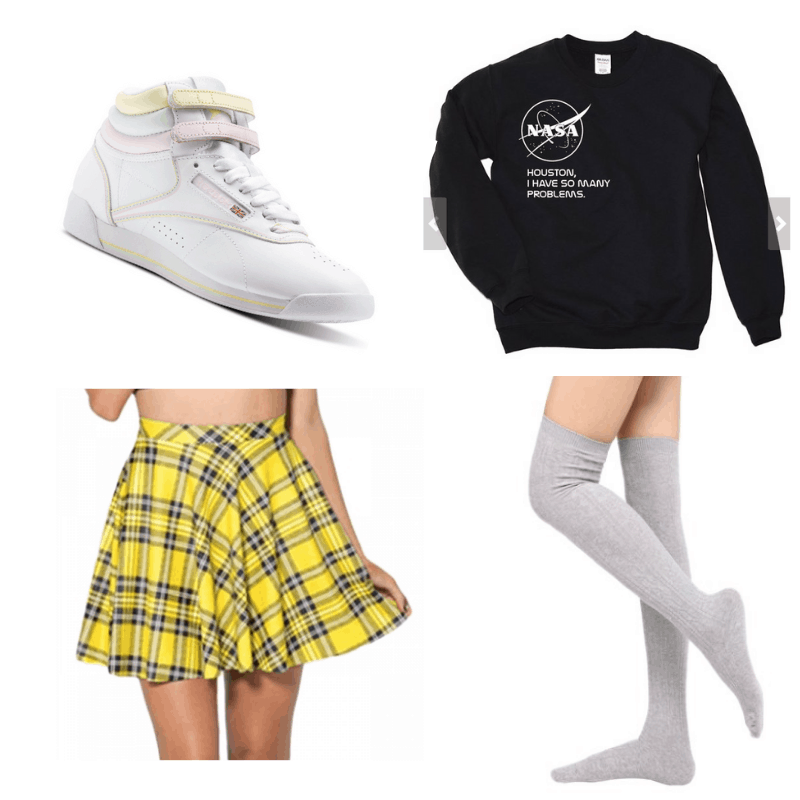 Products: Skirt- (Pink Queen), Socks- (Walmart), Sweatshirt- (Etsy), Sneakers- (Reebok)
Get this easy yet adorable look with this yellow plaid skirt, any over-the-knee socks (make sure they fit, otherwise they could slide down throughout the day!), plus your favorite graphic crewneck sweatshirt and white chunky high-top sneakers.
What do you think?
Are you an Ariana fan? What do you think of her love life, and the way she styles her everyday life? Comment your favorite look below!