These Bratz costume ideas will show you how to dress like a Bratz doll for Halloween.
Whether you grew up in the early 2000s or not, Bratz dolls are an iconic toy that brought high fashion to toys. Decked out in mini-plaid skirts and berets, Bratz is known for their glitz and glamour.
Here at CF, we are big fans of cute Halloween costumes. Even though you already dress cute throughout the year, dressing as a Bratz doll is a good excuse to dress luxe for Halloween.
Plus, since the Bratz doll costume is made up of regular outfits, you most likely already have plenty of pieces in your closet to make the outfit come to life. If you don't, the pieces you end up buying can become staples in your everyday life after Halloween. Instead of having a costume you don't know what to do with the rest of the year, you'll have cute and stylish pieces that are affordable and sustainable.
If dressing up glamorously sounds incompatible with Halloween, just adjust the costume by adding some gore elements to your outfit to make it extra spooky for the season. Add some fake blood or fangs and now you have a Halloween edition Bratz doll look.
First, Bratz Doll Makeup
All of these costumes will require a little extra makeup (the Bratz are known for their glam), so try this Bratz makeup tutorial to get your makeup look on point before you don your Bratz costume.
Who are the Bratz?
To all the fashionistas born in the late 90s-2000s, you are probably well acquainted with the Bratz and probably even had some in your toy chest growing up.
For those unfamiliar, though, Bratz dolls are the grungy, bougie opponents of Barbie. Yasmin, Cloe, Jade, and Sasha are the original girls who made up the first collection. The dolls gained a lot of popularity and became media stars with spin-offs and movie adaptions and a t.v show.
Bratz dolls are known for stylish outfits, bold makeup looks, and big almond-shaped eyes. You can find the Bratz dolls in a variety of looks, so the choices for imitating them are endless.
1. Yasmin
Bratz costume: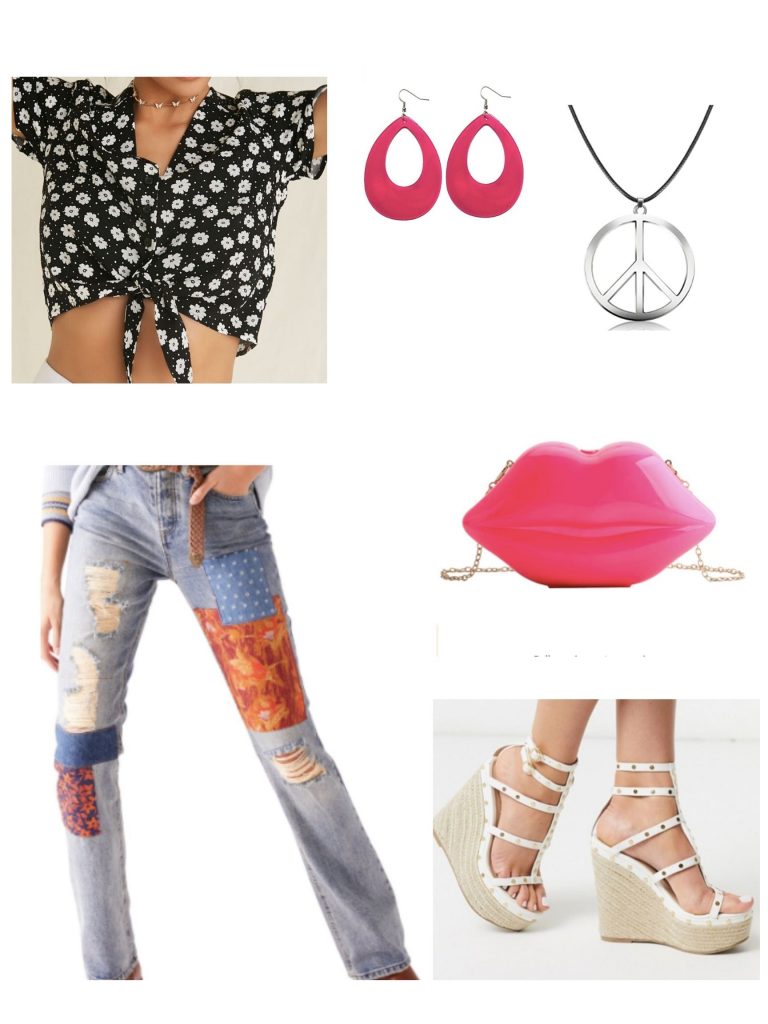 Our first Bratz costume idea is inspired by Yasmin.
Her look is made up of super cute white platform wedges, patchwork jeans and a daisy top. The look is paired with bright and colorful accessories that are detailed with peace signs.
Pro tip: instead of buying expensive jeans with patchwork details, thrift some jeans and order some patches online and iron them on yourself. This way, you can create really cute custom jeans with patches that match your personal style and it'll be a fun DIY activity! You could even order Halloween patches to make the look extra spooky for the season.
Also read: How to Rock Patches & Pins
Wear this look for casual, hippie energy for the evening. Especially if you are attending a small get-together with some friends and don't want to go all-out this year, this look will give you Bratz energy but without overly extravagant pieces.
2. Cloe
Bratz costume: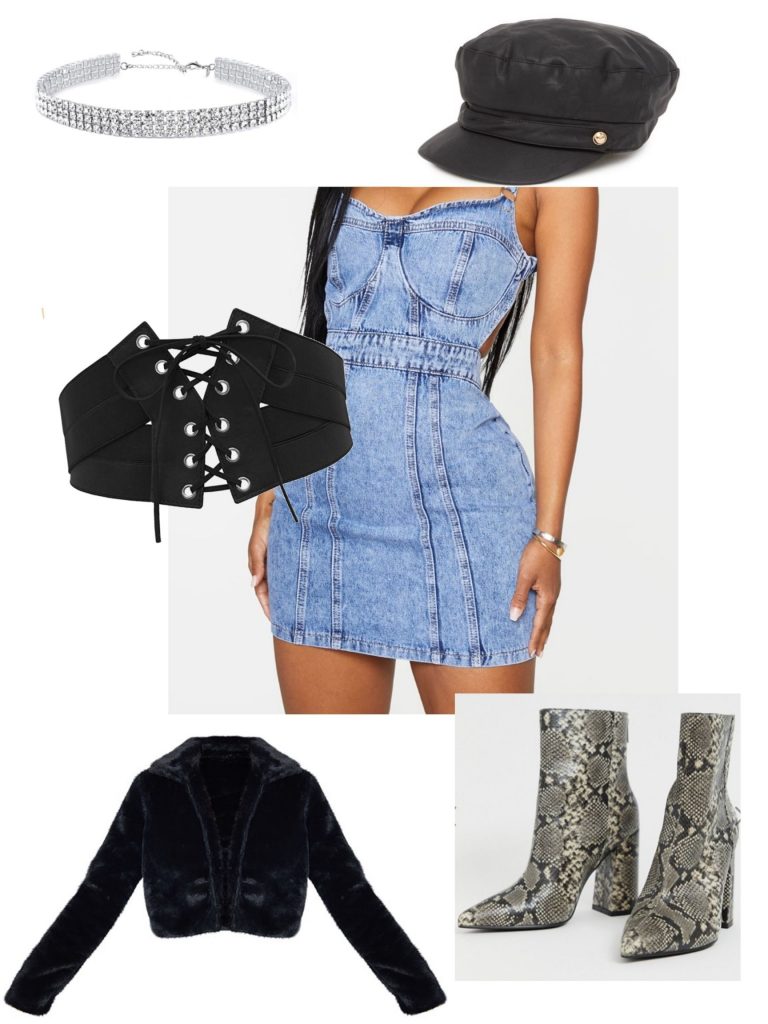 This chic, urban look will have you stunting through the Halloween streets all night long.
This glamorous fit will scream 'Cloe' vibes with the classic Bratz booties and choker duo. The snakeskin booties and criss-cross belt add the perfect amount of sass to the ensemble.
Since Halloween can be chilly as it nears the end of Fall, wear this look with the big fluffy black coat and add some tights under the denim dress for extra warmth.
If you end up making purchases for this outfit, keep in mind that all of the super cute accessories used to make up this outfit can transcend the holiday and work their way into many other outfits down the line!
3. Jade
Bratz costume: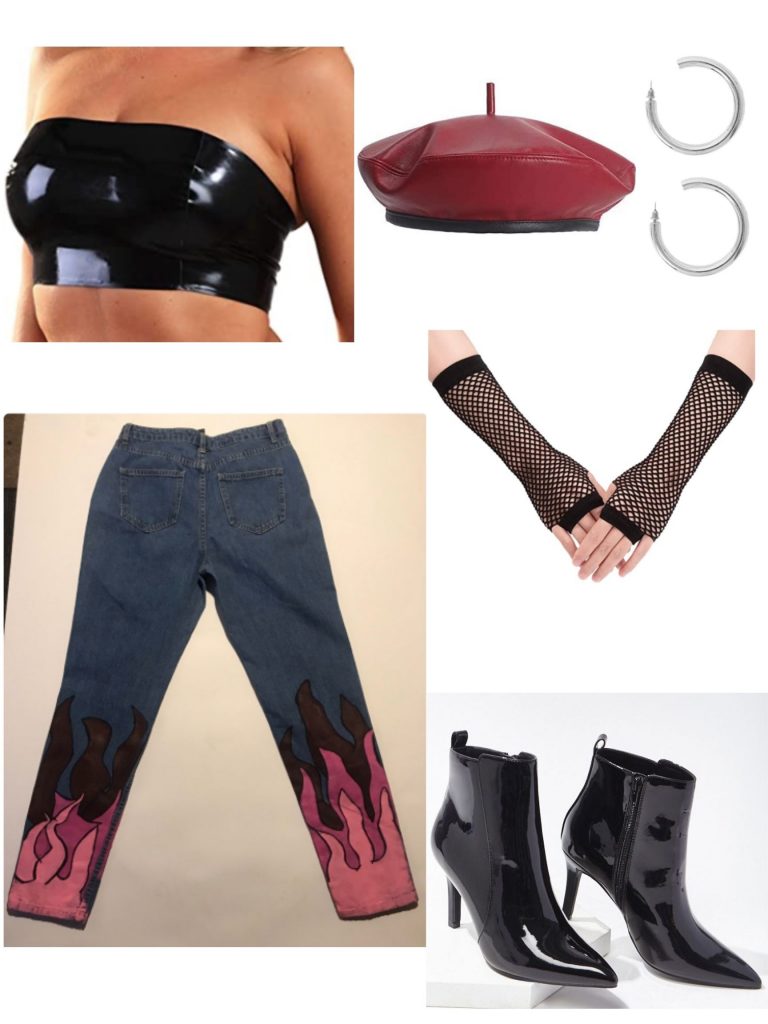 Jade's look is full of streetwear vibes, which is super trendy right now.
If streetwear feels a bit bold for you on a daily basis, Halloween is the perfect opportunity to step outside your comfort zone and give this look a try!
Jade's flame-design denim can be hand painted or bought from small shop owners on Etsy or Depop. You can also use patches to create the desired look.
Put on your latex tube top, stiletto booties, and fishnet sleeves for the ultimate edgy cool-girl look. Plus, the beret and hoops are soo popular in Bratz doll looks.
4. Sasha
Bratz costume: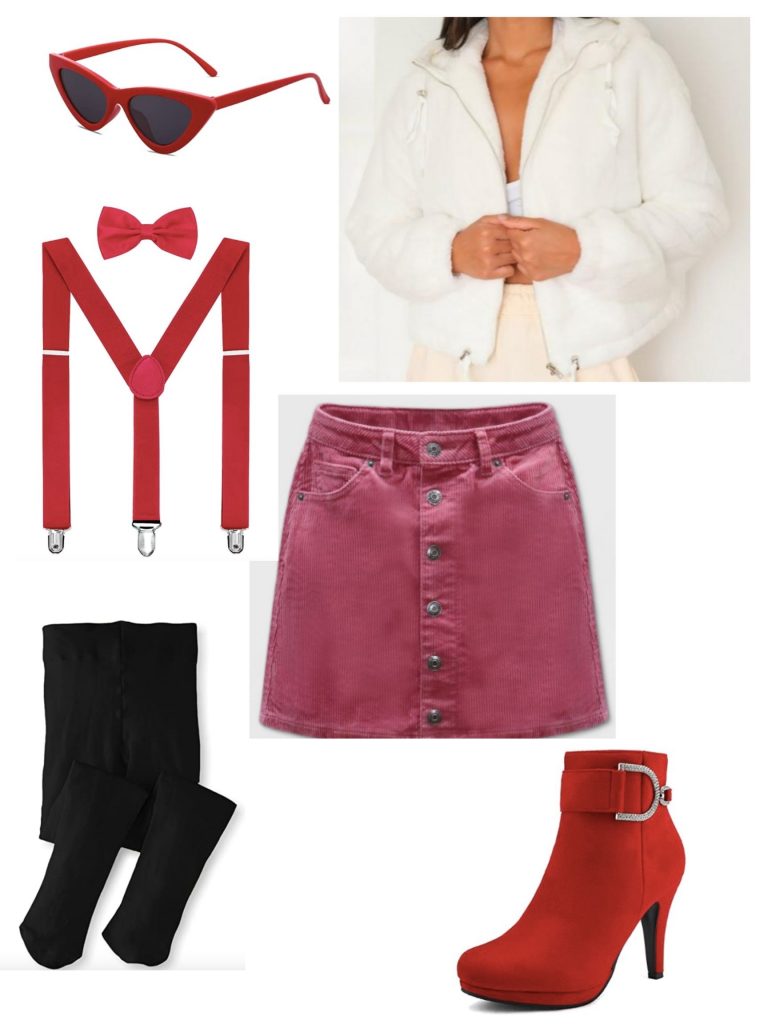 Made up of reds, pinks, and blacks, Sasha's look is bright and bold. Add a simple white tank under a skirt for a cute look, then layer it up with extras.
A lot of these pieces may already be in your drawers at home, making this look super easy to replicate. This way, you'll be able to dress up as your favorite Bratz doll without having to go out and break the bank!
We've always advocated for being stylish without spending an abundance of money and this Halloween look is perfect for doing so.
5. Cameron
Bratz costume: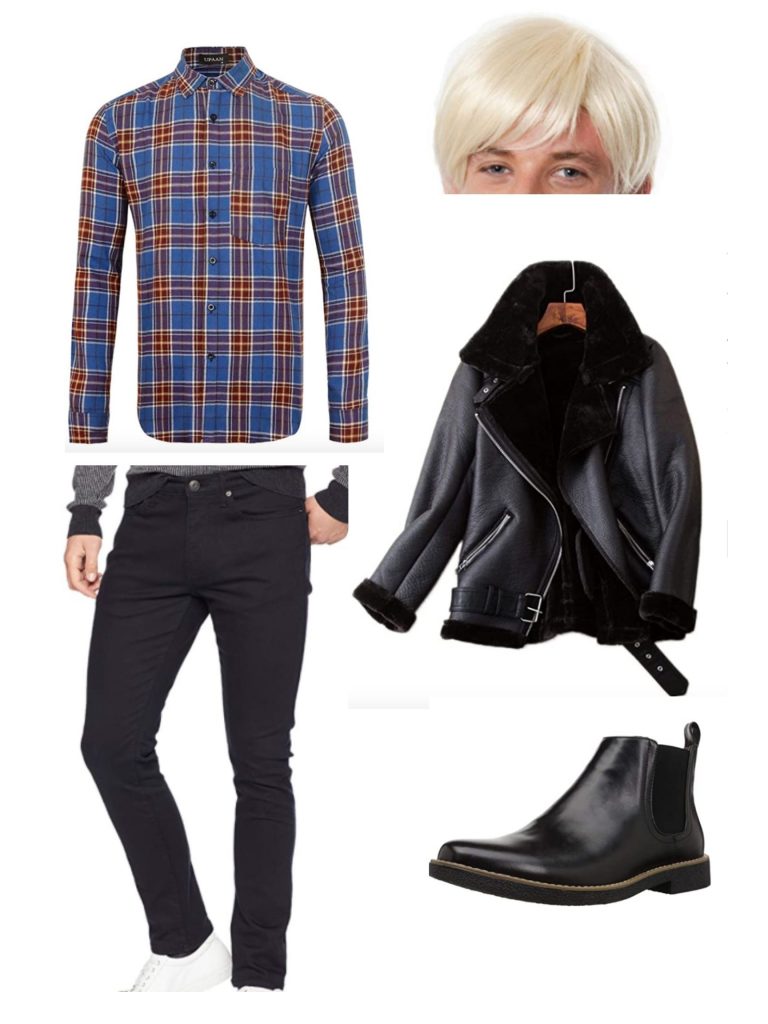 What's Halloween without dynamic duos?!?
Your boyfriend or bestie can be the perfect counterpart to your glamorous Bratz look this year!
Men's fashion doesn't have to be overly extravagant or extraordinary to be stylish. The Cameron Bratz doll is an example of one of the many spin-offs Bratz has done to incorporate more personalities and dynamics into the brand.
So, dress your boyfriend or bestie in some black jeans, a flannel, a furry leather jacket, and low-rise Chelsea boots for a 'Cameron' look. If you're really going all out this year, get him a blond wig that matches the doll for a very iconic look! The pics will be amazing!
Which Bratz costume are you going to try?
Out of the 5 dolls styled above, which doll would you choose to dress up as for Halloween?
Let us know in the comments below!
For more fashion tips like this guide to Bratz doll costumes, consider our related posts below —