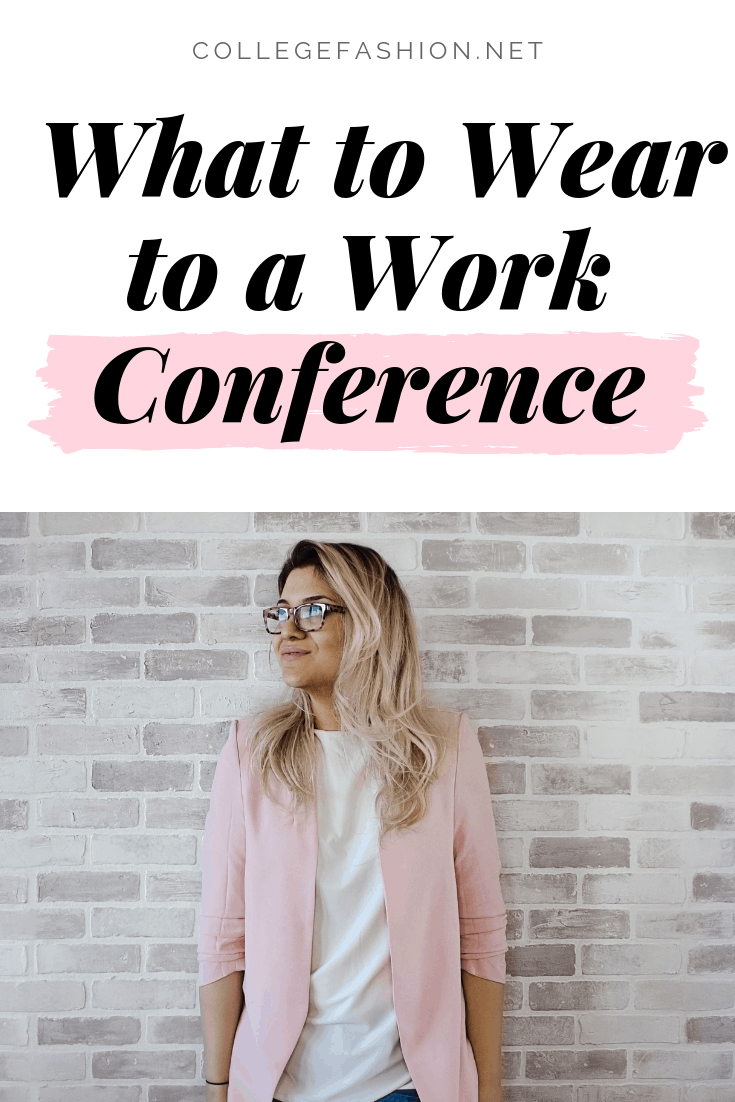 Work conferences can be an all day event or they can be a few days long. Regardless, they are a perfect chance to get to know your colleagues, network, and meet with others in your field. Work conferences can mean long days, so it's important to make sure your outfit is professional but also comfortable.

Typically, work conferences are business formal dress code. You'll be meeting so many colleagues in your field that it's important that you look your best to make a fantastic impression.

Work Conference Outfit #1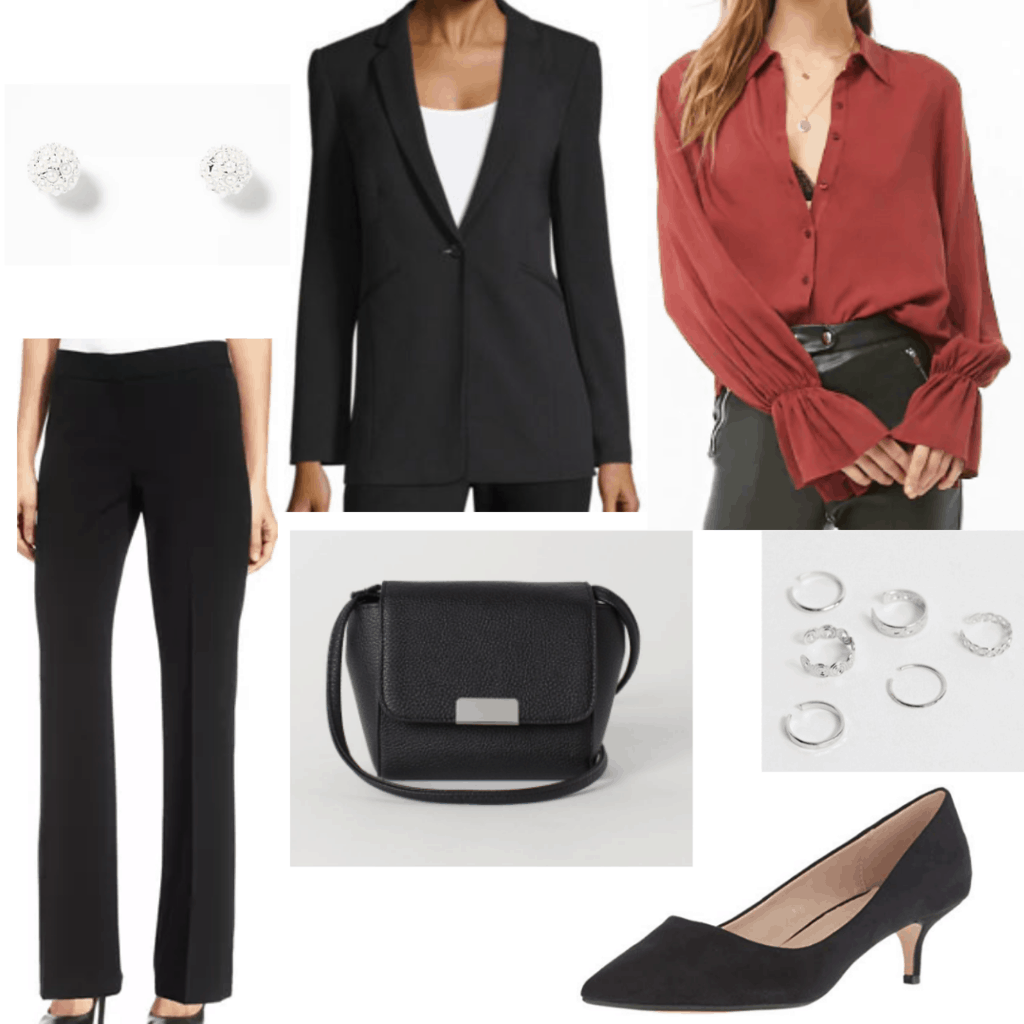 Products: Button Up Shirt – Forever 21, Blazer – JC Penney, Dress Pants – Macy's, Kitten Heels – Amazon, Studded Earrings – Old Navy, Rings – ASOS, Purse – H&M

This look is a classic business formal outfit. To get it, start off with a nice button up shirt. Button ups are always presentable and professional so you can't go wrong. To make your outfit more business formal, layer a blazer on top. Make sure your blazer isn't too big or too small — no boyfriend blazers or cropped styles here. You want a classic, tailored fit.

Next, dress pants are essential and extremely important for a work conference. You never want to wear anything tight, so be sure these skim your body and are tailored properly.

Because you'll be walking from workshop to workshop throughout the day, it is important that you wear shoes that are comfortable. Kitten heels are a great choice as they're professional and comfortable. You could definitely go for a higher heel if that's more your comfort level, though!

Finally, you never want to over-accessorize because a lot of blingy accessories can be distracting for those you are meeting. Here, I added small stud earrings and a couple of simple rings.

Of course, you will need a bag to carry your things. It's recommended to bring a small bag with the most important essentials.

Work Conference Outfit #2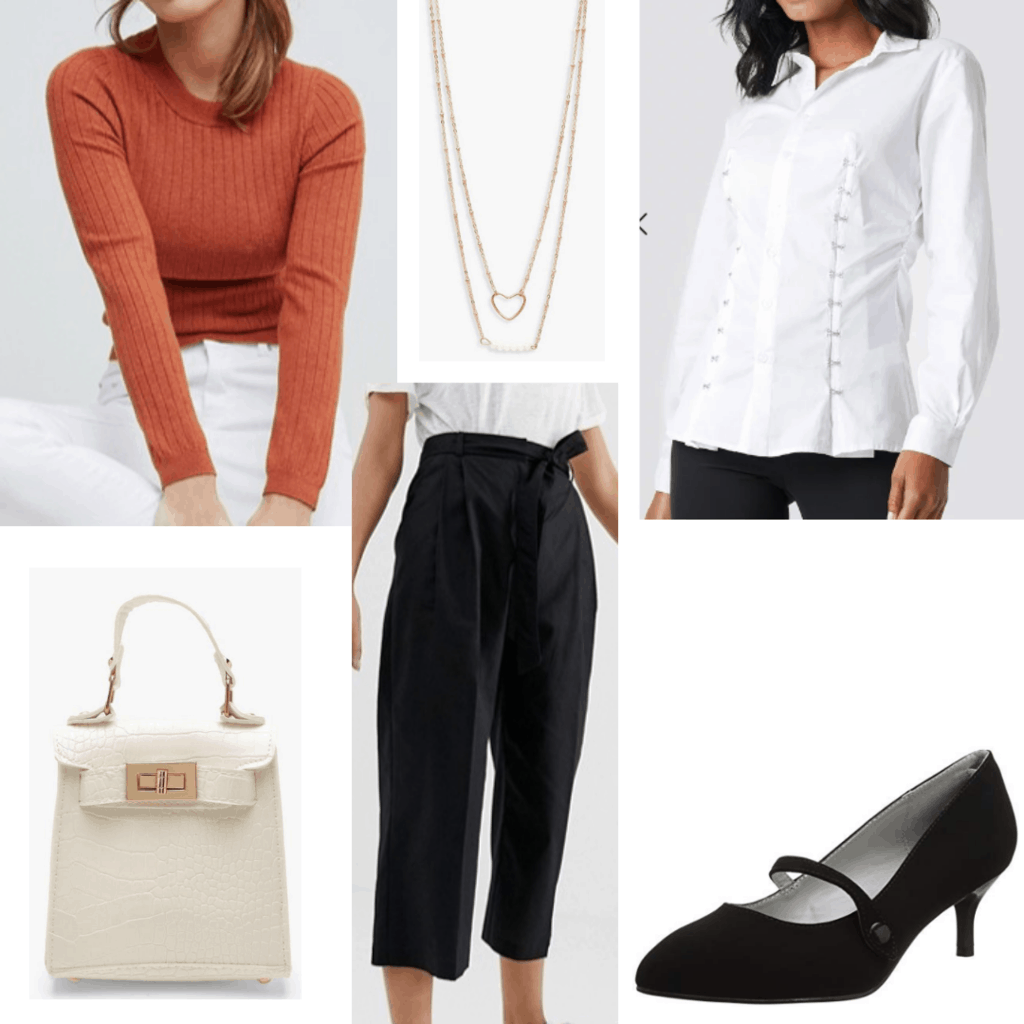 Products: Button Up Shirt – NA-KD, Sweater – ASOS, Culotte Pants – ASOS, Kitten Heels – Amazon, Necklace – Boohoo, Purse – Boohoo

If you're not a blazer kind of person or you're still trying to find the right one, that's okay! Blazers aren't the only option when you're deciding what to wear to a work conference.

Again, we're starting off with a cute button up shirt. Then, instead of a blazer, wear a sweater. Button it up all the way and layer it over top of your button-up shirt. The goal is to make sure your collar and cuffs are showing through.

As for pants, you don't necessarily have to wear straight leg dress pants. In fact, culotte pants can work for more casual meetings or more relaxed industries. As always, use your judgment and swap these for full length pants if you're unsure!

Again, I added kitten heels for the most comfortable choice, but you could do a higher heel if you preferred. Whatever shoe you wear, if you pair it with cropped pants, it will become a focal point of your look, so be sure it's polished and professional.

Finish the look with a small bag and a simple necklace.

Work Conference Outfit #3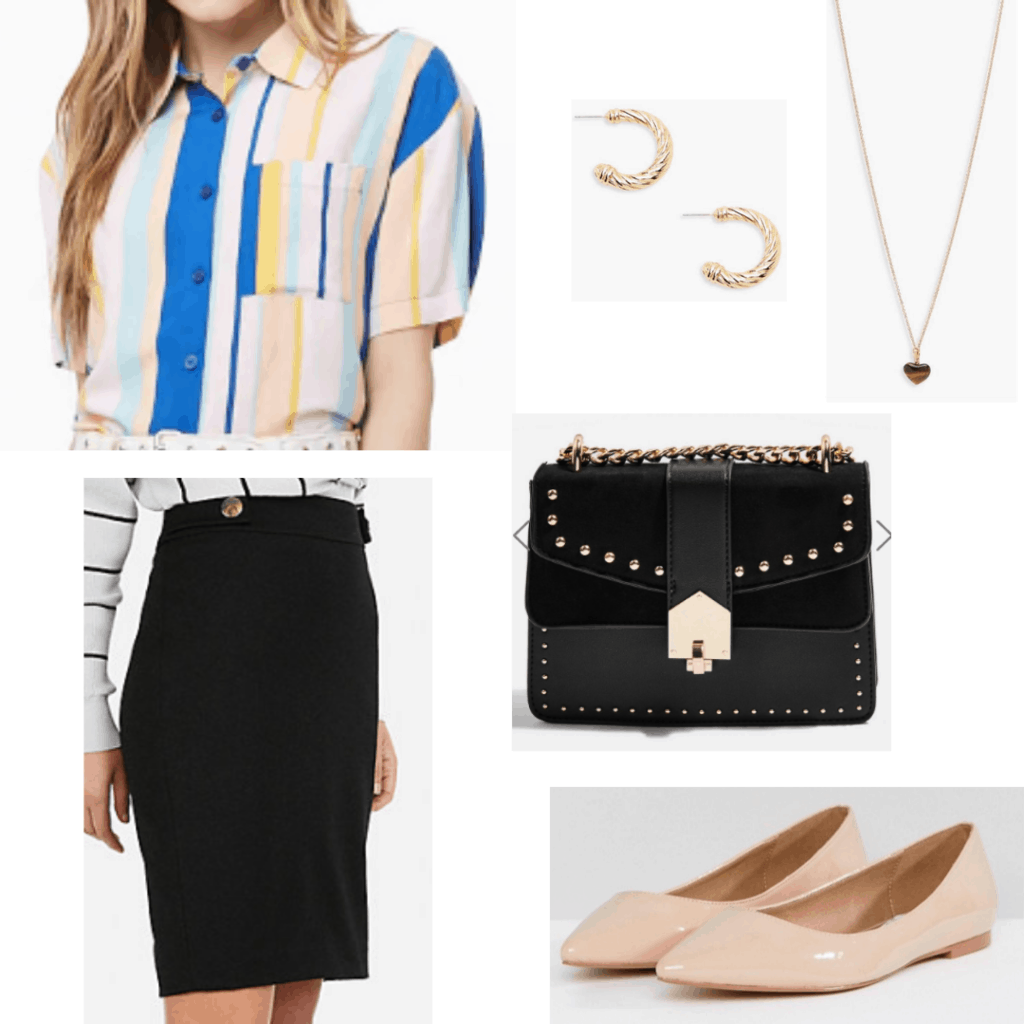 Products: Skirt – Express, Button Up Shirt – Forever 21, Flats – ASOS, Earrings – Boohoo, Necklace – Boohoo, Purse – Topshop

Skirt outfits are another great business formal outfit choice for a conference. As long as your skirt is in a basic color, hits at or below your knees, and is not tight or see-through, it will work. Remember, if this is a skirt you would wear to a club, it isn't a skirt you should wear to a conference. (You'd be surprised at how many people get this wrong!)

This skirt is appropriate and perfect for a work conference. Pair this skirt up with a cute button up shirt. You don't have to wear solid-colored shirts to a work conference. You can most definitely show off your style while still looking presentable and appropriate. This button up shirt is gorgeous but also works perfectly in a work environment.

If you're not a heels kind of person, these beige flats are the perfect choice. They go so well with your outfit and they won't hurt your feet!

To make your outfit stand out a little more, small earrings and a necklace will go perfectly! And of course, complete your outfit with a small purse.
What are your go-to work conference outfits?
If you're stressed out about what to wear to a conference, there's no need to be! For more on this, see our guide to packing for a conference and how to pack for a more casual conference.
And if you have questions or were concerned about what to wear to a career fair, job interview, and so forth, we have posts to help you with each scenario.

Take a look at our previous career posts and let us know in the comments below if there are any other work posts you'd like to see from us!