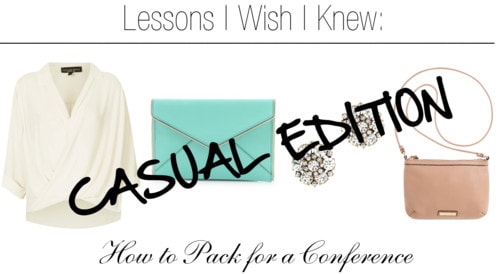 As a continuation of my last article, which described how to pack for a conference (I highly recommend reading the comments for further suggestions and recommendations for other types of conferences!), I wanted to pose a question: So, you're dressed to the nines at some fancy conference that requires heels, skirts, and a blazer… and your colleagues ask you to meet them for a casual meal. What do you wear?
Have no fear! If there is anything my wardrobe is known for, it's versatility. Some days after working long hours on projects from these same colleagues, all I want to do is lay in bed. But being in a big city with new sights to see and food to eat, I always tell myself to say yes to these offers.
With this in mind, my carry-on now has to fit even more clothes. These same clothes need to be work-appropriate, but they also have to be able to transition easily for a night out with the girls while at the conference.
Below, I have styled four polished and professionaloutfits that can be worn everywhere from a casual coffee to a nice dinner with colleagues. Scroll down to see them all:
1. Casual Coffee or Tea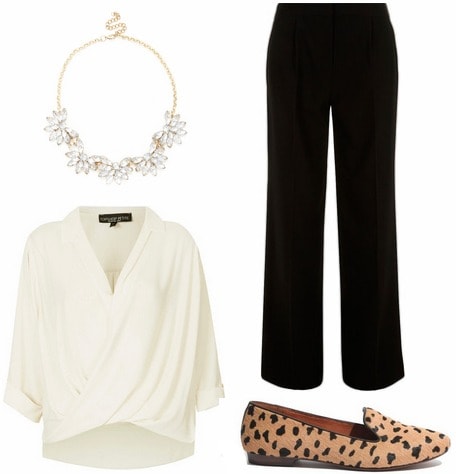 Product Information: Top — Topshop, Pants — Dorothy Perkins, Shoes — Madewell, and Necklace — Sole Society
For this look, I absolutely adore the idea of pairing a strong pant with a more whimsical top. Wear with flats for a casual and girly vibe, or with pumps for a strong presence in the office. However, for a quick coffee run with friends or a stroll to a nearby cafe, I thought this was extremely practical. It doesn't look overly dressy, but it's still professional with the added amenity of comfort.
I paired these black straight leg trousers (think linen if you're in a hot city) with a lightweight blouse. I really see this outfit moving with the wind and not suffocating you in any heat. I opted for leopard flats and a statement necklace to make this outfit look put-together and stylish.
2. A Nice Lunch Session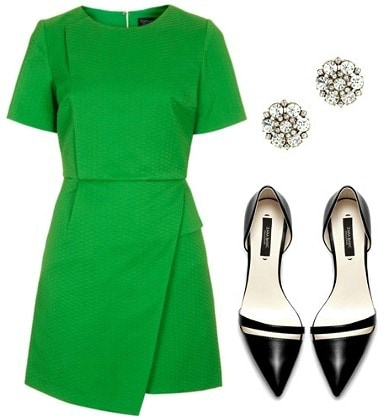 Product Information: Dress — Topshop, Shoes — Zara, and Earrings — J.Crew
For a nice lunch, I always imagined wearing a structured, brightly-colored short-sleeved dress. I found this one at Topshop and I decided it was meant to be. Now, I'm very at odds with this dress: I both love and hate it every time I see it.
I do love the strength of this structured piece. I think it's very powerful, and it definitely makes a statement. Would I love it more in a different, less striking color? Probably. But would it have the same effect? Probably not. To downplay the color, I paired it with black heels that have a trendy yet subtle cut-out detail. Accessorize with sparkly stud earrings to complete the look.
3. An Expensive Dinner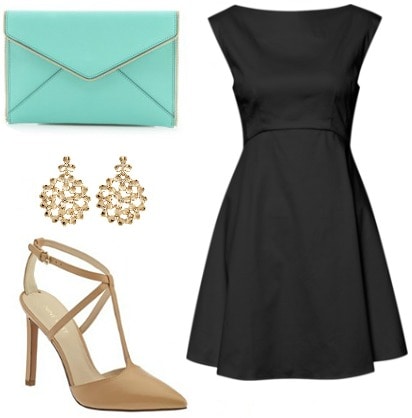 Product Information: Dress — French Connection, Shoes — Nine West, Clutch — Rebecca Minkoff, and Earrings — White House Black Market
Remember that perfect black dress you packed for a day at the conference? It's time to pull it back out. With a blazer, pearls, and flats, it seems a bit demure, but it's easy to dress up to the nines. Take off those pearls and replace them with a nice pair of statement earrings (go for a necklace if you like) and swap out those flats for the neutral heels you packed.
Bag-wise, you can opt for the nice handbag you traveled with or the clutch you easily buried into your bag while packing. With this look, I love doing a deep part with loose waves. And I always pin back a small section of hair on one side with a bobby pin; I feel super old Hollywood glam in this hairstyle.
With a black dress, the possibilities are endless. It all depends on the accessories. However, even for a night out, keep it classy. After all, they are still your colleagues and partners the next day.
4. A Night on the Town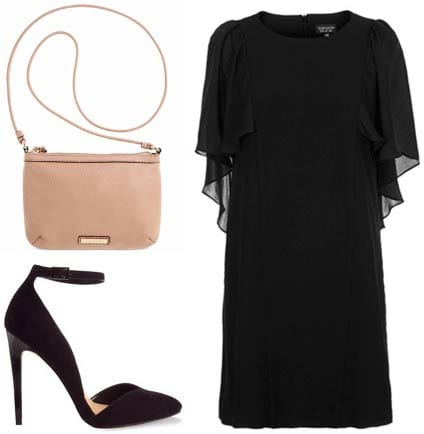 Product Information: Dress — Nordstrom, Shoes — ASOS, and Bag — Calvin Klein
This one is the trickiest of the bunch: What can you wear that is hot and fabulous, but still somewhat conservative – at least, as far as night out-wear goes? Whenever I'm out to have fun, I definitely wear heels. I personally feel so much more confident rocking a pair of heels, but I always store a pair of flats in my clutch just in case.
For a balance of cute and classy, rock a conservative yet fun dress. I love the looseness and fluidity of this one, especially after sitting in session all day in well-fitted attire; I just want to feel free! I've always pick one area to showcase: legs, cleavage, back, or midriff. For this outfit, I chose legs, which I accented with these cool high heels. I also picked a cross-body bag that can hold my flats, phone, ID, and some cash. With this style of bag, I can easily keep all my necessities without having the risk of losing it.
Comments?
What do you pack for casual events during conferences? Have my tips in this mini-series been helpful? Let us know what you think down below in a comment!