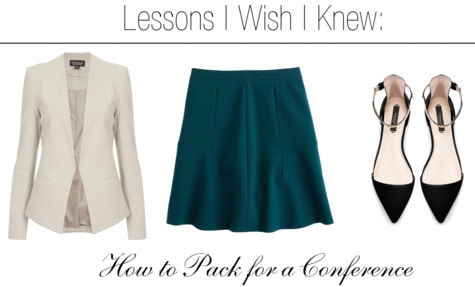 I recently attended a national conference in Washington D.C. with several friends. While my guy friends had it easy – they just brought a suit – the girls struggled more with what to pack.
While a lot can be considered professional attire, it was a tough job to create outfits that were not only appropriate for the weather, but could also be mixed and matched. Did I mention that all of this had to fit in a carry-on? The tips I wrote for spring break packing are extremely helpful for this situation, and I still continue to use those for any trip I take, whether it's for business or fun.
However, if you ever find yourself in a similar situation, and are stumped about what kind of clothes and accessories to bring with you, I'm here to help. Below, I created outfits based on what I wore to the conference. Three of the looks incorporate a must-have piece of professional wear, while the fourth is a travel outfit that's ideal for flights or long car rides.
1. Traveling Outfit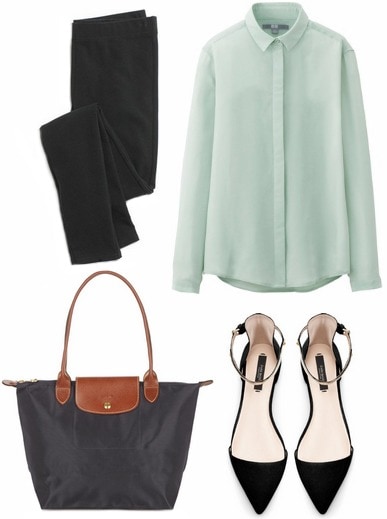 Product Information: Leggings — Madewell, Bag — Longchamp, Flats — Zara, and Blouse — UNIQLO
As I was deciding what outfit to wear to the airport, I realized that I should wear something comfortable yet professional, in case I would have to wear it to the conference. With this in mind, I actually wore J.Crew's Pixie Pants, a pair of pants that are super comfortable but have the ability to be dressed up or down.
Over the pants, I wore a looser, wrinkle-free button-up that could replace one of my shirts if I had happened to spill food or makeup on it during the conference. I grabbed a neutral pair of flats to wear on the flight (they were super easy to slip on and off for the TSA check) and tossed my wrinkle-prone blazer over my arm in case the flight was cold.
For my carry-on bag, I brought my Longchamp. It was the perfect bag because it's waterproof, easy to fold up, and it blended in with the rest of the bags others had at the conference (I actually would recommend bringing a portfolio to keep up with papers rather than a bag).
2. The Flirty Skirt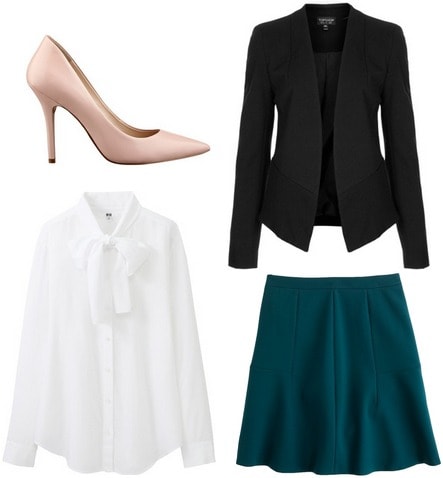 Product Information: Heels — GUESS, Shirt — UNIQLO, Skirt — J.Crew, and Blazer — Topshop
This is what I wore on the first day, and I love the feel of this outfit for a first impression. I actually adore the skirt above; it's the J.Crew Fluted Skirt and has been amazing for many different occasions. In this outfit, I paired it with a structured and versatile blazer, neutral heels, and a blouse. It's very girly but still professional.
The skirt comes in a variety of versatile colors, such as white, black, and navy, but I picked this shade of green for its subtle addition of color; I'd rather not join the sea of black and white unless it's necessary. With this pop of color, I opted to use neutral shades for the rest of the outfit: I wanted to stand out but not stand out.
3. The Classic Black Dress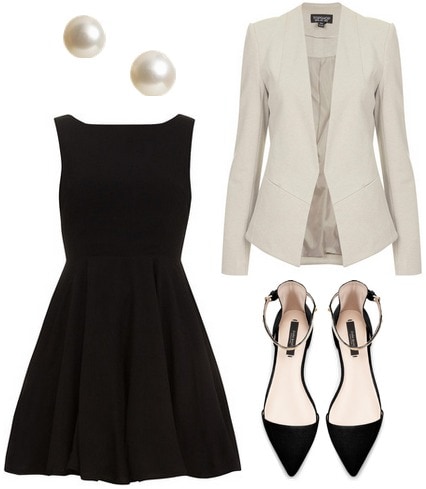 Product Information: Dress — Dorothy Perkins, Flats — Zara, Pearls — Banana Republic, and Blazer — Topshop
Every girl should have a classic black dress, and I'm so excited about them that I own several. Dresses are probably my favorite clothing piece; why wear pants if you don't have to?
With this classic LBD, I channeled a bit of Audrey Hepburn with pearls, added a neutral blazer (if you're daring, pick a nice seasonal color), and threw on the same flats from the travel outfit. Neutral shoes are super versatile for trips when you only bring a carry-on.
This look can easily be dressed up with a neutral pair of heels rather than flats. Don't forget to pack a few pairs of pantyhose, too; I have a personal preference for opaque nude thigh-highs for comfort (they also seem less prone to rips).
4. A Strong Pant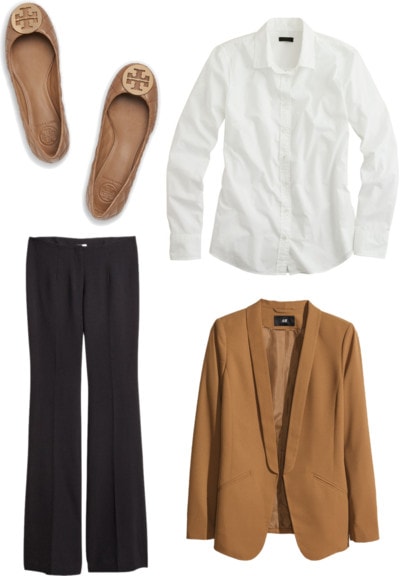 Product Information: Button up — J.Crew, Pants — H&M, Blazer — H&M, and Flats — Tory Burch
I wore this exact outfit to the conference: a white button-up, black trousers, and a brown blazer. I matched my blazer's buttons to the gold logo on my flats. I thought it was a change-up from the typical uniform, and I love mixing black with brown accessories.
I brought this outfit for the day that I knew I wouldn't want to worry about accidentally flashing those at the table with me – that is the last thing I want to think about on some days. And if anything were to happen (let's say an unfortunate rip or tear), the black pants you wore on the flight over would be a perfect replacement for these pants without anyone noticing.
Surprisingly, even with all my outfits that could be mixed and matched (who really knows if you wear the same pair of pants twice?), I still managed to have a completely full suitcase. However, I felt confident in my clothes at the conference, and it definitely showed in my work ethic and appearance.
Comments?
What did you think about these four outfits for conferences? What are some tips you use when you wear professional attire? Let us know what you think down below in a comment!