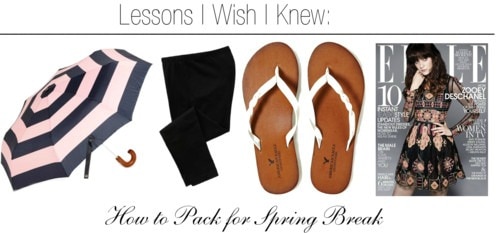 The first day I spot floral dresses and open-toed shoes, one phrase rings through my mind: "When's spring break?" As a Georgia native, spring and spring break tend to come pretty early in my calendar. In fact, I've already had my spring break, and it's not even spring yet!
I spent half of my break visiting my brother in Seattle and pulling my thicker coats from storage. Through this experience, I realized that after years of flying and long car rides to spring break destinations, I have become somewhat of a pro at packing. My mother however? She managed to forget her pajamas for the fourth trip in a row (oh, mom).
In this post, I wanted to share four helpful packing tips that I have learned through my travels to prepare for spring break. Read on to learn more:
1. Pack for various types of weather and occasions.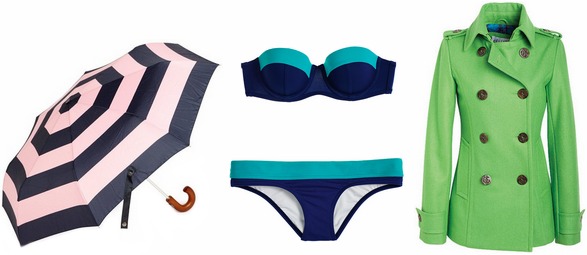 Product Information: Left to Right — Jack Willis, Victoria's Secret, and dELiA's
Before I even think to begin packing, I find out what the temperature will be like while I'm visiting – you can Google your destination and it will give you average temperatures and past weather data for the month you'll be traveling there. I do this weeks in advance (I get really excited when I have travel plans!), and it gives me a good idea of what the weather will be like on my visit.
With this head start, I have plenty of time to buy anything I deem necessary in order to be in the city's climate for my stay. For a beach vacation, think swimsuits, cover ups, shorts, and light shirts. For Seattle-like climates, which I just endured, think jackets with hoods, tunics, and leggings.
One other major thing I've come to realize when packing for weather is to make sure you pack for what you will be doing on the trip. If you'll be spending a lot of time at the beach, you probably don't need to pack boots. Alternatively, if you're headed to a colder climate, a scarf and hat are must-haves.
As much as you imagine yourself wearing that flowy sundress, if sporty clothes are more your taste, be true to your style, and pack accordingly. If you don't wear something if the weather at home is as nice, don't bring it – you still won't wear it. And before you leave, make sure to check for rain. There's no need to lug around an umbrella and raincoat if it's clear skies over there!
2. Bring comfortable shoes.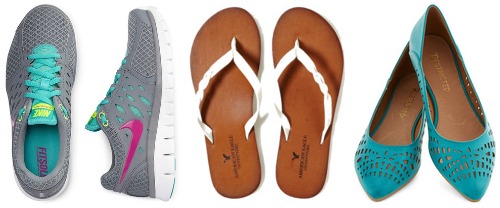 Product Information: Left to Right — JCPenney, American Eagle, and ModCloth
This was one of the lessons I learned the hard way. On one of my recent trips, I had just gotten a new pair of Tory Burch flats, and every one of my friends swore they were comfortable and quick to break in. Believing them, I packed the flats, as well as a pair of flip flops that were for comfort and not to match my outfits.
After a few days there, I realized that I had overlooked the time I had allotted to break in my shoes. I had expected one or two rough days, and then the shoes would mold to my feet. I was wrong, and I had to limp around in them for the whole week. I don't even want to talk about the blisters. It's a great way to break in a pair of shoes (when you have nothing else to wear…), but I definitely would not recommend it.
For vacationing, I recommend packing a few comfortable pairs of shoes that are well-worn and loved — a pair of sandals, flats, and tennis shoes are my go-tos for traveling.
3. Bring comfortable outfits, too.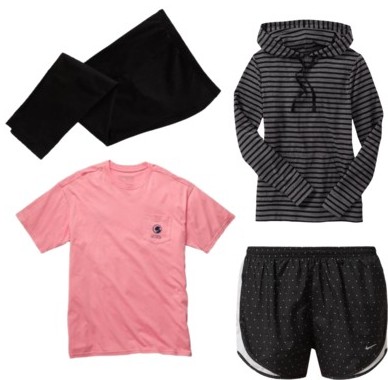 Product Information: Leggings — Old Navy, Hoodie — Old Navy , Shorts — Lady Foot Locker, and Shirt — Country Club Prep
I'm guilty of being someone who packs half of her suitcase with cute clothes, so I can look nice while scouting the local talent. However, like I mentioned earlier, on ultra-casual days, I usually like to dress as if I'm returning from the gym or going to a yoga class – I'm much more to the sporty side of the style spectrum.
Because of this, leggings and big shirts are my go-to outfit while I'm traveling. Even if that's not your personal style, remember to pack at least one-ultra comfortable outfit. It's a great option to have if you're lounging around the hotel room or traveling.
Speaking of traveling, I used to always forget to pack an outfit to wear while traveling home. I hate realizing this because I either have to wear something not as comfortable or re-wear the same outfit I originally wore while traveling to my destination. Be prepared for moments like this, when the last thing you want to do is wear a dress or shave your legs: lounge pants and leggings are always worth packing.
4. Don't forget about downtime.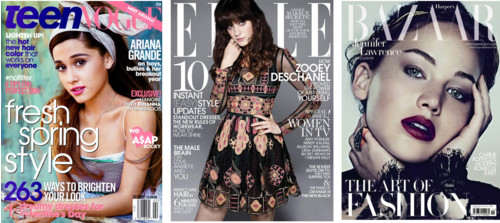 Product Information: Left to Right — Teen Vogue, ELLE, and Harper's BAZAAR
Even if you are in a new city with sights to see and activities to do, remember to pack for downtime. I always pack a few magazines and books (and will always buy a few books at local bookstores) for when I truly want to lay in bed and spend a few hours indoors.
This was definitely the case in Seattle, where I was determined to walk rather than calling Uber for any menial tasks I had. However, I hit about eight miles of walking one day and spent the rest of the day laying in bed to relax my sore legs. My collection of books and magazines for the flight over gave me something to do while I rested.
Of course, you don't have to just read books or magazines – carry a notepad to draw or write in, watch Netflix on your phone, or bring whatever else you like to do during your free time!
Comments?
Do you keep these four tips in mind as you pack for vacation? What are some tips you use when you travel? Let us know in a comment below!