With winter on its way out, it's time for a style revamp. Although I'm loving my new sweatpants and pajamas, I'm also dreaming about changing my style for the new seasons ahead — so today I'm showing you how to do just that.
To me, right now is the perfect time to reinvent your style.
With all this free time, you can really figure out what you love, and what makes you feel amazing and change your style to reflect those things.
Here are a few of the things I've been doing to change my style for post-quarantine because trust me once we can strut the streets again it's going to be like red carpet season.
Related reading: How to Glow Up Your Life, Inside and Out
Step 1: Gather Inspo & Get Rid of What Doesn't Work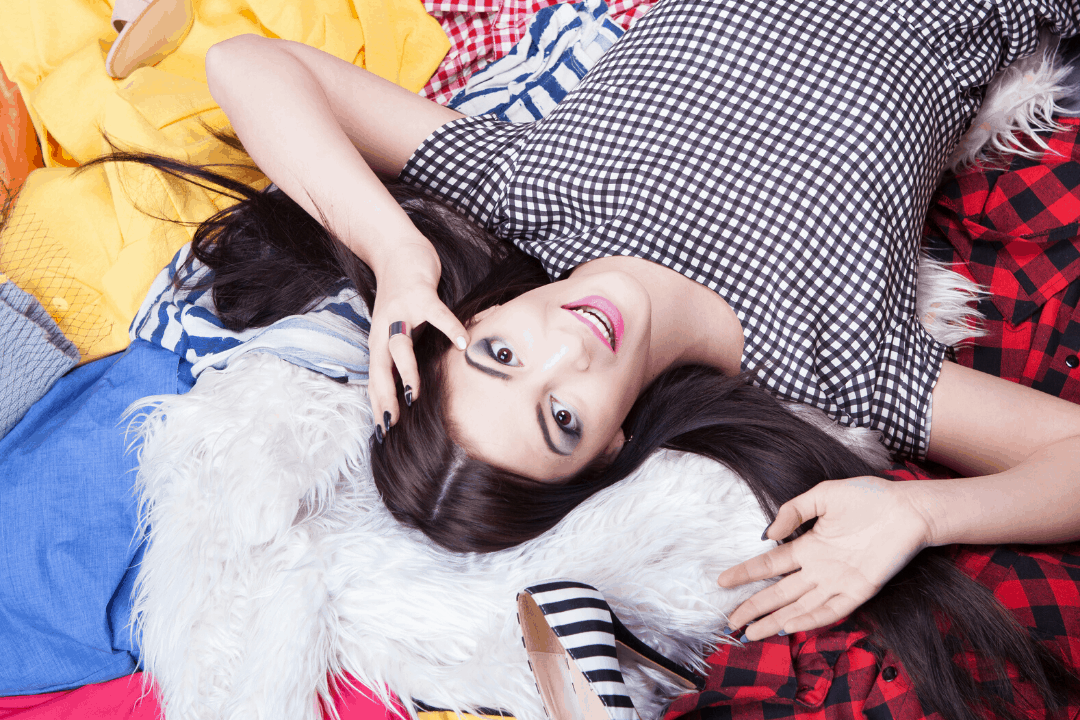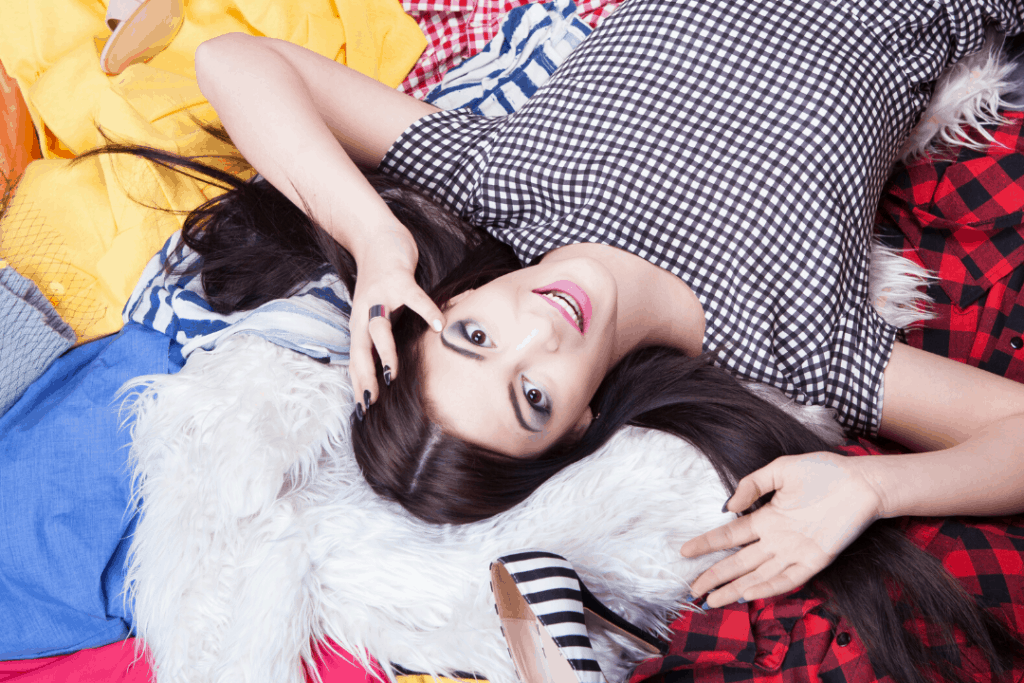 Changing your style truly starts here, so I've broken this first part down into two steps.
First, you want to get an idea of where you want your style to go. Second, you want to sort through your pieces to make your closet reflect that new vibe.
I suggest doing this on Pinterest because there are so many images and it's really user-friendly. (You can also use Instagram collections for this, though my instructions below assume you're using Pinterest.)
Start by googling celebrities or influencers whose style you like and pinning their looks to a board. The more images you pin, the better Pinterest will get at finding more ideas that fit your taste. Remember not only is this an ongoing process, but your taste also evolves, so maybe in a year or even just a month your board will look different, and that's perfectly fine.
Now,
Pick out the pieces that speak to you and that fit with your new style. Be ruthless about any pieces that don't make you happy and/or don't work with your new vibe.
It may seem hard to remove a piece that you wear all the time, but trust the process — the clothes you loved are the ones you'll love wearing.
Step 2: Round Up New Pieces You're Eyeing for This Year & Invest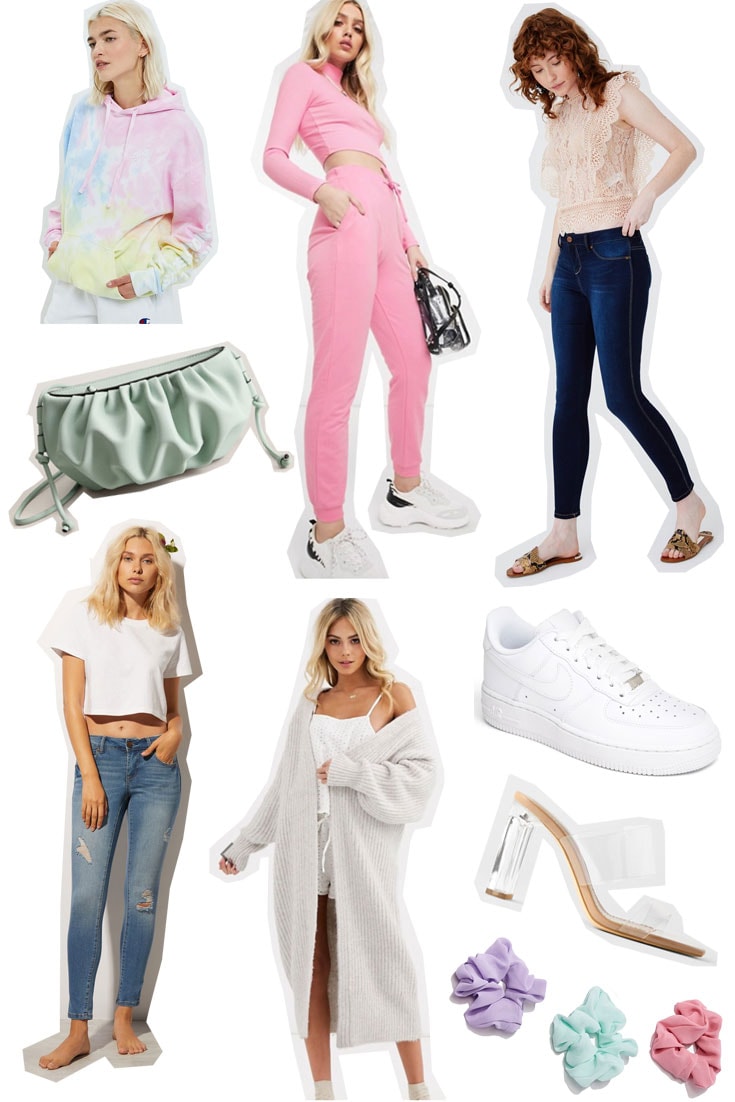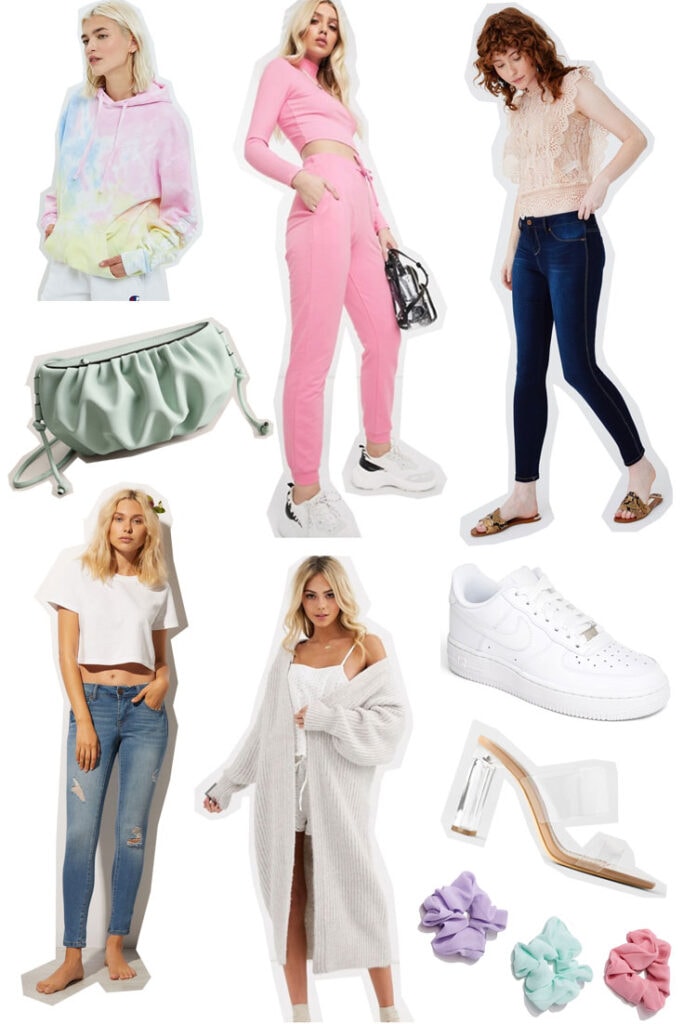 Products L-R, top to bottom:
Anything goes here! As with step 1, this is about getting your style closer to where you want it to be.
Need some ideas? Above is a roundup of some of-the-moment pieces we're investing in right now, from cozy matching sets in bright colors to butter-soft jeans (perfect for wearing at home now and out later), to tie-dye hoodies (ideal for those TikToks), plus springy accessories!
If you've noticed a certain piece coming up a lot on your mood board, consider treating yourself! It will help get your style closer to where you want it to be.
Step 3: Before You Donate Old Pieces, Consider a DIY Revamp
…Because: we're getting ~crafty~.
I must be one of the least artistically gifted people in the world. I mean it's so bad someone could probably sell something I made for millions and call it abstract art. But with all this free time and all these clothes I don't need anymore, I'm having a great time making new things out of old ones.
So that big pile of "goodbye" clothes? Go through and see if you can use any of the pieces for some fun DIYs.
Remember, things don't have to be perfect — especially for this step, it's more about having fun and getting creative with fashion… and if something turns out great, well, that's a bonus.
One relatively easy DIY though is to tie-dye your old sweatpants and hoodie. Not only is it all the rage with every TikToker Renegading their butt off in their tie-dye fits, but it's also perfect for you to wear right now.
Step 4: For Anything Else, Make Some Extra Cash
Whatever you didn't destroy DIY'ing you might as well sell to people who like that style.
The reason this step will help you build a new wardrobe is that, with the extra cash from selling your clothes, you can invest in the new wardrobe you loved from Steps 1 and 2. See the blog post I linked for a full guide to getting this done and making some cash!
Step 5: Make Outfit Combinations
This is a great way to remember that there is light at the end of the tunnel.
Specifically, try listing out all the things you want to do once quarantine is over and make outfits for every single occasion. Challenge yourself by not allowing the same outfit twice, this way you have to make sure you try things in different ways.
Stuck? Find a piece similar to the one you're trying to style on Pinterest and when you click on the image it will show you several pictures with that same item styled differently.
It also doesn't hurt to try on every outfit combination in your closet (and take pics of your favorite ones); it's not like you don't have the time.
Step 6: One Outfit, Five Looks
I definitely have a very specific style, but something I've found to not only be fun but also useful is purposefully deviating from my style.
Pick one outfit that you really like and wear often, either a dress, a romper or a top and bottom combo. Now go through your closet (and anyone else's closet in your house), picking out any pieces you think are cool. Now challenge yourself to make five different looks by accessorizing your initial outfit.
Make your outfit egirl, make it preppy, make it rock, make it elegant, make it the style you hate the most in the world.
Not only will you find new cool ways to wear an outfit you wear maybe too often, but you will also realize how you can actually make any style your own.
I hope you have fun doing one or several of these ideas for how to change your style at home. Do it with someone in your family or call a friend and do it together from your home. Because hopefully soon enough you'll be able to show your new style off, but until then post it on your social media and tag @CollegeFashion.
What do you think of our ideas to help you change your style?
Did we miss any ways you have been reinventing your style? What's your favorite step? What step do you want to try out? Let us know!
If you like this fashion tips on how to change your style, you might also want our related posts below —