Being a makeup junkie, I absolutely love doing FX makeup: I enjoy creating open wounds, and stitches, and totally re-creating a face for Halloween. However, I have come to realize that not everyone feels that way… thus, this tutorial was born.
For the first in a series of Halloween-themed makeup tutorials, I wanted to make a Halloween look to cater to the girl that doesn't really want to dress up. You know, the girl who comes in jeans, a tee, and bunny ears? This is a more fierce, stylish approach to the "no costume" look: a chic, fun cheetah eye.
The Look: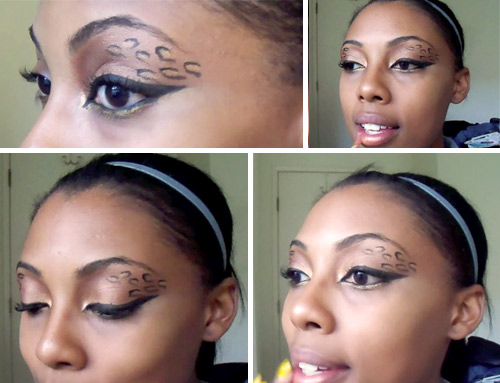 How to Get the Look:
Halloween Cheetah Makeup Tutorial
Products Used:
How to Style the Look: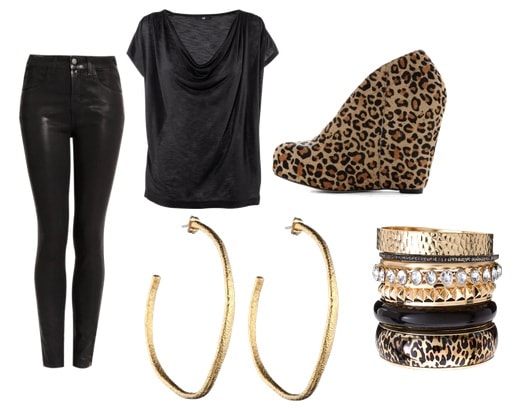 Product Info:
For the "costume" part of the look, I wanted to create a nice, sleek silhouette.
I started off with these amazing black J Brand coated jeans. (Obviously, J Brand is pricey, so you could substitute any other black jeans here!)
Since we are going so tight on the bottom, I paired the black jeans with a loose black H&M top.
To give this cheetah-licious look even more growl power (yes, that was a line from Disney's Cheetah Girls), I thought a pair of chunky animal print wedges would look great. And to tie this look together, I chose a pair of simple gold hoops and an arm full of chunky bangles.
Thoughts?
Would you guys rock this fierce look? What are you going to be for Halloween this year? What are your plans? Let us know!
For more halloween makeup tutorials, check out our related posts below —