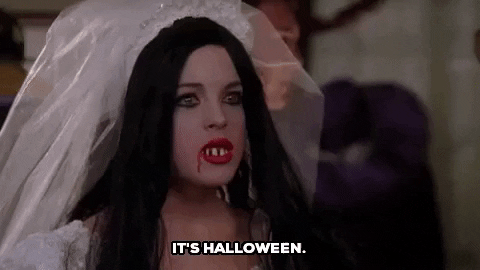 It's almost Halloween!
That means it's almost time to celebrate all things spooky, otherworldly, and, of course, candy-related!
Most importantly, Halloween is a great time to embrace and show off your personality and creativity with an amazing costume!
However, if you're still not sure what you want to be, you're not alone. After all, with so many costume options out there, how can a girl possibly choose just one?!
Well, today you're in luck! I've worked some spooky Halloween magic to create a personality quiz that'll determine what type of Halloween costume you should wear!
When you're finished with the Halloween costume quiz, scroll down to see what your result says about your personality and style!
(Note: If you're using ad-blocking software, you may need to turn it off to view the quiz!)
Halloween Costume Quiz Results
Here are the quiz results; remember, no peeking until you've finished the quiz!
You Should Wear a Classic Costume!
Your everyday style is timeless and always occasion-appropriate. That's why you should totally wear a classic Halloween costume this year!
Some people might think that classic Halloween costumes are boring or predictable. However, this definitely doesn't have to be the case!
For example, just consider how many ways there are to put together a fairy costume. You could go minimal (e.g. fairy wings over a fit-and-flare dress). Alternately, you could go all-out (e.g. a full-on sparkly fairy ensemble, complete with a makeup look that requires a tutorial to complete!). Both options are totally timeless and fun their own way!
Here are some more classic Halloween costume ideas to inspire you: Black cat (or another animal), jack-o-lantern, princess (Disney or otherwise), Holly Golightly from Breakfast at Tiffany's (or any other classic movie character), superhero.
You Should Wear a Scary Costume!
You live for all things gory and horror-related — both during #spookyszn and all-year-round! That's why a scary Halloween costume is the perfect option for you!
When it comes to scary costumes, there are a lot of options out there, from slightly spooky to full-on frightening.
Depending on how scary you want to look, you may decide to go as a more "traditional" scary figure (e.g. a zombie), or something much creepier (e.g. Pennywise from the It movie). Either way, you're sure to get a kick out of freaking out everyone around you with your costume!
Here are some more scary Halloween costume ideas to inspire you: Witch, demon, zombie, creepy clown, anything with the word "undead" before it.
You Should Wear a Funny Costume!
Who says Halloween has to be all about the creepiness factor?! Not you, that's for sure! That's why you should definitely go for a funny Halloween costume!
Personally, I'm a big fan of funny Halloween costumes involving puns (such as the one featured in the photo above). This is because "punny" costumes tend to be the most clever and memorable. But, feel free to use your imagination to come up with something original and unique to your sense of humor! (Just remember that if a costume involves making fun of or stereotyping someone's race, sexuality, gender, age, or culture, it's definitely something you should pass on! This is true no matter how light-hearted or silly it might seem to you/your friends.)
Here are some more funny Halloween costume ideas to inspire you: Taco Bell (wear a Belle [from Beauty and the Beast] costume and stick on pictures of tacos), deviled eggs (wear devil horns and stick a picture of eggs to your top), green with envy (wear an all-green outfit and print the word "envy" in big letters on your top), holy cow (put on a cow costume, along with a pair of angel wings and a halo), raining cats and dogs (stick a bunch of cat and dog pictures to your outfit and carry an umbrella).
You Should Wear a Glam Costume!
You love all things flashy and extra. That's why a glam Halloween costume is ideal for you — and your over-the-top personality!
Some glam Halloween costumes might seem inaccessible, especially if you're on a budget. But, the truth is that you can probably create a perfectly posh ensemble using things you already own. For example, shiny/glittery makeup and bold clothing and/or jewelry all make for good costume elements! Furthermore, you can find some pretty crazy things in thrift shops or second-hand stores. So, don't be afraid to stop by one to pick up pieces for your costume!
Here are some more glam Halloween costume ideas to inspire you: flapper, any historical queen, mermaid, "diva" celebrity (whether real or fictional), any Disney villain.
Which result did you get on our Halloween costume quiz?
Does your quiz result fit with your usual Halloween style, or did you get something a little more unexpected? Do you know what you're going as for Halloween? Do you have any other fun and/or unique Halloween costume ideas?
Let me know in the comments!
Happy Halloween!