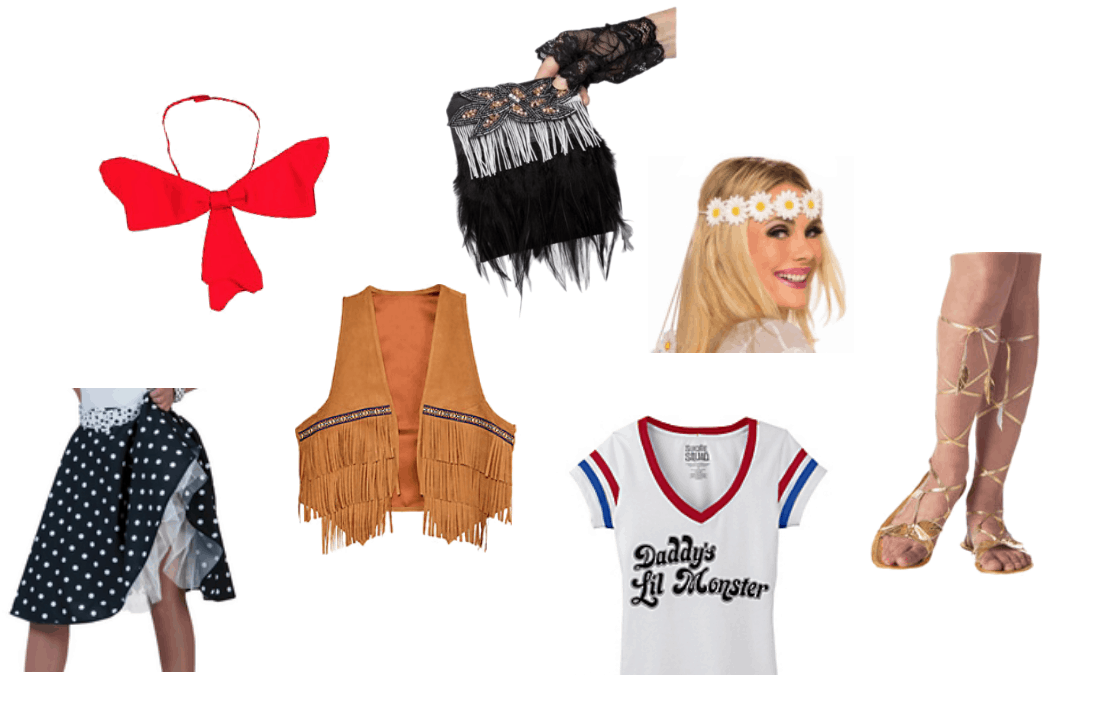 The themes for my school's spirit week came out a few days ago and ever since, I've been searching my whole house for the perfect costume pieces! I've found so many great items for my themed looks, but I also discovered some cute pieces from Halloween costumes I had forgotten about, which could be incorporated into my real wardrobe.
Finding these long forgotten pieces from Halloween and theme parties made me want to create new outfits to show them off! So, this week's style challenge involves a little hunting (and maybe some cleaning) in the basement or attic – we're repurposing old costumes.
Check out the outfit sets below to get some inspiration for your own repurposed costume looks.
Monday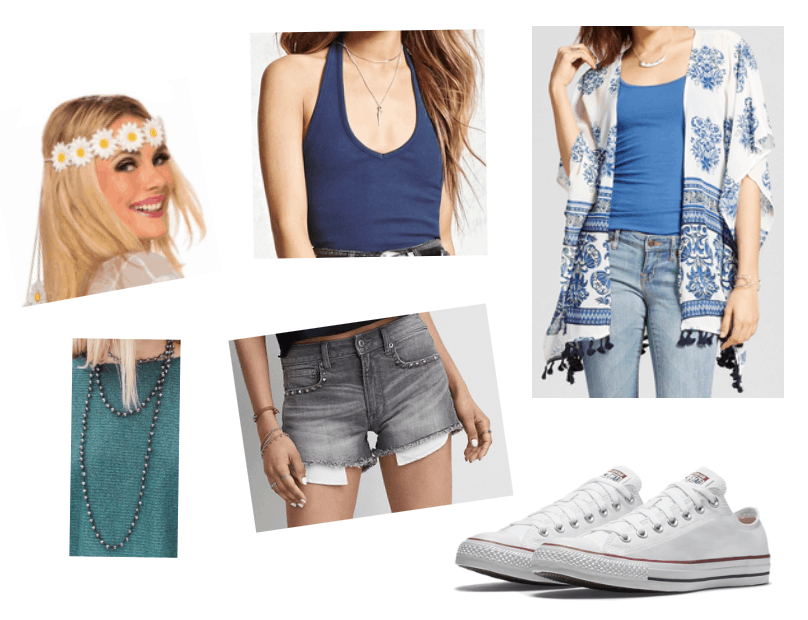 Products: Costume Headband – Target, Crop Top – Forever 21, Kimono – Target, Shorts – American Eagle, Shoes – Converse, Necklace – Red Dress Boutique
This look was inspired by a Flower Child headband. It's so cute and you can hardly tell it goes with a costume. This would be a great look for a fun party this summer.
I paired the hippie headband with a blue crop top and a light kimono cardigan. On the bottom, we have gray shorts and trendy Converse. For the last accessory, I added a green beaded necklace.
Tuesday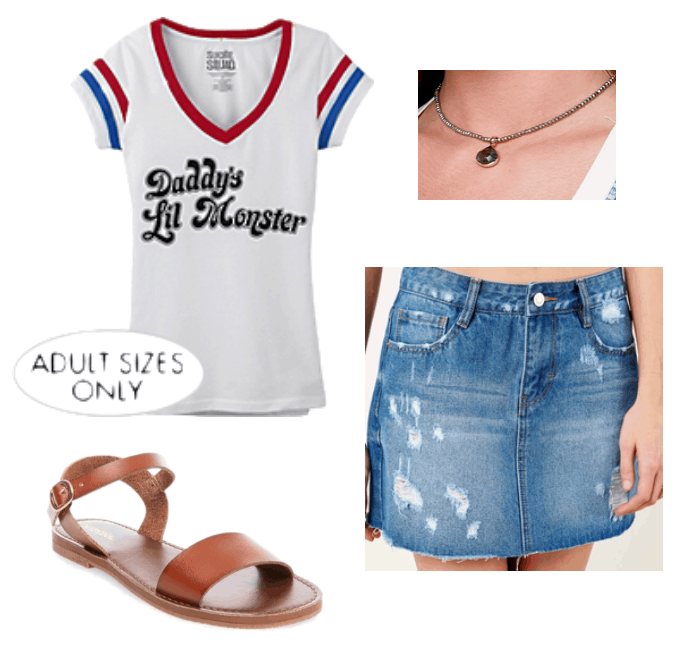 Products: Costume Tee – Party City, Skirt – Red Dress Boutique, Necklace – Red Dress Boutique, Shoes – Target
Superhero tees are probably the easiest costume piece to repurpose! For this look, I used a Harley Quinn shirt (see another way to repurpose it in this article) since that was one of the most popular Halloween costumes last year.
I paired the "Daddy's Little Monster" tee shirt with a denim skirt, brown sandals, and a gray beaded choker for a slightly '90s vibe.
Wednesday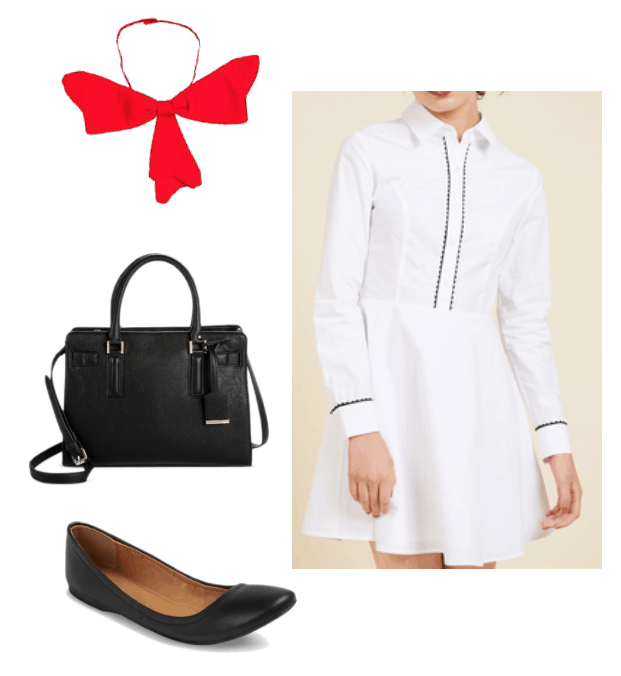 Products: Dress – ModCloth, Handbag – Target, Shoes – Target, Costume Tie – Spirit Halloween
This Cat in the Hat bow tie is absolutely adorable! Instead of a whimsical Dr. Seuss outfit, I decided to go the other direction and create a sophisticated, put-together outfit.
This black and white shirtdress is to die for, and really makes the bow tie pop! For accessories, I added a black handbag and matching black flats.
Thursday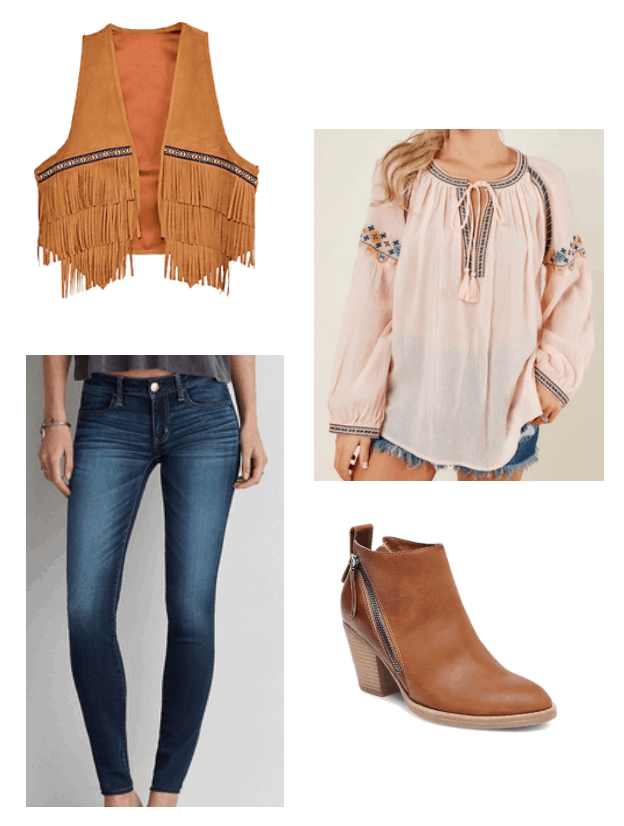 Products: Top – Red Dress Boutique, Jeans – American Eagle, Booties – Target, Costume Vest – Party City
This cowgirl vest looks perfect when worn for a music festival or as part of any boho outfit!
For this look, I paired the vest with an embroidered pink top, jeans, and brown leather booties. I love the feel of this outfit – it's western without looking like another cowgirl costume.
Friday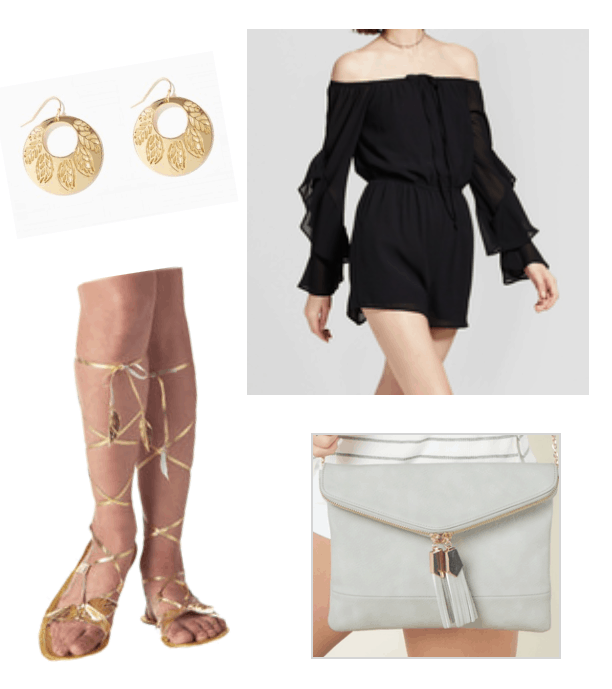 Products: Romper – Target, Earrings – Charming Charlie, Clutch – Red Dress Boutique, Costume Shoes – Party City
These Roman Gladiator sandals are so pretty and glam, and I love the idea of gold shoes.
For this look for a fun night out, I paired the gold sandals with a fun and trendy black romper. For accessories, I added a gray clutch with gold accents and some dangly disc earrings.
Saturday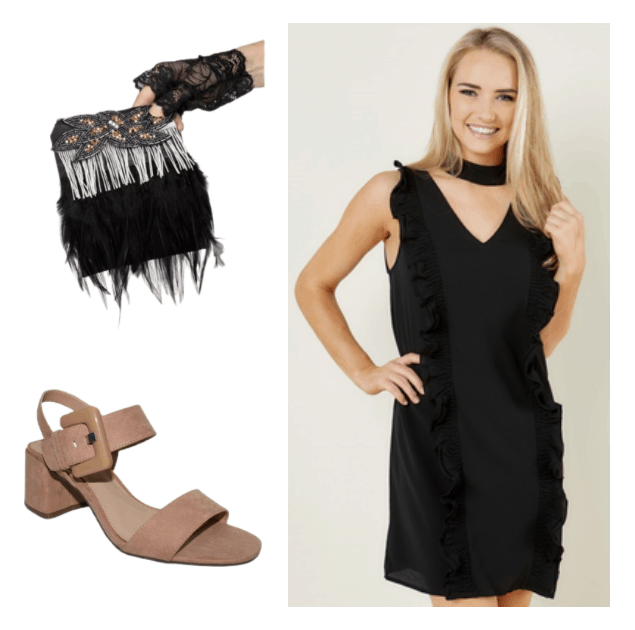 Products: Dress – Red Dress Boutique, Heels – Target, Costume Bag – Walmart
This Flapper clutch is so over the top – sequins, tassels, and feathers- and it's so fun! You definitely don't need to reserve it only for 1920s parties.
I found this great Little Black Dress to go with the Gatsby clutch and paired the look with some chunky neutral heels. That way, the bag can really be the focus of this look!
Sunday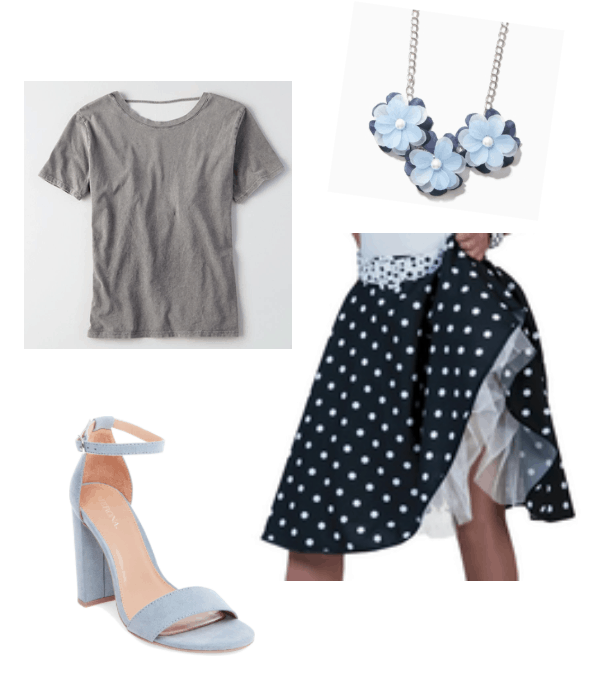 Products: Tee – American Eagle, Costume Skirt – Target, Heels – Target, Necklace – Charming Charlie
I'm actually really sad poodle skirts aren't still in style, but if you've ever dressed up as a '50s girl, you can totally rock that skirt as part of an outfit.
For this look, I paired this polka dot poodle skirt with a gray low-back tee. I layered a blue statement necklace on top to match the blue heels.
What do you think?
What's your favorite costume you've ever worn? Which outfit is your favorite? Do you have your own idea for a style challenge? Let us know in the comments below!