As every CF girl knows, fashion is cyclical – everything old will someday become new again. So the recent resurgence of vintage pin up-inspired fashion should come as no surprise. Aided by throwback TV shows like Mad Men and Pan Am and recent movies like My Week With Marilyn, the flirty, feminine silhouettes of the '50s and '60s are back in a big way. And with spring finally here, it's the perfect time try this playful look yourself.
Below, I have created three spring and summer looks inspired by the retro pin-up girl aesthetic to get your inspiration going. And feel free to mix and match different pieces from each outfit – they all mesh very well together.
Vintage Pin-Up Girl Style 101
The vintage pin-up girl look is flirty, feminine, and a little bit coy… but not in-your-face sexy. It's about showing off your shape with body-conscious pieces that fit and flatter, without showing tons of skin. Most of all, this look is about confidence, so dress up and have fun with it!
Retro Pin-Up Style Essentials:
Wedges of all heights
Pastel and/or polka dot cardigans
Oversized sunglasses
Flirty, vintage-inspired swimwear
Bow hair clips
Pin-Up Makeup & Hair
If you want to go all out, why not pair your look with retro-inspired hair and makeup? From winged cat eyes to bright red lips, there's sure to be a pin up-inspired beauty look that fits your personality. Here are a few suggestions for YouTube tutorials to watch:
Outfit 1: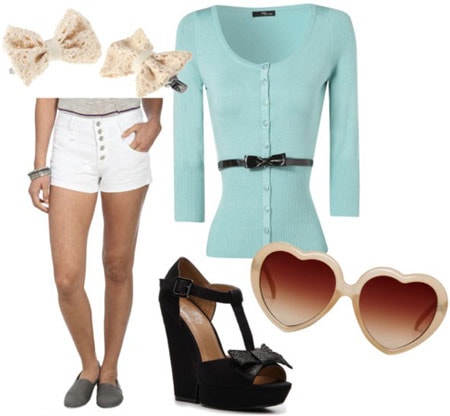 Shorts, Cardigan, Shoes, Glasses, Hair Bows
This first look is a great way to wear this trend for spring. Find a pastel cardigan with a waist-cinching belt and pair it with some high-waisted shorts to get that ultimate pin up look. Then accessorize with whimsical heart glasses, little hair bows, and awesome wedges.
Outfit 2: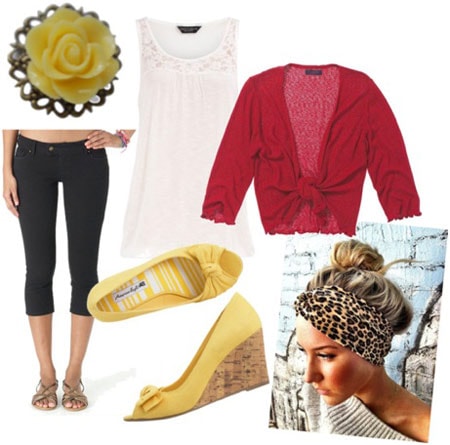 Capris, Top, Cardigan, Wedges, Headband, Ring
This next look is something that can be carried into any season when you are looking for an outfit to brighten your mood! Here, I went with some black capris (black skinnies would work, too), a white lacy top, and a red cardigan that ties at the waist to create curves. Add some yellow wedges for a pop of color and finish with a leopard headband for a touch of sass.
Outfit 3: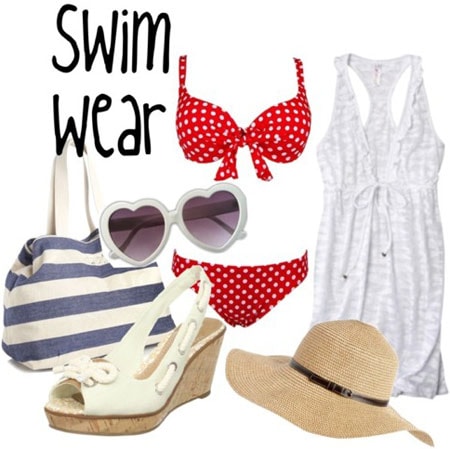 Swimsuit, Cover-up dress, Bag, Wedges, Hat, Sunglasses
This last look incorporates the retro swimwear trend and is perfect for going to the beach or laying by the pool. Find a polka dot swimsuit and some wedges to start off your look. Then add some perfectly '50s white sunglasses, a striped beach bag, and a floppy hat to shield you from the sun. All of these pieces give off the girly pin up vibe we're aiming for.
What do you think?
I hope you guys enjoyed these outfits. Remember to play with different prints, pastel colors, and high-waisted shorts and you should be able to create a pin up look that you'll be happy to wear when the sun comes out to play!
Now I want to hear from you – are you loving the retro pin-up look? Would you wear these outfits? Which one is your favorite? Please post your comments below and let me know which looks you are dying to try this summer!