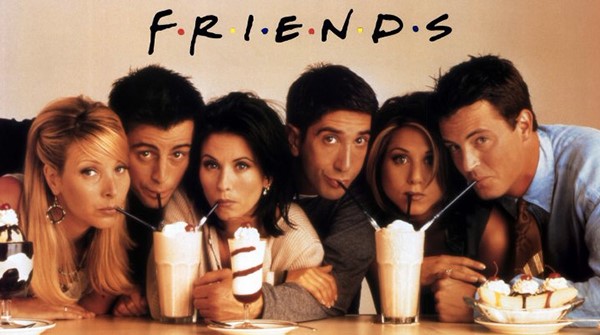 Ah, Friends. If you've been reading CF for a while, you may remember that we've covered style moments from this hit TV show before and again.
But, like this syndicated show's many episodes, seeing it once (or twice) just isn't enough! So, we're here to take a well-deserved second look at the woman who inspired thousands with her fabulous mix of sartorial expertise, sassy one-liners, and killer hair. That's right: I'm talking about Rachel Green.
Behind The Scenes
As we all know, Friends was a hugely popular TV sitcom series that lasted a whopping ten seasons (running from the mid '90s to the early 2000's) and narrated the lives of six young adults trying to make it in the Big Apple. Regardless of how you feel about the show, it can't be denied that Friends was a trailblazer in the sitcom genre, inspiring future shows such as How I Met Your Mother and New Girl with its close-knit ensemble cast.
Out of the whole crew (and we should say that Monica Geller's style was fab too), it's safe to say that Rachel Green, played by beauty and style icon Jennifer Aniston, made the biggest impact on the fashion and college community. After all, she was one of us: a girl who lusted after designer things on a tight budget and kept up with the trends of the time (in this case, plaid mini-skirts and cute, shaggy locks).
Though it's been over a decade since the last episode of Friends streamed on TV, we find ourselves reliving her iconic looks in the hopes of one day attaining equal success in the fashion realm.
Keep reading for four modern Rachel Green-inspired outfits!
Dressed to the Nine(tie)s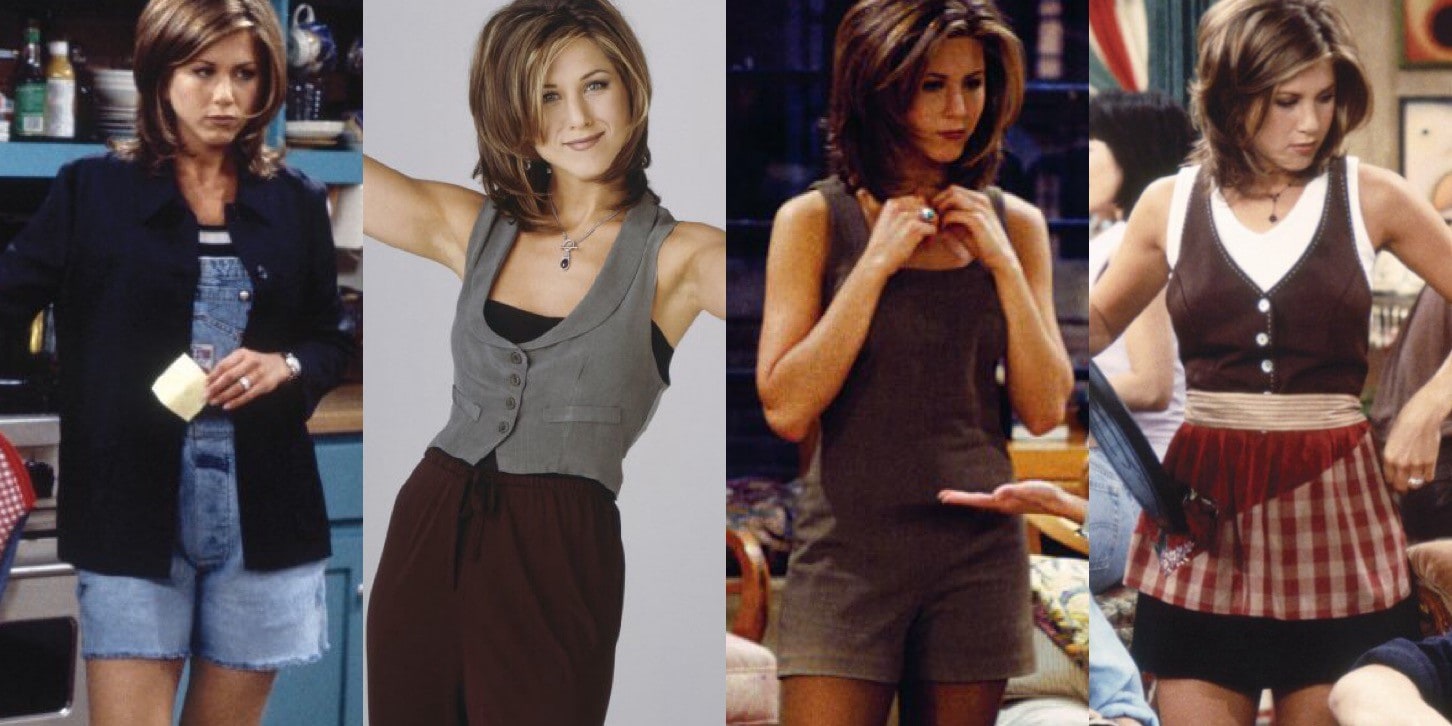 Just as Friends can't be taken out of its historical context, some ninety percent of Rachel's looks are unabashedly made up of '90s trends.
Throughout the show, she's a fan of layering, mixing up fitted vests under strapless tees and rocking jumpers (whether they be denim or brown) and knee-high boots like there's no tomorrow. Lucky for us, all of these looks are more or less back these days.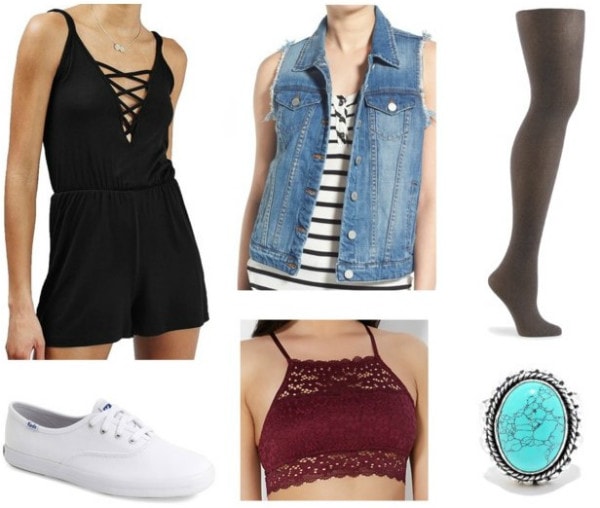 Products: Romper, Bralette, Denim Vest, Tights, Sneakers, Ring
To emulate Rachel's favorite overalls, it's time to bring out the romper! Accessorize this versatile piece with stylish brown tights and comfy white sneakers, bringing it to the modern day by switching out hidden undergarments for a visible bralette. Finally, make this casual boho look soar with a dazzling turquoise ring and a '90s-cool ripped denim vest.
Girl Next Door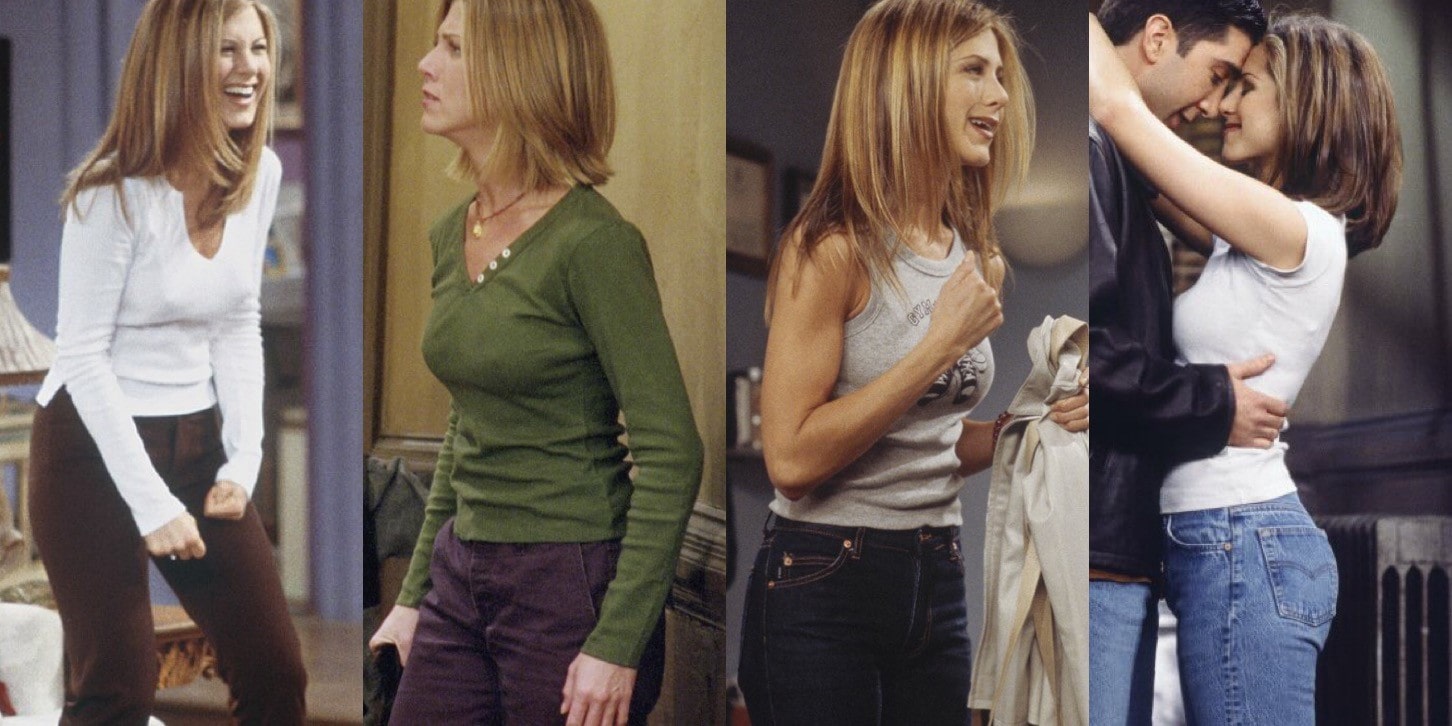 As Rachel grows into her successful fashion career and takes on the challenges of motherhood, her style becomes much more easygoing and relaxed. No longer the twenty-something ex-socialite copying every look on the New York runway, Rachel manages to find the perfect balance between cute and comfortable for her everyday looks in the later seasons.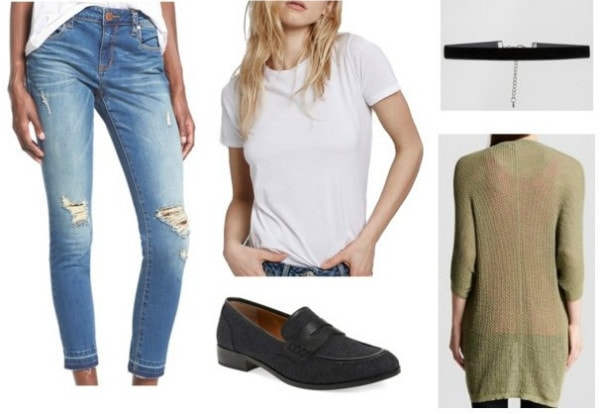 Products: Tee, Skinny Jeans, Loafers, Cardigan, Choker
There's no doubt that Rachel's "girl next door" look is the easiest to replicate for any college girl. Just whip out your favorite pair of jeans, throw on an open cardigan under a fitted white shirt, and finish it up with a pair of slip-on loafers! As for jewelry, keep it simple with a black choker (one final nod to the '90s) and you'll make Rachel proud.
Head Honcho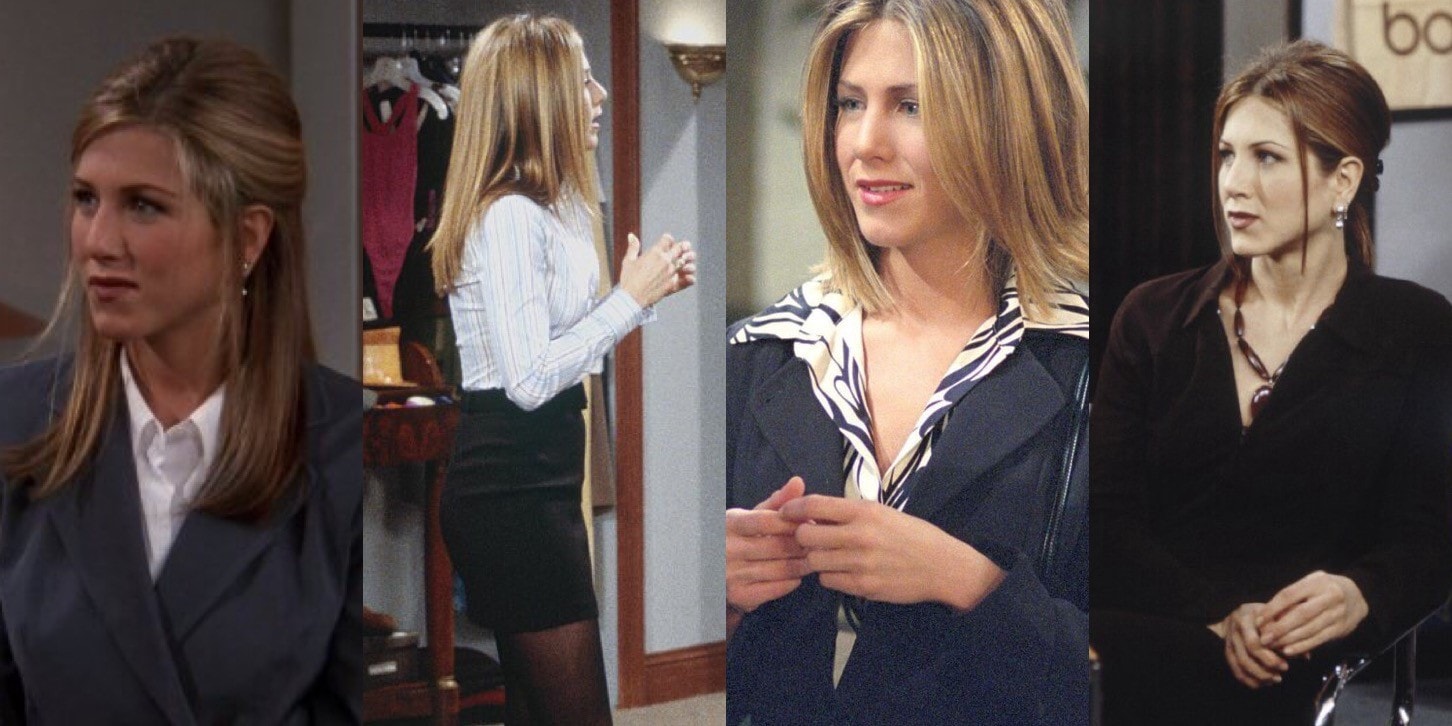 Without a doubt, Rachel goes from zero to hero in the course of ten Friends seasons. First, she quits a waitress gig at the coffeehouse for work at Bloomingdale's, then she goes on to become a big gun at Ralph Lauren, then, is offered a job in Paris for Louis Vuitton! Say what you will: Rachel is #careergoals. As such, a career in fashion indubitably leads to the best work wardrobe.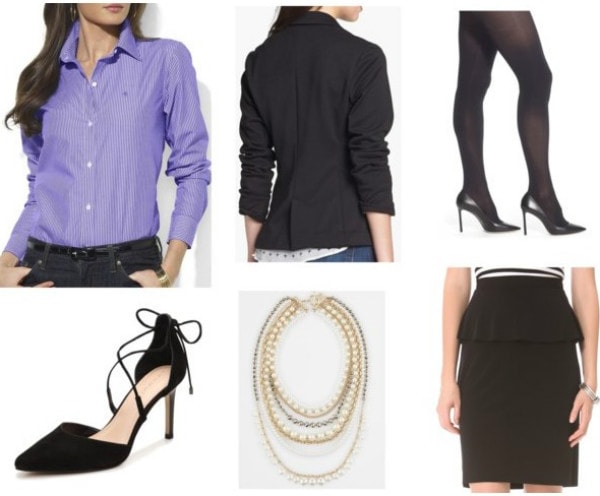 Products: Dress Shirt, Skirt, Blazer, Pumps, Tights, Necklace
Copy Rachel's elegant and professional attire by using interview staples! A structured button-down blouse and pencil skirt combo always does the trick. Follow this up with sheer black tights, sexy heels, and a bold blazer for maximum chicness. The final accessory? A statement necklace to convert the look from serious to seriously snappy!
Resort Wear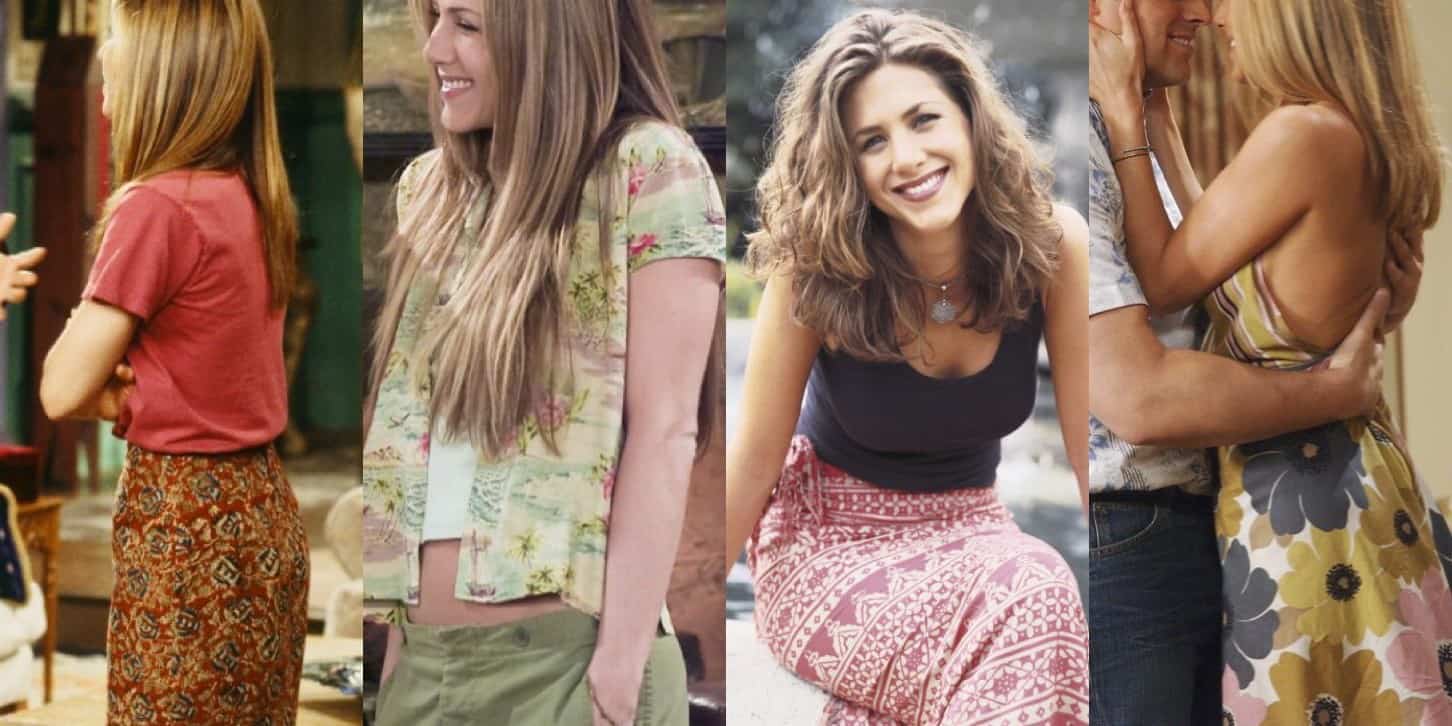 Floral maxi skirt, unconventional beach vibes, and a big, goofy grin in place. No, I'm not describing Phoebe's everyday look — this is Rachel's vacation attire! Like any good fashionista, Rachel knows how to let loose, and the way she does so through her wardrobe, by relying on loose-fitting fabric and island patterns. It's a look that's instantly easy, breezy, and beautiful!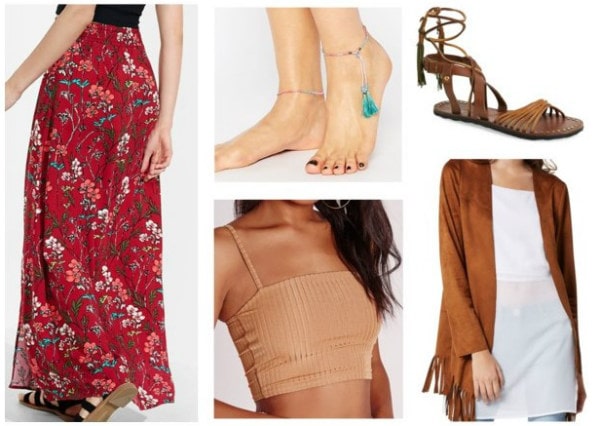 Products: Top, Maxi Skirt, Sandals, Jacket, Anklet
To borrow some of Rachel's carefree vacation style, start off with a light, floral maxi skirt and tan crop top. From there, amp up the bohemian energy with a suede fringe jacket and gladiator sandals. Lastly, top it all off with a tassel anklet and you've got a look that's ready to tackle whatever this summer throws at you!
Thoughts?
Were you humming the Friends theme song while reading this post? Which character was your favorite, and which one did you always look up to for fashion advice? Did you think Ross and Rachel were really on a break? Is there another TV show you'd love to see covered on CF? Leave a comment down below and let us know what you think!