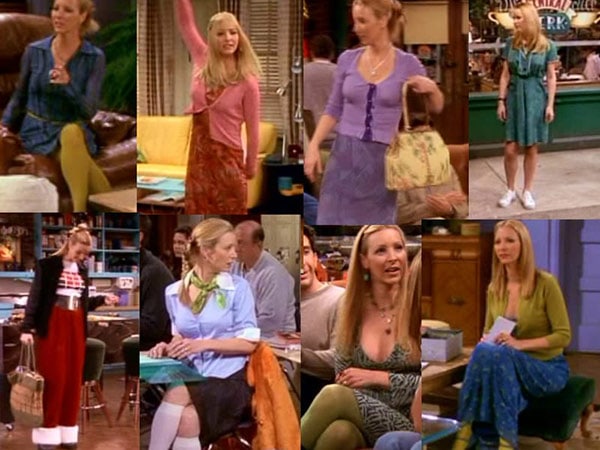 No series on TV fashion would be complete without everyone's favorite blonde of the '90s, Phoebe Buffay!
Played by Lisa Kudrow, Phoebe Buffay was one of the six main characters on the mega-hit show Friendsand was probably the wackiest leading lady on TV at the time. Even though I was pretty young during the show's run, the jokes, dialogue, and memorable characters from Friends pepper almost every aspect of my life. This show was iconic, and the standard to which all other sitcoms are measured. I don't think a day of my life has passed by without someone I know referencing the series!
Take a break this afternoon and imagine yourself snuggled up on the big orange couch in the middle of Central Perk — we're breaking down the style of one Phoebe Buffay!
(For more Old School TV Style, check out our posts on Elaine from Seinfeld, My So-Called Life, Ally McBeal, Saved by the Bell, The Nanny, Three's Company, and Rachel from Friends.)

Phoebe's Background
Unlike her other "Friends," Phoebe Buffay had a very unconventional upbringing. Phoebe's dad abandoned her family and her mom later followed suit, so Phoebe spend most of her adolescence living on the streets. Despite her humble beginnings, Phoebe is one of the most optimistic, innocent, and idealistic friends in the group. She is scrappy and kind, but also a bit of a flake. Much of the show's humor comes from Phoebe's bizarre comments and unconventional outlook on life.
Phoebe didn't go to high school, so she works as a freelance massage "therapist" throughout most of the series. She makes significantly less money than the other characters, but her whimsical style enables her to create awesome outfits from DIY projects and thrift shop finds.
Phoebe's Style
Phoebe's typical uniform is a maxi dress, a cardigan or jacket, a giant tote bag, and stacks of jewelry. Phoebe has a bit of a bohemian look, so it's not uncommon to see her in bell bottoms, chunky shoes, or knitted vests. She rocks denim vests and chambray shirts during the early seasons, and later adopts colorful tights, Mary Jane shoes, and simple headbands. Phoebe's been known to rock brightly colored outfits like a champion as well.
Phoebe likes to own and wear pieces that are completely unique. In one episode, she even gets mad at Rachel for buying a piece of furniture from Pottery Barn instead of the flea market! Because of this, her style has an interesting gypsy-meets-Grandma look to it. Phoebe loves vintage pieces, but sometimes comes home with strange finds. In one episode, she accidentally buys Santa Claus pants from a thrift store, and in another, she thinks she bought a pair of Shania Twain's old shoes on eBay!
Phoebe sticks with simple make-up, but has fun styling her hair. She's bold enough to wear it in artsy buns, pigtails, and is almost always rocking a center part.
Outfit Inspiration
In the next section, I've taken some key elements of Phoebe's style and reinterpreted them to suit a college girl today. Check out the looks below!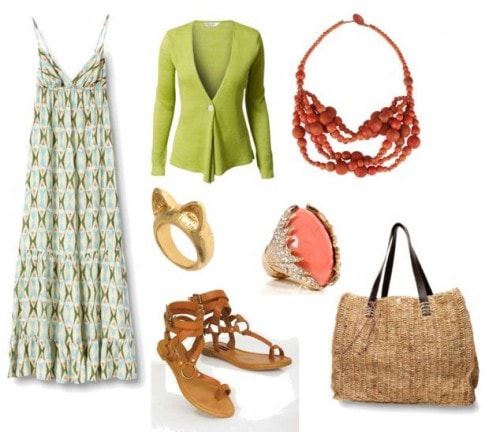 Dress, Cardigan, Sandals, Bag, Necklace, Coral Ring, Cat Ring
This outfit is pretty much a copy of Phoebe's standard spring and summer outfits. A green patterned maxi dress paired with a green cardigan makes an awesome base – pair it with sandals and a tote bag for a practical summer ensemble. Finish with a chunky coral necklace, a vintage cocktail ring, and a "smelly cat" ring!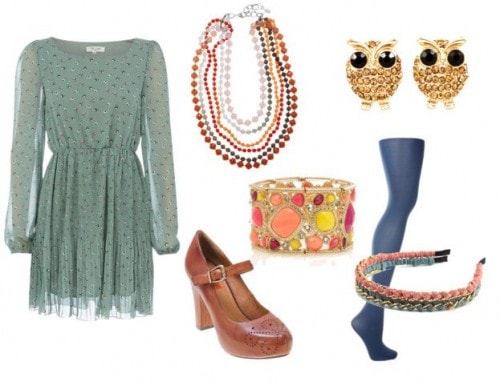 Dress, Necklace, Shoes, Tights, Bracelet, Earrings, Headband
This next looks highlights Phoebe's quirky "gypsy Grandma" look she sometimes sported. A retro-styled dress paired with tights will look very "Phoebe," especially when worn with antique Mary Janes and statement jewelry. Finish the look with face-framing braids and a matching headband.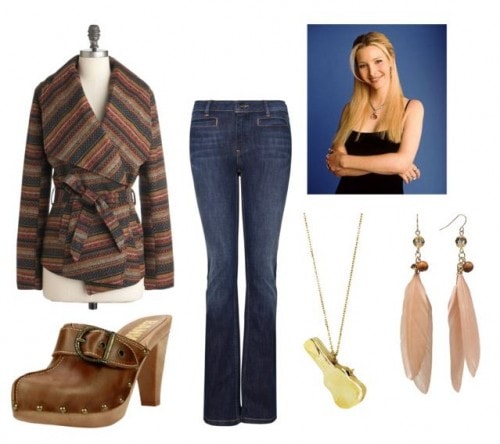 Jacket, Jeans, Earrings, Necklace, Shoes
Phoebe's style is an awesome example of how to wear color in the harsh winter months. She always rocked the most colorful chunky sweaters and coziest looking jackets! To get some of Phoebe's hippie-chic style, pair any top with your trusty pair of flared jeans and a heavy wrap jacket like the one above. Finish with clogs, feathered earrings, and a guitar case necklace.
What Do You Think?
Do you watch FRIENDS? What character do you relate with most? What is your favorite season? Did you like Phoebe's oddball sense of humor? What other seasons would you like to see us cover? Discuss by leaving a comment!