This post may contain affiliate links, which means we may receive a commission if you purchase through our links. Please
read our full disclosure here
.
If you've never caught Three's Company on late night TV Land, you've been missing out!
This iconic '70s sitcom follows three roommates: Jack Tripper, Janet Wood, and Chrissy Snow (later replaced by characters Cindy Snow and then Terry Alden). Though their relationship is platonic, the trio tells their conservative landlord Mr. Roper that Jack is gay, so that he will allow their co-ed living arrangement. In on the secret are the sexually frustrated Mrs. Roper, and their neighbor Larry Dallas. After the Ropers left for a spin-off, they were replaced by Mr. Furley, a goofy, flamboyantly dressed elder who considered himself a ladies man.
This show is an absolute legend and a pioneer in creating the structure for the sitcoms we watch today. Though much of the show's humor is a little outdated and cheesy for today's audiences, it's still really entertaining to watch. Today, we'll explore some of the show's 1970s California style. Read on!
A Little Bit About Three's Company…
Three's Company is an amazing example of a "comedy of errors." Utilizing slapstick physical altercations, farce, double entendres, and sexual innuendo, the show was cheeky while still maintaining an innocent feel. Almost every episode revolved around a misunderstanding of some sort, leading to mayhem. Although Three's Company was heavily formulaic, audiences LOVED the series and it aired for eight seasons.
Jack Tripper (played by the late John Ritter) was the foundation of the show, and many storylines involved the girls he dated. Janet, played by Joyce De Witt, was the most rational character on the series, but also the most innocent. Chrissy Snow rounded out the threesome with her classic airhead moments. Of all the characters on the show, I think my favorite was Mr. Furley, played by Don Knotts. He was goofy and lovable, and provided much of the physical comedy that the show relied on.
Three's Company Style:
The wardrobe of Three's Company reflected popular trends of the time – think collared shirts and pastel suits for the men and high-waisted shorts for the ladies. The three sexy blondes of the show (Chrissy, Cindy, and Terry) were all known for wearing tiny rompers, platform boots, belted hotpants, and girly blouses.
Janet dressed stylishly as well, but was a little more subdued than her blonde friends. She was often seen in clogs, bell bottoms, collared tees, and woven plaid blouses. She had a touch of androgyny to her look, which made her outfits stand out.
Mrs. Roper's signature look was a drapey patterned muumuu and piles of bold jewelry. She never ventured away from this uniform.
Mr. Furley was the most eccentrically dressed character on the show. He had a penchant for pastel leisure suits and tying silk scarves around his neck. Mr. Furley also rocked one-piece jumpsuits like I've never seen before. His often wore patterned dress shirts underneath his suits, and often wore large pendant necklaces.
Outfit Inspiration
This post wouldn't be complete without a few outfits to help get you started. I've created four looks that borrow elements from each character's style, but would still work today without looking costume-esque. Check them out!
Chrissy/Terry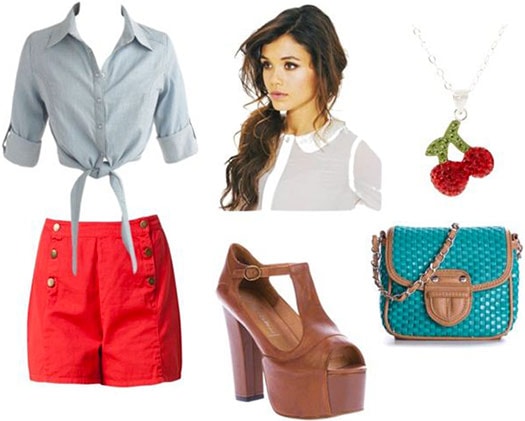 Top, Shorts, Shoes, Necklace, Bag
This outfit is inspired by both Chrissy Snow and Terry Alden, the two fun-loving blondes featured on the majority of the show's run. They both had gorgeous legs, and often wore shorts with platform sandals to show them off. This chambray tie-front shirt is very "Terry" — she usually wore pastel colors, and tended to wear more sophisticated blouses than any of the other blonde roommates. These shorts channel Christmas "Chrissy" Snow, with their fun, bright color. For the hairstyle, I included a picture of a more modern take on Chrissy's signature side ponytail. Finish with a fun necklace and cross-body bag.
Janet
Janet was just as stylish as her roommates, but a little more classic in her choices. Mid-rise bell bottom jeans will look great with this striped sailor shirt. Come to think of it, my mom has a framed picture of herself in an outfit from the '70s that looks EXACTLY like this! Finish with cool fringed wedges and a turquoise ring. To get flippy feathered hair like '70s icon Farrah Fawcett, use a round brush on the ends and plenty of hairspray!
Mr. Furley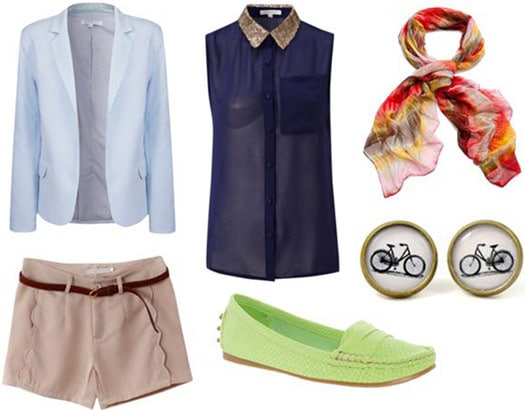 Blazer, Shorts, Blouse, Shoes, Scarf, Earrings
To recreate Mr. Furley's look, used tailored separates to get an updated take on a leisure suit. A simple navy blouse will look awesome under a light blue blazer. Next, tie a lightweight scarf around your neck – this was absolutely Mr. Furley's signature. Add cool loafers for contrast. Finally, these cute bicycle earrings are a neat way to pay homage to the show's opening sequence.
Mrs. Roper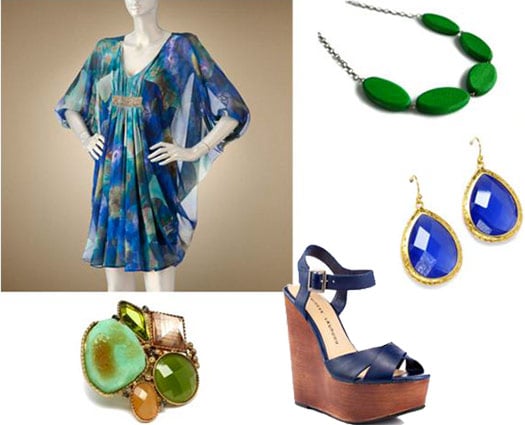 Caftan, Ring, Necklace, Earrings, Shoes
No fashion post on Three's Company would be complete without paying tribute to Mrs. Roper's awesome muumuus! Lose the bag-lady feel by swapping the floor-length muumuu for a sexy caftan that hits mid-thigh. Add plenty of statement jewelry, and a hot pair of wedges to complete this look.
What Do You Think?
Do you ever watch Three's Company reruns? Which character is your favorite? What do you think about the type of humor they use on the sitcom? How do you feel about seventies fashions? What other shows would you like to see? Leave a comment and tell us what you think!!!!