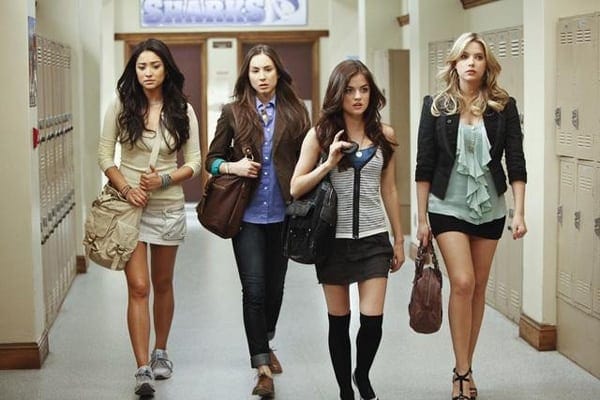 From left, Emily, Spencer, Aria and Hanna strut their style (Photo Credit)
Every Tuesday night, you'll know where to find me: I'm parked in front of the TV, riveted by ABC Family's latest hit show Pretty Little Liars. Is anyone else as obsessed as I am with this summer series?
In case you haven't seen it, the show revolves around four former besties – Aria, Hanna, Emily and Spencer — who are being harassed via text message, email, and the occasional lipsticked message on a mirror by an anonymous bully who knows their deep, dark secrets. The twist? These are secrets only known by their recently murdered friend Alison. Many unanswered questions propel the show: Is Alison still alive? Did she pass along the secrets to someone else? Who murdered her?
Pretty Little Liars has mystery, suspense, scandal and of course, style! The fashion on the show really caught my eye, particularly because each lead character has her own distinctive style. Here are some tips on how you can take fashion inspiration from the cast of Pretty Little Liars:
Aria Montgomery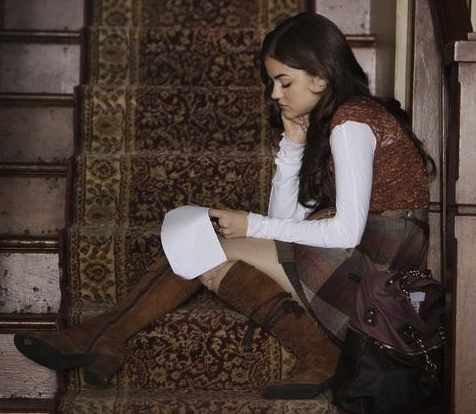 Aria Montgomery just returned to town following a year abroad with her family and she's no longer the naive girl she once was: She's had to harbor the secret of her father's affair, while also hiding some indiscretions of her own… like romancing her English teacher!
Aria carries an air of maturity (unlike her estranged friends), and her style reflects her cultured sophistication. She loves to layer, she mixes rich materials and patterns, and she tends to stick with darker hues. Aria's style is feminine and bohemian with an edge.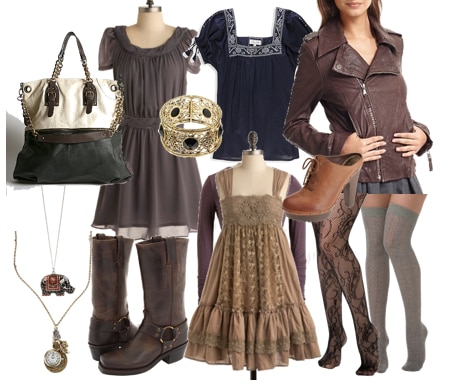 Product Info: Bag – Urban Outfitters, Grey Dress – ModCloth, Bracelet – Forever 21, Navy Top – Heritage 1981, Leather Jacket – Ever, Socks – ModCloth, Tights – ModCloth, Clogs – Sam Edelman, Brown Dress – ModCloth, Long-Sleeve Shirt – Anthropologie, Boots – Frye, Clock Necklace – Urban Outfitters, Elephant Necklace – Forever 21
Hanna Marin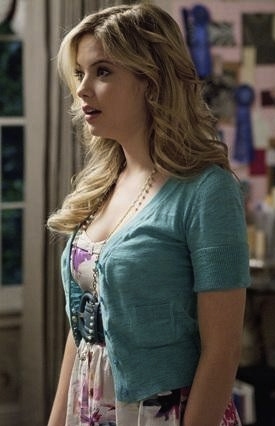 Hanna Marin rules the school — think Regina George, but nicer — and her girly and trendy style reflects her Queen Bee status.
Prior to Alison's disappearance, Hanna was her frumpy sidekick, but now that she's gone from ugly duckling to swan, she confidently rocks ensembles that are glamorous and feminine. Hanna loves to stand out, and her clothes and accessories reflect that.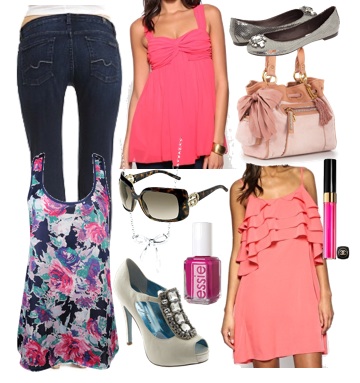 Product Info: Jeans – 7 for All Mankind, Pink Top – ASOS, Flats – Steve Madden, Purse – Juicy Couture, Lip Gloss – Chanel, Dress – ASOS, Nail Polish – Essie, Heels – Lauren Jones, Bow Necklace – Tiffany & Co., Sunglasses – Gucci, Floral Top – Forever 21
Emily Fields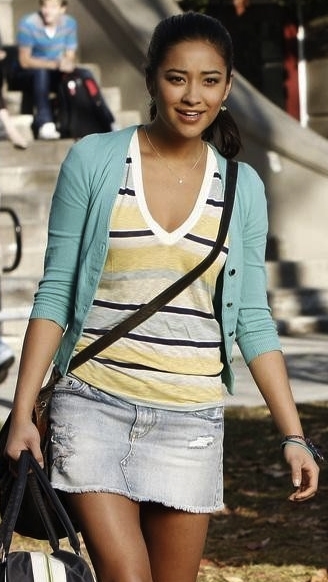 Emily Fields is a sweet girl-next-door type who is a bit confused on the love front: First she hid her feelings for a gal pal and now she's crushing on a brooding boy.
In step with her quiet nature and athletic extracurricular activities, Emily's style is laid-back and sporty. She's often seen carrying a cargo messenger bag, sporting sneakers, and wearing basic separates in bright colors.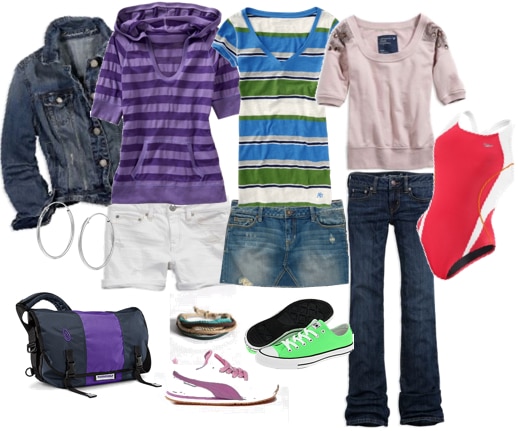 Product Info: Jacket – American Eagle Outfitters, Hoodie – Old Navy, V-Neck – Aeropostale, Sweatshirt Top – AE, Swimsuit – Speedo, Jeans – AE, Skirt – Aeropostale, Shorts – AE, Hoops – Overstock, Bag – Timbuk2, Bracelets – Urban Outfitters, White Sneakers – Puma, Green Sneakers – Converse
Spencer Hastings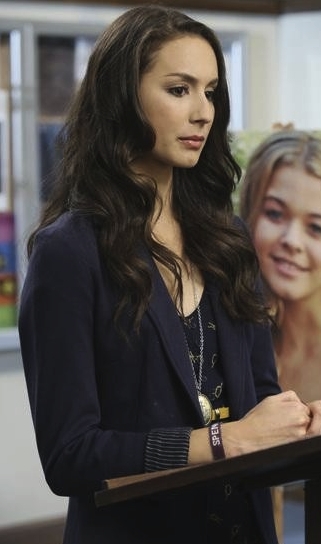 Spencer Hastings is the brainy overachiever of the bunch, and her East Coast prepster look reflects her family's country club lifestyle and her Ivy League dreams.
When she's not wearing tennis whites on the court, you'll find her dressed in tailored, menswear-inspired looks with a touch of femininity. Spencer always looks polished and put-together — a nod to her Type-A personality — but she does incorporate trends into her classic look, like Oxford flats and boyfriend jeans.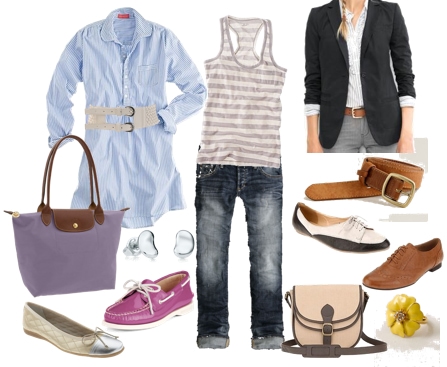 Product Info: Shirtdress – Madewell, Cream Belt – Forever 21, Tank – Madewell, Boyfriend Blazer – Banana Republic, Leather Belt – JCrew, Two-Tone Oxford – Urban Outfitters, Cognac Oxford – Urban Outfitters, Ring – Stella & Dot, Purse – Urban Outfitters, Cropped Jeans – Abercrombie & Fitch, Boat Shoes – Sperry, Ballet Flat – French Sole, Earrings – Tiffany & Co., Tote – Longchamp
What do you think?
For more on each character's style, see our posts on Aria Montgomery's style, Hanna Marin's style, Emily Fields' style, and Spencer Hastings' style.
Are you watching Pretty Little Liars, too? What do you think of the girls' fashion choices? Which girl's style is your favorite? I'd love for you to leave a comment!