This Pretty Little Liars fashion guide will show you how to recreate each of the Liars' style.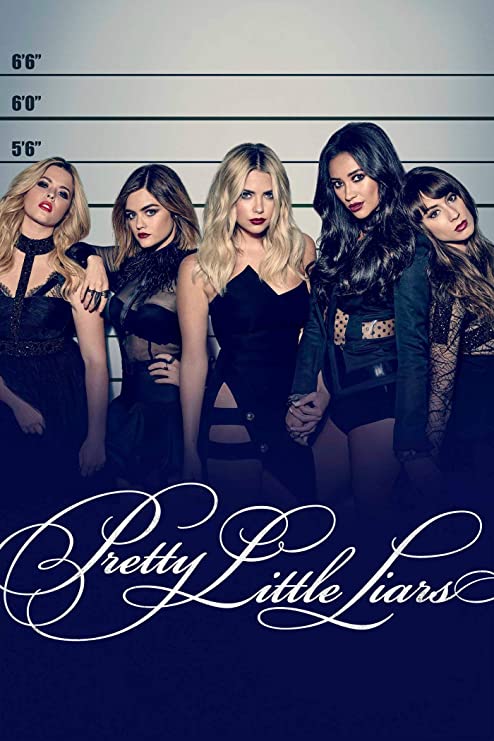 We've all looked to celebrity style for fashion inspiration at some point in our lives. But it's one thing to say "I love her outfit," and it's another to actually copy it in real life.
For this series, I'm going the extra mile and making it happen. Each week, I'm getting inspiration from a celebrity and copying five of her looks as closely as possible. Then, I'm reporting back to you: Did the outfits work in real life? Did I feel comfortable? Did people treat me differently? I'm sharing it all.
As you probably know, I'm a big fan of TV shows and movies, and I like recreating the style of various characters for this series. This week, and to start the year on the right foot, I'm copying the style of, not one, but five characters from one of my favorite shows, Pretty Little Liars.
About Pretty Little Liars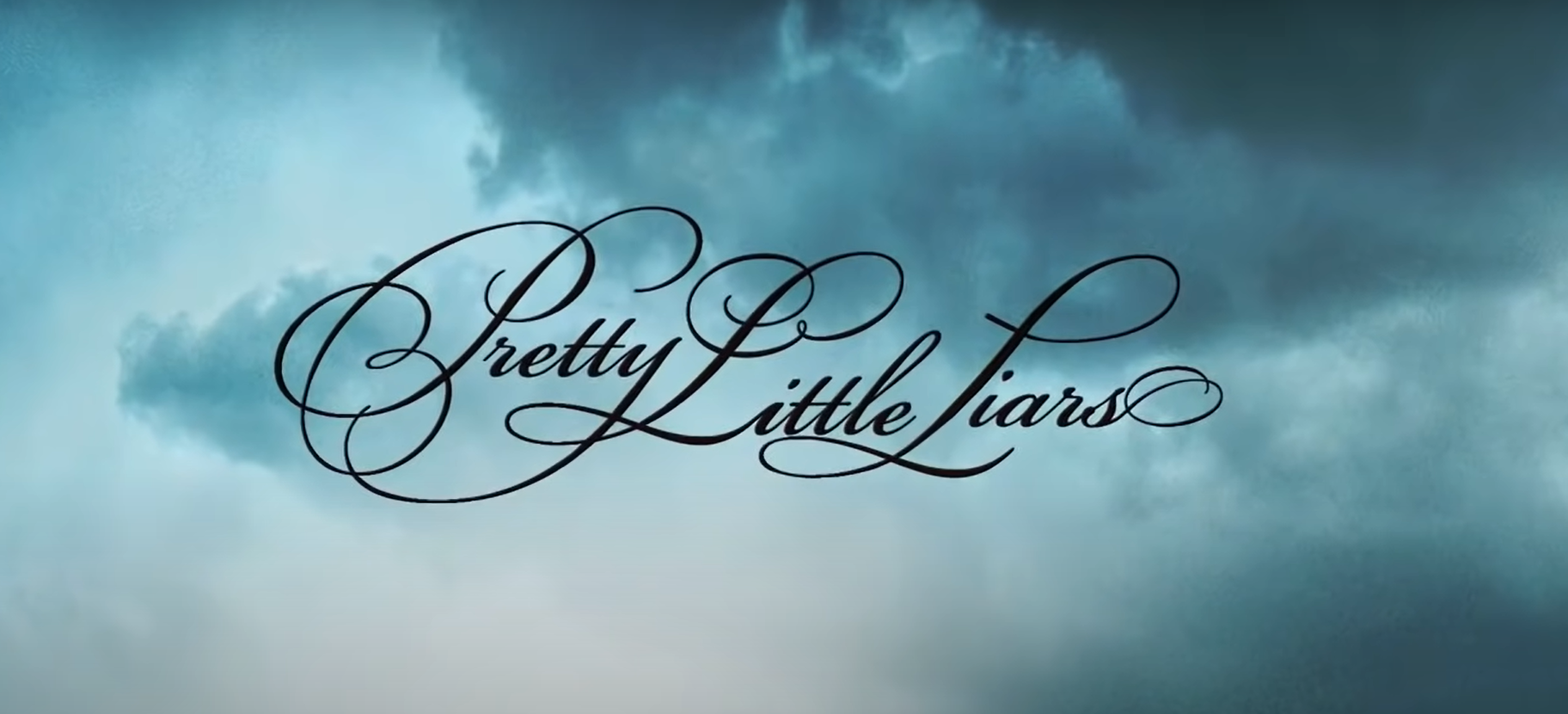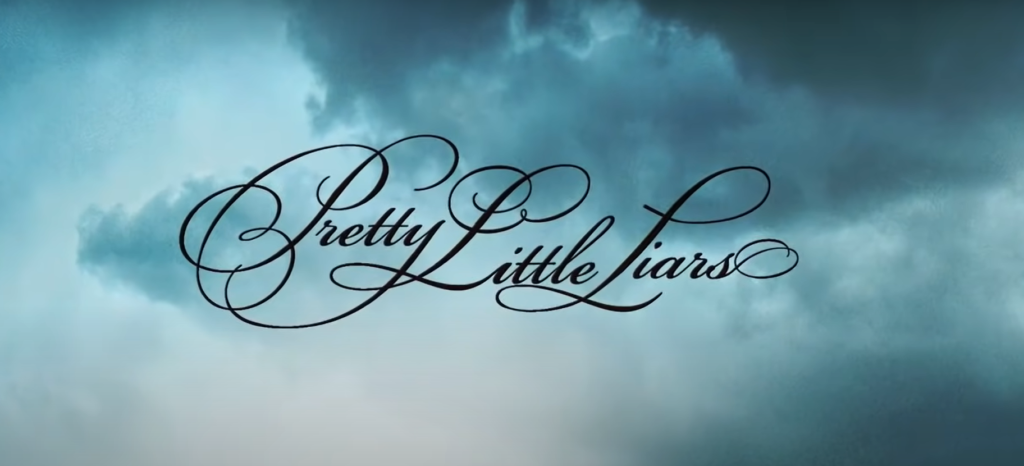 Pretty Little Liars was an American television show based on a series of young adult novels by Sara Shepard. Pretty Little Liars, or PLL, premiered in 2010 and ended its run in 2017. It also had two spin-offs that were both cancelled after one season: Ravenswood in 2013, and a sequel series Pretty Little Liars: The Perfectionists in 2019. A new series, Pretty Little Liars: Original Sin, has been ordered and it will air on HBO Max.
The basic premise is as follows: The lives of four girls — Spencer (Troian Bellisario), Hanna (Ashley Benson), Aria (Lucy Hale), and Emily (Shay Mitchell) — are upended when their best friend and leader, Alison (Sasha Pieterse), disappears. A year later, they start receiving text messages from someone using the name "A" who threatens to expose their long-hidden secrets they thought only Alison knew.
This show was definitely a cultural phenomenon in the 2010s. It changed how people interacted with a TV series, using Twitter and social media as a tool to engage with the fandom.
Every week, fans theorized and analyzed every frame from the show; anything on the screen was a clue to find out who 'A' could be.
It also inherited Gossip Girl's title of most fashionable TV show. Each one of the girls had a distinctive and iconic style that became as integral to the show as its clues and Easter eggs.
A Quick Note Before We Get to the Fashion:
Before we begin this week's style guide, a quick disclaimer.
As with any show from the '90s or 2000s, most of the fashion on the show is quite dated and some of the items are simply not popular or available anymore. Therefore, it's not always possible to find a perfectly good dupe or the exact same item. The exception to this is probably the last two seasons, but styles have still changed since then.
Therefore, instead of recreating exact outfits (except for Alison), I took the essence and most important elements of each of the girls' overall style, and created a contemporary look that matched each of the Liars.
With that said, let's begin!
Pretty Little Liars Fashion Guide: How to Dress Like the Liars
Monday – Outfit #1, Aria Montgomery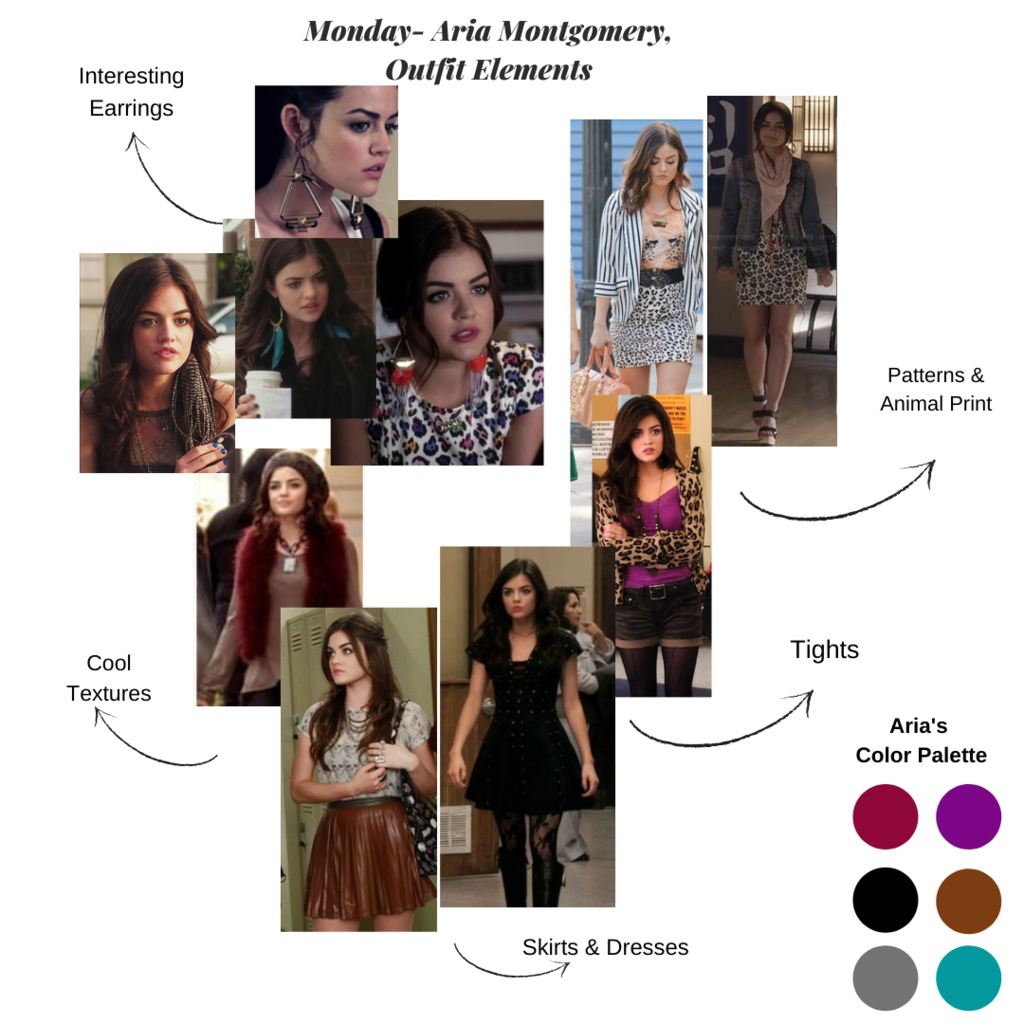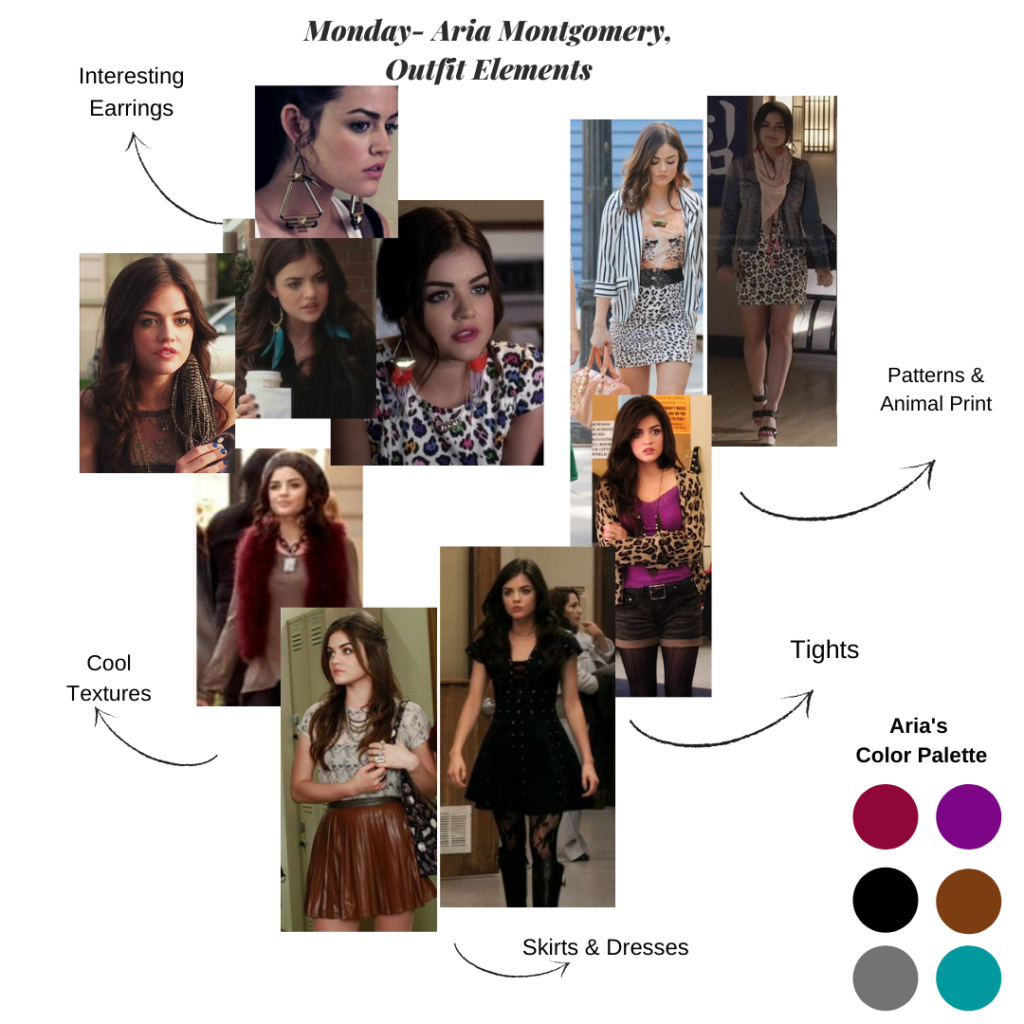 Aria Montgomery, played by the charismatic Lucy Hale, is the artistic rebel of the Liars. She returns to town following a year in Iceland with her family and she's no longer the naive girl she once was: She's had to harbor the secret of her father's affair, while also hiding some indiscretions of her own… like romancing her English teacher.
Aria's style is best described as eclectic, a mix of girly-goth, boho, and edgy. Her most-worn items are printed dresses, boots, tights, interesting earrings (her earrings were a character of their own), and cool jackets.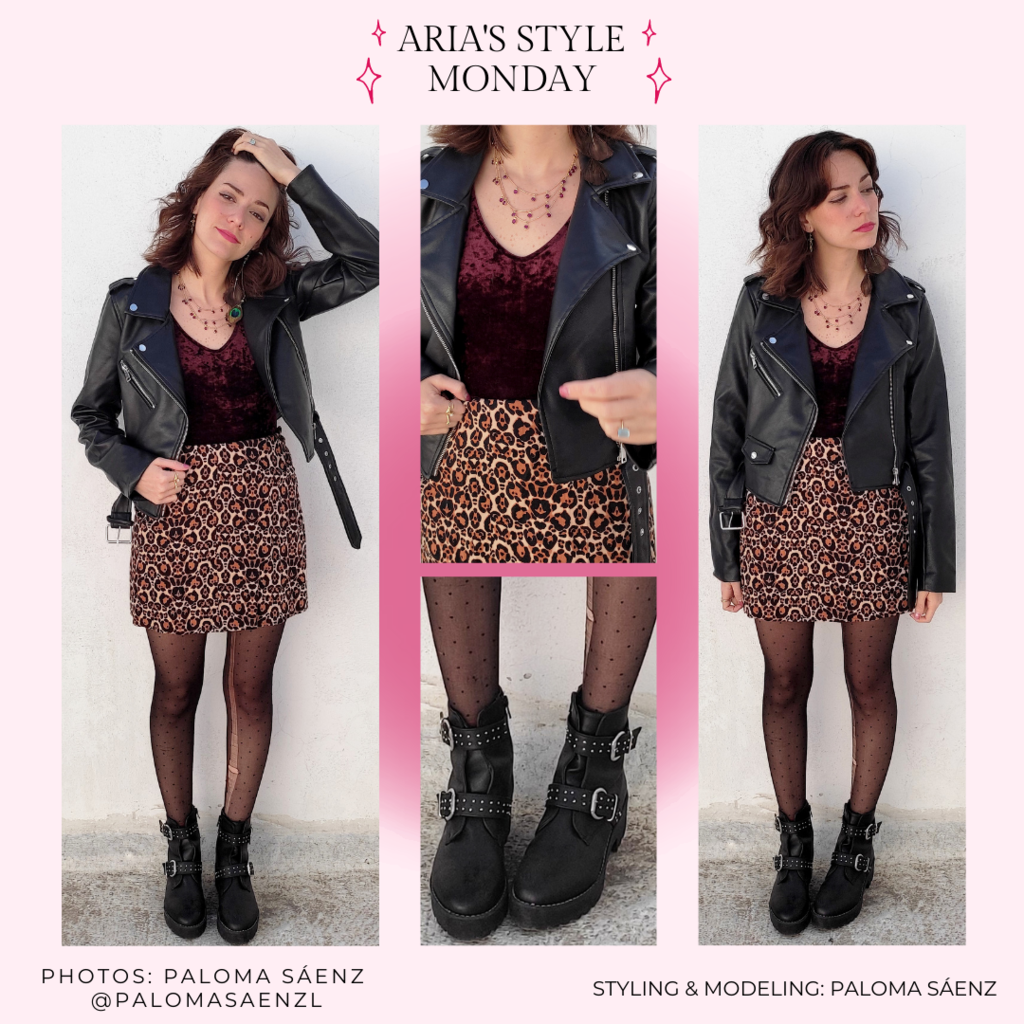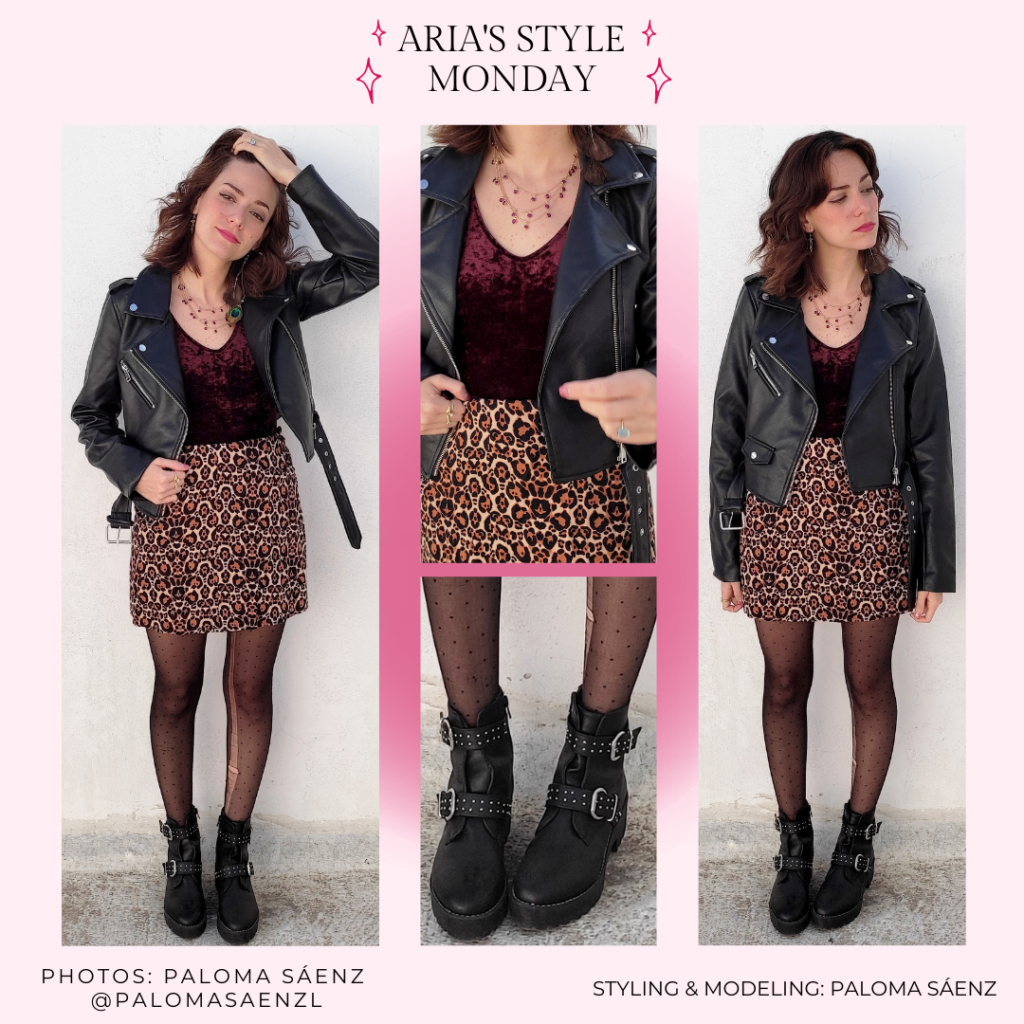 For my take on Aria's look, I had to do a lot of thinking — it was surprisingly difficult to replicate her look!
As a base for the outfit, I put on a crushed velvet romper in a deep burgundy shade to wear as a bodysuit. Then I grabbed an animal print skater dress and used it as a skirt. To layer it, I wore a black leather jacket. Then, I put on ripped printed black tights and a pair of black combat boots.
Aria's accessories are super important, especially her earrings, so I wore one of my jellyfish earrings on one side and a feather earring on the other. Finally, I put on a layered necklace with tiny burgundy stones that I borrowed from my sister.
I was super nervous when I was creating this specific look. Aria's style is so all over the place, but so specific at the same time. This look was super cool and I really liked it. It was nothing like my usual style so it was fun to experiment.
Since the top wasn't really a bodysuit and the skirt wasn't a skirt, it wasn't the most comfortable look. Going to the bathroom was a whole thing and I should've thought about that when I planned the outfit. But, if I had an actual top like that, I would 100% wear this one again.
Tuesday – Outfit #2, Emily Fields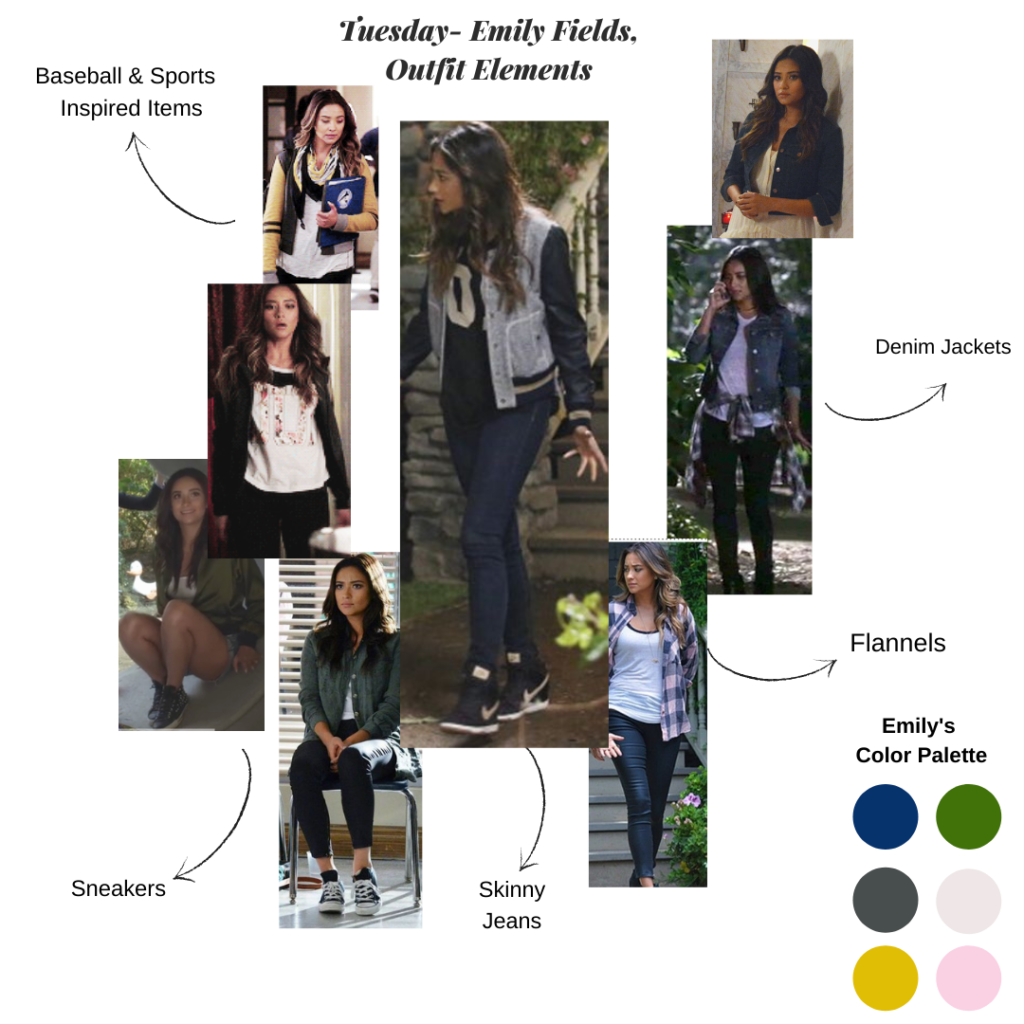 Emily Fields is played by the statuesque stunner Shay Mitchell. Emily is a swimmer and the most athletic one in the group. She is a lesbian and became one the biggest reasons for the show's popularity — she brought a much-needed positive LGBTQ representation to primetime TV.
Emily's style is sporty and casual. She is mostly seen in jeans, baseball tees, T-shirts, mini-skirts, denim jackets and sneakers.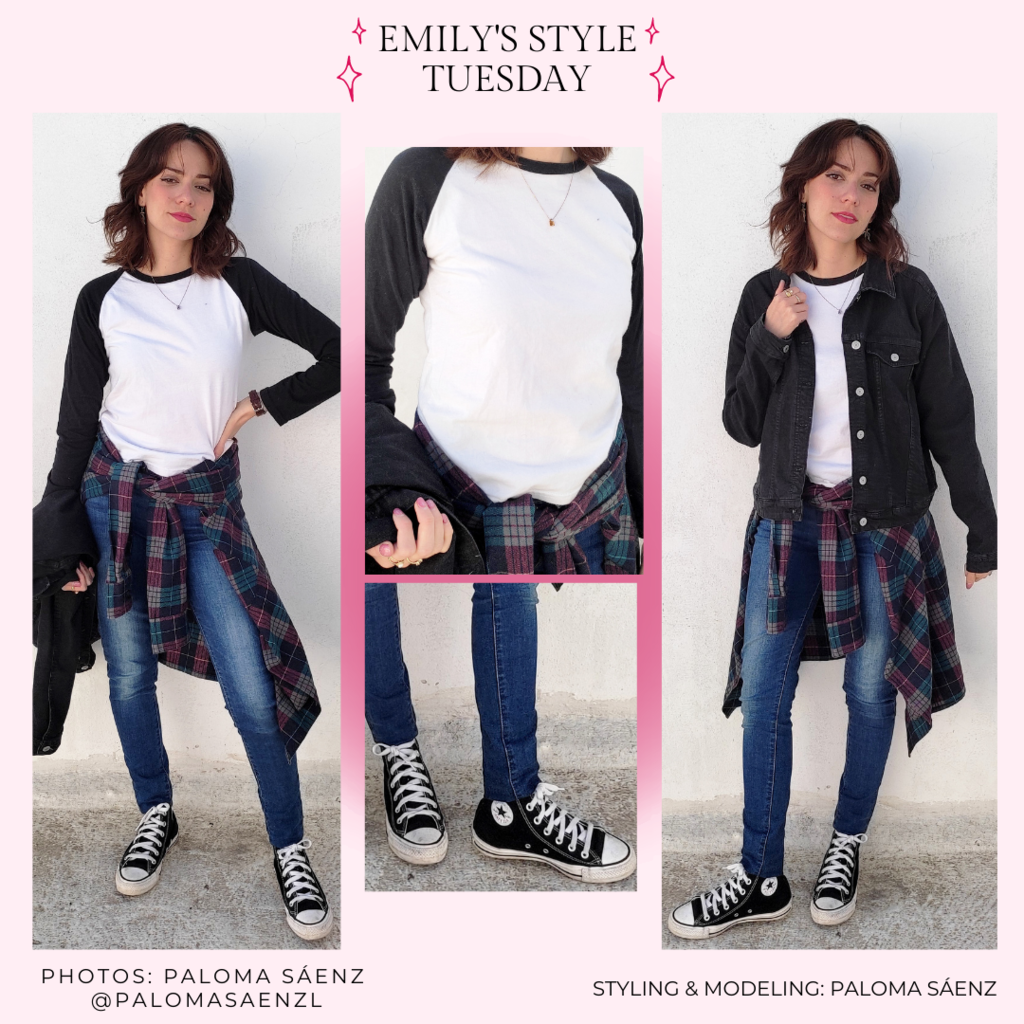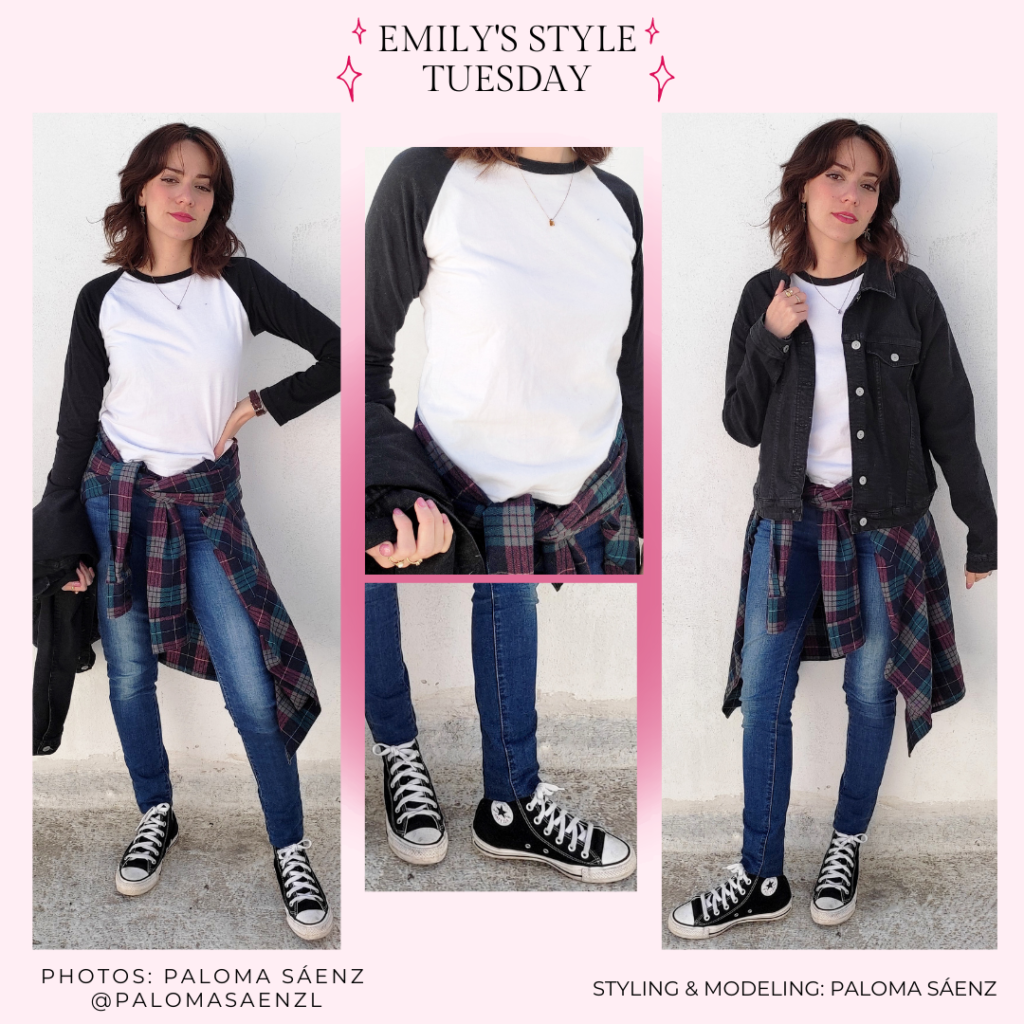 After Aria's outfit recreation, I needed something simple and easy. Emily was the natural choice for my Tuesday outfit.
For Emily's look, I paired a black & white baseball tee and blue denim skinny jeans to create the base of the outfit. I tied a blue flannel shirt around my waist because Emily has a thing for flannels as accessories.
Then, I threw on a black denim jacket as a layer and to keep myself warm. Emily wears a lot of Converse and similar sneakers through the show, so I wore my black high top Converse.
I was super comfy with this outfit! It is truly a simple and put together look. It was close to something I would wear on a lazy Sunday, but if I was wearing this again, I would try to make it more girly or add some color to it.
Wednesday – Outfit #3, Hanna Marin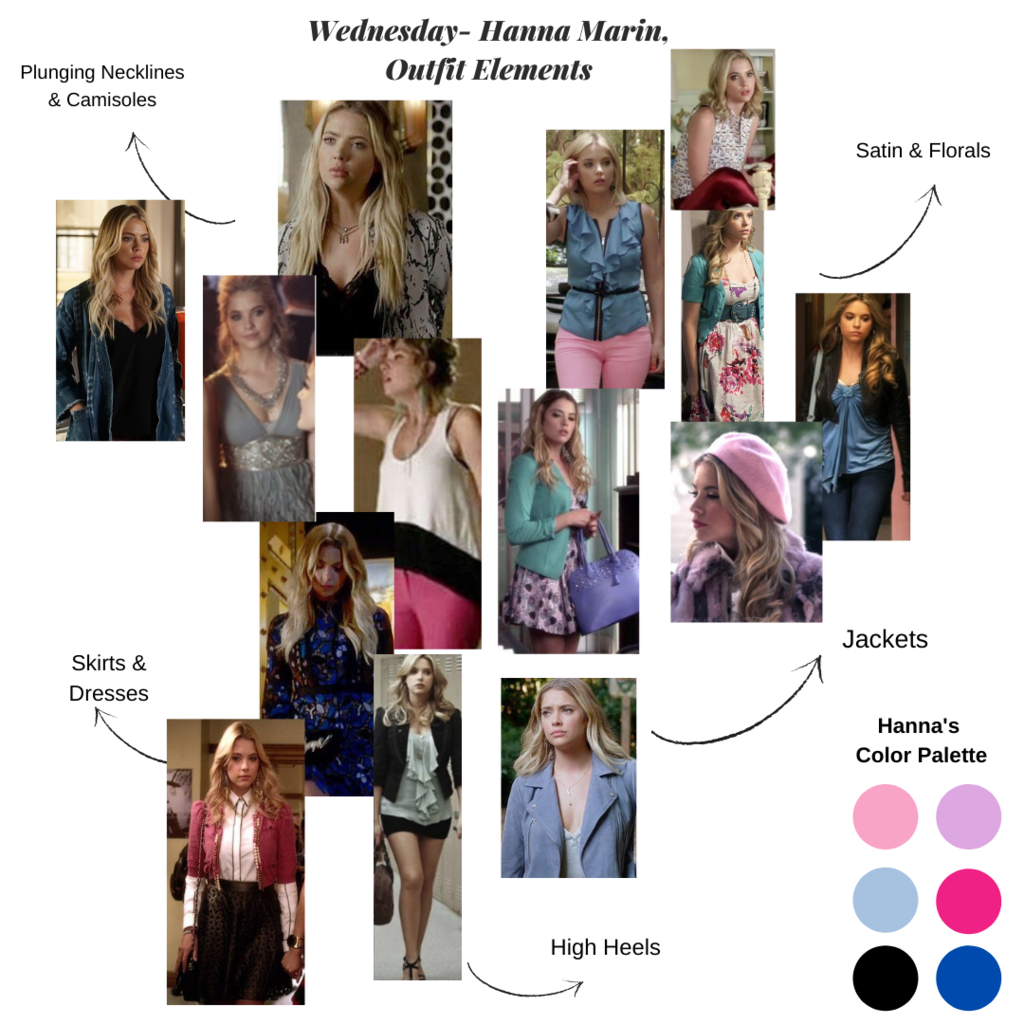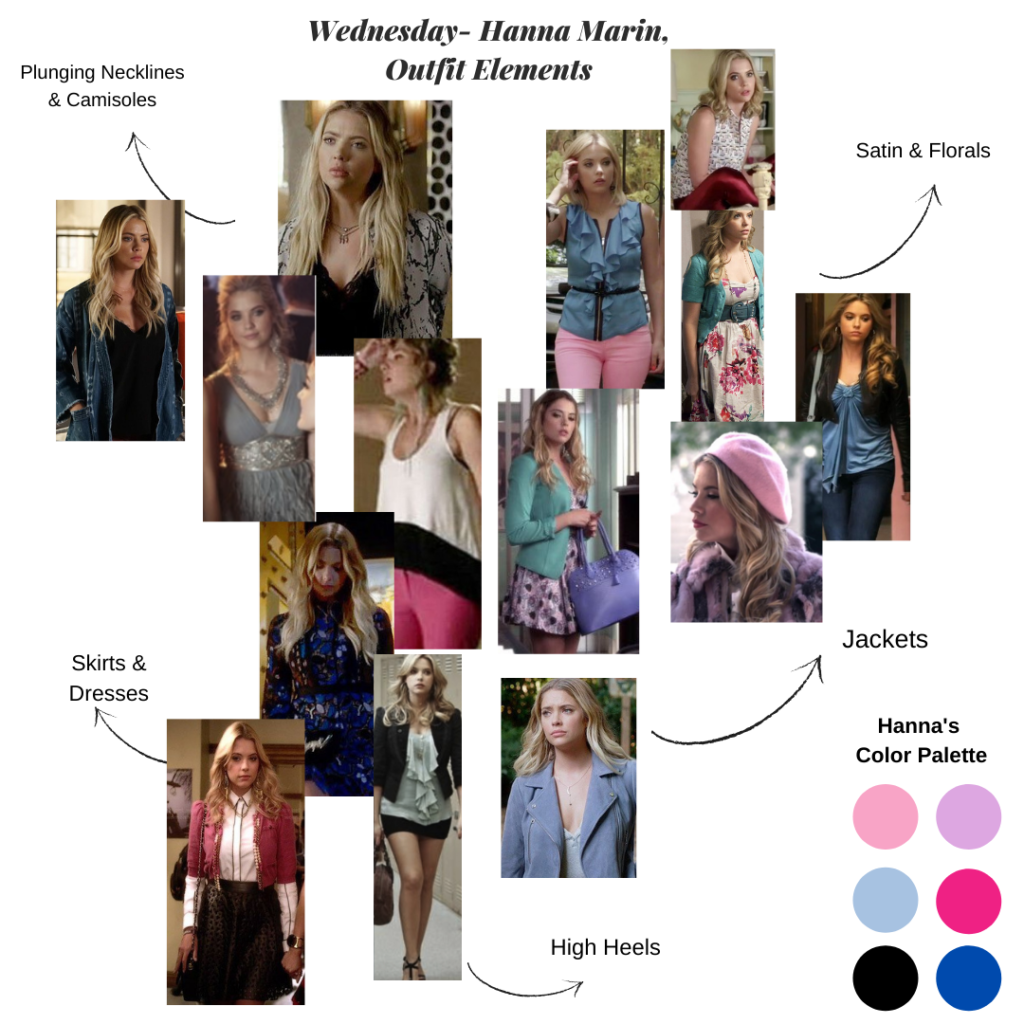 Ashley Benson portrays Hanna Marin, the funny, fashionable one of the group. Hanna rules the school — think Regina George, but nicer — and her girly and trendy style reflects her Queen Bee status.
Hanna's style is fashionable and feminine with an edgy streak. Her style is anything but appropriate for a teen being chased by a psycho stalker. She loves anything trendy, sexy, eye-catching, and colorful. Her most-worn items are body-con dresses, cool jackets and blazers, high heels, A-line and pencil skirts, and interesting necklaces.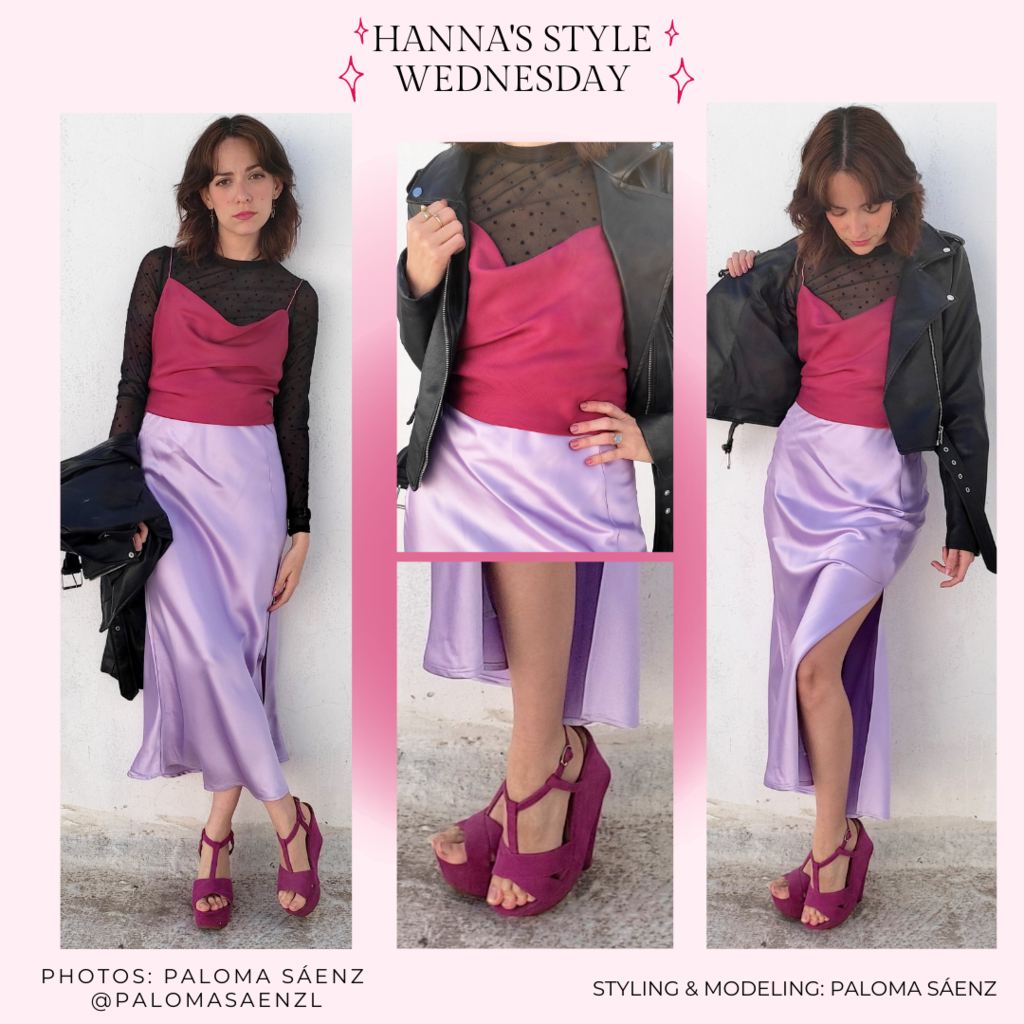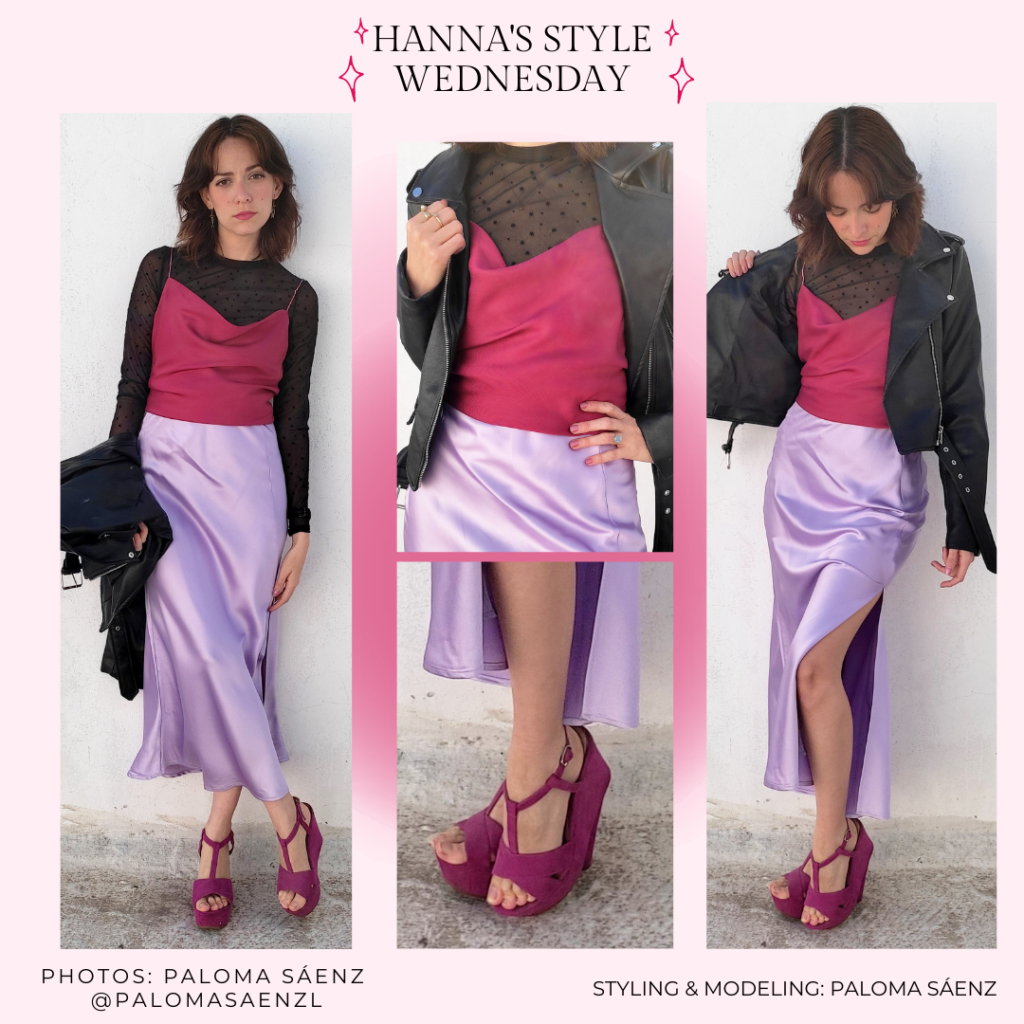 For Hanna's outfit, I wanted something super feminine but also sexy and kind of edgy. I paired a lilac satin midi skirt with a black mesh top. (The top has little stars on it — so cute.) On top of that, I threw on a fuchsia camisole. The skirt is my sister's — it's tight and has a pair of slits to show off some leg. Hanna would be proud. Then, I wore a black leather moto jacket to keep myself warm.
For the shoes, I had a bit of a debate: my sister had a pair of wedges that matched the color of the camisole, but I was also considering black heels or silver heels. Finally, I chose the pair of pink wedges to match the camisole and tie everything together.
I ADORED this look! I was hesitant when I wore it, but it is so sexy and cool! There was just one tiny detail I didn't contemplate: it's the middle of winter and I was freezing the entire day. There was no way around it without changing the outfit. I worked wrapped in a blanket the entire day. I will 100% wear it again, but probably in summer or for a spring night.
Thursday – Outfit #4, Alison DiLaurentis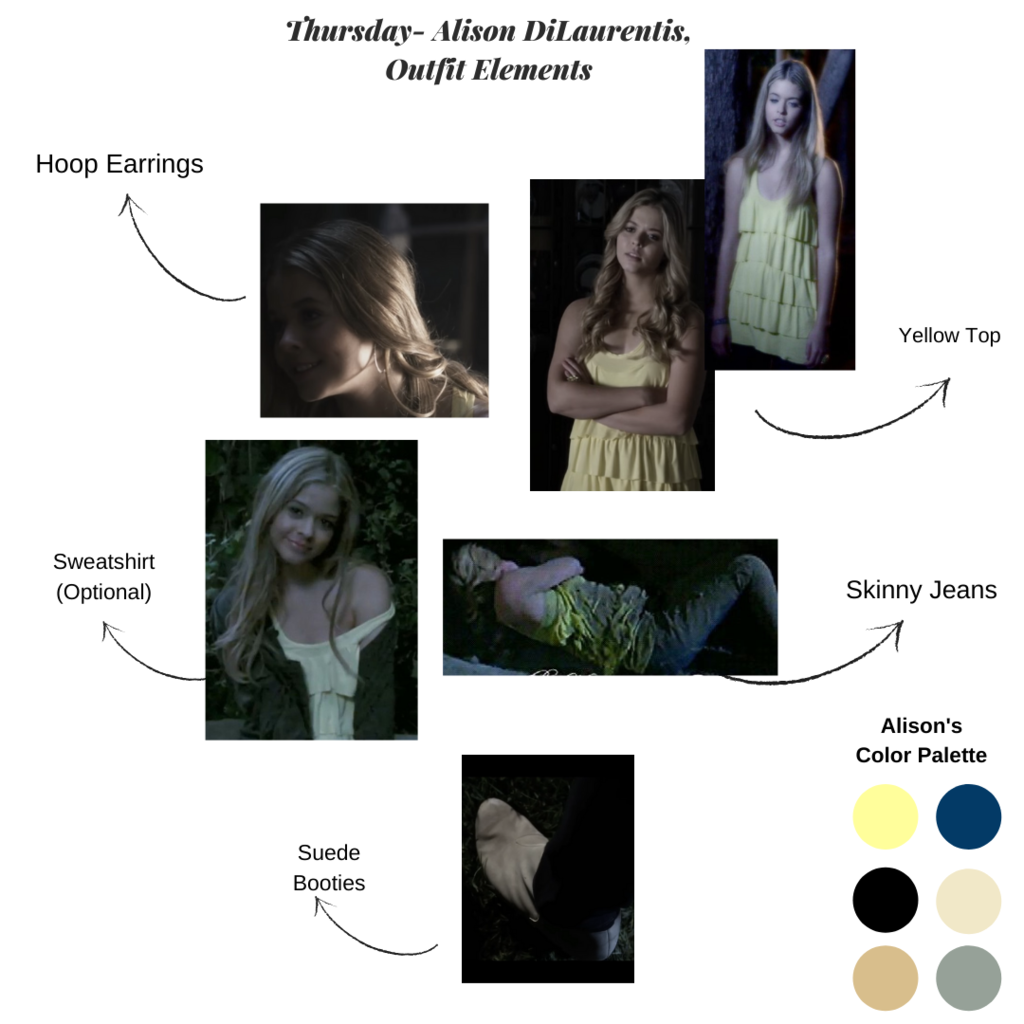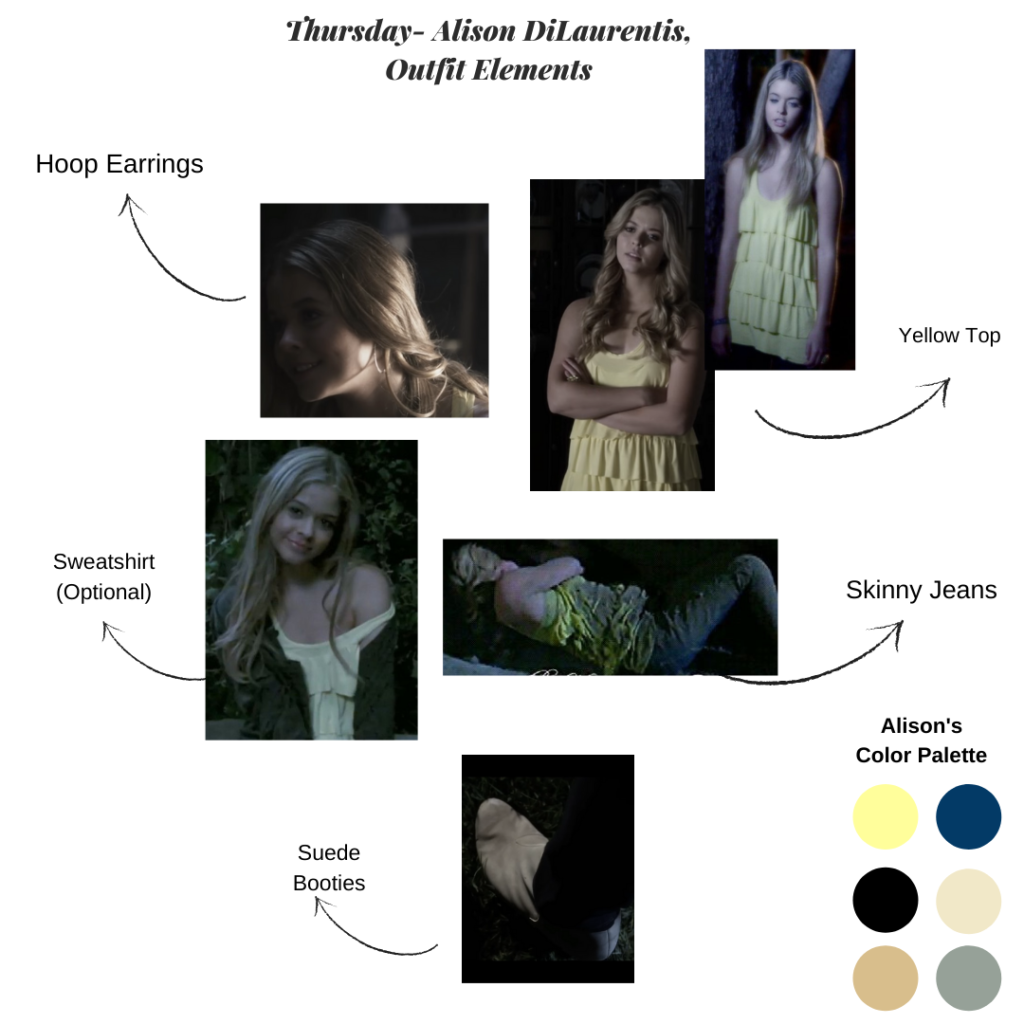 Alison DiLaurentis is portrayed by the amazing Sasha Pieterse. Alison is the reason there is a show: She was the "It Girl" and Queen Bee of Rosewood until she mysteriously disappeared. Alison was equally parts beloved, hated and feared by everyone in Rosewood, including the adults and law enforcement. A force to be reckoned with, her presence is thoroughly felt even when she is not there.
Alison's style is very girly. For most of the series, we only see her in one iconic look from the night she disappeared: blue skinny jeans, a frilly yellow top and wedges. While she has other looks, I think this look is what most people think of when you are imagining Ali.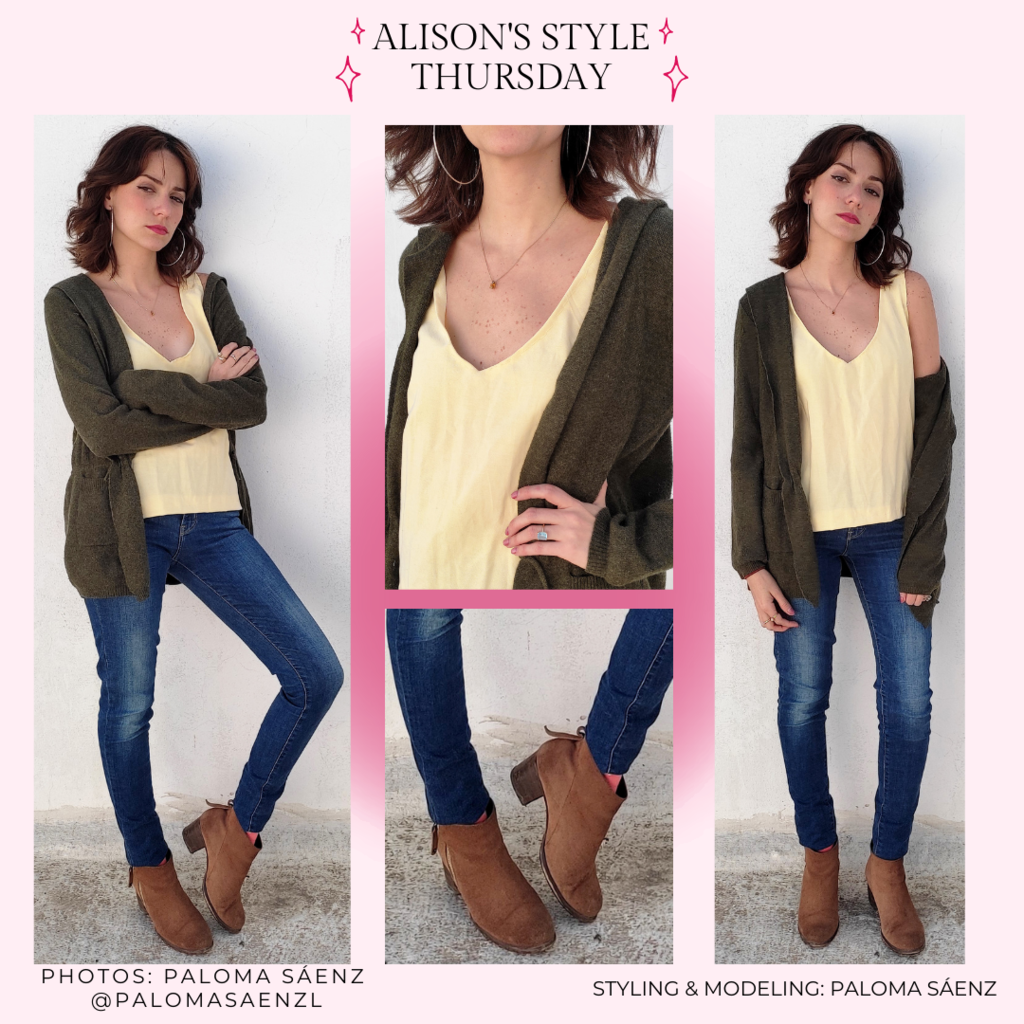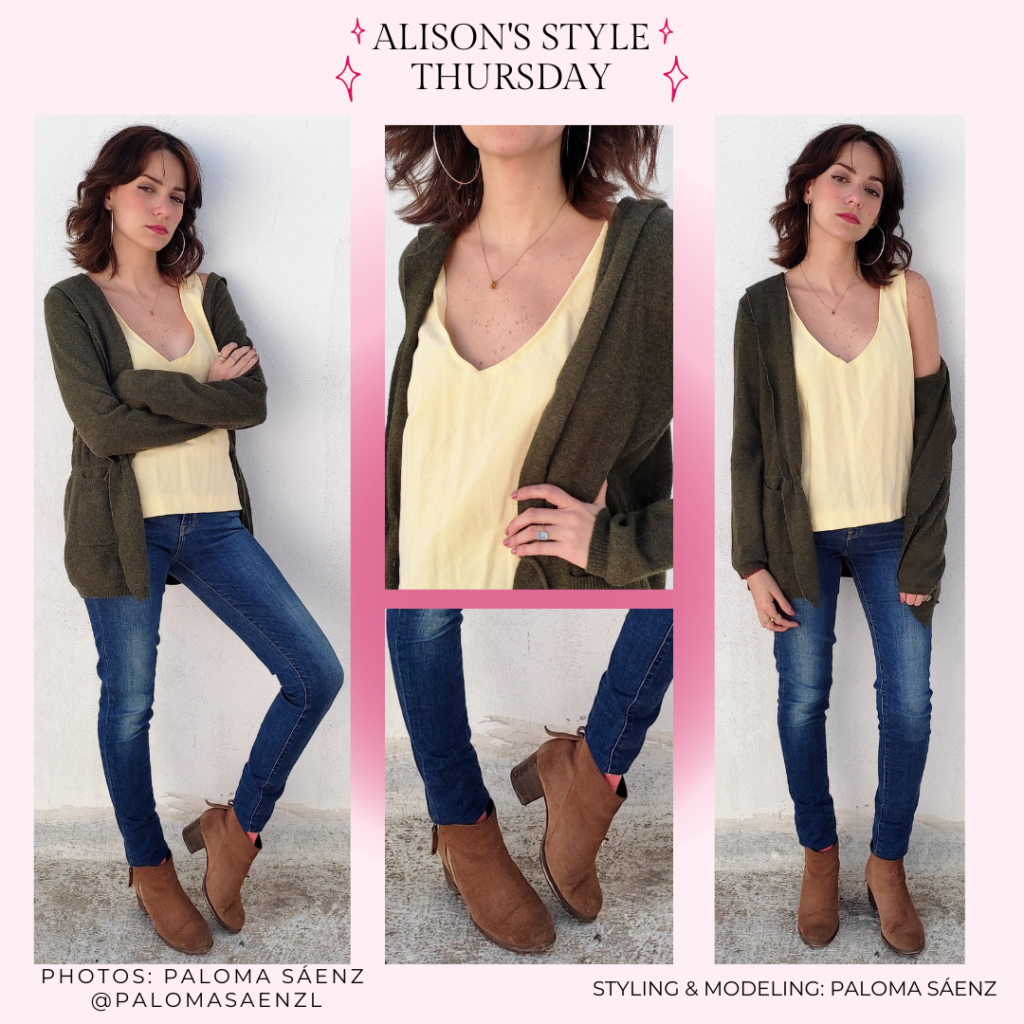 For my Ali's "Night of her Disappearance" outfit, there was a bit of DIY involved.
The most important element from the look, a yellow tank top, was missing from my closet repertoire. Luckily, my dad was throwing away one of his Oxford shirts that was just the right shade of yellow. He gave it to me. I used one of my tops that has a similar shape to what I needed and traced it over the shirt. Then, I cut along the line, the sleeves and the collar. Finally, I sewed everything to crop it to the right length and to make it like a tank top.
Then, I just threw on the same blue denim skinny jeans I wore for Emily's look. For shoes, I put on a pair of brown booties with a slight heel. I borrowed them from my sister. Having learned my lesson from the previous day, I also borrowed a warm military green jacket from my sister to emulate the sweatshirt Ali's wearing in the Kissing Rock scenes.
I enjoyed this look so much. Honestly, I was so proud of the final product. I'm terrible at sewing and anything that has to do with a thread and a needle, but the top ended up so much better than I expected. It's actually pretty cute. I was super comfortable all day, and adding the jacket was the best idea.
Friday – Outfit #5, Spencer Hastings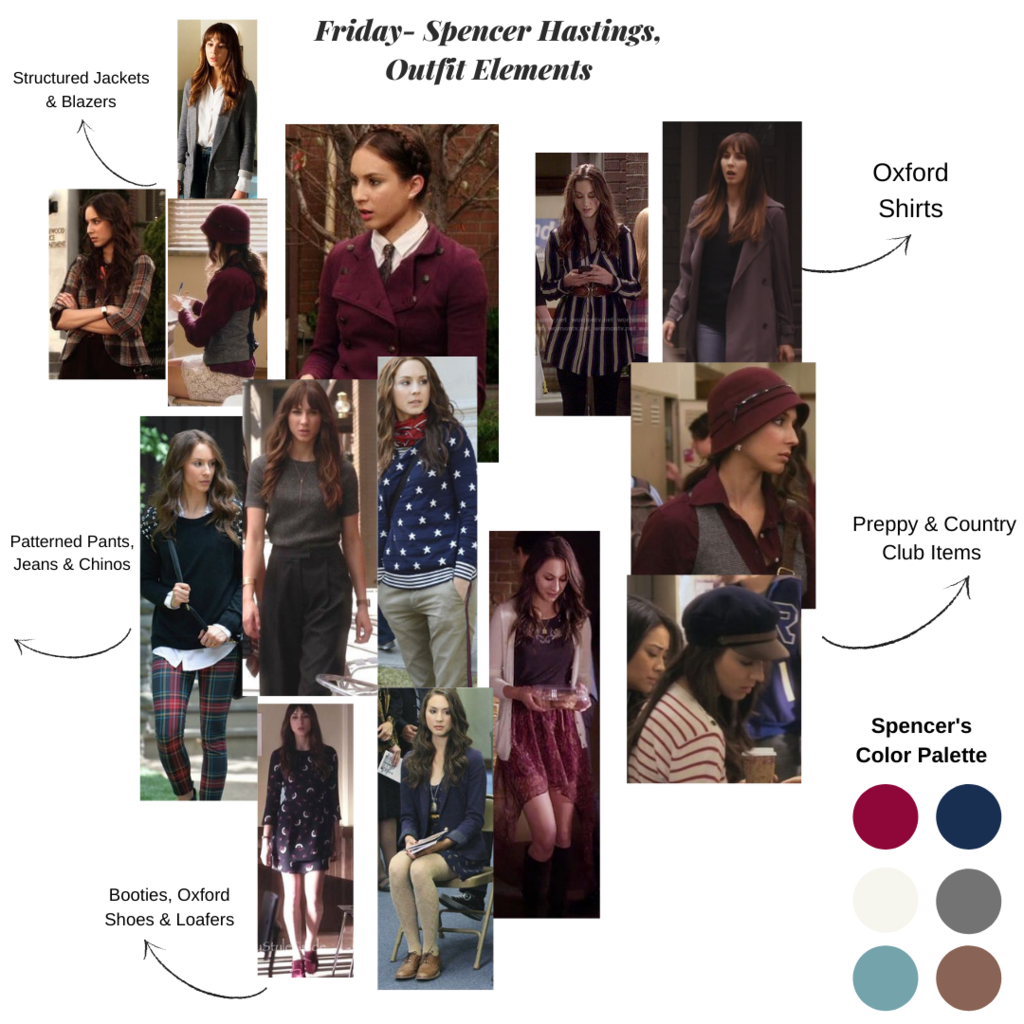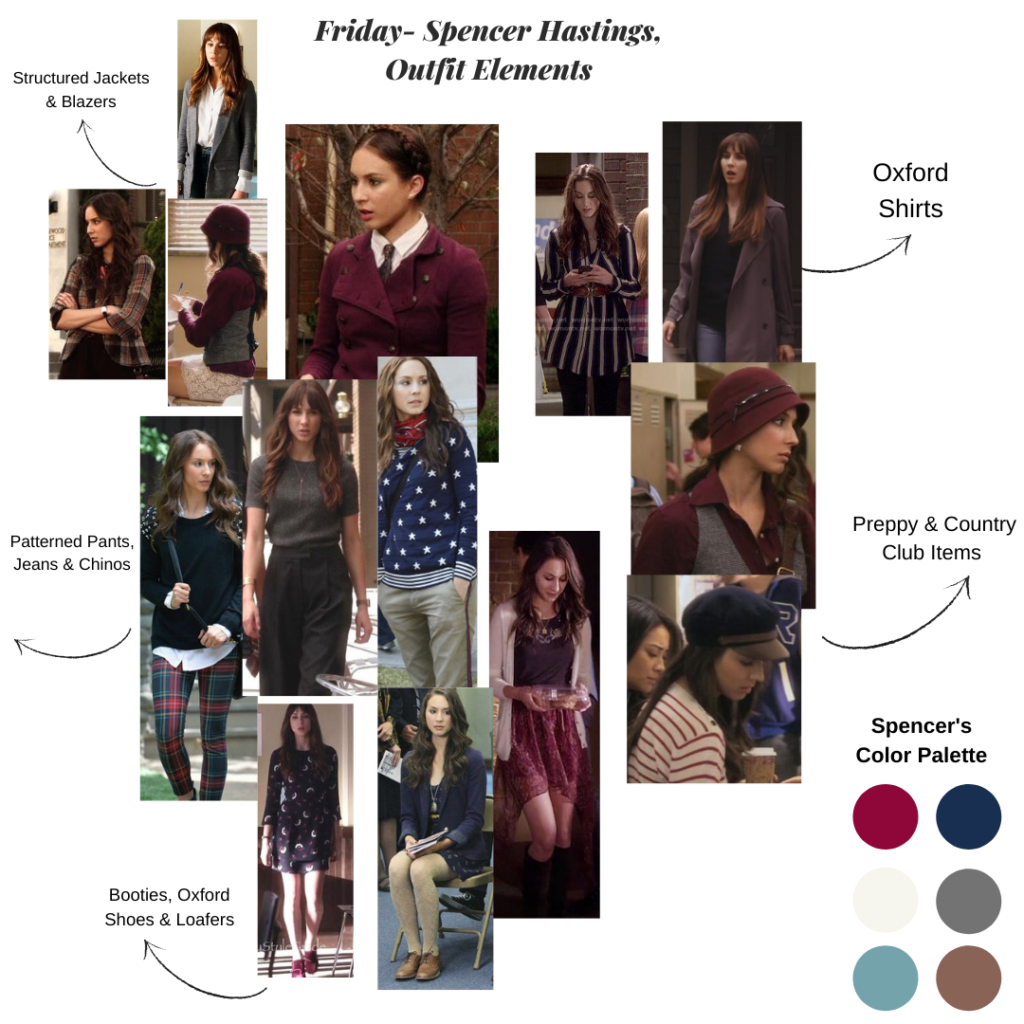 Spencer Hastings is played by the multi-talented Troian Bellisario. Hands-down my favorite character and the one I relate to the most, Spencer is the academic over-achiever. She is the smartest and most pragmatic Liar. Her intelligence is her best asset, while her need to be the best and win at all costs is her major flaw.
Spencer's style is country-club preppy to a T. Think structured blazers, riding boots, Oxford shirts, cardigans, culottes, chinos, loafers and every other classic item you can think of. You name it, Spencer has it in her closet.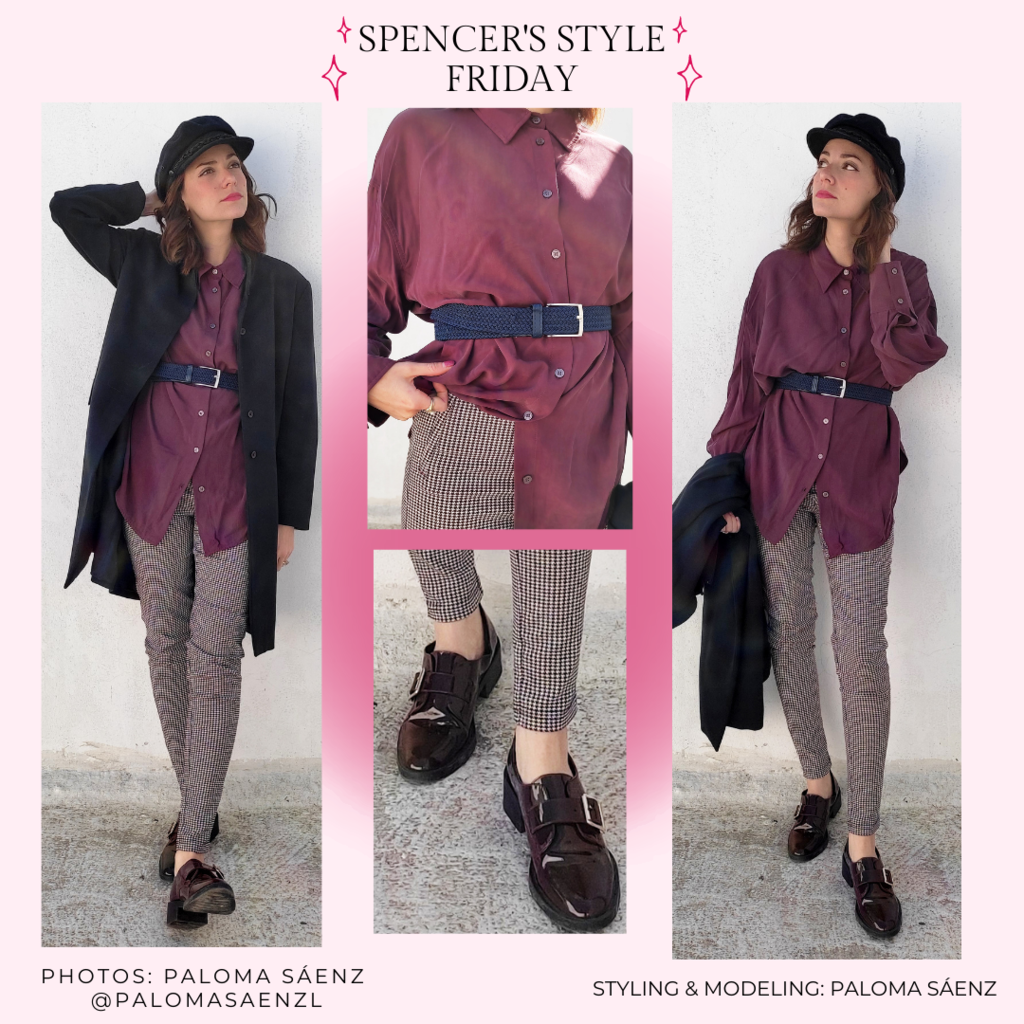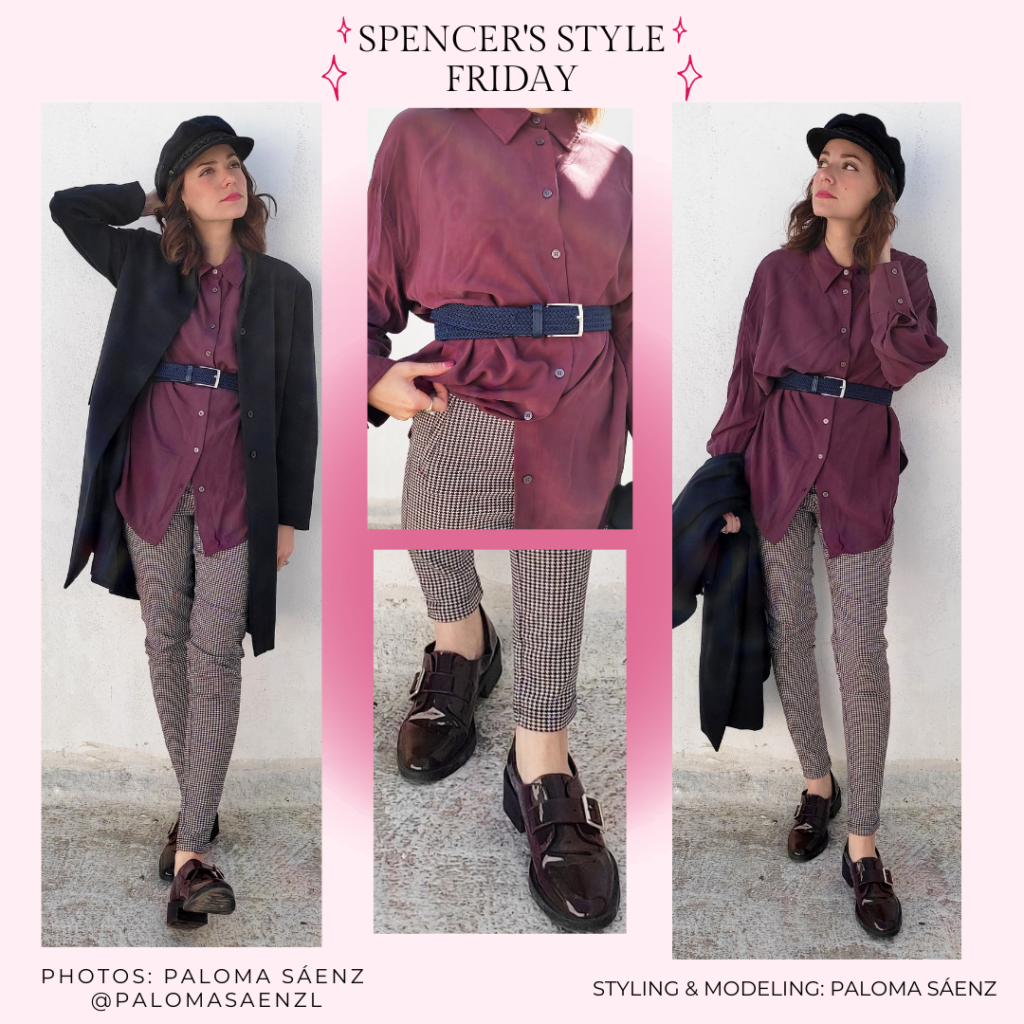 My Spencer outfit was the easiest look of the week. Two thirds of the look, I wore for a Christmas dinner just a couple of weeks earlier. It's safe to say this outfit is the closest to my current style.
To get this look, I started with some houndstooth leggings in burgundy and navy blue. Then, I put on an oversized Oxford shirt in burgundy and cinched it with a navy blue belt. I borrowed the belt from my dad.
My shoes are a pair of patent loafers in the same burgundy shade of the pants and shirt. (They look black in the photo, but they match in person.) Then, I wore a navy blue boyfriend blazer. Finally, and as my preppiest item, I threw on a navy blue paperboy hat.
I loved this outfit! As I mentioned earlier, I had worn something pretty similar to this recently. It was something easy to slip back into and tweak for this article. It was probably the second in comfort to Emily's outfit and one of the warmest looks of the week.
In summer, I wouldn't be able to wear it as-is, but I can change various elements to keep it preppy but breathable.
Final Thoughts
Pretty Little Liars was one of my favorite shows when I was in high school and it ended when I was still in college. I copied so many outfits from this show when it aired. I even remember my mom buying me some blazers and boots that resembled Spencer's because I asked for them so often.
While I didn't enjoy the later seasons as much as the earlier ones, and I can definitely see the flaws and problematic storylines now, it's still a show that influenced the way I think about fashion on TV. I'd say it had a very traceable effect on my style overall.
This week was super fun. I felt very nostalgic while watching the show again to recap every girls' aesthetic and most worn items. It was cool to see what struck my teenage self so much that it still hangs in my closet today. My Favorite looks were Hanna's, Spencer's, and Emily's, in that order.
Some of the looks from the show may be dated, but you can find inspiration for any type of style on Pretty Little Liars. Especially if you watch the last two seasons, which are closer to current trends, you can most certainly find some cute, relatable and trendy looks for any college course, job interview, or activity you may have.
What do you think of this Pretty Little Liars fashion guide?
For more on each character's style, see our posts on Aria Montgomery's style, Hanna Marin's style, Emily Fields' style, and Spencer Hastings' style.
Did you watch PLL? Who was your favorite character? Which of the Liars' style was your favorite? Are you excited for the new spin-off? Whose style do you think I should do next? Let us know in the comments below!