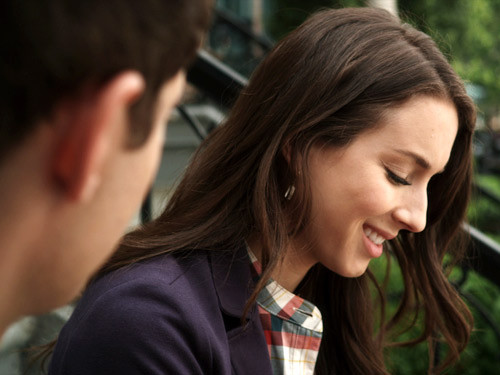 Spencer Hastings, from ABC's hit TV show Pretty Little Liars, has lots to envy — killer grades, head-turning looks, fierce athleticism, a privileged upbringing — but the girl who seemingly has it all is neither arrogant nor stuck-up about her charmed life.
She may be an overachiever who always pushes herself for excellence, but Spencer is never one to look down on others, let bullies (like former friend Ali) push people around, or forget her loyalty to her girls. She's the kind of friend that will have your back when you're traipsing through the woods in the middle of the night in pursuit of a possible murderer (sound familiar?) and let you raid her closet. And trust me, you'll want to steal everything in this girl's wardrobe.
In this post, the fourth in my series on Pretty Little Liars fashion, (In case you missed them, see my posts on Hanna's style, Emily's style, and the Pretty Little Liars cast style.) we'll take a look at Spencer Hastings' style and offer up some tips so you can look as East Coast-cool as she does.
Who is Spencer Hastings?
Spencer is the youngest daughter in a prominent Rosewood family. She's spent most of her life striving to live up to her pretentious parents' high expectations while yearning to step out of her perfect older sister's shadow. She's the definition of a high school overachiever, a go-getter with a blemish-free record and Ivy League dreams. While on the surface it appears that Spencer is the prim and proper daughter every parent dreams of, the truth is she's got some not-so-innocent indiscretions on her rap-sheet… like kissing her sister's much older boyfriends…. not once, but twice!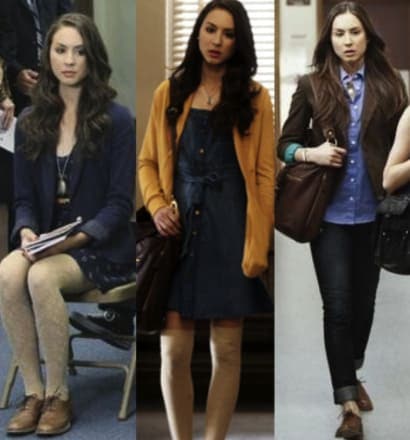 How to Dress Like Spencer Hastings
Spencer Hastings' style is preppy, but she's not rocking pastel polos and pearls on the tennis court; her style is a modern take (with some vintage inspiration) on the classic East Coast prep look.
Spencer is known to take fashion cues from Annie Hall, rocking menswear-inspired ensembles. She also loves to do the unexpected, like putting a spin on ladylike lace tights by pairing them with roughed-up leather oxfords. Her use of layering, plus her color and texture choices suggest the influence of classic All-American design, like '70s Ralph Lauren or the iconic Ali MacGraw in Love Story. Spencer always looks professional and parent-appropriate, but with a youthful edge that alludes to what's beneath her squeaky-clean surface.
Here are some tips for adding Spencer Hastings' style to your own wardrobe:
Mix up the masculinity and femininity in your closet. Try pairing a dainty printed dress with a structured menswear-inspired blazer, or match a mini and textured tights with Oxford shoes or loafers. Juxtaposing soft silhouettes against structured ones adds subtle but compelling interest to your outfit.
Stick to muted and neutral colors. Spencer's wardrobe is full of neutral, muted, or earth tones. Her palette is perfect for fall: chocolate brown, mustard yellow, cognac, navy blue, and burgundy are some of her favorite hues.
Layer up and play with texture. Just because Spencer prefers muted hues doesn't mean her look is dull. By layering and using different textures in her looks, Spencer adds attention-getting dimension to every outfit. So make blazers, jackets, long cardis, knee-high socks, and textured tights your best friends. Not sure how to layer and add texture? Start with a foundation, like the denim dress Spencer is wearing in the above picture. Wear knit, sweater or lace tights under the dress. Add a cardigan or jacket. Belt your waist. If you're wearing boots, layer over-the-knee socks on top of tights.
Throw in preppy classics. Oxford button-down shirts, bows, plaid, loafers, and nautical stripes are all preppy touches seen in Spencer's wardrobe.
When the occasion calls, go glam. Spencer's everyday look is never flashy, but when Homecoming rolled around, she knew it was time to go glam. But even in her silver party dress and chunky necklace, she didn't betray her style: her look was structured, yet feminine, with interesting textural fabric and jewelry that mixed pearls and chains.
Spencer-Inspired Outfits for Inspiration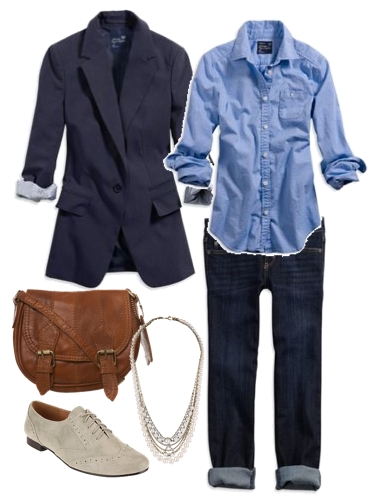 Product Info — Blazer, Shirt, Cropped Jeans: American Eagle Outfitters, Purse: Miss Selfridge, Shoes: Urban Outfitters, Necklace: Forever 21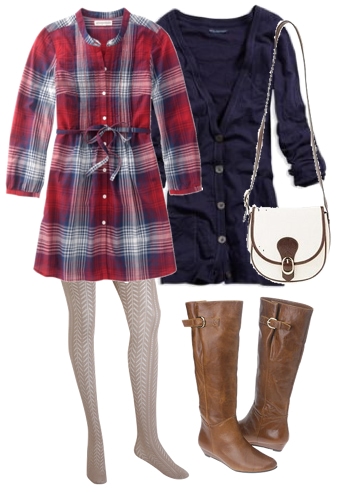 Product Info — Dress/Tunic: Aeropostale, Boyfriend Cardigan: American Eagle Outfitters, Tights: Forever 21, Bag: Urban Outfitters, Boots: Steven by Steve Madden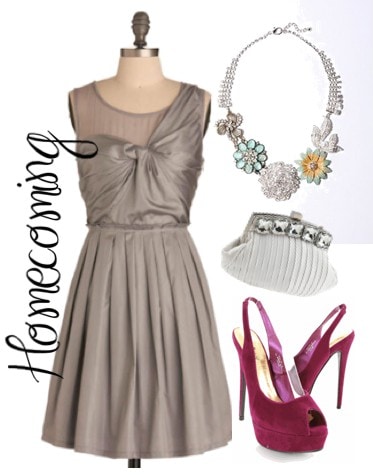 Product Info — Dress: ModCloth, Necklace: Urban Outfitters, Clutch: Jessica McClintock, Heels: AMI Clubwear
Get Spencer Hastings' Makeup and Hair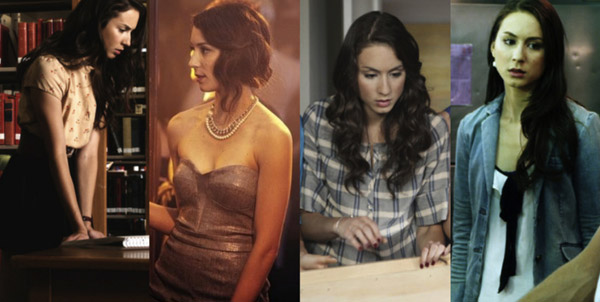 Spencer accentuates her youthful natural beauty with an easygoing make-up routine that's free of heavy layers and bright colors. Here are some beauty suggestions in step with Spencer's natural, fresh look:
Flaunt flawless, mostly-bare skin. Spencer's face always looks fresh and clean, as if some tinted moisturizer and a touch of blush is all she needs. Of course, not all of us are blessed with such perfect skin, so fake the look with a pore-refining, sheer, and/or light-reflecting foundation.
Focus on your eyes. Like most girls, Spencer lines her eyes and plumps up her lashes with mascara, but the rest of her look is minimal. Keeping the rest of your facial makeup simple offers an opportunity to play up your eyes; they'll pop more against a barely-there canvas.
Try matte lips and nails in rich, dark colors. When Spencer does wear lipstick — like to Homecoming or to the country club to visit Alex — she favors deep, matte burgundy hues that play up her warm skin and dark hair. She's also been seen sporting nails in the same dark crimson. So try this yourself – look for a rich color for fall that flatters your complexion.
Let your waves fall down. If you're blessed with naturally wavy hair like Spencer, let your wavy locks flow! Try a serum or mousse made for waves post-shower, comb through your damp hair, and let it dry naturally. If your hair's straight, try wrapping sections around a curling iron (without using the clamp) to achieve the same look.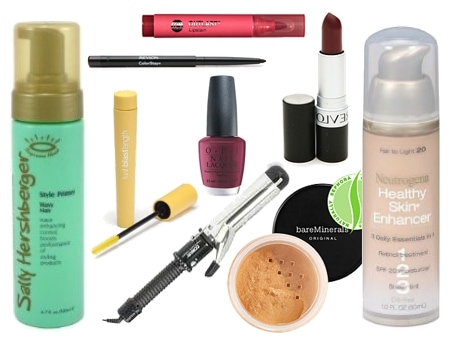 Product Info — Sally Hershberger Style Primer for Wavy Hair, CoverGirl LashBlast Length Mascara, Revlon ColorStay Eyeliner, CoverGirl Outlast Lipstain, Revlon Matte Lipstick, Neutrogena Healthy Skin Enhancer Tinted Moisturizer, bareMinerals Original Foundation, Conair Curling Iron, OPI Nail Laquer in Mrs. O'Leary's BBQ
What do you think?
Did you enjoy this post? Who is your favorite of the Pretty Little Liars? What do you think of Spencer's style and the suggestions here? Please leave a comment!