This post will show you how to dress like Shiv Roy from Succession, with tips on recreating her best outfits.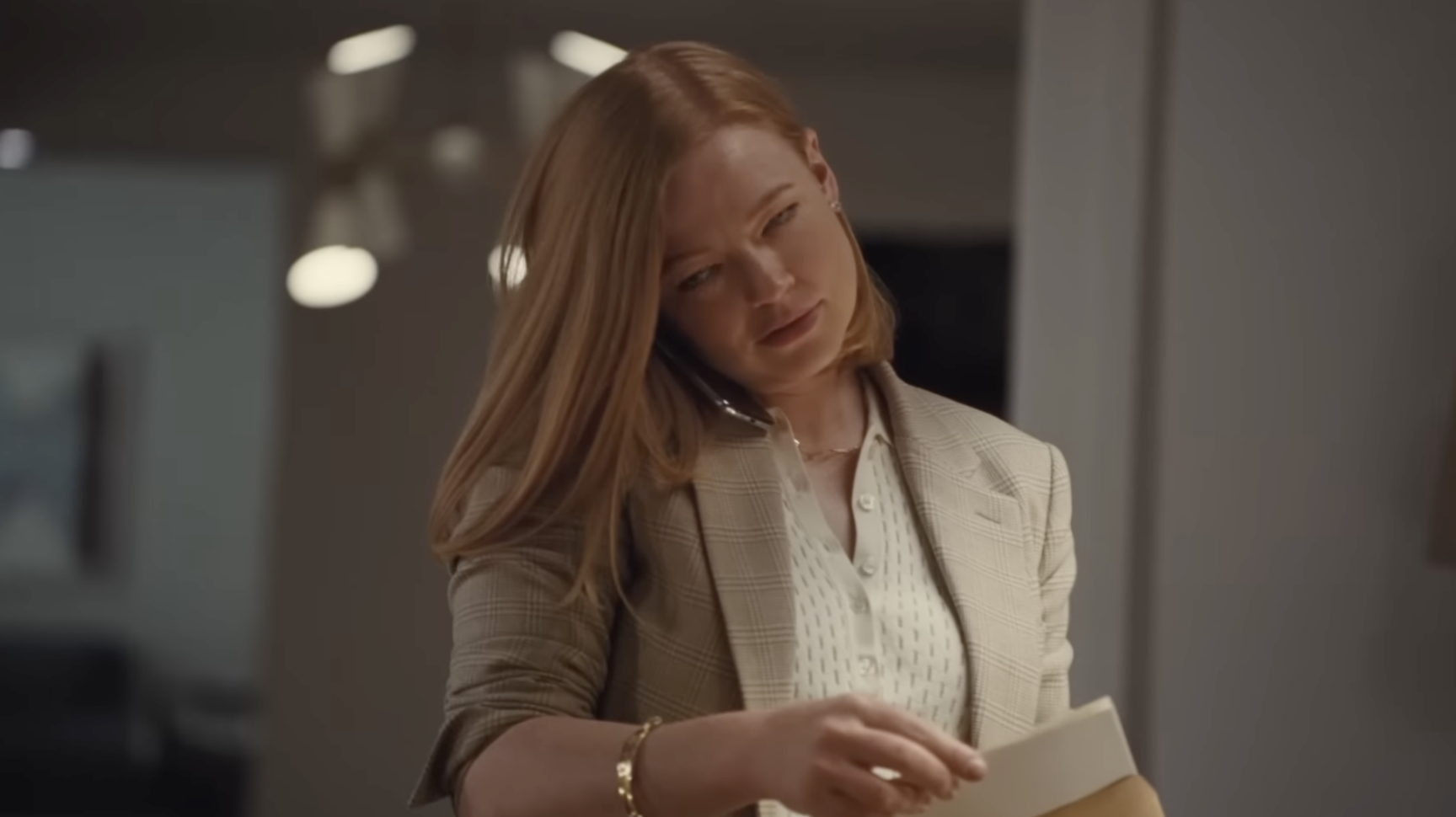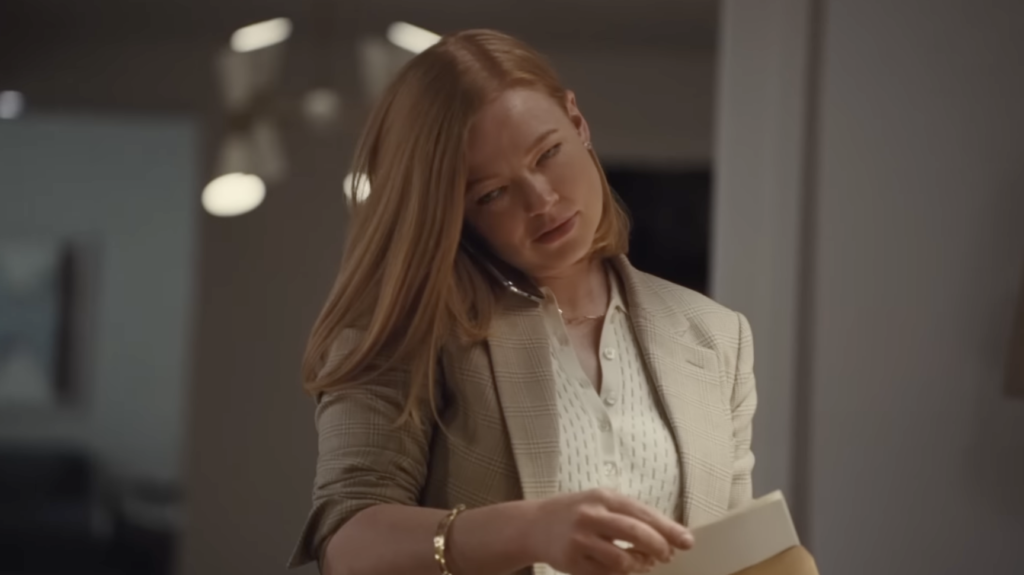 Succession, though not primarily centered around fashion, captivates viewers with its irresistible display of neutral-colored, impeccably tailored attire.
In particular, the evolution of Shiv, Logan Roy's sole daughter, throughout the show's run has been nothing short of fascinating. From the moment she graced the screen in the inaugural episode in 2018, her style has undergone numerous transformations, from minimalistic and feminine ensembles to bold yet sophisticated power suits.
The fashion choices of the Roy siblings and other prominent characters in Succession follow the growing trend of "old money" and "stealth wealth" aesthetics. Characterized by understated elegance, their plain yet precisely fitted garments exude a refined formality, devoid of ostentatious branding or logos on clothing and accessories.
As a huge fan of Succession, I am particularly enthusiastic about crafting this piece, especially as we approach the series finale. Shiv's character serves as an exceptional style guide for young women embarking on their professional journeys, embracing a more subdued aesthetic in contrast to the overwhelming neon hues and logo-driven frenzy that has dominated recent fashion trends.
Below, I'll show you how to dress like Siv Roy from Succession, breaking down some of her best outfits from all of the seasons and later sharing how you can get her old money aesthetic on a budget.
Shiv Roy's Style By Season
Season One
In the first season, Shiv's character undergoes a transformative period as she ventures into the realm of the family business, aiming to establish her competence and worth. During this phase, she maintains a highly professional appearance while exuding an air of graceful effortlessness.
Her long, often curly strawberry blonde hair cascades freely, complementing her light makeup and delicate jewelry choices. Her wardrobe reflects a sense of soft, understated luxury, characterized by flowing fabrics and ethereal silhouettes.
The tailored suits Shiv dons possess a distinctly feminine touch, accentuating her graceful demeanor. Silky materials grace her outfits, lending an additional layer of sophistication to her ensembles. Even in her casual attire, she opts for button-down shirts or plain long-sleeved tops paired with pants, embodying a refined yet relaxed aesthetic.
Sarah Snook, the talented actress portraying Shiv, aptly described her season one character as possessing a captivating "girlishness." This endearing quality adds depth to Shiv's portrayal, emphasizing her journey of self-discovery and growth throughout the series.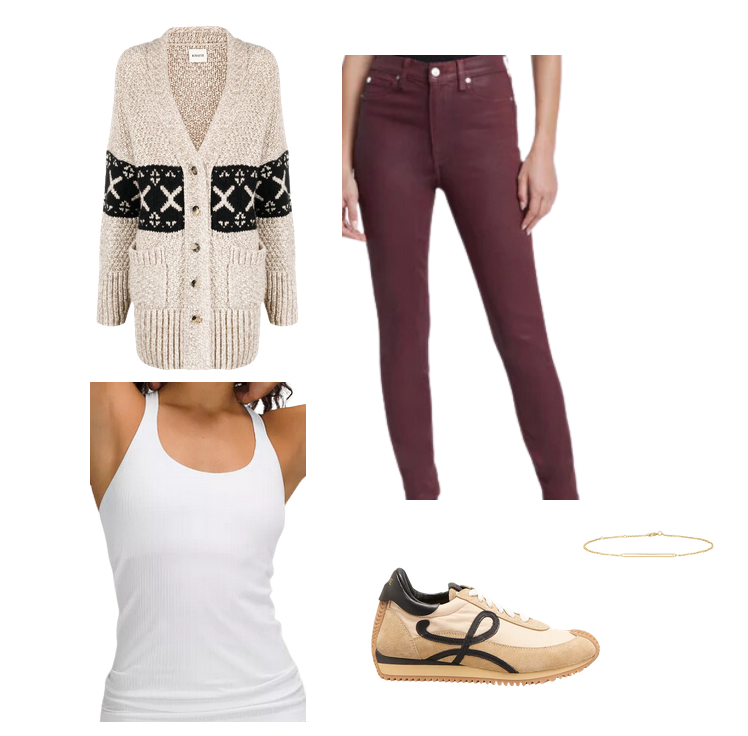 This look is inspired by what we see Shiv wearing during her first two episodes (1×01 and 1×02) back in 2018. The context is less corporate and more athletic and desperate. Here, Shiv wears a big sweater, well-fitting pants, and designer sneakers.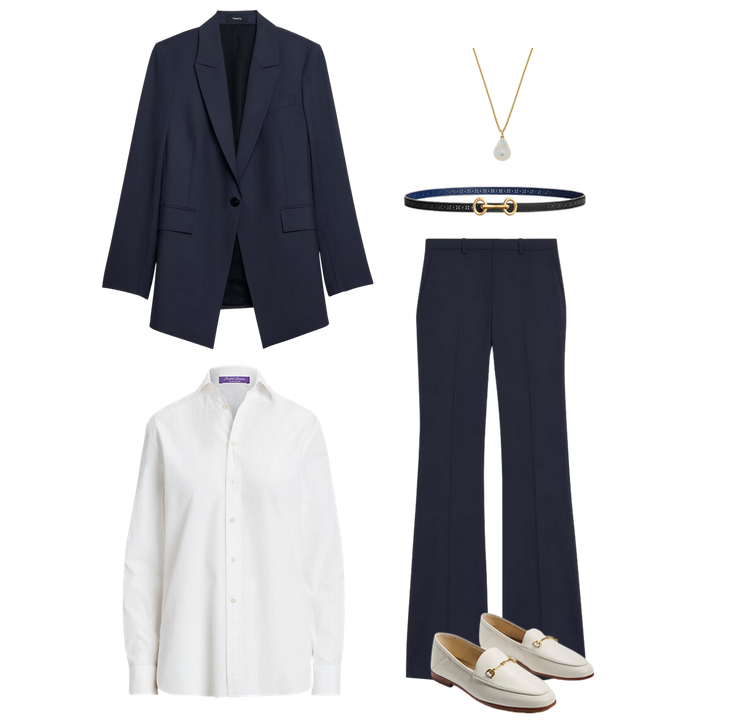 Shiv rocks this more feminine navy blue suit look in 1×03. To this day, this navy blue look with a horse-bit accent is my favorite suit of hers. It is well-tailored but offers a more feminine silhouette with a small belt, tighter waists, and flared pants.
Season Two
As season two unfolds, a noticeable transformation takes place in Shiv's style. She boldly severs her long locks, embracing a chic and edgy blunt lob hairstyle. This marks the beginning of her signature look, which centers around a sleek turtleneck paired with exquisitely tailored suits and complemented by either loafers or heels. Simplicity remains key as she opts for minimalist yet refined jewelry to complete her ensembles.
Intriguingly, even Shiv's most casual item in this season exudes a distinct sense of luxury. She effortlessly dons an expensive hoodie, elevated by its refined construction and understated design, striking a balance between comfort and high-end fashion.
This evolution in Shiv's style showcases her growing confidence and assertiveness as she navigates the intricate dynamics of the business world. Her decision to embrace a more polished and sophisticated appearance reflects her increasing command and ambition within the realm of the Roy family empire.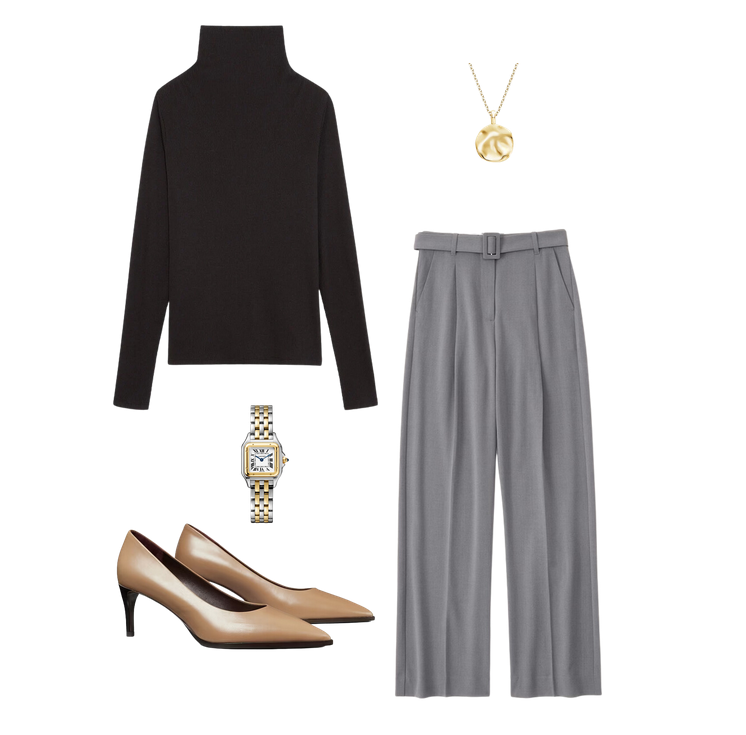 This look is inspired by this iconic promotional photo of Shiv with her brother, Roman, for Succession season 2.
Here, I encountered the challenge of finding suitable alternatives for some of Shiv's iconic pieces, as the original items were often out of season or no longer available. While creating this look, I discovered the timeless allure of a classic black turtleneck and a pair of elegant gray trousers.
This season, we see Shiv stick with her dainty gold jewelry and alternate between Cartier Panthere watches. As a watch girl, I always love to see what she is wearing. To try to make this as universal as possible, I picked the two-tone Panthere for this look.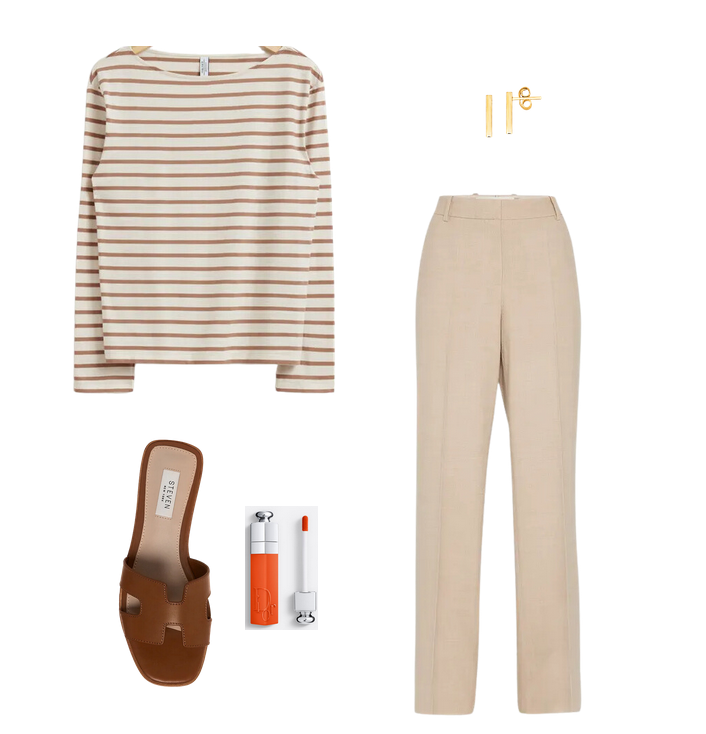 This look, with its beige-old-money-nautical vibe, takes its inspiration from the season three finale. This particular outfit is a fan favorite and perfect for the upcoming summer season, pairing light colors with timeless, tailored pieces and my personal favorite Hermes dupe sandals for the summer.
Season Three
As season three unfolds, Shiv emerges in her most formidable and alluring form. Her style undergoes a fascinating evolution, characterized by a striking juxtaposition between sharp, harsh suits and turtlenecks, and the allure of low-cut, impeccably fitted dresses. This sartorial duality showcases her growing confidence and assertiveness.
In her pursuit of dominance, Shiv effortlessly commands attention with her precisely tailored ensembles. Her severe, structured suits and geometrically cut outfits exude an air of authority and strength. Every element is meticulously chosen, resulting in a look that is both powerful and unyielding.
However, Shiv's allure doesn't stop at the realm of sharp tailoring. With her low-cut and form-fitting dresses, she embraces her feminine side, melding sensuality with her newfound fierceness. These dresses, carefully crafted to enhance her silhouette, exude confidence and allure.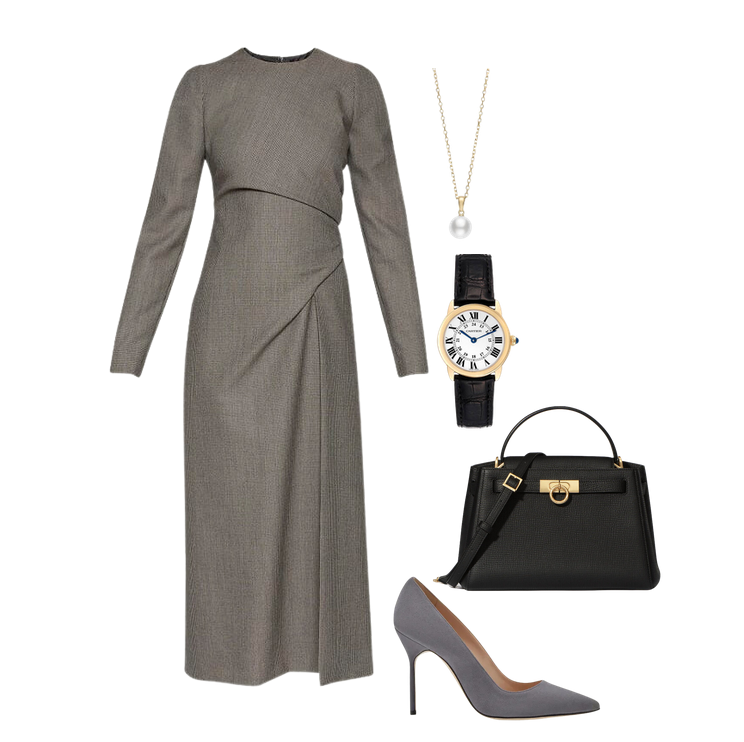 Unfortunately, the Ralph Lauren dress Shiv wears in this season is completely sold out, but this tailored Dries Van Noten dress certainly does the trick as a respectable dupe.
It is paired with a simple heel, a logo-free bag, a leather-banded Cartier watch, and a gold and pearl necklace.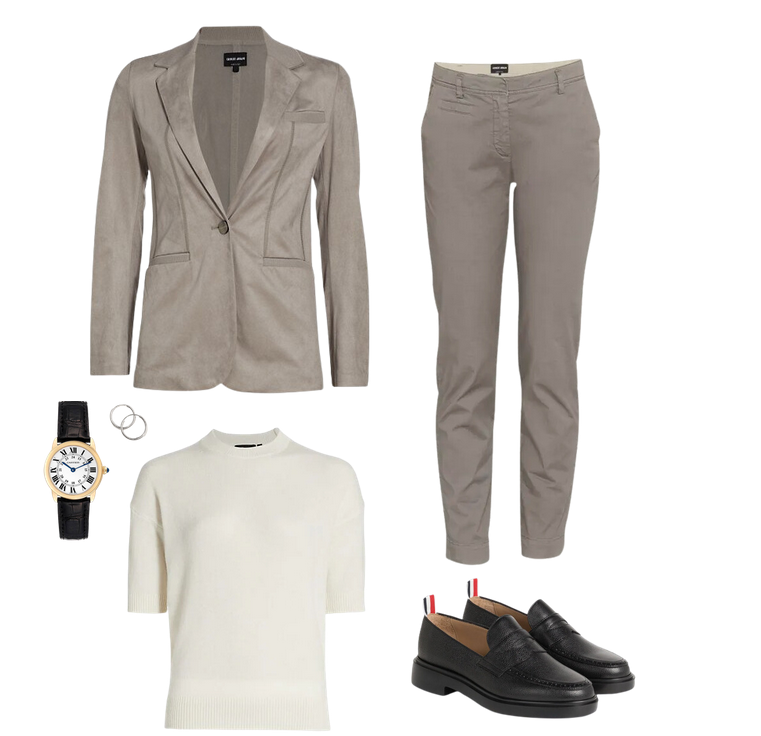 In episode 3×08, we see Shiv in a fabulous gray Armani suit paired with white gold earrings instead of her usual yellow gold. That suit is unfortunately sold out, but this current season version with a Suede blazer is still available.
I paired it with a cashmere high-neck top similar to the one worn in the episode, black loafers, and the same watch from earlier. Gray is undoubtedly Shiv's color of choice in Season 3.
Season Four
In the current season, Shiv undergoes yet another notable transformation. While she maintains her characteristic sharpness, embodying her name, we witness a subtle unraveling alongside her brothers. Her garments, though still structured and true to her style, exhibit a newfound touch of femininity, signifying a shift in her demeanor. On one occasion, she even surprises with an intentionally overdressed appearance, defying expectations.
Furthermore, Shiv's hair regains its signature curls, adding a touch of softness to her overall look. Her makeup, while remaining refined, takes on a more visible and deliberate presence, accentuating her features and highlighting her evolving confidence.
This season presents an intriguing juxtaposition, as Shiv's external appearance retains its structured aesthetic, mirroring her unwavering determination. However, hints of vulnerability and self-exploration emerge, subtly manifesting in her style choices. These nuanced shifts reflect her complex journey and contribute to the multifaceted portrayal of her character.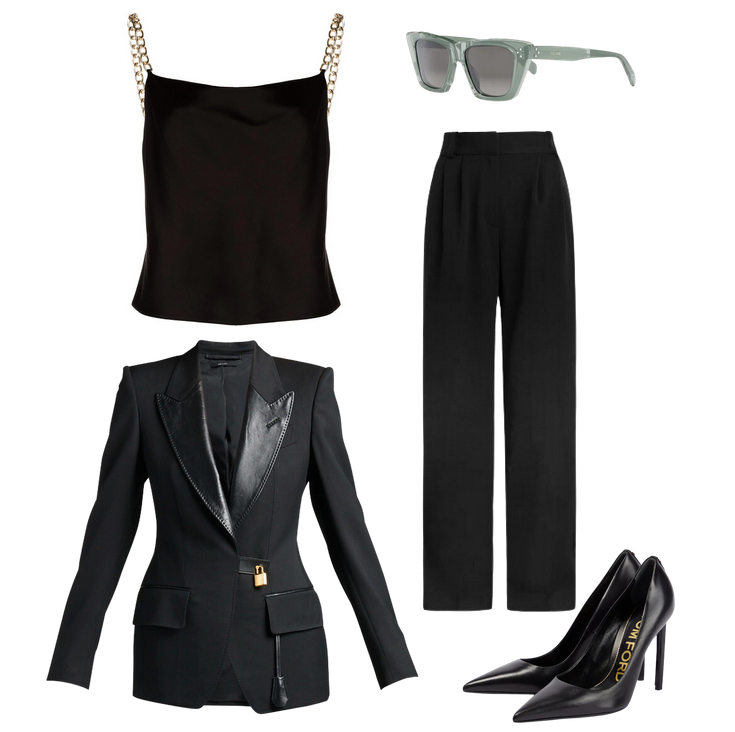 It would feel wrong to do a "how to dress like Shiv Roy" guide without including an outfit from one of the highest-rated episodes of television of all time, 4×03.
The beauty of this being a recent episode is that the blazer Shiv wears is still available, even if the tank top and sunglasses she wears are not. This is one of my favorite Shiv looks because we see a little personality in it, and the leather accents are really fun.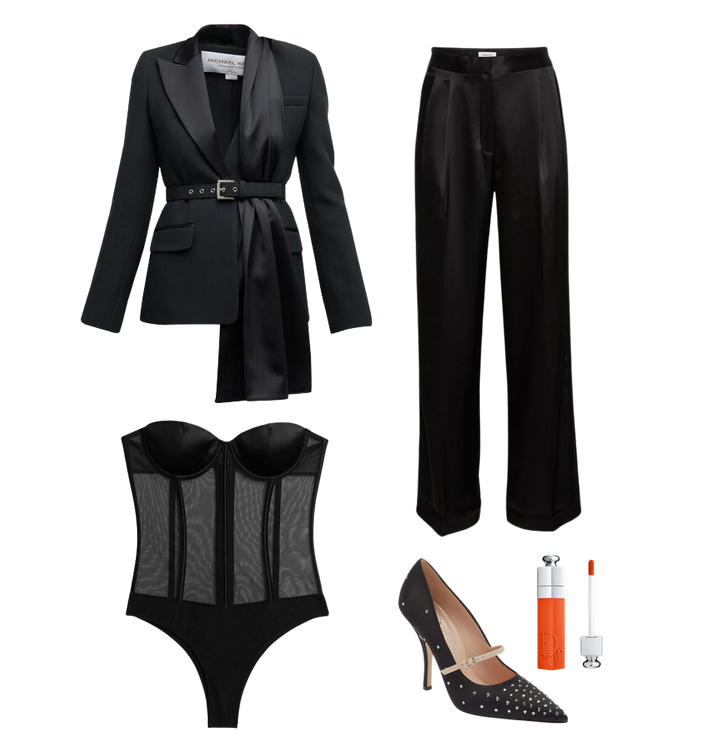 4×07 features one of my top Shiv Roy looks, centering around the fabulous blazer above. The look is fit for the pre-election party that it's for and is elegant, sharp, and has an accent of femininity to it once again.
This look will forever be on my mood board, and I hope it's the one that gets both Sarah Snook and Matthew McFayden Emmy nominations for this season.
Bonus: Young Shiv in the Opening Credits
In their introduction, the Roy siblings epitomize the highly sought-after old-money aesthetic, exuding an aura of elegance and privilege. The grandeur of their Hamptons residence serves as a fitting backdrop to complete the portrayal of their affluent lifestyle.
Within this captivating tableau, Shiv effortlessly commands attention. With a bow gracing her hair and clad in a resplendent white dress, she emanates an enchanting grace. Her ethereal appearance strikes a delicate balance between innocence and sophistication, further accentuating her privileged upbringing.
This look can be modernized, as shown below.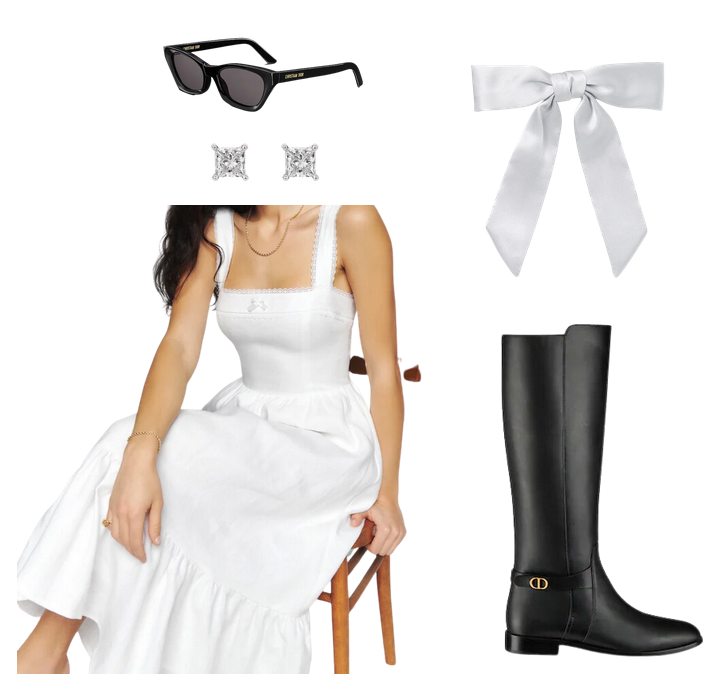 Sunglasses, Earrings, Bow, Dress, Boots
Old Money Aesthetic Essentials Inspired by Shiv and Succession
If you want to dress like Shiv Roy, you don't have to have a billionaire bank account. There are tons of affordable dupes for her high-end pieces. Below, I've listed my favorites to help you get her look on any budget:
Plain Blazer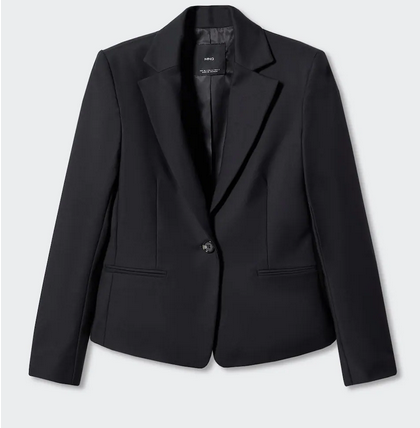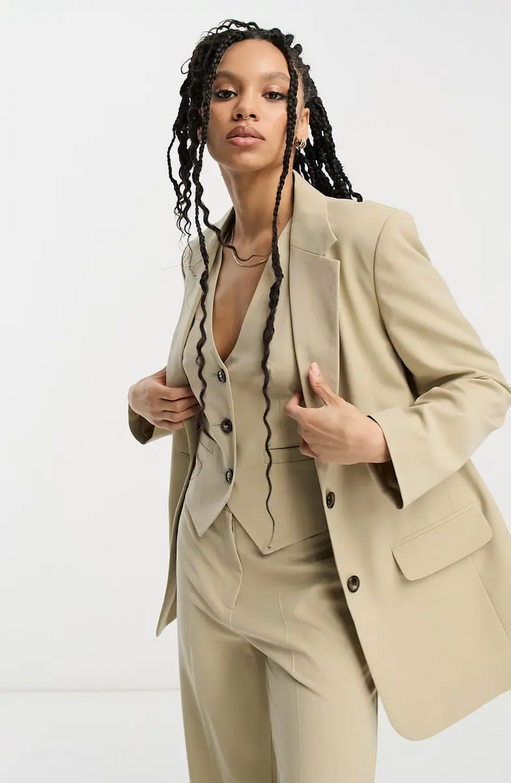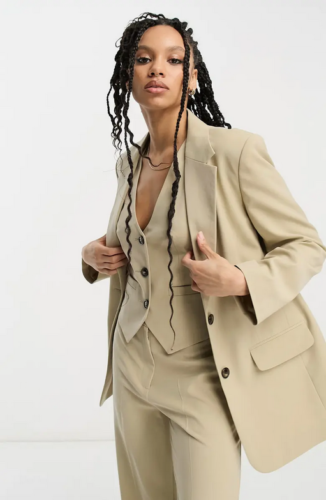 In general, a plain blazer is a capsule wardrobe item must-have, no matter what it's being paired with. It can many any look appear more polished and can be a great item to throw over something when going from day to night.
Blazers are an important part of any stealth wealth/old-money wardrobe, so they're well worth the investment if you want to dress like Shiv Roy.
Plain Turtleneck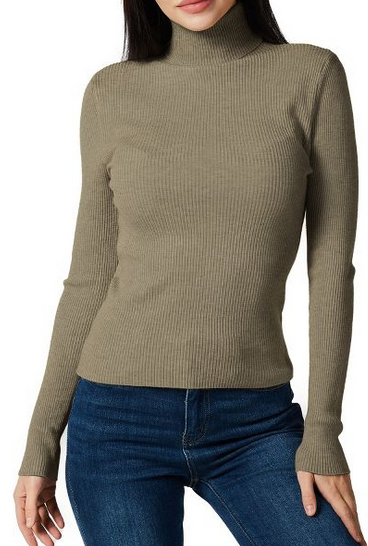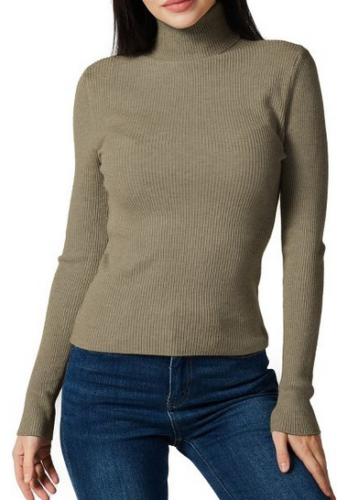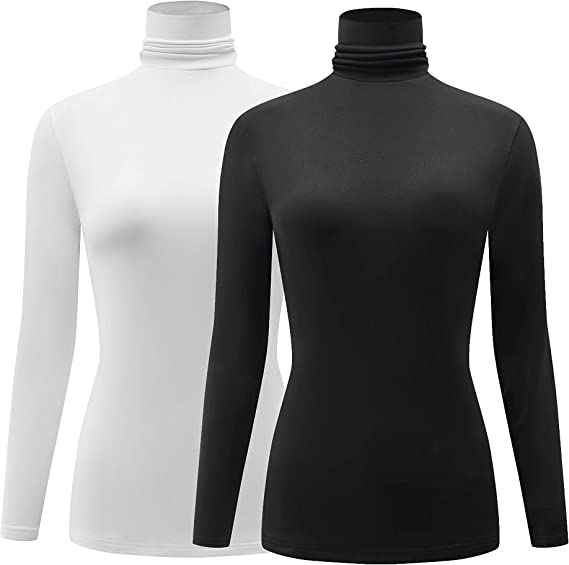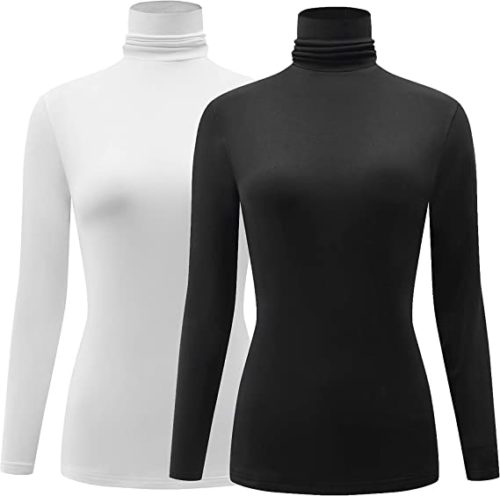 Want to dress like Shiv Roy? Make sure you have some turtlenecks on hand.
A turtleneck is another item I consider to not only fit the Shiv Roy aesthetic but also act as a capsule wardrobe staple.
Aside from making suit outfits more interesting or carrying some of these old money items into the Fall and Winter seasons, turtlenecks are among the best layering pieces and can be fun for color-blocking outfits, too.
Simple Watch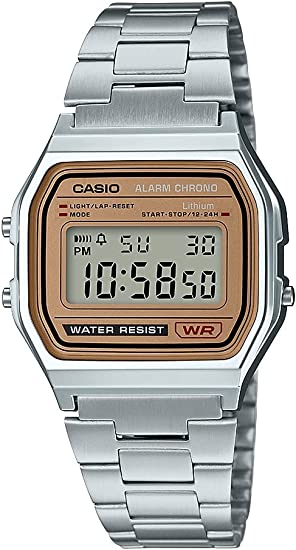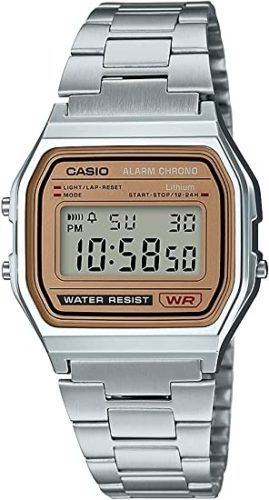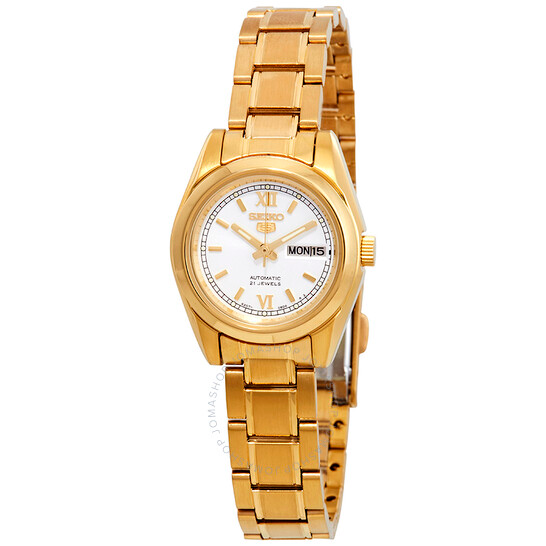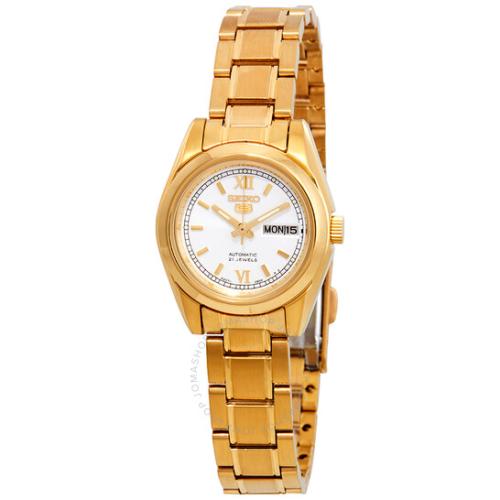 Recently, I have noticed it has been very trendy to wear a small, simple watch with either gold or silver tones with nothing else on the wrist. The opinion of the internet is that this looks "old money."
Any smaller watch, from a simple digital Casio all the way through Cartier, Rolex, Vacheron Constantin, and so on, can accomplish this look beautifully and effectively.
Related reading: These Are the All-Time Best Luxury Watches for Women
Plain and Timeless High Heels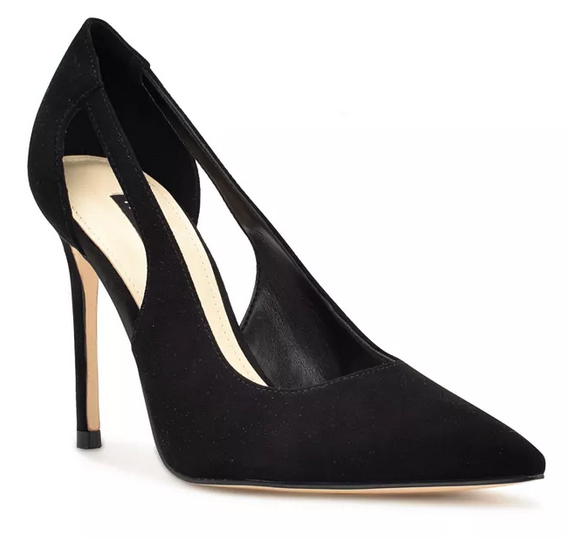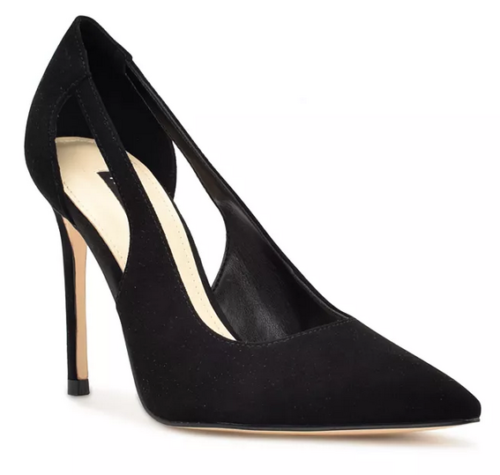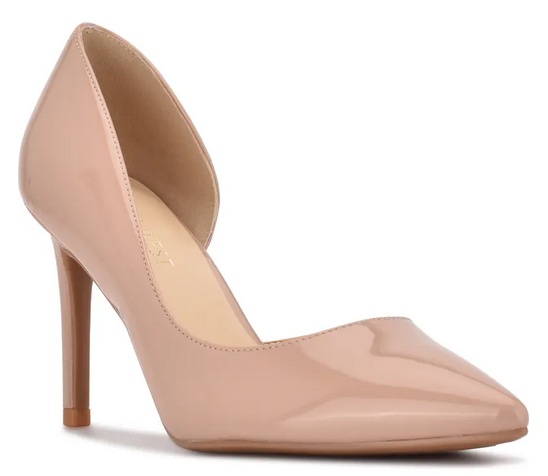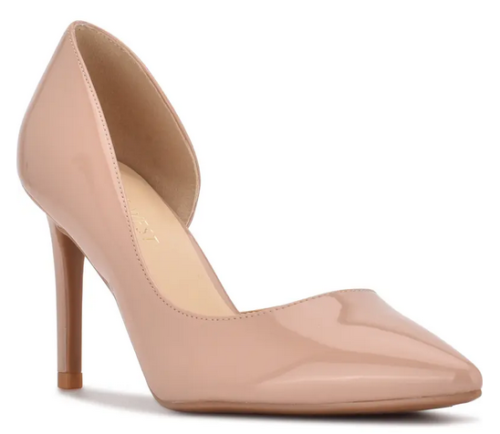 I'd argue that there is no better fashion investment than a timeless heel – especially in suede or leather that matches everything and fits you comfortably. These shoes will serve you for work, parties, events, and everything life may throw at you.
The fact that these must-haves shoes are understated follows the Shiv Roy old-money aesthetic and gives your closet excellent versatility.
Plain Loafers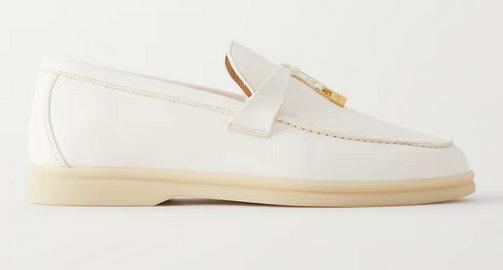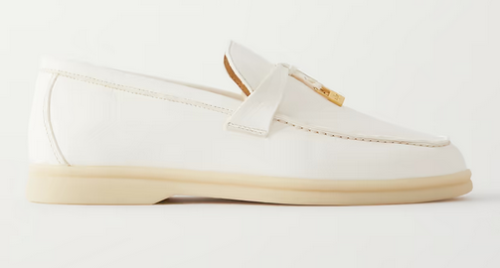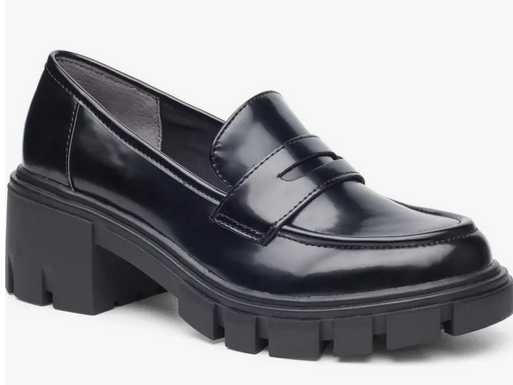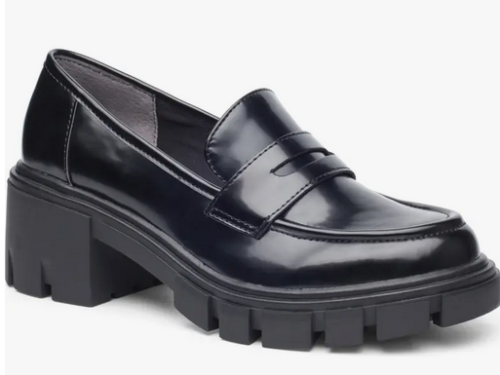 The quintessential old-money/stealth-wealth/Succession-core loafer is, of course, the legendary Loro Piana style which is linked above. However, $1025 is a steep asking price for loafers, and so many brands, such as Me Too (also linked above), make beautiful loafers to formalize any look all year round.
Too-Cool Sunglasses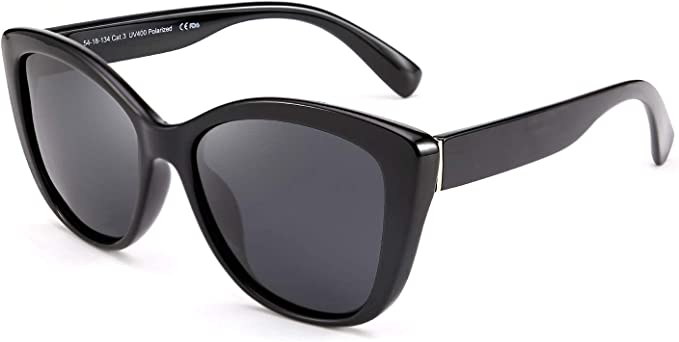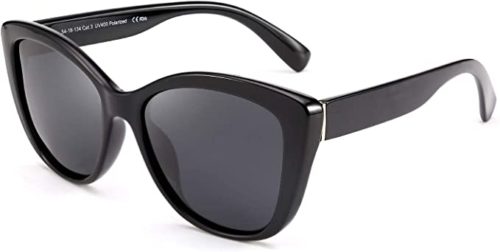 Sunglasses are certainly more of a Kendall Roy thing than a Shiv Roy thing. Jeremy Strong, who plays Kendall, went as far as to steal Kendall's sunglasses wardrobe from the set, including an acetate pair similar to the ones above.
Big sunglasses that are just cool will have you trending like an old-money TikTok and channeling your inner-Roy sibling in no time. Just make sure they're logo-free for maximum stealth-wealth vibes.
Ralph Lauren Clothes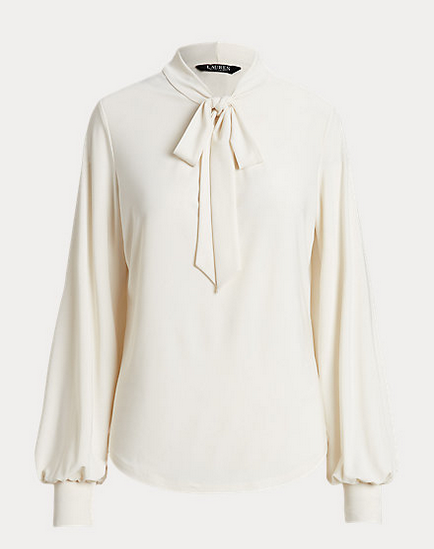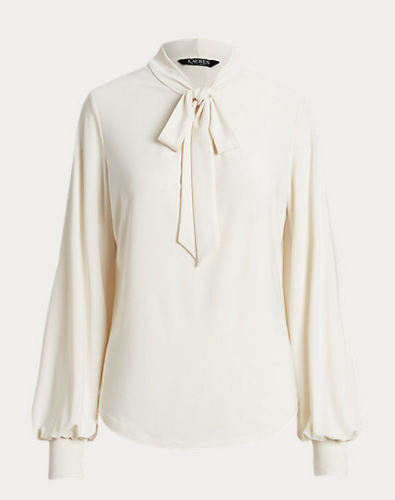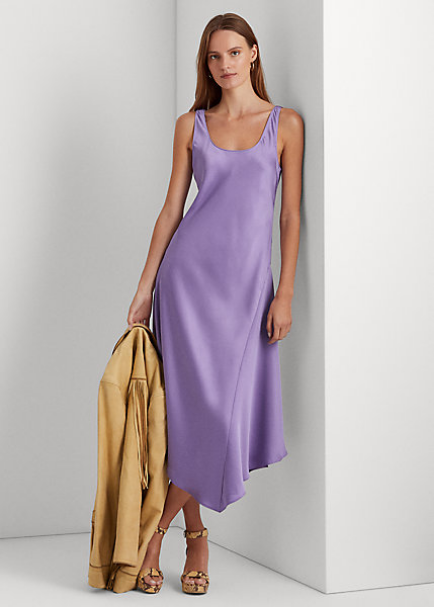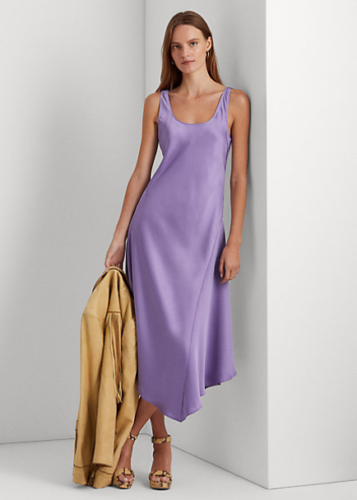 Since the brand's inception, Ralph Lauren has been a staple of the preppy, all-American look. I love Ralph Lauren for the old money/Succession aesthetic because, for a designer label, the brand is very accessible. The Polo and Ralph Lauren lines can often be found while thrifting or on sale at many stores.
No matter which Ralph Lauren brand you shop, their clothes are beautiful, timeless, and will last forever. Shiv Roy would definitely approve!
What do you think of our guide to how to dress like Shiv Roy?
Do you agree with the Shiv outfits I picked? Are you excited about the Succession series finale? What old-money aesthetic items are on your wishlist? Let us know in the comments below!