This post will show you five Stranger Things outfits to copy in real life.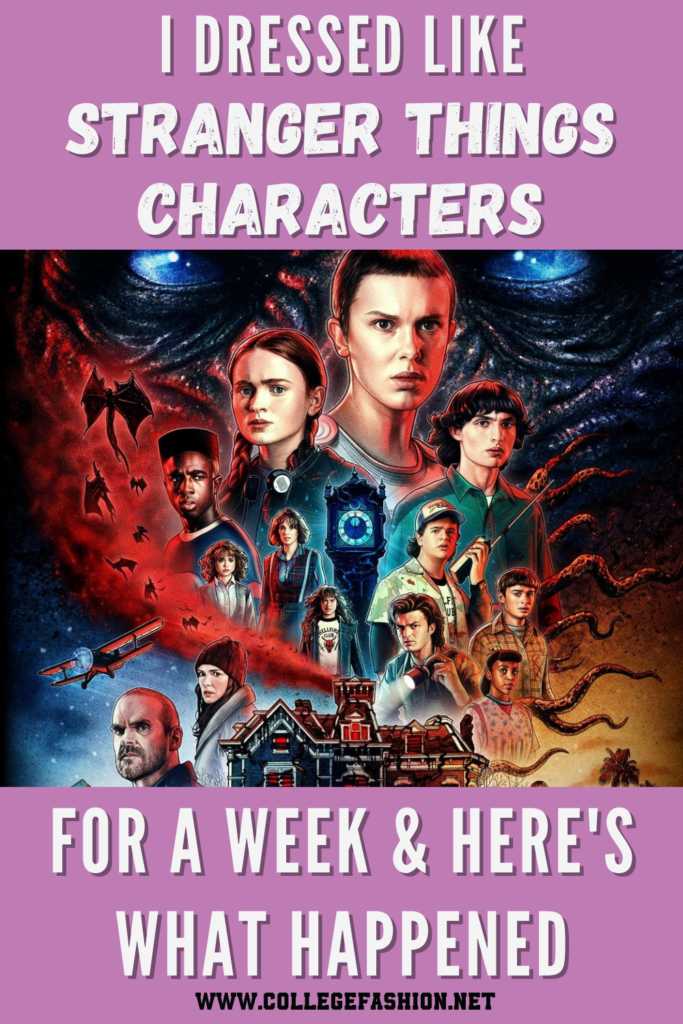 We've all looked to celebrity style for fashion inspiration at some point in our lives. But it's one thing to say "I love her outfit," and it's another to actually copy it in real life.
For this series, I'm going the extra mile and making it happen. Each week, I'm getting inspiration from a celebrity and copying five of her looks as closely as possible. Then, I'm reporting back to you: Did the outfits work in real life? Did I feel comfortable? Did people treat me differently? I'm sharing it all.
This week, in honor of the first part of the fourth season premiering, I copied the style of five main characters from Stranger Things for a week. And here's how it went.
About Stranger Things
Stranger Things is a Netflix original series created by the Duffer Brothers. It premiered in July 2016 and became a huge success.
The series helped revive the career of the iconic '90s actress Winona Ryder, and it (finally!) brought the veteran actor David Harbour into the spotlight. Most importantly, it launched the careers of some of the most important young actors today: Millie Bobby Brown, Finn Wolfhard, Sadie Sink, Noah Schnapp, Caleb McLaughlin, and Gaten Matarazzo.
As of today, Stranger Things has three complete seasons. The first half of the fourth season (4A) was released on May 27th. The second half (4B) will premiere on July 1st. The fifth, and final season, was confirmed without a release date.
Stranger Things Synopsis
During the '80s, in the (fictional) town of Hawkins, Indiana, an eleven-year-old boy, Will Byers (Noah Schnapp), disappears. The story revolves around three different groups affected by Will's disappearance:
Every season, each group begins with its own storylines that finally converge during the final episodes of the season.
A Quick Note on this Stranger Things Outfit Guide:
As I mentioned above, Stranger Things has an ensemble cast. Right now, there are more than seven main characters. All of them are from different age ranges and genders, so I had to be pragmatic and choose just five of them for my outfits. I chose at least one from each group to cover as many of the main characters as possible.
Also, keep in mind that I planned this before the 4th season premiere. The week I recreated the looks was the week right after it dropped on Netflix. For this reason, any new characters or specific looks from the season are not included in the outfits.
Stranger Things Outfits Guide
Outfit #1: Monday – Eleven / Jane Hopper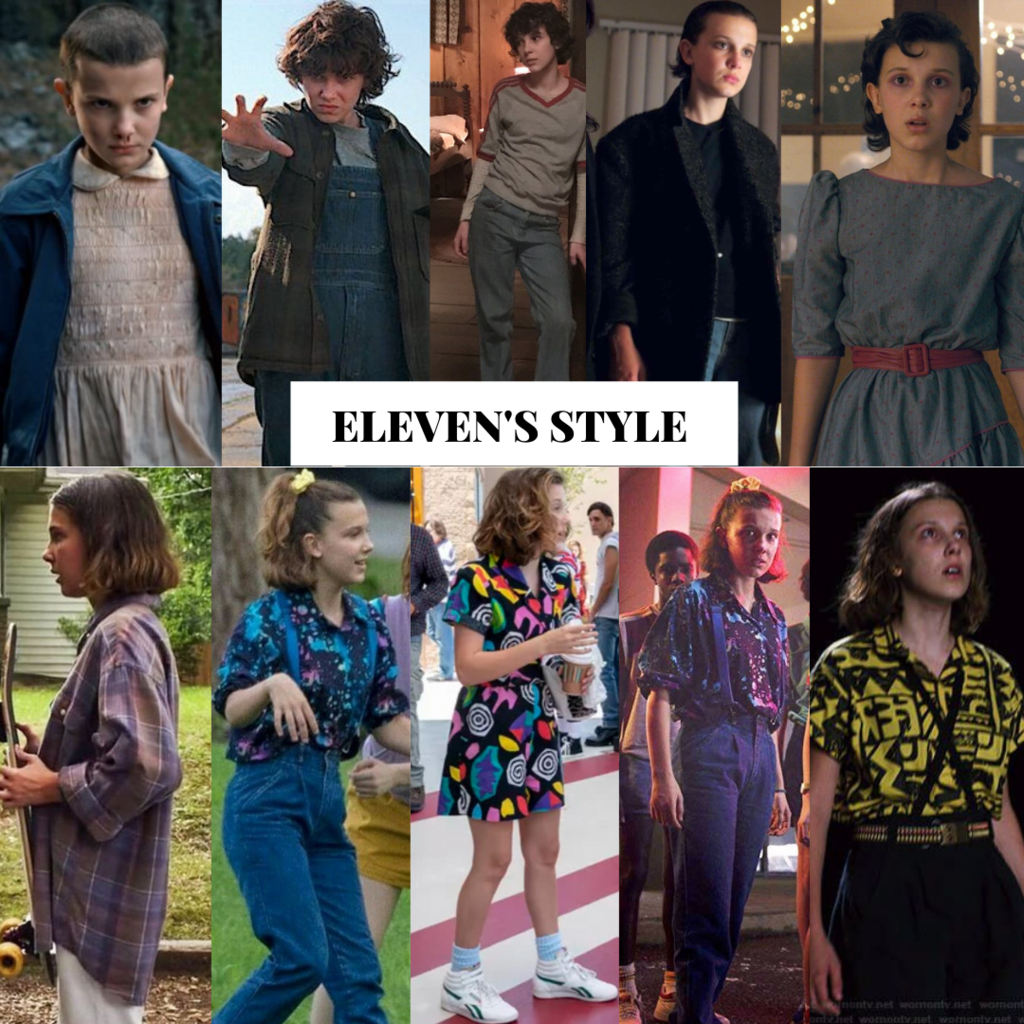 Eleven is a young girl with psychokinetic powers. She was found by the Party (Mike and his friends) the day after Will disappeared. Her backstory is gradually revealed. In spite of her enormous power, she is a shy girl who craves a normal life.
Eleven's style has gradually changed as she's come into her own. During the first two seasons, she is barely given a choice on what to wear, with the boys and Chief Hopper providing her with mismatched items. From season 3 on, we find out that she is more of a girly girl, with her closest female friend Max guiding her as she chooses her looks.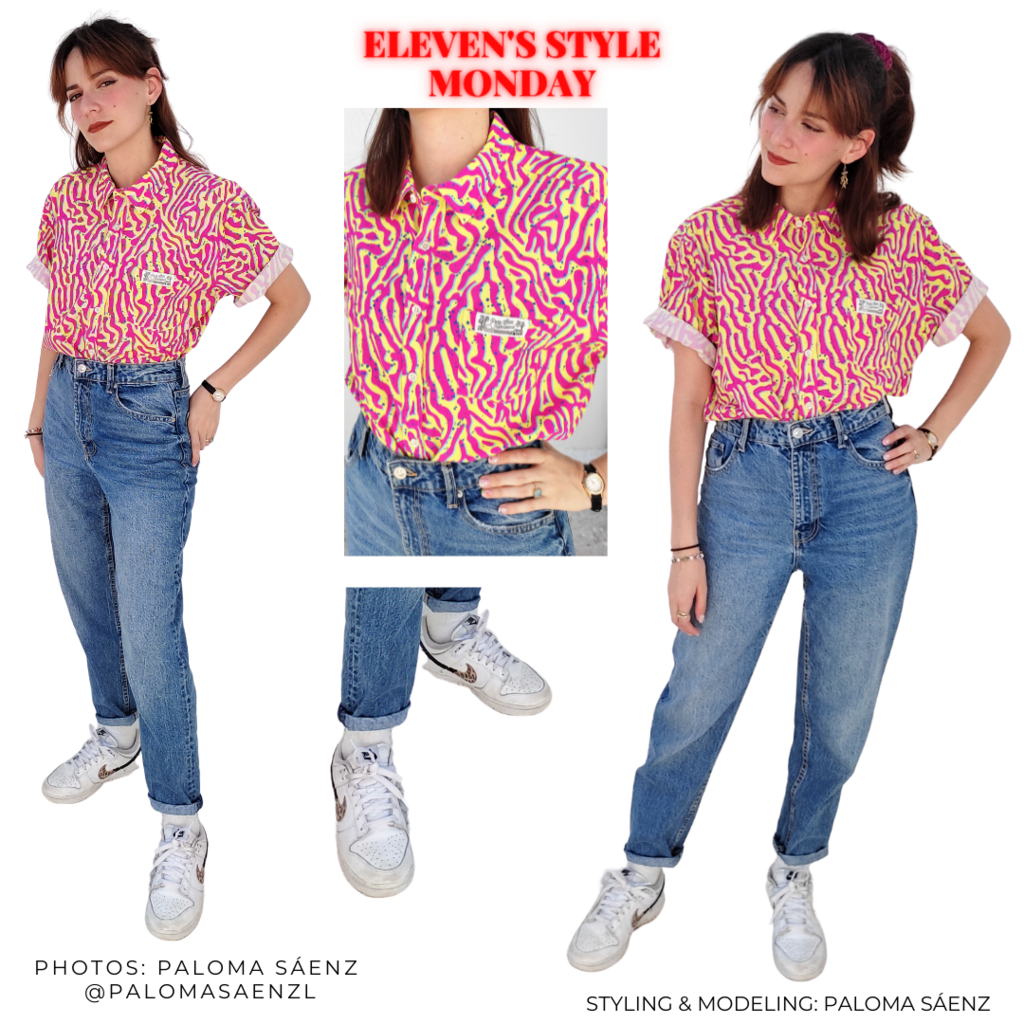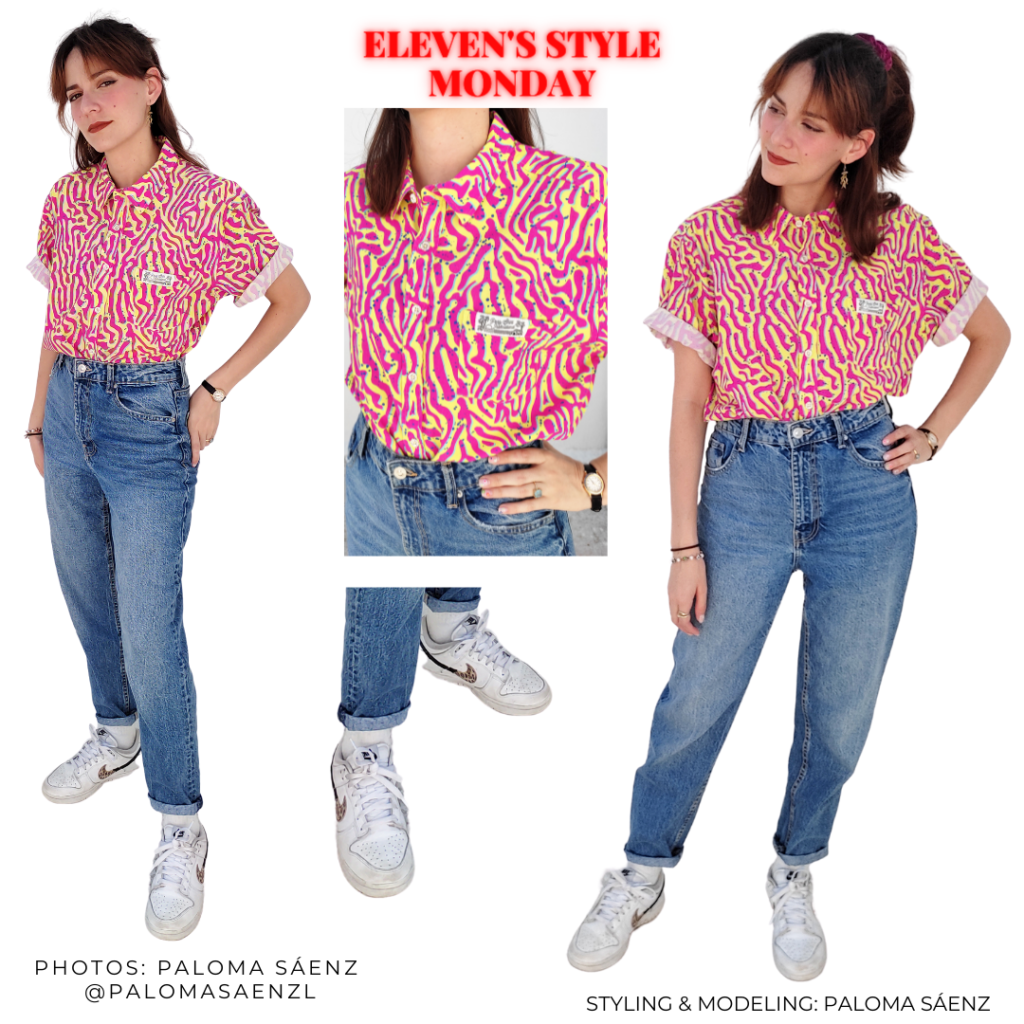 Products
For Eleven's outfit, I wanted something that emulated her style during season 3, when she first becomes comfortable with herself and her style.
To get Eleven's look, I wore a short-sleeved shirt with a psychedelic pink and yellow pattern. Then, I put on a pair of medium-wash mom jeans and tucked in the shirt. I borrowed the shirt from my boyfriend, which is why the fit is oversized on me.
For shoes, I chose a pair of white Nike sneakers and added white ankle socks. Finally, for accessories, I wore a pink scrunchie to tie my hair half-up.
I loved this look! It was fun and comfortable. I loved starting the week with something bright and cute to cure the Monday blues. The only problem was, it's too hot in my city for jeans in the afternoon. I would wear this again, as-is, when it starts raining. Right now, I would wear it with a skort or shorts. So I'll definitely borrow this shirt again ASAP.
Outfit #2: Tuesday – Chief James 'Jim' Hopper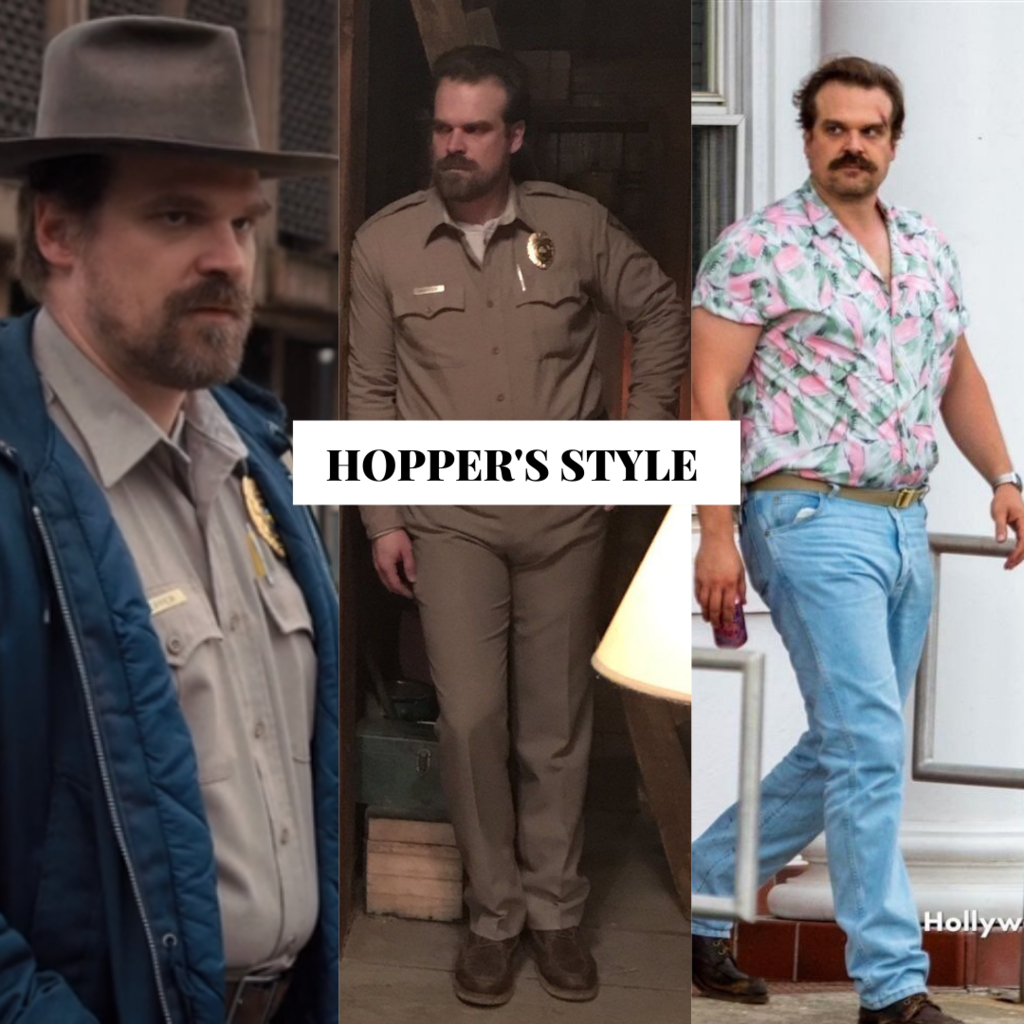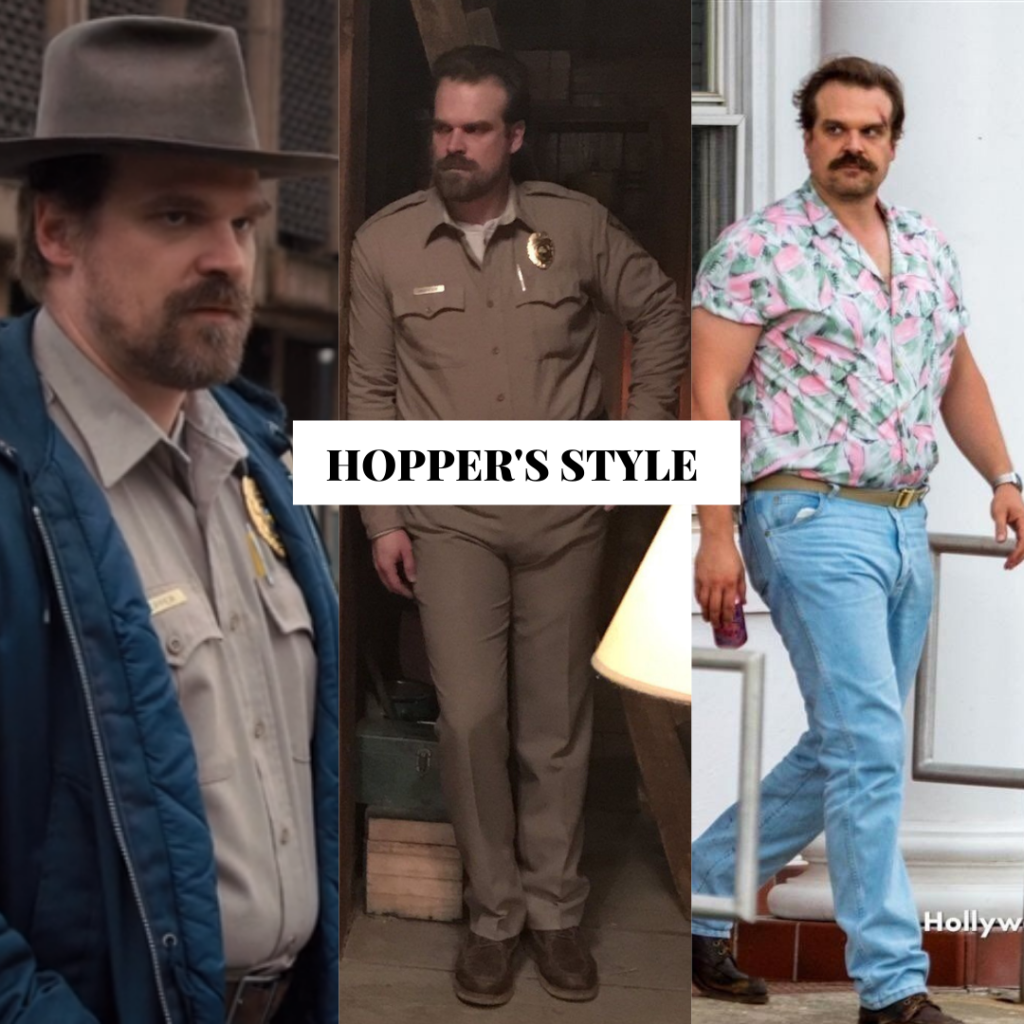 Hawkins's Police Chief, Jim Hopper, is the main investigator of Will's disappearance. He has a troubled and tragic past and struggles with alcoholism and substance abuse. After he joins Joyce's quest, he becomes an important part of Eleven's life as her adoptive father.
Chief Hopper spends all his time trying to protect everyone. Hopper is the definition of papa wolf; he uses his shield, intelligence, and physicality to his advantage. Naturally, he is mostly seen in his sheriff's uniform. But, during season 3, we get to see him in casual clothes, showing a bit of his fun, chill personality out of work.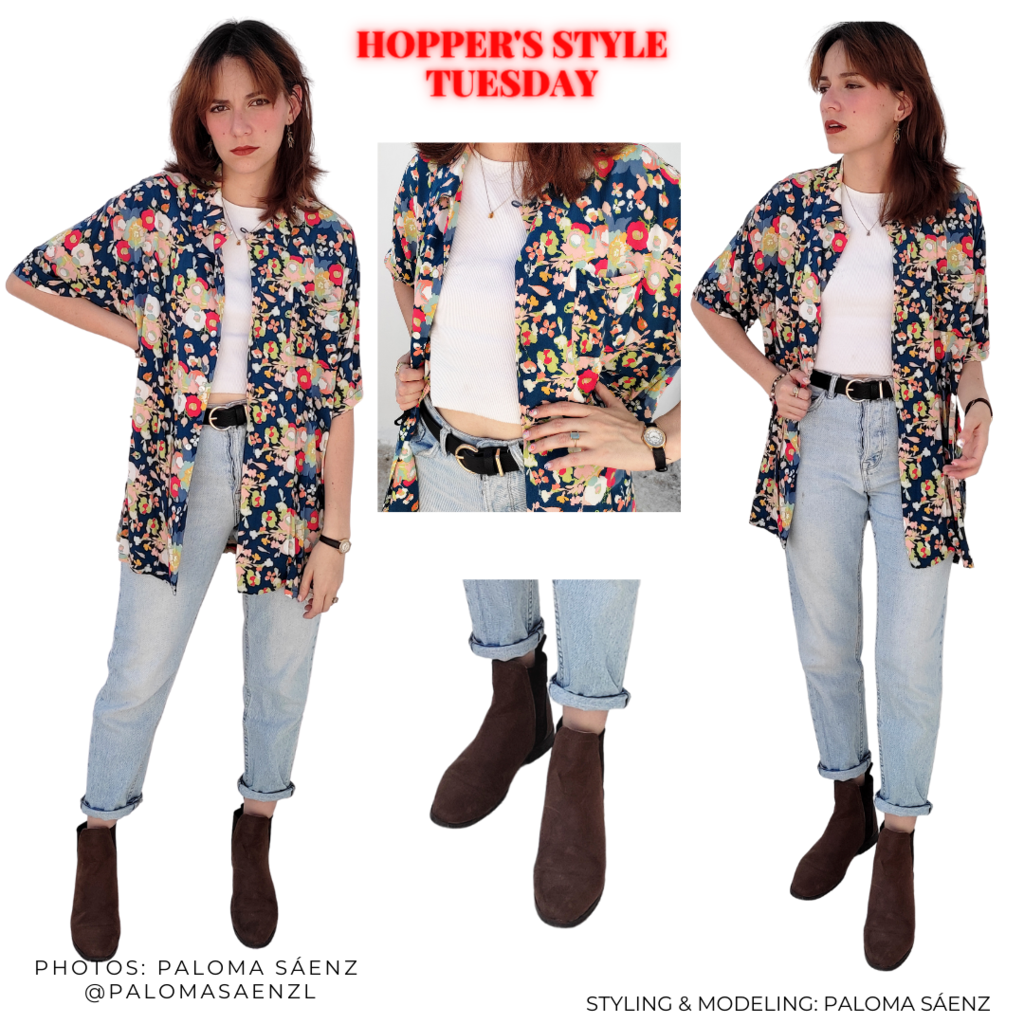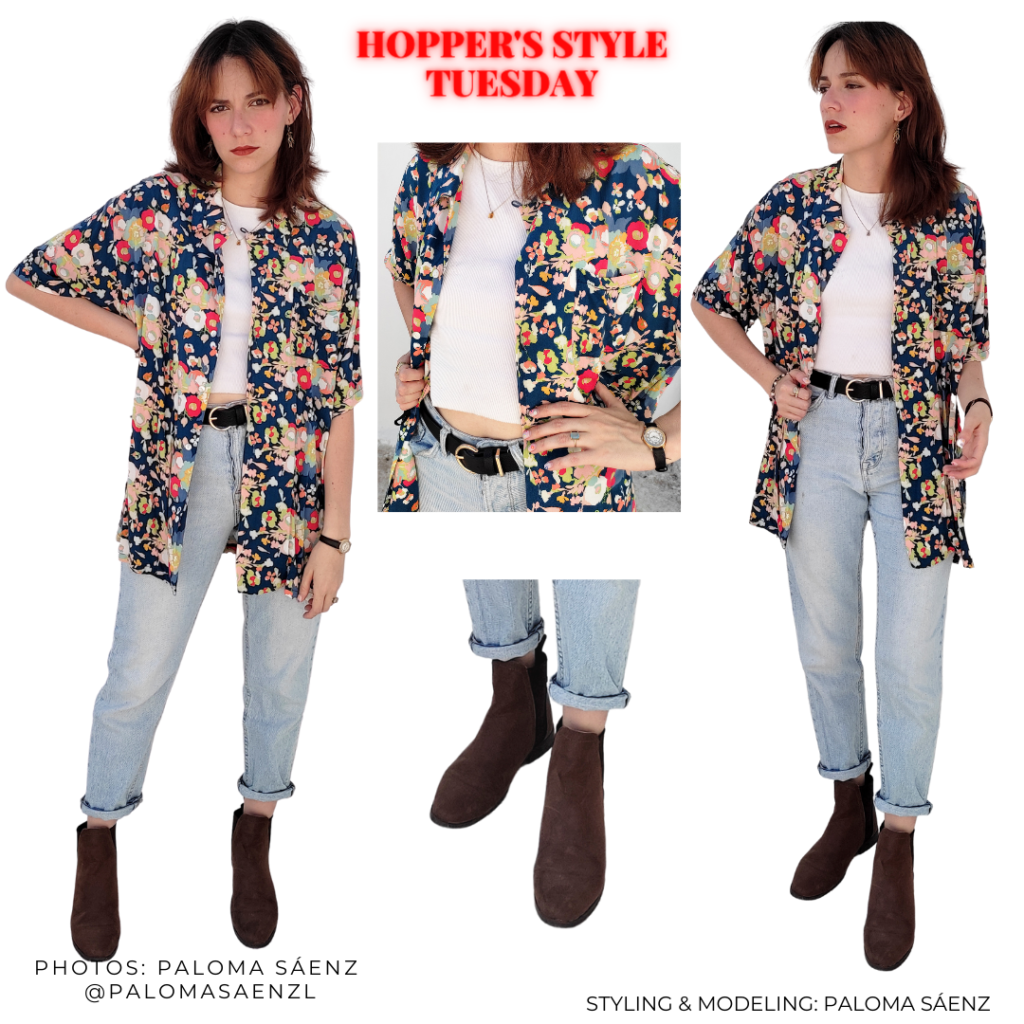 Products
For my Hopper outfit, I took my lead from his off-duty look (more stylish than his Sheriff's uniform). For the base of the outfit, I wore a white tank top to emulate his white undershirt. Then, I put on my favorite light-wash mom jeans. For the statement piece, I threw on a colorful Hawaiian shirt. I also borrowed this shirt from my boyfriend. It is obviously big on me, but it works for this look.
For shoes, I put on a pair of brown Chelsea boots. As my only accessory, I wore a black belt.
I adored this look! It was cool, comfortable, and cute. As with the previous look, the jeans were a bit much for the weather but still manageable. The shirt was definitely the winner in this 'fit. I promised not to steal it, but it is so colorful and soft — I'll be borrowing it again.
Outfit #3: Wednesday – Nancy Wheeler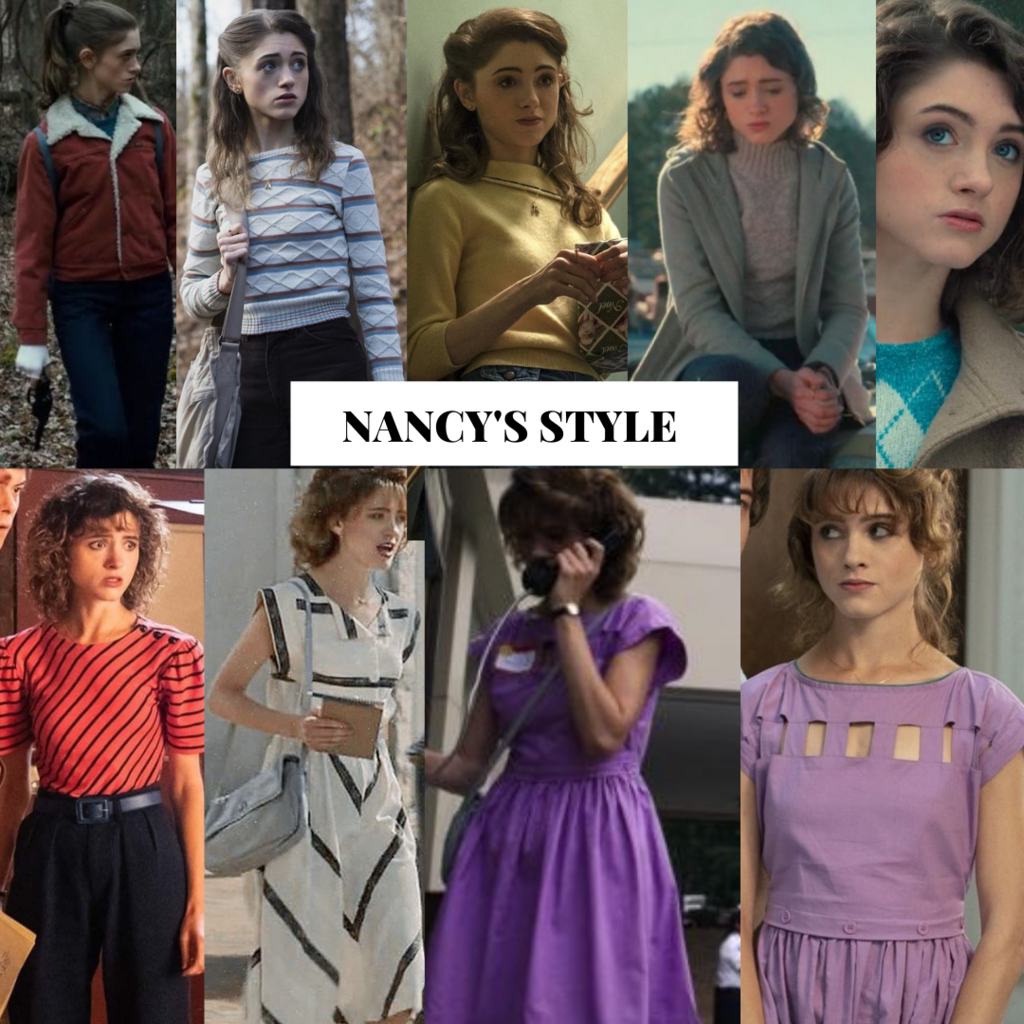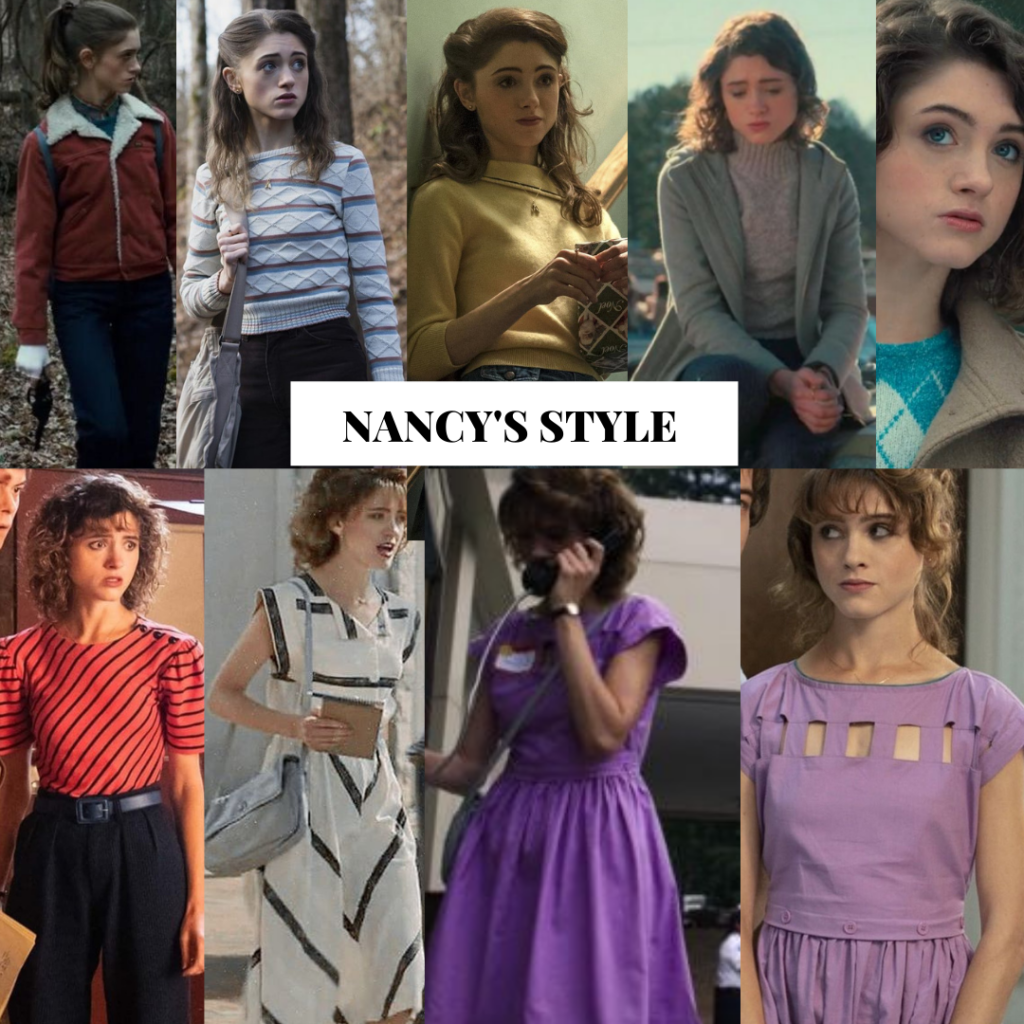 Nancy Wheeler is part of the Teens team. She starts off trying to be part of the popular crowd but quickly realizes she is more comfortable doing her own thing. Nancy is also Mike's older sister, Steve's ex-girlfriend, and Jonathan's girlfriend. She is driven, logical, and intelligent.
As Mike's older sister, Nancy tries to care for the Party, especially Eleven and Max. She is also an aspiring journalist and an ace student. Style-wise, she is girly and preppy. For the first two seasons, she is mostly seen in corduroy pants, knit sweaters, and cute blouses.
For season three, Nancy started dressing more maturely, with A-line dresses and skirts and kitten heels, after working a summer internship at the local newspaper.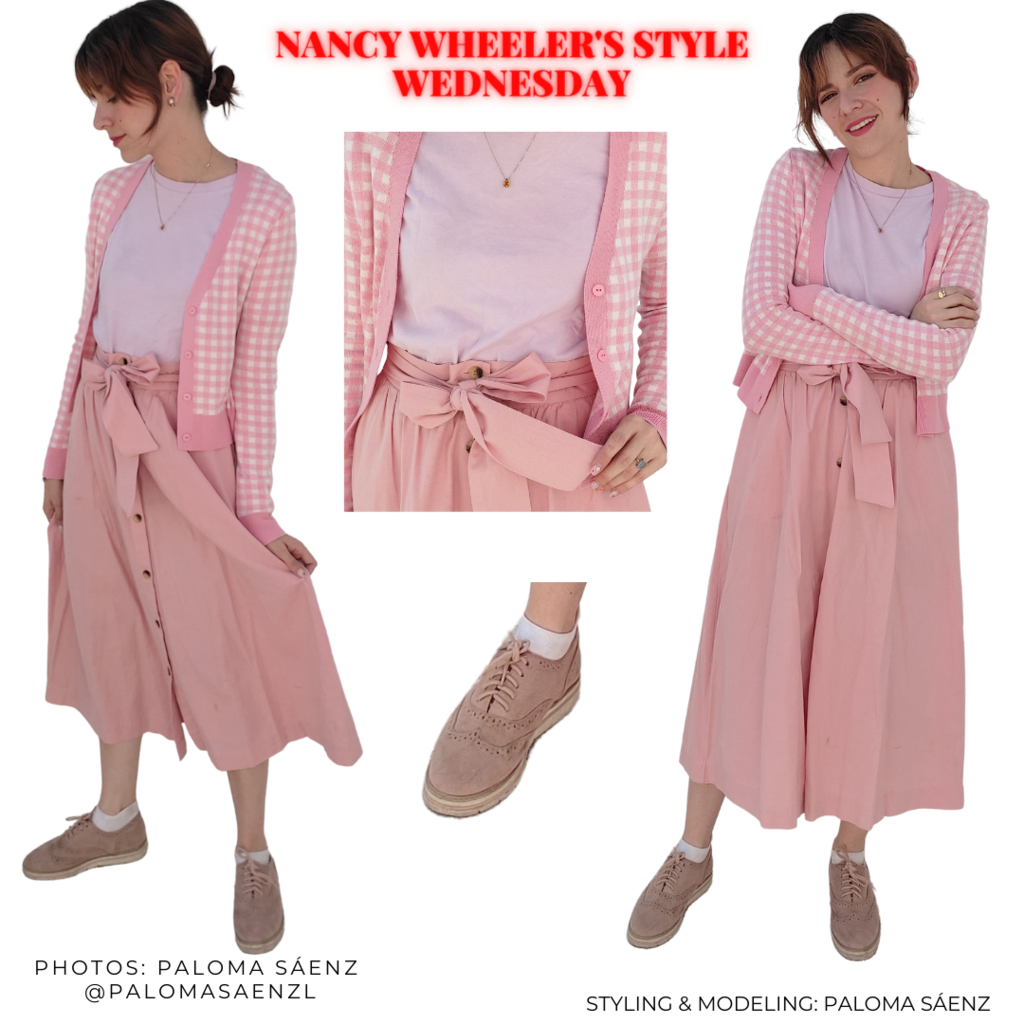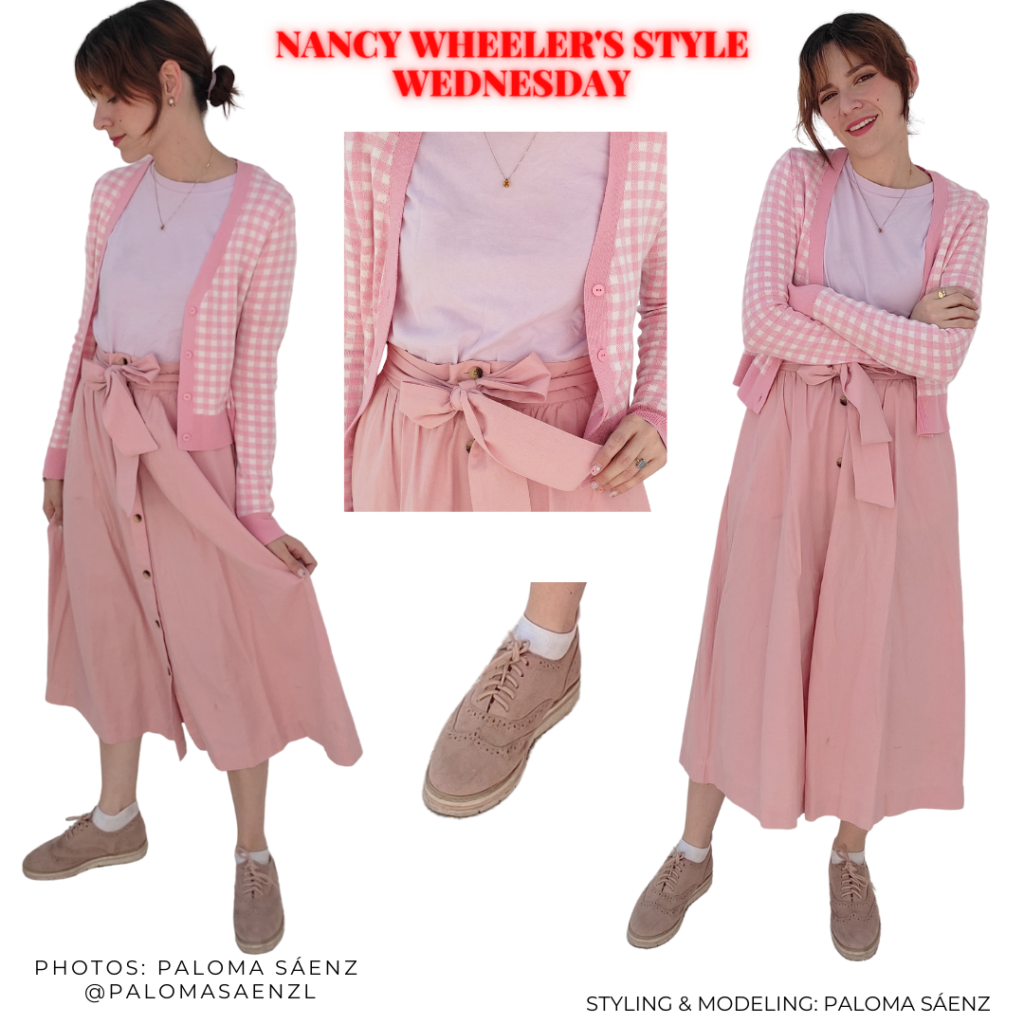 Products:
To recreate Nancy's style, I took a lilac t-shirt and wore it with an A-line pink midi skirt. It is summer, but no Nancy outfit would be complete without a sweater. So, I put on a pink gingham cardigan.
Nancy mostly wears kitten heels in white or light neutral colors, but I didn't have a pair like that. I instead went with a pair of dusty pink Oxford shoes, to keep her preppy but comfortable style. Finally, I accessorized with a pair of pearl earrings for a feminine and posh look.
Isn't this adorable? I felt so pretty throughout the day. Out of all the Stranger Things outfits I wore this week, this aligns best with how I like to dress during the summer. Unfortunately, the fabrics of the items, especially the sweater and skirt, were not great for hot weather.
I'd make a few changes to this outfit if I was styling it just for me, like changing the shirt for a lilac camisole, getting rid of the sweater, and changing the shoes.
Outfit #4: Thursday – William 'Billy' Hargrove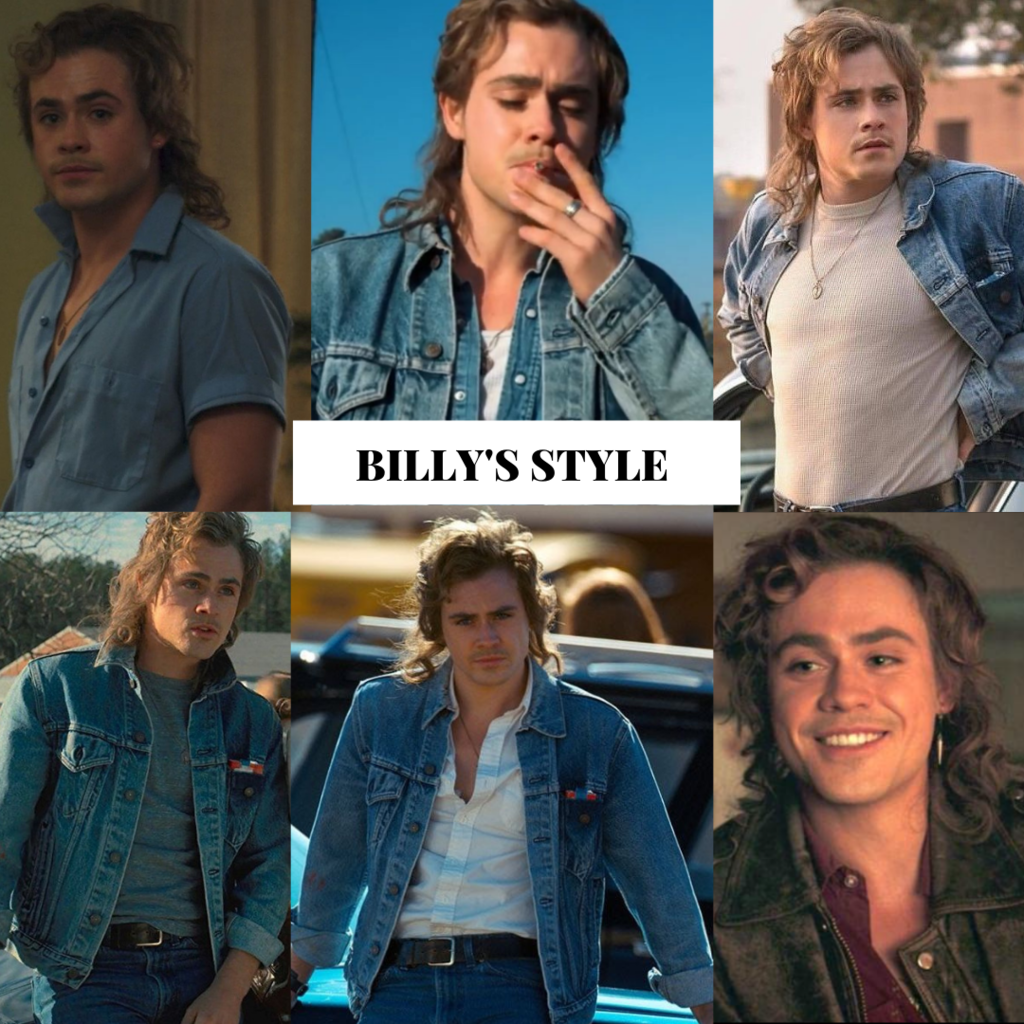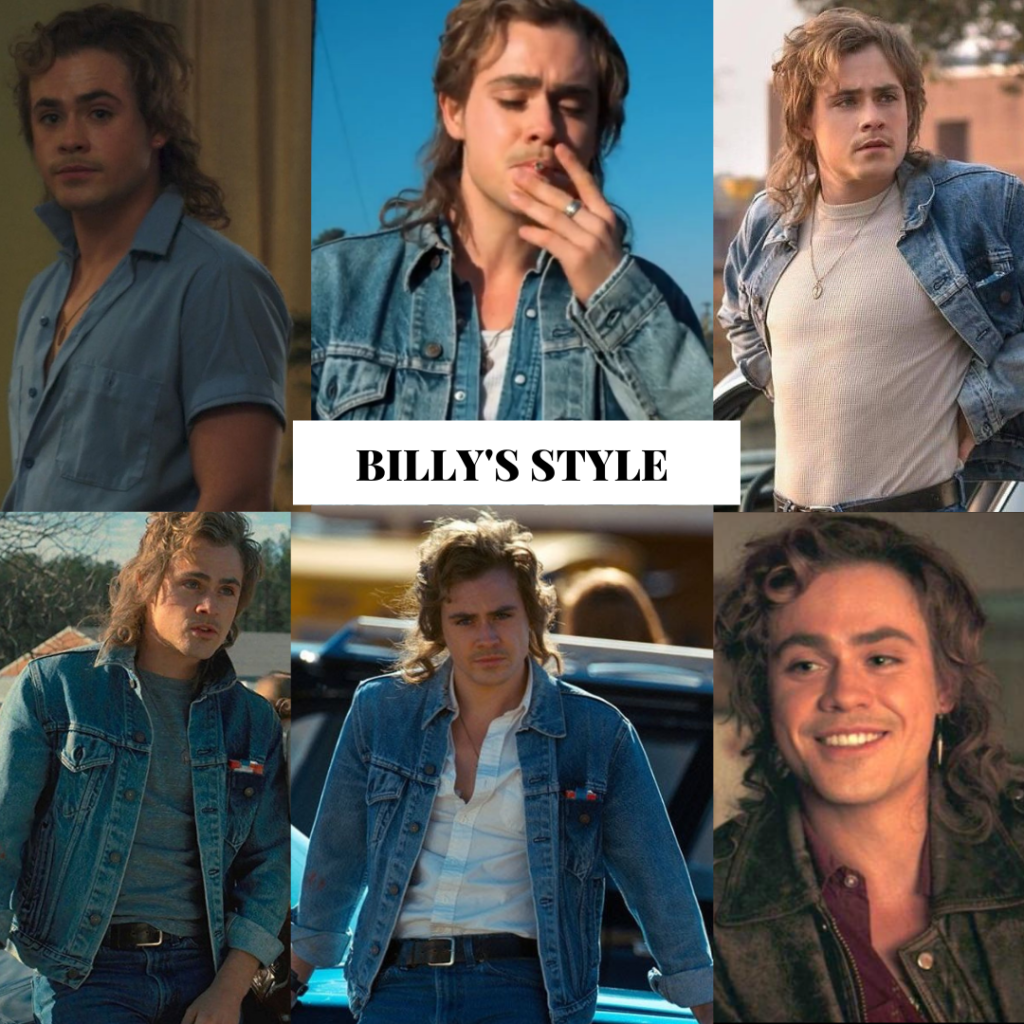 Billy Hargrove is Max's older step-brother and one of the main villains of seasons two and three. As soon as he arrives, he takes Steve's big man on campus title and becomes the biggest human threat to the Party and the Teens.
Billy, to me, is the most interesting and complex villain of the show to date. Absolutely terrifying. He is as handsome as he is toxic. No amount of tragic backstory can change how awful he is.
Billy's style is meant to draw attention. He knows he is attractive and plays heavily into that. With his ultra-tight jeans, unbuttoned shirts, denim jackets, and a perfectly-imperfect mullet, Billy is the quintessential bully-type character dialed up to a hundred.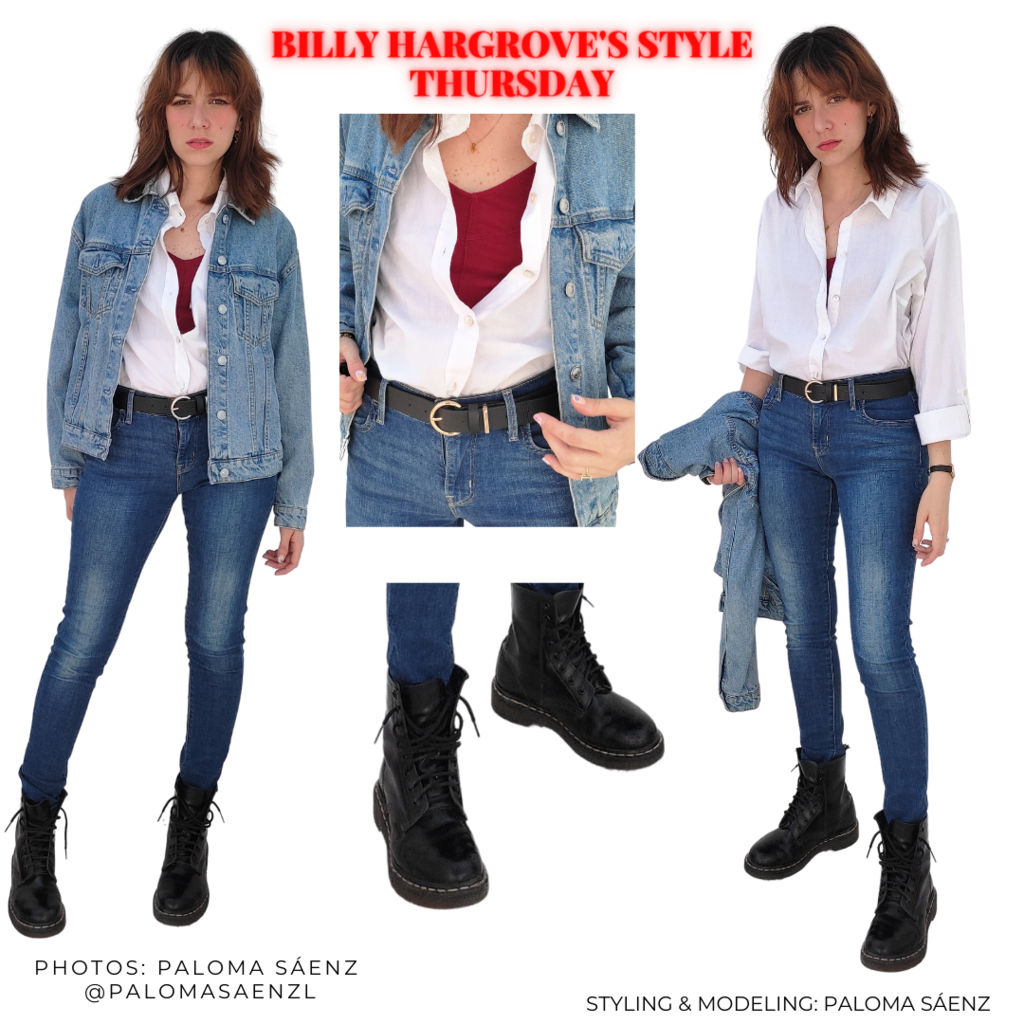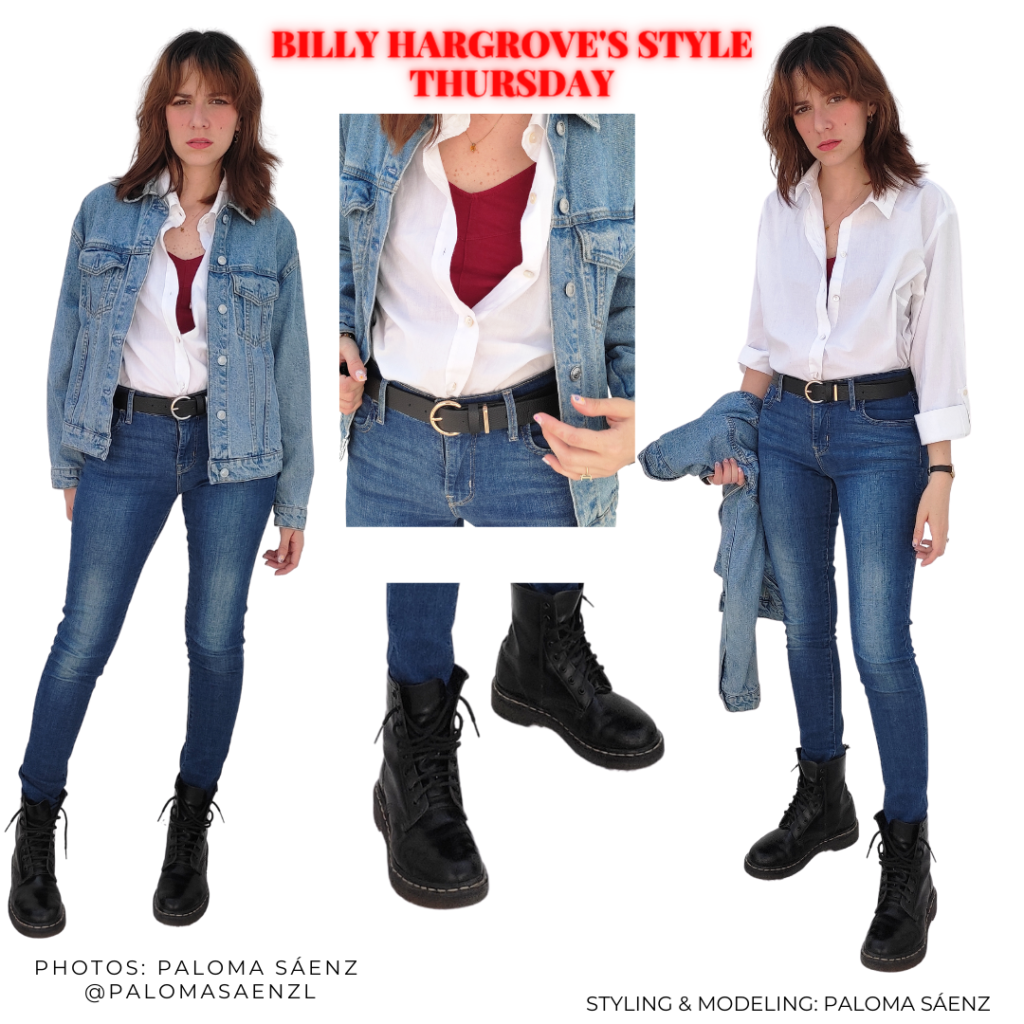 Products:
To create my Billy outfit, I started with a red bralette and skinny jeans. Then, I put on an almost-open white shirt and tucked it into the jeans. He loves his black boots, so I went for my black Doc Martens.
Layers and accessories are important for Billy's look. So I threw on a denim jacket and added a black belt. He also has a single earring, so I just wore a tiny gold earring as an accessory.
In the fall season, this would've been the perfect look. I really love it, but I was so uncomfortable because there were so many layers involved. The weather was just too hot for this. And, it had been a hot minute since I last wore my skinny jeans.
If I had to adjust this for summer, I'd go for mom jeans and just wear the bralette and shirt. And maybe I'd rock a pair of sneakers instead.
Outfit #5: Friday – Maxine 'Max' Mayfield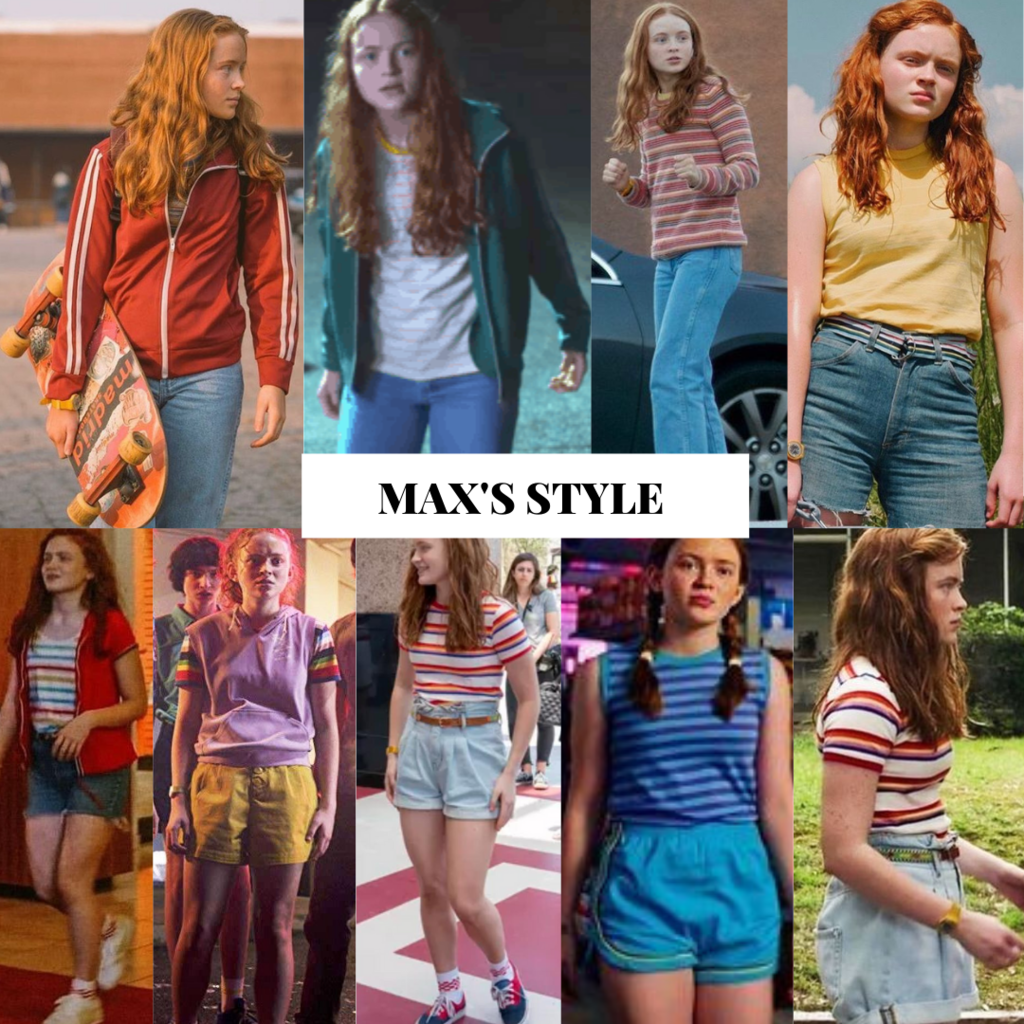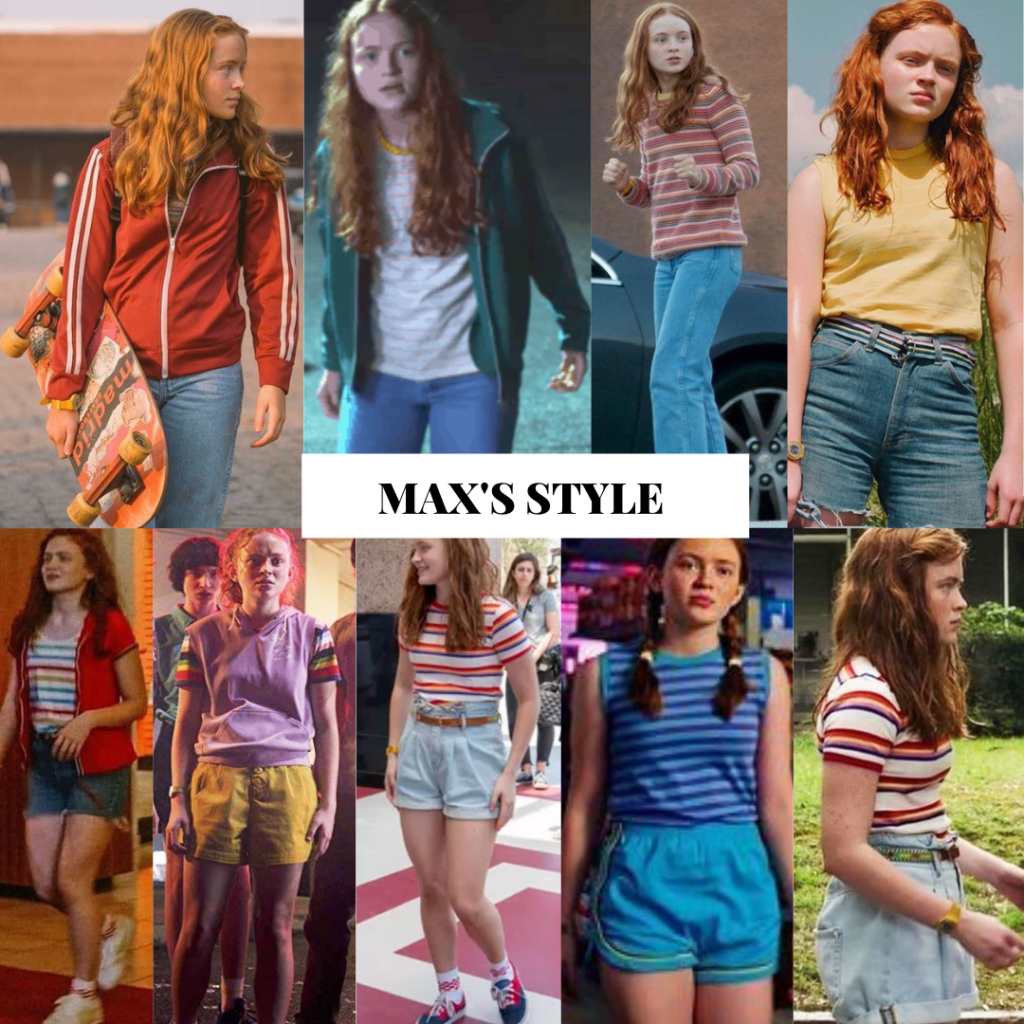 Max Mayfield is the second female member of the Party, introduced in Season 2.
Max is determined and has a dry sense of humor. She becomes a part of the group because she has similar interests to the boys. When she meets Eleven, they become best friends.
Max has an awful relationship with her brother Billy and he is the source of most of her anguish and trouble.
Her style leans tomboy, with pants, sweatshirts, and sneakers being Max's most worn items. But she also enjoys bright colors, especially yellow, blue, lilac, and red.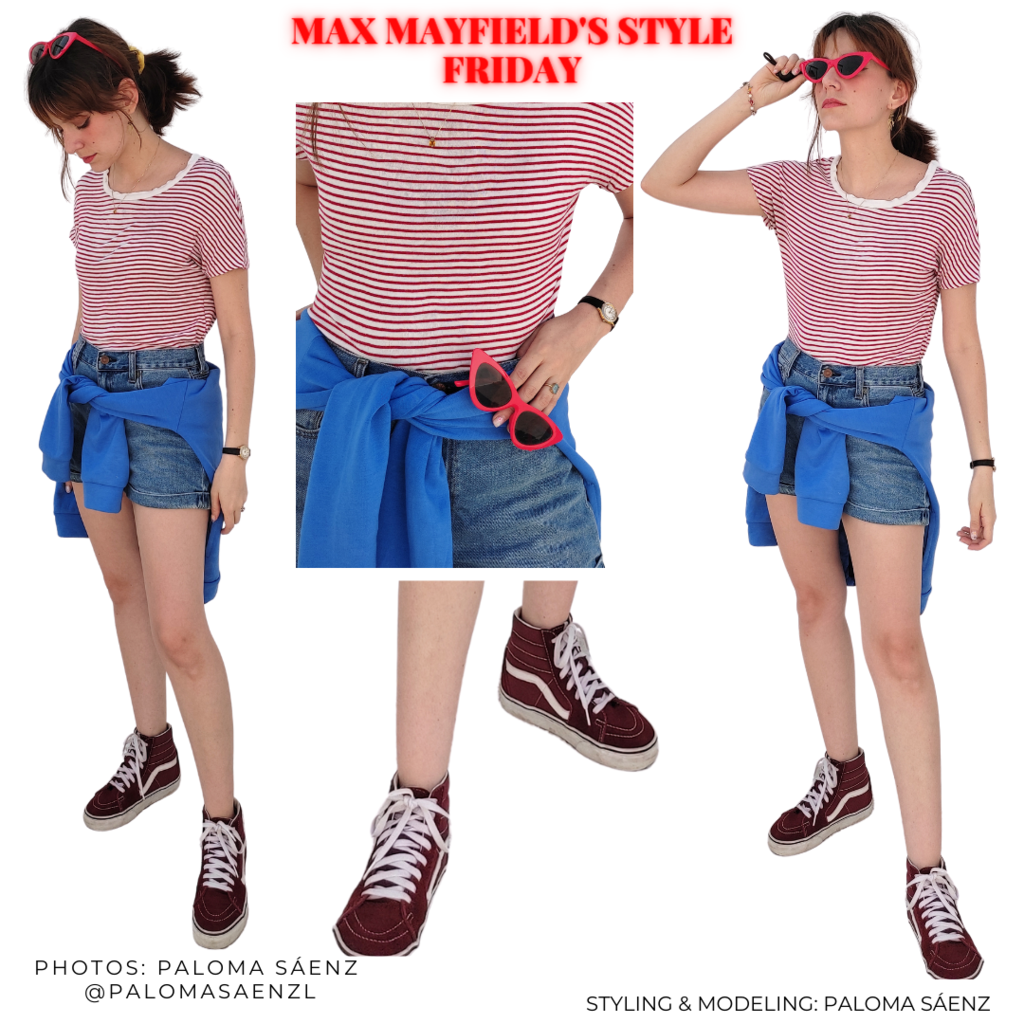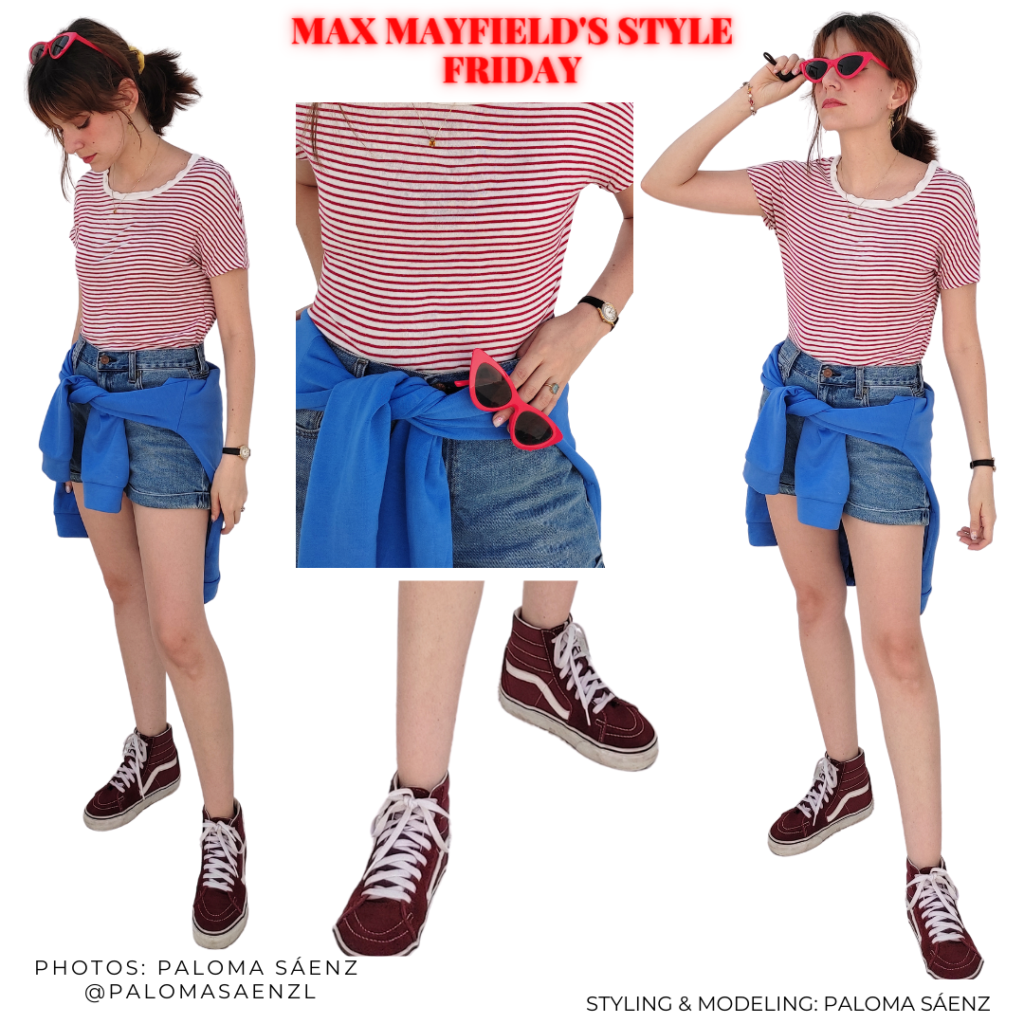 Products:
To create Max's outfit, I wore a red and white striped crop top and denim shorts with a mom fit. She usually wears a sweatshirt or hoodie, so I tied a blue hoodie around my waist. Max is a skater, which means her preferred shoes are Vans. Naturally, I wore my dark red high-top Vans.
To accessorize, I took my cue from her season three shopping montage. I tied my hair up with a yellow scrunchie and wore red-framed sunglasses.
Oh, Max! I'm so thankful for your laid-back style. This was the perfect Friday outfit. It was so comfortable and summer-friendly. The outfit was more casual and laid-back than I usually prefer, but it was fine. I will admit that I changed to go out that night. It was date night and I wanted something cooler and more put-together.
Final Thoughts
I loved the first season of Stranger Things — it hooked me right away. I'm a huge Stephen King and horror/sci-fi movie fan, so this was up my alley. The music, the style, the references, the story, it all appealed to me. I watched the other seasons, but none of them wowed me like the first.
I've already watched the first part of season 4, and without going into spoiler territory, this was my least favorite season. Some episodes are among the best in the series, but the season felt clunky. There were also a few characters, like Joyce, that were underused.
My favorite current characters are Steve, Nancy, Billy, and Hopper. I loved Bob and will grieve over him forever. Billy is by far the most interesting to me. He brought a lot of dynamism to the show, and he is my favorite villain by far.
Fashion-wise, this week was both fun and comfortable. The day mom jeans became trendy again was one of the best days of my life. Stranger Things is a summer show, and I'm thankful they have outfits appropriate for summer. Aside from Billy's, I would wear most of them during summer.
My favorite outfits were Hopper's casual-but-fun look, Eleven's psychedelic '80s outfit, and Max's summer chill look. If and when I borrow my boyfriend's shirts again, I will definitely re-wear these outfits as-is.
If you are looking for fun summer fashion inspiration, marathoning the new season of Stranger Things is a great idea. It's full of chill, cute, and funky fashion inspiration. You have most items you'll need already, but if you don't, borrow them from your parents' or partner's closet to complete the looks. I promise you won't regret it.
What do you think of these Stranger Things outfits?
Do you like Stranger Things? Which character is your favorite? Have you seen the new season? Which outfit would you wear? Let us know in the comments below!
If you like these stranger things outfits, you might also want to check out these articles below –