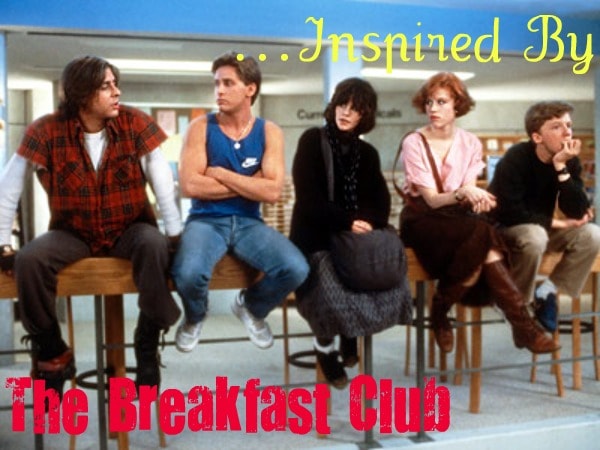 School is on everyone's mind as we approach the final weeks of August. One of my favorite school-themed movies is The Breakfast Club, and it's the perfect source of fashion inspiration for back-to-school. In case you've been living under a rock, here's the basic plot: five high schoolers are held captive in detention one Saturday, and throughout the course of the day, their struggles and similarities are revealed. This film is as iconic to the eighties as Madonna and hair bands, and is today's go-to source for back to school fashion ideas.
The Breakfast Club takes place during the winter, so I tweaked the outfits a bit to work for a college campus during the fall. Ready for some fresh inspiration? Read on!
Brian – The Brain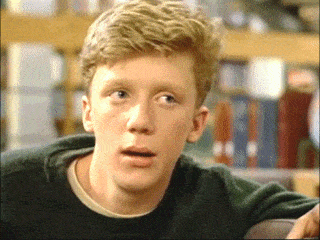 Anthony Michael Hall plays Brian Johnson, the studious nerd of the group. His style reflects his less-than-hip persona — throughout the day, he wears a simple knit sweater and a basic pair of khakis. This isn't to say that you can't turn his ensemble into something stylish for you to wear!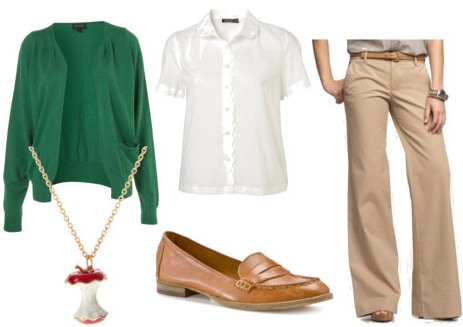 Cardigan, Blouse, Khakis, Loafers, Necklace
Steal Brian's look by sprucing up your basics. Rock a pair of wide-leg khaki chinos with a Peter Pan-collared blouse. Layer on a forest green cardigan for those chilly college classrooms, and slide on your favorite pair of penny loafers. Finish the look with a necklace — this apple one reflects Brian's "teacher's pet" nature.
Andrew – The Athlete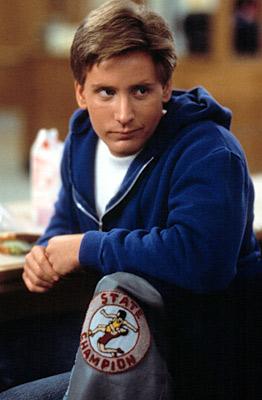 Emilio Estevez plays Andrew Clarke, a varsity wrestler and the "cool guy" of the group. He wears comfortable, athletic clothes throughout the day. To steal his style, avoid the track pants and sloppy hoodie — instead, look for vintage athletic-inspired pieces and pair them with preppy accessories.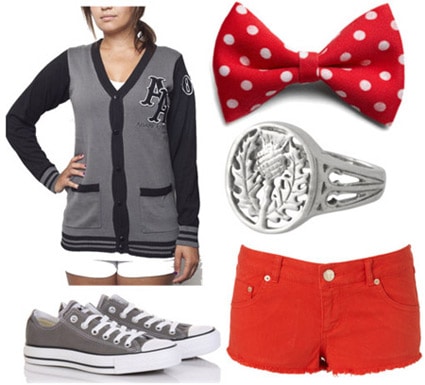 Cardigan, Shorts, Sneakers, Ring, Bow
This varsity-inspired cardigan gives you the perfect jock-ette look, and it's extra adorable when worn with a cute pair of red shorts. Make the outfit special by adding retro sneakers, a signet ring, and a girly bow to the mix.
Allison – The Basket Case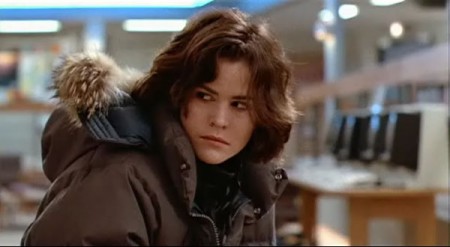 Allison Reynolds, played by Allie Sheedy, is living in her own little world for the better part of the movie. She's the, um, eccentric one in the group, and we find out at the end of the movie that she simply came to detention because she had nothing better to do. She hides behind a huge black winter jacket throughout the film, but you can still build an outfit based on her dark style.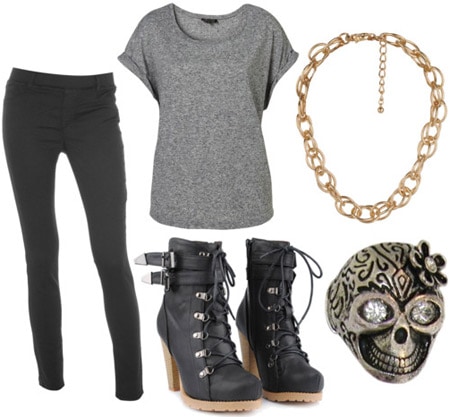 Jeans, Shirt, Boots, Necklace, Ring
To get Allison's look, start with basic pieces like black skinny jeans and a loose gray shirt. Toughen up the look by adding a badass pair of high-heeled combat boots, a chain necklace, and a skull ring.
Claire – The Princess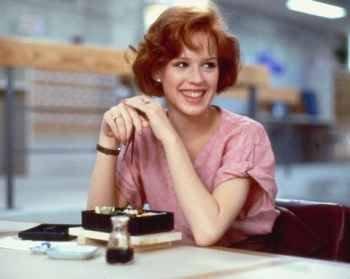 Claire Standish is played by Molly Ringwald, the queen of eighties teen movies. Claire, the most popular girl in school, is actually sent to detention for cutting class — to shop! Her pink and brown Ralph Lauren ensemble is girly and sophisticated, perfect for any occasion.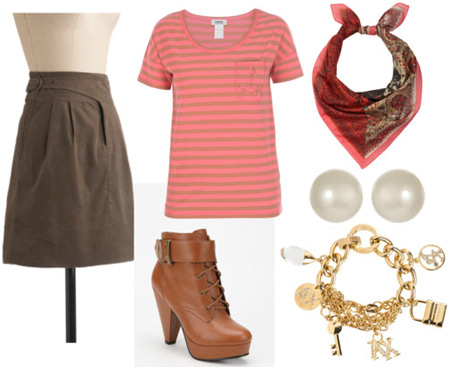 Skirt, Shirt, Scarf, Boots, Charm Bracelet, Pearl Studs
Snag Claire's pretty style by tucking a patterned pink shirt into a calf-length brown corduroy skirt. Add plenty of girly accessories, like a fancy scarf, charm bracelet, and pearl studs, just like the ones Claire wears in the film. Finish with a pair of brown boots.
Bender – The Criminal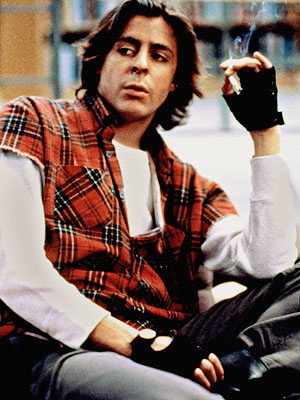 Judd Nelson plays John Bender, the rebel of the group. Bender has the best one-liners throughout the film, and makes most of the movie's most poignant statements. His grungy style is fun to imitate and easy to girl up.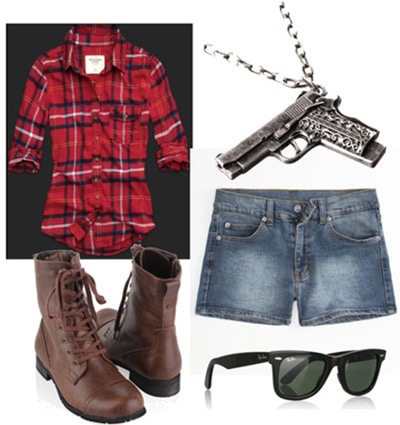 Shirt, Shorts, Boots, Sunglasses, Necklace
Start with a red flannel shirt and pair it with denim shorts for a perfect Bender-inspired base look. Up the style factor with a pair of combat boots, wayfarers, and a tough necklace. See? Grunge can be cute!
What Do You Think?
How many times have you seen the Breakfast Club? What are your favorite parts? Who is your favorite character? What are your favorite back to school films? Whose style inspired you the most? Let us know what you think by leaving us a comment!