This post may contain affiliate links, which means we may receive a commission if you purchase through our links. Please
read our full disclosure here
.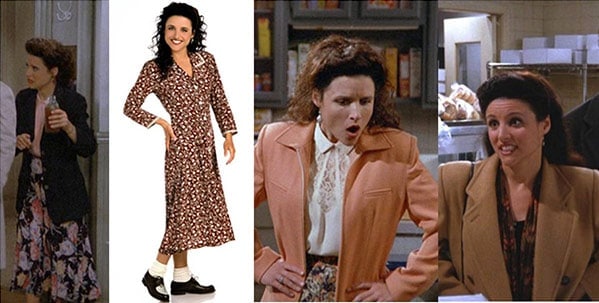 Over the last couple of years, fashion commentators, style blogs, and even the New York Times started to notice an unlikely trend: Girls working in fast-paced, stylish industries like journalism, PR, and fashion were seen rocking matronly floral dresses, oversized blazers and cardigans, and old-fashioned beehive hairdos.
No, these girls aren't just a bunch of Big Love extras in action (although Chloe Sevigny is credited as one of the driving forces in the resurgence of this trend). Rather, Elaine Benes, the pint-sized heroine of '90s TV juggernaut Seinfeld, is cited as the source material for this new look.
I'm sure all of you are familiar with Seinfeld, the infamous "show about nothing." Seinfeld follows four friends living in New York City, and the everyday, petty injustices they face in everyday life. What makes this show hilarious and unique is the quirky observational comedy, covering topics from dry cleaners to answering machines, parking garages to library books. This vein of humor, combined with dozens of catchphrases and memorable characters, made for one of the most successful TV shows of all time.
This TV show certainly didn't set out to create a fashion icon, but often the greatest inspiration comes from the most unexpected places. Ready to snag some of Elaine's unique style? Read on!(P.S. Old School TV Style is a new series here. Don't forget to read last week's post on Ally McBeal fashion!)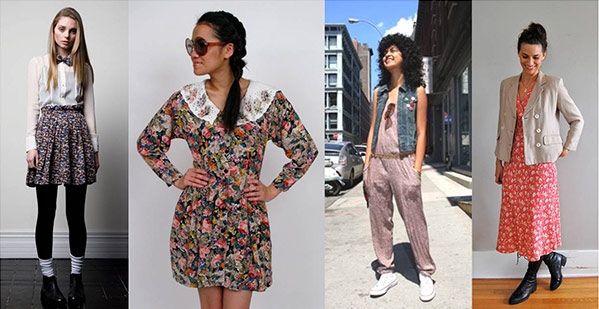 How cool do these girls look in their Elaine-inspired outfits? | Photo Credits: 1, 2, 3, and 4
Elaine Benes' Style
Elaine Benes, one of the four main Seinfeld characters, is intelligent, assertive, brutally honest, and sometimes a little self-centered. The last thing Elaine thought about when getting dressed was how to look sexy. Working in a male-dominated industry, Elaine wanted to dress in a feminine way, while always looking powerful and professional. Also, Julia Louis-Dreyfus (who played Elaine) was pregnant twice while Seinfeld was filming, and trying to hide her belly was part of what influenced Elaine's style.
Floral dresses were Elaine's signature look. These dresses often featured peter pan collars, long sleeves, and hit from mid-calf to ankle length. Her dresses looked more "granny-esque" than grungy, though, thanks to the girlish touches she'd add, like pearls, lacy socks, and lipstick. Her color palette was more muted than colorful, often featuring maroons, grays, and navy shades.
Due to New York's frigid weather and the professional atmosphere of Elaine's job, she always topped her dresses with an oversized cardigan, a shoulder-padded blazer, or a floor-length trench coat.
Elaine also lived in chunky shoes. Remember those pilgrim-esque buckled shoes your mom bought for you to wear to church when you were in elementary school? Or, those saddle oxfords and Mary-Janes? Those styles were Elaine staples – comfortable, practical, and oh-so '90s fabulous!
The last major feature of Elaine's style was her signature mess of curls. Elaine poofed the front section of her hair far before Snooki came along, clipped it half up, and wore the rest down. To vary it, she's sometimes braid the rest of her hair. To achieve this look, add some volumizing mouse to your crown, and scrunch the rest with texturizing cream. Carefully arrange the section of your hair from ear to ear in a delicate bouffant, and hold it in place with bobby pins.
Outfit Inspiration
To keep from looking costume-esque, I took many of Elaine's signature pieces and updated them to work for today's fashions. Check out the looks below!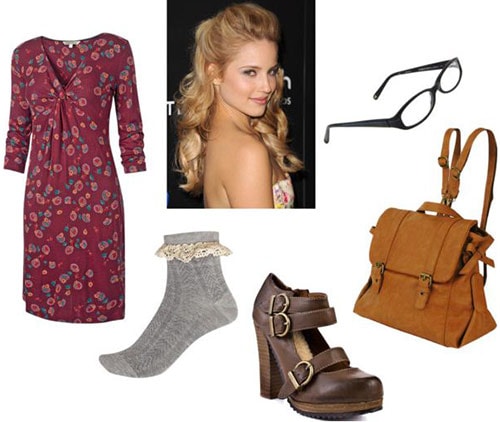 Dresss, Socks, Shoes, Glasses, Backpack
The floral dress featured above looks like something Elaine would have worn, but with a more fitted cut and shorter hemline! For some of Elaine's dork-chic style, pair lacy socks with a chunky Mary Jane heel. If this look is a little too extreme, the dress would look awesome with Mary Jane ballet flats instead. Add a pair of glasses and a backpack purse – so '90s fab! For a modern take on Elaine's signature hair, try the look Dianna Agron is rocking — big, wavy curls rather than crispy, tight ones.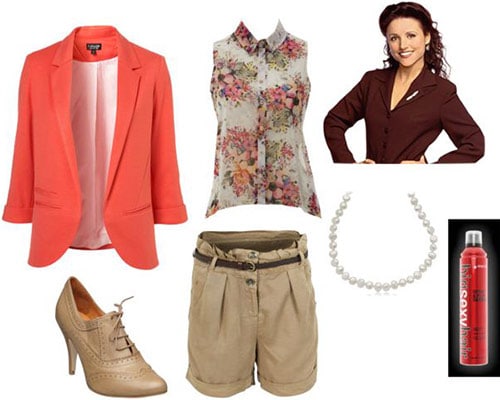 Blazer, Blouse, Shorts, Heels, Necklace, Hair Product
This outfit is a remix of Elaine's staple items, but reinvented for a totally modern look. I love the look of loose, high-waisted khaki shorts. Leave them how they are, or cuff the inseams for shorter shorts if that's more your style. This blouse might look like something your Grandma would wear at first, but it will look chic when tucked into your high-waisted shorts and layered under a boyfriend blazer. Finish with oxford heels, pearls, and a big, sexy hairstyle!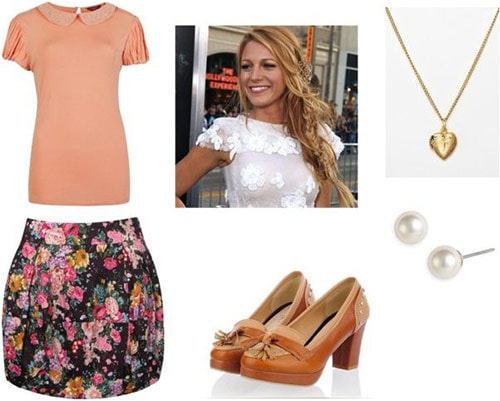 Blouse, Skirt, Loafers, Earrings, Necklace
A Peter Pan blouse will look fresh and modern when paired with a shorter skirt. This featured skirt is shorter than something Elaine would have worn, but the floral design pays homage to her style. These cute loafers will complement the outfit without looking too sexy, thanks to their low, chunky heels. Finish with simple earrings, a necklace, and a messy braid.
What Do You Think?
Do you watch Seinfeld reruns? What is your favorite episode? What's your favorite catchphrase from the series? What do you think about the reemergence of Elaine Benes' style? Do you think it looks dopey, or cool in an edgy, retro sort of way? What other television shows would you like to see CF cover? Leave a comment and lets discuss!!