This post may contain affiliate links, which means we may receive a commission if you purchase through our links. Please
read our full disclosure here
.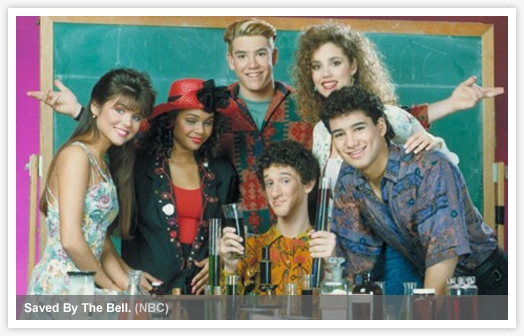 If there is a TV show more loved by the Saturday morning cartoon crowd than Saved by the Bell, I certainly have never heard of it!
That's right, girls: this week we're taking on the poofy hair, innocent charm, and fourth-wall-breaking antics of our favorite high school sitcom, Saved by the Bell. The show followed six friends at fictional Bayside High as they made their way through the exciting adventure known as growing up in the suburbs. Saved by the Bell was a smash hit and launched the careers of actors who are still big names in the business today, like Mario Lopez, Tiffany Amber Thiessen, and Mark-Paul Gosselaar.
The show ran from 1989 to 1993, and was followed by two spin-off series. As for the fashion? You can bet that the show's young and charismatic cast perfectly embodied the carefree, casual style of southern California during that era. Want to steal the look of the gorgeous female ensemble? Read on!
(For more on Old School TV Style, check out our posts on My So-Called Life, Elaine from Seinfeld, Ally McBeal, and Three's Company.)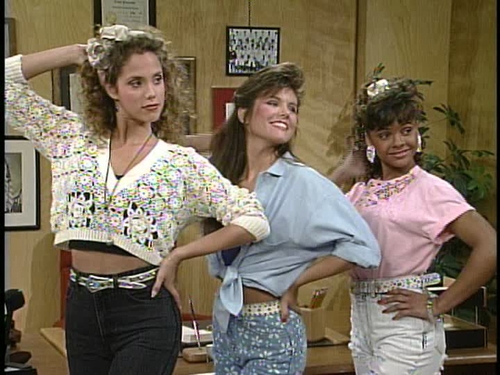 More About Saved By The Bell
In the eighties and early nineties, light-hearted sitcoms often touched on important issues concerning the youth of our nation.
Saved By The Bell toed the line on the side of innocence, but still tried their best to draw attention to struggles that teens of the time might have been facing. For example, one episode showed Jessie Spano, one of the leading ladies of the series, going overboard while taking caffeine pills to study for a test. Moral issues such as bullying, divorce, cheating, rivalry, and financial hardships were covered, but subjects involving sex were noticeably absent from the discussion.
Saved By The Bell's format is credited with inspiring TV shows like Dawson's Creek, 90210, and The O.C.
Outfit Inspiration
This show featured cute storylines, cute boys, and especially cute outfits. Below, we'll break down the leading ladies' unique styles!
Lisa Turtle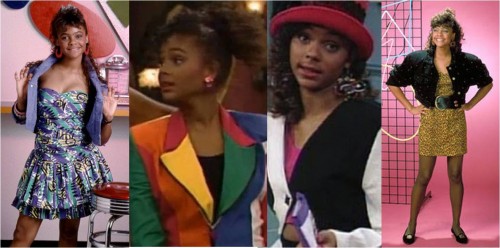 Lisa Turtle, portrayed by Lark Voorhies, was Bayside High's resident fashionista and gossip queen. Both of her parents were surgeons, so often her shopaholic and sometimes spoiled personality created obstacles for the gang. Screech's undying love for Lisa also served as a running gag throughout the series.
Lisa is often seen wearing designer clothing, and even goes to New York's Fashion Institute of Technology after she graduates high school. Bright colors and patterns checker Lisa's wardrobe, and she never leaves home without several bold accessories and at least one graphic pattern. Lisa's statement jackets are another one of her signatures. Her clothes remind me of the Barbies I used to play with as a kid!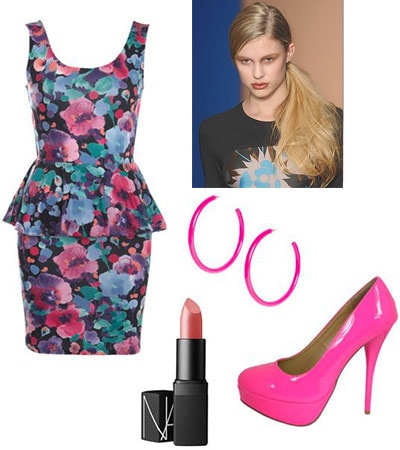 Dress, Earrings, Shoes, Lipstick | Hair photo: ELLE
To get Lisa's look, a floral peplum dress gives you some '90s flair without going overboard. Add bright pink shoes and earrings to mimic Lisa's affinity for bold accessories. Finish the look with frosty pink lipstick and a more modern take on a late '80s side ponytail.
Kelly Kapowski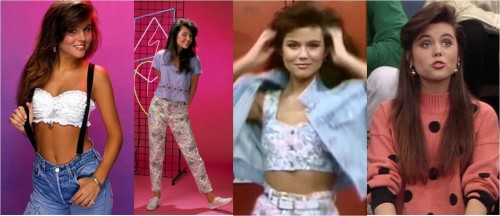 Despite Saved By The Bell's squeeky-clean content, Kelly Kapowski (played by Tiffany Amber Thiessen), will forever be remembered as one of the most prominent sex symbols of the '90s.
Kelly, who was the primary love interest of main character Zach Morris, was the most popular girl at Bayside and the captain of the cheer, softball, swimming, and volleyball teams. Unlike the other characters, who were relatively well-off, Kelly's family struggled with money, and during one storyline, Kelly had to take a job at the gang's favorite hangout, The Max. Kelly went on to marry Zach in a spin-off movie.
Kelly's outfits are a little more form-fitting and subtly sexy than those of her co-stars, often involving cropped tops and fitted pants. Her signature colors are pastels, and her look is very girly: she's often seen wearing floral prints, mary jane shoes, and always has the most perfectly poofed bangs you can imagine. Also, being the most athletic girl in the group, Kelly often rocks bike shorts, tanks, and colorful scrunchies.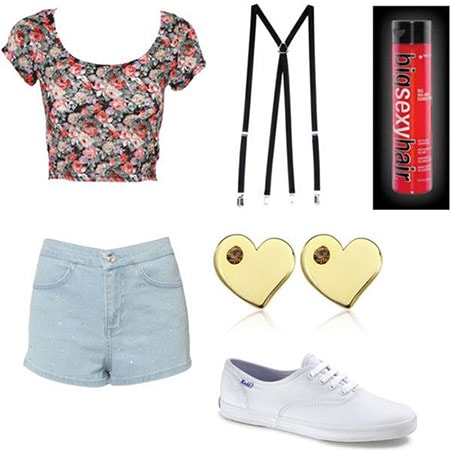 Top, Shorts, Shoes, Earrings, Suspenders, Hair Product
To get some of Kelly's style, go for this fitted cropped top paired with some high-waisted shorts for coverage. Add a pair of suspenders for an extra does of '90s style if you feel daring! Finish the look with girly earrings and a pair of classic Keds. Be sure your hair has plenty of volume, and you're good to go!
Jessie Spano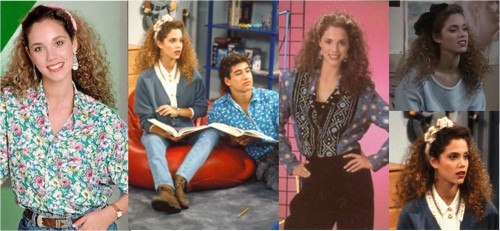 Photo Credits: 1, 2, 3, 4, and 5
Jessie Spano, played by Elizabeth Berkley, was the resident feminist and academic of the group. She spent most of her time studying and volunteering for causes that were important to her. Outspoken and sometimes neurotic, Jessie became the love interest of A.C. Slater, and their tumultuous relationship was a main plot point in many episodes.
Jessie's style is the most understated of the girls in the group. She doesn't wear patterned clothing as frequently as her friends, opting instead for muted colors and neutrals. In an effort to look grown-up, Jessie chooses collared shirts and cardigans instead of cropped tops. Her true style signature is a main of curly hair that she usually pulls back with a bow headband.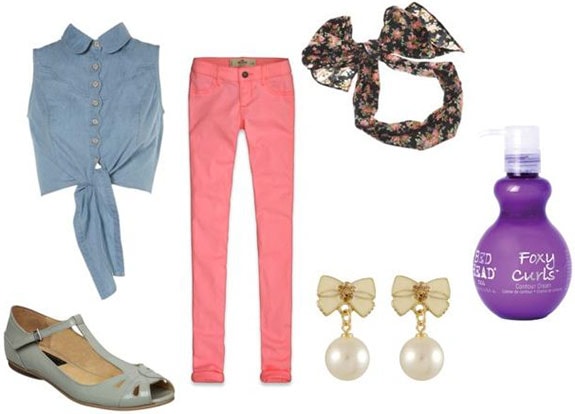 Top, Pants, Headband, Earrings, Shoes, Hair Product
To recreate some of Jessie Spano's style, a collared chambray tie-waist top and pink jeans form a great base. Jessie was sometimes teased because of her height, so she usually rocked flats. Coax some natural texture out of your hair with curling cream, and finish with conservative but cute earrings and Jessie's signature headband.
What Do You Think?
Did you grow up watching Saved By The Bell? Who was your favorite character? Which character do you think had the best style? Did you catch any of the spin-off TV shows or movies? What other old-school TV shows would you like to see CF cover? Leave a comment and let us know!