This post may contain affiliate links, which means we may receive a commission if you purchase through our links. Please
read our full disclosure here
.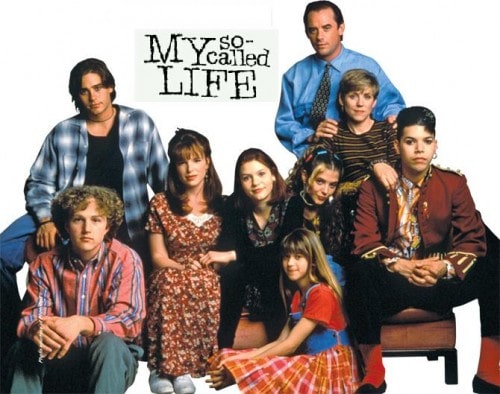 By now, I'm pretty sure you're all aware of how I feel about Netflix — the movie selection might be so-so, but their old school TV show offerings are absolutely incredible! Over the last few weeks, we've explored the fashion of some classic TV shows from decades past. This next show was nearly impossible to find on DVD or catch on syndication over the last fifteen years, but thanks to good old Netflix, you can catch its entirety on your computer. You all knew this cult-favorite was coming…today, we're focusing on My So-CalledLife.
In addition to launching the careers of Claire Danes, Wilson Cruz, and Jared Leto, My So-Called Life framed teenage years as dramatic, trying, and frustrating, which contradicted primetime's usual depiction of cheerful, fun high school years. Unfortunately, My So-Called Life only ran for one season before it was cancelled. However, many believe the show's short life only fueled its cult status.
In addition to memorable characters, this show of course also featured tons of memorable '90s fashion. Read on to check out some looks inspired by My So-Called Life!
(For more on Old School TV Style, check out our posts on Ally McBeal, Three's Company, and Elaine from Seinfeld.)
More on My So-Called Life…
This hour-long drama was completely unique, both in its subject matter and structure. The show utilized typical prime-time soap opera formatting, but instead of confining important social issues like homophobia, child abuse, school violence, adultery, censorship, learning disabilities, teenage alcoholism, and drug abuse to single, "after school special" episodes, story arcs over many episodes would revolve around these themes.
Most episodes were narrated by Angela Chase, the central character in the series. Her innocent and moral way of looking at the world provided a sharp contrast to the obstacles faced by many of her friends. She had a traditional nuclear family and a solid upbringing, which also separated her from the other main teenage characters in the show.
My So-Called Life aired from 1994 to 1995, so the clothes worn in the series completely reflected the '90s grunge fashion trends of the time. Floral patterns, flannel shirts, denim, Dr. Martens, knit sweaters, worn-in jeans, and funky accessories peppered each character's wardrobe. Below, I'll break down some of the main characters' styles a little further.
Angela Chase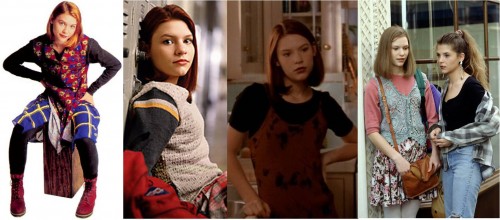 Played by Claire Danes, Angela Chase is the main character of the series and most of the events that happen in each episode are subject to her own interpretation. She goes on a path to self discovery throughout the show, and makes new colorful friends along the way.
While trying to figure out who she is, Angela also experiments with her sense of style. Angela is often seen mixing younger elements, reminiscent of things her mother might have bought for her (jumpers, mary-janes, tights, and floral dresses) with grungier elements that her friends Rayanne and Jordan favor. Sometimes, Angela's outfits seem a little mismatched and inconsistent. This reflects her character and current development state — she is still figuring out exactly who she is and who she wants to be, both on the inside and outside.
To steal Angela's look, go for sweet '90s staples like a floral dress and a denim vest, and add some unexpected edge with a pair of hot pink Dr. Martens. Add a cross-body bag and a cute bracelet. To mimic Angela Chase's signature hair, blow dry it straight but part it on the side for a more modern take.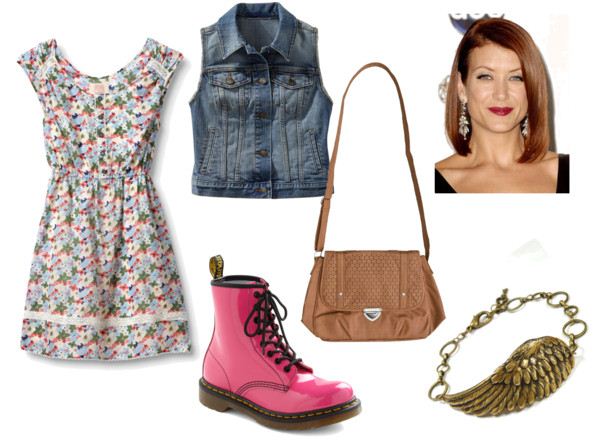 Dress, Boots, Bag, Bracelet, Vest
Jordan Catalano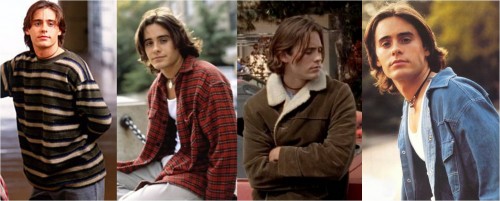 Jordan Catalano, played by Jared Leto, is Angela Chase's love interest throughout the series. He uses his bad-boy, rebellious image to hide the fact that due to a learning disability, he's nearly illiterate. Jordan is a talented musician and extremely insightful during certain situations.
Jordan's style is grungy from head to toe. He's often seen in flannel and chambray shirts, ripped jeans, sneakers, combat boots, and Sherpa jackets. Jordan almost always wears the same necklace, and rocks a signature longish haircut.
It's a little too warm outside to even think about rocking a sweater, but come fall, remember Jordan Catalano's laid-back and rustic style for perfect inspiration. Faded jeans might be somewhat dated, but they're instantly modernized by a cool skinny cut. Add your coziest flannel shirt, and pull on an oversized sweater. Finish with combat boots and a necklace.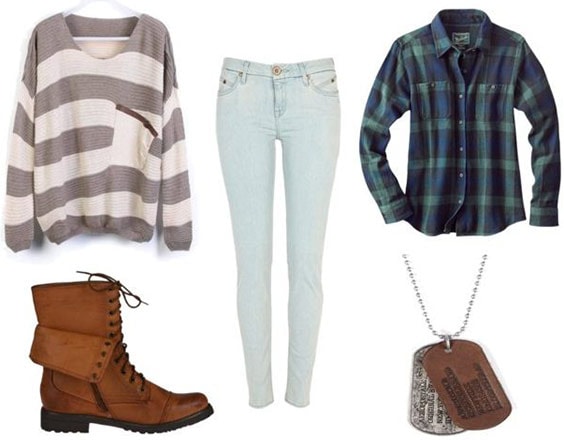 Sweater, Jeans, Shirt, Necklace, Boots
Rayanne Graff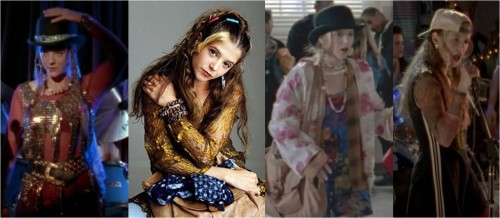 Rayanne Graff, portrayed by A.J. Langer, plays Angela's new best friend. She's wild, rebellious, and is later revealed to have a drug and alcohol problem. Rayanne is responsible for many of the shenanigans Angela gets mixed up in throughout the show.
Rayanne's style is super eccentric, and I absolutely love it! Rayanna mixes a plethora of colors, patterns, and textures in each of her outfits, and utilizes layering to create her unique look. She often pairs opposing pieces, like a polka-dot dress under a flannel shirt, or a baseball cap with pearls and a fancy dress. The button-down shirts and cardigans she frequently dons are almost always oversized.
A big part of Rayanne's look is her crazy mess of hair. She always has sporadic braids woven in, and either rocks a high ponytail or wears it down with a bowler hat or baseball cap. Colorful barrettes are a big part of Rayanne's style as well.
To get Rayanne's look (without looking like a bag lady), try pairing a chambray shirt with a patterned skirt. This patchwork skirt I found looks perfect and grungy, but a floral skirt would do the trick as well. Add a lace vest for some dimension, and pile on a beaded necklace and long earrings. Finish the look with a pair of Converse All Stars, colorful barrettes, and if you're feeling daring, a bowler hat!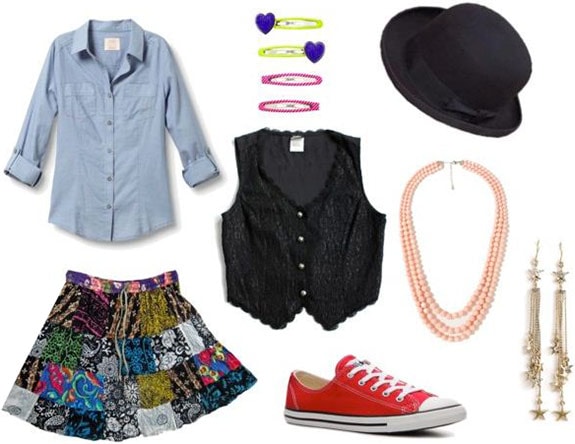 Shirt, Vest, Skirt, Shoes, Necklace, Earrings, Hat, Barrettes
Rickie Vasquez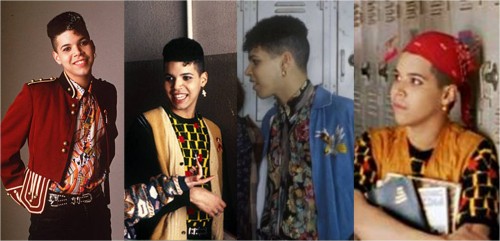 Wilson Cruz played Rickie Vasquez, one of TV's first gay teenagers. He's bullied in school and abused at home until his English teacher takes him in and becomes his mentor.
Rickie has a penchant for eyeliner and extremely bright colors and patterns. He's never one to shy away from putting together a unique outfit, and is the first to break any fashion "rules." Rickie is often seen in military-inspired jackets, floral and geometric prints, eccentric jewelry, and his signature earring and haircut.
To steal some of Rickie's style, don't be afraid to be bold and mix two loud pieces — like this floral bustier top and these geometric-patterned hot pants. Tone down the look a bit with a military parka, which gives you some coverage but also lets your bold prints peek through. These asymmetrical earrings are SO cool — the minute I saw them, I had to order them for myself! Finish by pinning a quirky brooch to your lapel, and adding a tough-looking bracelet.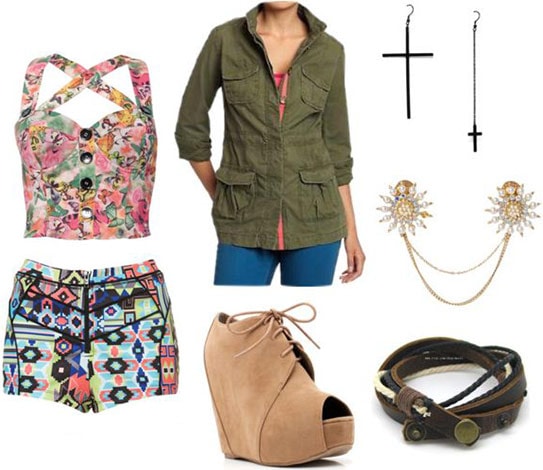 Top, Shorts, Jacket, Wedges, Bracelet, Brooch, Earrings
What Do You Think?
Have you ever watched My So-Called Life before? What do you think of the characters? Do you like the content, or do you find the show to be a little melodramatic? How do you feel about '90s fashion? Do you think that grungy style can be worked into today's fashion? What show would you like to see us cover next? Leave a comment and tell us what you think!