This post may contain affiliate links, which means we may receive a commission if you purchase through our links. Please
read our full disclosure here
.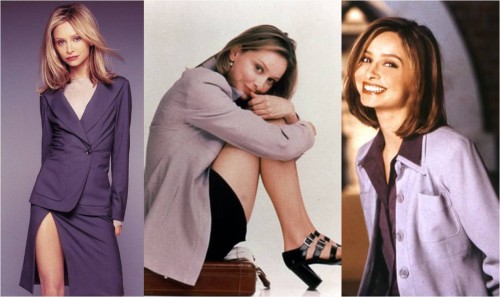 At CF, we're no stranger to drawing fashion inspiration from well, pretty much everywhere! From books to paintings to movies to video games, no form of media is off limits for a little creative interpretation. Over the weeks ahead, I'm going a cover a few old school television shows with distinctive styles that we can re-work to fit current trends. If you have one in mind that you'd love to see, let us know by leaving a comment!
Ally McBeal is one of many reasons I'm grateful for Netflix's existence! Although many of us college girls were too young to watch Ally during its heyday in the late 90s, anyone who grew up during that era has at least heard of the show. Ally McBeal was a huge part of 90s pop culture, and even caused some controversy amongst both feminists and conservatives for juxtaposing highly sexualized characters with professional situations.
Ally McBeal is a dramedy that focuses the lawyers working at Cage & Fish, a Boston-area firm. Often, the problems the characters are facing in their personal lives are mirrored in the cases they take on each week. Full of running gags, endearing characters, humorous court cases, and hunky men, this TV show transcends time periods and is still extremely entertaining to watch today. Plus, stars like Lucy Liu, Portia de Rossi, Jane Krakowski, and of course Calista Flockhart all owe their huge careers to this show.
Ready to steal some business-chic style? Read on!
The Cultural Background Story
Until Ally McBeal hit prime time, there just weren't that many television shows that tackled the subject of women in a professional world. While every woman on Ally McBeal is apparently very proficient at their jobs, some feminist organizations disagreed with the extreme and irrational characteristics of the women on the show, compared with the more even-headed and charming nature of the male characters. From flighty and emotional Ally to harsh Nelle, seductive Ling to borderline insane Elaine, I can certainly see the point that the groups criticizing the show were trying to make.
Adding to the controversy were the extremely short skirts, fitted jackets, and sky-high heels the females on the show often wore, which many viewed as way too sexy for a professional setting. Pundits also commented on how thin the ladies of the show were. TIME Magazine even ran a cover picturing Calista Flockhart with Susan B. Anthony, Gloria Steinem, and Betty Friedan, asking "Is Feminism Dead?" in June of 1998, suggesting that this show was contributing to negative stereotypes and inequality issues.
Fifteen years later, it's easy for us to look back and appreciate all sides of the argument without getting heated. Although television shows about working women are commonplace now, it's fun to look back at the show that may have started it all. Mostly, it's interesting to see how far we've come in less than two decades.
Ally McBeal Style
In this show, the female characters are all expected to dress business professional at work. Calista Flockhart showed us that business suits don't have to look matronly or harsh, and Portia de Rossi rocked a power bun like she invented it. Suits with matching short skirts, boudoir-inspired camisoles, and strappy sandals were the unofficial uniform for the ladies at Cage & Fish. Another popular look was the simple shift dress (think Jackie O!) paired with a blazer in a contrasting color.
The make-up and hair in Ally McBeal were reflective of popular '90s trends. Ally often wore pinky-brown lipstick, liner, and a signature shag haircut, while characters like Nelle and Ling went for more seductive red lipstick and glamorous hair.
Although I wouldn't recommend wearing a short skirt with sexy stilettos to your summer internship or big-girl job (hello, awkward and inappropriate!) there are ways that we can take Ally's librarian-sexy look and alter it to work for fun outfits to hit the town in instead. Check out my interpretations below!
Outfit Inspiration
Blazer, Shorts, Blouse, Shoes, Earrings
This look is a spin on the short suits that have been popular lately. Don't have the money to buy a matching set at Express? Fake it by pairing a blazer you already own with longer shorts in a rich material — black on black will be the easiest to match. A girly blouse and pearls paired with your "suit" will help balance out any androgynous notes you'll get with a blazer. The occasion will determine how high your heels should be – err on the lower side if you'll be in a professional setting. Finish with full, wavy hair for a dose of "sexy" that's still appropriate for all occasions.
Cami, Skirt, Pumps, Watch, Lipstick
This next look is inspired by Nelle and perfect for a night on the town with your girlfriends. An eyelet camisole will look sexy tucked into a pencil skirt. Two neutral colors will provide a good backdrop to let your other features sparkle. Add a menswear watch and peep toe pumps, and roll your ponytail into a full sock bun. Finish with pinky red lipstick, which looks fresher and more modern than classic fire-engine red tones.
Dress, Jacket, Heels, Earrings
This last look would work in many business settings — however, if you're going to an interview or have an important presentation, be sure to stick to neutral colors instead! A pink shift dress will look classic, and you'll never run out of events to wear it to. This jacket has a more fitted cut, which will look professional but still have a hint of Ally flair! Finish with nude pumps and stud earrings. Keep the look classy by blow drying your hair glossy straight and showing off your layers!
Thoughts?
Have you seen Ally McBeal before? How do you feel about the way females are portrayed on the show? What do you think about their outfits? What other popular television shows inspire your style? Leave a comment and tell us what you think!