This post may contain affiliate links, which means we may receive a commission if you purchase through our links. Please
read our full disclosure here
.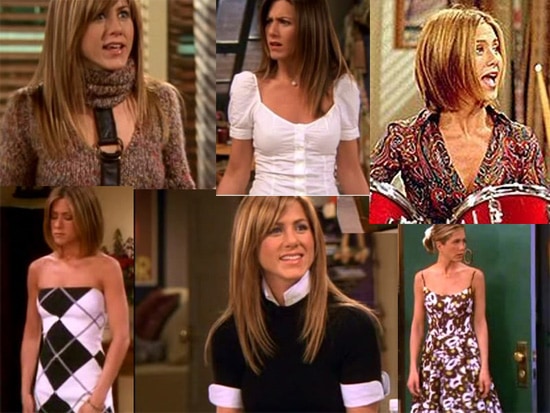 Everyone has that one pal who LOVES Friends. She references quotes and situations from the sitcom on a daily basis, furnishes her apartment with the same wall art seen on the show, and only dates affable nerds that resemble Ross Geller and Chandler Bing. I'm not ashamed to say that I too am THAT girl.
But really, who doesn't have a soft spot for Friends, arguably the best sitcom of all time? Running from 1994 to 2004, Friends tells the story of six twenty-somethings (and later thirty-somethings) living in New York City. They encounter work obstacles, relationship problems, and other typical dramas that most young adults face, but form a sort of surrogate family together. I won't insult your intelligence by elaborating on the back story too much — we all caught the show on syndication, and might even remember the night that the finale aired. It's safe to say that almost every college girl has a place in her heart for the characters on Friends!
Over the last few weeks, we've covered the inspiring fashion from some of retro TV's hottest shows. This week, we're going to break down the style of Rachel Green, one of the greatest fashion icons of the 1990s.
(For more Old School TV Style, see our posts on Monica's style from Friends, Ally McBeal, Elaine from Seinfeld, My So-Called Life, Saved By The Bell, and Three's Company).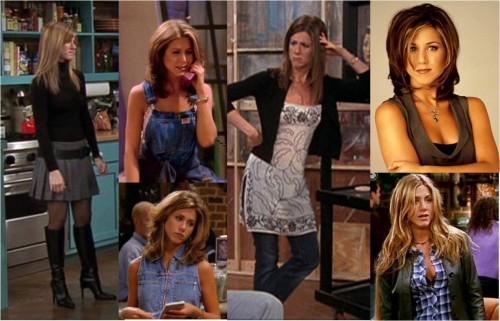 Photo Credits: 1, 2, 3, 4, 5, 6
A Little More about Rachel Green and Friends
Rachel Green, played by Jennifer Aniston, starts the series as a spoiled "Daddy's girl" but develops throughout the show into an independent, successful business woman. Her inherent interest in shopping led Rachel to work in the fashion industry, first at Bloomingdale's, then at Ralph Lauren. In the last season, she receives a job offer in Paris to work at Louis Vuitton. She is the most fashionable character on the show and helped popularize many trends of the 90's, such as mock turtlenecks, woven blouses, chambray, and knee-high boots with mini skirts.
Perhaps Rachel Green's biggest contribution to the look of the '90s was her flippy layered haircut, deemed "The Rachel." Women all across the country brought in photos clipped out of tabloids for their hairdressers to mimic!
Later in the series, Rachel begins working in the corporate offices for big-named fashion companies. Her attire shifts from casual to business casual, but she makes her suits look anything but stiff. Rachel becomes a mom in season nine, and her style again reverts to being a little more casual and relaxed. No matter the season, Rachel seemed to strike the perfect balance between timeless and modern.
Rachel's style evolved throughout the series, but remained consistent with her chic and trendy aesthetic. Read on for a breakdown of some of Rachel's most memorable looks!
The Early Days
The first few seasons of Friends, Rachel works at Central Perk, the gang's coffeehouse hangout. Rachel shows off her style by rocking stylish mini skirts, over-sized chambray and woven shirts, cropped blouses, simple v-necks, denim vests, floral dresses, and more. It was also during this time that "The Rachel" became insanely popular. Whether her hair was up or down, her face was always framed by piecey long bangs.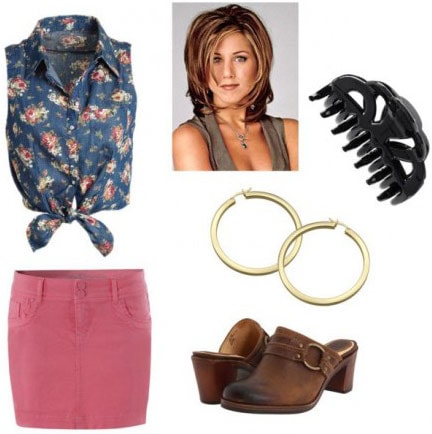 Shirt, Skirt, Clogs, Earrings, Hair Clip
'90s trends are back, so an outfit like this doesn't look out of date at all! For this first look, a floral tie-front shirt nicely captures several trends of the time. A pink denim skirt would look awesome with the top, giving you an uber trendy denim-on-denim look without the "Texas Tuxedo" vibe. Add a pair of clogs if you're daring, but simple flats or even Converse All Stars would look great, too. Finish the ensemble with a pair of Rachel-esque hoop earrings and blow dry your hair with a round brush for a style that mimics the iconic "Rachel" look.
Business Chic
Rachel worked in a corporate office where the dress code was between business professional and business casual. Her work outfits were absolutely timeless and would still look great today.
Rachel's business clothes were almost exclusively in neutral colors — think black, white, gray, navy, and tan. Despite the low-key color palette she followed, Rachel managed to look amazingly feminine and trendy by wearing figure-flattering pencil skirts and blazers, similar to ones we see today at stores like Express. She also spiced up her look with subtle details, like a lacey or patterned camisole layered underneath a dress shirt, or an elegant scarf.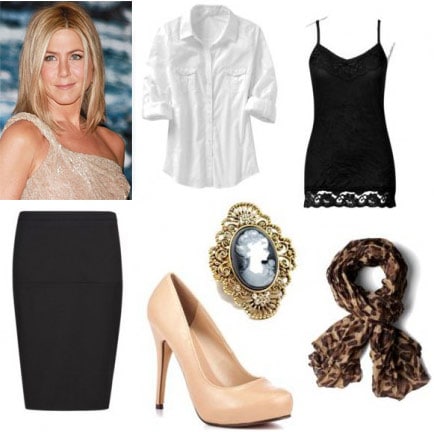 Skirt, Shirt, Cami, Shoes, Ring, Scarf | J.A photo: ELLE
A basic black pencil skirt and white dress shirt will look appropriate for almost any work setting, but up the style like Rachel did by letting a lace camisole peek through. Beige pumps will complement the outfit well. Add a light leopard print scarf if you work in a trendy industry, and finish with a cameo ring, similar to the brooch that Ross gave Rachel for her birthday the first season.
Nights on the Town
Several times throughout the series, our favorite Friends went to fancy occasions like charity fundraisers, banquets, and even (in Joey's case) an awards show! Among Jennifer Aniston's best features are her strong, toned arms and carved collarbone. Rachel is often shown wearing sleeveless dresses, probably to highlight these features. Rachel sticks to basic colors (mostly black) at formal events, and is almost always seen in fitted, well-tailored cuts.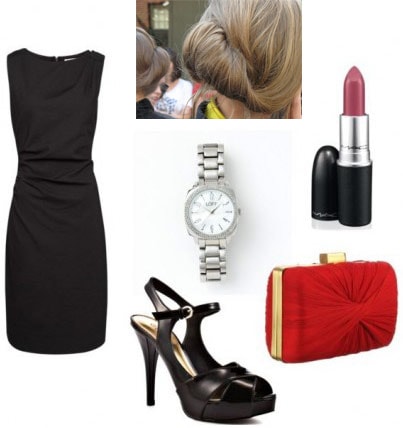 Dress, Shoes, Clutch, Watch, Lipstick | Hair photo
A classic cut dress like this one is something Rachel would have totally worn on a date. A little black dress in a conservative cut like this one can literally be worn at almost any occasion if you're unsure of what the dress code is. Rachel usually wore her hair in some sort of spin on a french twist at fancy occasions. Also, her makeup was never dramatic (well, except for the one episode when Ross does her makeup for her) so stick to a chic pink lipstick. Finish with a clutch and a simple watch.
Casual Chic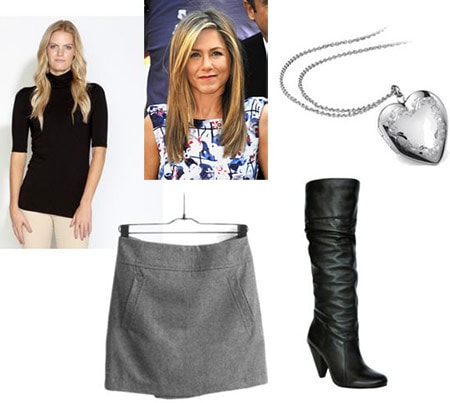 Turtleneck, Skirt, Boots, Locket | J.A. photo: ELLE
I've worn knee-high boots with skirts for so long that it never occurred to me that the look has fallen in popularity over the last few years. Although pairing these two items might not be the most cutting edge look these days, as long as the skirt is just a few inches above your knee and the boots aren't too high, it will still look classic and chic. I sometimes feel like I'm the only girl in Oklahoma that LOVES turtlenecks, but I don't care! If they're good enough for Rachel, they're certainly good enough for me. Finish the look with a deep side part, straightened hair, and a simple necklace.
Hot Mama
Season seven concludes with Rachel unexpectedly getting pregnant with Ross's baby. But just because she has less time for fashion, that doesn't mean she looks less stylish! Rachel switches from her usual heels-and-a-skirt uniform to graphic tees, henleys, and boot-cut denim. Simultaneously, her color palette becomes more colorful, reminiscent of the first few seasons of Friends.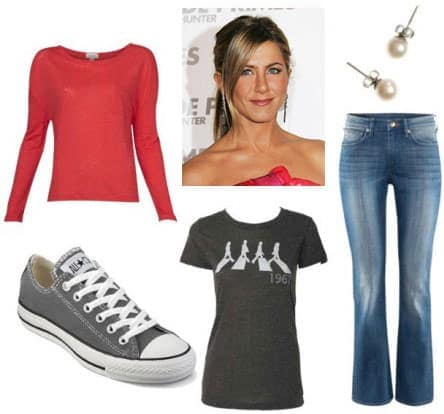 Shirt, Tee, Jeans, Shoes, Studs | J.A. photo: ELLE
Your favorite fitted graphic t-shirt will look cute layered over a long-sleeved colored shirt. Boot cut jeans were all the rage during the last few seasons of Friends, but of course, this outfit will look great with your favorite pair of skinny or boyfriend jeans as well. Finish with a pair of sneakers, stud earrings, and a quick ponytail.
What Do You Think?
Did you watch Friends growing up? Who is your favorite character? What is your favorite episode? Are you praying for a reunion movie like I am? Which character's style do you admire most? What do you think about Rachel's style, and its transformation over time? What other shows would you like us to cover? Leave a comment and tell us what you think!