This post may contain affiliate links, which means we may receive a commission if you purchase through our links. Please
read our full disclosure here
.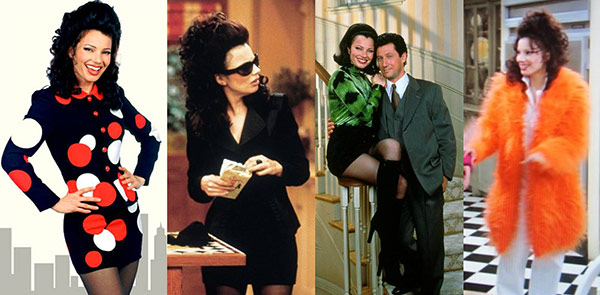 I'm crazy about leopard print. I tease my hair on a daily basis. The only nail polishes in my cabinet are day-glow brights. I own more faux fur coats than any reasonable individual should. These are my confessions, and this is exactly why I absolutely LOVE The Nanny's Fran Fine!
The Nanny tells the story of Fran Fine , a Jewish girl from Queens who nannies for the Sheffield's, a British family living in in New York City. Fran, played by Fran Drescher, introduces the very "WASP-y" family to her street-smart Queens upbringing and Yiddish sensibilities, and teaches them to relax and approach life in a more fun way. She later goes on to marry Mr. Sheffield and become a real part of the family.
Since I started covering old school TV shows, I've been so excited to cover this show because my personal style mirrors Fran's in more ways than even I realized. Want to learn more about Fran's eccentric style? Read on!
(For more on Old School TV Style, check out our posts on Elaine from Seinfeld, Three's Company, Rachel from Friends, Saved by the Bell, My So-Called Life, and Ally McBeal.)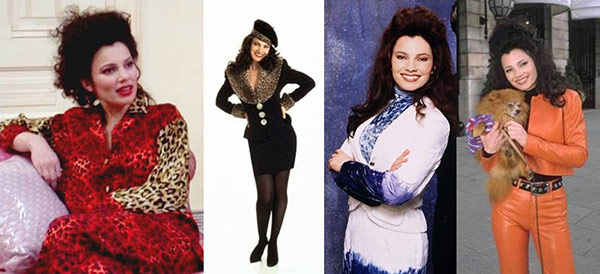 A Little Bit About The Nanny
At first glance, The Nanny comes off as "just another" family sitcom that dominated prime time during the '90s. Although the show included lots of slapstick comedy and running gags, the series' humor was actually unique and even a bit ahead of its time!
The characters often made pop culture references, and sometimes referred to their true actor identities. Mr. Sheffield once made a joke about the actors on Days of Our Lives (Charles Shaughnessy, who plays Mr. Sheffield, used to be on the soap) and in one episode, Fran Fine meets her idol, Fran Drescher! Also, the characters sometimes broke the fourth wall and addressed the audience directly. These details really set The Nanny apart from other shows.
Fran's Style
Fran's outfits on the show embody the sort of stereotypical "New Jersey" look that we see on shows like Jerseylicious and films like Goodfellas and My Big Fat Greek Wedding.
While some people cringe at the thought of the caricature that recent TV shows have created, I have to be honest: I actually kind of love the loud, eccentric outfits seen on the ladies of Real Housewives and even Jersey Shore. I appreciate that these ensembles – even when bad – are unapologetically over-the-top. Like I mentioned before, I am crazy about faux fur coats and tall boots, but it takes lots of confidence to wear stuff like that in public, especially in places like Oklahoma! Fran always wore her bold outfits without even a touch of uncertainty. It's awesome and inspiring!
Fran Fine also knew how to ROCK '80s-style suits. Hers were in bold colors or patterns, and often featured very structured shoulders and a short skirt. She highlighted her legs by pairing these suits with stiletto heels. She also wore things like knee-high boots, leather pants and jackets, tons of animal print, fluffy (faux) fur, sequins, and bold colors.
Fran always had perfectly teased hair and a full face of makeup. She was super glamorous, even when she was pregnant with her and Mr. Sheffield's twins! Fran's big hair especially became one of her signatures.
Outfit Inspiration
No fashion post would be complete without a few inspiring outfits. Check out the looks below to see a modern take on Fran's bold style!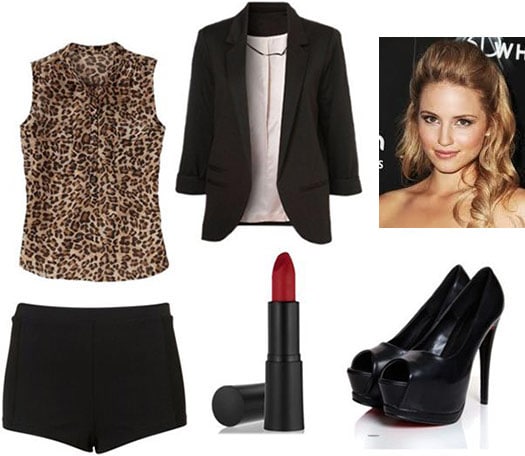 Blouse, Blazer, Shorts, Lipstick, Shoes | Hair Photo: ELLE
For an updated (and more casual) take on Fran's signature suits, pair a blazer with matching black shorts. A leopard blouse will help you get Fran's look, too. Curls and a poof (like Diana Agron's, above) are a fresh take on Fran's signature hair style, and will look great with red lipstick.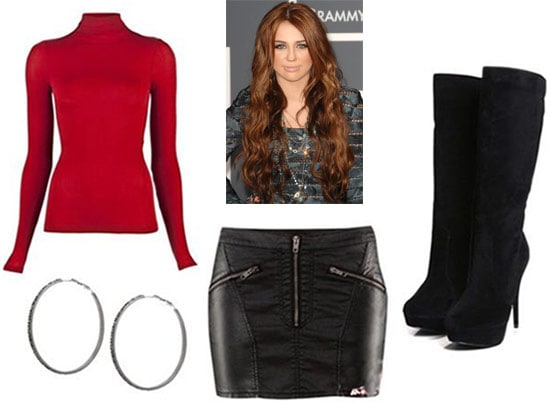 Turtleneck, Skirt, Boots, Earrings | Hair Photo: ELLE
Tuck a bright red turtleneck (or blouse, if turtlenecks aren't really your thing) into a leather mini skirt for a fun look inspired by Fran. If you're worried about looking too domanatrix-esque, pair this outfit with suede boots to avoid leather-on-leather. Finish with hoop earrings and full hair, like Miley's, pictured above.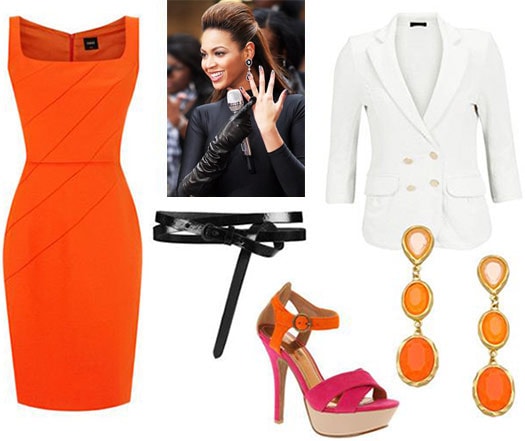 Dress, Belt, Jacket, Shoes, Earrings | Hair Photo: ELLE
Fran often wore fitted sheath dresses. This orange one looks ladylike and proper, but still has a fun Fran vibe thanks to its bright color. Add a black belt around your waist and a white blazer, then accessorize with colorblock heels and orange earrings. Finish the look with a sleek bouffant, similar to the style that Beyonce is rocking.
What do you think?
What do you think about Fran's style? Do you ever watch The Nanny? Do you have any over-the-top pieces that you absolutely love to wear? What other shows would you like to see us cover? Leave a comment and tell us what you think!!