This Shadow and Bone fashion guide will show you 6 Shadow and Bone outfits inspired by the popular Netflix series.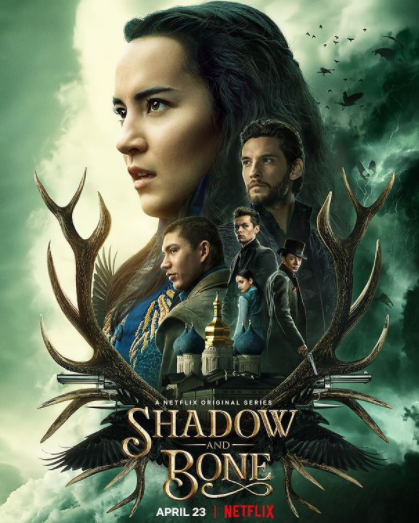 A recent addition to the Netflix library is the new series Shadow and Bone, adapted from Leigh Bardugo's worldwide bestselling book series The Grisha Trilogy and her spin-off series Six of Crows.
The first season is based on the first book in The Grisha Trilogy, Shadow and Bone, and it also serves as prequel for characters who show up in Six of Crows.
The show follow Alina Starkov (Jessie Mei Lin), a cartographer in the Tsarist Russia-inspired Ravka. Ravka is divided in two by a mysterious darkness called the Shadow Fold, full of monsters. While trying to cross the Fold with the Ravkan army, Alina discovers that she is a Sun Summoner, a Grisha who can summon sunlight. Her life is changed as she becomes a target of powerful enemies including a gang from across the Fold sent to kidnap her for 1 million Kruge.
Whether you're a fantasy show lover, a Grishaverse fanatic, or just want to see Freddy Carter as Kaz Brekker, Shadow and Bone is a wild ride with magic, a diverse cast, amazing sets, and spectacular costumes.
Today's post is about outfits inspired by Shadow and Bone, (no keftas included, unfortunately).
Outfit 1 – Alina Starkov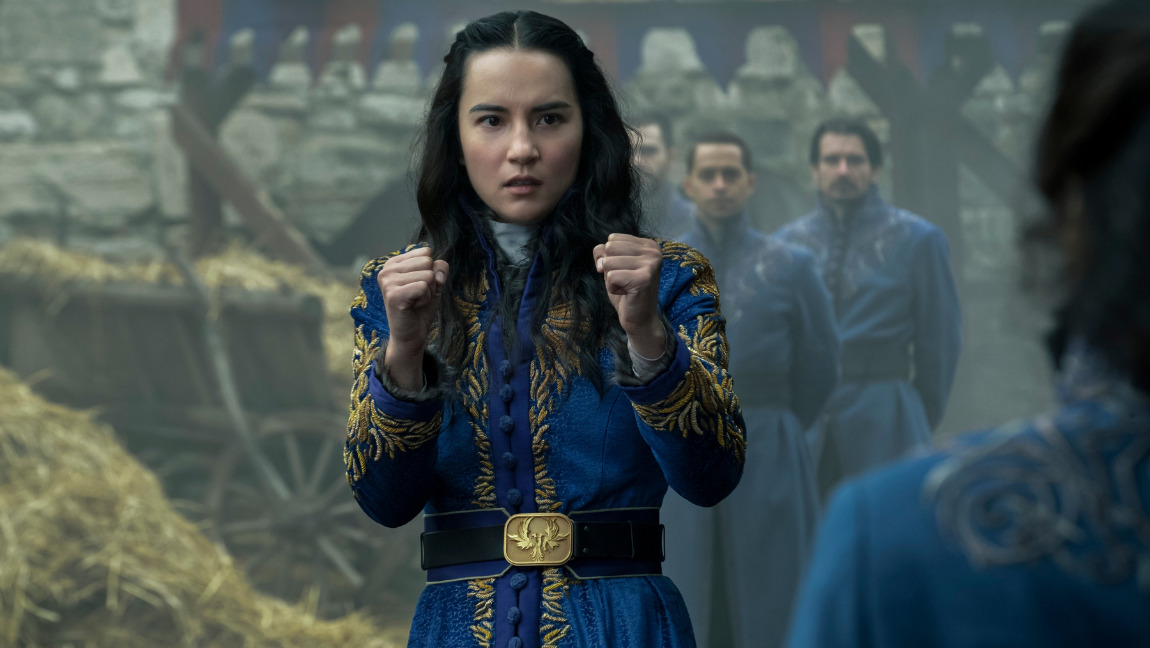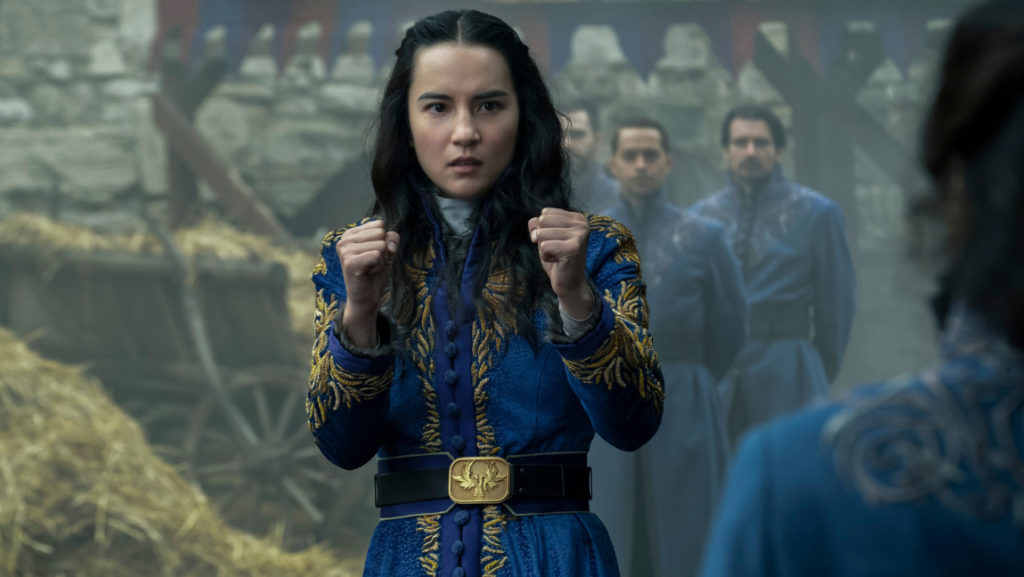 First up, we have our Sun Summoner, Alina. When we first meet her, she's an orphan mapmaker in the Ravakan army, but a twist of fate shows that she has a power that could be the key to saving all of Ravka.
This first Shadow and Bone outfit is inspired by Alina's blue kefta, which is a uniform for the Grisha. I chose this for her look because I loved the contrast between the blue cloth and the yellow embroidery.
This calming blue shirt with the puffed long sleeves makes a good kefta imitation. It's light in weight and can be worn for either causal or formal events.
The yellow pants are a nod to Alina's Sun Summoner abilities and the flared bottoms are have that vibrant feel to them. They're perfect for adding a little brightness to your wardrobe this summer.
Next we have a black leather belt with a square buckle to hold up the pants and as a nod to the belt on Alina's kefta.
For footwear, I chose brown ankle boots as a callback to Alina's soldier beginnings. You may not be walking across borders but these boots are comfortable for trekking across campus while still being stylish.
Last but not least, we have this adorable necklace with sun charms on it from Nordstrom Rack. Wear this and you'll be feeling like a Sun Summoner yourself.
Outfit 2 – Mal Oretsev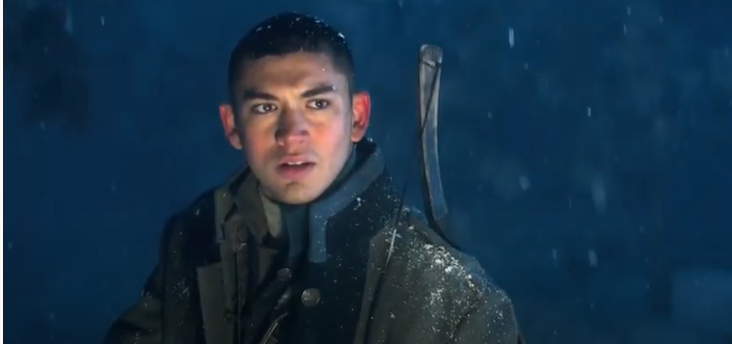 Mal is Alina's childhood friend and a gifted tracker in the Ravkan first army. When Alina is whisked away to the Little Palace to master her powers, Mal does everything he can to get back to her.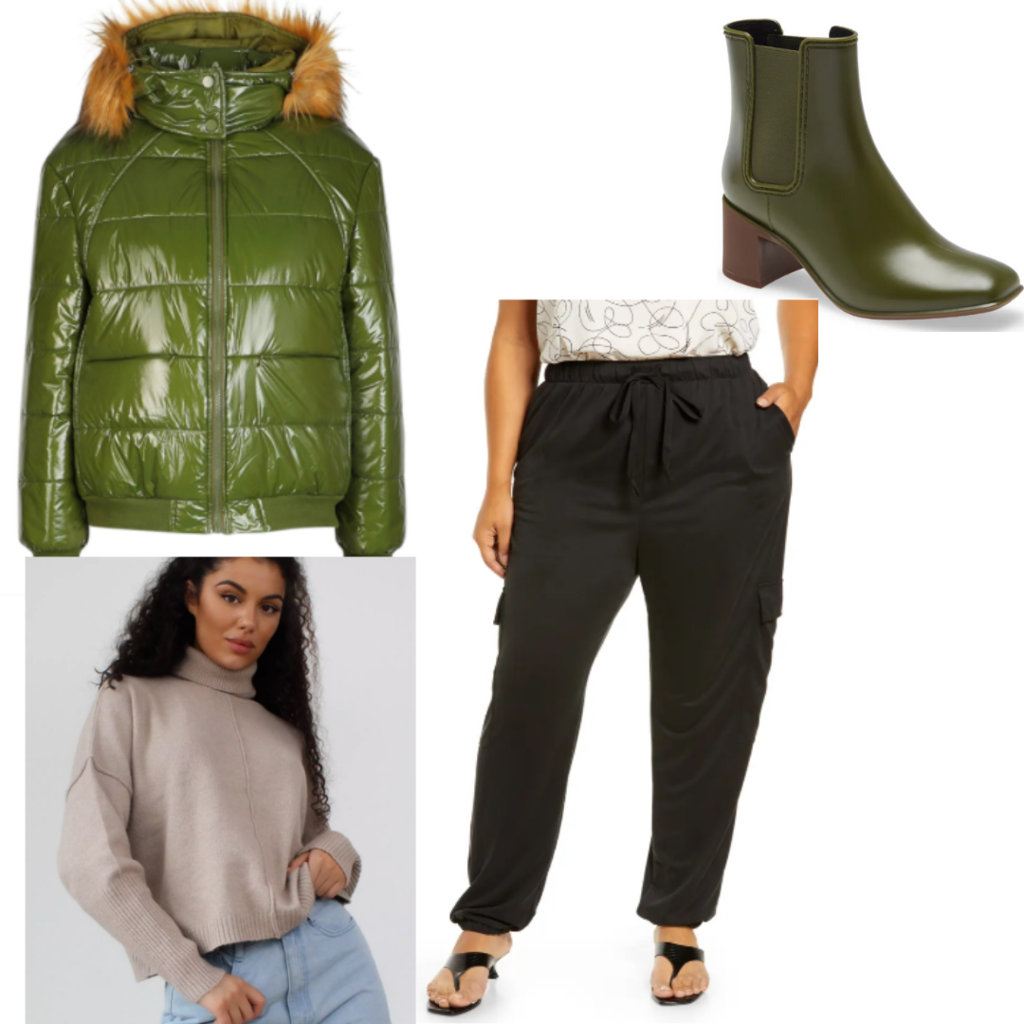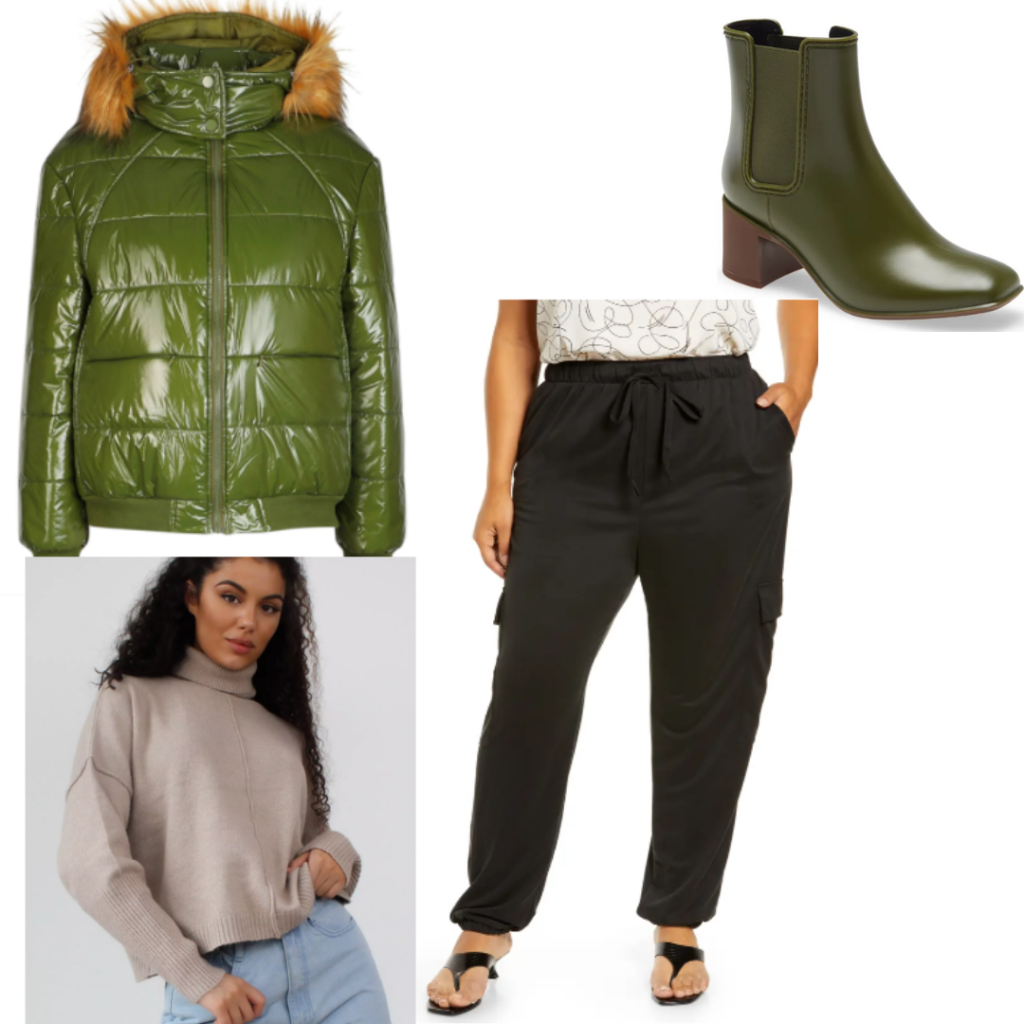 Products: Jacket, Sweater, Boots, Cargo Pants
Mal's journey takes him to the cold north in Fjerda so that's why I picked an army green faux fur waterproof coat.
Next, we have a beige sweater with a turtleneck for extra warmth. It looks so cozy and warm, perfect for days when the weather starts to act up or you just want to feel extra toasty.
Joggers are really popular right now and cargo pants are just more functional joggers, if you ask me. These cargo pants from Nordstrom have a drawstring waist which makes them extra comfortable and the best part is the pockets.
For shoes, I chose some waterproof heeled boots. They're sharp looking like Mal himself and the fact that they're waterproof makes them perfect for those pesky summer showers.
Outfit 3 – General Kirigan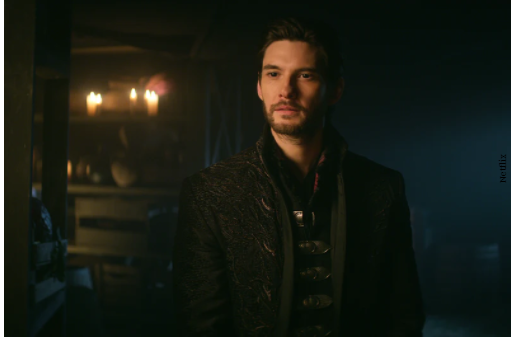 The mysterious general of the second army seems to have black as his trademark. This makes sense as he is a Grisha who can control the darkness. He sees himself as anomaly, that is, until he meets Alina.
The dramatic flared sleeves on this black dress from Macys are as striking as any black kefta. This frock is sure to turn heads in any room.
Whatever the season or weather, a classic jacket is a great piece to have on hand. This black faux fur jacket makes a statement and looks so soft and comfy.
These block heeled black boots have a great shine to them and could be worn a million different ways.
For accessories, I added a black ring with a crystal as a callback to Kirigan's ring in the show.
Outfit 4 – Kaz Brekker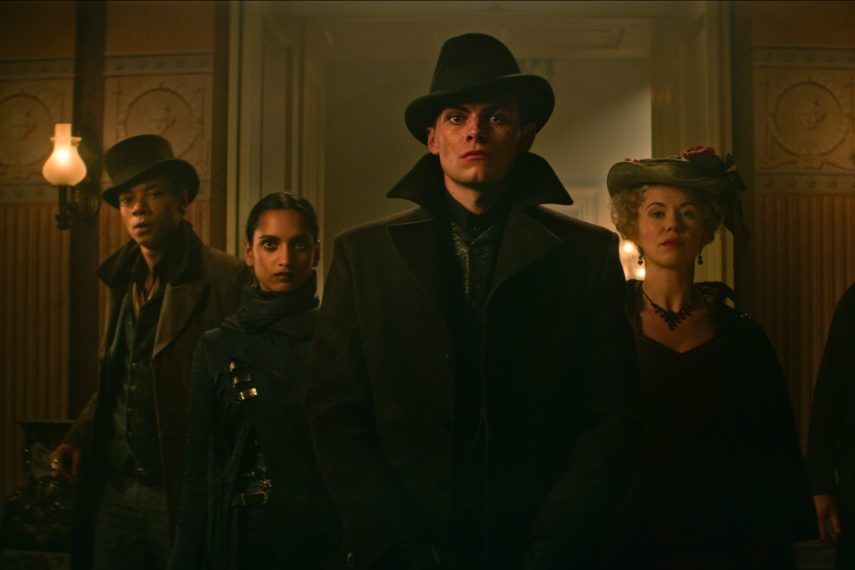 Kaz Brekker, the Bastard of the Barrel, rising star of the criminal world in Ketterdam and leader of the Crows, is a law unto himself and has a knack for daring schemes. He's got brass and an attitude, with the wardrobe to match.
Kaz's signature piece would have to be his famous black gloves. He never takes them off! Get your winter wardrobe ready with these black faux fur lined leather gloves. I'd imagine if I had gloves like these, I wouldn't want to take them off either.
The black fedora is another one of Kaz's signature pieces and honestly everyone should own at least one of these. This black fedora with a buckle on the side will make you feel like carrying out a heist yourself.
Then we have a pair of black loafers with tassels on the front. They're practical yet effortlessly stylish and good for walking in. Plus, loafers are a huge shoe trend in 2021.
Finally, we have a black faux fur coat from ASOS which I would describe as intimidatingly elegant. A great addition to your winter wardrobe this year.
Outfit 5 – Inej Ghafa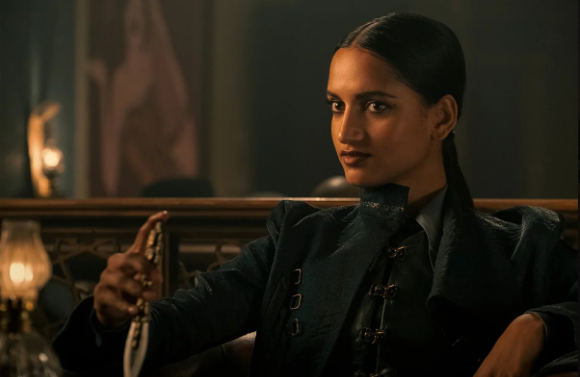 Inej, also known as the Wraith, is an exceptional acrobat and spy. Armed with her trusty knives and determination she's a great investment to the Crows.
To capture Inej's straightforwardness, I chose a black double breasted blazer. Sharp and professional, it will make you look highly capable of anything.
The navy leggings are a nod to the Inej's acrobatic past. Whether for athletics or just chilling about, these leggings are flatterig yet comfortable.
Inej is usually seen with a scarf, so this woven scarf with fringed ends in a great addition to a Shadow and Bone outfit based on Inej. It's lightweight and can be worn in many different ways.
Outfit 6 – Jesper Fahey
The last of the Crows, Jesper Fahey is a smooth talking sharpshooter and his outfit on the show is sharp as well. I mean, fedoras look like they were made for him.
This green tank top is perfect to wear on its own or layered with pieces like blazers and shackets. It has that edge to it that Jesper would love.
These suede leggings are casually cool and the color pairs perfectly with the green tank.
Long coats seem to be a staple for the Crows, so this beige coat is a practical, understated addition to this ensemble.
To top things off, we have a brown fedora from Nordstrom Rack. It's a stylish addition that adds a touch of class to the otherwise casual outfit.
These are our outfits inspired by the characters from Shadow and Bone.
What do you think of our picks? Have you watched the show? More importantly would you choose a blue kefta or a black kefta? Let us know below in the comments.