This post will show you the cutest makeup ideas to try this fall, from simple to glam.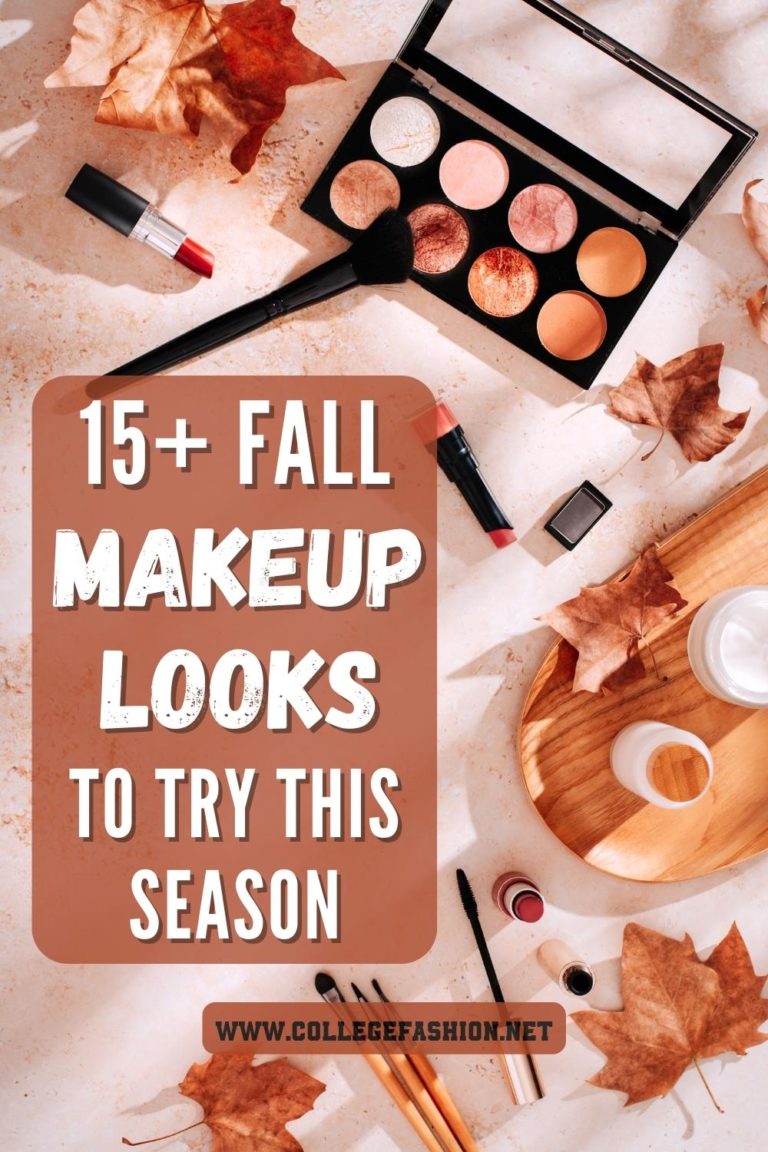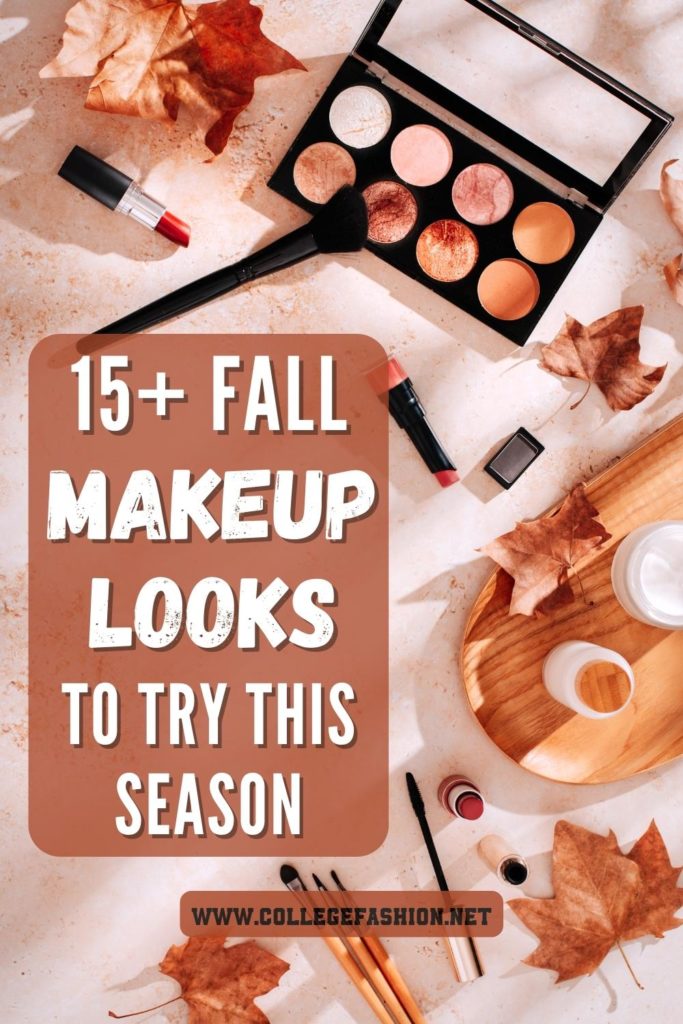 A new season is always a great time to experiment with new makeup looks, and fall is the best of all (in my opinion, anyways) when it comes to switching up your beauty routine and trying out fresh trends.
Now that we don't have to worry about sweating off our makeup in the summertime heat, we can actually go a little bolder with our makeup looks and pull out darker, autumnal shades to celebrate the season — and of course, complement all of our fall outfits.
If you're ready for some fall makeup inspiration, read on for 19 fall makeup ideas to try this season, ranging from simple to super-glam and perfect for all of your fall occasions (including Thanksgiving). You'll find product recommendations to help you achieve these makeup looks yourself, plus application tips to create a flawless, fall-ready look.
Related reading: 17 Makeup Essentials Every Woman Should Own
Simple Fall Makeup Ideas
Let's start out simple. These easy-to-recreate makeup looks are perfect for every day while still having major fall flair.
Light Eyeliner, Berry Lips, & No Mascara
Hailey Bieber is the queen of simple yet statement-making makeup looks, always nailing that effortless look.
This fall, try her barely-there eyeliner look by using a brown eyeliner pencil to very lightly draw a wing on the outer edge of your eyes. Smudge a bit of brown or berry-colored eyeshadow onto your eyelids; a cream stick formula would work especially well for achieving Hailey's low-key look and can be blended out with your fingers for a quick, easy application.
Skip the mascara and give a little extra attention to your brows and lips: brush your eyebrows upwards and set them with a clear brow wax like Brow Freeze by Anastasia Beverly Hills or Major Brow Shaping Wax by Patrick Ta. Opt for a dark rose or berry-colored lip oil, which will give your lips a hydrated look while also complimenting the brown eyeliner.
Hailey enhanced her look with ultra-rosy cheeks, likely using a cream blush to give her face that "flushed" look. Try Merit's Flush Balm Cream Blush in the shade "Raspberry Beret" or Tower 28 Beauty's BeachPlease Lip + Cheek Cream Blush in the shade "Office Hours." Don't forget to dab a bit on the bridge of your nose for a sun-kissed effect!
Related reading: The 20 Best Makeup Brands That Need to Be On Your Radar
Simple Eye Makeup & Dark Lip Liner
Fall and winter are the perfect time to experiment with darker makeup hues, especially when it comes to your lips — something that Kylie Jenner did recently. Try lining your lips with a deep color like Mac Cosmetics Lip Pencil in the shade "Plum," but not putting lipstick over top. This will create an ultra-defined pout like Kylie's so that your lips become the focal point of your face.
Keep your eye makeup simple by using natural shades, along with a light coat of mascara and under-eye concealer. Add some color to your cheeks with a blush shade that compliments your lip liner, like Morphe's Blush Balm Soft-Focus Cream Blush in the hue "Mighty Mauve."
Spider Lashes & Winged Eyeliner
If there was ever a time to try the spider lashes trend, I'd say October (a.k.a. Spooky Season) is the ideal time!
Make your eyes the focal point of your face by doing black winged liquid eyeliner with spider lashes, using your mascara to create long, spaced-out lashes with a slightly spikey look. And don't be afraid of getting a little clumpy with your mascara application, either — that's part of the spider lash look.
Since your mascara and liquid eyeliner are the stars of this beauty look, keep the rest of your makeup simple: let your "real skin" show by skipping foundation and just using concealer to spot-treat any areas that may need coverage.
"Gym lips," which involves over-lining your lips in a color similar to your natural lip color and putting clear lip gloss or Aquaphor over top, bring the look together and keep it feeling laid-back for daytime wear.
Bronzy Eyeshadow & Glossy Lips
While this makeup look may not seem simple at first glance, I promise you that it can be if you use an easy-to-apply cream eyeshadow.
A swipe or two of Charlotte Tilbury's Eyes to Mesmerize Cream Eyeshadow in the shade "Amber Gold" will give your eyes a similar bronzey, smokey effect with its glide-on formula (you can use your fingers to apply and blend out). It's a great product to use if you're running late and don't have a lot of time to work with multiple eyeshadow colors — though it's just one shade, it still gives your eyes dimension to create a similar effect to the one above.
You can smudge a bit of brown eyeliner on if you'd like to intensify the eye look, but don't worry about making it look perfect or precise. Go for groomed brows by using a tinted volumizing eyebrow gel and add bronzer to your cheeks and the temples of your face.
A clear lip gloss will give you a put-together look without overpowering the eye makeup, which is the main attraction of this look.
Glam Fall Makeup Ideas
Ready to get glam? Step up your fall makeup game with these glamorous makeup looks that are on-trend for 2022.
Autumnal Hues
Zendaya recently stunned in a makeup look that incorporated autumnal hues created by makeup artist Sheika Daley using all Lancôme products. (Zendaya is a brand ambassador.)
Sheika broke down her process for creating this makeup look in the Instagram caption above, but of course, you can use your own products to achieve a similar look for yourself.
The key takeaways from her process are to prep your skin prior to makeup application (moisturize, moisturize, moisturize!), go for a glowy face base, use brown and nude eyeshadow colors to create a "softly sculpted eye" and a thin soft wing with eyeliner, and add a pop of color to the cheeks with blush.
What especially caught my eye about this makeup look was Zendaya's lip color: L'Absolu Rouge Intimatte lipstick in "French Cashmere," a warm toasted caramel hue, topped with a glossy, golden sheen thanks to Juicy Tubes lip gloss in "Hallucination." This lip combo couldn't be more perfect for the fall!
Siren Eyes
"Siren eyes" is arguably one of the most popular TikTok makeup trends right now, and for good reason. This sultry eye makeup gives a seductive (and snatched) effect with dark inner rims of the eye's waterline and an elongated cat-eye flick on the eye's outer corner. Similar to "fox eyes," this makeup look gives wearers a lifted, angular look that is perfect for a date night or night out on the town.
To create siren eyes, you'll definitely need black or dark-colored eyeliner, though you can also use eyeshadow with a small angled eyeshadow brush to pack the shadow into your lash line. Outline your eyes with eyeliner, dragging the product outward on both the inner and outer corners of your eye, almost like two opposing wings. You can build up the effect by smoking it out with eyeshadow in a dark hue, as well.
Since your eyes are the focal point of this "dark feminine" makeup look, opt for a neutral lip color and light blush.
Winged Liner & Red Lipstick
Even model Jasmine Tookes knows that you can't go wrong with a classic winged eyeliner and red lips combo!
Jasmine gave her makeup look a fall twist by opting for brown and bronze eyeshadow colors for a smokey look paired with her black cat-eye liner. She also went for a red lipstick with an orange undertone, which has an autumnal feel (compared to red lipstick with a blue undertone).
Try Sephora Collection's Rouge Lacquer Long-Lasting Lipstick in the shade "Be the Boss" or Mac Cosmetic's Velvet Blur Slim Stick in the shade "Devoted to Danger," both of which are orange-red hues.
Doll-Like Glam
Madison Bailey looked beautiful in doll-like glam featuring mega lashes, rosy pink cheeks, and glossy lips that was total makeup goals.
This look uses a light eyeshadow base color with a darker color in the crease, plus false lashes for a flirty effect. Make your cheeks appear super rosy by using plenty of blush: Dandelion by Benefit Cosmetics is the ultimate baby-pink hue that will add to the feminine, doll-like vibe of this look.
Be sure to top your lips off with a pretty pink lip gloss like Maybelline's Lifter Gloss in the shade "Brass."
Dark Eyes & Bold Lips
We're seeing a lot of grunge-inspired eye makeup this season, and actor Madelaine Petsch rocked a dark, smudgy eye recently that was a major slay.
Of course, black eyeliner is a makeup must-have, in addition to being the key to achieving Madelaine's makeup look. You'll want to fully line your eyes (lash line and water line) with your black eyeliner and smudge it out with a small brush.
In addition to her bold eye makeup, Madelaine also had glossy lips in an eye-catching hue; try Ilia's Color Block High Impact Lipstick in "Amberlight" and top it off with the bareMinerals Mineralist Lip Gloss Balm in "Sincerity" for a similar shade as hers.
Keep your face makeup — especially bronzer and blush — low-key to balance out the overall look. (Madelaine had only a small amount of blush focused high on her cheekbones.)
Wine-Colored Lips & Eyes
There's something about berry and wine shades that just feel so fall. Hailey Bieber recently embraced the wine color scheme fully with hair (a wig, but still), eyeshadow, and lips all in a deep burgundy hue that was super eye-catching.
Take a page from Hailey's book by using red, purple, and berry-colored eyeshadows: Huda Beauty's Nude Obsessions Eyeshadow Palette in "Nude Rich" has all the shades you'd need to recreate her eyeshadow look and build up the pigment on your eyelids.
For blush, try about-face's Cheek Freak Blush Balm in "Big O," which is a cabernet color that will give you a flushed look (which is the goal).
While it appeared that Hailey used her own lip product from Rhode Skin (perhaps the Peptide Lip Treatment over a lipstick), you can get a similar look by using Glossier's Ultralip in the shades "Vesper" or "Ember" to amplify your lips as Hailey did.
Thanksgiving Makeup Ideas
Looking for the perfect makeup look to wear on Thanksgiving? Look no further. These fall makeup ideas are perfect for your Thanksgiving (and Friendsgiving) plans.
Glowy & Fresh
I can't think of a more perfect makeup look for Thanksgiving than this fresh, glowy, warm-toned look on Karlie Kloss. It features autumnal hues (like the orangey tones in her eyeshadow) and glowing skin — a beautiful compliment to your cozy sweaters, fall flannels, dark floral prints, or whatever it is that you plan on wearing on Thanksgiving.
An eyeshadow palette filled with warm hues like Tarte's Tartlette Toasted Eyeshadow Palette can be used to create Karlie's eye look. Then, build up the color of your cheeks with a dewy cream blush and put on some pretty pink or nude lipstick.
For Karlie's glowy vibe, be sure to accentuate your cheekbones with highlighter; try Rare Beauty by Selena Gomez's Positive Light Liquid Luminizer which is going to make you look radiant.
A Dark Wing
For a more glammed-up look, try Jasmine Tookes's dark, winged eyeliner and chocolatey-rose tones for your eyeshadow and lip color.
To create the perfect cat-eye like Jasmine, use a liquid eyeliner with a precise tip — but do this after you've blended out your eyeshadows (note that Jasmine blended hers all the way up to her inner brow bone).
Use a highlighter like Juvia's Place Heroine Glow Highlighter on your cheekbones and the tip of your nose for Jasmine's glowy vibe, and finish it off with a pinky-brown lipstick like Anastasia Beverly Hills Satin Lipstick in the shade "Rose Brown."
Pumpkin Spice Hues
Pumpkin spice season is in full effect, so why not embrace it by going for a pumpkin spice-inspired eyeshadow look like Vanessa Hudgens?
Play around with warm eyeshadow tones — think orange and brown hues like the ones found in Colourpop's Nude Mood Eyeshadow Palette, which BTW, is under $15! You can up the glam by using false eyelashes to create more voluminous-looking lashes like Vanessa's.
Apply a warm-colored blush to your upper cheekbones, and line your lips with a brownish nude-colored lip liner and the lipstick of your choice; while Vanessa sported a pink hue, I think darker rust shades would look amazing, as well.
Nude-Colored Glam
Go glam this Thanksgiving with a nude-colored makeup look inspired by Lori Harvey's gorgeous NYFW makeup.
A satiny nude lipstick like Charlotte Tilbury's K.I.S.S.I.N.G. Lipstick in the shade "Yes Honey" will give you a similar look to Lori's lip color, while Juvia's Place The Nudes Eyeshadow Palette has all the nude eyeshadow colors you'd need to recreate her eyes.
If you want to really glam it up, add some falsies along with your mascara for full, fluffy lashes.
Fall Eyeshadow Makeup to Try
Want to make your eyes pop this season? Try these fall eyeshadow makeup ideas that are sure to mesmerize.
Glittery Eyeshadow
Gigi Hadid rocked ultra-glittery eyeshadow recently, and we are obsessed with this fun, sparkly look. If you want to achieve glittery eyes like Gigi's, try Half Magic's Glitterpill in "Microcosm" (the makeup line created by Euphoria's makeup artist) or about-face's Fractal Glitter Eye Paint in the shade "Tin Pan Alley," putting it all over your eyelids.
Blue Monochromatic Eyeshadow
Kendall Jenner modeled a retro-inspired eye makeup look featuring matte blue eyeshadow worn all over her lids for a monochromatic effect.
And as captivating as this look is, it's equally as simple! You literally only need one eyeshadow color to pack onto your lid and lightly blend out the edges. Colourpop's Blue Moon Eyeshadow Palette features a bunch of blue hues including "Moonlite," a matte baby blue shade super similar to Kendall's.
Silver Metallic Eyeshadow
Turn up the sparkle this fall with a silver metallic eye look like Adut Akech's metallic moment.
Stila's Glitter & Glow Liquid Eye Shadow in "Diamond Dust," a silver glitter shade, is the perfect product to achieve her makeup look; use it all over your lid and the inner corners of your eyes, plus a little bit under your lower lash line. This metallic eye look would be perfect for a night out with friends or a special occasion, like your birthday!
Glitter Winged Eyeliner
Take the classic cat-eye up a notch (or five) with this oversized, glittery version. Using KVD Beauty's Tattoo Pencil Liner in the shade "Bronzite Gold," color your entire eyelid and create a large cat-eye flick to connect the top of your lid to the bottom. The sparkly bronze hue and bold design are sure to make your eyes pop.
Smudgy Black Eyeliner & Eyeshadow
Go for an ultra-dark, smudgy eye look like Laura Harrier this season. With black eyeliner smudged out with black eyeshadow, her intense eye look was balanced out with nude lipstick, bronzed cheeks, and natural-looking brows.
Use dark eyeshadow on top of black gel eyeliner to give it a smokey, smudged effect, and layer on volumizing black mascara for bold lashes. You can use bronzer in your crease to bring the eye look together; this will create a cohesive, finished appearance that coordinates with the bronzer on your cheeks.
What do you think of our fall makeup ideas?
Would you wear these fall makeup ideas? Which makeup look is your favorite? Leave a comment and let us know!