This post will show you the 25 cutest green outfit ideas to wear on St. Patrick's Day.
St. Patricks Day is right around the corner, which means it's time to start thinking about cute green outfits to wear on this fun upcoming holiday!
Wearing green clothing on St. Patrick's Day is a classic way to celebrate, and there's no reason not to look fashionable while doing so. That's why we've found 25 stylish St. Patrick's outfits that incorporate green in a fashionable way. Plus, the color green happens to be one of the season's biggest color trends.
In fact, Pantone released their Autumn/Winter 2022/2023 New York Fashion Week Color Palette just this month and it features a "lush and fertile broadleaf green" color called Amazon, which you'll be seeing everywhere in the coming months.
So whether or not you have St. Patrick's Day plans to look forward to, these budget-friendly green outfit day ideas are perfect for the spring season and all feature on-trend ways to wear this vibrant color within your wardrobe.
Read on for 25 cute green outfits perfect to wear on St. Patricks Day and all season day long.
25 Cutest St. Patrick's Day Outfits
1. Green Plaid Mini Skirt, Cami Top, & Green Handbag
A green plaid mini skirt is an unexpected way to rock green on St. Patrick's Day, and will look super stylish with a cami top and matching green shoulder bag.
This outfit is flirty, trendy, and works with both heels or low-top sneakers. You can wear an oversized denim jacket on top if the weather is chilly, too.
For a cute, casual daytime outfit, try a green gingham cardigan set and blue jeans.
A cardigan set is perfect for spring weather, and this adorable set incorporates the color green in its darling gingham print. Wear the set with some flared or wide-leg jeans and comfy white low-top sneakers.
Nothing says St. Patrick's Day like shamrocks do, so this shamrock print mini dress is sure to be a huge hit on the holiday!
While some shamrock clothing can run the risk of looking too costume-y, this dress is totally on-trend thanks to its square neckline, ruching down the sides, and retro-inspired shamrock print. You'll be able to wear this after St. Patricks Day without looking out of place.
If you're keeping it casual this St. Patricks Day or just looking to add some color to your wardrobe, try wearing a bright green puffer vest with a simple t-shirt, leggings, and sneakers.
This athleisure look is perfect for running errands or walking around campus, and becomes that much cooler when you accessorize with a baseball cap and retro aviator sunglasses.
'70s-inspired fashion is a major trend this season, so get in the groove with some green checked print wide-leg pants that have a retro vibe. Their light green color has a total spring feel, too.
Style the pants with a button-front polo top, faux fur handbag, and flatform sandals for a trendy, vintage-inspired look.
6. Green Satin Top, Biker Jacket, and Dark Denim
For a night out on the town, this vibrant green satin cut-out cami top paired with a biker jacket and dark denim will do the trick.
The satin fabric enhances the gorgeous green hue, and the small side cut-outs add flair to this top. Give it some edge with a faux leather biker jacket, black jeans, and heels or booties to hit the bar scene in style.
You won't get pinched when wearing a monochromatic green look like this one! Make a statement in a green cropped halter top and some matching green corduroy pants.
The bodycon-fit of this crop top is balanced out by the wide-leg silhouette of the pants, and sneakers keep the look casual. Bring a cute handbag along for your St. Paddys Day celebrations.
8. Fitted Green Dress
You can't go wrong with a simple yet eye-catching fitted green mini dress – there are so many ways you can style this simple yet striking piece!
Dress it up with heels, or keep it casual with some white low-top sneakers and an oversized denim jacket worn on top. You'll also be able to wear this dress with flat sandals in the summertime.
This outfit– featuring green faux leather flared jeans, an oversized varsity jacket, and retro aviator sunglasses– is going to earn you the ultimate cool-girl status. Whether you're hanging out with your friends or snapping pics for Instagram, this look is for a true trendsetter.
10. Green Shacket, Jean Shorts, & Sneakers
I love wearing jean shorts with light jackets in the springtime, and this green french terry shacket is the perfect lightweight layer to throw over your spring outfits. Its bright green hue feels fresh, and looks adorable over a simple white top and distressed denim shorts.
Complete this look with white low-top sneakers and you'll be ready to go.
Springtime means it's time to break out your white jeans! Pair your white or light-colored denim with a printed green blouse; this one has ruffle detailing, sheer fabric, and tie-front closures for a sweet, feminine look.
Add your favorite jewelry and some ankle booties to bring the ensemble together.
Amp up your look with a green satin midi skirt; its shiny satin fabric makes this color look especially vibrant! Wearing this skirt with a band t-shirt gives it a little edge that is unexpected.
You can make this outfit look dressy with a pair of heels, or keep it laid-back by wearing it with casual white sneakers, making it versatile for different occasions.
For a sexy nighttime look, try this green ribbed bustier crop top paired with some black faux leather pants. The black and green color combo makes a big impact, along with the mixed materials of the ribbed top and faux leather pants.
Finish the look off with some strappy black heels or mules and a mini handbag.
Why not wear two shades of green instead of just one? This ribbed sweater halter top features two tones of green for added trend appeal.
Wear it with some high-rise ripped jeans and casual sneakers like Converse for an easy-going look that would be ideal for a daytime St. Patrick's Day party or festival.
15. Green Corseted Shirt Dress
Give this stylish green corseted shirt dress a western vibe by pairing it with a matching straw hat and some cute heeled cowboy boots, preferably in white.
This is a look your friends will adore on your next little girl night outs, and the lime green hue is sure to set you apart.
16. Floral Frayed Sweater, Jeans, & Sneakers
Welcome spring with a green floral print sweater that has a frayed shark bite trim. This adorable sweater has a total springtime feel thanks to its print, and looks especially cute with some ripped jeans and white sneakers.
You'll be able to wear this casual look to study sessions or to hang out with your friends.
17. Green Button-Down Mini Dress
Everyone will be green with envy (see what I did there?) of this chic green button-front mini dress. Its slinky, body-hugging material features some slight shimmer, and its pointed collar is right on-trend.
Wear it with either all-black or all-white accessories; a white shoulder bag and white knee-high boots give the dress a retro flair that is especially fashionable.
18. Green Square Neck Tank Top, Dark Denim, & Combat Boots
I'll definitely be copying this cute-meets-edgy outfit that combines a cropped green square-neck tank top with black straight-leg jeans and lace-up combat boots. The square neck and ribbed material of this top give it a modern look, and its color really pops when worn with dark denim.
Lace-up combat boots and a black faux leather moto jacket are going to add a bit of edge that sets this outfit apart from the crowd.
19. Printed Fuzzy Sweater, Cream Jeans, & Ankle Boots
You don't always need to wear a ton of green on St. Patrick's Day to make a statement. This fluffy V-neck sweater features a green checked print that will ensure you don't get pinched, but isn't over-the-top.
Wear it with some cream-colored denim and ankle boots for a subtly cool look.
20. Green Cropped Tank Top, White Denim Shorts, & Sandals
If you're celebrating St. Paddy's Day in warm weather (lucky you!), wearing a cropped green tank top with some white denim shorts is a staple look.
These basic pieces look great together, along with some white sandals or sneakers, and can be accessorized as much (or as little) as you please.
21. Green Joggers & Sweatshirt
If you're into the "clean girl" aesthetic that's all over TikTok, you know that matching sweatsuits are a must-have. But instead of opting for neutrals, get in on the season's color trend by swearing a sweatshirt and joggers in a bright color like green.
There are so many ways you can style these sweats, from keeping them laid-back with some sneakers and a baseball hat, to elevating them with a long trench coat and cool sunglasses.
22. Green Ruched Tank Top & Printed Mini Skirt
There's something about the color combination of kelly green, black, and white that looks so stylish together.
That's why this kelly green ruched tank top pairs perfectly with a black and white printed mini skirt which features a fun retro floral print.
As a bonus, the ruching on the sides of this tank top allows you to adjust how cropped you'd like the top to be.
23. Green Printed Flared Pants, Short-Sleeve Top, & Ankle Boots
These funky green printed pull-on flared pants will make you the life of the St. Patrick's Day party!
It's all about the vintage vibes with their retro design and print. Style them with some black platform ankle booties and a black crop top or blouse for a one-of-a-kind look.
If you're going out at night on St. Patrick's Day, you can't go wrong with a cute crop top and jeans. Step it up a notch with this green sweater knit crop top featuring a sweetheart neckline, ribbed knit material, twisted design, and front cut-out detail.
Since this top is so bold, you won't need much else: just a flattering pair of jeans, heels, and the dainty jewelry of your choice.
P.S. – this top would also look great with some black wide-leg trousers.
25. Green Printed Crop Top, Pleated Skirt, & Combat Boots
You'll feel like a badass babe in a printed green copped polo top, black pleated mini skirt, and chunky combat boots.
The lace-up combat boots add an edgy vibe to the classic pleated skirt, while the abstract print and polo-style design of this knit crop top make it ultra-trendy.
BONUS: Even More St. Patrick's Outfit Day Ideas
Want more outfit inspo? Here are four more St. Patrick's outfits that we featured last year, which are still trending this year.
Note: While the items used in the outfits below are not available anymore and therefore aren't linked, the looks themselves are great inspo for a cute St. Patrick's Day look:
What to Wear on St. Patrick's Day: Outfit 1
Without a question, lime green is in! A cute sweater balances the edginess of the color, and you can wear it anytime and with pretty much anything. A faux leather skirt makes the look cool but still very girly.
Throw on your favorite white sneakers for a casual look for a gathering with your friends.
Top it off with a hair accessories, like a scrunchie, a barrette or a hat.
Don't like wearing green or color in general? Try wearing just this cute lime green scrunchie with a neutral outfit — no one can say you're not participating in the festivities.
What to Wear on St. Patrick's Day: Outfit 2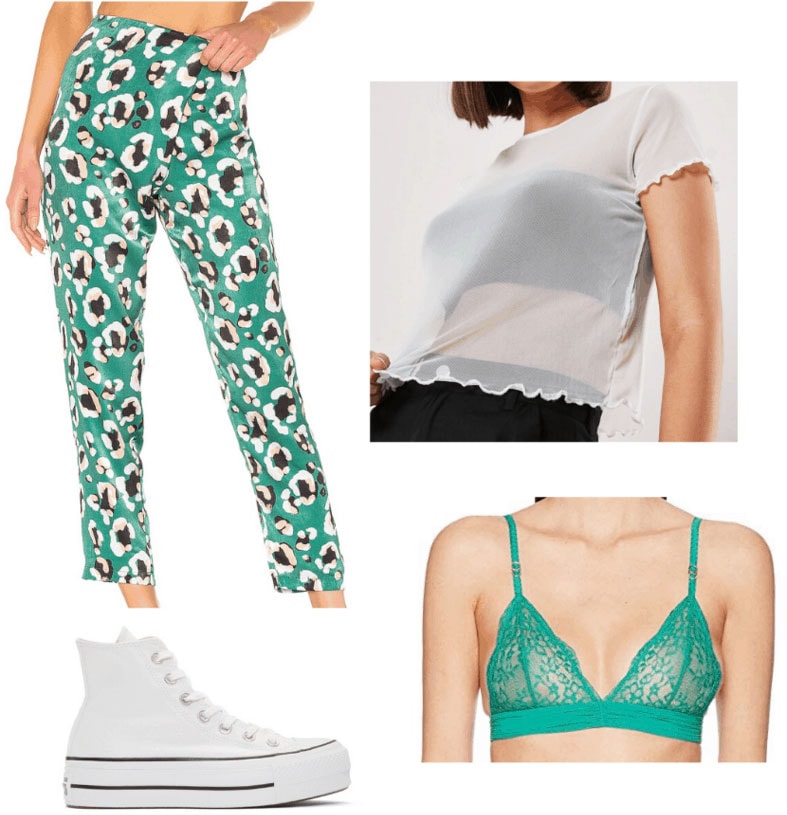 Deep green is one of my favorite colors — it's just so elegant. Mix it with a funky print, and it couldn't be more on trend.
These printed pants aren't only on trend, they're also super comfy because they're made of satin. But we have more green to add to this outfit. Create an edgy look with a see through white shirt and a green bralette. Top it off with some go to sneakers like a pair of Converse.
This is a look that's super easy to style and you can dress it up or dress it down simply by swiping the shoes for combat boots for a party or heels for a fancier event. And if you're not down with sheer, just wear a regular white tee with these pants — so easy!
What to Wear on St. Patrick's Day: Outfit 3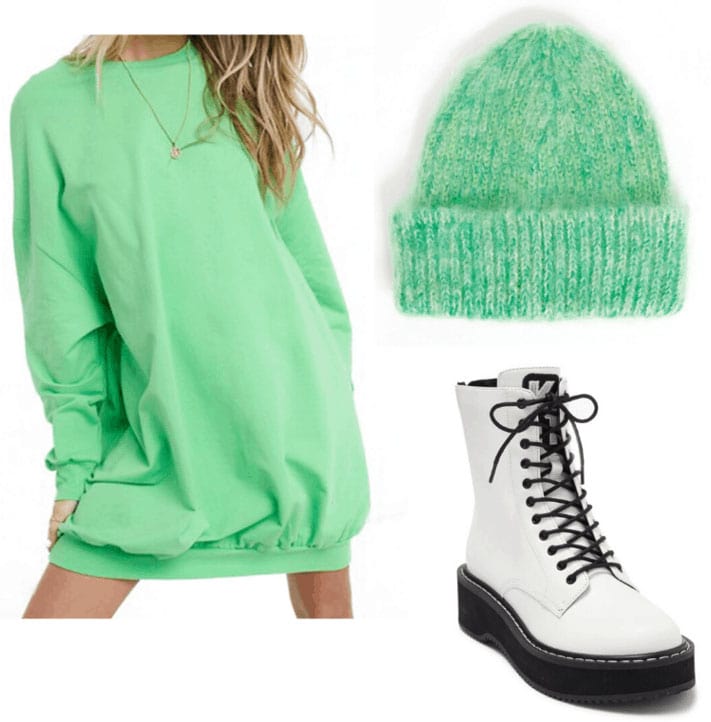 A lazy little girl outfit for St.Paddy's day? Sign me up.
Not only is a sweatshirt dress super comfy, they are so cute and can be worn year round. A green beanie adds a little more luck to your outfit. (Obviously that's the reason you're wearing it, not because you haven't washed your hair in a week.)
Throw on some white shoes to create a cool contrast; these combat boots will bring a little edge to your adorable look.
What to Wear on St. Patrick's Day: Outfit 4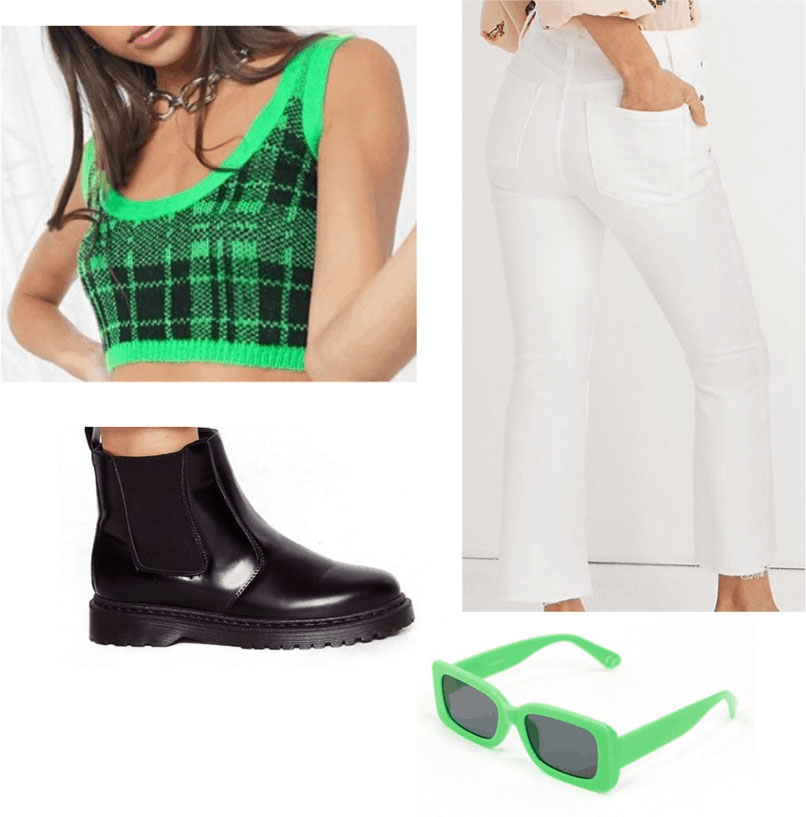 Plaid has been on trend for like two years now and it doesn't seem to be going anywhere. So when you're thinking about what to wear on St. Patrick's day collection, why not go for a plaid green top?
Match your top with a pair of white flared jeans that are all the rage at the moment. Some cute Chelsea boots will bring a cool vibe to the look. Top it off with these super cute green sunglasses.
This is a super easy party look when hanging out with your friends.
What do you think of our St. Patrick's Day outfits?
Would you wear these outfits? Which look is your favorite? Leave a comment and let us know!
If you find this cute st patrick's day outfits guide helpful to you, you might want to consider the related posts below –