In honor of the premiere of The Batman, this Zoë Kravitz style guide will show you how to copy her best outfits.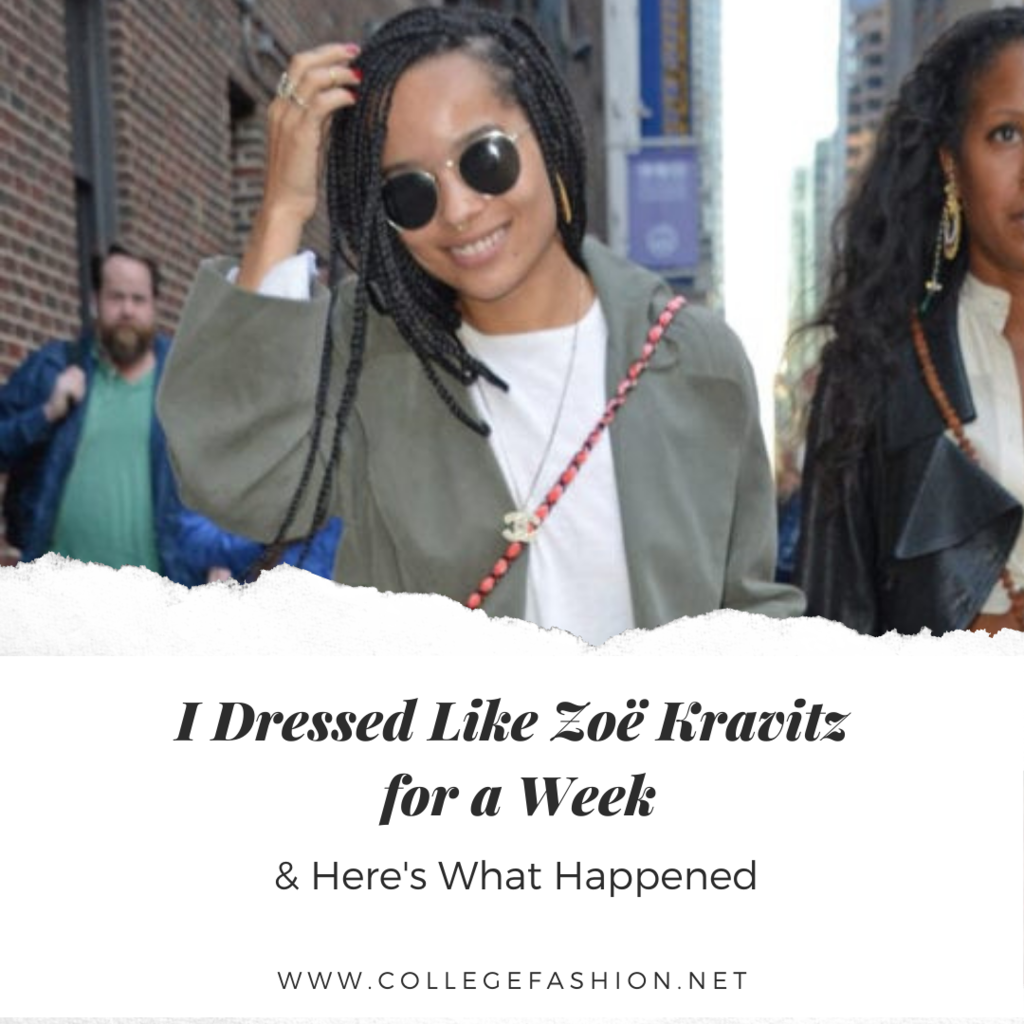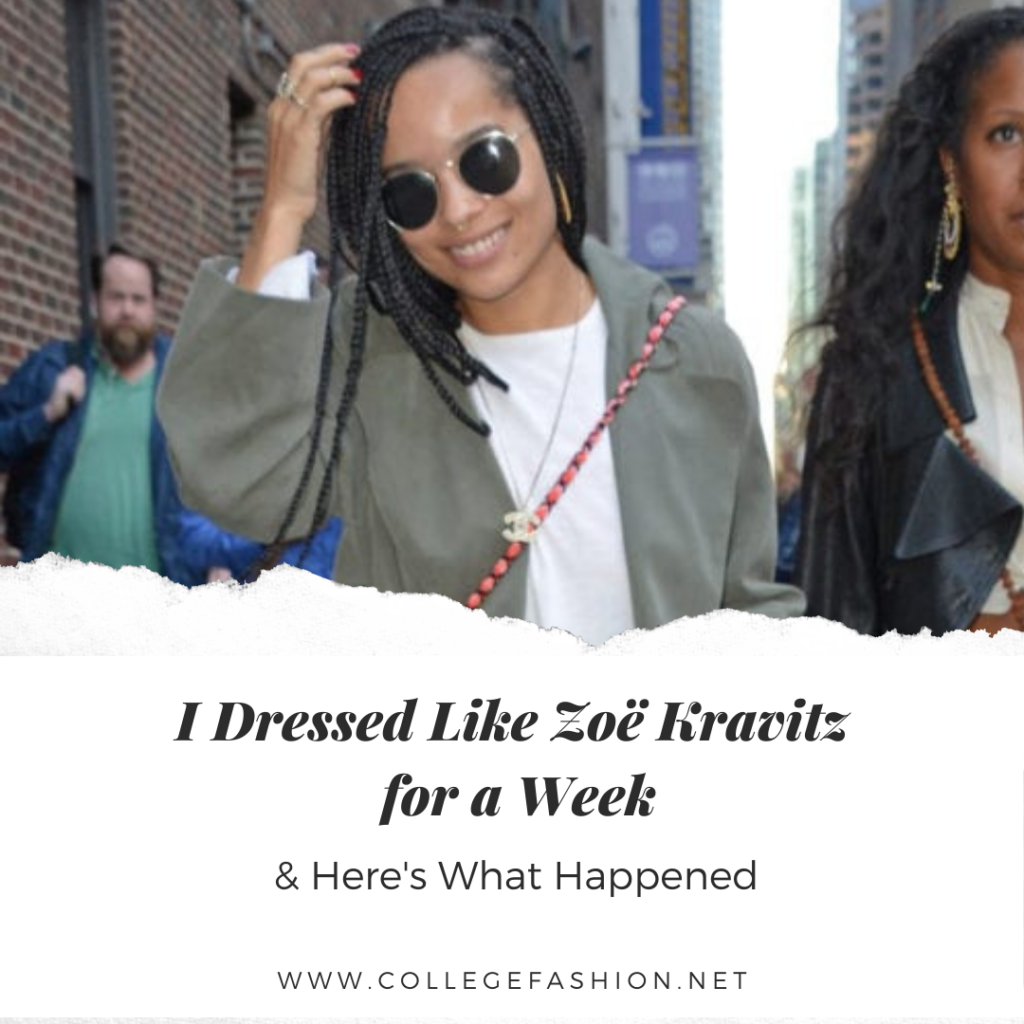 We've all looked to celebrity style for fashion inspiration at some point in our lives. But it's one thing to say "I love her outfit," and it's another to actually copy it in real life.
For this series, I'm going the extra mile and making it happen. Each week, I'm getting inspiration from a celebrity and copying five of her looks as closely as possible. Then, I'm reporting back to you: Did the outfits work in real life? Did I feel comfortable? Did people treat me differently? I'm sharing it all.
This week, I'm copying the style of our new Catwoman, Zoë Kravitz.
About Zoë Kravitz
Zoë Kravitz is an American actress, singer, and model. Her parents are actor and musician Lenny Kravitz and actress Lisa Bonet. Actor Jason Momoa was Zoë's stepfather until 2021 and she still has a close relationship with the actor.
Kravitz is perhaps best known for her roles in franchise films, like Mad Max: Fury Road, X-Men: First Class, The Divergent Series, and Fantastic Beasts. Kravitz earned acclaim for her lead role in the HBO series Big Little Lies (2017–2019), which earned her a Screen Actors Guild Award nomination.
In her newest movie, The Batman, she plays the iconic Catwoman. This isn't the first time she has played the character; Zoë also provided the voice of Catwoman in The LEGO Batman Movie.
In addition to acting, Kravitz is also one half of the R&B duo Lolawolf, who has released one studio album and two extended plays.
Personally, I love Zoë's acting and I believe her talents have been wasted on some of her biggest movies. (I'm looking at you, Divergent and Fantastic Beasts!) Fortunately, she has been getting more attention and great roles to exercise her acting muscles. If you haven't seen Big Little Lies, do yourself a favor and put it on tonight. It's a fantastic cast all-around, the photography is great and the costume design is really cool.
Zoë Kravitz's Style
Zoë's personal style can be best described as a comfortable edge. She always manages to look cool, edgy, and extremely comfortable in whatever outfit she happens to be wearing.
Oversized t-shirts, sweatshirts, tank tops, midi and long skirts, jeans, joggers, coats and leather jackets seem to be her favorite items. Shoes-wise, it's rare to see her in high heels on her day-to-day; she usually goes for sneakers, sandals, almost every type of bootie imaginable, and flat shoes.
Zoë is big on accessorizing, which she usually does with interesting and vintage-inspired sunglasses, a variation of hats, long scarves, and mini bags. 
A Note on Zoë's Makeup
When I'm doing my outfit recreations, I usually try to steer away from makeup. This is because this information can be difficult to find, and I am not a makeup artist by any means.
Fortunately, for this one, Zoë did a Vogue video about her skincare and makeup, so I tried to follow the makeup portion as much as possible through the week.
It's a simple look, which I think is great. It didn't interfere with my usual routine much and I loved how it came out. If you want to watch the video, check it out above.
Zoë Kravitz Style Guide
Monday – Zoë Kravitz Outfit #1
For my first day, I chose this look that Zoë wore at the press junket for The Batman. In the video above, she is wearing a black top, jeans, and an assortment of gold accessories.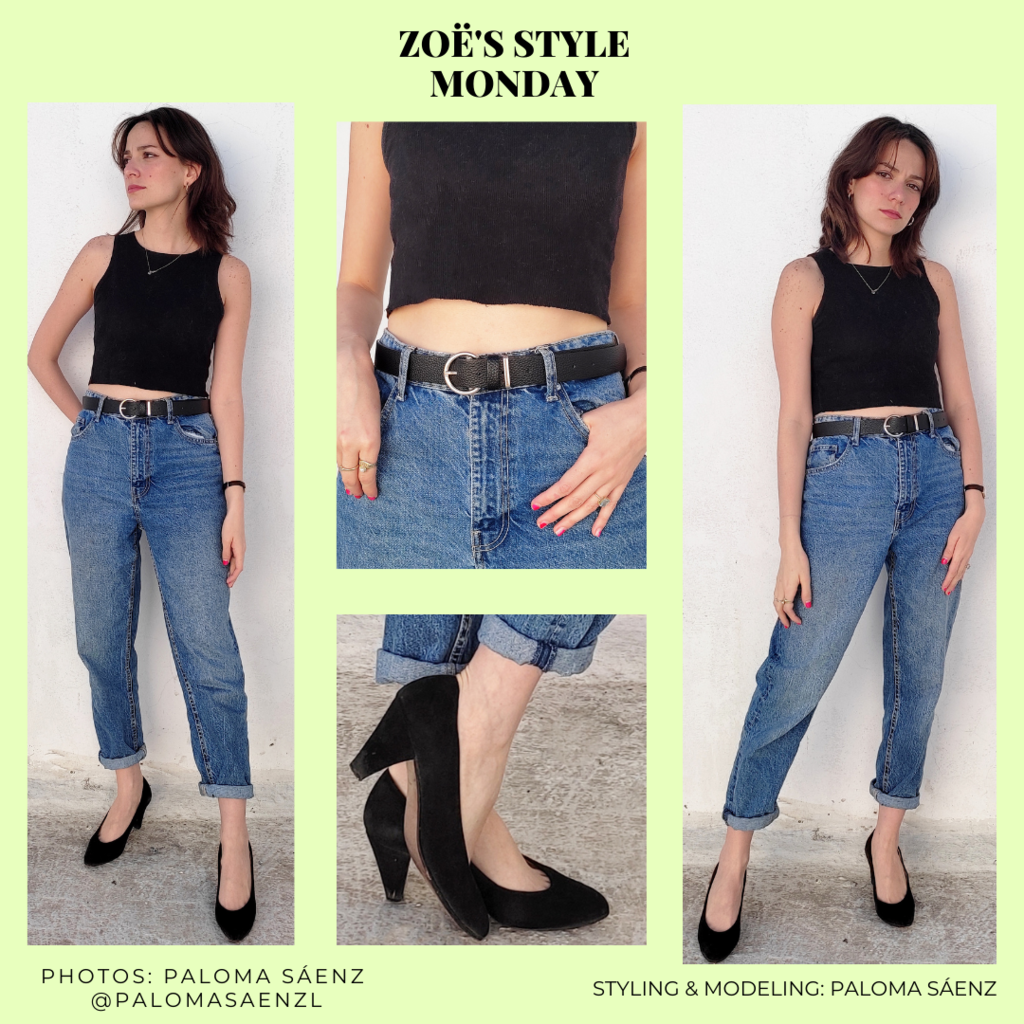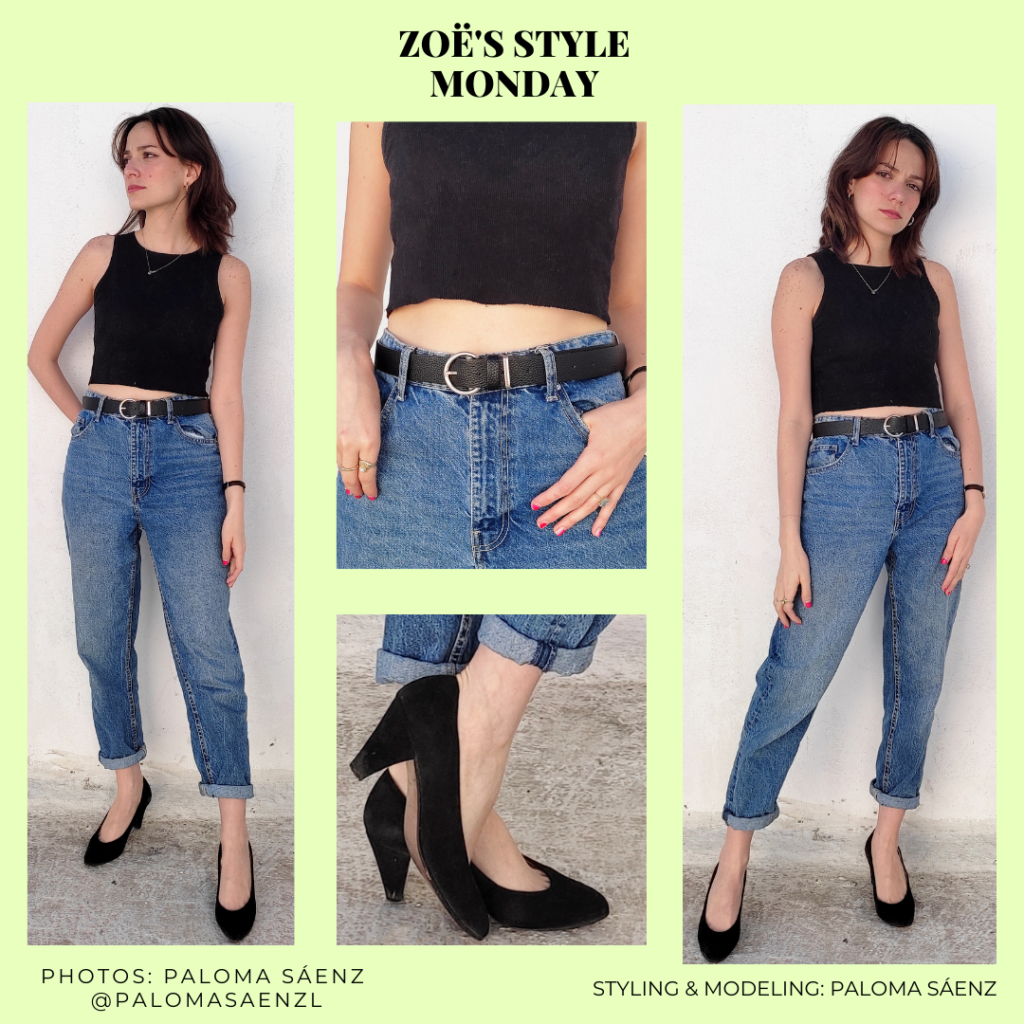 Similar products:
To create my take on the look, I paired a black cropped tank top and medium-wash mom jeans.
I honestly had a bit of an issue finding the shoes she was wearing in this particular interview. After some research, I decided to wear a pair of classic black velvet heels, that kind of resemble a pair she'd worn to other interviews. I borrowed the heels from my mom.
For the accessories, I grabbed a black belt with a golden buckle which came from my sister's closet. Finally, I just wore my usual gold rings and a pair of tiny golden hoops that were also borrowed from my sister.
I really liked this outfit. I know it's a simple one, and you can even call it basic, but I think that sometimes simpler is better. It has been a while since I've worn something so simple yet so chic.
The shoes and accessories really helped with this one. The heels were short, so they weren't uncomfortable, although I wouldn't wear them if I had to walk a lot. It has been increasingly warmer where I live, so I didn't have to add a jacket or socks later in the day.
Tuesday – Zoë Kravitz Outfit #2
Tuesday came along, and I wanted something that exemplified the quintessential Zoe Kravitz style, which is why I decided on this outfit. In the photo, she's wearing a red sweatshirt, a black skirt, a black coat, and black boots.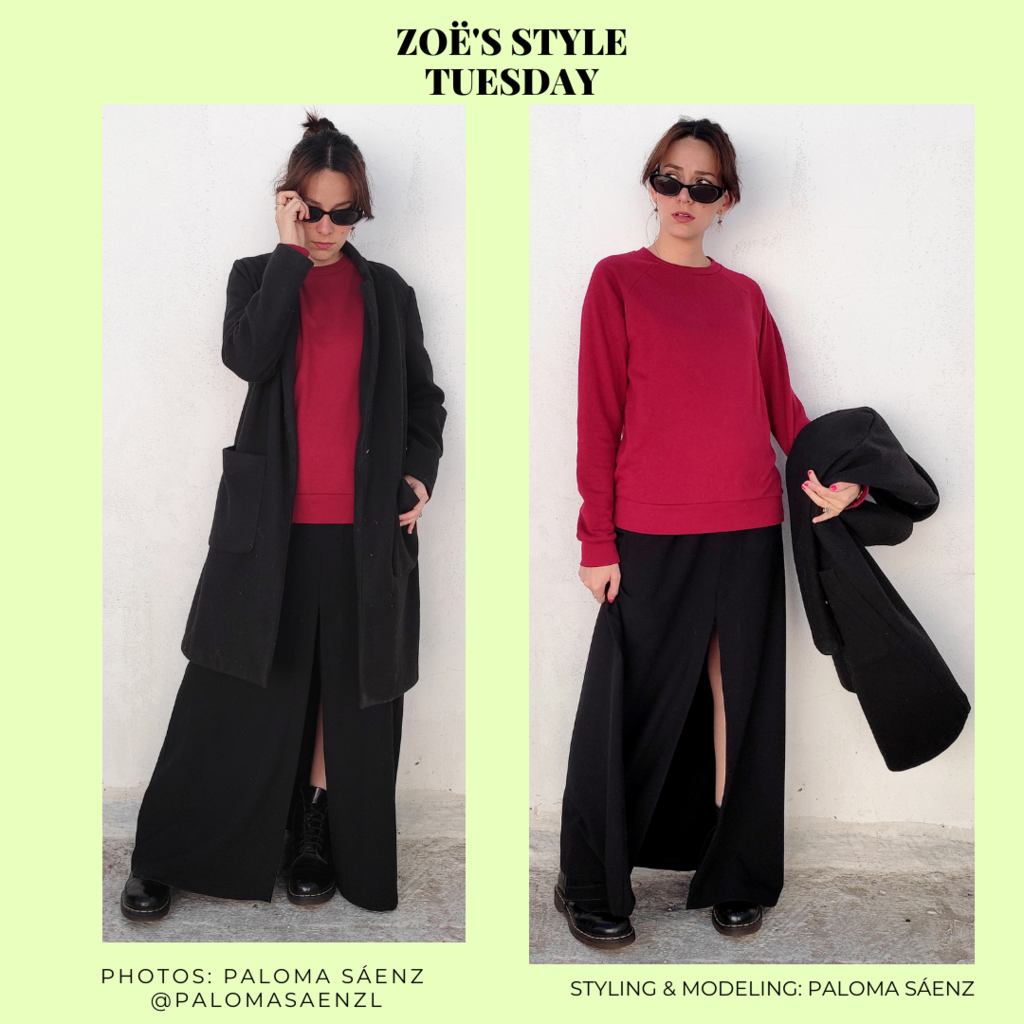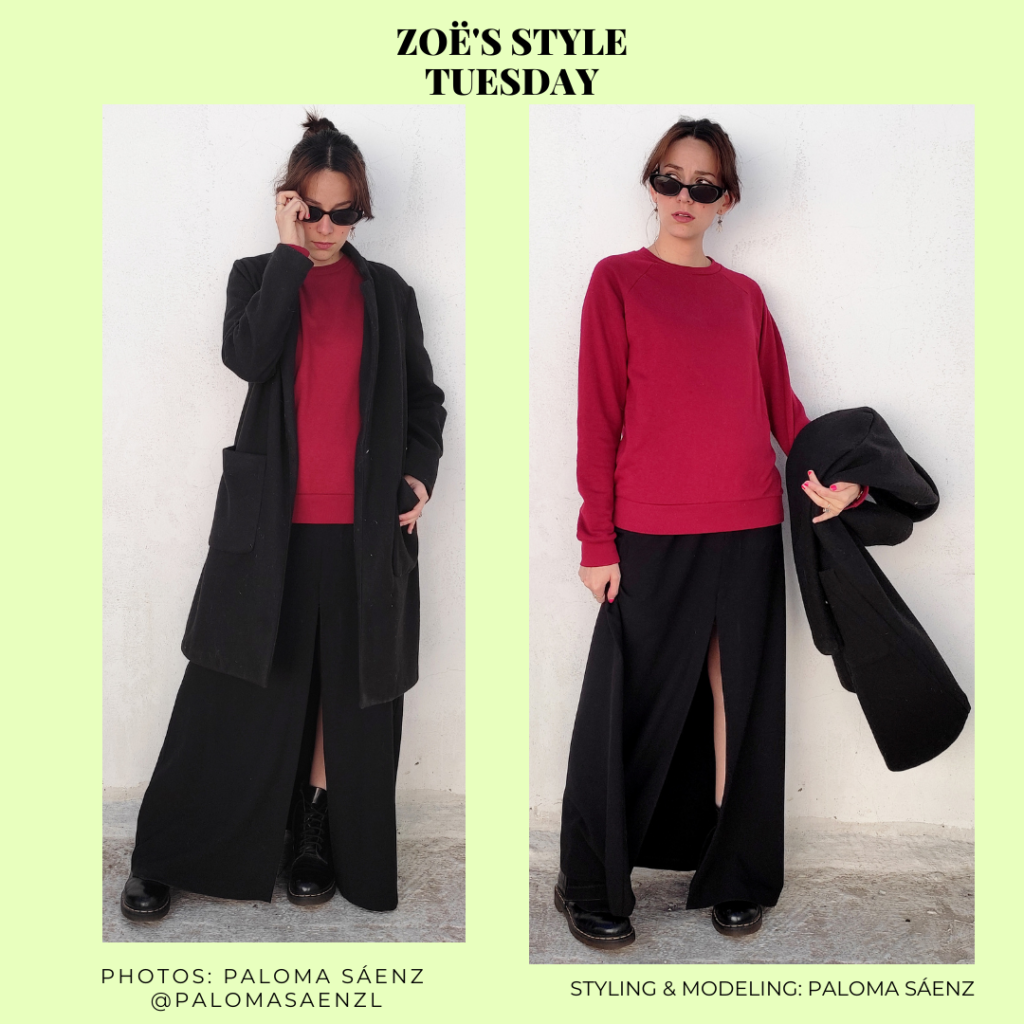 Similar products:
To recreate this outfit, I wore a simple red sweatshirt. Then, I put on a long black skirt. The skirt is actually my mom's since my long black skirt was way tighter and shorter than I needed it to be. I threw on my black wool coat over the top.
For shoes, Zoe is wearing a pair of zip-up boots, but I didn't have a pair exactly like that. Instead, I used my beloved black Doc Martens.
For accessories, Zoe is wearing a pair of sunglasses, a long scarf, and a velvet scrunchie. I neglected to use the scarf because I honestly forgot it was a part of the look. But for the few minutes, I was in the car with the last rays of sunlight, I put on my vintage-inspired black sunglasses.
Finally, I put up my hair as best as I could with my current haircut and tied it with a black velvet scrunchie, which I borrowed from my mom.
I really liked this one, and I didn't expect to. I'm not usually one to wear long skirts because I feel they make me look like a hobbit. I did have to hem this one just a bit, so I wouldn't trip on it, but it was really comfy and stylish.
Fun fact, Tuesday is usually movie/date night for me and, coincidentally, this was the outfit I wore to go see The Batman. It was honestly the perfect look for a movie night, since the A/C in the movies is always too cold for me. The coat saved me. Also, it had the same color palette (red and black) as the movie's poster, which made the look even more serendipitous.
Wednesday – Zoë Kravitz Outfit #3
Wednesday arrived, and with it came the outfit I was the most excited to wear. Zoë is wearing a t-shirt, a plaid skirt, and, a black coat and booties.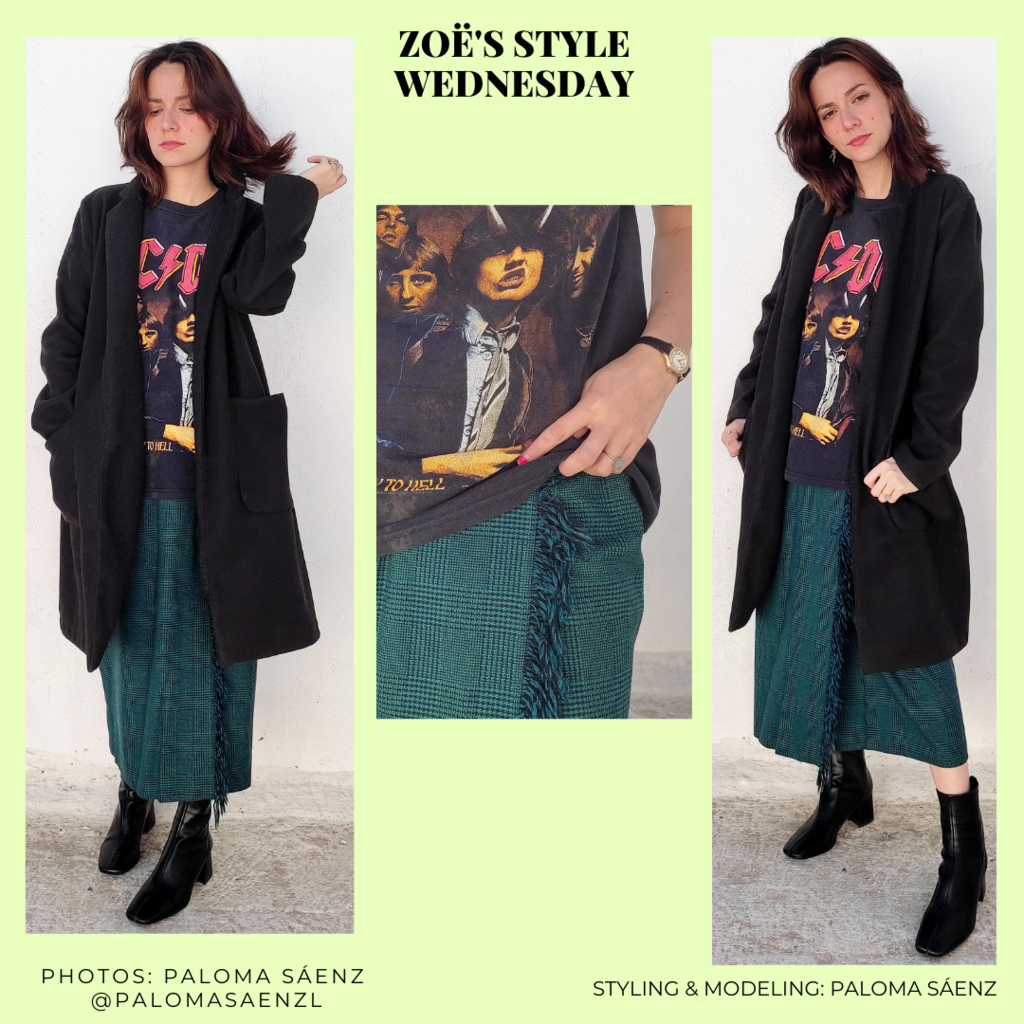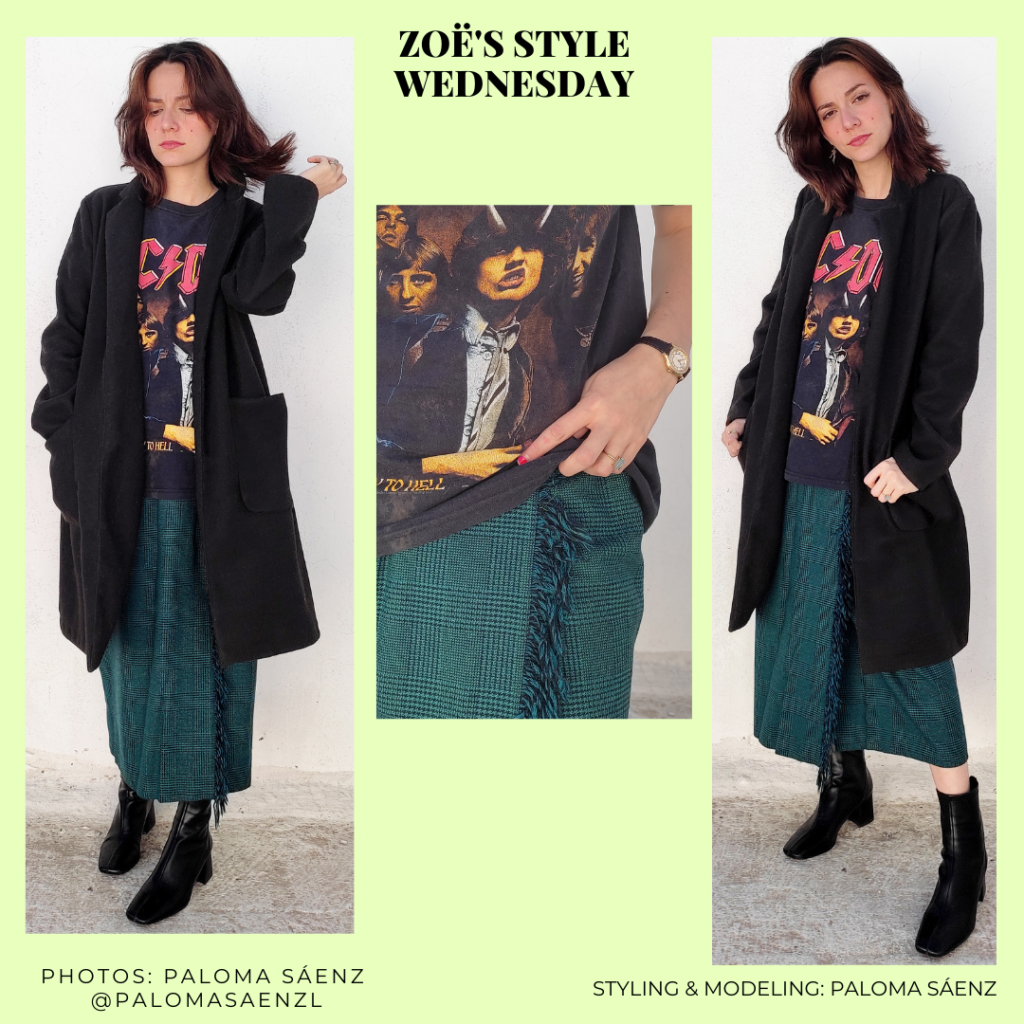 Similar products
This outfit was a little difficult to assemble, but I think it turned out great. I combined a black band tee with a long plaid skirt. My skirt has a smaller pattern in green and blue, and is quite different from Zoe's, but I think it works for the purpose of this recreation. Then, I threw on the same black coat I wore the day before. For shoes, I wore my black sock booties.
Weirdly, I think this works. If it had been my outfit, I would've tucked in the tee, worn a pair of Converse and changed the coat for a leather jacket. But I'm glad I did this Zoe's way. While it isn't something I'd usually put together or even how I'd wear certain items, I enjoyed how it turned out. So much. It was surprisingly cool and put together on me.
I thought I would look very frumpy or even shorter than I am in this one, but I loved how I looked. It was a bit warm, though, especially for these early spring days.
Thursday – Zoë Kravitz Outfit #4
Thursday's was a very simple, kind of odd Zoë look. For this one, she is wearing a black hoodie, brown pants, and black boots.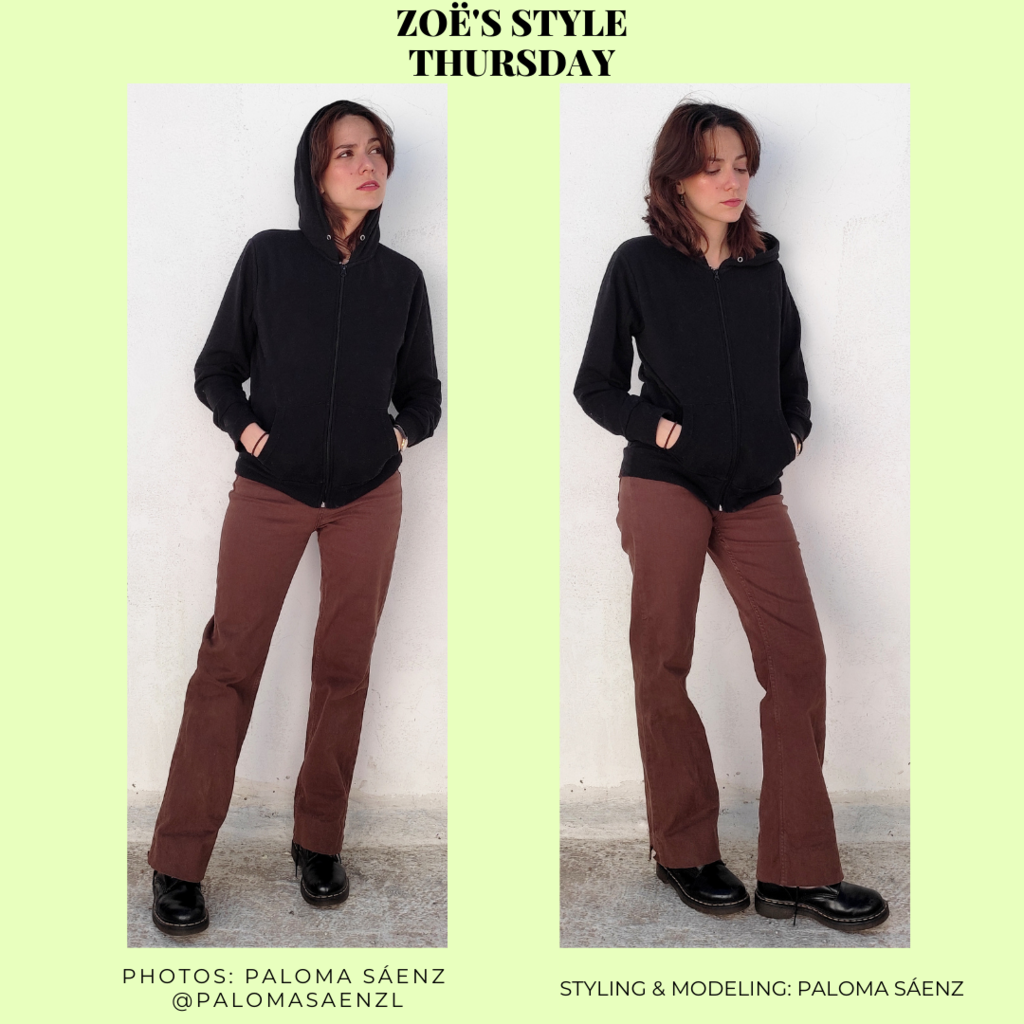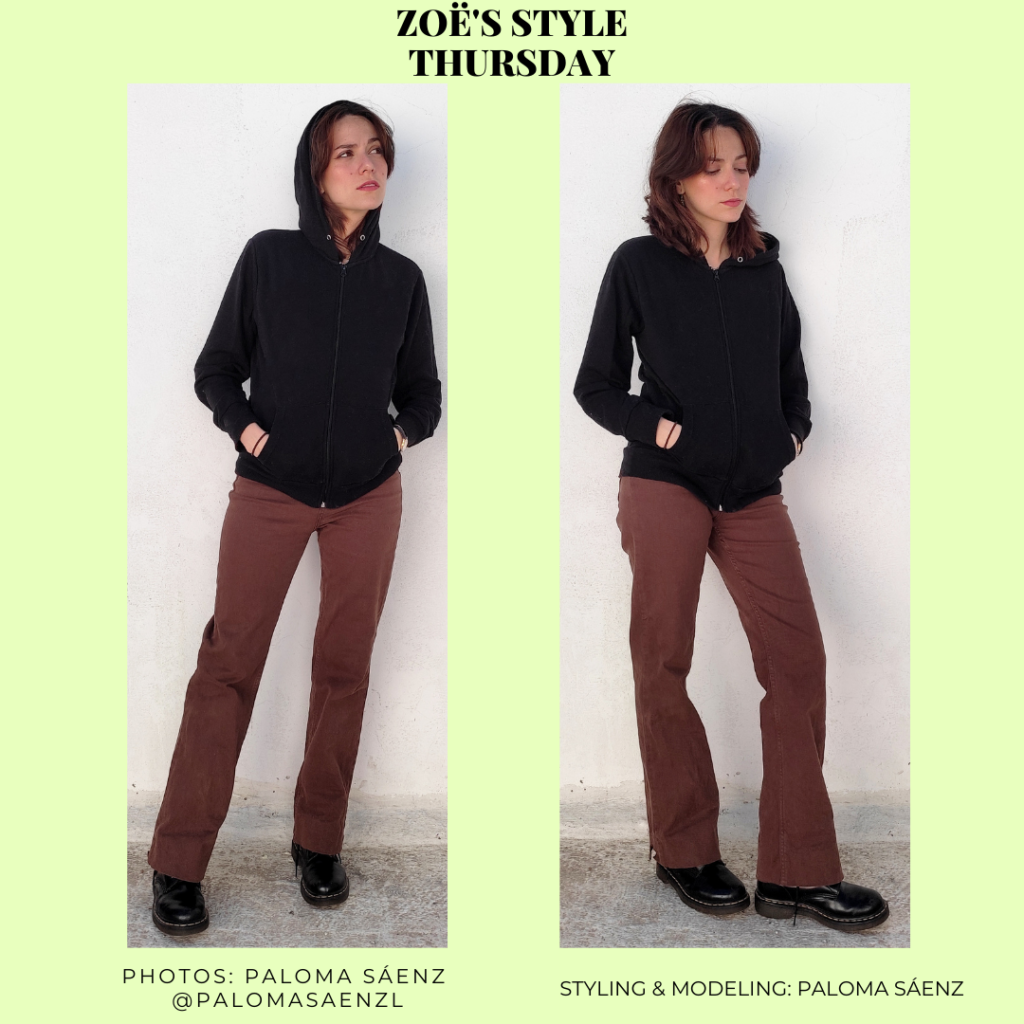 Similar products:
This Zoe Kravitz outfit was easy to copy. First, I used my black hoodie as a top. Her hoodie isn't a zip-up, but this one was the closest I had in my closet. Then, I wore my brown flared jeans. Finally, for shoes, I threw on my black Doc Martens again.
I thought I would like this one, but to be honest, I didn't feel good in it. I love these pants and my boots, but I hadn't worn this hoodie in years. Physically, it was comfortable, but I didn't like how I looked in it. When I looked at myself wearing it, in contrast to Zoë's take on it, I thought I looked awful.
If I'm being honest, I chose this outfit because Zoë has a lot of very chill, relatable (prices per item not with-standing), "I'm in a hurry"-type of looks, like this one. Which means that it's something that anyone can put together. Overall, it's a good, quick look and if it's your style go for it. Personally, I won't wear this one again.
Friday – Zoë Kravitz Outfit #5
For Friday, I wanted to recreate another outfit from her most recent press junket. The look I chose is from this Vanity Fair video. She is wearing an all-black ensemble with golden accents.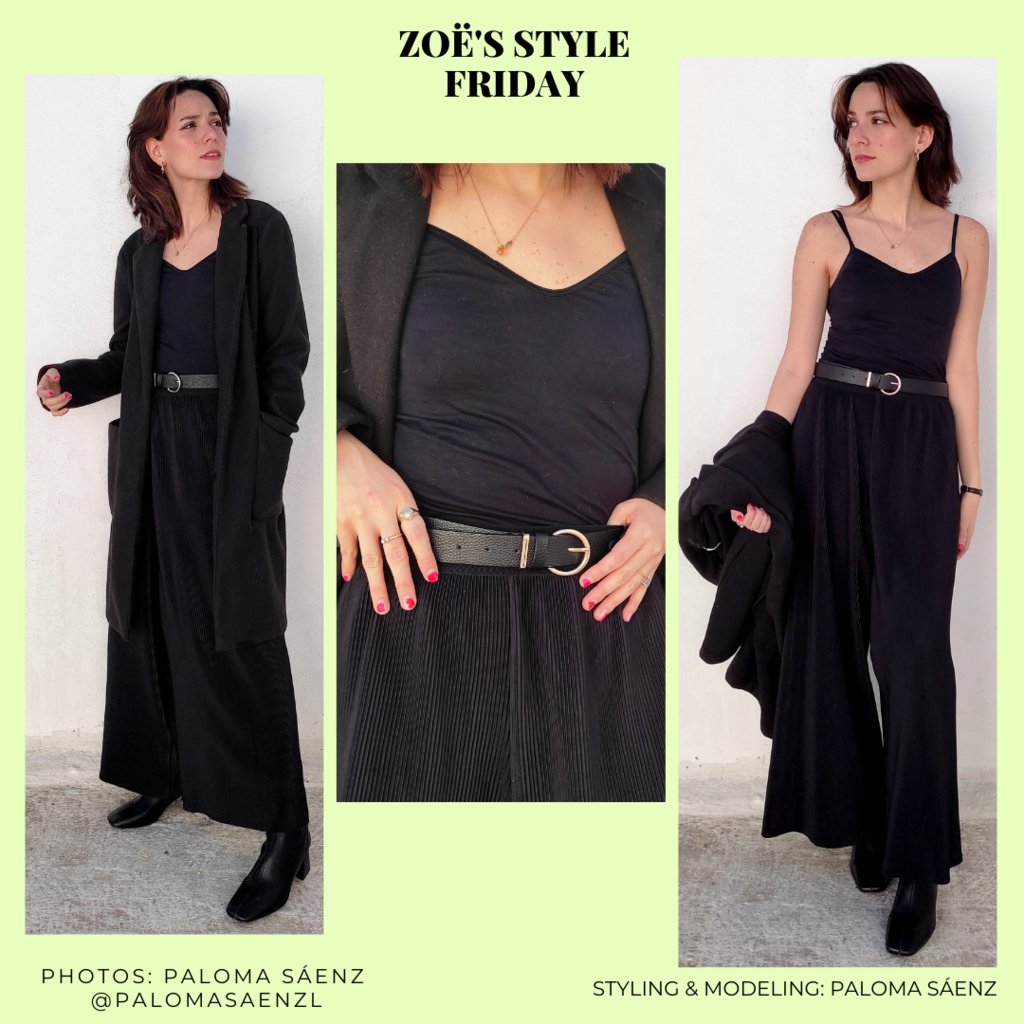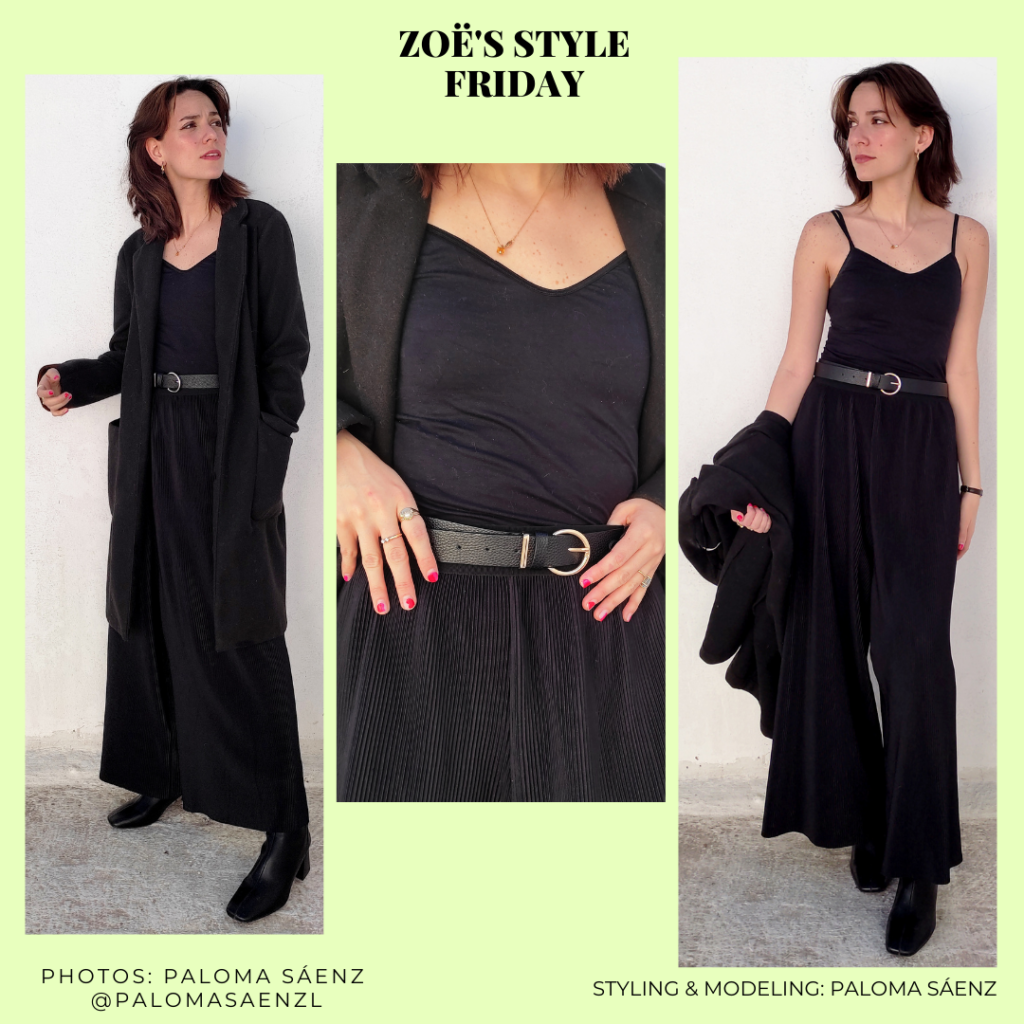 Similar products:
To recreate the final look of the week, I paired a simple tank top with some black straight-leg pants as a base. (The pants were borrowed from my sister.) Afterward, I wore the same black coat I had worn on the previous days.
The shoes were tricky because I couldn't see which ones she was wearing. I almost opted to wear my black Nike Cortez sneakers since Zoë wears that model a lot. But sneakers didn't feel right with this look. Finally, I decided to wear my black sock booties.
For accessories, I wore the same black belt with a golden buckle, gold rings and golden earrings from Monday.
I ADORE this look! It was just what I needed after the flunk that was Thursday's look. I felt really sexy and put together while also being comfortable. This outfit is so fashionable and sleek. I just adored it!
We went out for dinner on Friday night and it was a really cool outfit to wear for date night. I think that you can never go wrong with an all-black ensemble. I loved it, and it was a perfect way to end the week.
Final Thoughts on My Zoe Kravitz Style Experiment
Zoë Kravitz has such a cool style, that it was a little scary for me to tackle. While her look is very comfy and edgy, many oversized items can sometimes make me feel like I'm drowning in fabric.
Halfway through the week, I had this very insecure moment when I was looking at a picture of Zoë in her Thursday look, and I thought, "There's no way I can look that good. She's an actual model, and I'm just me". And then I put it on, and that thought turned into a prophecy. I felt so ugly in that. Thursday's look really brought me down, and believe me, I know how foolish that sounds.
Usually, I try to keep these posts as positive as possible, while staying true to what happened and how I felt. This time, being positive wouldn't have been truthful.
Even though I have been doing this for a while, sometimes I get very self-conscious when things don't turn out exactly like my inspirational pictures. Or, on a bad day, when I look at myself in the mirror and it's just me, in a bunch of clothes that would look way better on someone curvier or taller, and I think I look like a coat rack.
Through each week, I usually come around and end up liking almost all of the outfits, or at least parts of them. It didn't happen with Thursday's look. I have no idea why this specific combination triggered this in me, but it brought me back to a time in my life when I didn't like myself at all.
Style with a Smile: A Fashionable Experiment in Positivity
On the positive side, Zoë's style grounded me and forced me to live outside of my normal aesthetic. In particular, her look hit on a lot of my personal style no-no's, like wearing everything oversized, not tucking in my shirts, wearing loose pants and shirts at the same time, etc.
After finishing the week, and seeing the final pictures, I remembered why I started doing this series — to challenge myself in this way.
Overall, I count this week as a win. I liked 4 looks out of 5, which is a good thing. My favorite looks were Friday's, Monday's and Wednesday's, in that order. Tuesday's outfit wasn't perfect, but I loved all the happy coincidences surrounding the look that day.
If you are curious about Zoe Kravitz's style and want to give it a shot, she is a great source of inspiration. She wears a lot of basics, so you probably have most of the things you need in your closet already. Her looks are also great if you want something comfy to get through the day. Or, if have a lot of errands to run, but you also have a date or you're going out with your friends. Give it a try, and let me know how it goes!
What do you think of my Zoe Kravitz style guide?
Do you like Zoë Kravitz's style? Did you see The Batman? Which outfit was your favorite? Which one would you wear? Whose style do you think I should cover next? Let us know in the comments below!
Looking for more Zoe Kravitz style? Here are some of our celeb-inspired outfit ideas that might also inspire you –