Whether it's a good idea or not, celebrities love to have a hand in every possible arena. From recording contracts to fragrance deals to hair extension lines, if they have the opportunity to further their status, they will do so without question.
Unfortunately, because of this, many celebrity crossover lines and products are sub par. On the other hand, however, there are some celebrities who have done it right. Intrigued? Keep reading for our five favorite celebrity clothing lines.
Elizabeth & James by Mary-Kate and Ashley Olsen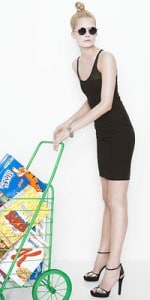 Self described as embodying an "eclectic lifestyle by blending uptown and downtown elements with casual and traditional style," Mary-Kate and Ashley Olsen's Elizabeth and James collection is "trend conscious, yet timeless."
Named after the twins' brother and sister and launched in 2007, Elizabeth and James features clothing, shoes, accessories and a newly added menswear branch. As the Olsen's third venture into fashion, Elizabeth and James is a pseudo-luxury brand, priced lower than their high-end collection The Row, and priced higher than their Mary-Kate and Ashley line for discount stores. Popular with the celebrity set, Elizabeth and James designs have been seen on Dakota Fanning, Kristin Cavallari, and Jessica Simpson, just to name a few.
For locations on where to buy Elizabeth and James, check out their website, or shop online at ShopBop.
Why We Love It
Ever since I first heard the words, "It was the best of times, it was the worst of times…Actually it was bedtime," I have been a Mary-Kate and Ashley devotee. In the 90s, MK&A were the girls who felt like your best friends. I grew up watching the girls first on "Full House," then "Two of a Kind," and finally, "So Little Time." Beyond their enviable acting careers, however, the girls have grown into fashionistas in their own right, making headlines with their unique hippie-grunge-bohemian style.
Naturally, when I heard that the twins were teaming up to create their own high-fashion line, I was intrigued. Today, I can almost always look to Elizabeth and James for some fashion inspiration. Ruffled dresses? Oxfords? Boyfriend blazers? They've got it all, and their pieces are always styled in a way that looks both effortless and chic.
Mary-Kate and Ashley's collection of smart, modified-basics is totally crave-worthy, and always on my radar… though their pieces are not so college-budget friendly. So how to get it? Whether you save for months, score a super-marked-down piece on ShopBop or opt for the Forever 21 knock-offs, if you want it, there's a way to posses a little bit of MK&A style.
Favorite Pieces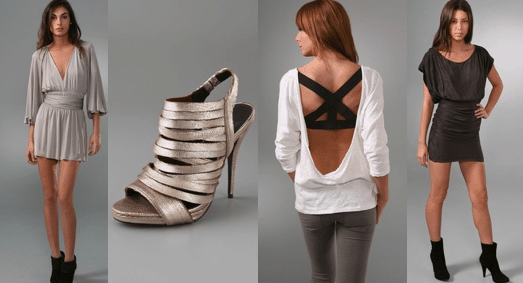 Product Information: Elizabeth and James Suzette Romper, Jan Multi Band Sandals, Crisscross Tee, and Isis Dress – ShopBop.
Inspired by Elizabeth & James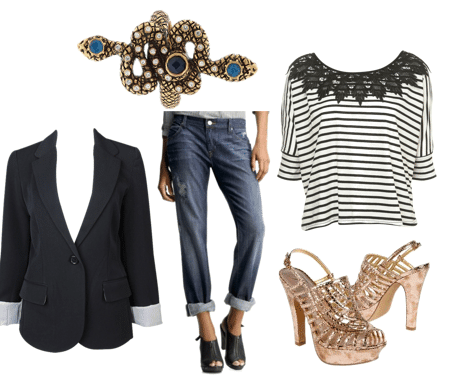 This outfit captures the Elizabeth and James vibe – it's a little bit glam, a little bit dressed down, and a little bit vintage. Pair a striped tee with boyfriend jeans, a structured blazer, and ornate extras to steal the brand's vibe.
William Rast by Justin Timberlake
William Rast is a fashion collaboration founded by Justin Timberlake and his best friend Trace Ayala in 2006. The line's name comes from the names of Justin and Trace's grandfathers–"William" being Justin's, and "Rast" being the surname of Trace's.
Though primarily a premium denim collection for both men and women, William Rast also includes tough leather jackets and relaxed tops and tanks. A fusion of hollywood glamour with Justin's southern roots, William Rast has been favored by celebrities like Vannessa Minnillo and Timberlake's leading ladies, Cameron Diaz and Jessica Biel.
Why We Love It
Who would have thought that everyone's favorite boy band member would turn out to have such amazing style? (Or be such a hottie?!) JT always looks put together and smooth.
Full disclosure: I was totally surprised when this line wasn't a complete disaster. Justin did it right though: urban edge and country comfort are perfectly matched within his collection.
As someone with a penchant for designer denim, I can personally tell you that Justin's jeans (tee hee!) are some of the best. Go a size or two up in a pair of William Rast Jerri Ultra Skinny jeans and you've got the perfect casual boyfriend jeans–great color, impeccable distressing, and staying power. Want to make your butt look cute? Go for his Belle Flap Pocket flares. Though the jeans are pricy at $165 and up, if you're on a budget, no worries– William Rast is often featured on sample sale websites such as Hautelook and Rue La La, and is an almost permanent fixture in Nordstrom Rack stores nationwide.
Favorite Pieces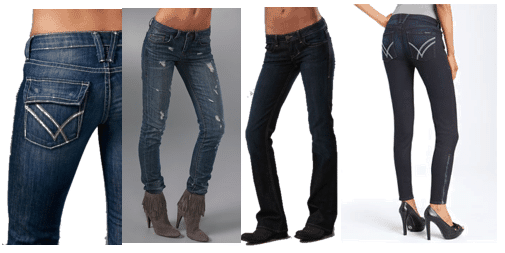 Product Information: William Rast: Belle Flap Pocket Flare Jean, Jerri Ultra Skinny Jeans, Stella 5 Pocket Boot Cut Jean, Tony Stretch Denim Leggings – Shopbop.
Inspired by William Rast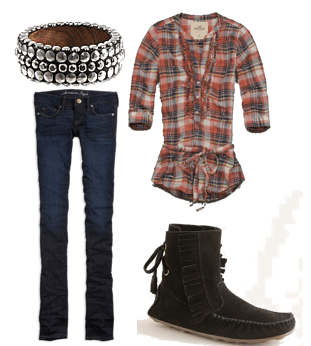 William Rast is all about down home, relaxed staples for country girls — with a higher end twist. To get the William Rast look, pair dark wash flare jeans with a cool plaid shirt and suede booties.
Twenty8Twelve by Sienna Miller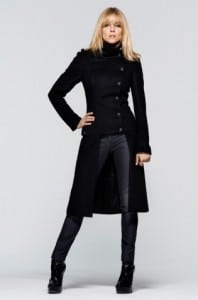 Twenty8Twelve was a contemporary luxury brand by model-turned-celebrity-turned-actress Sienna Miller and her older sister, Savannah. Announced in 2006 with much anticipation from the fashion community and officially launched in 2007, the UK-based collection included clothing, accessories, and leather jackets. Featuring trendy details such as studs, brights and floral prints, the line is both romantic and edgy–a blend of motorcycle sharpness and girly couture.
If you're into Sienna Miller's style, you can still buy this now-defunct clothing line online, via stores like eBay. Do a search and you'll be surprised at how many pieces are around!
Why We Love It
As a former model, Sienna knows fashion: the girl always looks great, on or off the runway. Especially admirable, however, is the collaboration with her big sis, Savannah. With Savannah designing and Sienna lending her creative input and banging body, the team has created a fun and fearless collection. The combination of edgy materials and silhouettes coupled with feminine details make for plenty of gorgeous looks. Best of all? Almost every single one of the pieces are totally wearable–something satisfyingly unexpected. If you like what you see on Sienna, you'll probably love Twenty8Twelve.
Favorite Pieces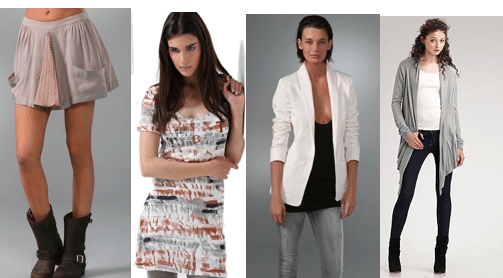 Product Information: Monomark Skirt and Anaiya Blazer, Logon Print T-Shirt Dress, Boyfriend Cardigan – Shopbop.
Inspired by Twenty8Twelve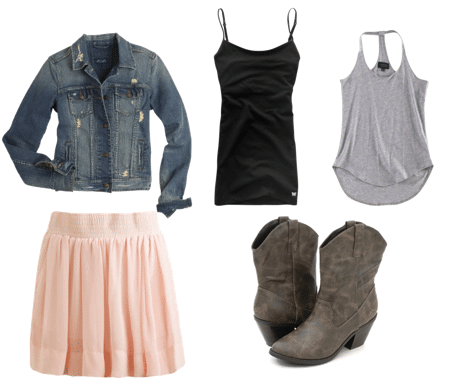 Twenty8Twelve is all about being girly with the slightest hint of London edge. To get their vibe, pair a feminine ballet skirt with cowgirl boots, a denim jacket, and layered tanks.
L.A.M.B. by Gwen Stefani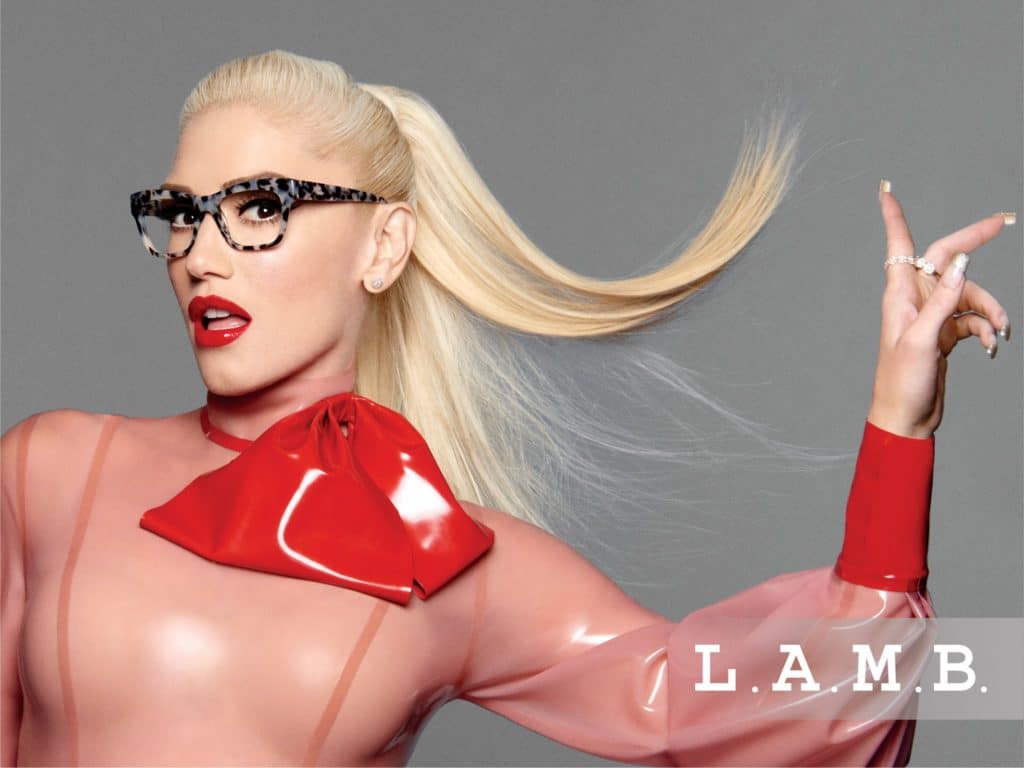 Gwen Stefani describes L.A.M.B., which stands for love angel music baby, as a little bit of everything, noting "a little bit of Sound of Music, Orange County chola girl, Rastafarian rasta girl, and English Great Gatsby garden-party girls," as her key influences.
Making its runway debut in 2004, L.A.M.B. is a multifaceted brand encompassing clothing and accessories, including amazing bags and shoes, as well as a perfume called simply "L." The collection has had huge commercial success in stores worldwide, and has attracted much celebrity acclaim. Part of the line's success may come from Gwen's fashion background: she comes from a family of seamstresses and is highly involved with the line.
Why We Love It
Gwen was really the first celebrity to do high-fashion right. L.A.M.B., her luxurious collection, was a far cry from the bejeweled tracksuits of its time. L.A.M.B. is always unexpected and fresh, often featuring bold patterns, bright colors and tribal influence. Past collections, for example, have featured checkerboard, cheetah, and rasta patterns, though this season highlights zipper detail and oversized silhouettes.
The perfect look for a glam-rock princess, Gwen's line embodies hipster style paired with urban grunge. Ms. Stefani definitely brings her amazing personal style to this collection, and influences from her ska roots are almost always apparent. Though Gwen seems to have shifted her focus to her diffusion line, Harajuku Girls, L.A.M.B.'s accessory line seems to be going strong. Into high-quality leather goods with a little something extra? You'll love L.A.M.B.
Favorite Pieces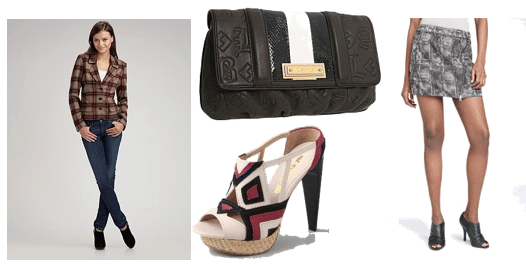 Product Information: Cinched Blazer, Dorset Barcellon Clutch, Vail Birdcage Sandals, Zip Detail Miniskirt – Shopbop.
Inspired by L.A.M.B.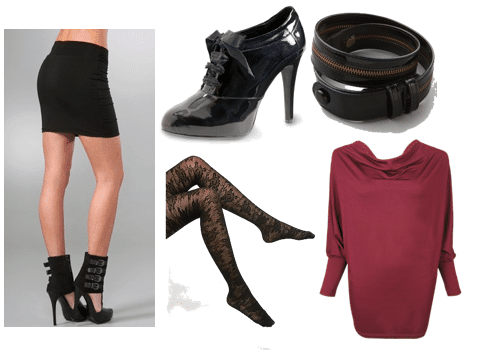 L.A.M.B. is for the edgy, funky girl who isn't afraid to make a statement. Get Gwen's signature vibe with lots of black, a drapey tee and statement tights.
House of Harlow 1960 by Nicole Richie
Like many of the lines on this list, House of Harlow was named after a special someone–Nicole's daughter Harlow Winter Kate Madden. The line, which currently features jewelry and headbands with a 60's feel coupled with a tribal vibe is set to expand, offering shoes and bags later this year. House of Harlow 1960 embodies Nicole's bold style: the jewelry was made to layer and wear together. Mixed media pieces, including enamel, leather, gold plate and resin create a collection that is interesting, eye-catching, and unique.
Why We Love It
Though technically not a clothing line, Nicole Richie's House of Harlow 1960 accessory line deserves a mention on this list! Nicole has embraced so many personalities over the years: from wild child party girl to celebutante BFF to fashionista to mommy, things keep getting better and better for Miss Richie! Nicole is one of those celebrities who always looks great, even if she's wearing old jeans and a tank. Part of her appeal? Her love for accessories, of course! She piles on the bangles, loves on-the-head headbands, and rocks chunky statement rings like none other.
The real reason her collection rocks? It's totally college-budget friendly with pieces starting at $20. I adore almost every piece in this line: the mix of geometric shapes, tribal styling, and a nod to vintage is perfection. If you're a Nicole fan like I am, make sure to look out for her contemporary clothing line Winter Kate, set to launch later this year!
Favorite Pieces

Product Information: Cream Leather Garter Bracelet, Key Cocktail Ring, Abalone Stations Necklace, Gold Plated Sunburst Cuff – Shopbop.
Inspired by Nicole and House of Harlow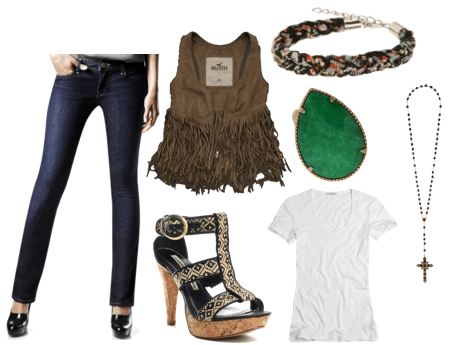 Nicole Richie is the ultimate boho babe, so channel her style with plenty of fringe, funky jewels, and some serious platform shoes. Finish it off with some classic dark wash jeans.
What do you think?!
Do you have a favorite celebrity designer? Do you own pieces from any of the lines I mentioned? Are there any that I missed that you think deserve to be mentioned? Which celebrity closet would you love to raid? Let me know with your comments!