Products L-R: 1. Tommy Hilfiger via Macy's, 2. Topshop via Nordstrom, 3. NY Collection via Macy's
Old man winter has a fresh take on spring's hottest trend, and we couldn't be more excited about it. Ruffle tops were spotted at nearly every mall this summer, especially adorning off-the-shoulder tops. While we don't recommend rocking these skin-baring tops in Polar Vortex temps, the good news is that those ruffles have made their way onto cozy knits.
The ruffle sweater is comfortable, classy, and sweet — it's perfect for holiday parties or cozy days on campus. Read on to see how to style one for class and a night out.
Ruffle Sweater: Class
The ruffle sweater comes, surprisingly, in many variations. The ruffles can appear on the sleeves, collar, or even draped side to side. The options are endless!
For class, I selected this pink bib-style sweater, which looks great when paired with simple light wash jeans. The mauve puffer coat complements the pink tone of the sweater while the cream colored boots and socks finish the look with neutral tones.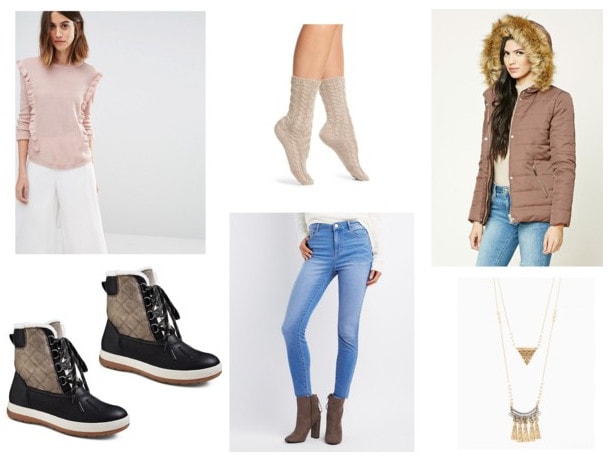 Products: Sweater – ASOS, Coat – Forever 21, Jeans – Forever 21, Socks – Nordstrom, Boots – Target, Necklace – Charming Charlie
Ruffle Sweater: Night Out
Holiday parties call for fun, bold, and festive outfits. This is the perfect time play with trends and take fashion risks.
To inspire your next party look, I've paired the pink ruffle sweater with black jeans, a multicolored faux fur coat, and studded heels. These additions change the whole look of the sweater – it's gone from sweet to edgy in a flash. Simple accessories, such as delicate earrings and a black beanie, will keep you warm while completing the look.
Products: Sweater – ASOS, Jacket – Forever 21, Jeans – Forever 21, Heels – ASOS, Beanie – Macy's, Earrings – Macy's
Let me know!
How much ruffle is too much? Which outfit would you wear this holiday season? Let me know!