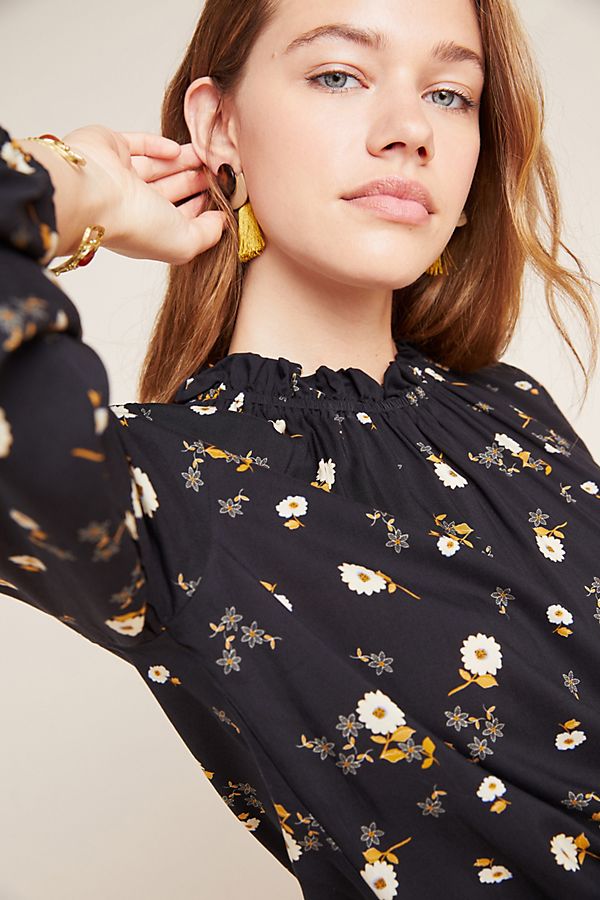 By now, we're all familiar with the infamous Miranda Priestly line, "Florals? For Spring? Groundbreaking." (If by some chance you haven't seen The Devil Wears Prada, go and watch it, STAT. I'll wait.)
While it's true that florals for warmer months are a given, they're probably not what first comes to mind when we think of cold-weather wear.
However, florals can (and should!) be worn when it's cold outside! Furthermore, this is especially true of often-overlooked dark florals. These glamorous and timeless prints instantly add a dose of mystery and drama to any cold-weather ensemble.
As you might guess, though, styling dark floral prints for cold weather is quite different from styling warm-weather florals, which usually just requires throwing on, say, a pretty sundress and a pair of sandals to form a complete outfit.
That's why I decided to put together three gorgeous looks centered around dark floral pieces, along with some tips on how to wear this beautiful print.
Just keep reading to see them all!
Dark Florals Outfit #1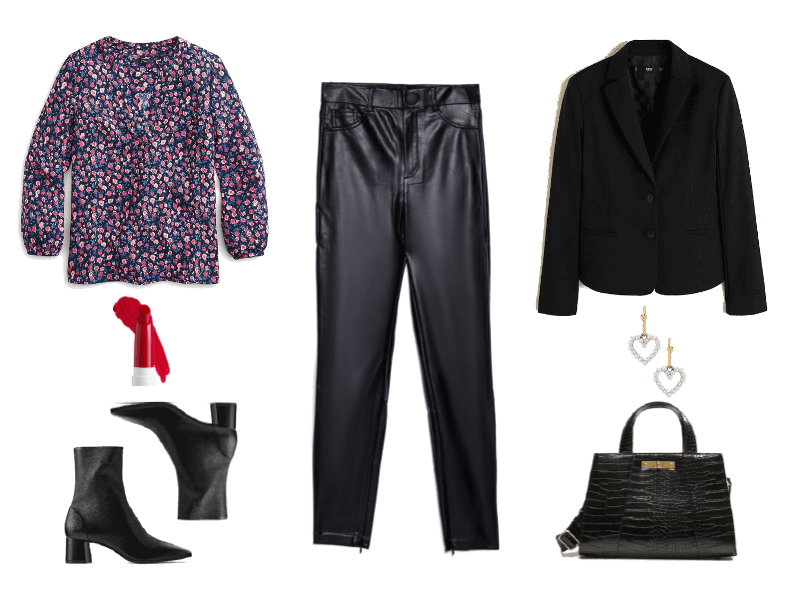 Products: Top – J.Crew, Lipstick – Colourpop, Ankle Boots – Zara, Pants – Zara, Blazer – Mango, Earrings – Revolve, Bag – Mango
For the first look, I decided to style a versatile business-casual outfit that can be worn to work/an internship, to class (if you're feeling fancy), or even on a classy night out!
To get it, begin by slipping on a beautiful dark floral top. Next, put on edgy faux-leather skinny pants for some contrast. A practical black blazer adds a classic feel to this modern look. Furthermore, heeled black ankle boots and a croc-effect bag also give off an air of timelessness.
This outfit doesn't require much in terms of accessories, so just put on a cute pair of dangling pearl heart hoops for an elegant touch.
Lastly, pull everything together by swiping on a matte red lipstick, and you're all set to go!
Outfit #2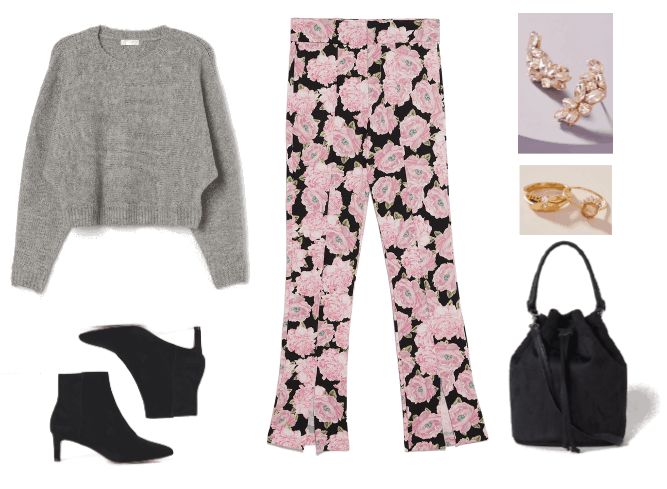 Products: Sweater – H&M, Ankle Boots – H&M, Pants – Zara, Earrings – Anthropologie, Ring Set – Anthropologie, Bag – H&M
This look, while more casual than the first, still packs a big punch, thanks to the .
If you want to recreate it for yourself, all you need to do is put on a feminine pair of dark floral pants. Then, for a laid-back vibe, pair the pants with a slouchy gray sweater.
Pretty pale pink earrings and a dainty ring trio add just the right amount of sparkle without overwhelming the look.
Finally, trendy pointed-toe ankle boots and a chic black bucket bag add extra touches of style to the ensemble, while still keeping the focus on the pants.
Outfit #3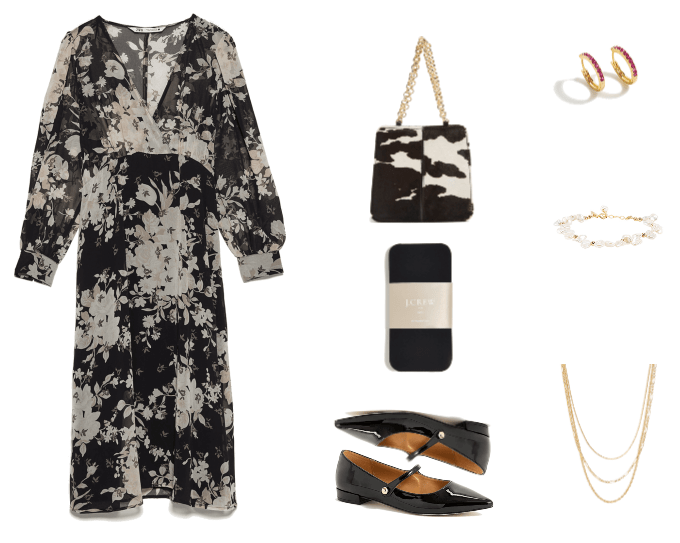 Products: Dress – Zara, Bag – Nordstrom, Tights – J.Crew Factory, Flats – J.Crew Factory, Earrings – J.Crew, Bracelet – Revolve, Necklace Set – Nordstrom
I decided to put together something a little more formal for the final outfit, which I created with the upcoming holiday season in mind. However, it is definitely still wearable for everyday occasions if your style is a little more dressed up!
To copy this sophisticated look, start off by donning a flowy and dramatic dark floral midi dress.
Next, add a pair of opaque black tights for warmth. Patent pointed-toe Mary Jane flats are a sleek (and comfortable!) alternative to heels. However, you definitely could swap them out for a pair of pumps if you want. (If you decide to go this route, I'd recommend black pointed-toe kitten heels.)
This chain-strap cow-print shoulder bag is the perfect combination of quirky and elegant, which is why I thought it would be a fun piece to use to add some subtle contrast to the more austere aesthetic of the rest of the look.
To complete the outfit, go for subtle jewelry, such as these red pavé huggie hoops (which add the ideal touch of color), a baroque pearl bracelet, and a delicate trio of chain necklaces.
What do you think of dark florals?
Do you own any dark floral pieces? If so, how do you style them? How would you style the dark floral pieces featured in this article?
Let me know in the comments!