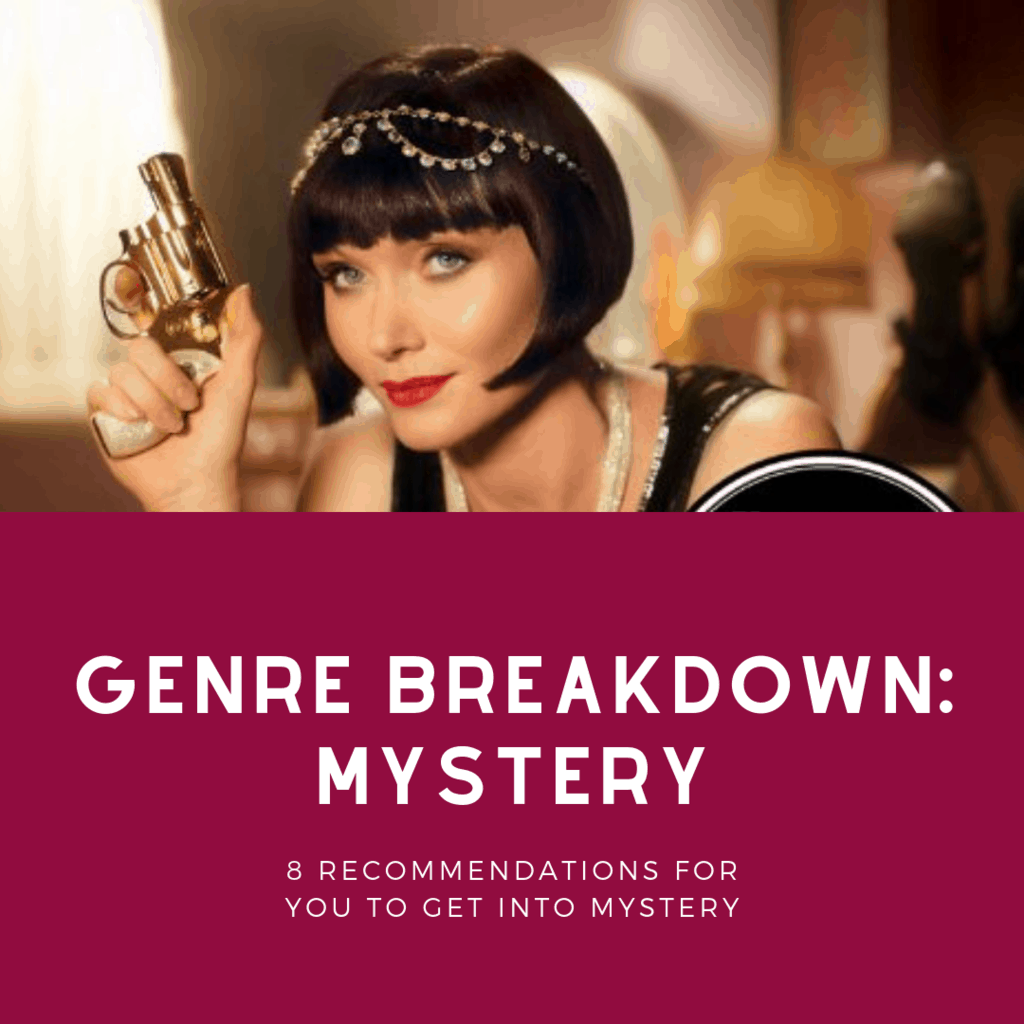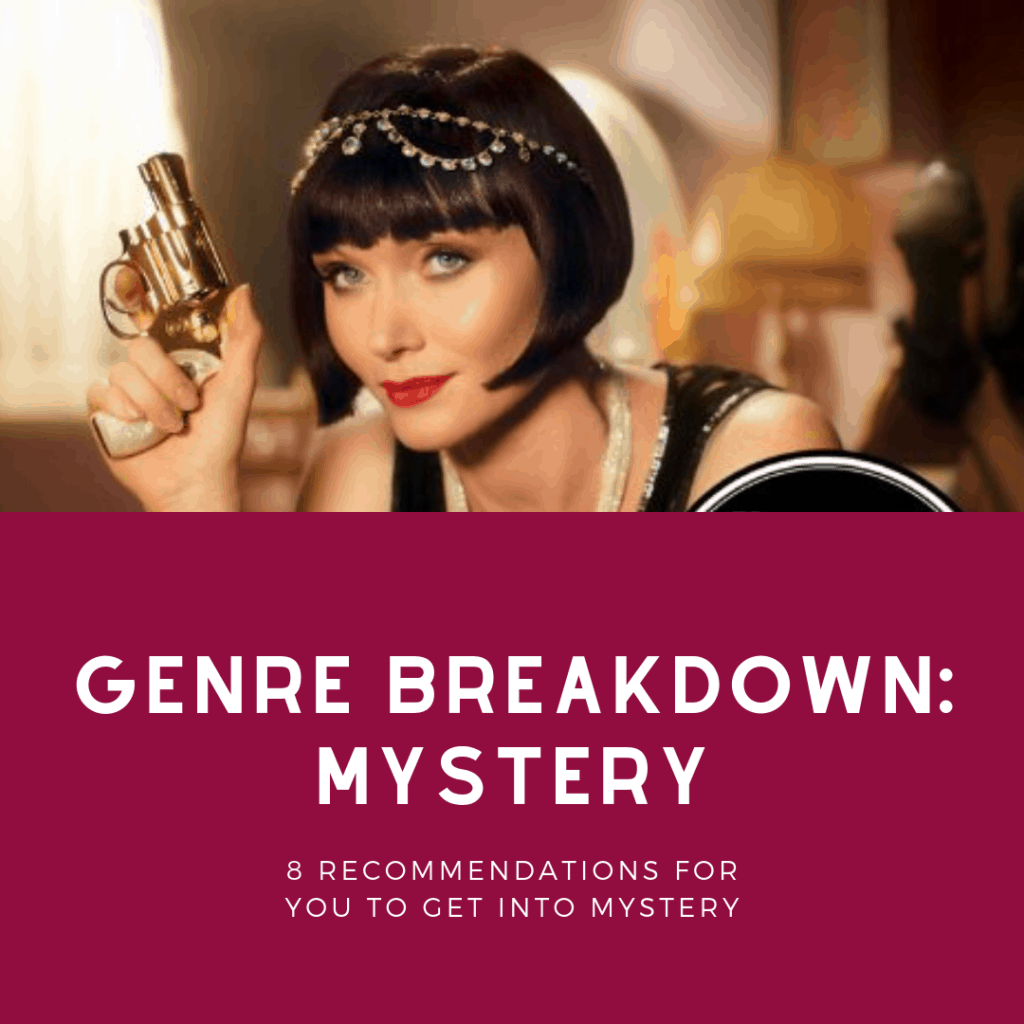 Most of us stick to the genre we like the most and kind of stray away from others. This doesn't mean we never watch anything or read books that aren't our favorite genre, it just means we don't dig deep or actively look for things in different genres. And we might be missing out on some amazing novels, movies or shows (and maybe some fashion inspiration).
For this series of posts I'm going to dive into some of my favorite genres and let you know which books you should read and which TV shows and movies to watch, plus a couple of outfit inspirations from iconic characters in each of those genres.
In the past posts in this series, I've shown you guys my recommendations for the best of the horror and comedy genres. This week, we're diving into the mystery genre.
What is mystery?
Mystery is a genre of fiction that usually involves a mysterious death or crime to be solved. It's considered a "young" genre, because what we know and understand as mystery fiction today started developing in the early 19th century.
Since crime is its starting point, mystery is a bit more entangled with its historical context than most genres. Because of this, it has spread itself across many formats: the classic whodunit (Sherlock Holmes or Herculé Poirot), police procedural (yes, CSI and Law & Order), hard boiled detectives (Philip Marlowe), and many, many more. Mystery overlaps with suspense and thriller so much that it gets messy when you try to separate them.
Before we dive in, I should mention that this is my absolute favorite genre. The mystery genre is the one that has stayed with me the longest. I have found different novels, shows and movies, all from varying eras and subgenres that I have fallen in love with, which is why I may be a bit biased with my recommendations on this one.
Okay, now that you've had fair warning of my bias, let's get into the recommendations.
What to read…
Literature is where the mystery genre lives and thrives. There are billions of mystery novels made for kids (Nancy Drew, anyone?), teens, and adults.
Mystery is popular. Everyone knows Sherlock Holmes. Everyone. So, do I really need to recommend that you read Arthur Conan Doyle? No, because you probably have.
Therefore, I've tried to branch out with my recommendations, while still giving you those classic mysteries you need to experience.
Dashiell Hammett was a pioneer of hard-boiled fiction and he introduced the prototype of the private detective with Sam Spade in this novel.
This book, published in 1930, follows Sam while he deals with three suspects who compete to find a rare, jewel-encrusted statue of a falcon.
To put it mildly, this is Hammett's most famous work, even though Sam Spade appears in multiple novels and stories. It's a compelling story, even though it has certain aspects that have not passed the test of time.
Fun fact: The film adaptation from 1941 with Humphrey Bogart codified what we know today as film noir.
By now, almost everyone recognizes the name Robert Galbraith as a pseudonym used by J.K. Rowling. She wanted to separate her work on Harry Potter from these mystery novels and she succeeded for a while.
The Strike novels focus on two main characters; Cormoran Strike, a British veteran of the war in Afghanistan turned Private Detective with a missing leg, a massive debt, a messy break-up, and no clients; and Robin Ellacott, a young just-engaged woman whose temping agency has accidentally given Robin her dream job of working for a private eye.
Each novel in the series is a fantastic work of mystery. With each one, we get a bizarre, over-the-top murder and it leads the detective all through Britain. In a modern take on the classic film-noir stereotypes, the characters are endearing yet flawed, with compelling backstories. There's also a BBC series, Strike, you should check out after you've read the novels.
My third recommendation is the mystery genre at its absolute best.
Agatha Christie is considered as the Queen of Crime: she's the best-selling mystery author of all time. Published in 1939, this novel was, according to the author, her most difficult work to write.
Ten people, strangers to each other, receive invitations to an island. A mysterious recording played for the group accuses each person of causing another person's death. Sometime after the tape is played, members of the group start dying, and each person is killed in a way that matches with the rhyme of "Ten Little Soldiers." Those still alive come to the only possible conclusion: one of them has killed the others.
This novel is the best-selling mystery novel ever and one of the best-selling books of all time, outsold only by the Bible and the works of Shakespeare.
This one of my favorite books, ever, and I cannot tell you how many times I have read it. It's a fantastic and engaging novel; while reading you understand why Christie is so beloved within mystery fans.
What to watch on film…
Filmmakers LOVE mystery. It has given us most of the best movies of the past and current centuries. (The Third Man, anyone?)
The mystery genre includes classic black and white Film Noir: almost anything with Humphrey Bogart will be a mystery. But it also covers movies like Chinatown (1974) and Taxi Driver (1976) crossing over with mobster and gangster elements, Blade Runner (1982) overlapping with sci-fi, The Big Lebowski (1998) as a deconstruction of the hard-boiled genre, The Dark Knight Trilogy (2005-2012) and even Who Framed Roger Rabbit? (1988), yes, the one with the cartoons.
Obviously, I love mystery films and had a hard time narrowing things down. However, I finally decided on two mystery films that are always on my top films list:
This is my favorite Hitchcock film. A mystery and thriller in one, this film premiered in 1954 and stars Grace Kelly and James Stewart.
Jeff is a photojournalist who broke his leg during a dangerous assignment and is now confined to his small Greenwich Village apartment. While recuperating and, out of boredom, begins to spy on his neighbors across the courtyard. When he sees one of his neighbors, Thorwald, acting suspiciously, Jeff becomes convinced that Thorwald killed his wife.
I love this film. I love it so much that I have used it multiple times as a case study at school, I've made almost everyone I know watch it, and I watch it alone at least three or four times a year. It's confined to single space — the camera doesn't even leave the building and courtyard — and yet it is as thrilling as any Sherlock adaptation you can think of.
This 1995 film is a hybrid between horror, mystery and thriller, starring Brad Pitt, Morgan Freeman, and Gwyneth Paltrow.
Pitt and Freeman play detectives Mills and Somerset. When Somerset is about to retire, the two get caught up in a string of horrible murders, each inspired by the Seven Deadly Sins and all caused by one intelligent and elusive serial killer.
When my brother recommended this movie to me, I didn't realize it would change my life. Not because of the subject per se, but because it changed how I watched mystery and crime films and it set a new bar for subsequent mystery films I watched. The acting, camera-movement, and editing are amazing.
I should warn you, if you have a delicate stomach, this might not be for you. Proceed with caution or skip this one entirely, no shame.
What to watch on TV…
Just like films, the mystery genre is a staple of the small screen. There are THOUSANDS of mystery series and franchises. Award winning or cheesy, mystery series are available on every single channel or platform you can think of.
Again, its range is wide: from anthology series True Detective (2014), to police procedural dramas like Bones (2005-2017) or Castle (2009-2016), to modern adaptations of classics like Sherlock (2010-2017) or supernatural infused series like Twin Peaks (1990-91).
Below, I've narrowed it down to my top three favorite mystery series.
1. Miss Fisher's Murder Mysteries
An Australian crime show that it's an absolute delight to watch: That's Miss Fisher's Murder Mysteries.
Based on a series of books (that I have yet to read), the plot revolves around the personal and professional life of Phryne Fisher (Essie Davis), a glamorous private detective in 1920s Melbourne.
With the help of Dottie, her companion; constable Hugh Collins; and her friend (and a bit more) Detective Inspector Jack Robinson (Nathan Page); Miss Fisher solves the weirdest and most tangled crimes.
This show ran for three seasons, plus there is a film that is yet to be released and a spin-off show that premiered this year.
Why watch? The chemistry between Essie Davis and Nathan Page should get you hooked on its own, but the setting, clothing, music and fantastic throwback to the classic "whodunit" are absolutely worth it.
2. Gravity Falls
My second TV recommendation is an animated show. Animation is not normally associated with the mystery genre, but the two are not mutually exclusive. As I said earlier, mystery series exist on every single channel.
The series follows the adventures of Dipper Pines and his twin sister Mabel who are sent to spend the summer with their great-uncle Stan in Gravity Falls, a mysterious town full of paranormal forces and supernatural creatures. The kids help Stan run "The Mystery Shack", the tourist trap that he owns, while also investigating the local mysteries.
This show strikes the perfect balance between mystery, sci-fi, and fantasy, with an incredible amount of humor. I started watching this show on a 'Rick & Morty' withdrawal and didn't expect to like it as much as I did. But it is worth watching for its overall mystery arc, that's carried all through the two seasons.
3. Veronica Mars
My final recommendation, and I can't stretch this enough, is my absolute favorite TV show of all time.
Veronica Mars premiered in 2004 and was cancelled in 2006 after three seasons. But the show has an amazing fandom and because of that, it has been revived two times: one in 2014 with a fan-funded movie and in 2019 with a Hulu series.
I watch this entire show start to finish at least two times a year, with casual viewing of random episodes in between. With the new season, I have 8 more episodes to enjoy and a bit of hope that there will be another season.
Veronica Mars is a student who progresses from high school to college while moonlighting as a private investigator under the tutelage of her detective father, Keith Mars. In each episode, Veronica solves a different stand-alone case while working to solve a more complex mystery through the season.
It's not a perfect show, but it was (and still is) very contemporary and it touched on topics that other shows wouldn't dare back in the '00s. The father-daughter relationship is incredible and completely heartwarming. Kristen Bell absolutely shines as Veronica Mars and her on screen chemistry with the rest of the cast really stands out.
Fast paced, witty dialogue and dry, dark humor complement the noir feel of the show (and the movie and the books) perfectly.
Mystery… But Make It Fashion
Outfit #1 – P.I Sam Spade (The Maltese Falcon)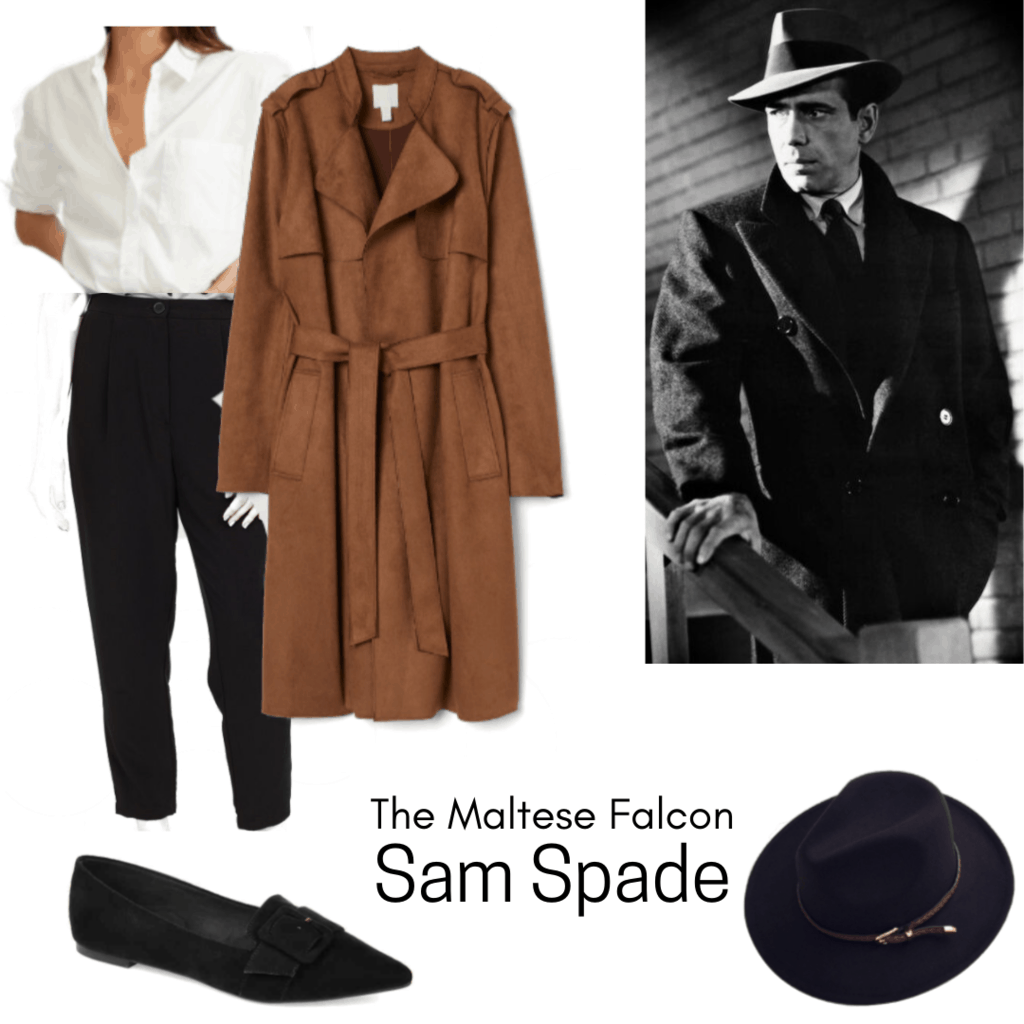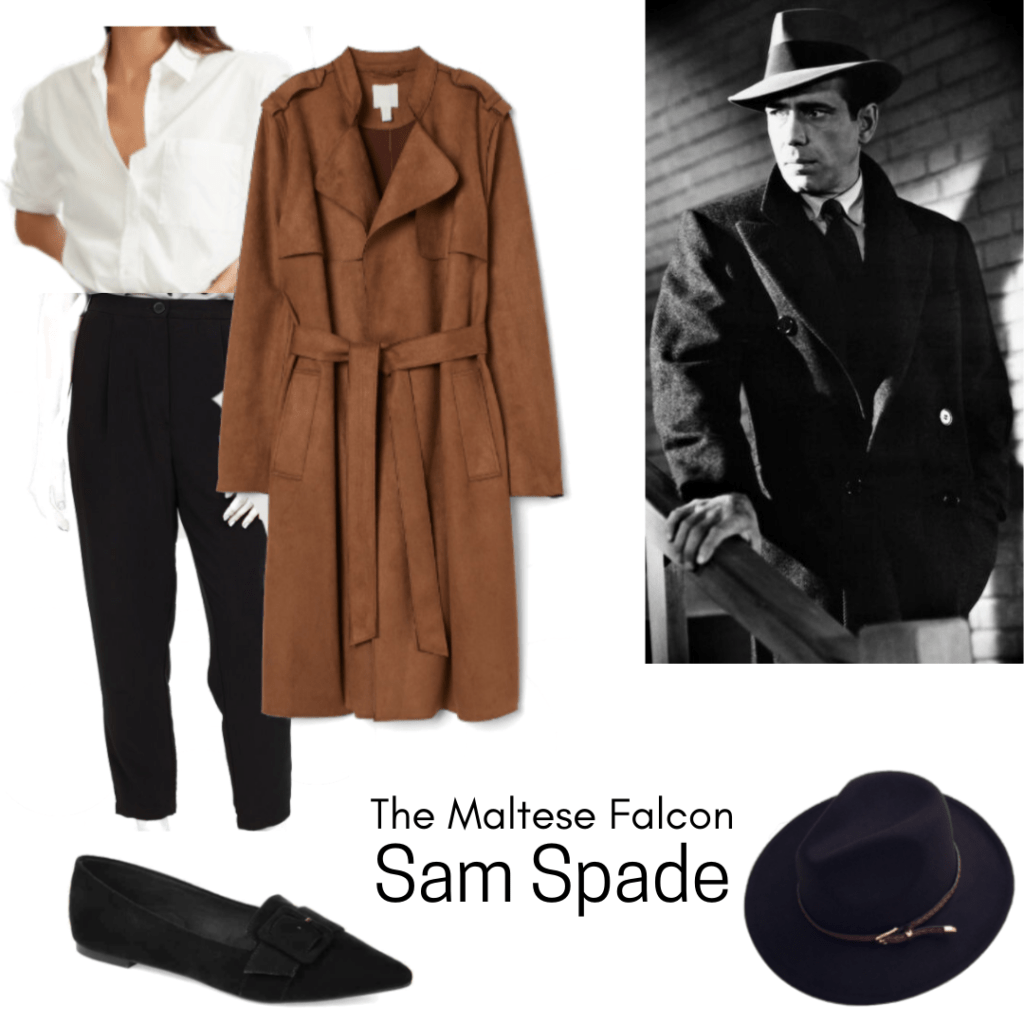 Items: Pants – H&M, Shirt – Everlane, Trenchcoat – H&M, Shoes – DSW, Hat – Goodnight Macaroon
We all know the classic private detective look: long trench coat, a worn out suit underneath, and a hat. And all of it paired with a cynical and witty sense of humor. These classic elements were born with Humphrey Bogart's version of Sam Spade.
To create a modern version of the cynical detective, use a pair of black slacks and a white oxford shirt. I omitted the blazer completely and went straight for a tan-colored suede trench coat. Finish the look off with black shoes and a wide brim hat in the same color to tie everything together.
Outfit #2 – Lisa Fremont (Rear Window)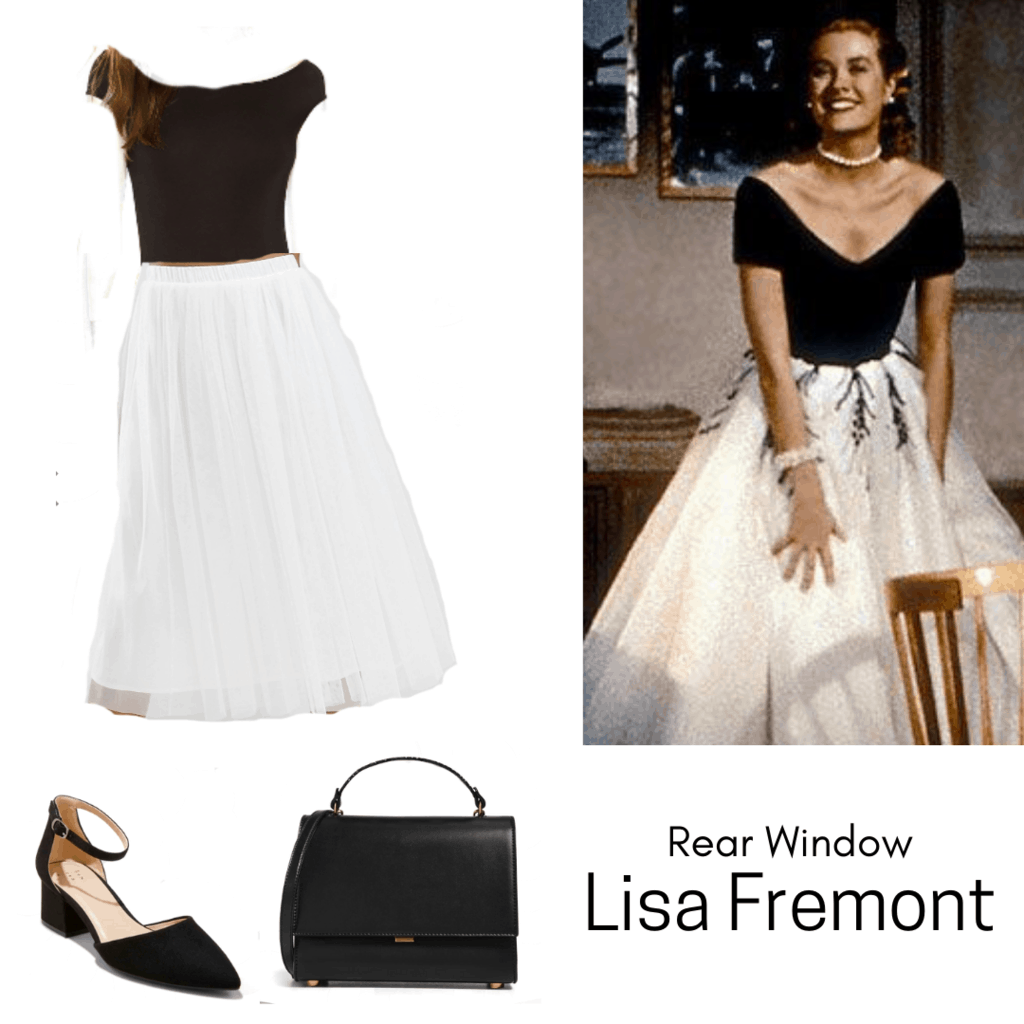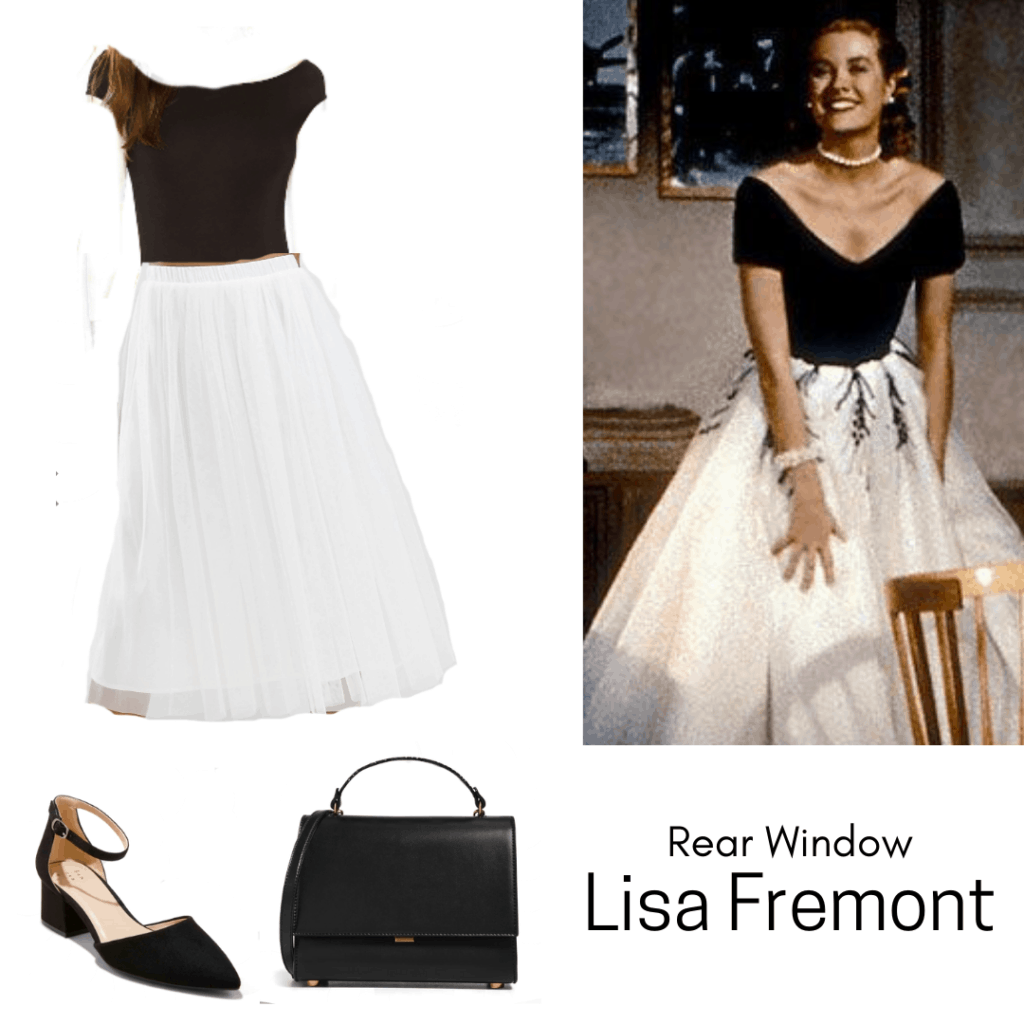 Items: Shoes – Target, Skirt – ASOS, Bodysuit – REVOLVE, Purse – Charles & Keith
One of the most famous close-up frames in cinema history is the first time we see Lisa appear in Rear Window. At first you can only see Grace Kelly's face, but then they reveal a gorgeous black and white ensemble.
Ideally, I would've used a dress to recreate this look, but I opted to break it into two pieces in order to have more usage out of everything.
Pair a white tulle midi skirt with a black off-the-shoulder bodysuit. Accessorize with a structured black purse and finish with a pair of black Mary-Jane style heels.
Outfit #3 – Veronica Mars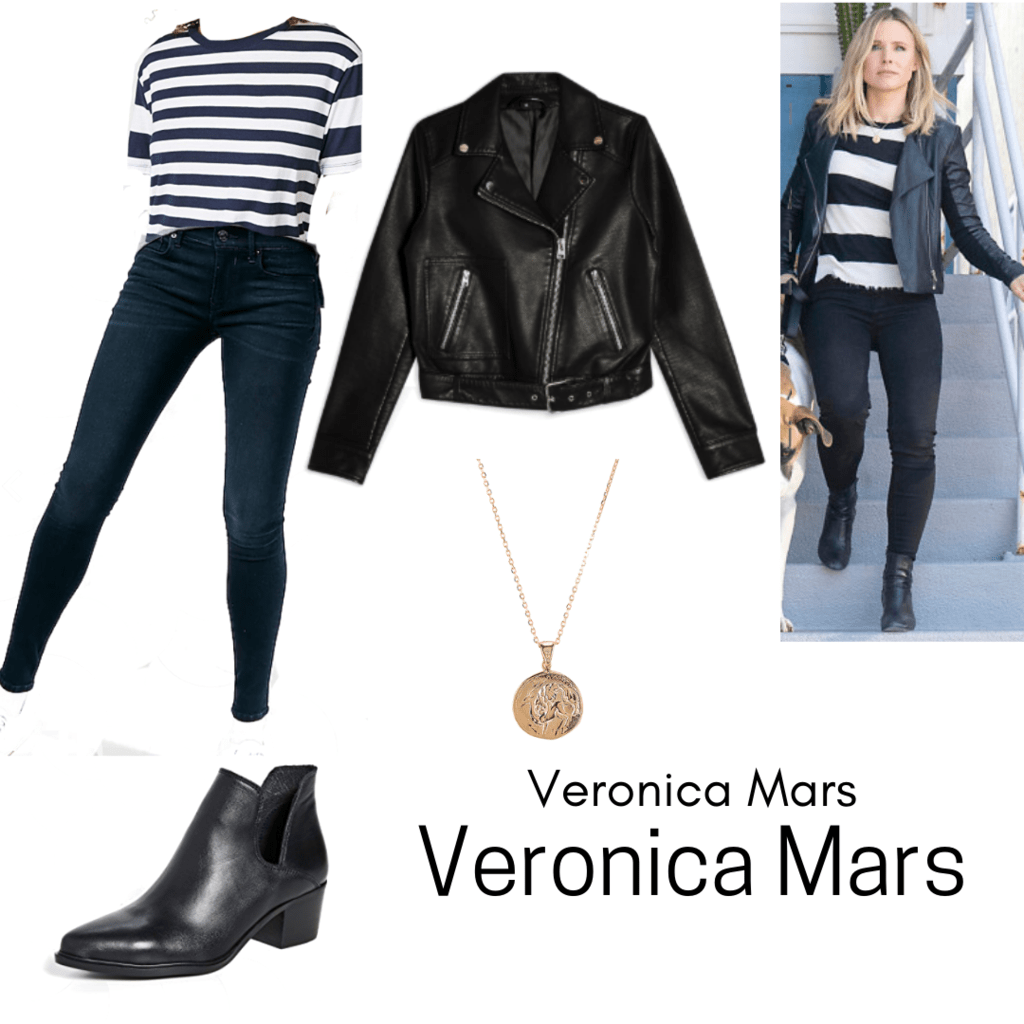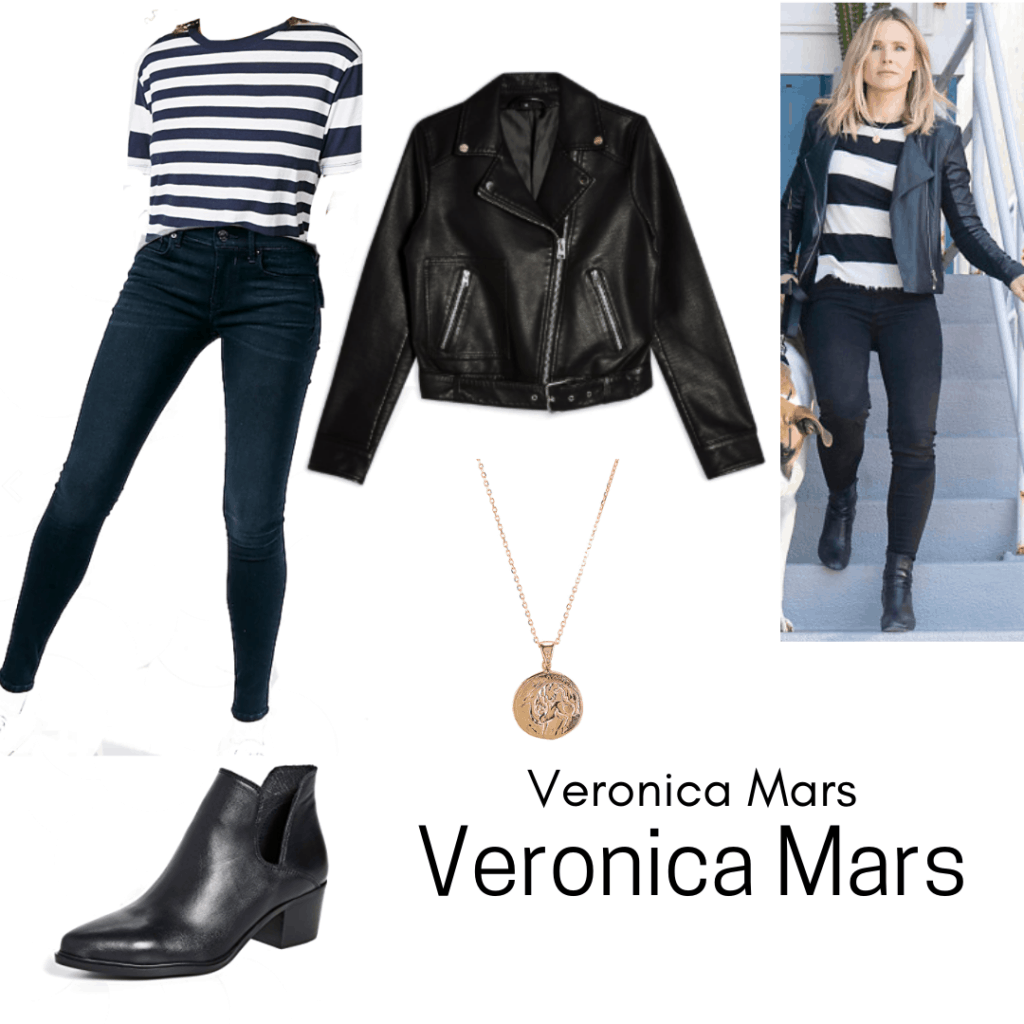 Items: Jeans – Express, Top – ShopBop, Jacket – Nordstrom, Boots – ShopBop, Necklace – REVOLVE
Veronica Mars is a modern version of Sam Spade: witty, cynical, and never asking for permission or forgiveness. Her closet is full of comfortable and job-appropriate items: jeans, pants, sweaters, t-shirts, and sneakers. Everything is perfect if you need to jump a fence.
To recreate this look, mix a striped t-shirt with a pair of dark wash jeans. For shoes, you can grab a pair of black booties or some Converse, she loves both and you can choose which one fits you the best. I opted for the booties.
As an accessory, I chose a golden medal necklace that looks like the one Veronica wears throughout the series.
P.S.: We just did a more in-depth post on Veronica Mars' style in the latest season of the show; go check it out!
Outfit #4 Phryne Fisher (Miss Fisher's Murder Mysteries)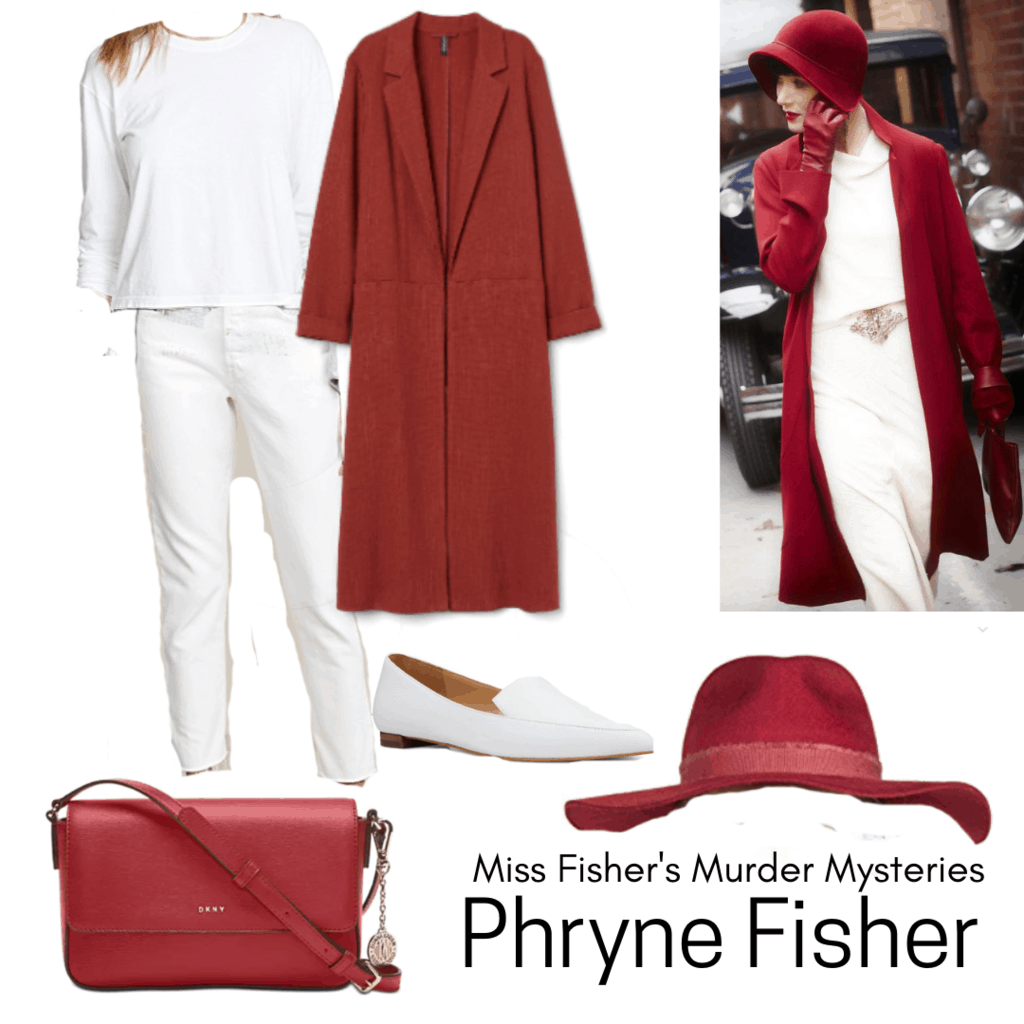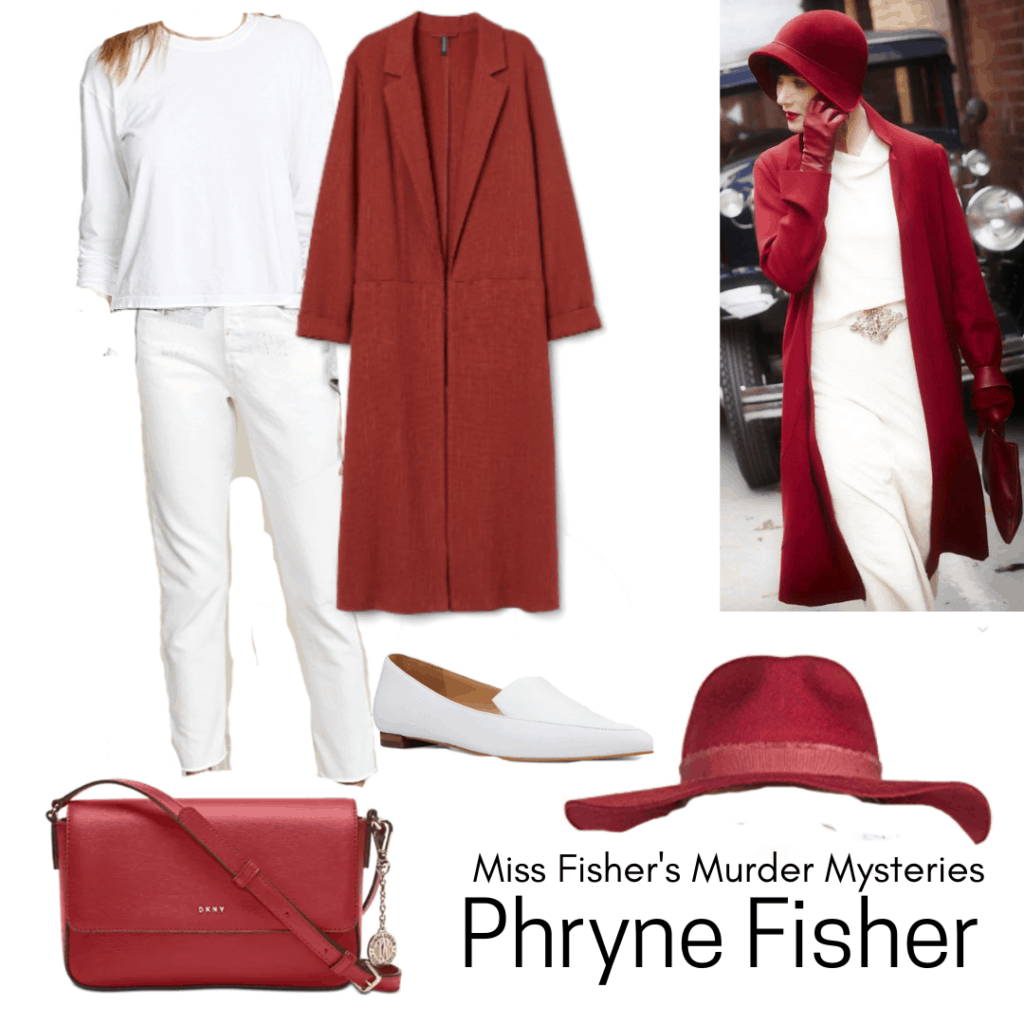 Items: Jeans – Levis, Top – James Perse, Coat – H&M, Hat – Brixton, Shoes – Nine West, Bag – DKNY
Phryne Fisher is an early feminist, way ahead of her time, and is both fashionable and witty. She is an icon of the 1920s look and in every episode she sports a new dress or style that's worth envying.
To emulate her vibe in a more contemporary way, rock a pair of white girlfriend jeans and a simple white top. For shoes, grab a pair of white mules. Layer them with a long terra-cotta coat and accessorize with a wide-brim hat and purse in the same color.
What do you think of the mystery genre?
As you can see for the length of this post, I wasn't lying: mystery is my absolute favorite genre. What's yours? Are you a fan of the mystery genre? Which outfit would you wear? What show or film would you watch? Which genre do you think I should do next? Tell us in the comments down below!