Halloween is easily one of the most fun college holidays, and dressing up with a friend (or friends!) can make it even more fun.
In college, Halloween expands to Halloweekend, so this means you have to come up with multiple costumes if you don't want to re-wear or constantly wash things.
No worries, though, because CF is launching a Halloween costumes series to keep you covered! First up: Best Friend costumes.
Soda-licious Duo
https://www.instagram.com/p/BaxmtyCn3zq
If you need a quick and cute costume in a pinch, this is a great option! Print out your soda of choice, tape it to an oversized t-shirt, put on a statement lip, and call it a day. This costume is worth wearing alone for the cute captions you can come up with. (Puns are the best in my book!!)
I definitely recommend visiting Michaels or another local craft store to buy an inexpensive oversized t shirt and the clear duct tape you need for this costume. It would a great girl date to go on with your best friend too; grab some fro-yo and make it into a fun afternoon!
Southside Serpents from Riverdale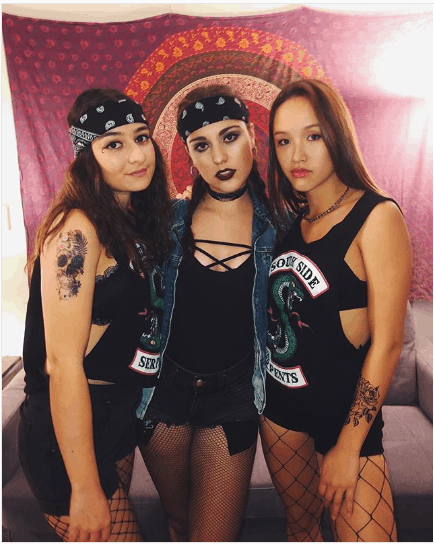 If you're looking for an edgy costume with a pop culture reference, this is your best bet. Look at how amazing these girls look! This is a great option if you have more than one bestie you're trying to match with as well. Bring the whole Serpent gang to your campus! (PSA: we only support fictional iterations of gangs at CF)
Find a similar muscle tee for your costume off of Red Bubble, a black bandana from Party City (I suggest visiting in real life if you can to avoid paying for shipping), fishnet tights from Forever 21, and $3 black lipstick from Elf Cosmetics. Black spandex or distressed, black jean shorts from your closet would be great for this costume too! It also doesn't hurt that you won't have to pay extra for shorts that are already in your closet.
Twins from The Shining
This caption basically says it all; you too can terrorize your local supermarket with your best friend in the name of finding ramen. If you're into a more gory Halloween look/enjoy putting more effort into your Halloween costume, this is an amazing option!
For a really close dupe to the dresses in the photo above, check out this option from Forever 21. A more inexpensive option can also be found here on Amazon! Your best bet is probably a thrift store if you're going to spill fake blood on a white dress though; check out Poshmark if there aren't any thrift stores near you. Also, fake blood can be found either on Amazon or at your local party supply store.
Unicorns
If you're the sweet and girly type, buy a cute unicorn headband and put on your favorite velvet pink dress! It's so easy to create variations on this costume too; you'll be able to put together a costume with your own wardrobe.
Find a nearly identical pink dress to the ones pictured above here for $10 from Forever 21. Don't forget a unicorn headband, like this one, which is also from Forever 21. Ordering both together from F21 will also help you minimize the potential cost of shipping.
Are you getting excited for Halloween?
What do you think of these best friend costumes for Halloween? What's the best group costume you've ever done with a friend? Let me know in the comments below!