This post shares unique and creative best friend Purge outfits for Halloween.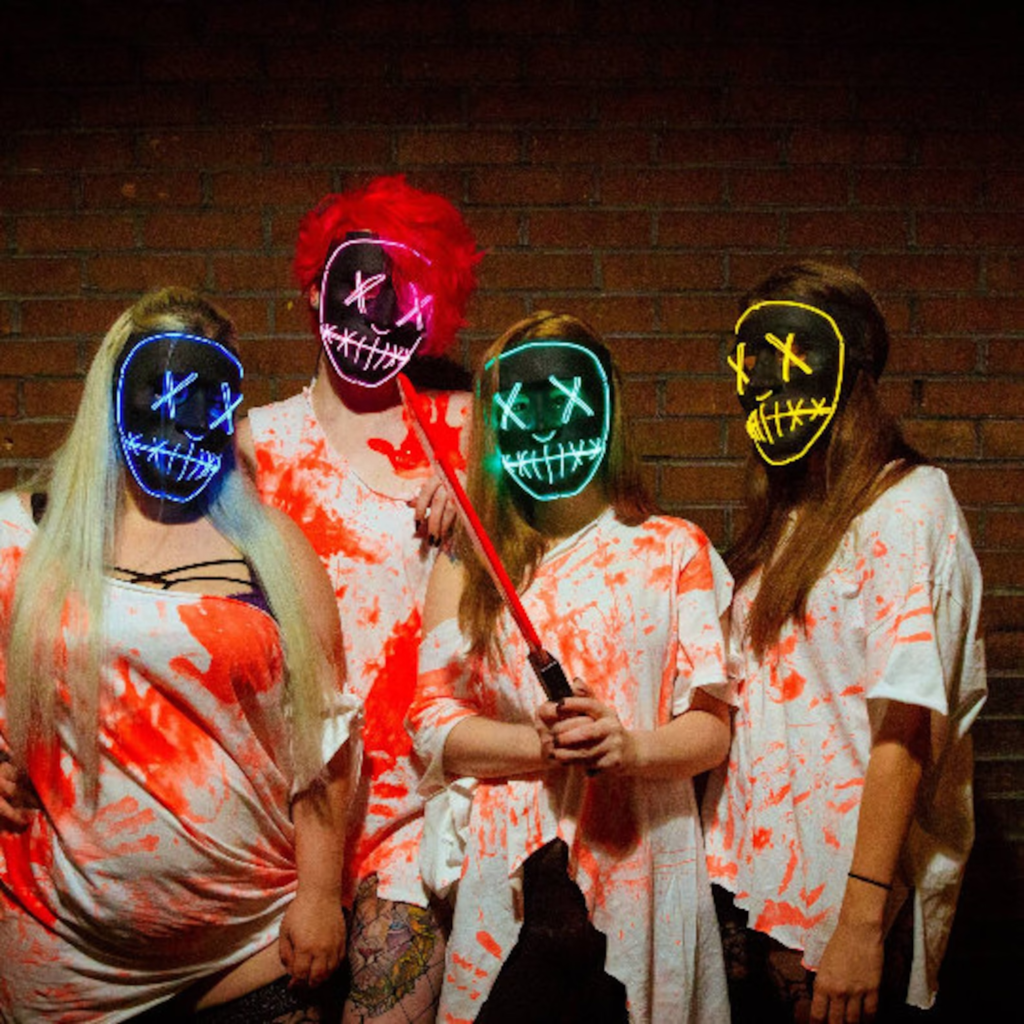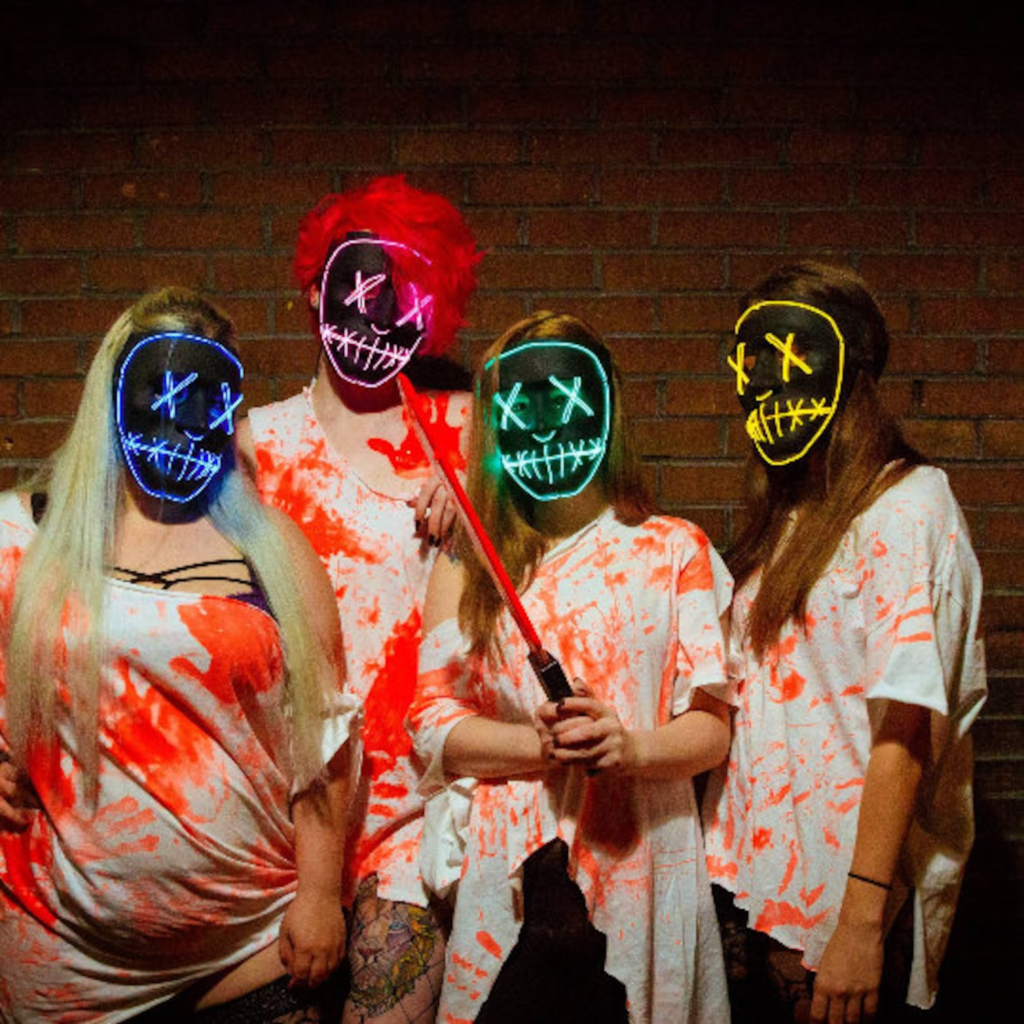 Over the past few years, it's been near impossible to go out on Halloween without spotting a Purge costume on campus. (Pro tip: You can always spot them by the neon X's over the eyes. Now you know.)
In case you aren't familiar with The Purge, it's a wildly popular media franchise that's spawned five movies and a TV series in only a few short years. (There's even a rumor of a sixth movie in the works.)
If you've never seen the movies or TV show, the premise is as follows:
"The films present a seemingly normal, crime-free America in the near future. However, the country is a dystopia that celebrates an annual national holiday known as "the Purge," a day in which all crime, including murder, becomes decriminalized for a 12-hour period."
I highly recommend you check out the movies if you haven't already. (And if you're like me and hate horror movies, don't worry: The Purge films are more like thrillers than gory horror flicks.)
Here's everything you need to know to do a Purge costume with your friends this Halloween.
Related reading: 13 Easy Group Costumes to Wear on Halloween
Best Friend Purge Outfit Ideas
Purge Masks
The key to any Purge outfit is the mask, ideally with the trademark X's over the eyes. Honestly, you can wear pretty much anything else for your costume, and so long as you have a good Purge mask, you're set and people will know who you are.
Light-Up Purge Mask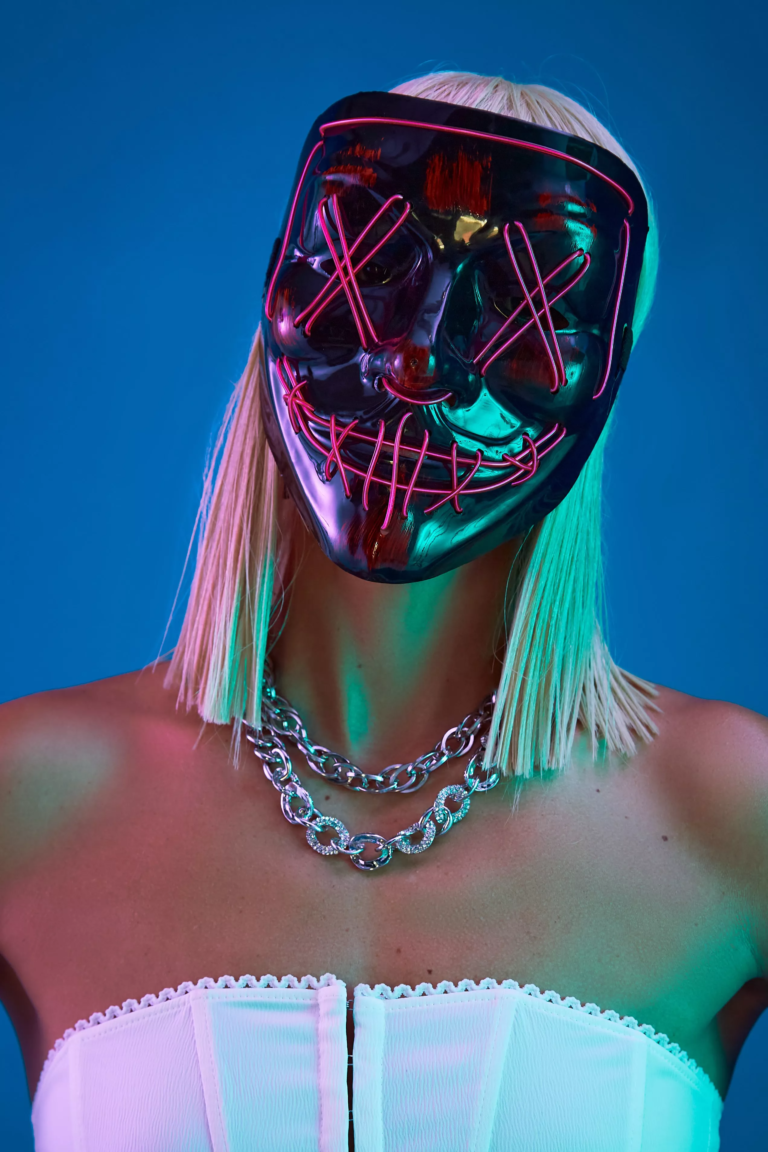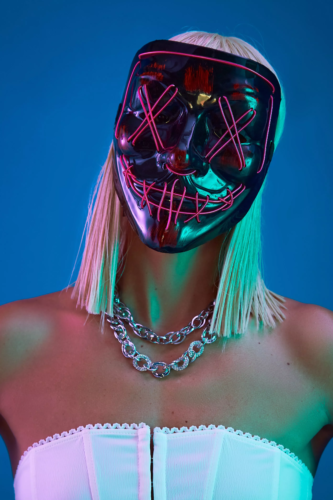 Here's a classic Purge mask that will add a girly — yet also super creepy — vibe to your costume. This LED light mask from Boohoo comes in both pink and white, and is super cheap at under $10!
Get one of each color and go with your BFF. (This honestly would look amazing with an otherwise-cute outfit, as pictured above.)
Grinning Mask
The original Purge film had more basic masks than the latter films — but if you ask me, these original grinning masks are 10x creepier than the black ones with the X's.
If you want to go extra scary this Halloween, rock these with either straight hair or a straight wig. Wear all black and you have your costume good to go!
Lady Liberty Light Up Mask
With election day coming up, why not go patriotic with your Purge outfit? This Lady Liberty light up Purge mask from Amazon is officially licensed and is an exact replica of the mask used in The Purge: Election Year.
The Purge: Election Year Smoke Mask
Here's another take on The Purge: Election Year. This one is decidedly less "cute" than the Lady Liberty mask, but if you want to take your costume in a creepy direction (while also being pandemic-friendly), this gas mask option is perfect.
God Mask
Here's another officially licensed Purge mask, this time from the film "The Purge: Anarchy." This molded God mask is perfectly distressed for that dirty feel and comes with fake makeup already drawn on.
Not feeling like spending much on a mask? This one would be easy to DIY with any blank white mask and some Sharpies.
Dual-Color Classic Light-Up Mask
If you just want a simple Purge mask that lights up, Amazon has a ton of options, our favorite being this one. It's under $15, it comes in eight color combinations (so all of your best friends can have their own color), and the lights work amazingly well. What's not to love?
Doll Girl Mask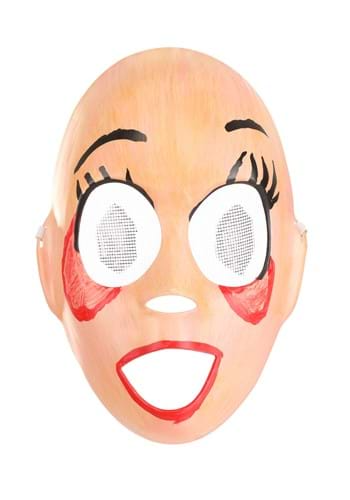 The Purge TV series features a creepy doll mask that's just begging to be recreated for Halloween. Put your hair in pigtails and go with your best friend as the scariest set of twins since The Shining.
Bandage Mask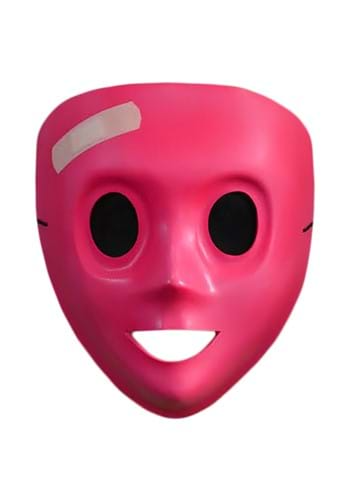 Finally, if you want a Purge mask that's a little different and still decently scary, you can't go wrong with this bandage mask. I like that it's pink for those girly vibes but has mesh eyes so no one can see who you are. Perfectly cute and extremely creepy.
Purge Costume Ideas
Now that we've talked masks, here's where we get into the outfits. Like I said above, you can totally just wear a Purge mask and call it a day for a built-in costume, but if you want to get a little more elaborate, here are some Purge outfit ideas to do with your best friends.
Statue of Liberty Costume
The Statue of Liberty costume from "The Purge: Election Year" is definitely my favorite Purge outfit to do with your best friend since it's objectively one of the cuter options out there. As a bonus, it's super iconic, so everyone will recognize you.
To get this costume with your best friend, all you need is a Purge Lady Liberty mask for each of you, and a regular Lady Liberty costume each so you'll have the outfit. So easy and you'll turn heads!
Candy Girl Costume
I love the idea of going as two Candy Girls from The Purge: Election Year. You just need a pink mask and a cute tutu outfit to get this look. (You could also go more authentic with the "kiss me" Candy Girl mask, if you want the costume to be more scary than sweet.) Oh, and don't forget a large fake weapon.
I love that this one is quite scary yet also a super cute costume.
Recreate this best friend purge outfit:
Nun Costume
Here's a lesser-known Purge outfit idea inspired by the TV series. Grab your friends and dress up as a group of creepy nuns… just don't be surprised when everyone is terrified of you!
To get this costume, you'll need a creepy Purge nun mask. You can buy these on Amazon, or you can attempt to DIY with a regular mask and sharpies. A nun costume is easy to find at any Halloween store, so that part is a cinch.
Recreate this best friend purge outfit:
White Tutu
Here's the more classic take on the Candy Girl purge outfit. This one is much more accurate to the movie, and much scarier for that reason. To get it, you need a white wedding-style dress and the authentic Candy Girl mask.
Another idea would be to dress up as two different versions of the Candy Girl with your BFF, with one of you doing the pink idea above, and one doing the classic white tutu look with the classic mask.
Recreate this best friend purge outfit:
Bloody Oversized White Shirts
Now, we have the classic group Halloween purge outfits, inspired by the first movie. This is the costume you'll probably see most often on your college campus, and for good reason — it's super easy to recreate with clothes you already have. (See also: 50+ College Halloween Costumes with Normal Clothes)
To get this Purge best friend costume, grab your whole crew and start with one of the masks listed above for everyone. (It helps to decide on one mask for everyone — for the most authentic look, go for the original Purge masks from the first movie.)
Then, have everyone wear black shorts, black bras, and oversized men's shirts with blood (ketchup) stains on them. Carry some types of fake weapons and don't forget the creepy masks!
What do you think of these best friend Purge outfits?
Would you dress like characters from The Purge for Halloween? Which of these Purge outfit ideas is your favorite? Tell me what you think in the comments section down below.