This post may contain affiliate links, which means we may receive a commission if you purchase through our links. Please
read our full disclosure here
.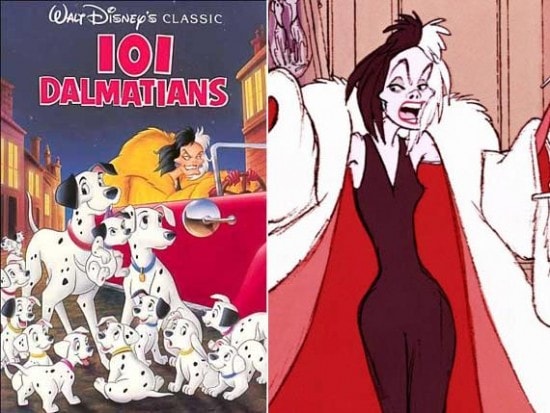 Although Disney Villains aren't exactly role models, they do tend to be inspirational when it comes to fashion. Even the amazing makeup label MAC found them inspirational, releasing a Disney Villains-inspired makeup collection. As requested by many of you, over the next few weeks, I'll be breaking down fashion inspired by these wicked characters.
I thought that after last week's Fashion Challenge on wearing faux fur, Cruella de Vil from Walt Disney's 101 Dalmatians would be a great villain to use as inspiration.
Like the previous articles in this series, the purpose of this article is to use childhood icons as inspiration for outfits that you can actually pull off as a college student. All it takes is a little creativity!
For more Disney-inspired looks, check out our past articles on Disney-Inspired fashion! Walt Disney's Snow White, Walt Disney's Sleeping Beauty, Walt Disney's The Little Mermaid, Walt Disney's Cinderella, Walt Disney's Princess Jasmine, Walt Disney's Princess Tiana, Walt Disney's Pocahontas, Belle from Disney's Beauty and the Beast, Jane Porter from Disney's Tarzan, Megara from Disney's Hercules, Emeralda from Disney's The Hunchback of Notre Dame, Walt Disney's Mulan, Walt Disney's The Lion King, Walt Disney's The Nightmare Before Christmas Part 1 and Part 2, Classic Walt Disney Characters, and The Evil Queen from Disney's Snow White.
About Cruella
If you couldn't tell she was evil by her looks, her name gives it away. Cruella de Vil is a combination of the words "cruel" and "devil", a fitting title for this villain. The only thing she loves in life is fur, and she sets her sights on 15 dalmatian puppies for her next coat.
Fortunately, her evil plan to turn 99 dalmation puppies into outerwear is eventually thwarted by the valiant efforts of two dalmatian parents, however, Cruella certainly comes close to achieving her goal, and looks fiercely evil while doing so! Read on for fashion inspired by this sinister villain.
Typical Cruella
Though she's evil, Cruella is all about glamour. To emulate her look, I used a form-fitting deep red dress, sheer tights, slingbacks, and, of course, a (faux) fur coat.
Coat- Shop Ruche, Brooch- Avalaya, Shoes- Lori's Shoes, Dress- Modcloth, Bag- Miss Selfridge, Tights- Anthropologie
Cruella at Home
Cruella's only outfit change in the movie is when she is at home in her pajamas (still wearing fur, of course). Contrary to her usual color palette of red, black, and white, Cruella's home is decorated in shades of pink. To channel this scene, I used her home decor as well as her night clothes as inspiration for an outfit.
Tights- Betsey Johnson, Top- J. Crew, Necklace- Miss Selfridge, Skirt- Wet Seal, Coat- Modcloth, Shoes- Forever 21
Road Rage
While chasing the puppies at the end of the film, Cruella loses her cool and glamorous persona, and unleashes her inner maniac. Although she is still wearing her glam outfit, she looks a bit disheveled. To mimic this scene, I made an outfit that looks a bit thrown-together, but still sophisticated at the same time.
Top- Topshop, Shoes- Nine West, Ring- Topshop, Skirt- Yes Style, Stole- Topshop, Clutch- Endless
Bonus: Anita and Roger
I have always found Anita and Roger's looks inspirational, so I felt it necessary to include an outfit inspired by both of them. To do so, I combined tapered plaid trousers, oxford shoes, earth tones, and of course, a wide-brimmed hat.
Bag- Topshop, Hat- ASOS, Pants- Topshop, Top- Miss Selfridge, Shoes- Delia's
What do you think?
Are you inspired by the Cruella de Vil? Which looks are your favorite? Which Disney villains would you be interested in seeing posts about in the future? I want to know what you think, so be sure to leave your thoughts in a comment!