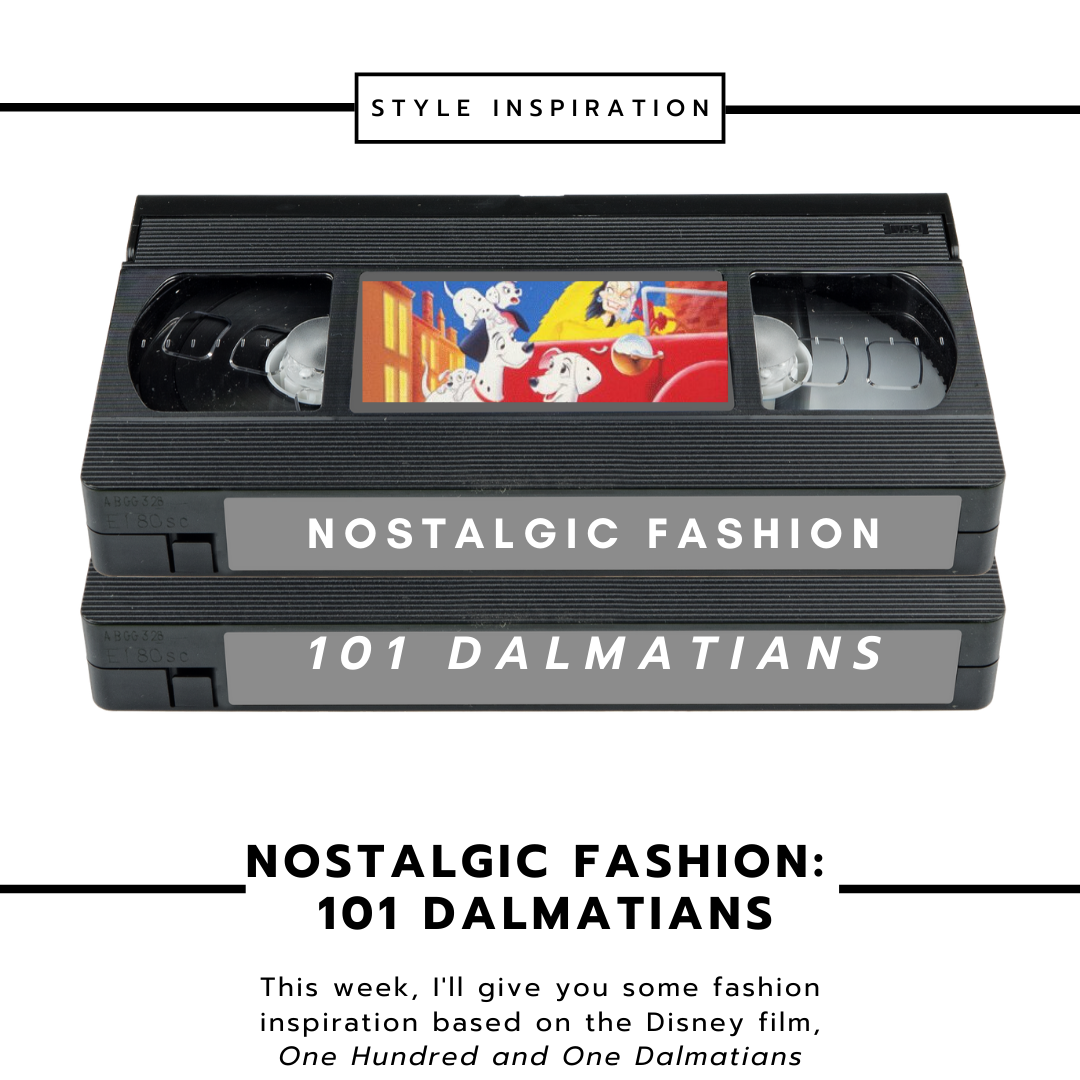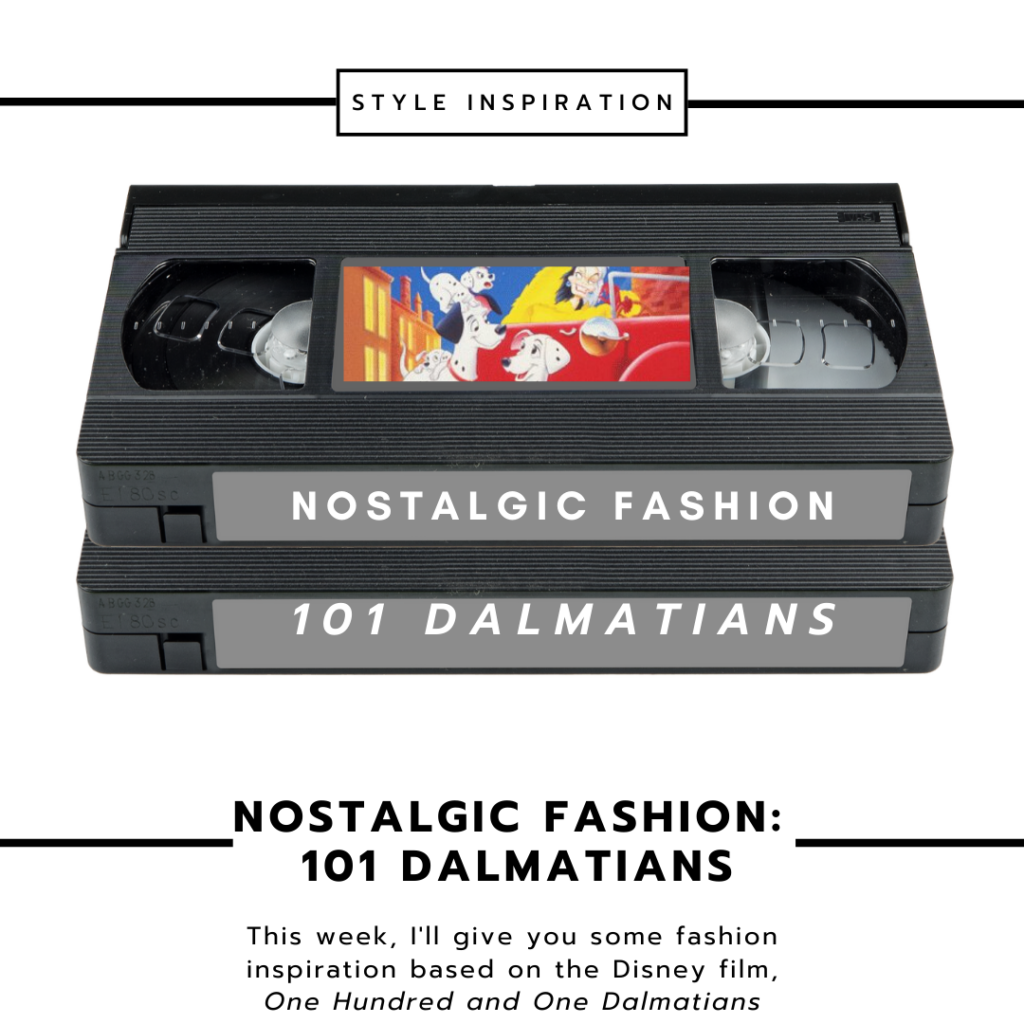 For the past few weeks, I've found myself watching my old VHS movies, especially movies that I watched when I was a little girl. While doing this, I have found some great underrated films that tend to get lost in between all the princesses, Pixar animated films, and the newest live-action remakes.
They are also a great source of fashion inspiration.
So for my next few posts, I'll choose one of these underrated movies each week and give you a quick recap of the film and its production, a rundown of each character's style, and my own real-life recreation of each look.
I've already gone over The Rescuers and Oliver & Company. This week, let's dive into one of my all-time favorites, One Hundred and One Dalmatians, the 1961 animated version. Read on for my 101 Dalmatians fashion guide!
101 Dalmatians (1961)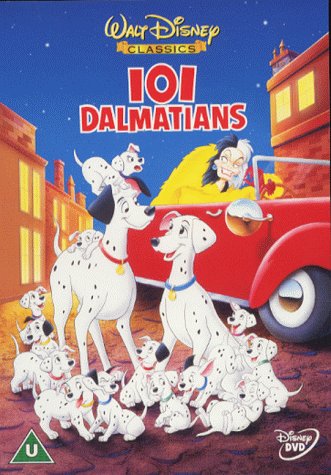 Based on a children's book, One Hundred and One Dalmatians is the 17th entry into the Disney Animated Canon. It has many spin-offs, sequels and two live-action films from the '90s and early 2000s. It is usually marketed with the Arabic number 101 instead of the spelled-out name of the film.
101 is the second animated Disney film that was set, unambiguously, in contemporary times. It was also the first to use xerography in order to ease the process of animating a technically difficult film and make the 101 Dalmatians, and their respective spots, possible.
This style of Disney animation is easily recognizable and known as Disney's Scratchy Outline Period. It was eventually changed to a smoother look sixteen years later, after technological advances allowed for a softer Xeroxing on The Rescuers.
If it's been a while since you've seen the film, a quick recap: Anita and Roger are the perfectly happy owners of a pair of Dalmatians, Pongo and Perdita. When their litter of Dalmatian puppies are abducted by the minions of Cruella de Vil, the parents must find them before she uses them for a diabolical fashion statement.
101 Dalmatians Fashion Guide
A quick disclaimer before I get into the characters I chose for this. I did not include Cruella De Vil on this post for two reasons.
One, she is easily the most recognizable and emulated character from the movie (let's branch out!) and two, we already have a fashion breakdown of her style right here on College Fashion. Make sure to check it out if you want an in depth analysis of her style.
That being said, let's get started.
1. Roger Radcliffe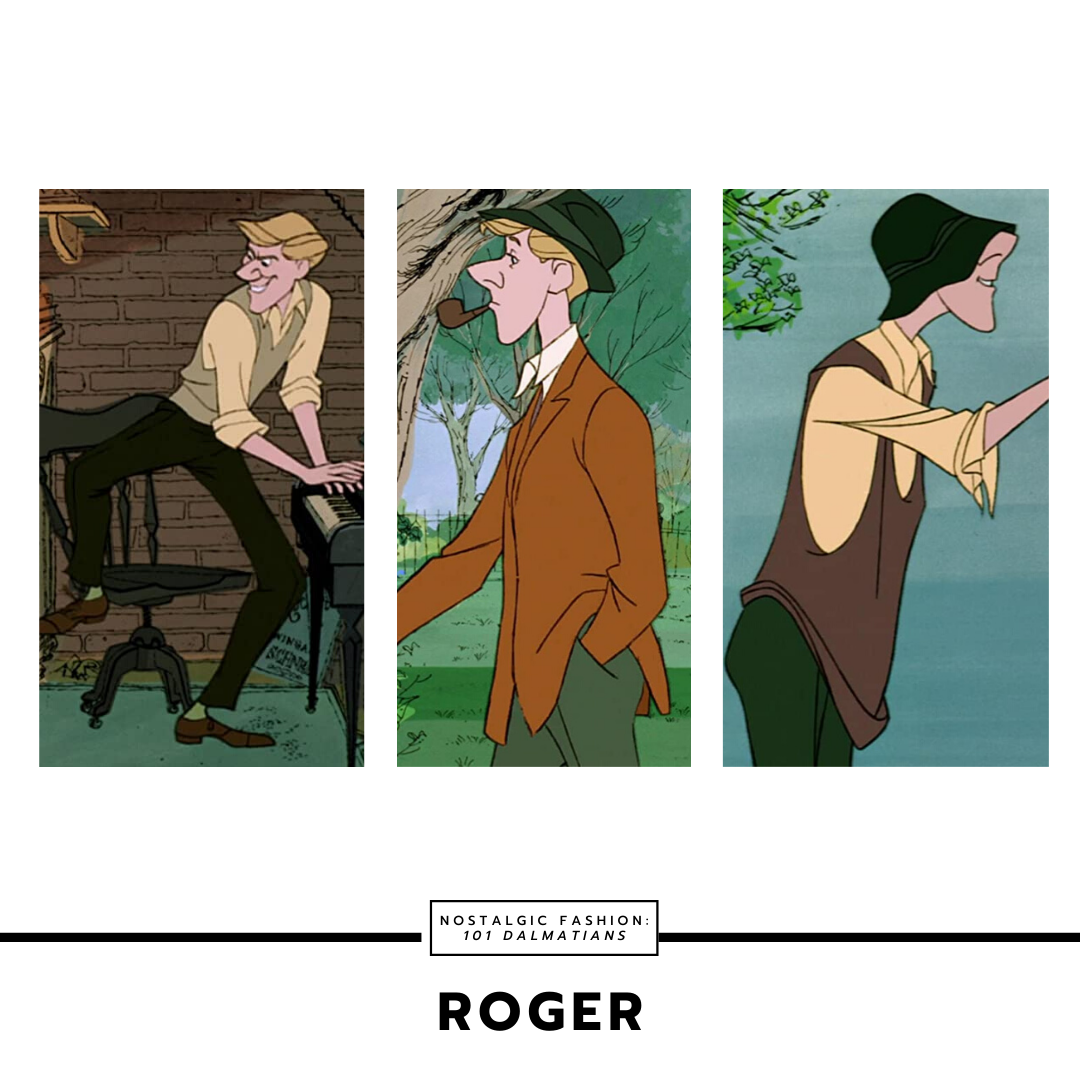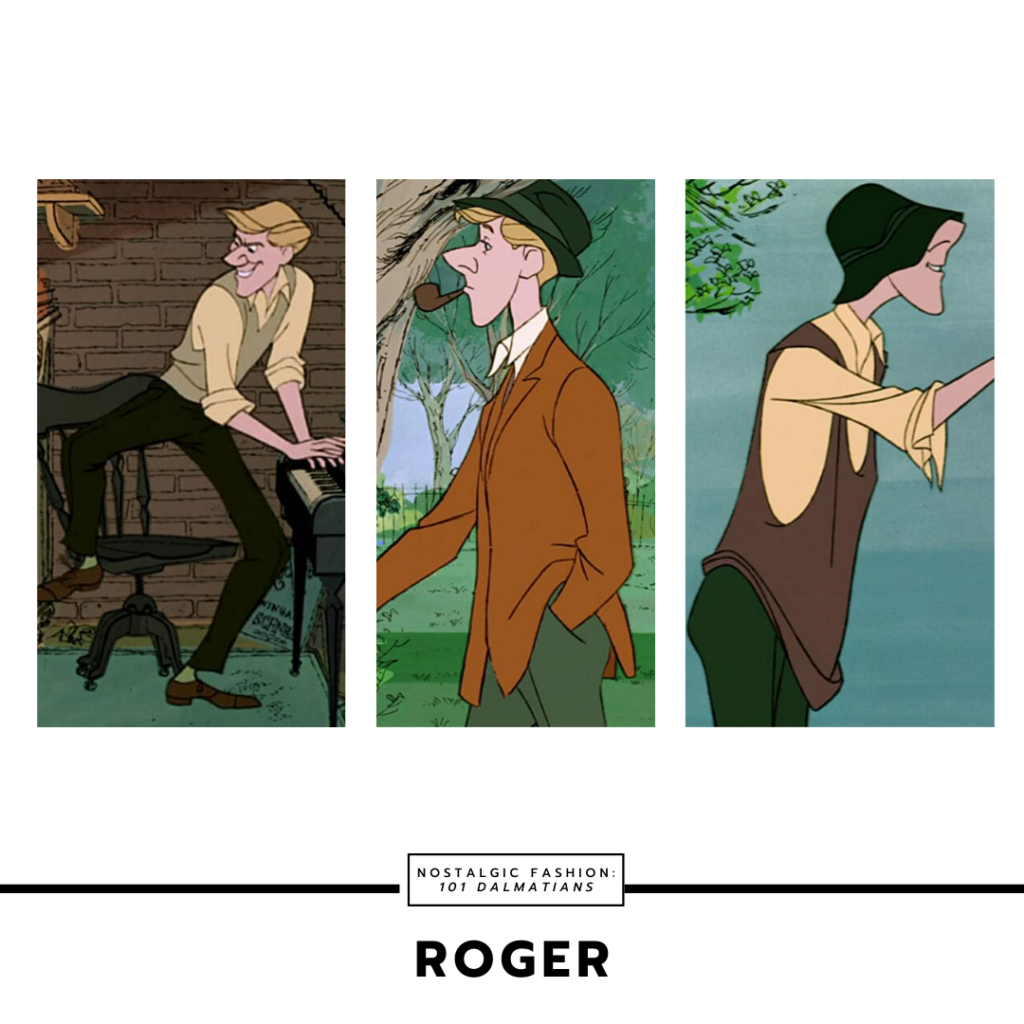 Roger is one half of the human protagonists of the film. He is also the author of the hit song "Cruella De Vil".
A tall and lean man, Roger is mostly seen in Oxford shirts, slacks and vests, all of these in shades of green, browns, and yellows. Other items he wears include coats, blazers and hats.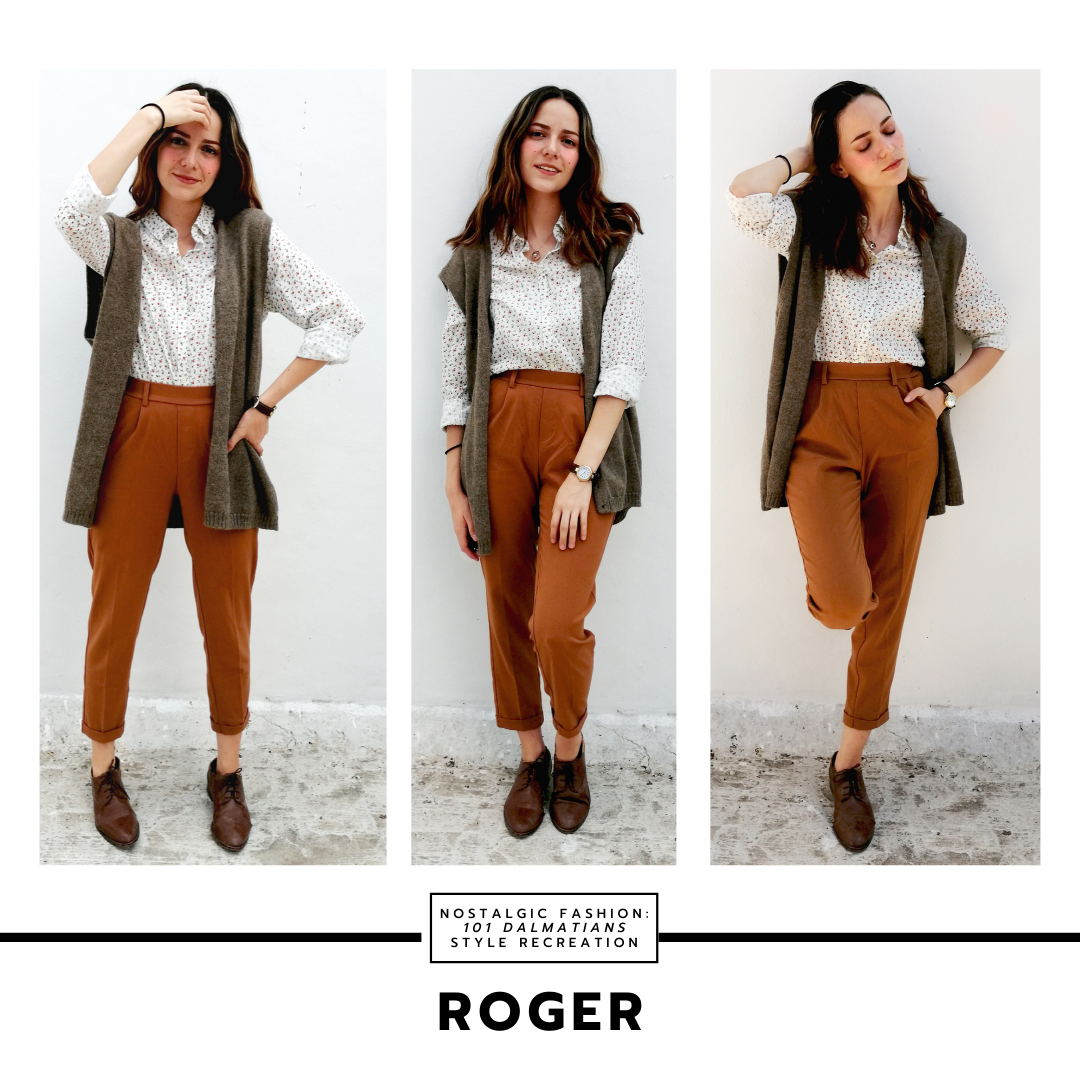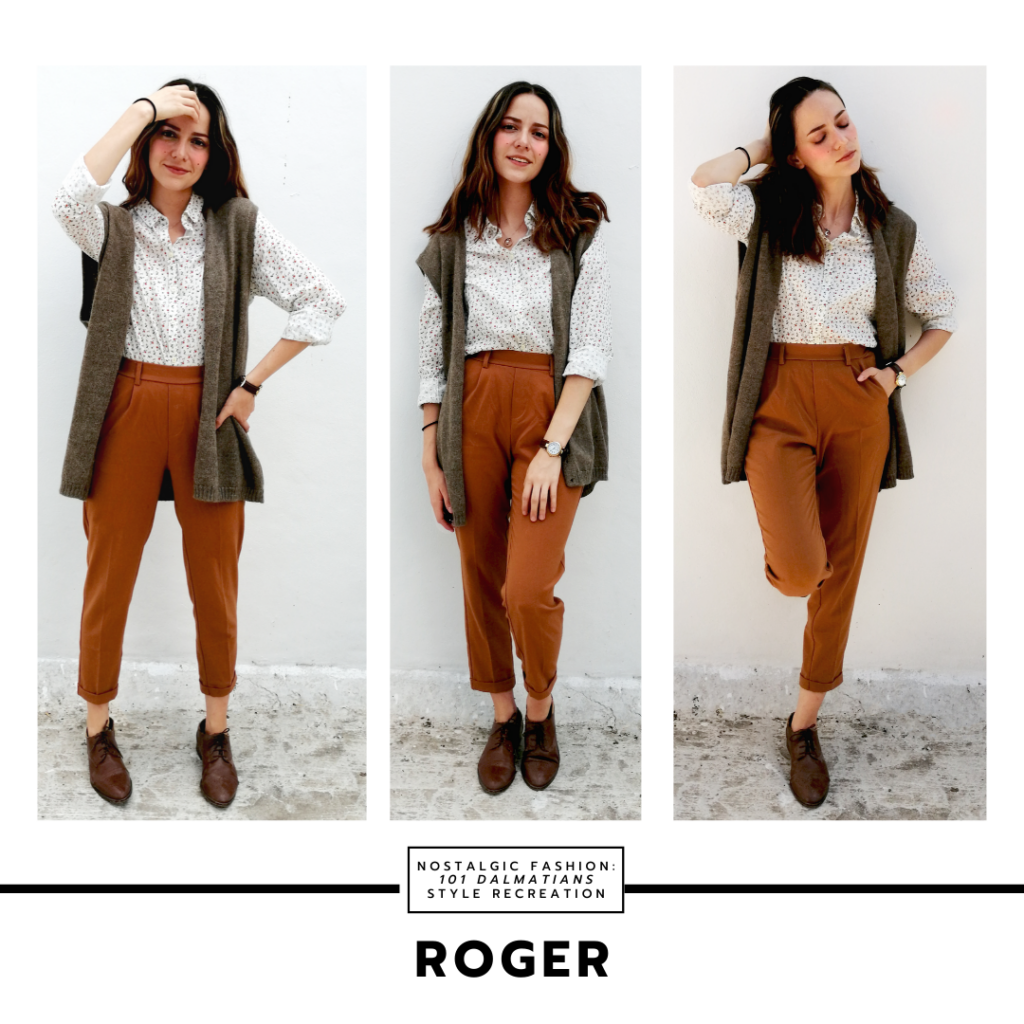 For my recreation of Roger's look, I went really preppy. I wore a patterned Oxford shirt that matched the cognac slacks. Then, I borrowed a dark green vest from my dad, which rounded out Roger's color scheme. Finally, for shoes, I wore a pair of brown oxfords.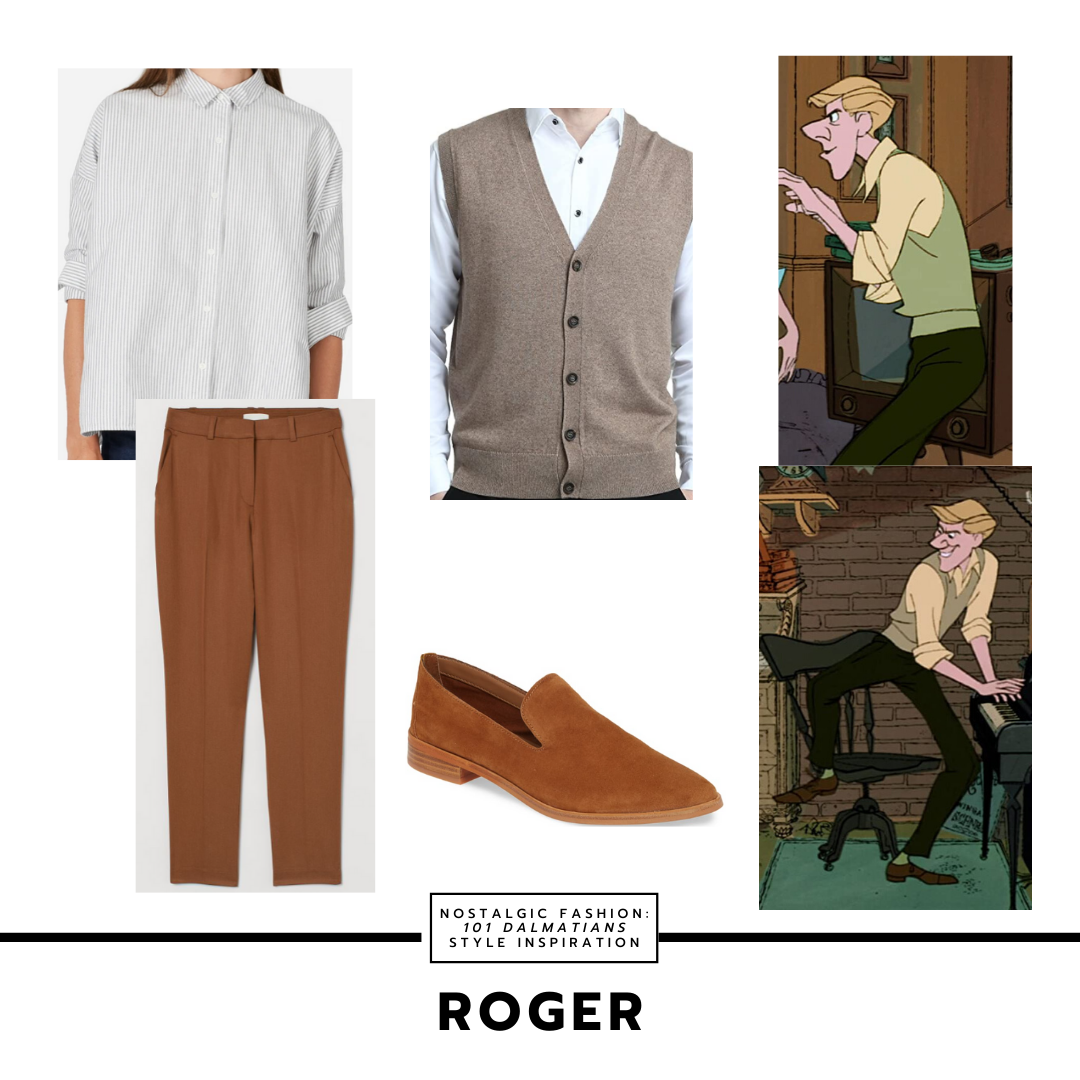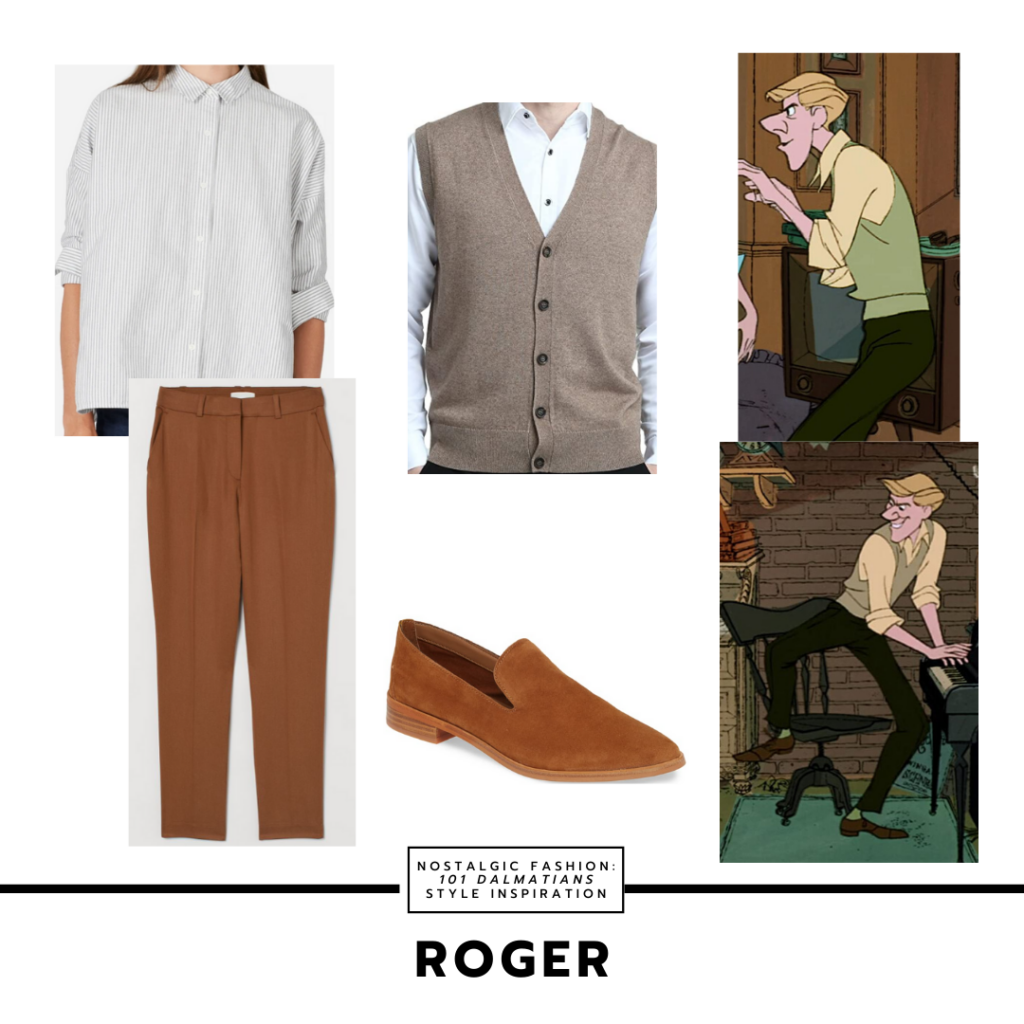 Products: Vest – Amazon, Pants – H&M, Shirt – Everlane, Shoes – Nordstrom
If you want to create a Roger inspired look, go full-on preppy and don't be afraid to experiment with men's clothing.
Pair a simple Oxford shirt with either brown or cognac slacks and layer it with a dark green or brown vest. Finish it up with brown Oxford shoes or even a pair of brown Chelsea boots.
2. Anita Radcliffe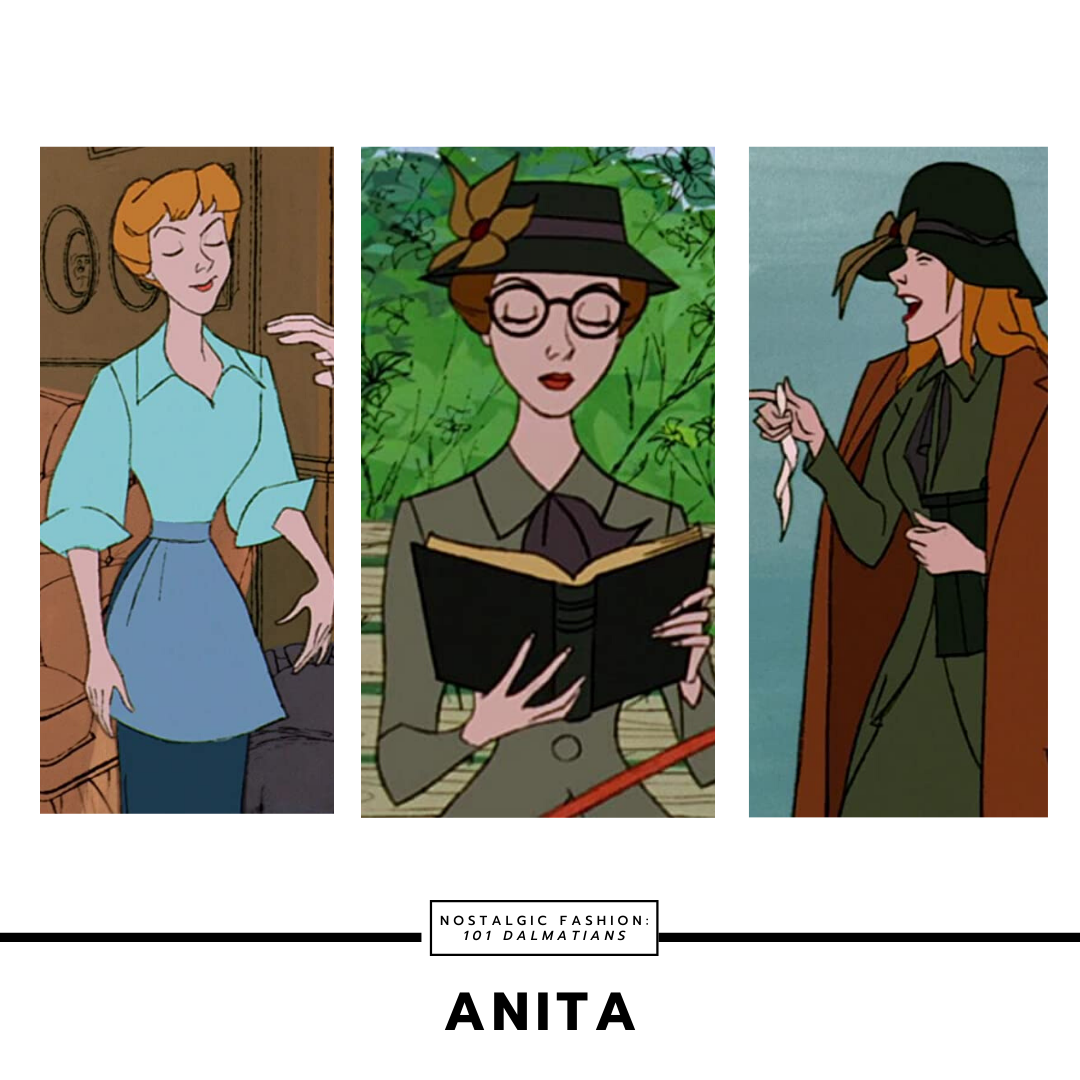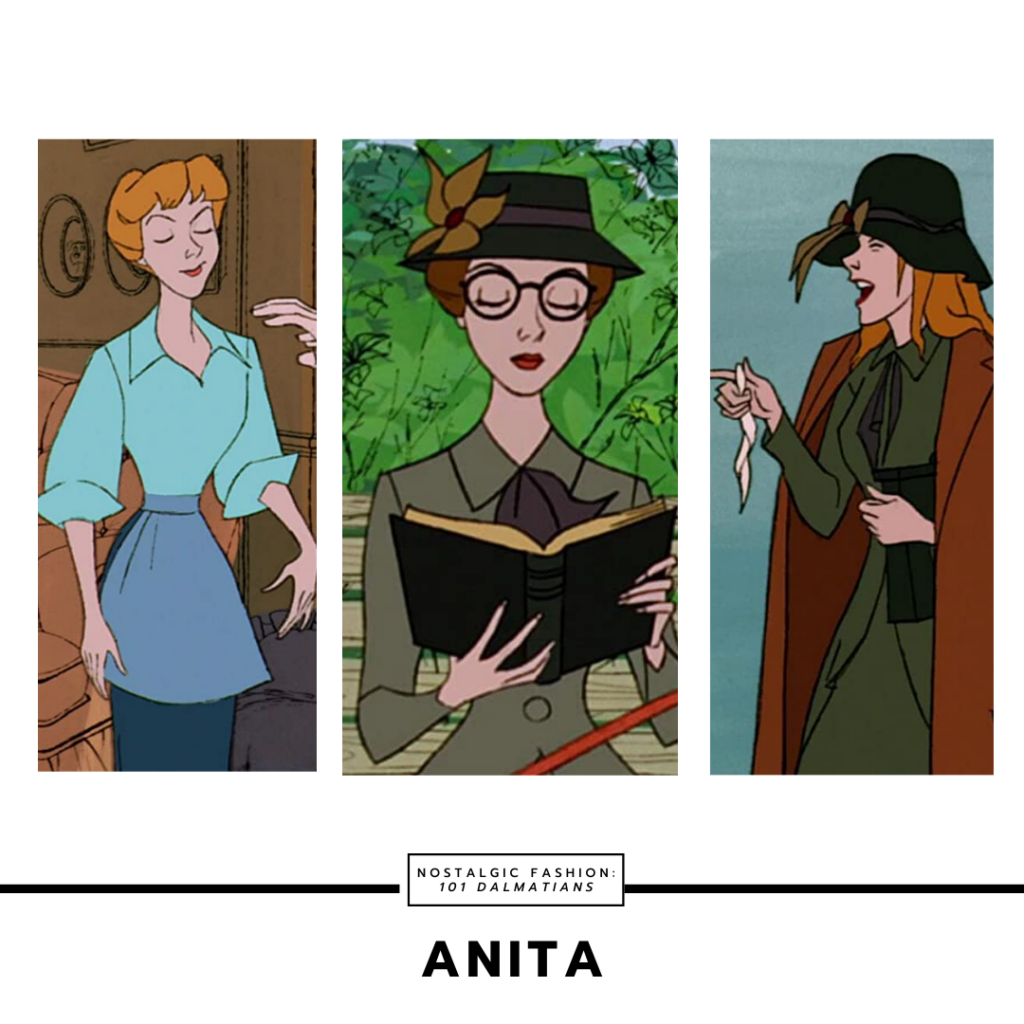 Anita is the female human protagonist and the main reason why Cruella De Vil appears in their lives. A former schoolmate of Cruella, Anita is also Roger's wife and Perdita's owner.
Anita is mostly seen in A-line midi skirts or dresses, and Oxford shirts in greens, browns, and blues. Like her husband, coats and hats are Anita's staples throughout the film.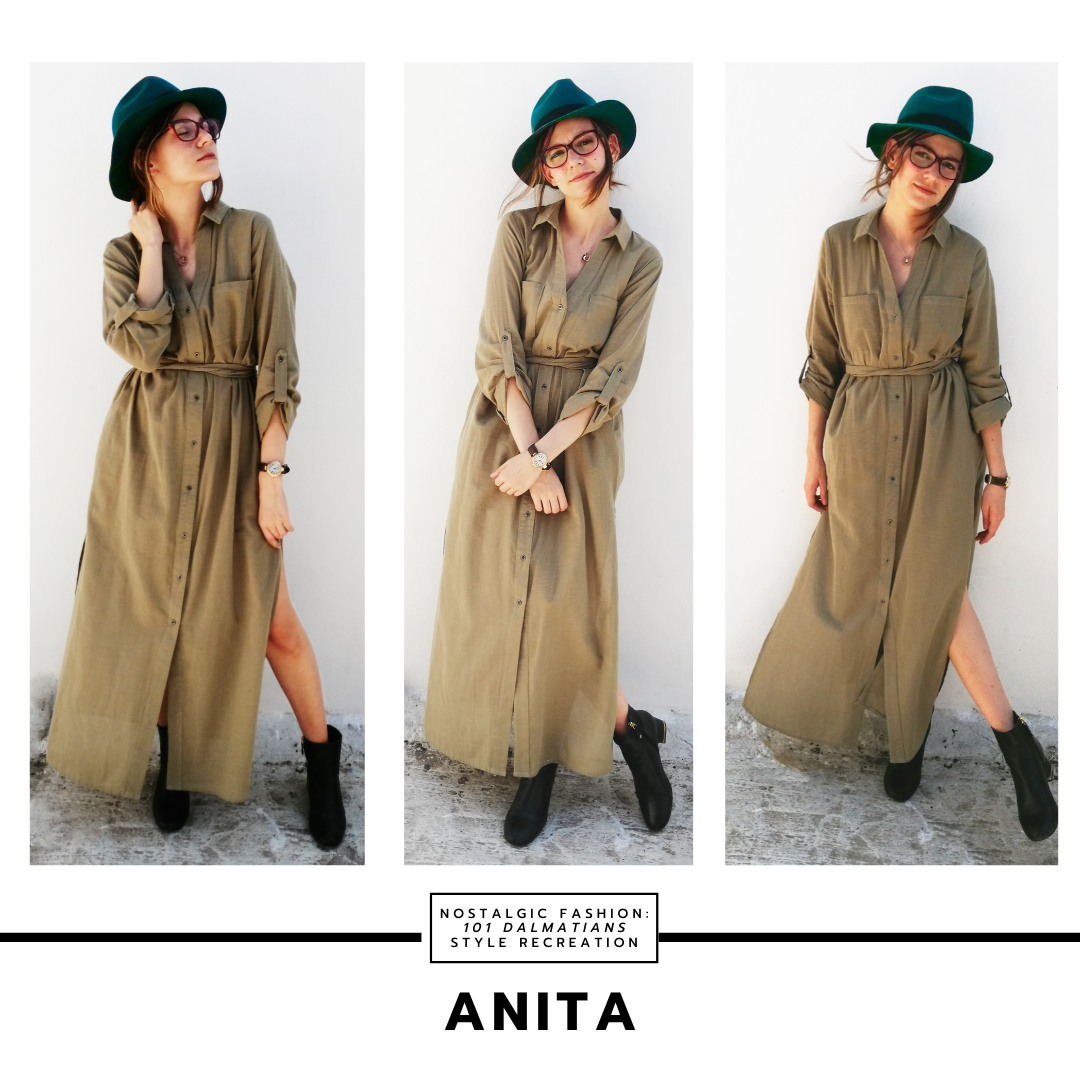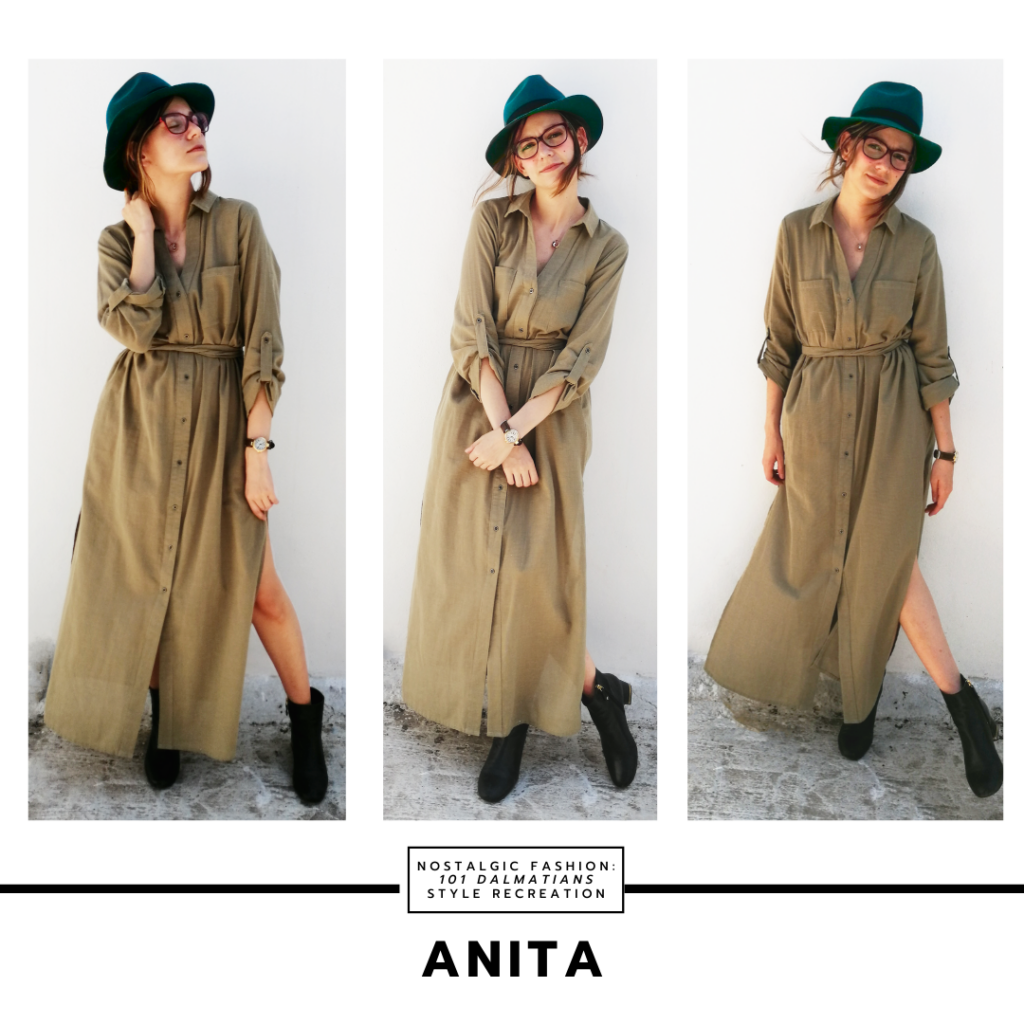 I decided to recreate my favorite Anita look form the movie: the olive green outfit she has on when she meets Roger.
I borrowed an olive green dress from my mom as my sole item of clothing, because it kind of emulates Anita's two piece of blazer and skirt. For shoes, she's wearing heels, but to make it more wearable I opted for a pair of black booties.
To accessorize, I wore a green hat and my reading glasses that look similar to Anita's.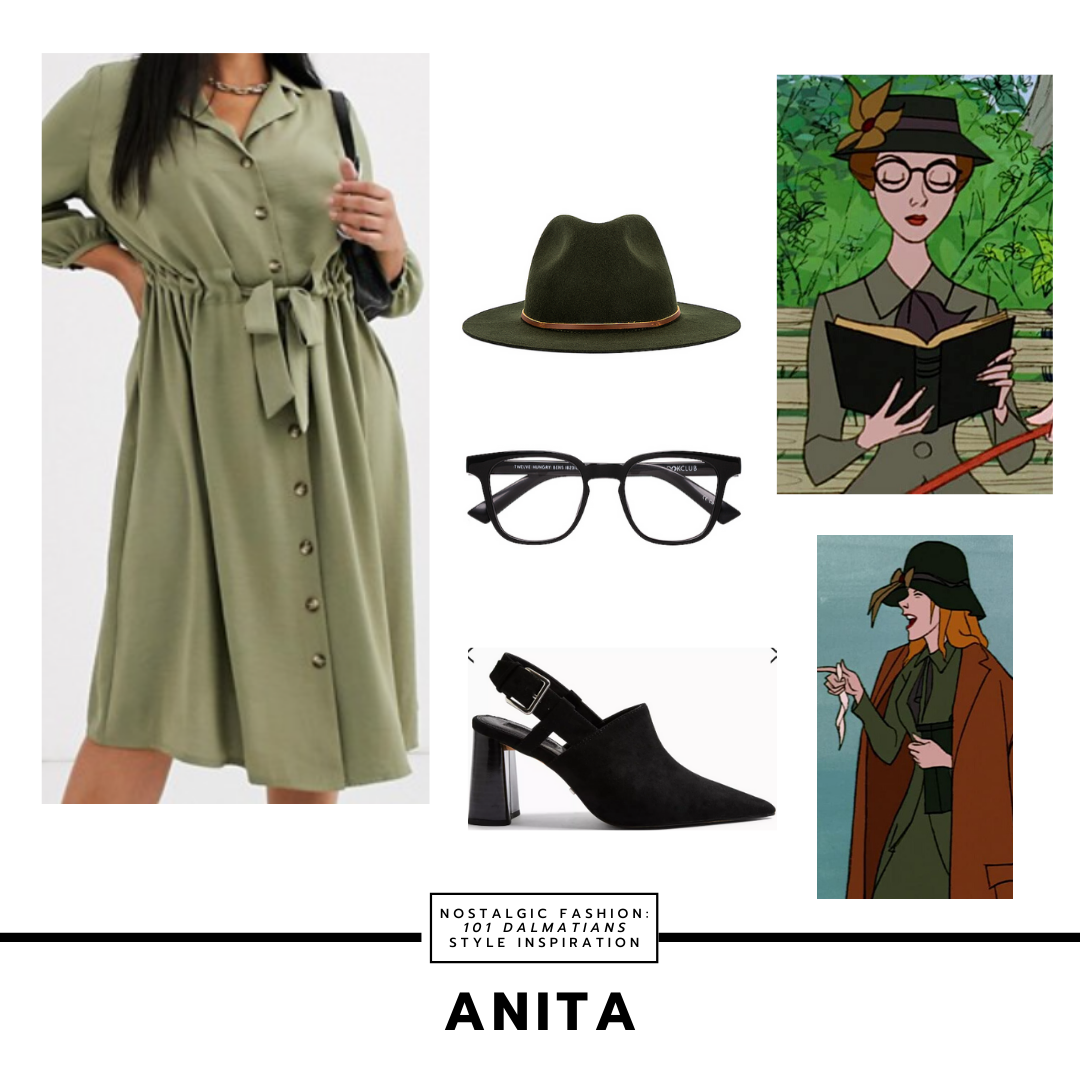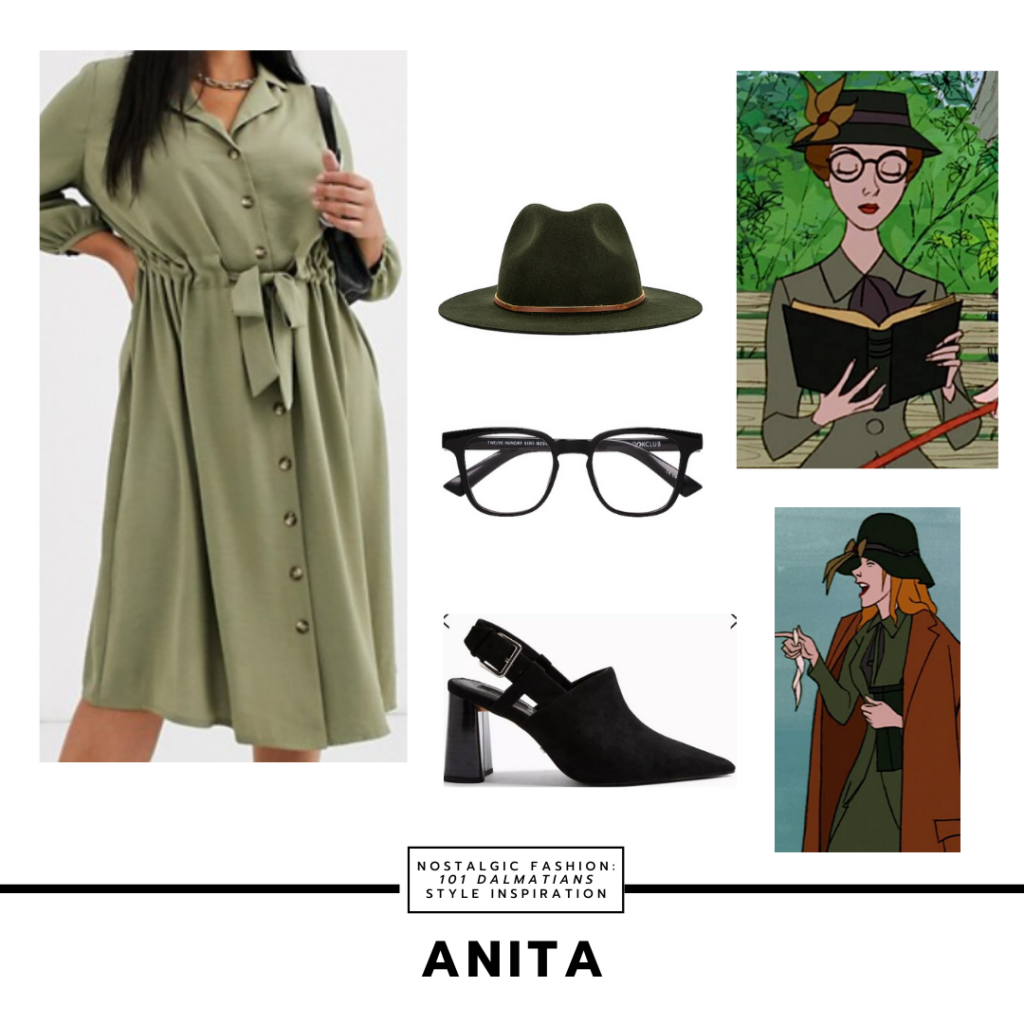 Products: Dress – ASOS, Hat – Revolve, Shoes – Topshop, Glasses – Revolve
If you want to create a look based on Anita, try using feminine A-line skirts, shirts and classically cut items.
Start with an olive green dress, since Anita's first look is the easiest one to translate to modern day. Rock it with a pair of black heeled mules. Finally, the accessories are optional but you can also wear a green hat and glasses.
3. Pongo & Perdita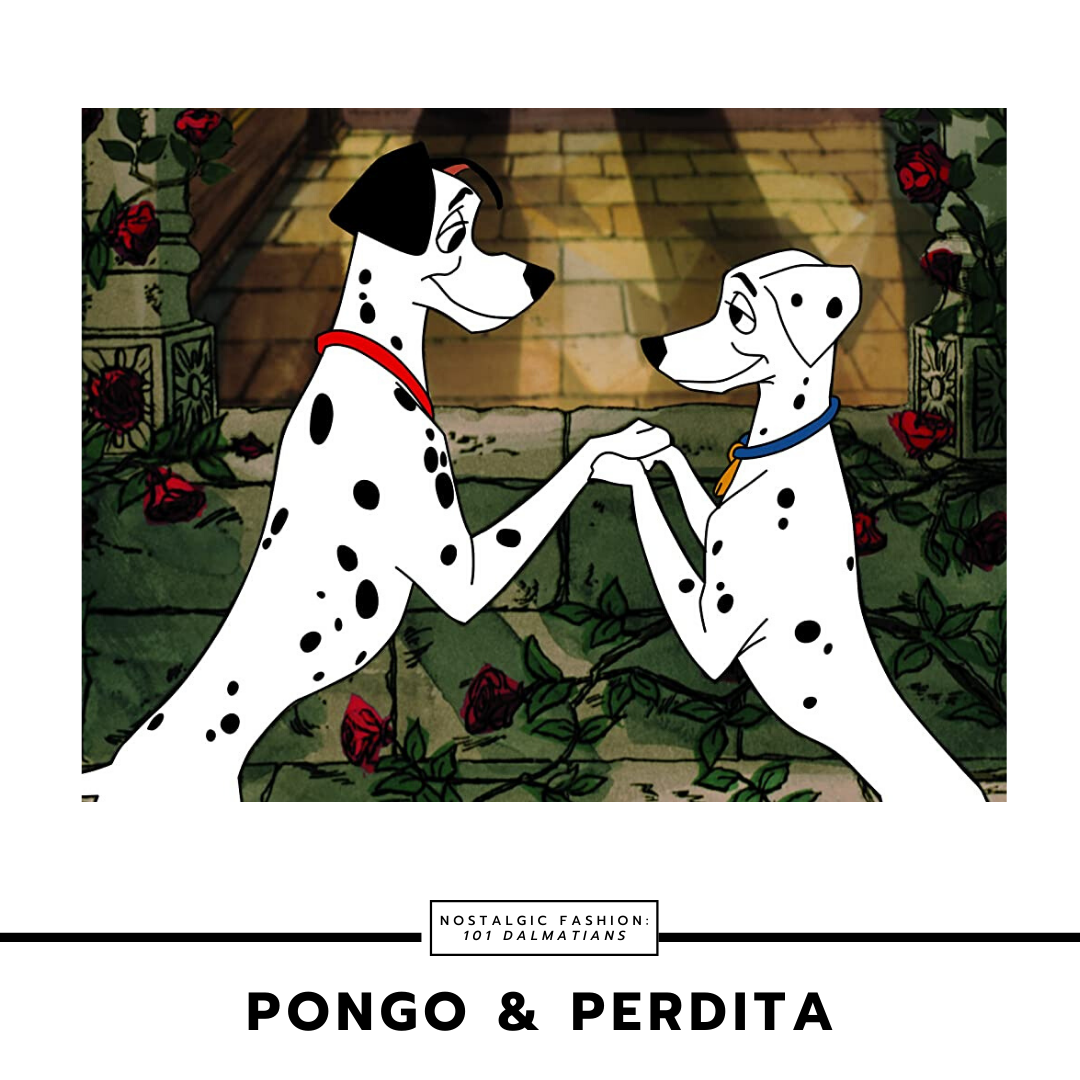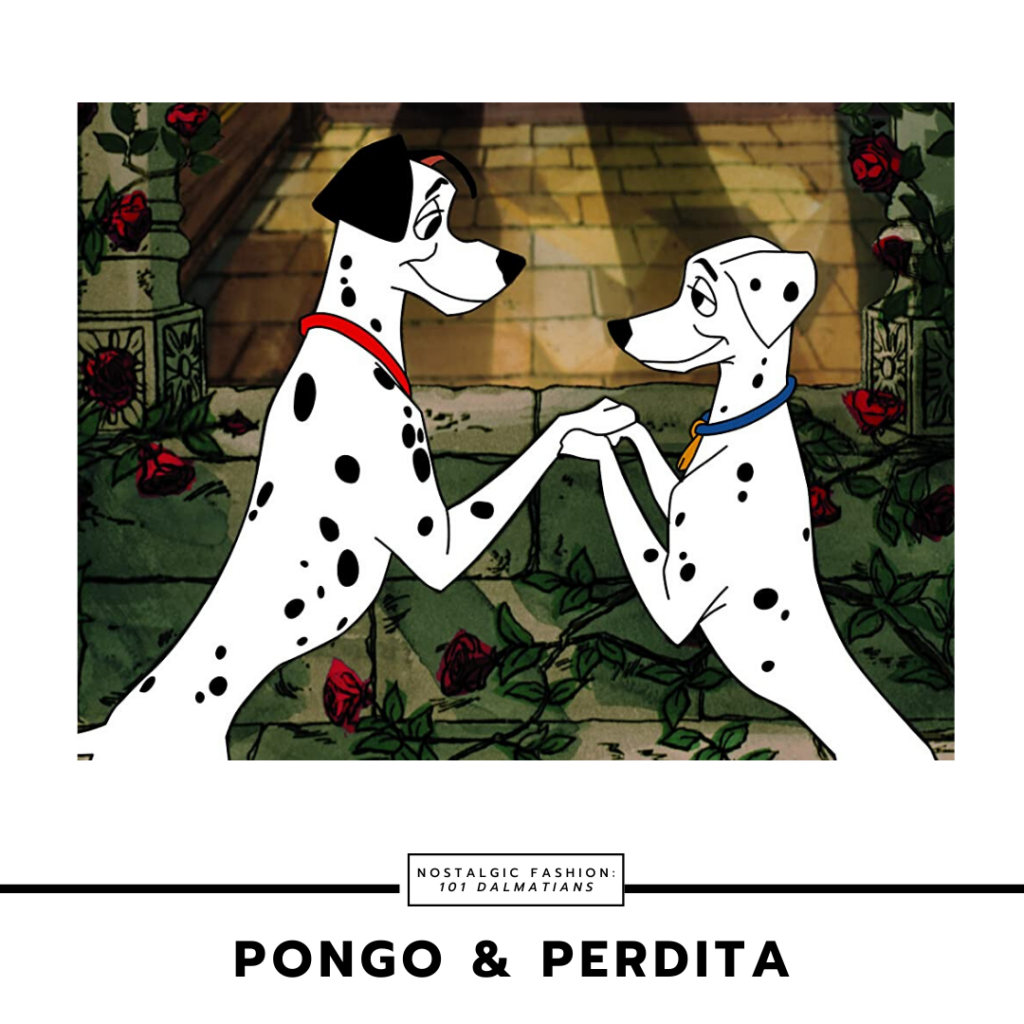 The main protagonists of the film, Pongo and Perdita are the biological parents of 15 of the puppies and the adoptive parents of the 84 puppies that remain.
As Dalmatians, their main colors are black and white, and the key difference between them is the color of their collars: red for Pongo and blue for Perdita.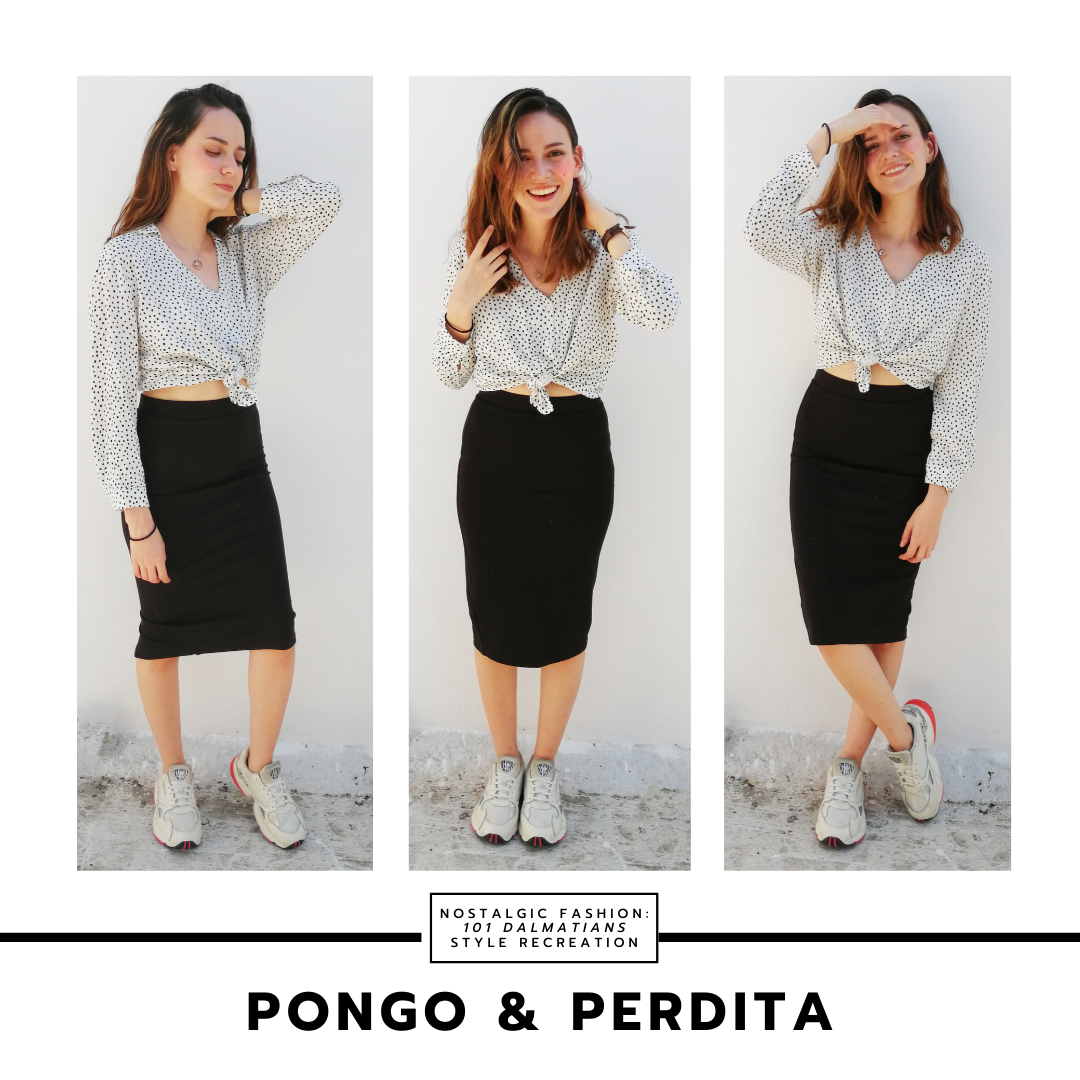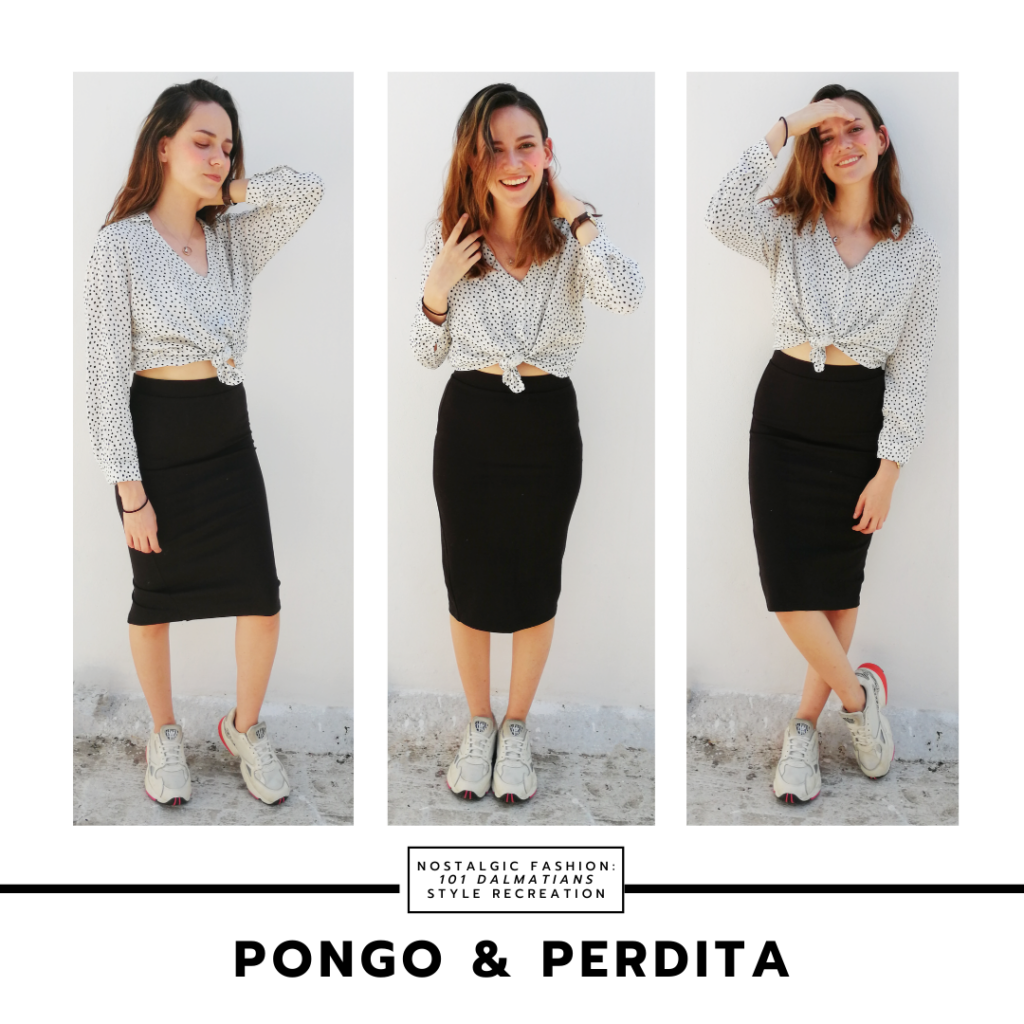 I couldn't do a 101 Dalmatians fashion guide without some spots. And creating a look based on these two was — surprise — pretty easy.
I started with a white shirt that had black spots on it. They're not polka dots, since they're very irregular, meaning they give off the perfect 'Dalmatian' vibe.
For the bottoms, I decided to wear a black pencil skirt, to emulate the moment in the movie when the dogs disguise themselves as black Labradors.
For my shoes, I used a pair of white chunky sneakers that have a slight black and white spotted print on the back.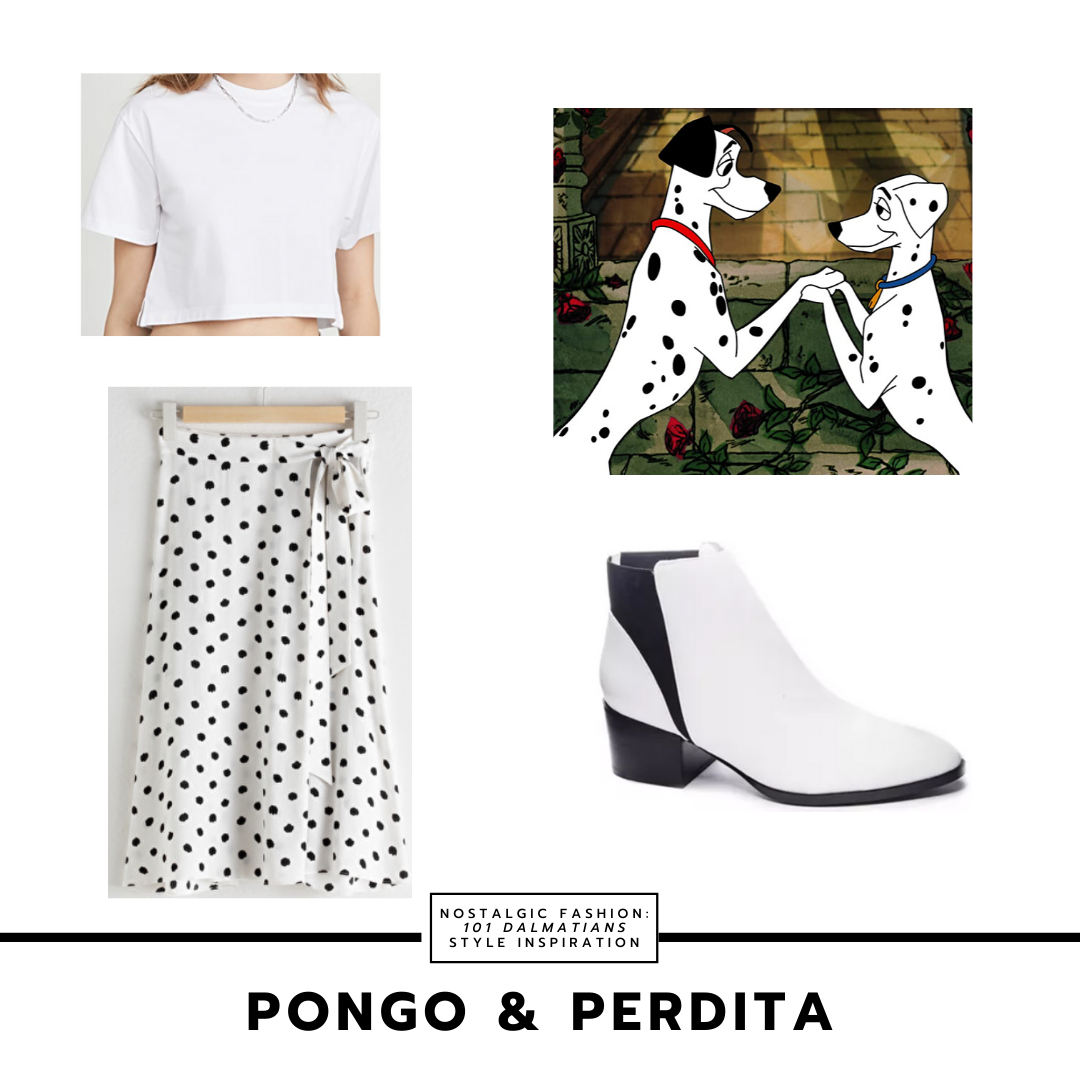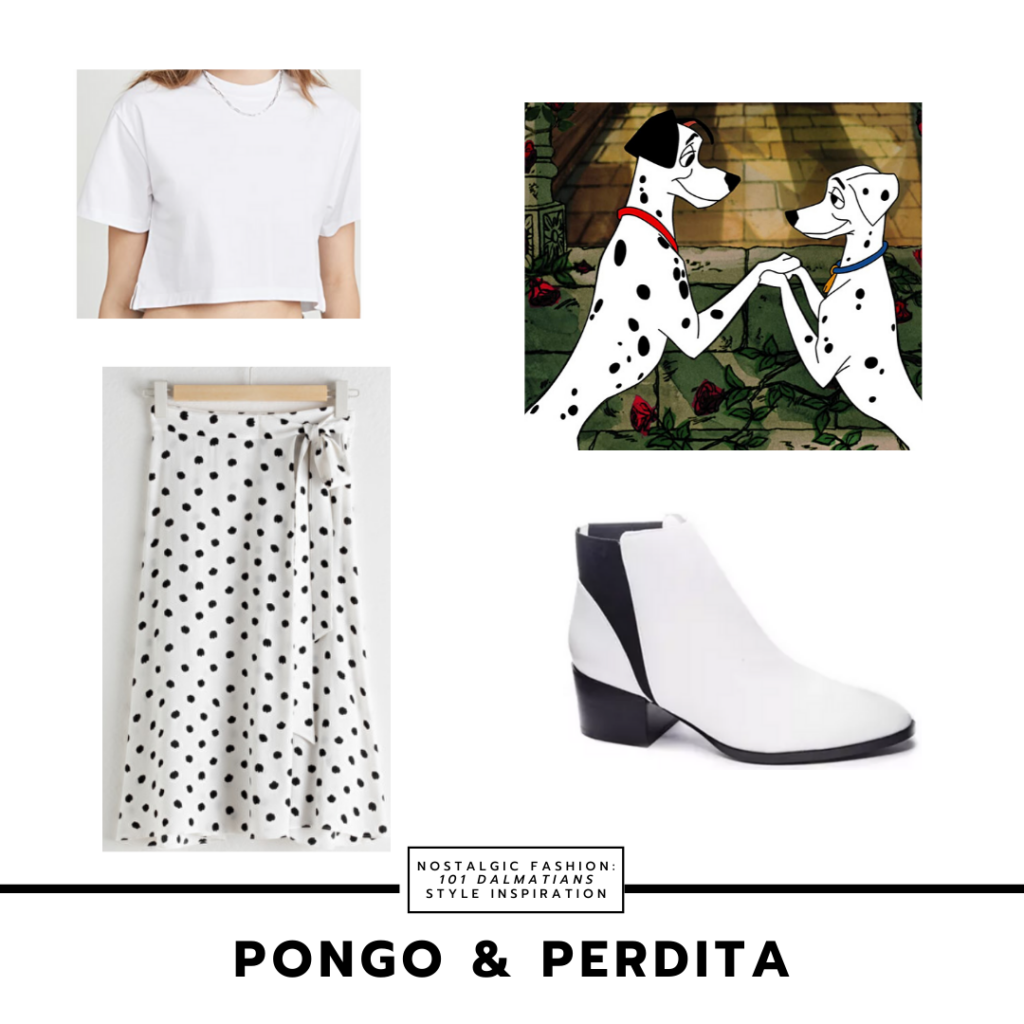 Products: Skirt – & Other Stories, T-Shirt – Shopbop, Booties – Chinese Laundry
To create an outfit inspired by Pongo and Perdita, you can honestly do whatever you want as long as it involves black and white spots.
For this look, I mixed a polka dot midi skirt with a white crop top. For shoes, I opted for a pair of white booties with black details on the sides, but you can use white sneakers as well.
What do you think of my 101 Dalmatians fashion guide?
Do you like "101 Dalmatians"? Which character's style would you recreate? Which look was your favorite? Do you have any movie you think I should cover? Let us know know in the comments below!