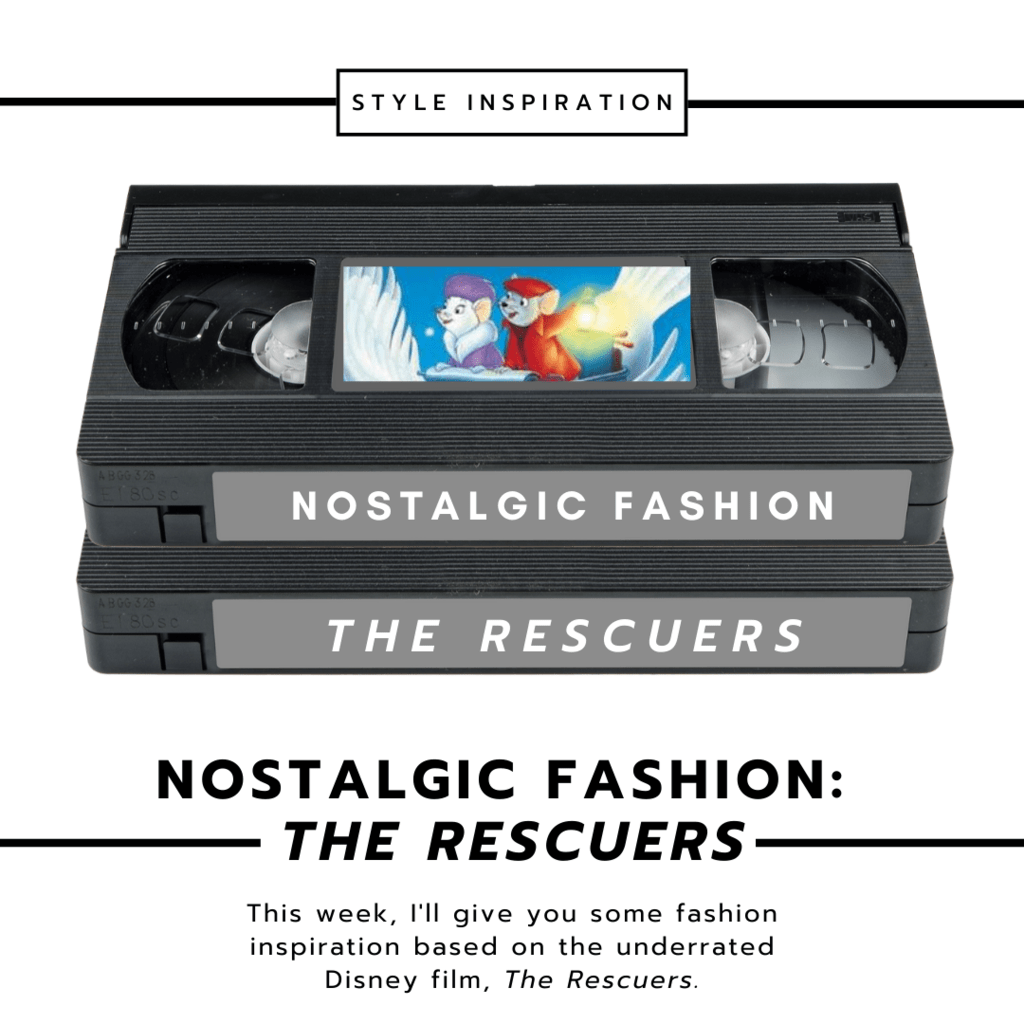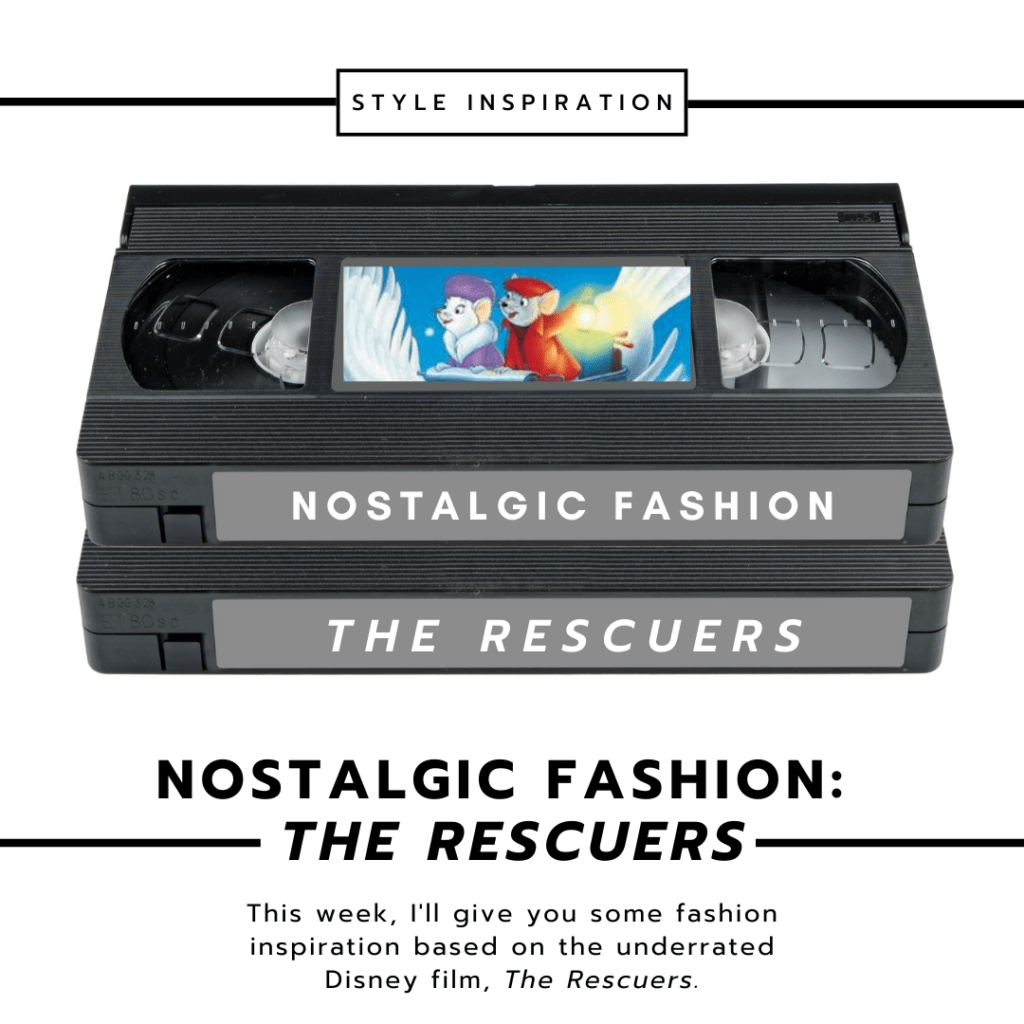 For the past few weeks, I've found myself watching my old VHS movies, especially movies that I watched when I was a little girl. While doing this, I have found some great underrated films that tend to get lost in between all the princesses, Pixar animated films, and the newest live-action remakes.
They are also a great source of fashion inspiration.
So for my next few posts, I'll choose one of these underrated movies each week and give you a quick recap of the film and its production, a rundown of each character's style, and my own real-life recreation of each look.
My first choice is:
The Rescuers (1977)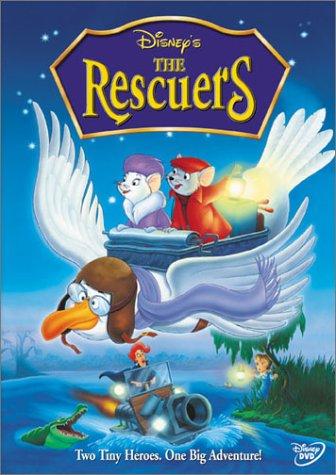 The 23rd entry in the Disney Animated Canon, The Rescuers premiered in 1977, after Walt Disney's death. It was the last film Disney had any sort of involvement in and the movie reflects how the company was dealing with the loss of its founder.
The Rescuers has a much darker tone than its predecessors and it's filled with gut-wrenching feelings of parental abandonment.
The Rescuers was one of the few box-office successes post-Walt Disney and pre-Disney Renaissance, which started with The Little Mermaid in 1989.
It's also one of the few movies from this era that had a sequel, The Rescuers Down Under, released in 1990.
In the film, little orphan Penny is kidnapped by evil treasure-hunter, Madame Medusa. Penny sends out a message in a bottle asking for help. The message is intercepted by the Rescue Aid Society: an all-mouse organization that dedicate themselves to help little kids in trouble. Bernard (Bob Newhart) and Bianca (Eva Gabor) volunteer to go save her.
The Rescuers Fashion: Bianca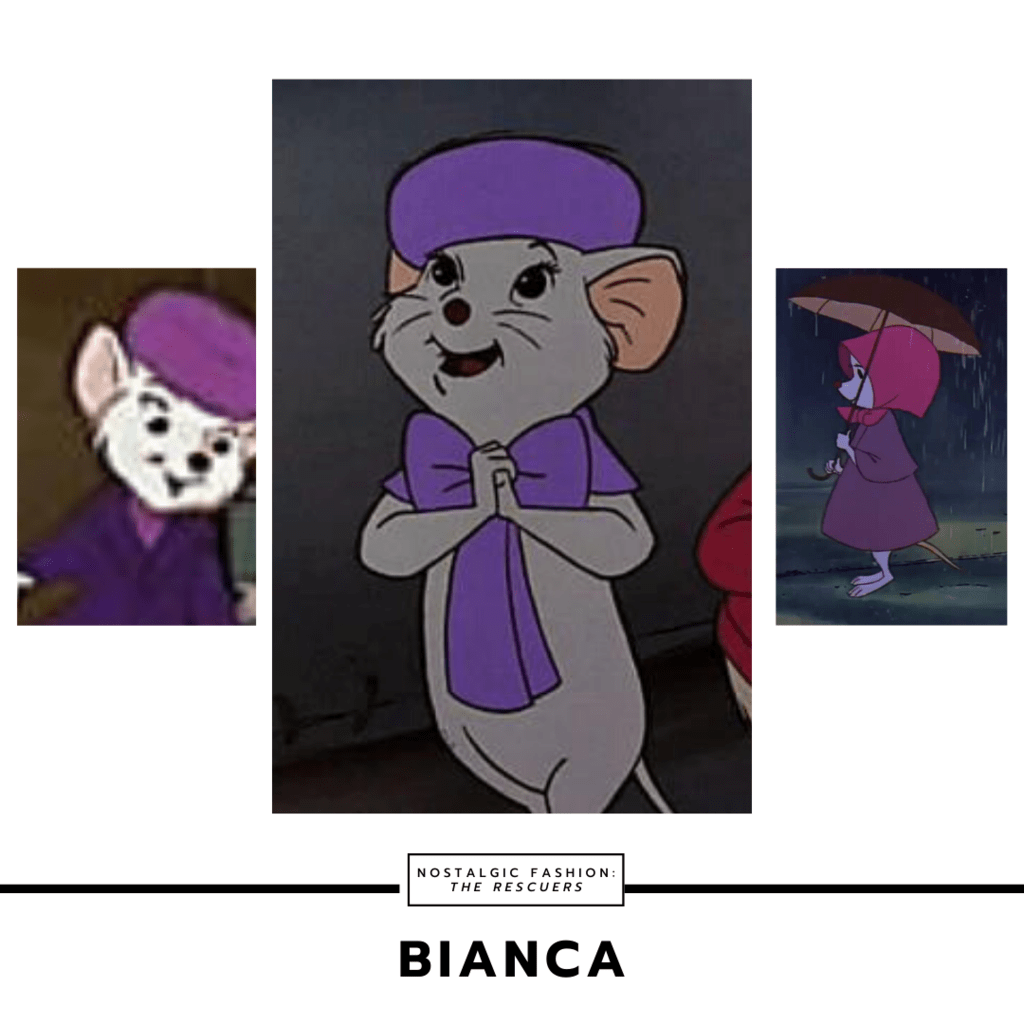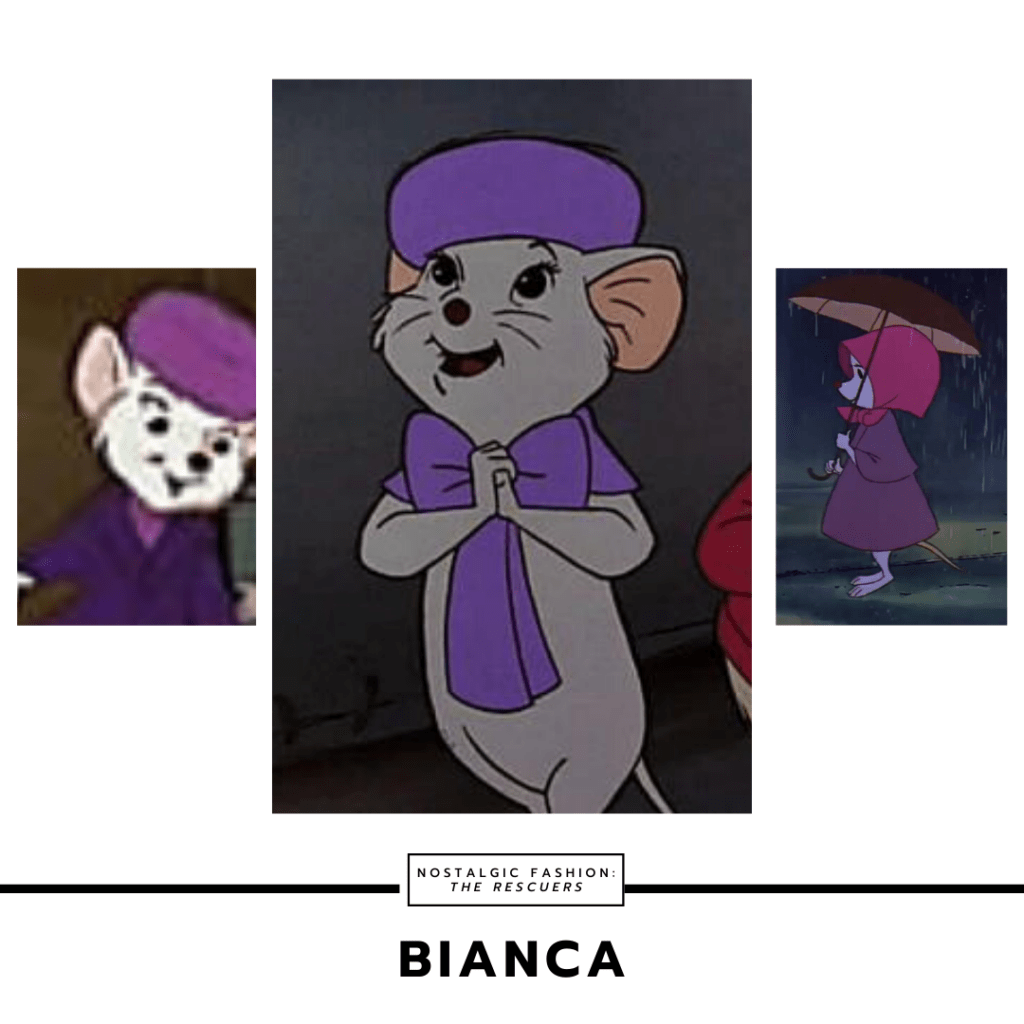 Bianca is the Hungarian representative of the Rescue Aid Society. She is voiced by the fabulous Eva Gabor and, naturally, she is a very feminine and stylish mouse.
Her signature colors are white (her fur), purple, and lilac, signaling her regal and graceful portrayal.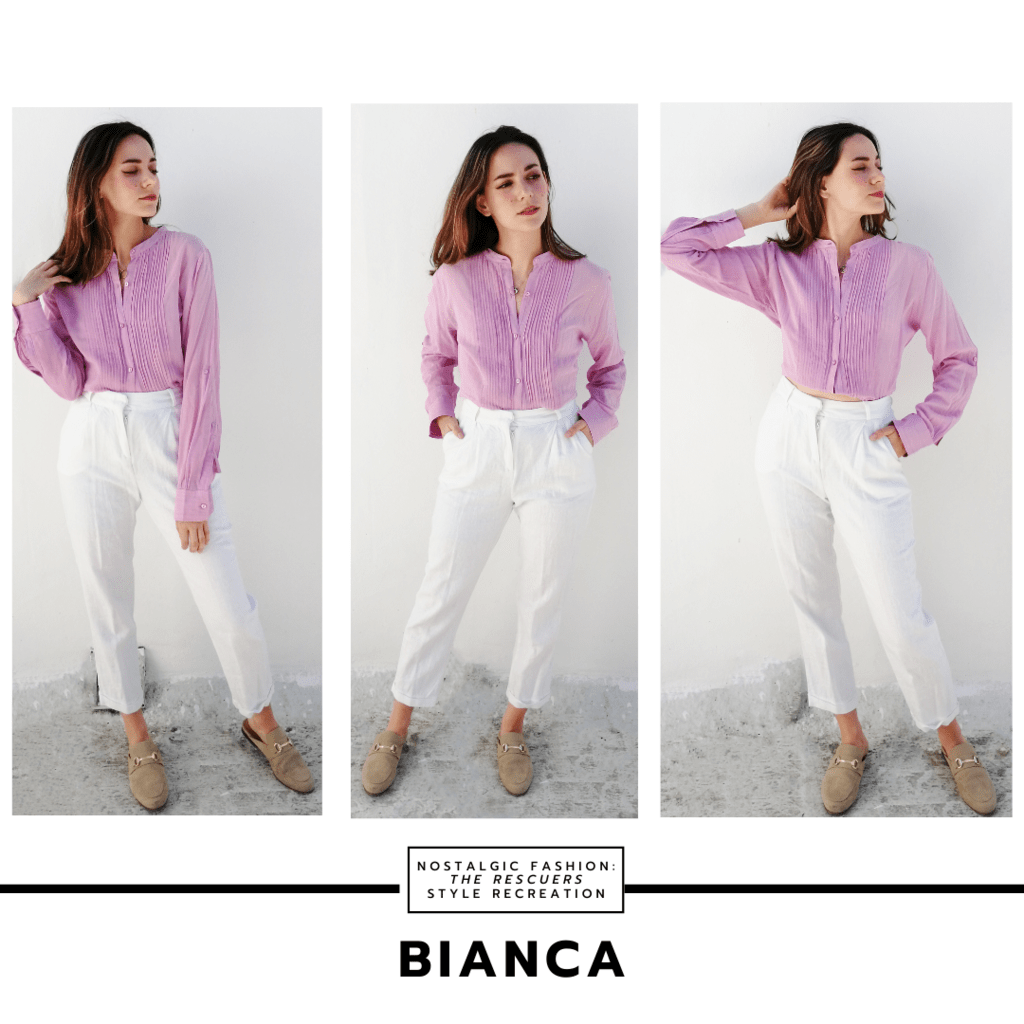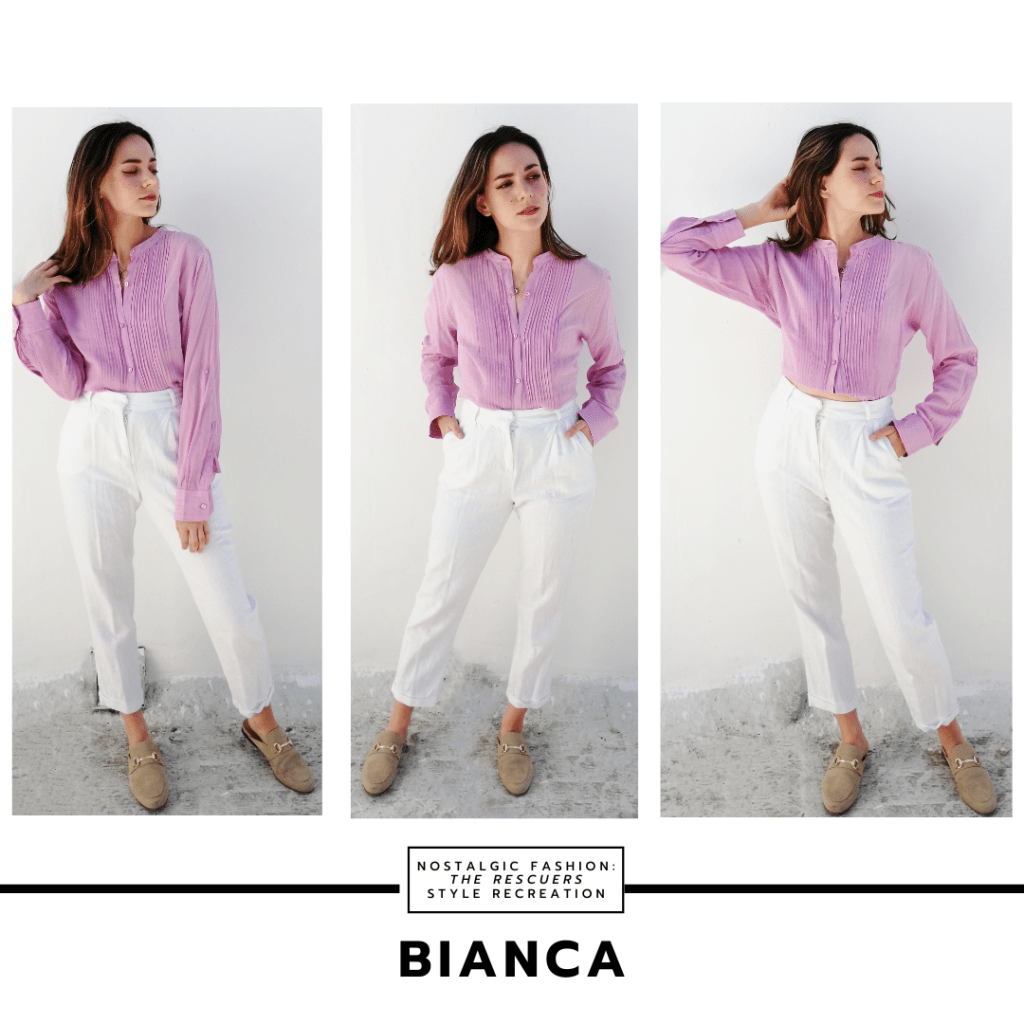 For my take on Bianca's style from The Rescuers, I wore a pair of white linen pants and a lilac shirt in a very thin fabric. Since I don't have any lilac or purple shoes, I opted to wear a pair of tan slip-on loafers.
To create a look inspired by her, try to keep everything within Bianca's color scheme and use feminine items in interesting fabrics. For winter, faux fur is the best for a 'Bianca' look, but for summer, silky and linen fabrics are the best choice.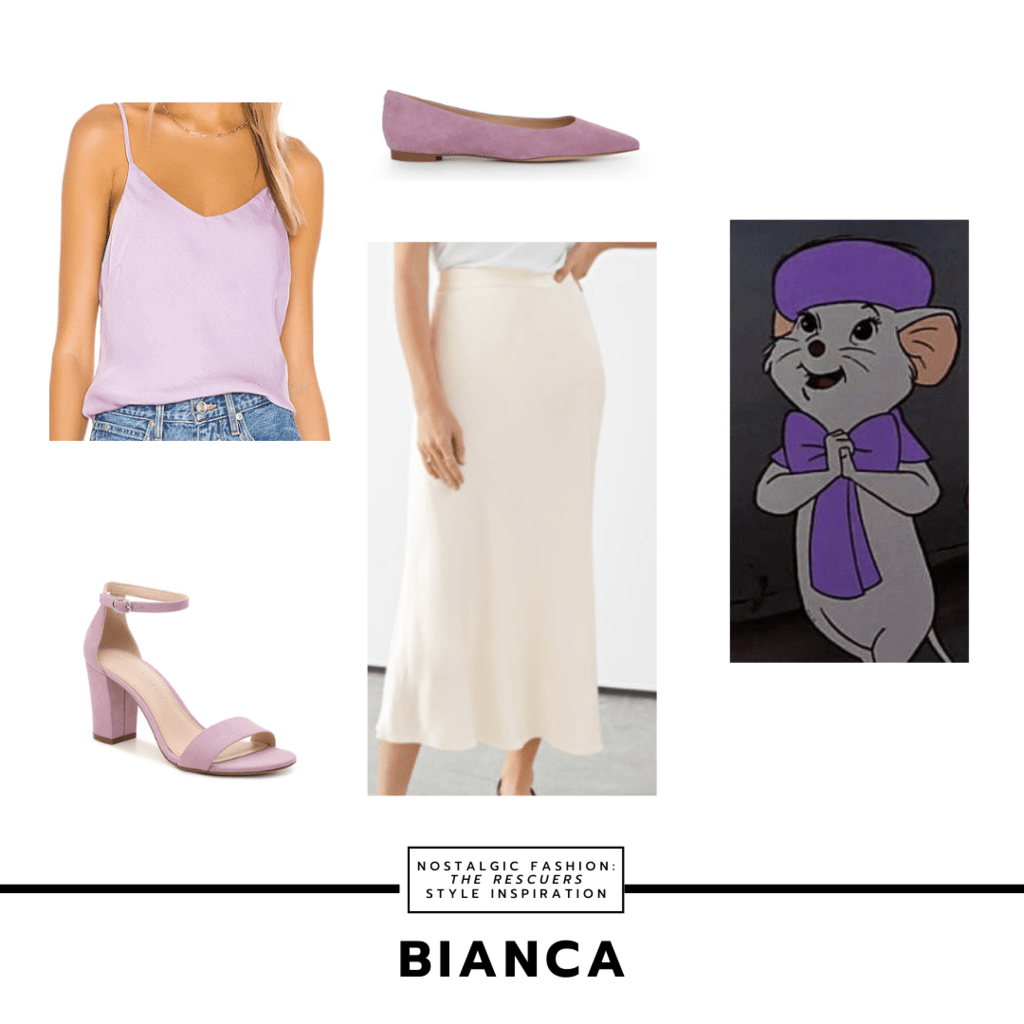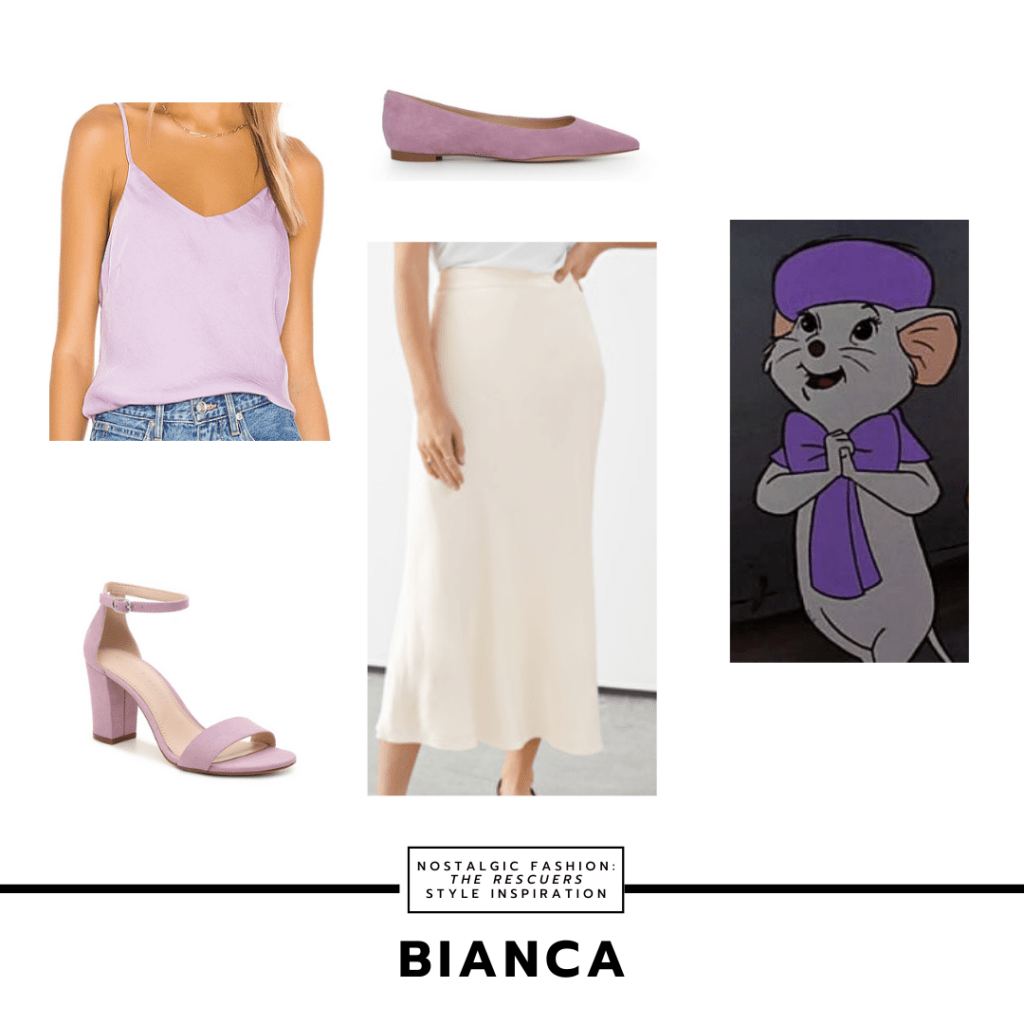 Items: Camisole – REVOLVE, Skirt – & Other Stories, Heels – DSW, Flats – Sam Edelman
This outfit inspired by Bianca's style is perfect for summer. Use a white midi skirt to emulate Bianca's white hair, and add a lilac or purple camisole to bring her signature color into the outfit. Finally, for shoes, you can go either way with a pair of lilac flats or heels.
The Rescuers Fashion: Bernard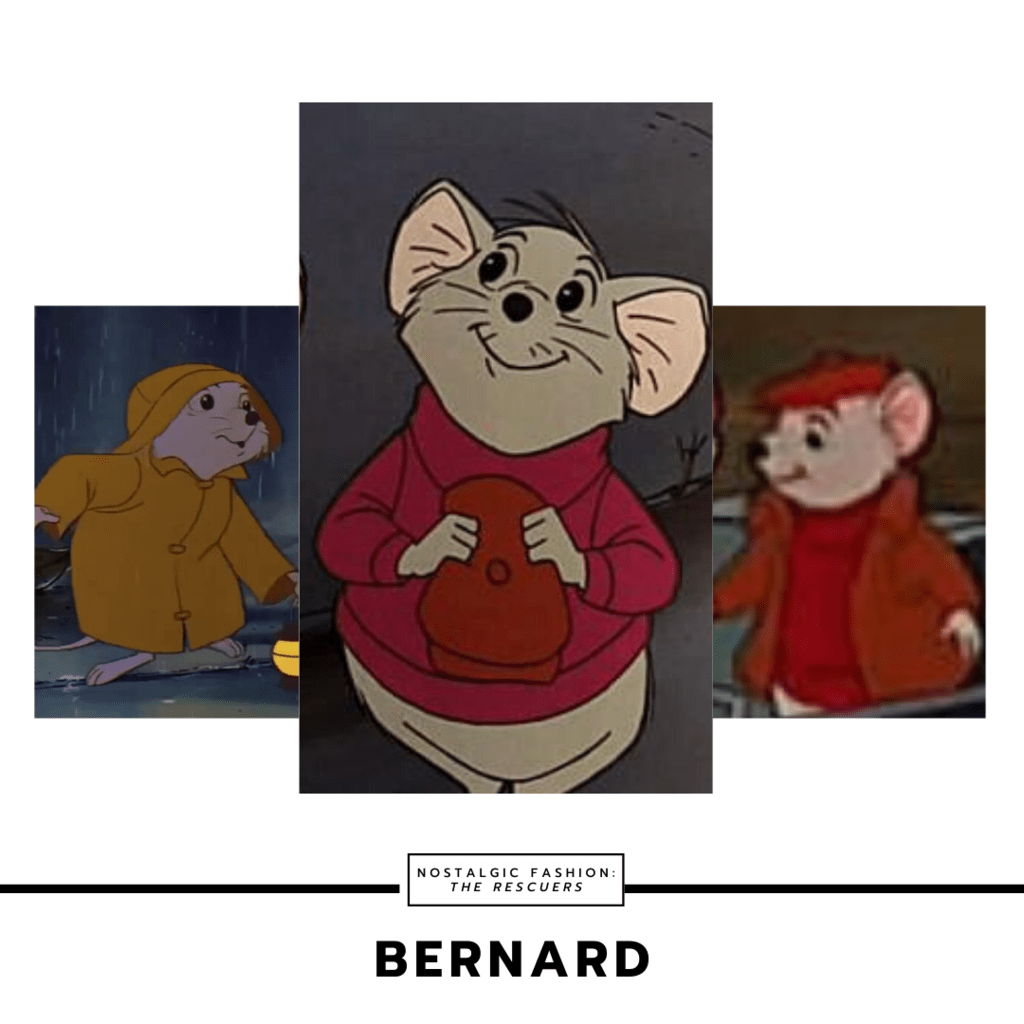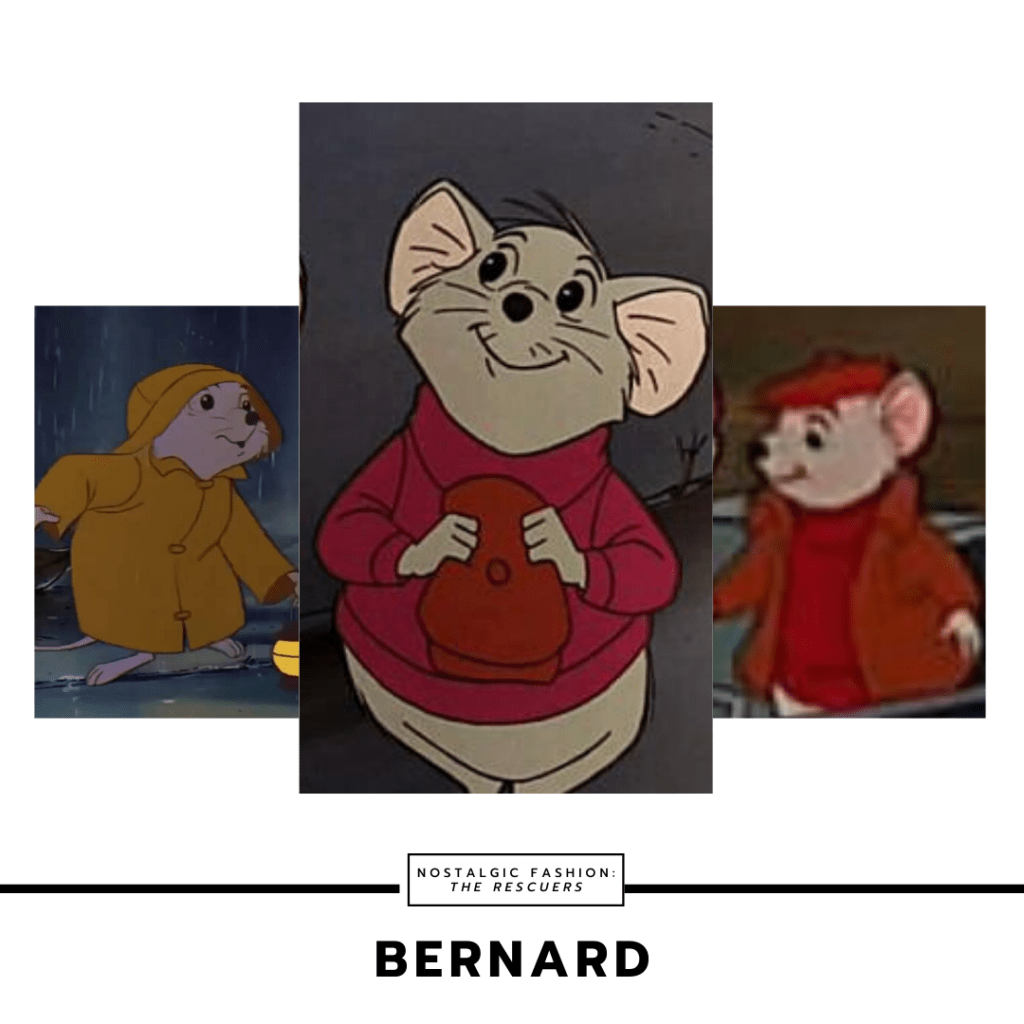 Bernard started off as the timid janitor of the Rescue Aid Society. He is a bumbling and superstitious mouse, voiced by Bob Newhart.
Bernard is a simple mouse, capable of the bravest endeavors. His signature colors are grey (like his fur), red, and orange, signaling both his humble nature and heroic tendencies.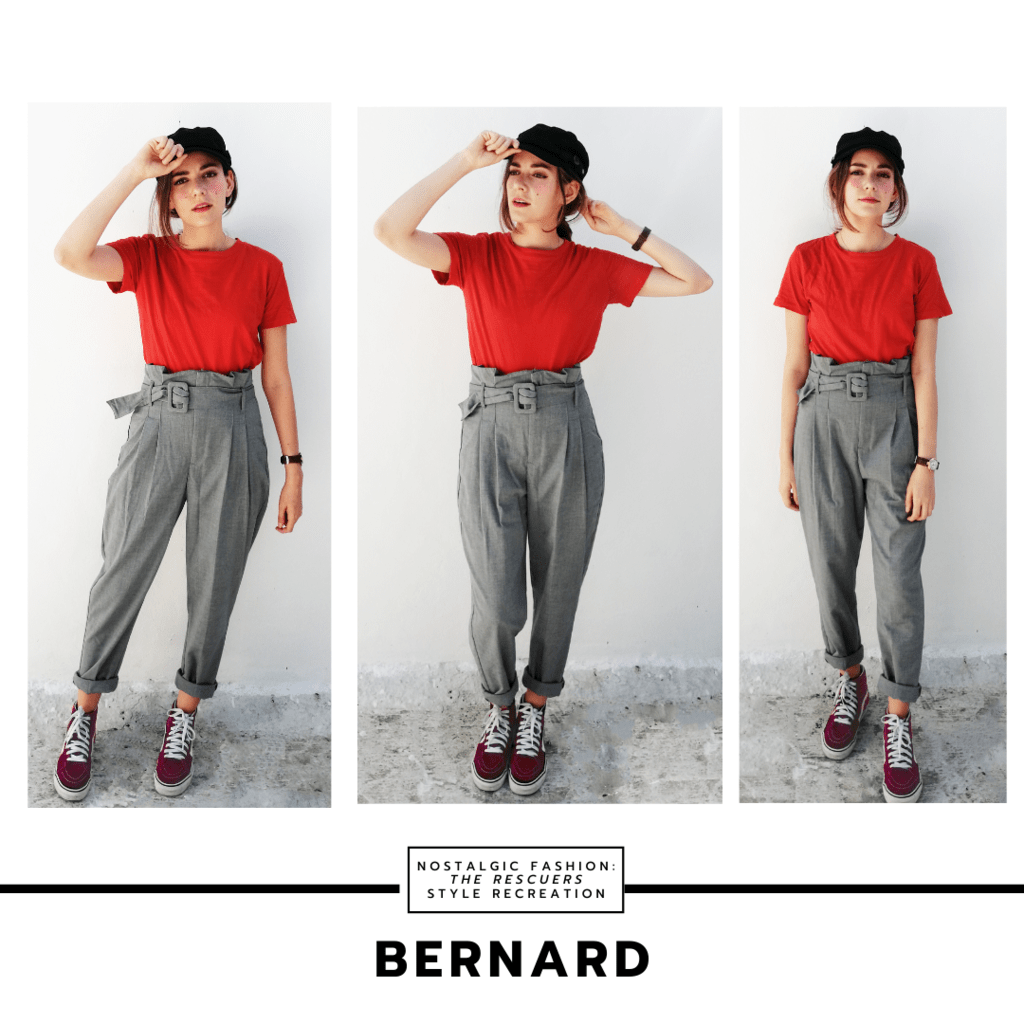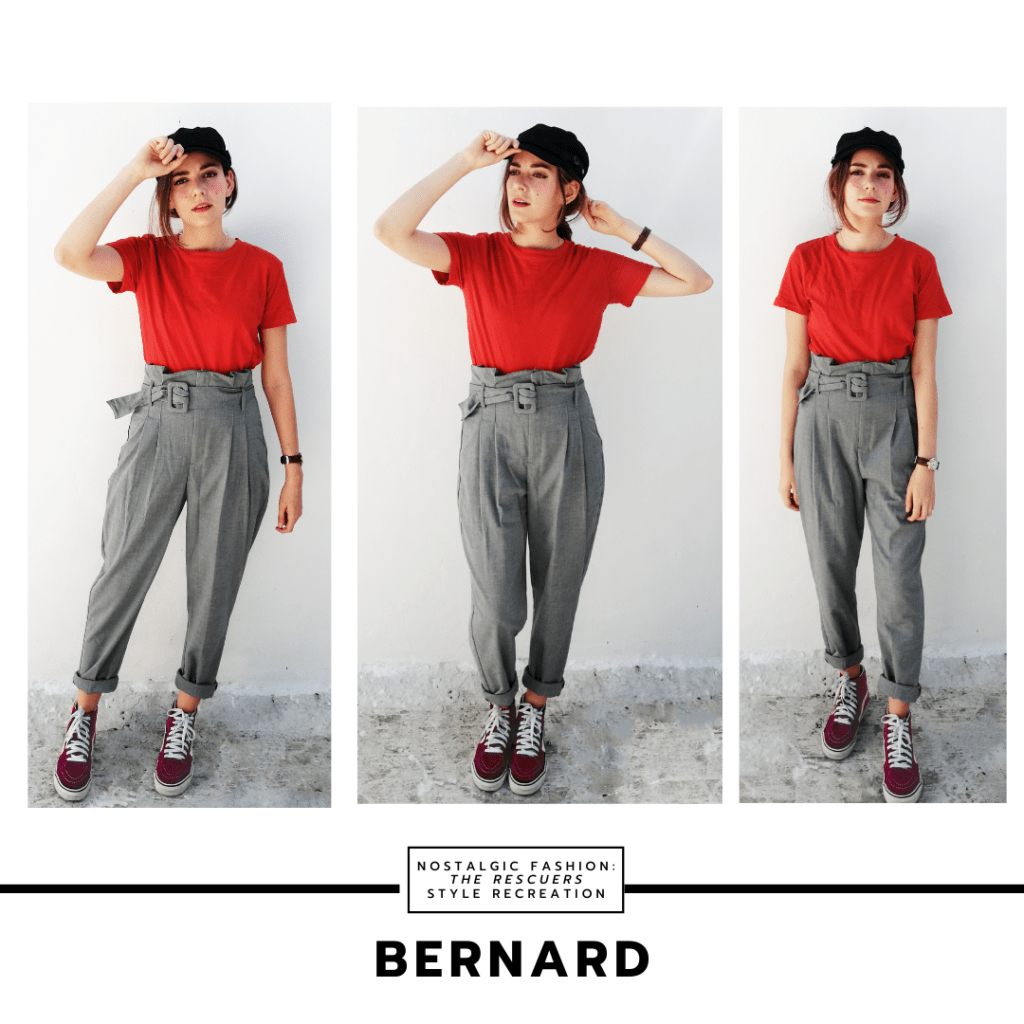 For my 'Bernard' outfit, I wore a simple red t-shirt and grey paper-bag trousers. For shoes, I opted for a comfy pair of burgundy high-top Vans and for accessories, I used a black paper boy hat I already had.
To create a look inspired by Bernard, comfort is key. Try to use items in simple cuts and comfortable fabrics. For winter, a brown aviator jacket or coat paired with a beret or paperboy hat in a similar color would be right up Bernard's alley. For summer, just omit the jacket.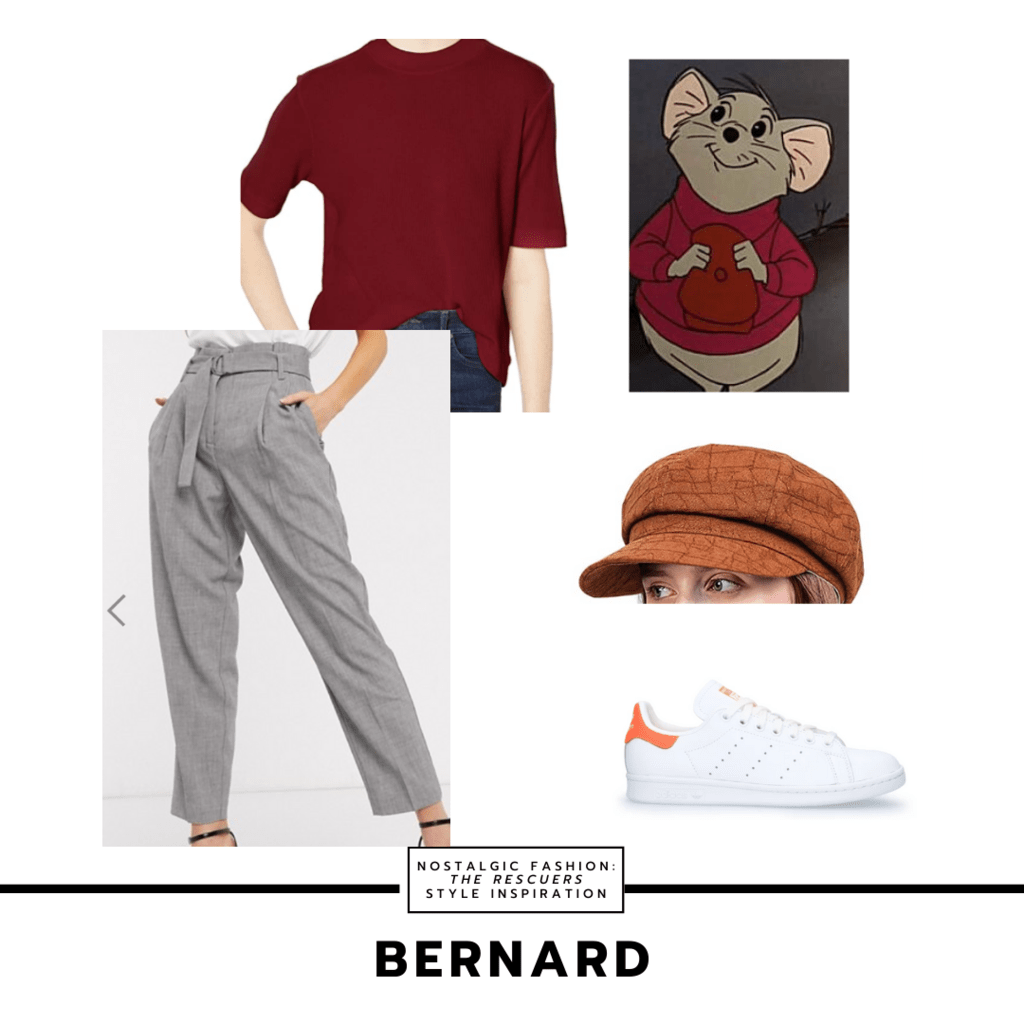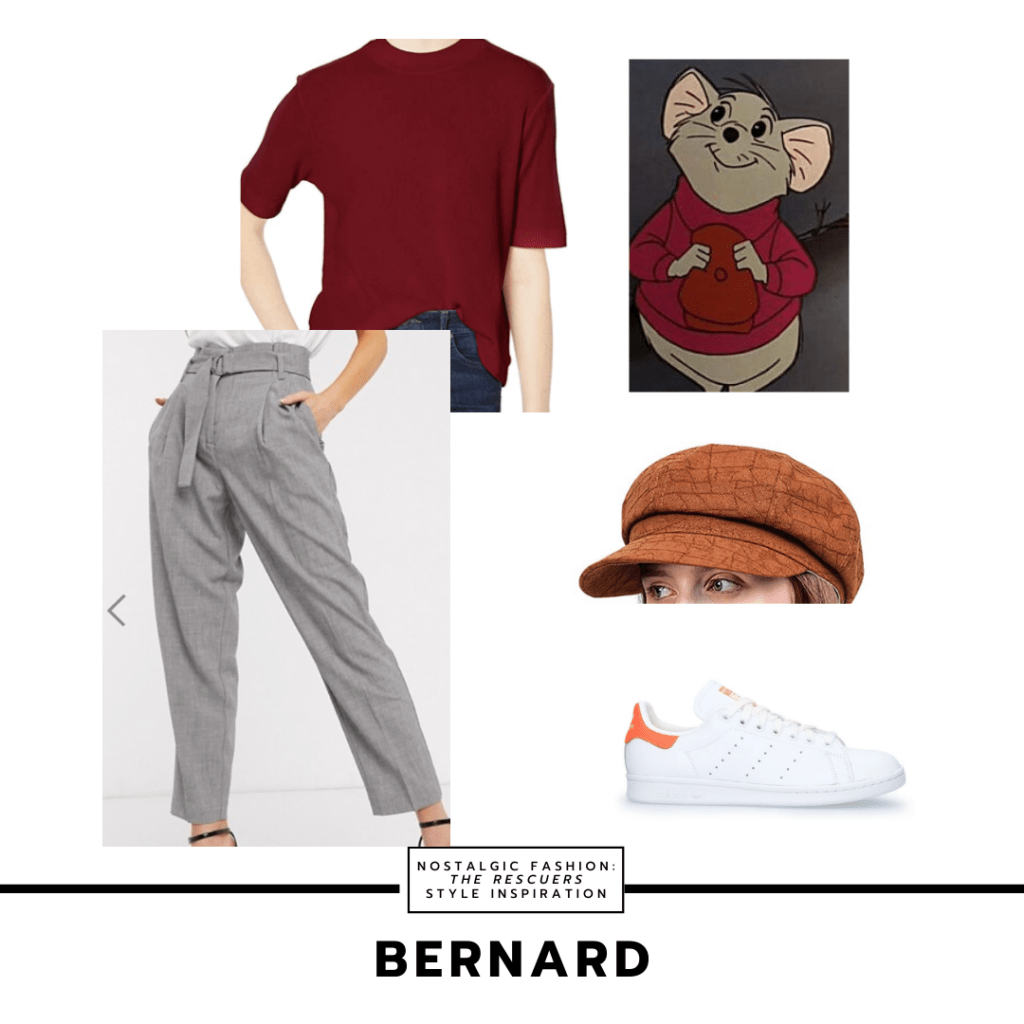 Items: T-shirt – Amazon, Pants – ASOS, Hat – Amazon, Sneaker – Adidas
This Bernard-inspired look is perfect for a comfy summer day.
Start with a pair of grey trousers, to emulate Bernard's fur, and a red mock neck t-shirt to recreate his red turtleneck sweater. For shoes, go for a classic white sneaker with orange accents.
Finally, accessorize with an orange paperboy hat.
The Rescuers Fashion: Penny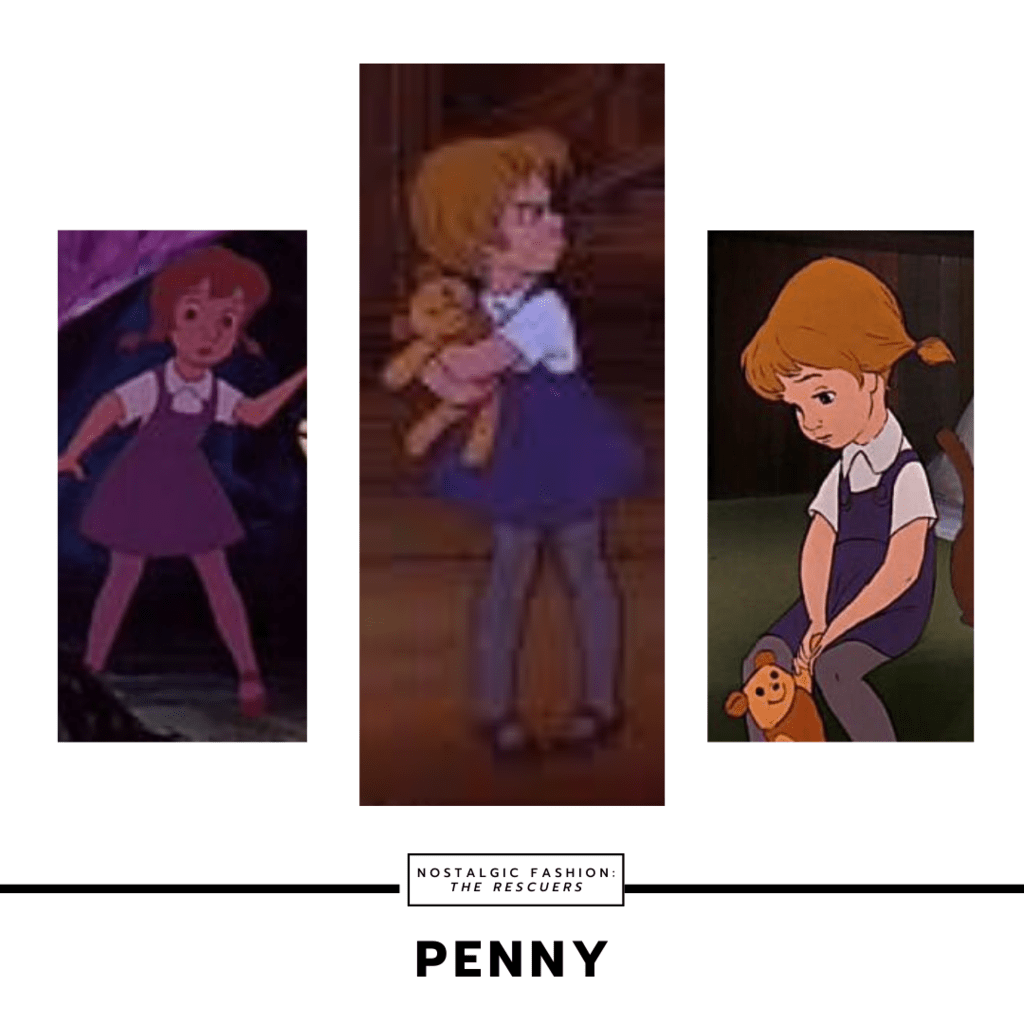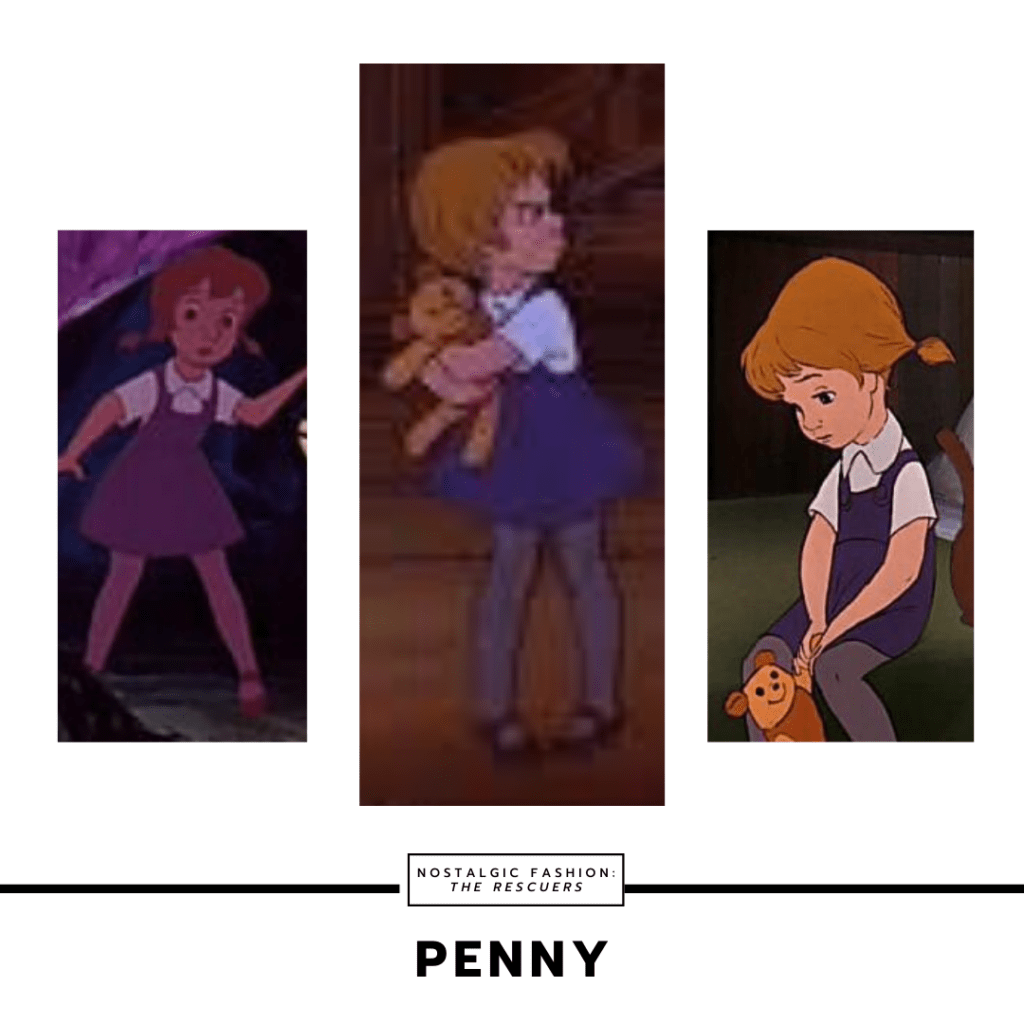 A six-year-old orphan girl, Penny is sweet, kindhearted, and brave. You will never see her without her teddy bear, Teddy.
Penny's signature colors are white and blue, as symbols of her innocence and sweetness. While she does sport items in pastel yellow and pink, her overall look throughout the film is in white and blue.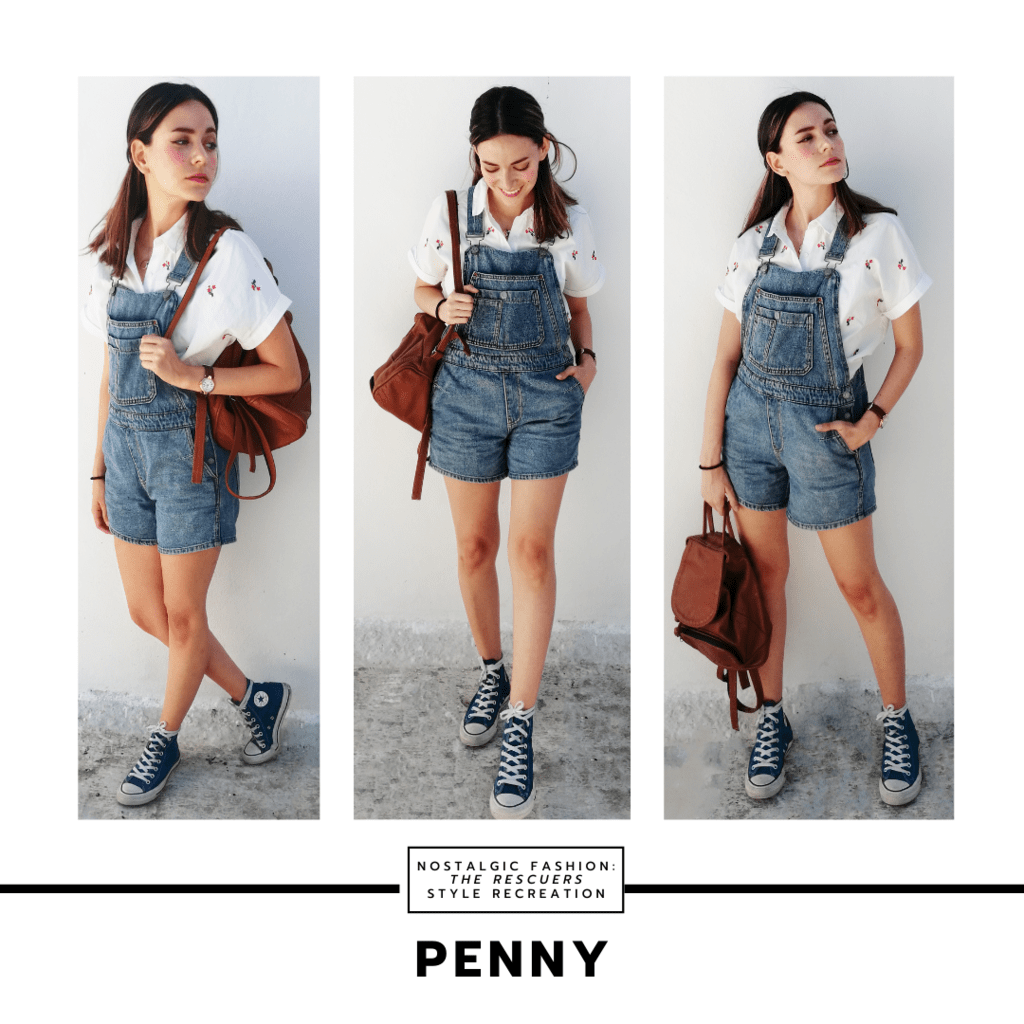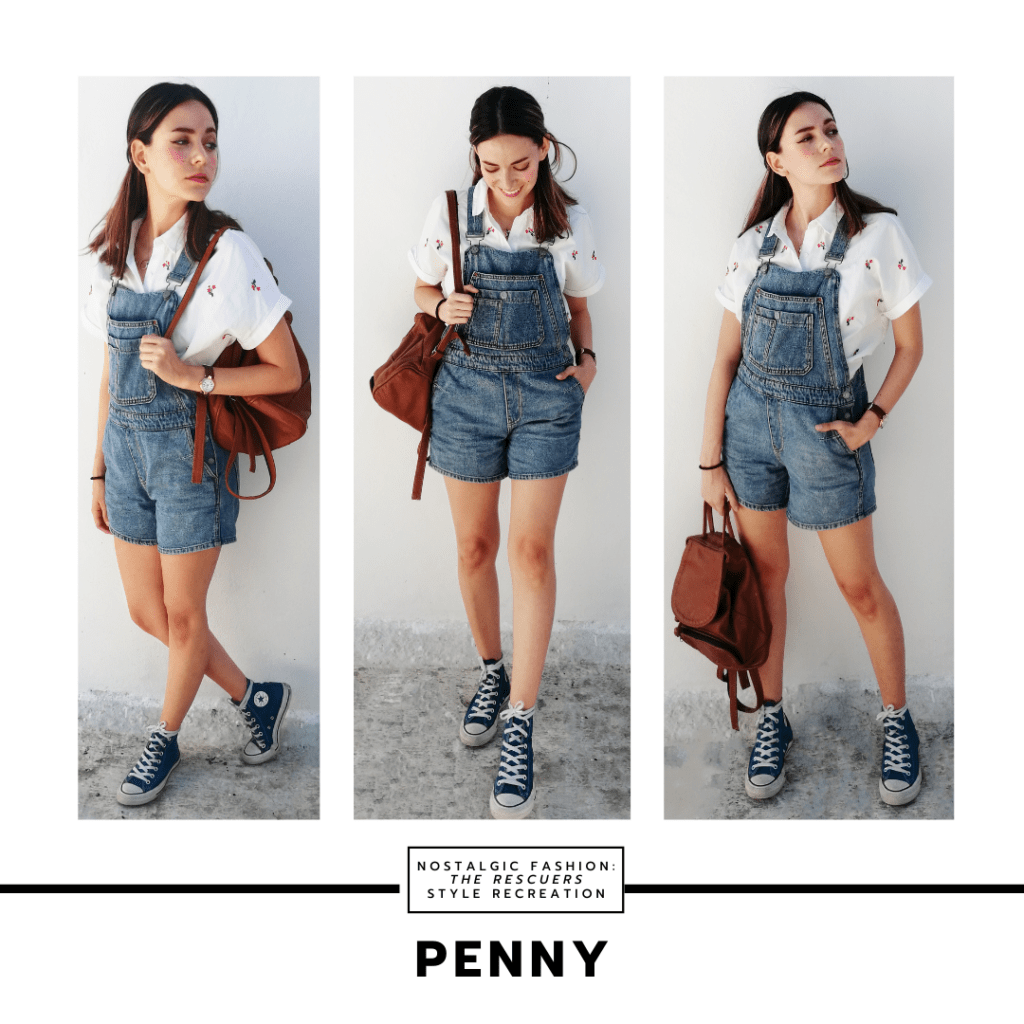 For my version of a 'Penny' outfit, I wore a pair of short overalls and a short-sleeved white Oxford shirt. For shoes, I used blue high-top Converse sneakers. My brown backpack is a my subtle take on Penny's teddy bear.
If you want to create a look based on Penny, stick to neutral, simple items in blue and white. Denim is a perfect fabric for this type of outfit. Comfortable shoes are also a must. To emulate Penny's teddy bear, try to stick to brown or cognac colored purses or backpacks.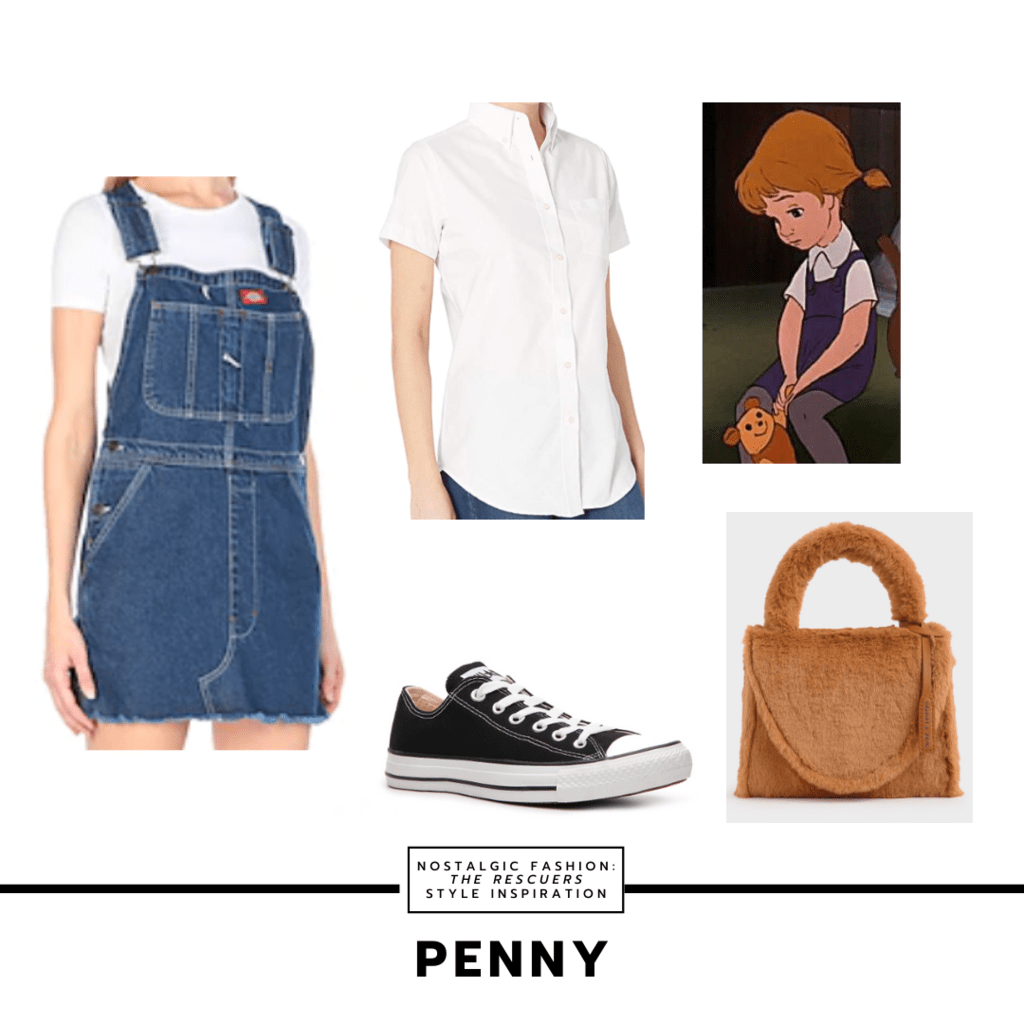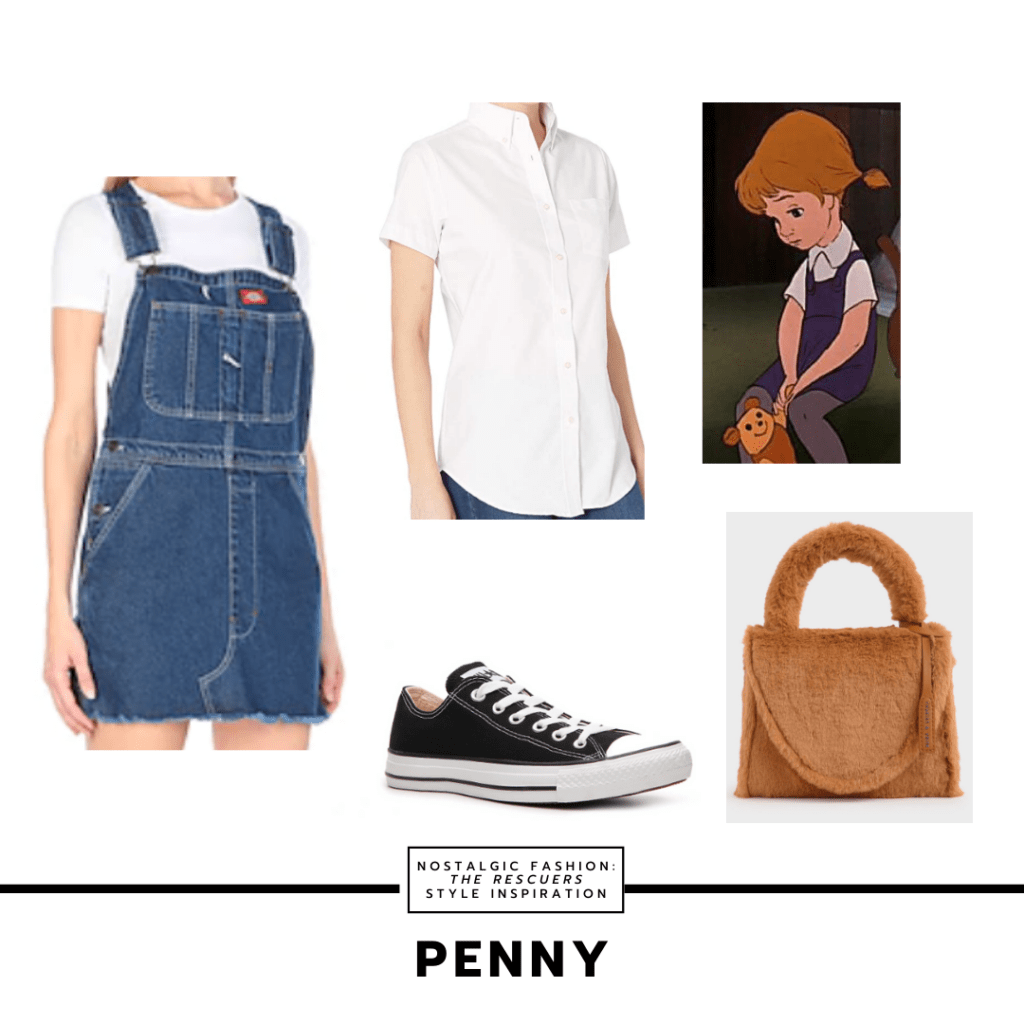 Items: Overall – Yoox, Shirt – Amazon, Sneakers – Converse, Bag – Charles & Keith
The inspiration look is even closer to Penny's than my recreation. It's so cute and comfy for summer days.
Use a simple white short sleeved shirt under denim skirt overalls. For shoes, Penny wears a pair of simple black shoes, but I opted for a pair of black sneakers, to give the look a more modern vibe. Finally, accessorize with a faux fur purse in brown for a teddy bear feel.
What do you think?
Further reading: Be sure to check out Part 2 of this series, where I recreate outfits inspired by Disney's Oliver & Company.
Do you like The Rescuers? Which character's style would you like to recreate? Which underrated animated movie should I do next? Let us know in the comments below!