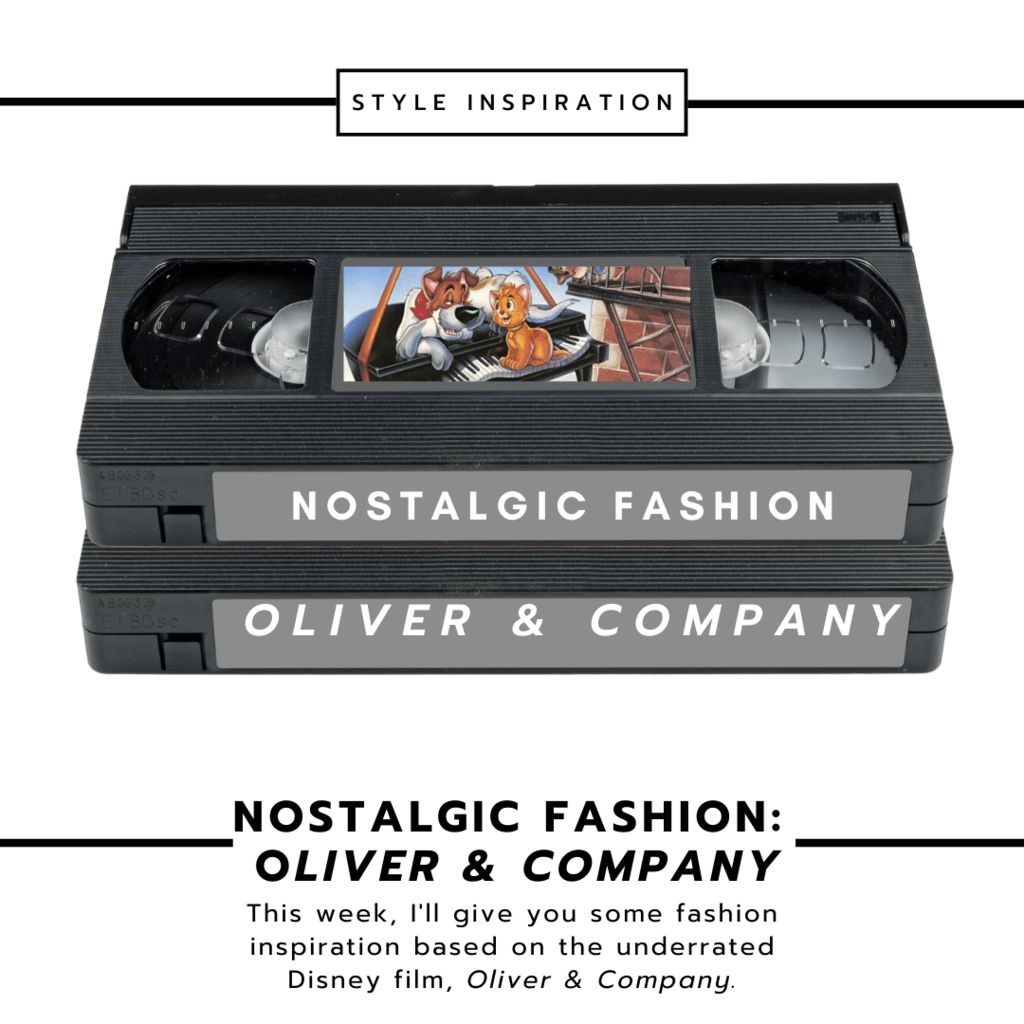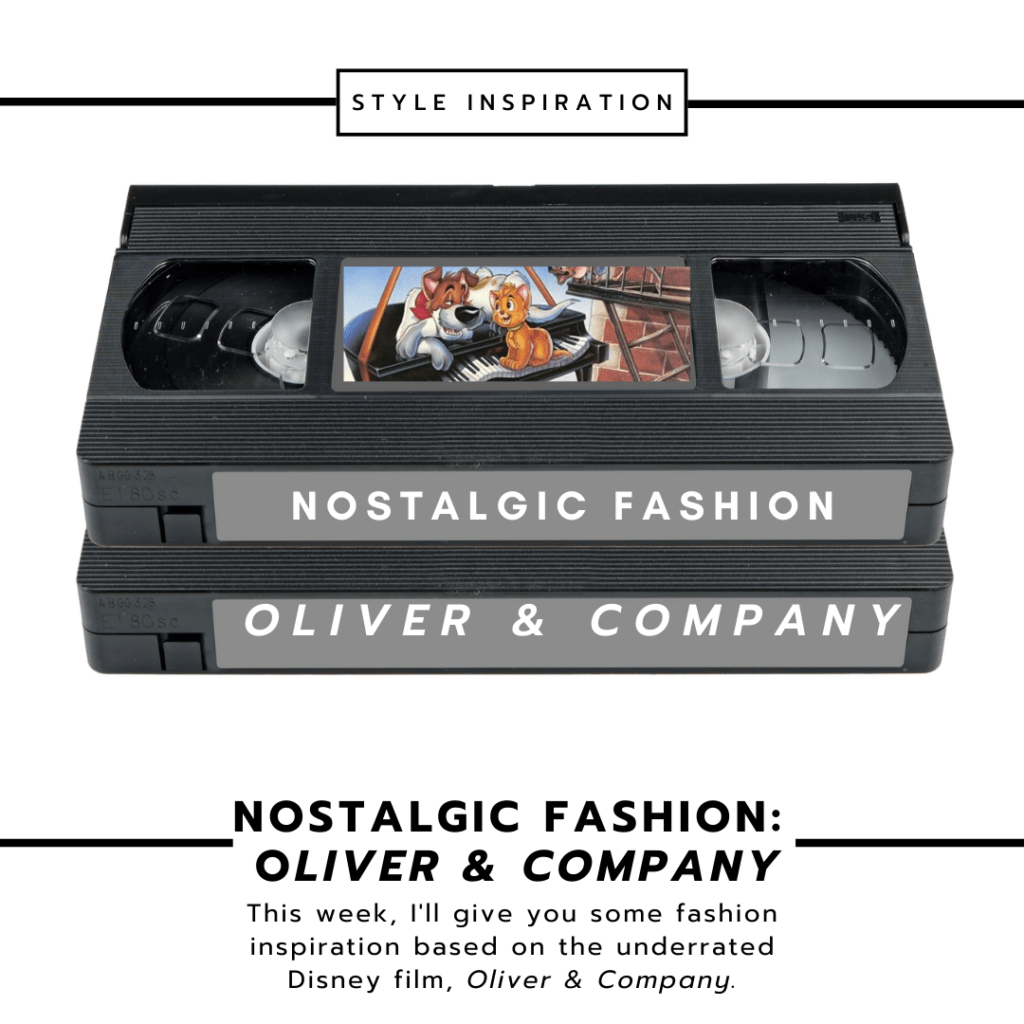 Over the past few weeks, I've found myself watching my old VHS movies, especially movies that I watched when I was a little girl. While doing this, I have found some great underrated films that tend to get lost in between all the princesses, Pixar animated films, and the newest live-action remakes.
They are also a great source of fashion inspiration.
So for my next few posts, I'll choose one of these underrated movies each week and give you a quick recap of the film and its production, a rundown of each character's style, and my own real-life recreation of each look.
Last week, I covered The Rescuers. This time, let's fast forward to the last film before Disney's Renaissance, Oliver & Company.
Oliver & Company (1988)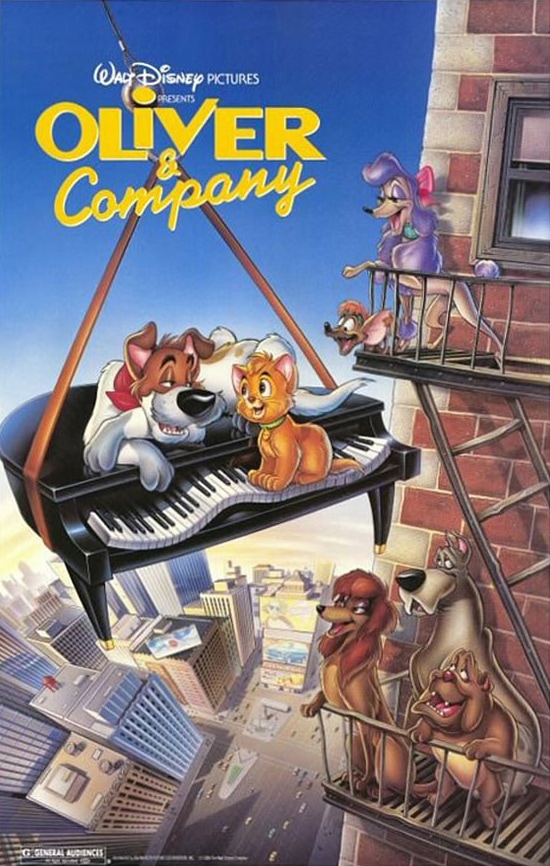 The 27th entry in the Disney Animated Canon, Oliver & Company premiered in 1988. Originally, it was conceived as a sequel to The Rescuers, following Penny after her adoption, but then these plans were scratched and it became an independent project.
While it had moderate success, Oliver & Company is still responsible for a couple of contributions to animated movies and to Disney staples. For starters, it is an example of the early use of CGI, mostly seen in the NYC traffic during the film. Then, its use of an all-star cast instead of voice actors would only become a staple of animated films.
Finally, it was the movie that brought Disney's faith in musicals back. So, we have to thank this movie for every single Disney musical released afterwards, practically every Disney Renaissance project.
Oliver (Joey Lawrence) is an unnamed, unwanted kitten lost in New York City. To survive, he joins a gang of dogs led by Figins, a poor but kind-hearted man. The leader of the dogs, Dodger (Billy Joel), decides to teach the kitten everything he knows. While trying to rob a limousine, Oliver ends up being adopted by a rich, lonely little girl named Jenny, much to the chagrin of the family's pure-bred dog, Georgette.
Oliver & Company Fashion Guide
1. Oliver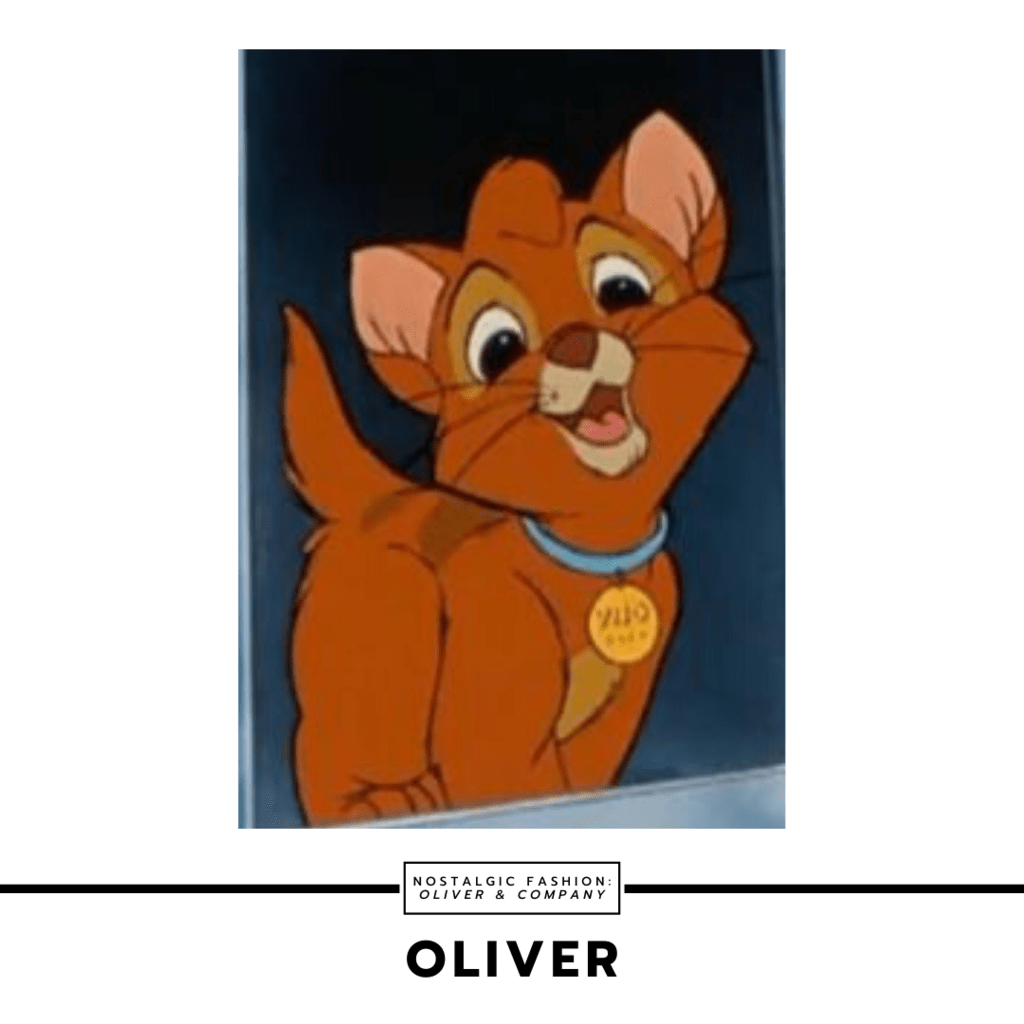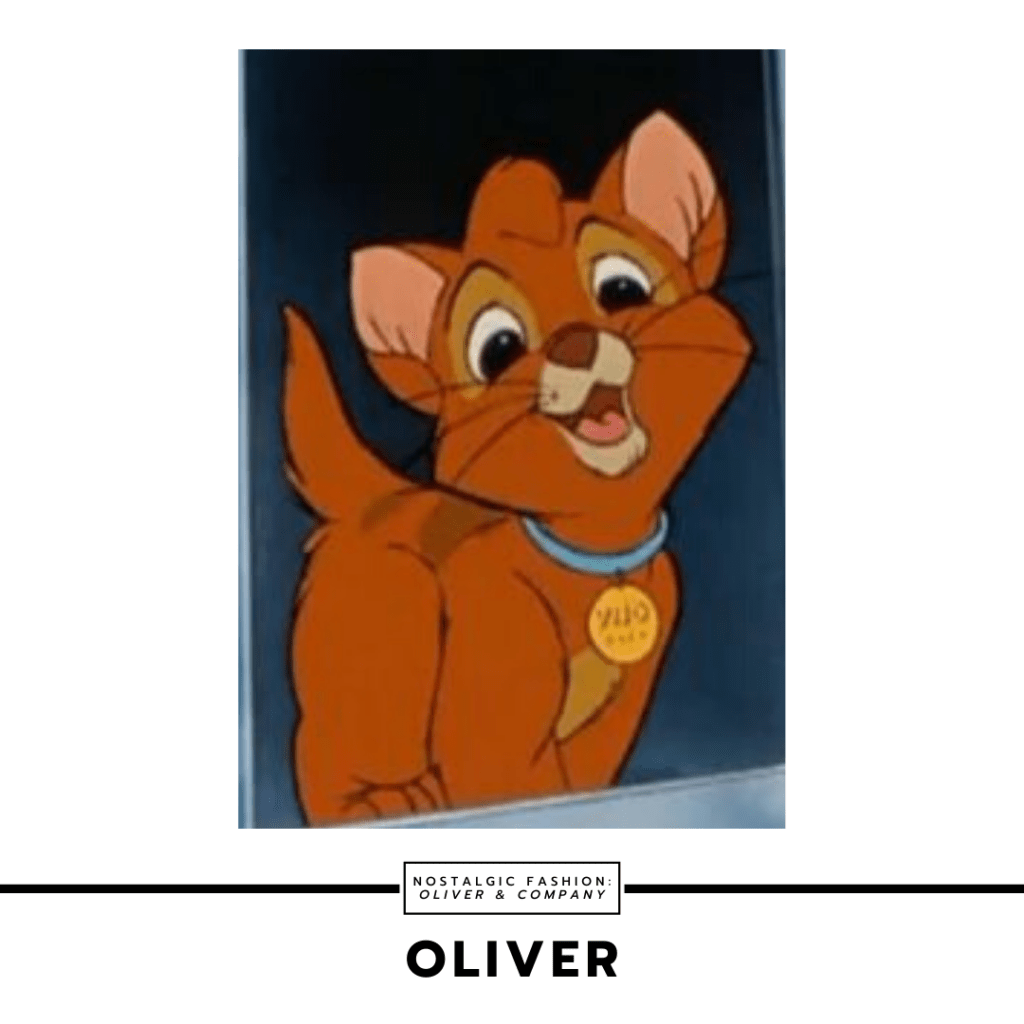 Oliver is the protagonist of the film. He's an orange, adorable kitten and he is played by Joey Lawrence. Loving and affectionate, Oliver is as naïve as he is brave.
His signature colors are orange, for his fur, and blue, for the collar he wears after Jenny adopts him.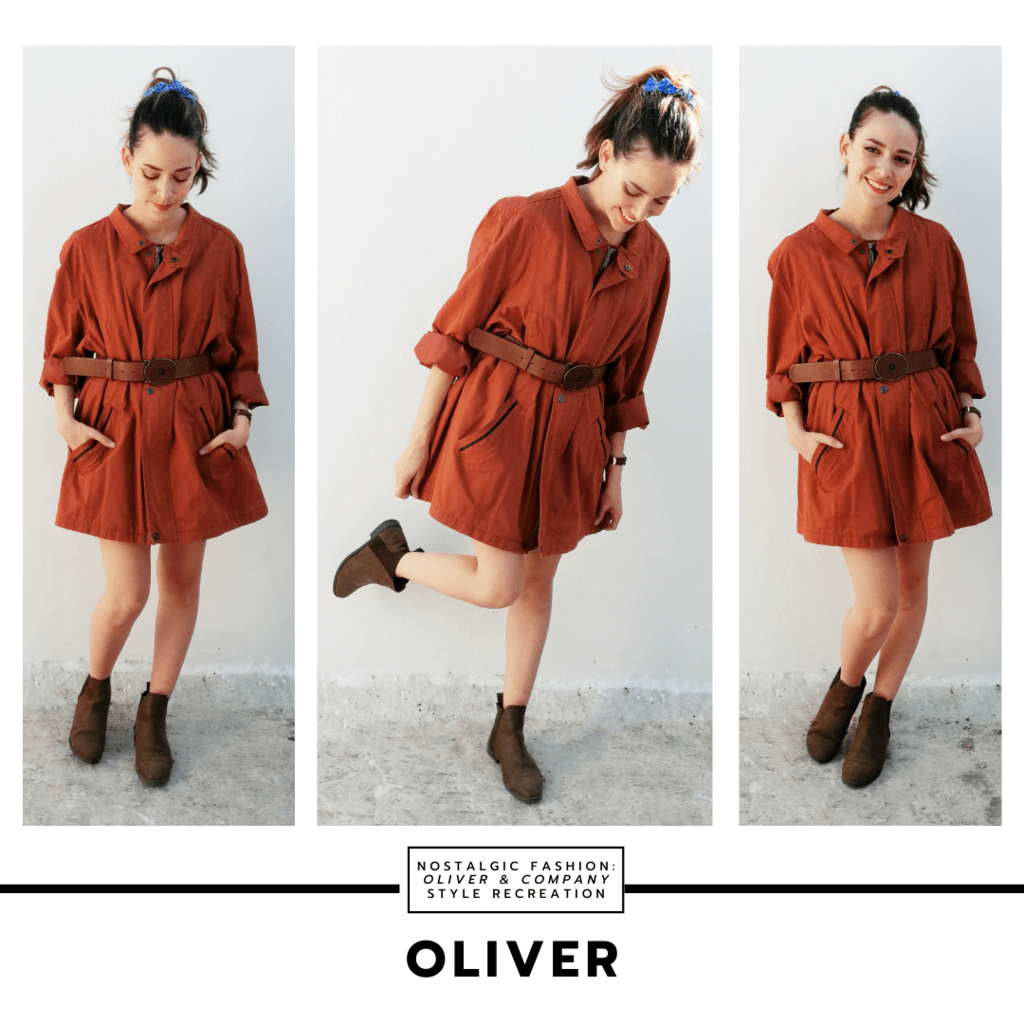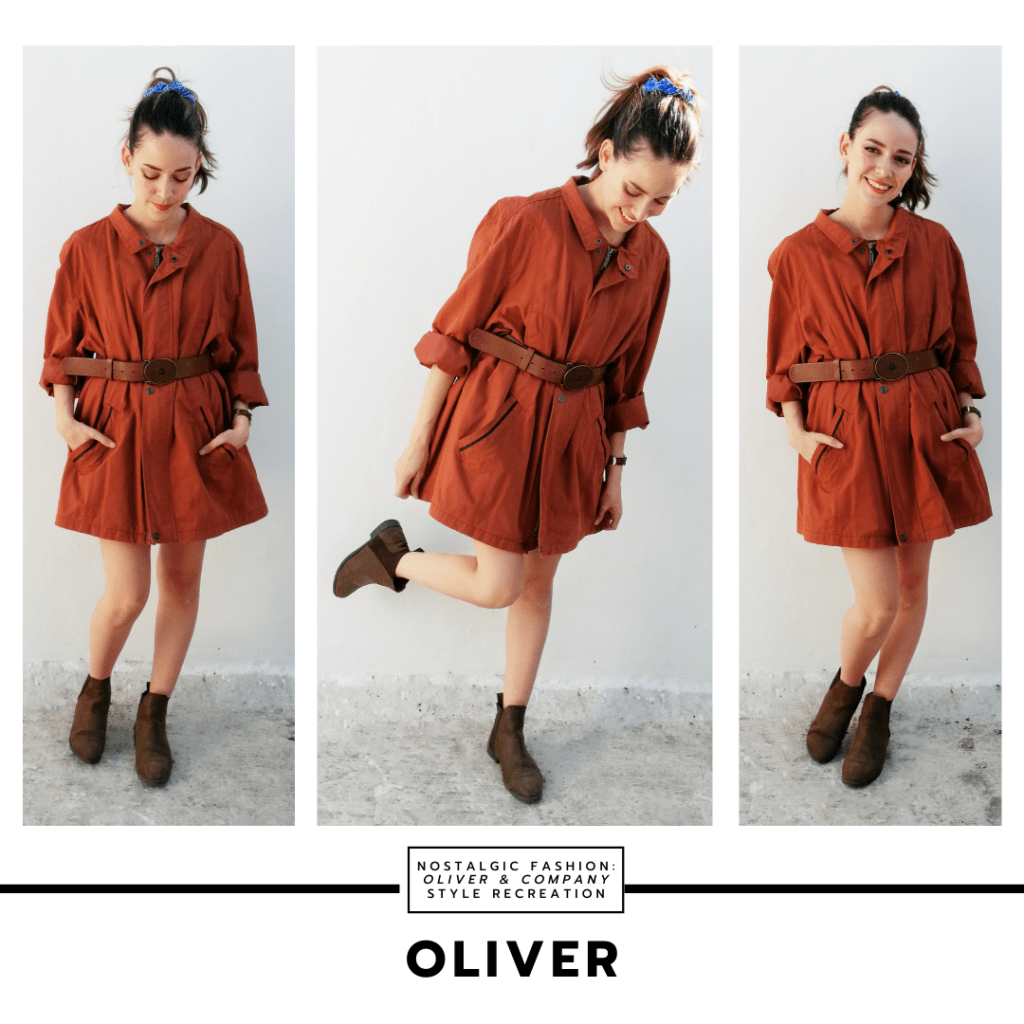 A Disneybound-style outfit based on Oliver was a bit challenging to create, but I really loved how it turned out. This was my first attempt at Oliver and Company fashion, and it got me excited for the rest of the challenge.
I wore a burnt orange jacket (borrowed from my dad!) as a dress, and I cinched the waist with a brown belt. To tie in to the belt, I added a pair of brown Chelsea boots. Both brown items kind of emulate the stripes on Oliver that are a darker color than the rest of his body.
For my only accessory, I used a blue scrunchie to emulate Oliver's blue collar.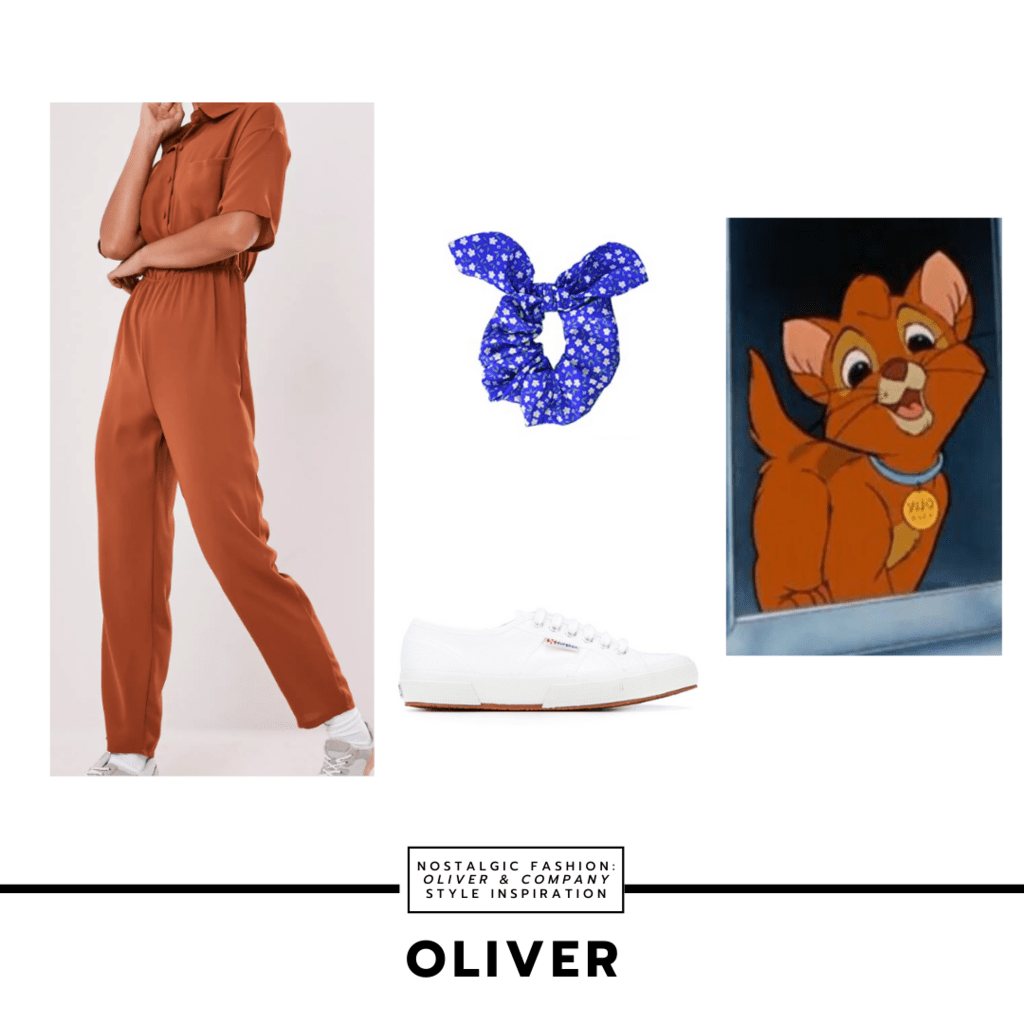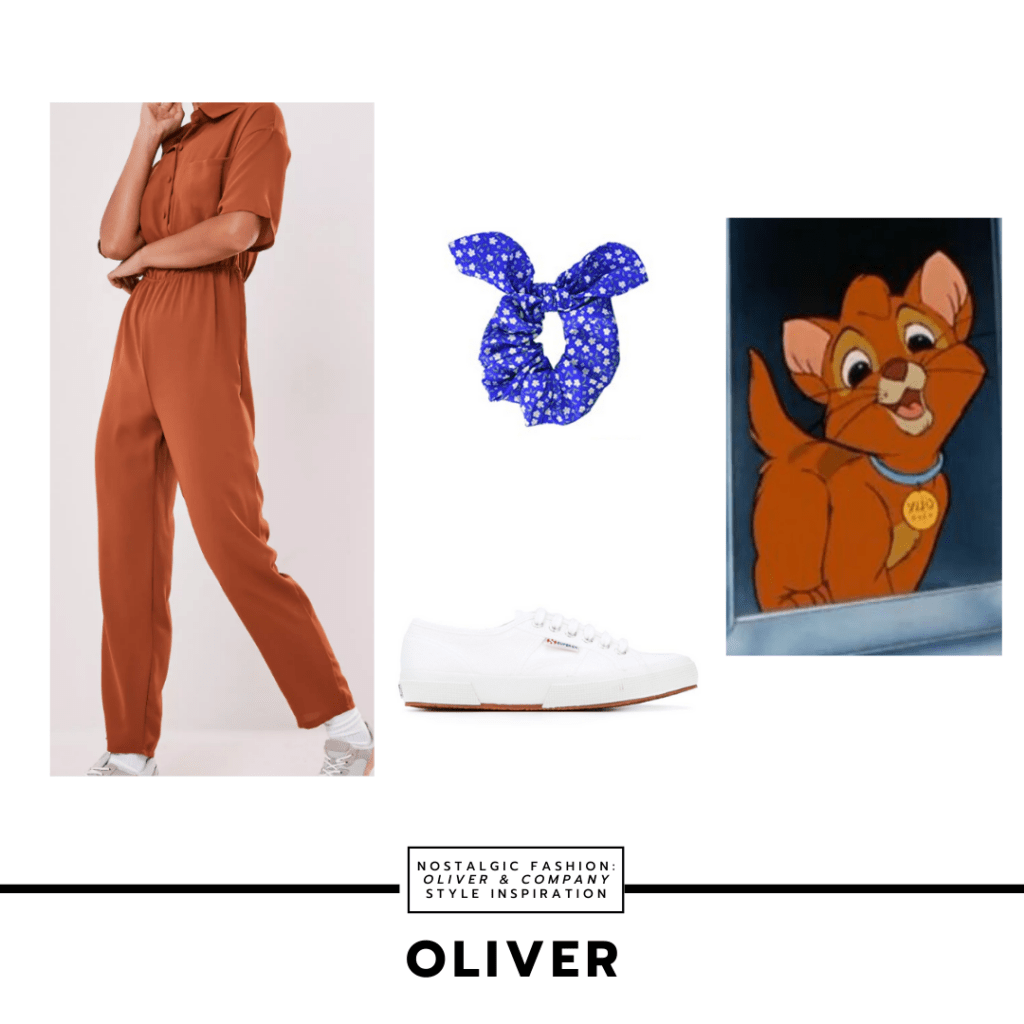 Products: Jumpsuit – Missguided, Scrunchie – Amazon, Sneakers – Amazon
If you want to create a look based on Oliver, remember he is just a kitten. Try to wear something that is both comfortable and, well, orange.
To get the look above, wear a burnt orange jumpsuit and a pair of white sneakers, to keep everything as chill and comfy as possible. Finally, for accessories, just add a blue scrunchie.
2. Dodger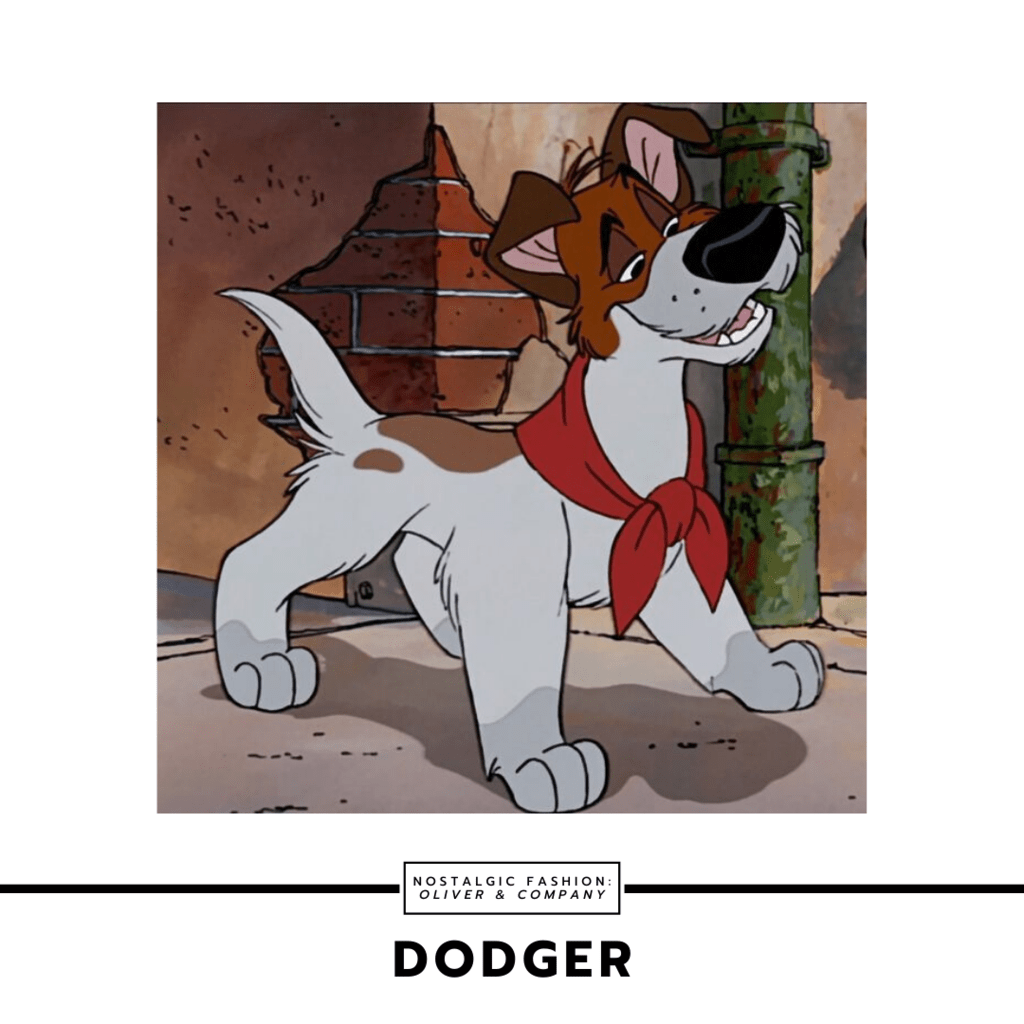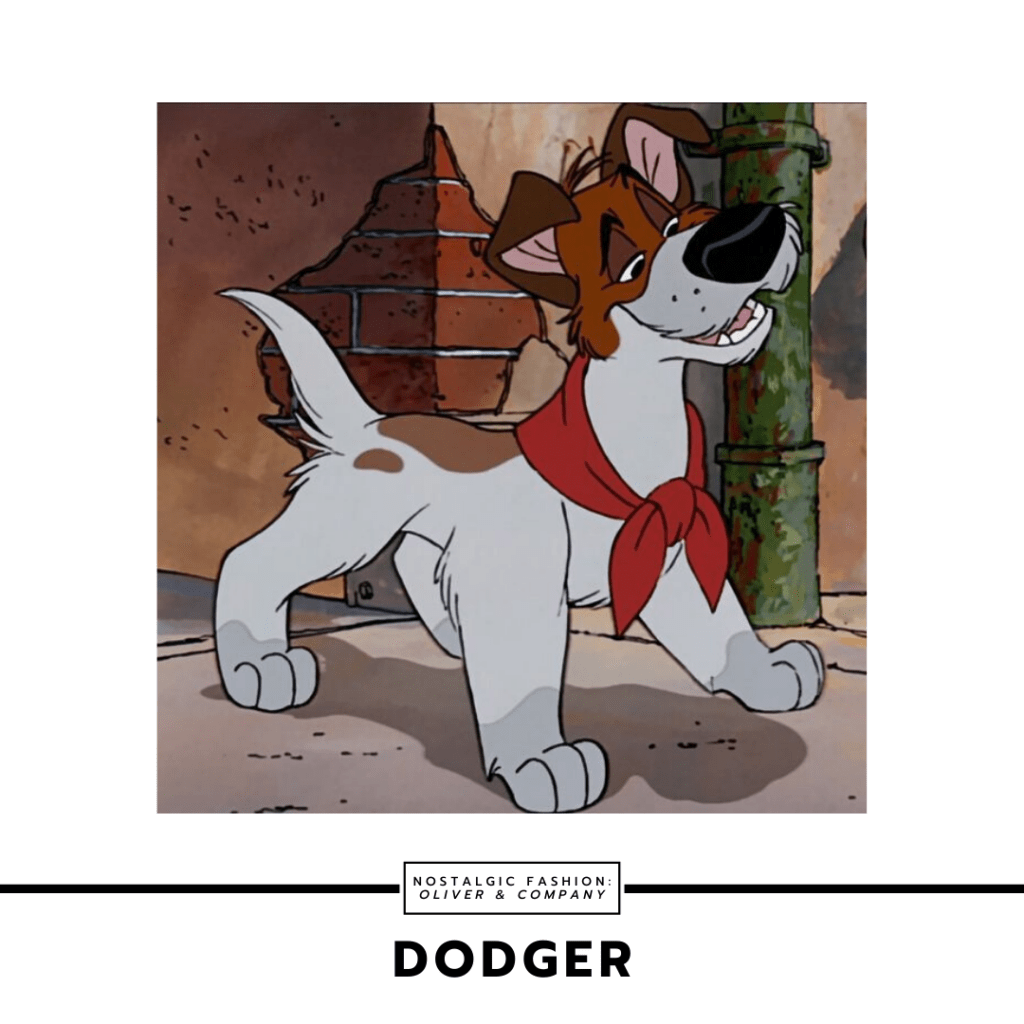 Cool, street-smart Dodger is played by the even cooler Billy Joel. While he starts as selfish and inconsiderate, he quickly develops a protective instinct for Oliver and becomes his best friend.
A Terrier mix, Dodger's signature colors are white and brown (for his fur) and red, for the handkerchief around his neck.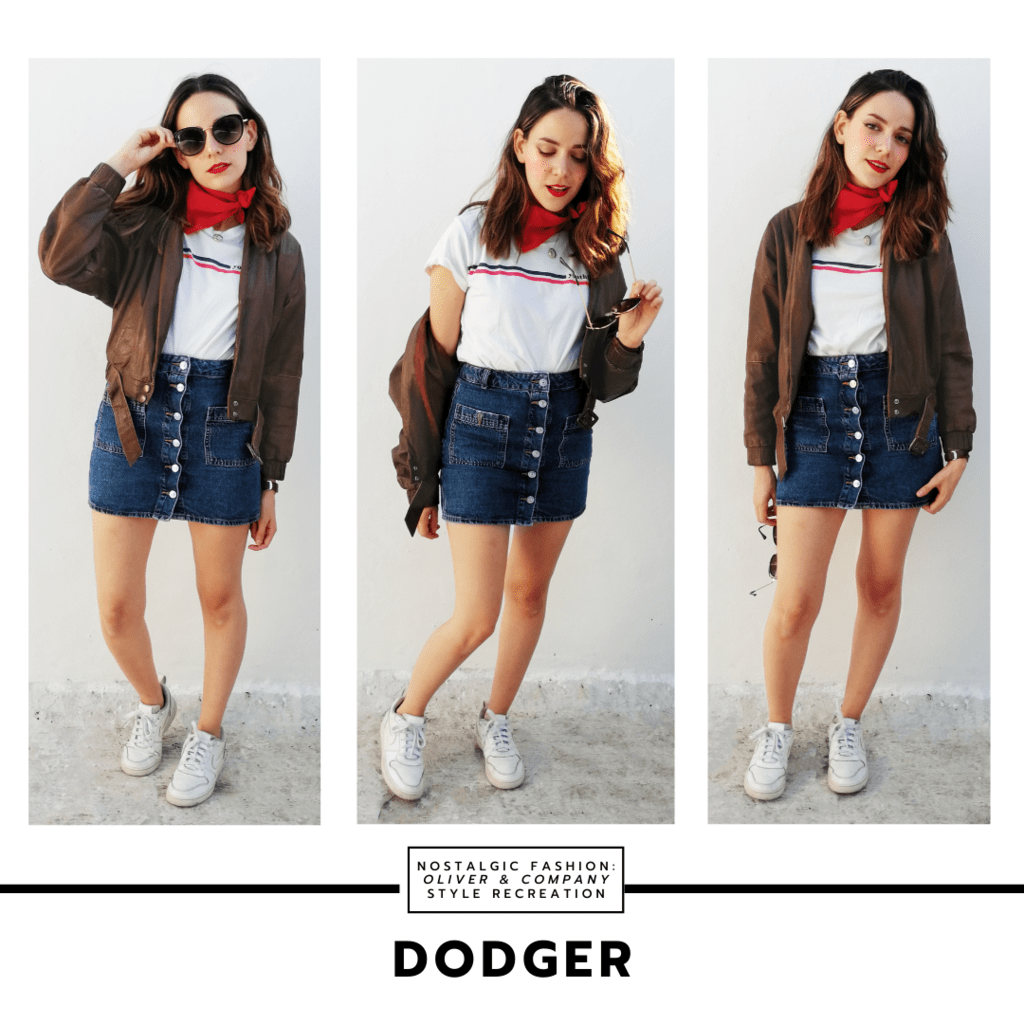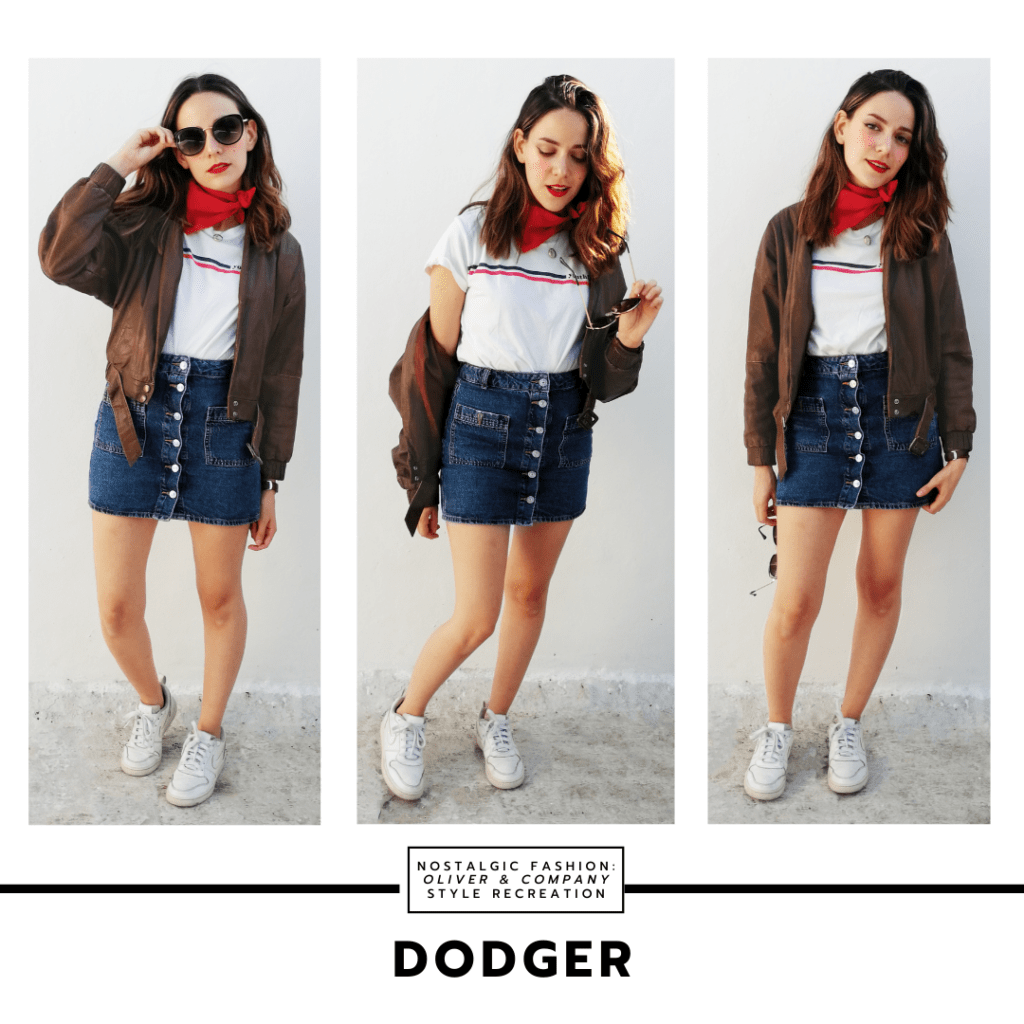 For the outfit I wore, I used a white T-shirt and denim skirt for the base of the look. Then I added a brown jacket and white sneakers to lean more into Dodger's fur colors. Finally, I tied a red handkerchief around my neck and wore black sunglasses to emulate Dodger's only accessories in the film.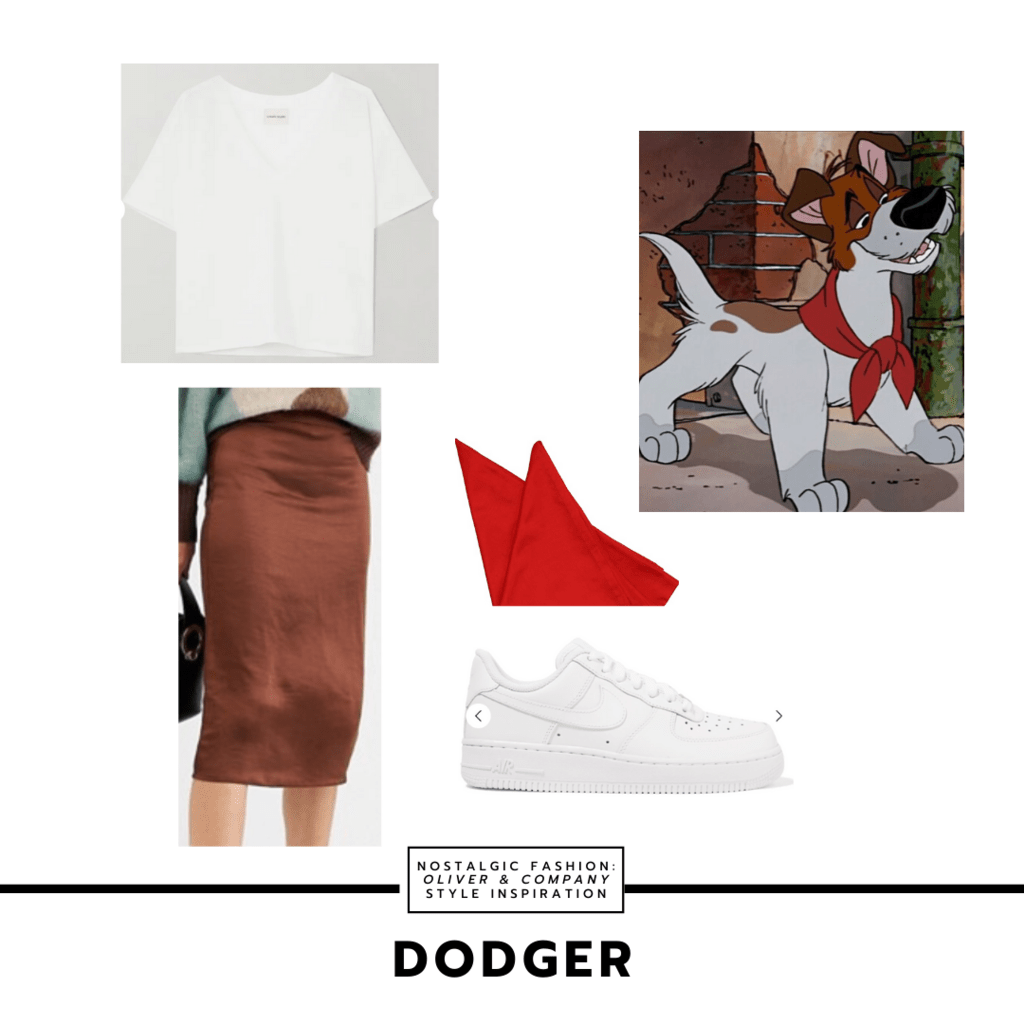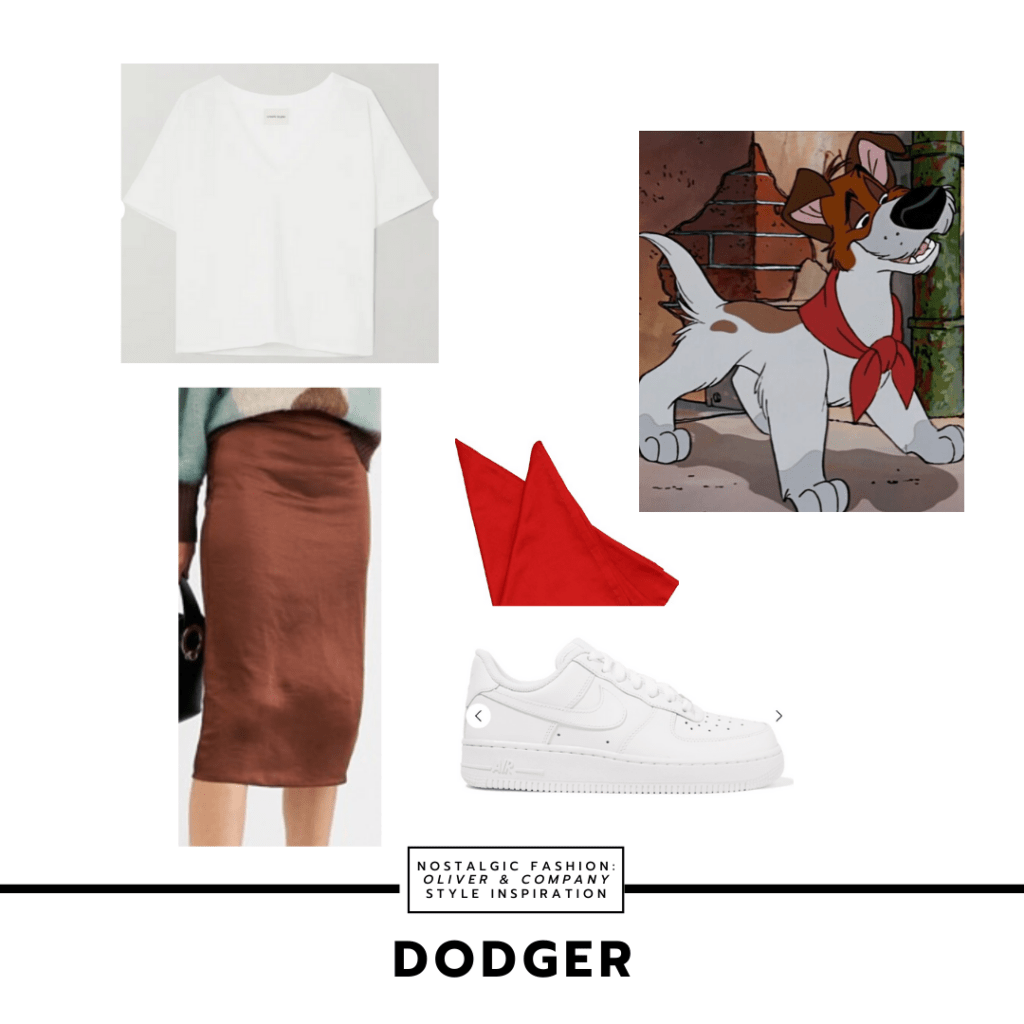 Products: T-Shirt – Net A Porter, Skirt – ASOS, Sneakers – Nike, Handkerchief – Amazon, Sunglasses – Velvet
Dodger is an incredibly chill, pragmatic dog, so to create a look inspired by Dodger, keep this feeling in mind.
For an outfit that's perfect for summer, I paired a simple white T-shirt with a brown midi skirt. Then, I went for a pair of white sneakers, to keep Dodger's fur color as present in the outfit as possible. Finally, the accessories are black sunglasses and a red handkerchief.
3. Georgette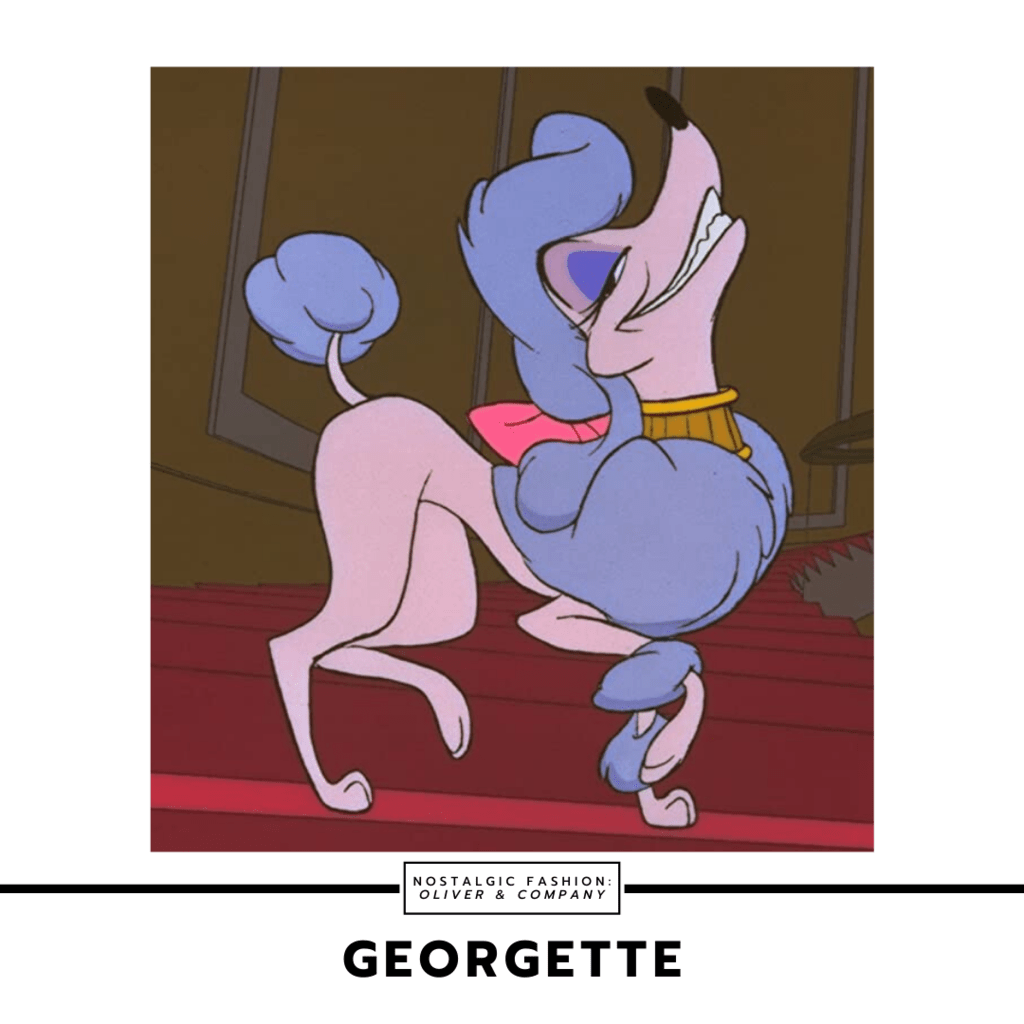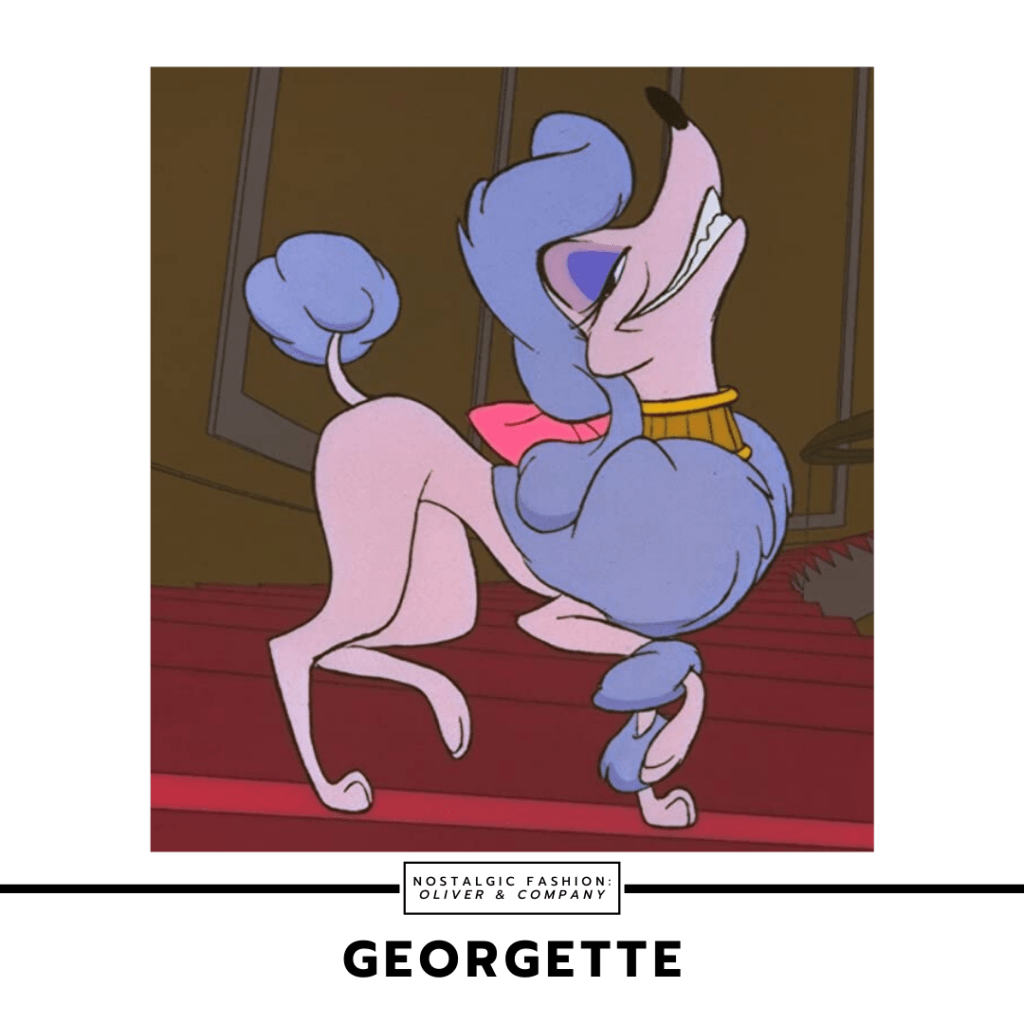 A show-winning poodle, Georgette is played by the iconic Bette Midler. Georgette is a heart breaker and a proud beauty. Georgette tends to be very distant, which is why Jenny finds Oliver to keep her company.
The colors of Georgette's fur are white and blue, and she uses pink as a tertiary color through the film.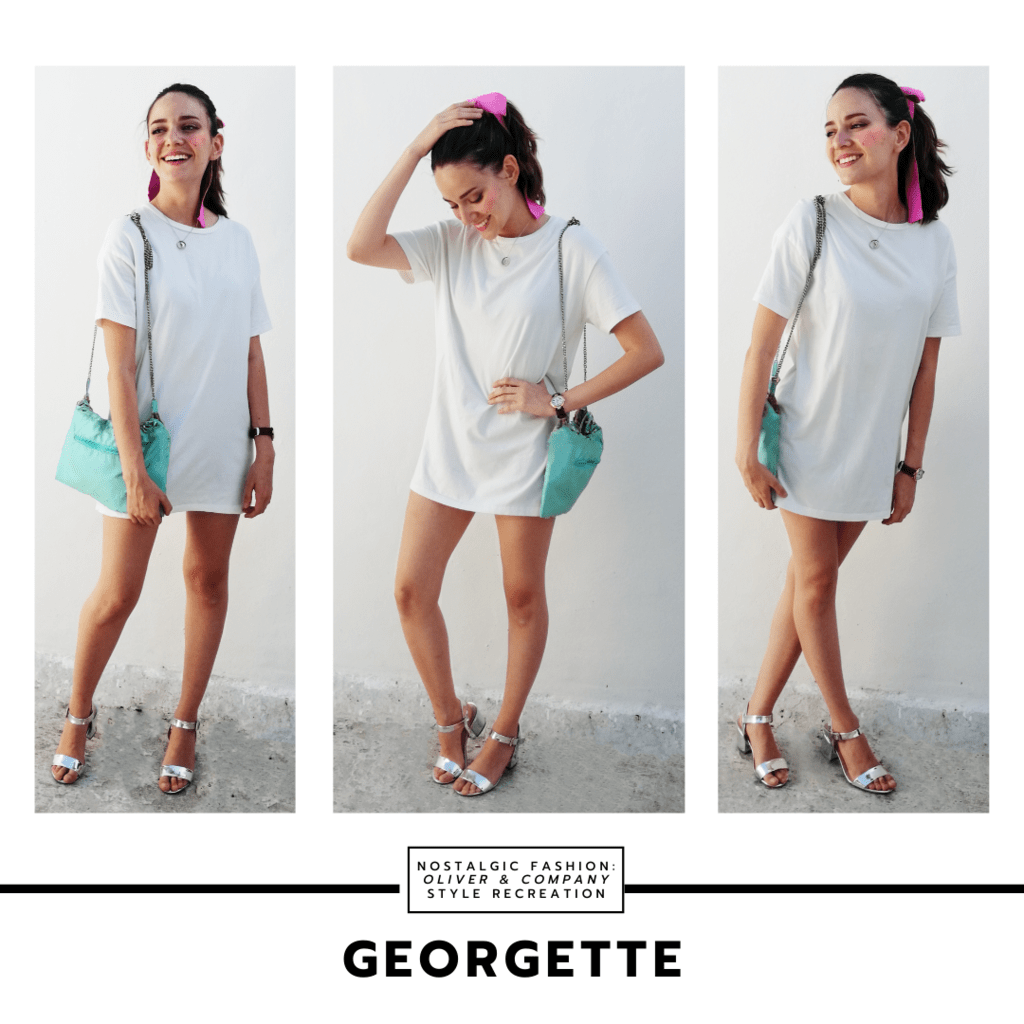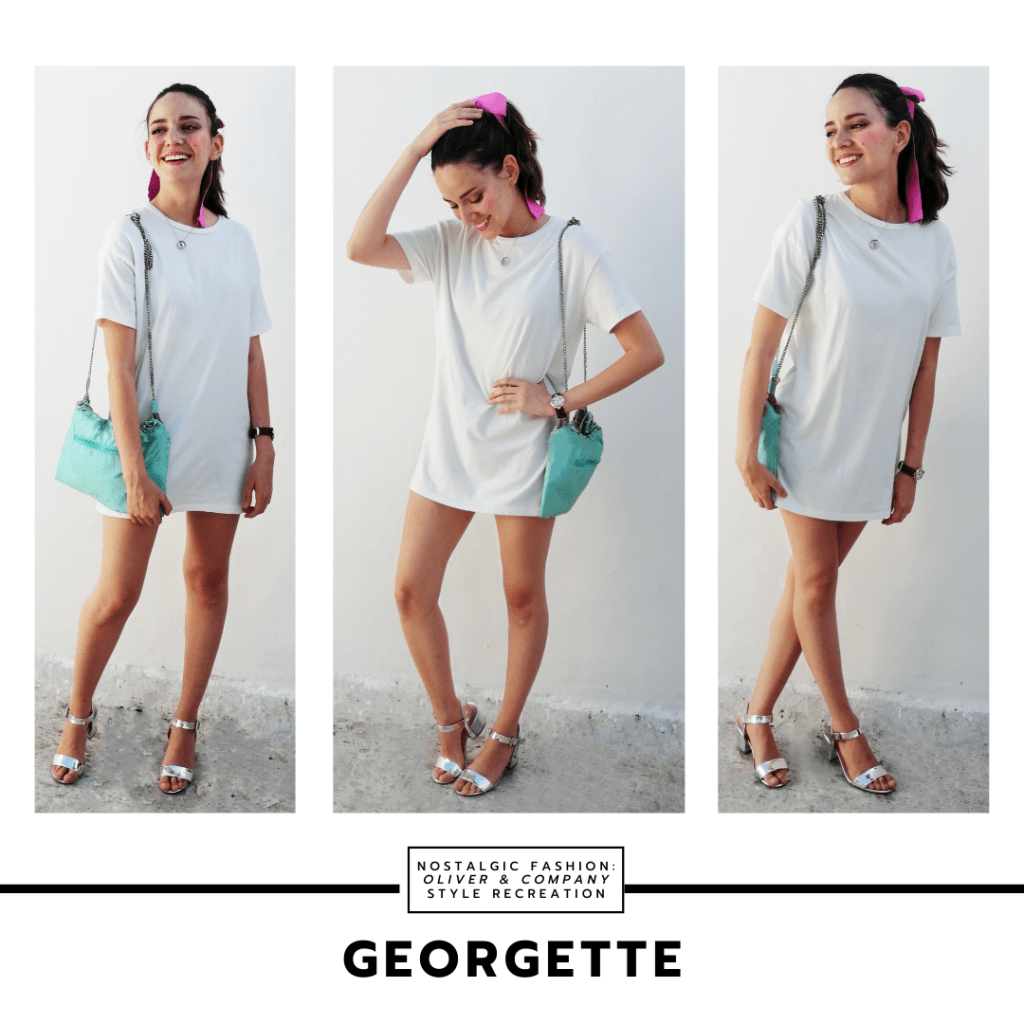 For my 'Georgette' outfit, I wore a white t-shirt dress as a base. Since Georgette is so regal and feminine, I opted to wear a pair of silver heels. Finally, for my accessories, I used a baby blue purse to emulate the rest of her fur and I tied a pink bow on my hair.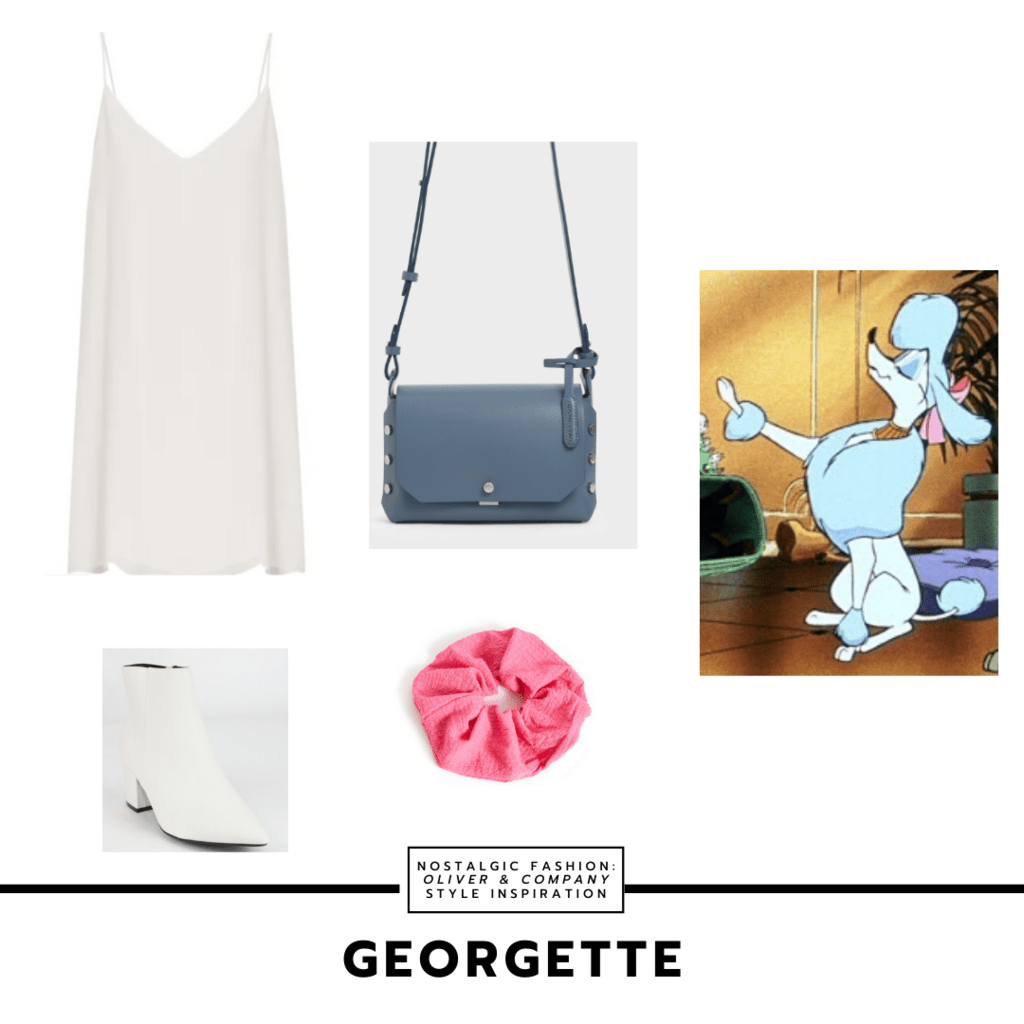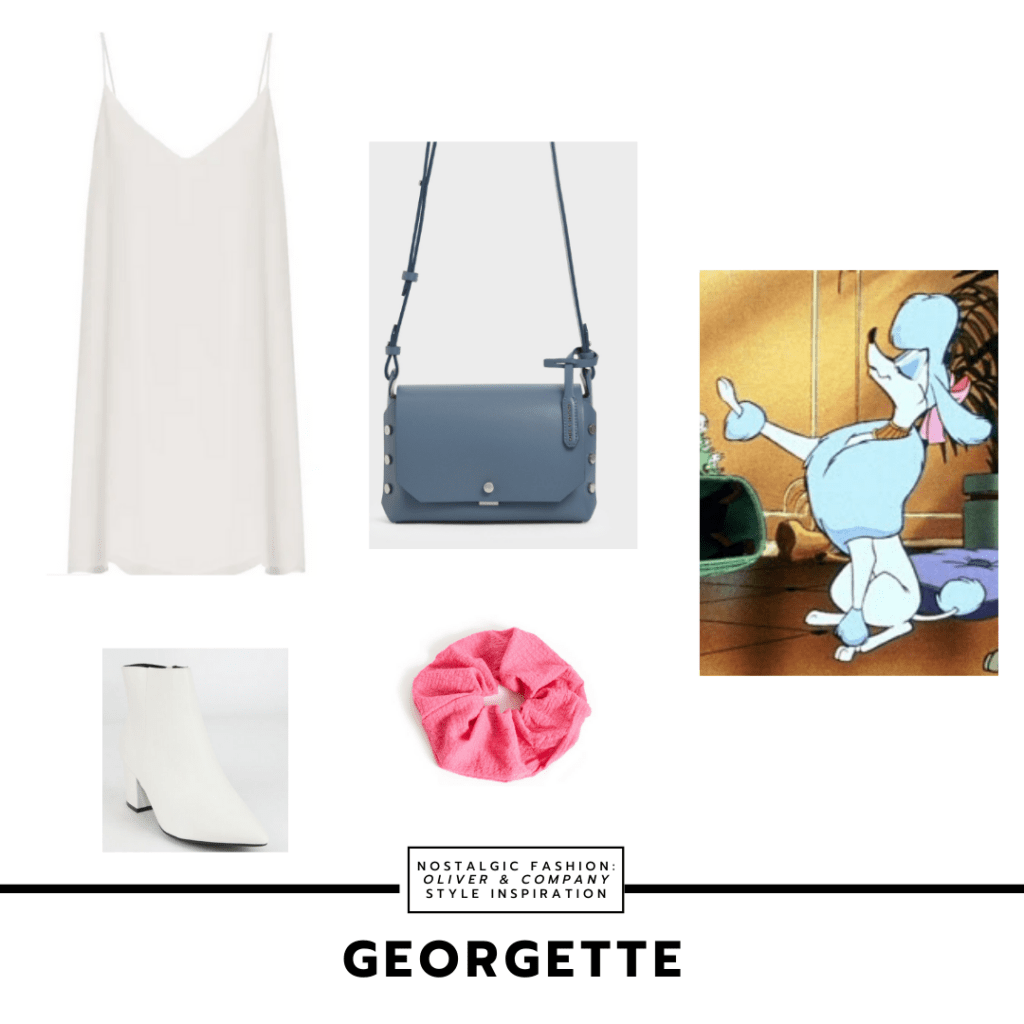 Products: Dress – MatchesFashion, Bag – Charles & Keith, Booties – Tilly's, Scrunchie – SouthMoon Under
To create a look based on Georgette, remember she is incredibly glamorous and seductive. This is the vibe you need to channel with any look.
Since it's summer, wear a white camisole dress to emulate Georgette's fur. To keep that going, use a pair of white booties. Finally, used a blue cross-body bag and a pink scrunchie, or bow however you want, to emulate the rest of her signature colors.
What do you think of my Oliver and Company fashion guide?
Have you watched 'Oliver & Company'? Do you like the movie? Would you wear any of the looks? Which character is your favorite? Do you have any movie you would want me to cover? Let us know in the comments below!